11 Top-Rated Tourist Attractions & Things to Do in Scottsdale, AZ
We may earn a commission from affiliate links ()
While the name Scottsdale is often associated with warm weather and golfing, the city has an assortment of things to do. Scottsdale prides itself on its natural areas and arts scene, both of which are well worth spending some time investigating while you're visiting.
Long the winter home of famous architect Frank Lloyd Wright, you can visit his Taliesin West, now a school of architecture, and capture a glimpse of his legacy. Art installations, another of the area's attractions can be found throughout the city and are most evident as you wander through Old Town Scottsdale. You can also stop in at some of the museums and galleries to see incredible art of the West.
Also, be sure to spend some time outdoors wandering the trails in the McDowell Sonoran Desert Preserve and other parks and natural areas around the city, or stop by the Botanical Gardens to learn about the plants and animals of the desert.
Explore the city and find the best places to visit with our list of the top attractions in Scottsdale.
See also: Where to Stay in Scottsdale
1. Taliesin West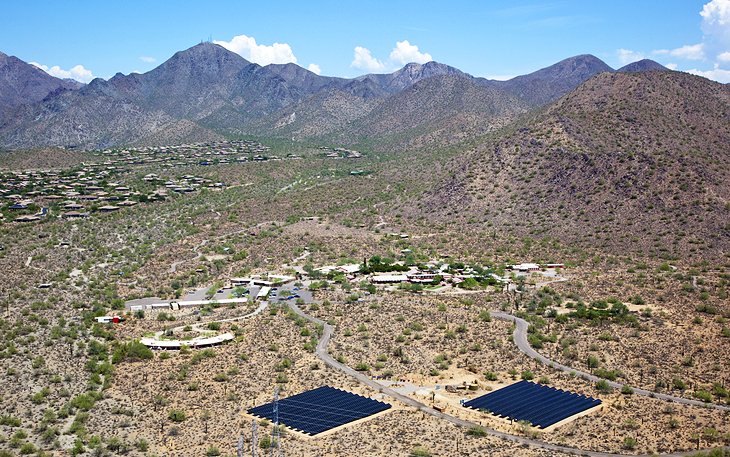 Taliesin West was the winter home of architect Frank Lloyd Wright and is today the headquarters of the Frank Lloyd Wright Foundation and the School of Architecture at Taliesin West. Students transition between Taliesin in Wisconsin and Taliesin West in Scottsdale, spending summers in the north and winters in the south, same as they have been doing for decades.
This campus is a fascinating insight into the genius of this famous architect. The buildings have seen ongoing changes and have been restored to their former look and feel.
Tours are mandatory if you want to see the property, but guides are passionate about telling the story of the site and provide interesting insights without overwhelming you with details. You can learn about the concepts the architect employed in the buildings and gain a better understanding of what you are seeing on the tour.
Taliesin West is a working architecture school, and you may see students hard at work on their drafting tables if you visit during the winter. The tours take place inside and outside. One of the requirements of students is to create their own simple dwelling out in the desert, where they live while they're here.
Address: 12621 N. Frank Lloyd Wright Blvd, Scottsdale, Arizona
Official site: http://franklloydwright.org/taliesin-west/
2. Old Town Scottsdale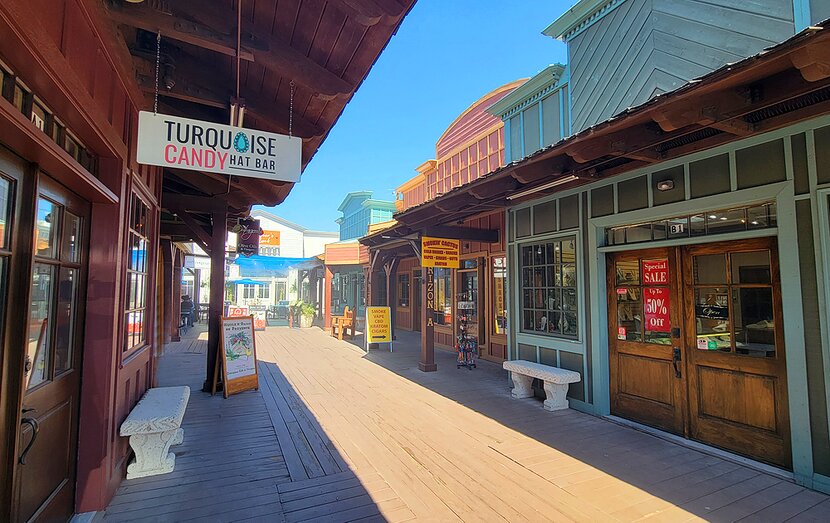 Old Town Scottsdale is a lively and fun area, perfect for spending an afternoon or evening. Covered sidewalks line the front of western-themed buildings and interesting shops selling all manner of items, from Mexican blankets, clothing, and trinkets to Native American art, crafts, and jewelry. In addition to this, high-end galleries feature the works of world-famous artists.
If you work up an appetite while strolling around, Old Town Scottsdale has great dining options, with restaurants featuring cozy outdoor patios.
The center of Old Town Scottsdale is located at the intersection of East Main Street and North Scottsdale Road. Nearby is the Civic Center Mall and public square with artwork, including the famous LOVE sculpture, surrounding restaurants, and the Scottsdale Museum of Contemporary Art.
On Thursday nights, the Old Town hosts Scottsdale Artwalk, when galleries host an open house for the public. Other events are always taking place in this area. For a look at what's coming up, see the Experience Scottsdale events calendar.
3. Golf Courses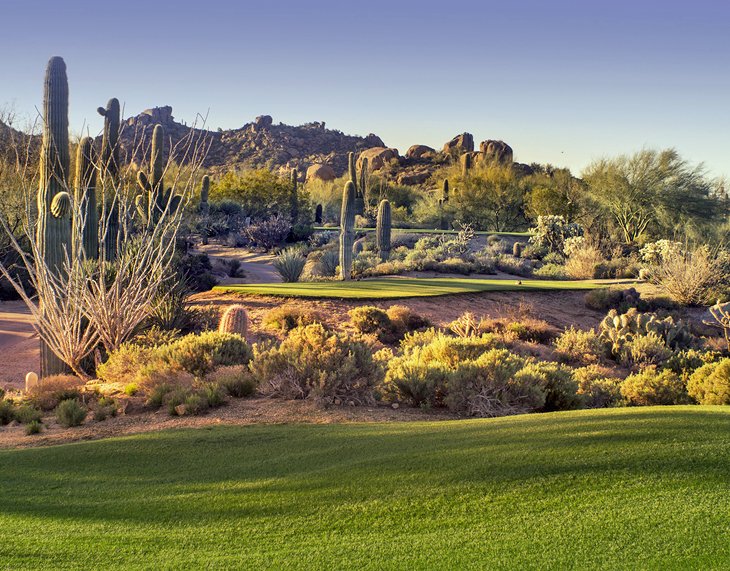 Golf and Scottsdale are synonymous. Many golfers plan vacations to Scottsdale, particularly in the winter months, specifically to enjoy the great courses. The city has a multitude of spectacular courses to suit all levels of skill and budget.
Two of the best courses are Troon North and TPC Scottsdale. Troon North has two golf courses, designed by Tom Weiskopf, beautifully set within the desert landscape and featuring unusual granite boulders, ravines, and rolling hills. Four Seasons Resort Scottsdale at Troon North provides free shuttles and special rates at the Troon North Golf Club for guests staying at their property.
TPC Scottsdale is the only PGA Tour property in the city and offers average players the chance to play where golf's masters have once competed. TPA has two courses, one named The Stadium, designed by Tom Weiskopf and Jay Morrish, and another named The Champions, designed by Randy Heckenkemper.
4. Desert Botanical Garden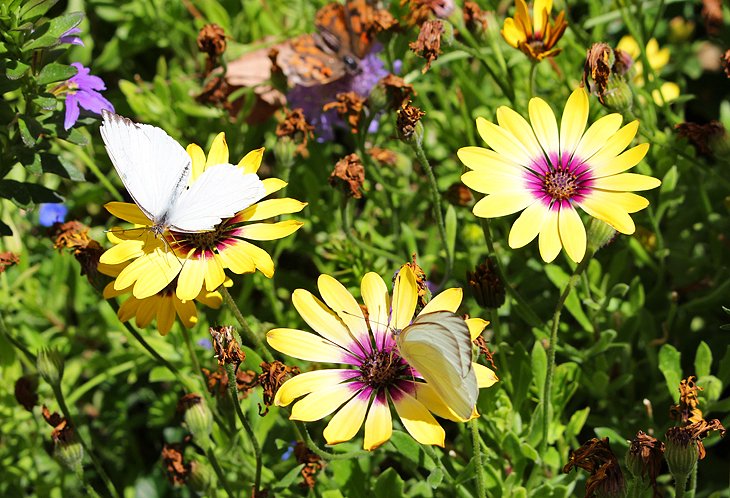 Just a short drive from Old Town Scottsdale, the Desert Botanical Garden offers an amazing look at desert life. The gardens do an especially good job of blending artistic elements with unique works of artwork spread around the grounds.
Beyond the plants, you can also expect to see butterflies flitting about, hummingbirds whizzing past, woodpeckers landing on the saguaros, and an assortment of other birds running and flying about.
The gardens represent the various deserts of the Southwestern USA: Sonoran Desert, Chihuahuan Desert, Mojave Desert, and the Great Basin Desert. Individual areas are laid out according to themes and offer informative plaques in each area to help you identify important elements and point out what to look for.
Address: 1201 N. Galvin Parkway, Phoenix, Arizona
Official site: https://www.dbg.org/
5. Western Spirit: Scottsdale's Museum of the West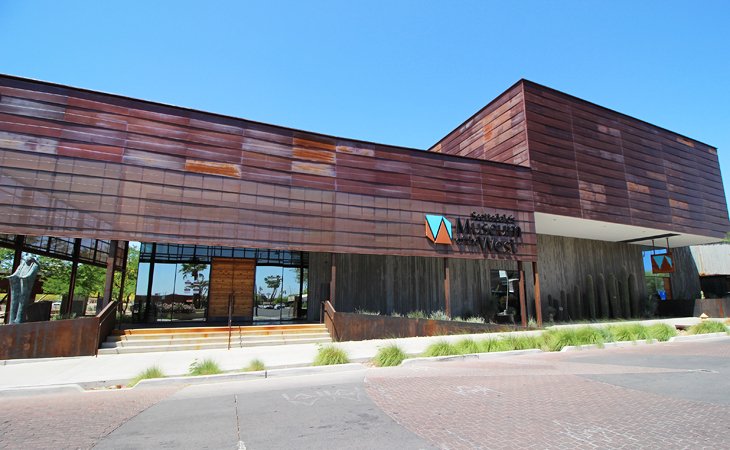 Scottsdale's Museum of the West celebrates the history and culture of 19 western states along with the bordering Canadian provinces and several Mexican states.
The museum is housed in a very modern and beautiful building right in downtown Scottsdale not far from Old Town.
Inside, you'll find two floors of art, memorabilia, cultural items, and interesting themed displays all focused on the history of the West. The museum is especially noted for its collection of Hopi pottery and cowboy movie posters. Don't miss the outdoor central courtyard and its unusual assortment of sculptures.
Address: 3830 N. Marshall Way, Scottsdale, Arizona
Official site: https://scottsdalemuseumwest.org/
6. Pinnacle Peak Park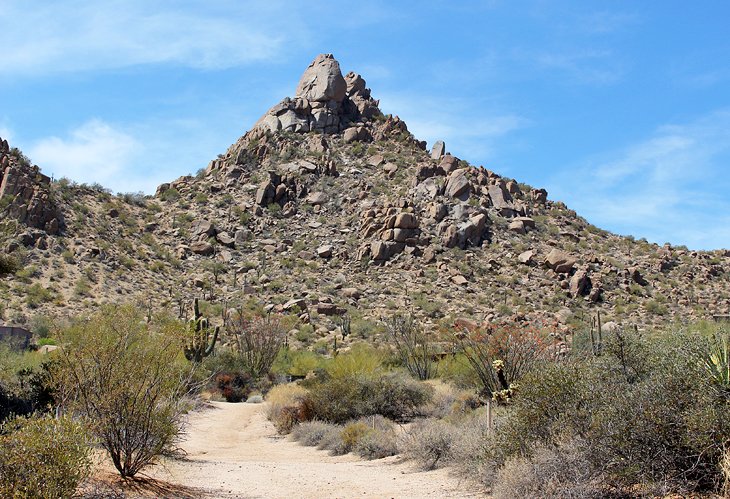 The boulder-strewn, cone-shaped Pinnacle Peak is a popular hiking area in Scottsdale. A moderate, 1.75-mile one-way trail with 1,300 feet of elevation will take you up to the top of Pinnacle Peak, where you'll be treated to amazing views out over northern Scottsdale, including the green fairways of Troon North Golf Club.
For those not quite up to the full hike, the views start at about one-third of the way up, and you can turn around when you've had enough. At the base of the trail, you'll find a great visitors center with helpful staff, displays, picnic tables, ramadas, and washrooms.
Throughout the park and along the trail, informational plaques provide background on the flora and fauna of the Sonoran Desert. The 90-space parking lot fills up quickly each morning, but street parking is readily available.
7. McDowell Sonoran Preserve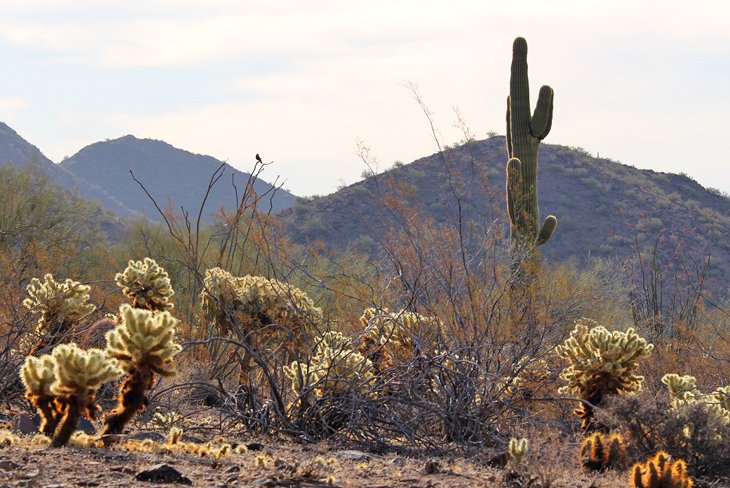 Scottsdale prides itself on its natural areas, and McDowell Sonoran Preserve is one of the best. The preserve covers 30,000 acres and features trails suitable for hiking, walking, biking, or equestrian options.
Some of the top hikes are Tom's Thumb, which provides stunning views out over the surrounding area, and trails leaving from the Lost Dog Wash Trailhead, where you'll find easier hikes that provide views out to the south.
The trails are well marked, and at many of the trailheads, you'll find washrooms, detailed maps, and volunteers available to answer your questions.
The McDowell Sonoran Preserve is open from sunrise to sunset every day and is located on the northeastern side of Scottsdale.
8. Scottsdale Civic Center Mall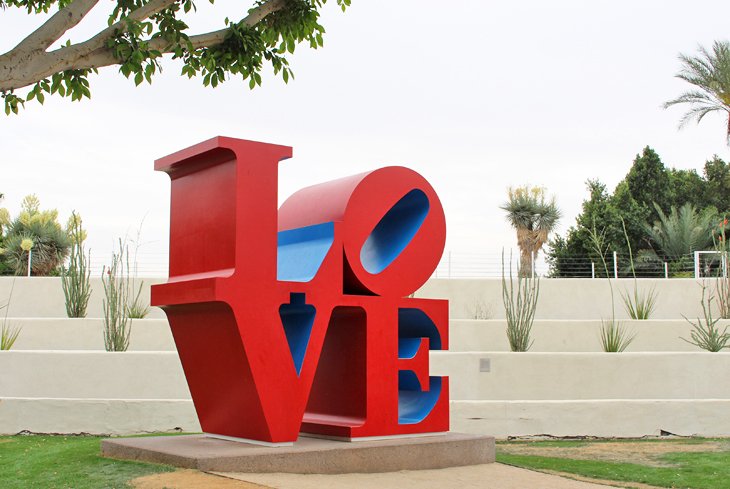 In the heart of downtown and connected to Old Town Scottsdale, is the Scottsdale Civic Center. Here, you'll find a wonderful open-air green space, water features with ducks, sitting areas, and spectacular rose gardens.
You will also find the iconic LOVE sculpture by the late artist Robert Indiana, along with other pieces of interesting public art. Key cultural institutions are also located in this area, including the Scottsdale Center for the Performing Arts and the Scottsdale Museum of Contemporary Art.
Throughout the year, performances take place in the Scottsdale Mall Amphitheater, a pleasant grassy area just to the north of the main square.
9. McCormick-Stillman Railroad Park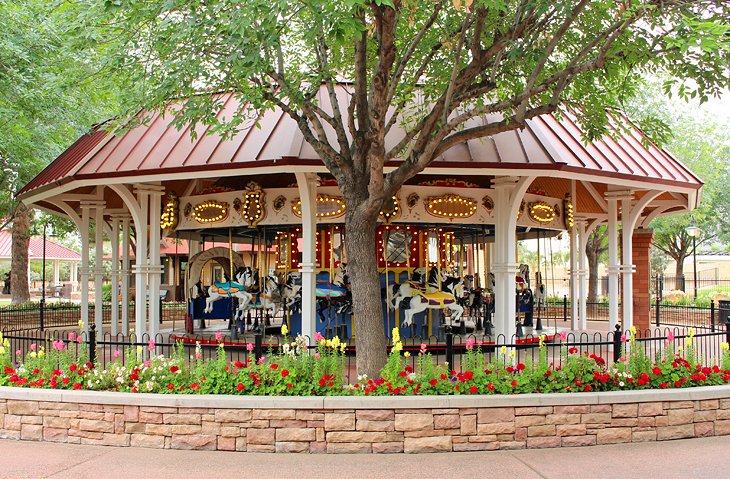 McCormick-Stillman Railroad Park makes a fun place for a family outing, particularly for those with young children.
The main attraction is the open-air mini train, which runs on a track around the park on a regular schedule, but there is much more to enjoy. Another highlight is the colorful 1950s carousel built by Allan Herschell, playing music from that era.
Nearby, a massive 10,000-square-foot model railway building showcases several different gauge miniature railways. This free attraction allows you to actually make the trains move along the tracks by pushing buttons.
Also in the park is the Railway Museum, with displays and an old steam engine and rail cars that you can walk through.
This park has several playgrounds, grassy areas, picnic tables, and large trees providing shade. Admission to the park is free, however, there is a modest fee to ride the train, carousel, and to enter the Railway Museum.
Address: 7301 E. Indian Bend Road, Scottsdale, Arizona
Official site: http://www.therailroadpark.com/
10. Butterfly Wonderland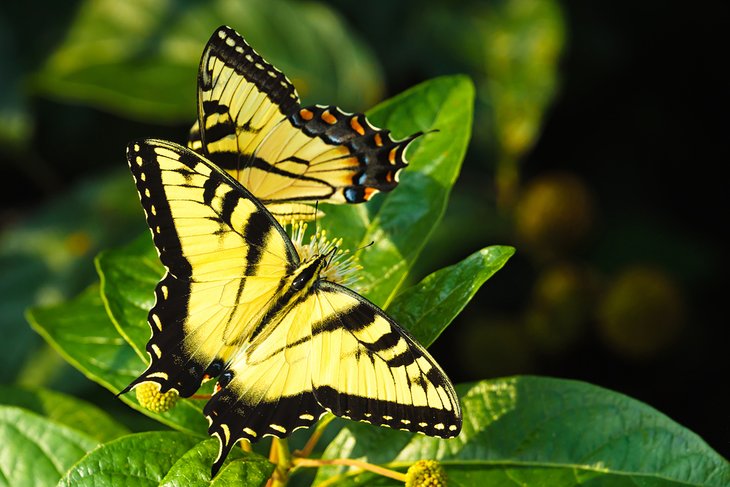 For more family fun, swing by Butterfly Wonderland in northern Scottsdale. This is one of the best places to visit on cool winter days or for an escape from the summer heat.
Inside is a colorful assortment of butterflies flitting about, as well as displays on honey bees hard at work, edible insects, rainforest reptiles, and arthropods. A 3D theater shows a fun film on insects, which almost seem to jump off the screen.
Official site: https://butterflywonderland.com/
11. Scottsdale Museum of Contemporary Art
Located just a short stroll from Old Town in the Civic Center Mall area is the Scottsdale Museum of Contemporary Art. Art aficionados can enjoy the four galleries full of design, art, and architecture. Locally, the museum is known by the acronym of SMoCA.
In addition to the permanent galleries, a constant stream of traveling and local exhibits are always on offer. The museum has an active calendar of interesting events, including one that even allows you to bring your dog.
Official site: https://smoca.org/
Where to Stay in Scottsdale
Luxury Hotels: Scottsdale is home to some of the best luxury hotels in the Phoenix Metropolitan area. These range from chic and cool to classic and sophisticated. One of the best is the understated yet elegant Four Seasons Resort Scottsdale at Troon

North

. This property has recently undergone extensive renovations and is perfect for those looking to relax by the pool or play a game of golf at Troon North Golf Course, where guests get preferential access.

Another of the city's top resorts is The Phoenician, A Luxury Collection Resort,

Scottsdale

, which has completely rebuilt entire sections of the complex as part of a multi-million-dollar renovation. Glorious pools on multiple tiers look out to the mountains and desert. Rooms are modern and luxurious, and the service is outstanding.

For something more cool and hip, with a fun vibe and cheery atmosphere, you can't beat the Hotel Valley

Ho

. This refurbished mid-century modern property is retro-cool and has an amazing location in the center of Scottsdale. You can easily walk to Old Town Scottsdale, where you'll find great dining, shopping, and entertainment options. Smartly designed rooms and suites, some with full kitchens, offer a refreshing treat from standard hotel rooms and need to be seen to be fully appreciated.
Mid-Range Hotels: Quality mid-range options are generally just a short drive from Old Town Scottsdale. The always dependable Courtyard by Marriott Scottsdale Salt

River

offers modern and comfortable rooms, a large and inviting outdoor pool, and pleasant common areas to sit and relax.

Located in a quiet area but with lots of great restaurants nearby is the Holiday Inn & Suites Scottsdale

North

, just a 10-minute drive from Old Town Scottsdale. Standard rooms and suites with kitchens offer plenty of space.
More Related Articles on PlanetWare.com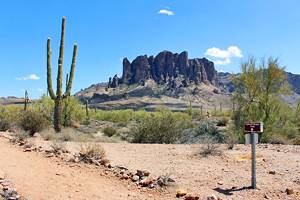 Explore the Phoenix Metropolitan Area: If you are staying in Scottsdale and looking to enjoy more of the outdoors in the surrounding area, you might want to throw on your hiking boots and head out on some trails. For a list of ideas see our top hiking trails in the Phoenix area. And for more ideas on general sightseeing and things to do, have a look at our article on the top attractions in Phoenix.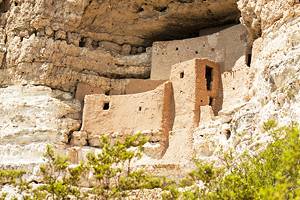 Nearby Cities and Things to Do: Less than a two-hour drive southeast of Phoenix, you'll find all kinds of things to do in Tucson. To the north, the town of Sedona is also worth a day trip to see the magnificent red rocks and wander through the eclectic mix of shops. These are just a couple of the popular day trip from Phoenix.