From Phoenix to Sedona: 4 Best Ways to Get There
Authors Michael and Lana Law spent several winters living in Sedona and have made the trip to Phoenix countless times.
One of the most popular day trips or weekend getaways from Phoenix is to Sedona. The stunning red rocks and towering cliffs have been drawing people to this area since the first settlers in the late 19th century.
Getting to Sedona from Phoenix is easy, it's a straight shot up Interstate 17, a well-maintained and heavily traveled route, to Highway 179. The trip from downtown Phoenix to Uptown Sedona takes two hours. Be sure to build in, at a minimum, an additional 60 minutes for pictures and possibly a walk around Bell Rock.
Four main options exist for getting from Phoenix to Sedona: self drive, tours, a shuttle bus, and rideshare. Sedona is a busy destination; be prepared for slow travel times on most weekends in the spring. The bottleneck generally happens on the last few miles into town, particularly between Oak Creek Village. To avoid the slowdowns, arrive early and beat the crowds, or travel midweek.
1. From Phoenix to Sedona by Car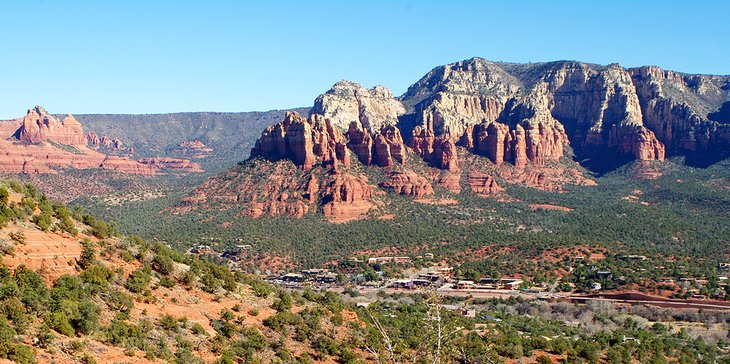 The easiest way of getting from Phoenix to Sedona is by car. The route is well marked, and with only one turn to make off the Interstate, it's almost impossible to get lost.
In Phoenix, travel to Interstate 17 off the 101 or Interstate 10, and head north. The road climbs gently through rolling hills until you reach a significant climb about 15 minutes north of the city. Here, the landscape starts to change with the appearance of Saguaro cacti on the hillsides. Eventually, you'll crest the hill and travel quite a long distance across a relatively flat expanse of desert, passing Sunset Point rest stop on your left-hand side. Pop in here for a break and to soak up the incredible views. After a while, the road descends steeply into Camp Verde, where you'll find an assortment of fast food and gas stations.
Camp Verde is also home to the fascinating 12th-century ruins of Montezuma Castle National Monument.
Continue along Interstate 17 until you come to the only exit you need to make on the entire route - exit 298 to Highway AZ-179. Follow this scenic and somewhat twisty road right into town, passing through the Village of Oak Creek and the stunning Bell Rock on your right-hand side along the way.
Parking in town can be challenging at times. A municipal lot is located just off the main street on the right side (cars only, no RVs). You'll also find limited street parking.
Having a car in Sedona is very handy. Most of the attractions, hikes, and dining options are spread out across a wide area in and around town. It's also critical if you are staying at a luxury resort — the best ones are located outside of the city.
2. From Phoenix to Sedona by Tour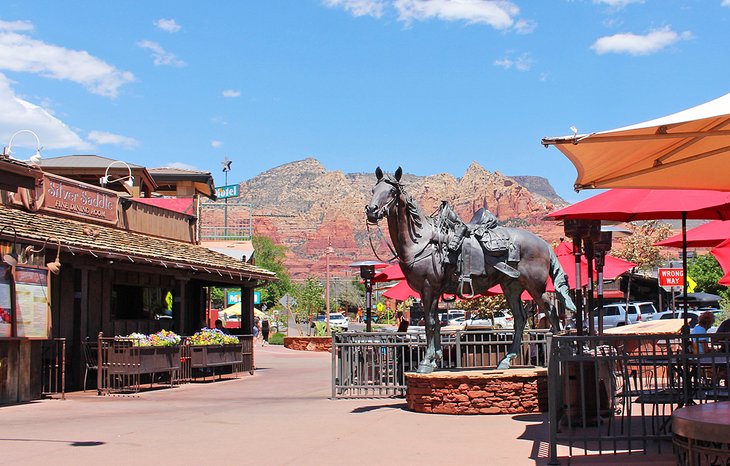 The most convenient way to get from Phoenix to Sedona and see all the highlights is on a tour. One of the best that mixes both ancient history and stunning landscapes is the Small Group or Private Sedona Red Rock and Native American Ruins Day Tour. This full-day, 11-hour tour includes a knowledgeable and personable guide who provides a running commentary along the route and at the three major stops: Tuzigoot National Monument or Montezuma's Castle National Monument (built between AD 1100 and 1450), Bell Rock, and the Chapel of the Holy Cross.
In addition to the stops, the tour spends time in Uptown Sedona, where you'll find a wide variety of eclectic shops selling all manner of items, from spiritual talismans right through to Cowboy clothing. The main street also has a good variety of restaurants, snack shops, and ice-cream stands if you need a bite to eat. The tour picks you up and drops you off at your hotel; all admissions are included.
Note that this tour only operates from the middle of August through to the middle of March each year.
3. From Phoenix to Sedona by Shuttle Bus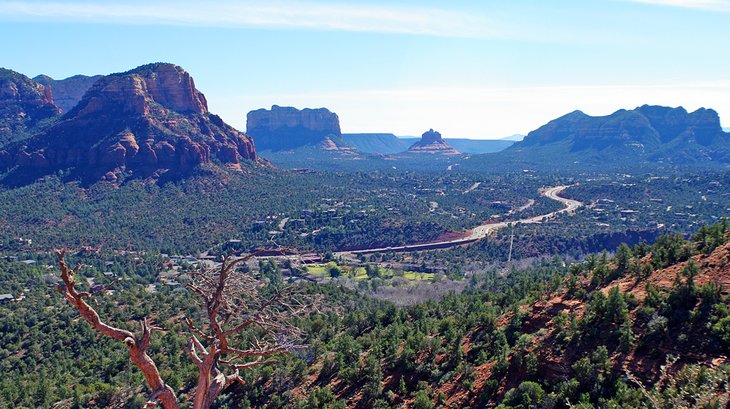 The cheapest option for getting to Sedona is by shuttle bus. Operated by Groome Transportation, the shuttle bus leaves from the Phoenix Sky Harbor International Airport seven times a day starting at 7:45am (schedules adjust slightly in the off-season). The trip takes two hours, 45 minutes in total.
If you are staying in Phoenix, you can take the Valley Metro Rail and PHX Sky Train to the airport to catch the shuttle at Terminal 2. Luggage on the shuttle is limited to two 50-pound suitcases and one carry-on item. Pets are not permitted; the only exception is service animals. You can bring your bike, but it must be properly packaged to avoid damage.
This shuttle is just transport; no narration or guide services are provided along the route. You could conceivably use this as a day trip option, but the challenge you'll face in Sedona is getting around. A majority of the key sights are spread out around and outside of town, and without your own transport, you'll be hard-pressed to see them. From Uptown Sedona, you can hop on a local tour. Jeep tours are particularly popular.
4. From Phoenix to Sedona by Rideshare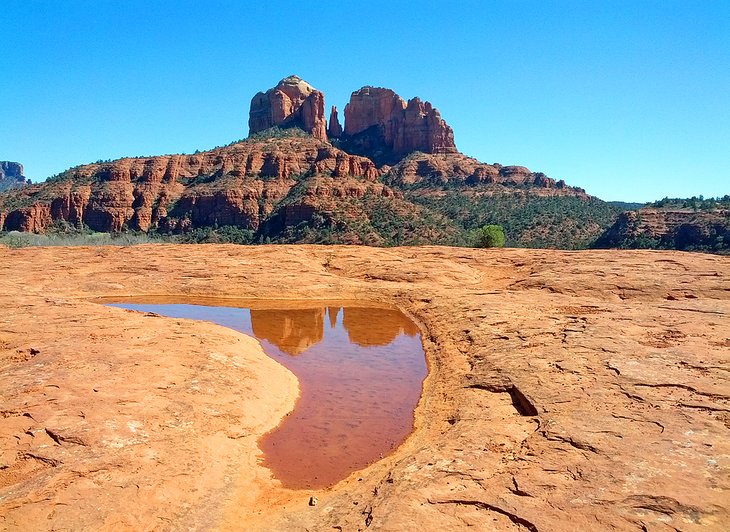 If budget is not a concern, and flexibility and speed are paramount, the ultimate in convenience is to book a rideshare on Uber or Lyft. You'll be picked up at a time and location you designate and be whisked up to Sedona and dropped at a location of your choosing.
The ride time is similar to driving yourself — about two hours door to door with Phoenix and Sedona traffic as your only variable. This option is surprisingly reasonable, just over twice as expensive as taking a shuttle but a hundred times easier.
Booking a car on a rideshare is especially economical if you have a group of four. In this case, your cost of the trip will be half of what the bus would cost for your group.
An estimate of the cost of the trip is easily found by visiting either Uber or Lyft and entering your departure point and arrival point.