15 Best Things to Do in Chandler, AZ
A city experiencing exponential growth, Chandler, Arizona has evolved into a popular vacation destination and is no longer just a suburb of Phoenix. With exciting indoor things to do, like shopping for bargains at the Phoenix Premium Outlets or letting the family explore their creativity at the Crayola Experience at the Chandler Fashion Center, you can easily escape the summer heat.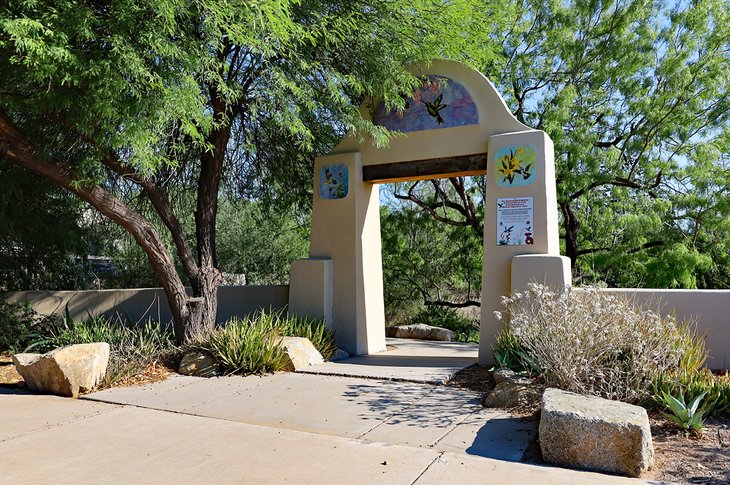 Pamper yourself with a Native American-inspired spa day at the Aji Spa at the Sheraton Grand at Wild Horse Pass, or have a special Hawaiian massage at the Hawaiian Experience Spa in town.
Chandler is a great place to visit if you love trains. Check out dozens of full-size rail cars and locomotives at the Arizona Railway Museum, and ride around on a miniature train at Desert Breeze Park.
There are also a multitude of ways to explore the city's desert and mountain landscape. Take a hike in the mountains, or watch the scenery go by on horseback during a trail ride at the Koli Equestrian Center.
Discover more great places to visit with our list of the best things to do in Chandler, Arizona.
1. Go on a Trail Ride at the Koli Equestrian Center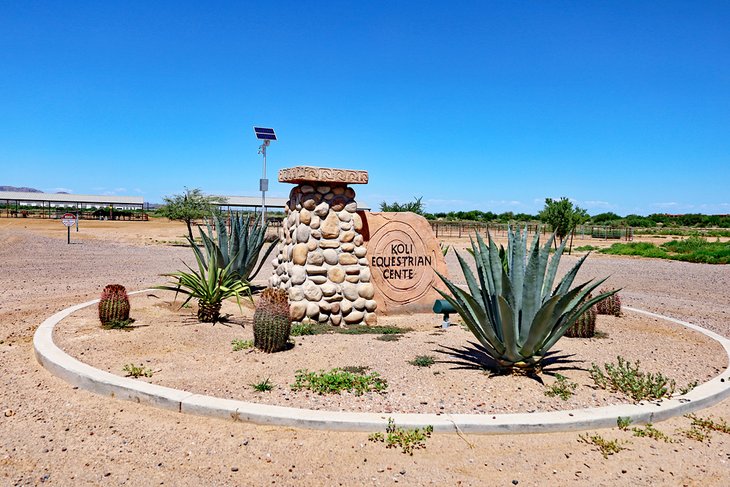 What better way to see Chandler's beautiful mountain scenery than from horseback. The Koli Equestrian Center focuses on group trail rides led by friendly, experienced guides. They are unique in that they stay away from traditional head-to-tail trail riding formation; you ride next to the other riders, so you can talk and enjoy each others' company.
This tribal-owned business is on the Gila River Indian Community reservation and has gentle, well-trained horses for any skill level. You can be an experienced rider or a first-timer – they'll make sure you have a fun, safe ride.
Rides can be customized to your own goals, skill level, and time limit. Take a quick ride around the corral, or head out on a half-day or all-day trek into the mountains.
Address: Wild Horse Pass Road and Maricopa Road, Chandler, Arizona
2. Shop for Bargains at the Phoenix Premium Outlets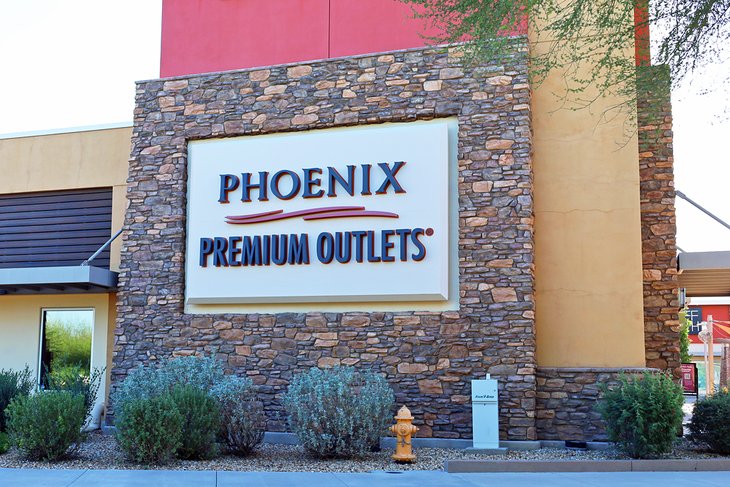 The Phoenix Premium Outlets outlet mall is in Chandler and has more than 90 factory stores, from Adidas to Zales, selling all kinds of clothing, footwear, jewelry, and home goods.
If you didn't know, an outlet mall has official factory stores, from top luxury, fashion, and housewares brands that sell past-year and discontinued items at a discount. Outlet stores also sell specific, lower quality merchandise not sold at their traditional retail stores.
Outlet malls can only be located outside major metropolitan areas, so they don't compete with the regular stores located in-town.
Aside from all the retailers, there are a few restaurants, grab-n-go cafés, and coffee shops located at the Phoenix Premium Outlets.
Address: 4976 Premium Outlet Way, Chandler, Arizona
3. Play Tennis and See Some History at Tumbleweed Park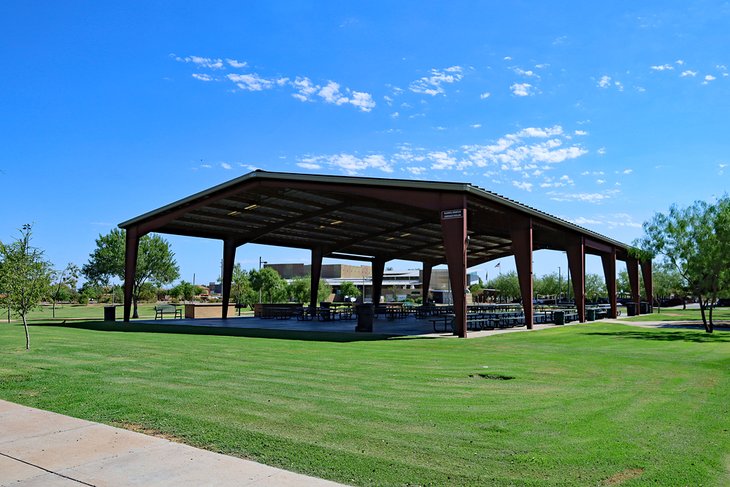 This large park space includes athletic fields, walking trails, tennis courts, picnic areas, lakes, and lots of open areas to enjoy the sunshine.
If you're visiting Chandler in mid-March, you can attend the Ostrich Festival. For more than 30 years, this combination music festival, carnival, and food fair has been held in Tumbleweed Park.
The park is home to the massive Tumbleweed Park Recreation Center, an indoor facility with pools, basketball, and racquetball courts, fitness areas, and an indoor track plus other amenities to help keep the community fit and active.
The center offers a wide range of classes and activities for all ages, including art and dance classes and experiences. Some of the activities require advance reservations, and some cost money. You can make reservations and purchase passes on the city's website.
While you're at the park, visit Tumbleweed Ranch, at the park's southwest corner. The historic property preserves Chandler's rich agricultural legacy. There are two historic homes and several old stores on the property, along with antique agricultural equipment.
Address: 2250 South McQueen Road, Chandler, Arizona
4. Wild Horse Pass Motorsports Park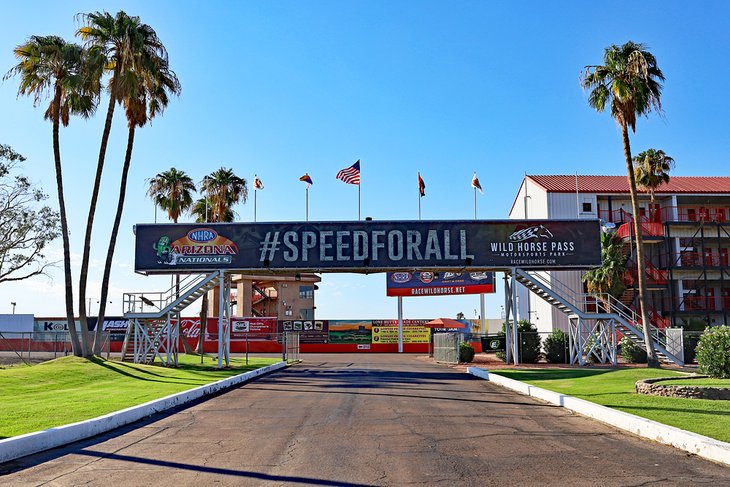 Go Fast Entertainment hosts weekly Drift N Drag track nights at the Wild Horse Pass Motorsports Park. Watch drag racing and drifting, which is where cars go around the track in a controlled burnout/skid.
Weekly public drifting events allow drivers to live out their Fast & Furious fantasies in a safe, controlled non-public-street environment.
Midnight Madness are late-night summer (June, July, and August) events, running from 9pm to 2am. These include live music and a car show in addition to drag racing and a burnout box. Friday Night Drags are where the public can bring their own car (subject to safety requirements) onto the track and run it down the drag strip.
Aside from the Go Fast community events, the Wild Horse Pass Motorsports Park hosts professional races of various types, including 300-miles-per-hour NHRA drag racing.
Address: 20000 South Maricopa Road, Chandler, Arizona
Official site: https://gofastent.com/
5. Treat Yourself to a Spa Day at the Sheraton Grand at Wild Horse Pass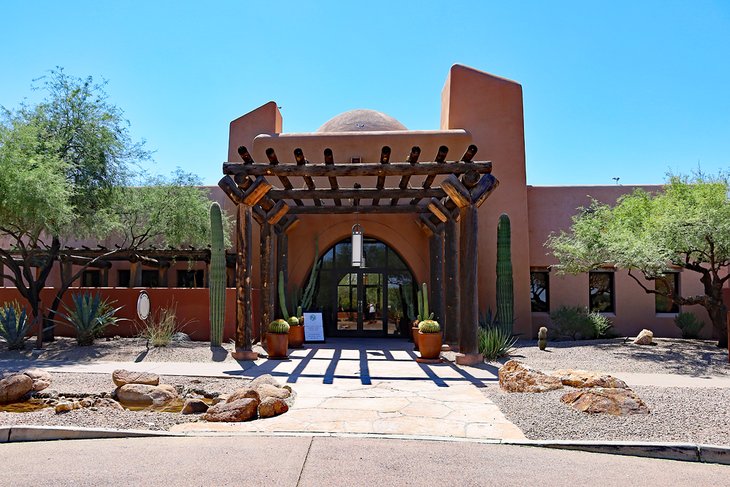 The Sheraton Grand at Wild Horse Pass is the state's premier Native American-owned luxury resort. The highlight of the AAA Four Diamond-rated resort is the Aji Spa. Aji, which means "sanctuary" in the native Pima language, offers a full range of beauty, body, and skin treatments.
The treatments, techniques, and products used in the spa represent the sacred Pima and Maricopa traditions native to the area. These include things like a prickly pear cactus body treatment and a mustangs and massage combo, which includes a trail ride followed by a massage. The spa even has its own pool and a special café with a healthy lifestyle menu.
When you've completed your treatments, spa guests have access to the resort's fitness center along with the spa's sauna, steam room, and their exclusive indoor and outdoor whirlpool tubs.
You can relax in the relaxation lounge by a big fireplace. For a special dining experience after your spa experience, the resort has Arizona's only AAA Five Diamond/Forbes Five Star restaurant, the acclaimed Kai.
Address: 5594 West Wild Horse Pass Blvd, Chandler, Arizona
6. Have a Hawaiian Massage at the Hawaiian Experience Spa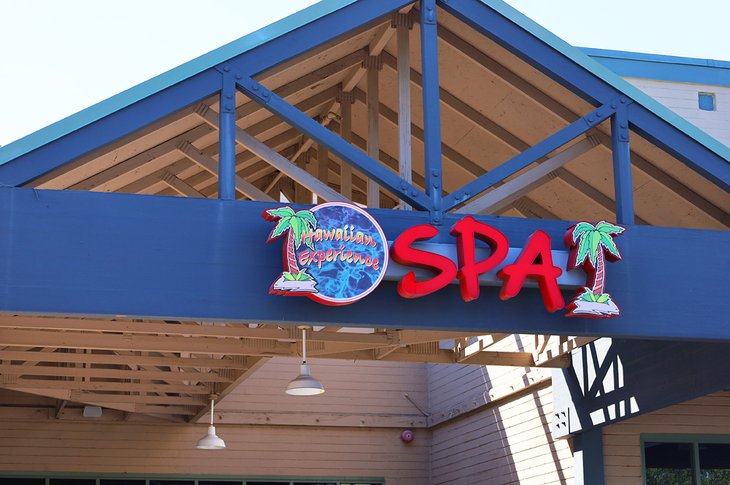 Hawaiian Experience Spa has three Arizona locations and offers a truly different day spa experience. Family-owned and operated, the spa focuses on bringing an aloha experience to Chandler spa-goers. Massage techniques, products, and procedures are based on ancient Hawaiian healing arts and techniques.
The most popular massage is their signature Hawaiian-style massage called the Lomi Lomi. A technique native to the Hawaiian Islands, it's a full-body massage, where the entire body is massaged simultaneously in continuous movements by the massage therapist. Add in products sourced from the islands and some wonderful Hawaiian music, and you have a relaxing, wonderfully unique experience.
Address: 1949 West Ray Road, Suite 16, Chandler, Arizona
Official site: https://hawaiianexperiencespa.com/
7. Climb aboard a Steam Locomotive at the Arizona Railway Museum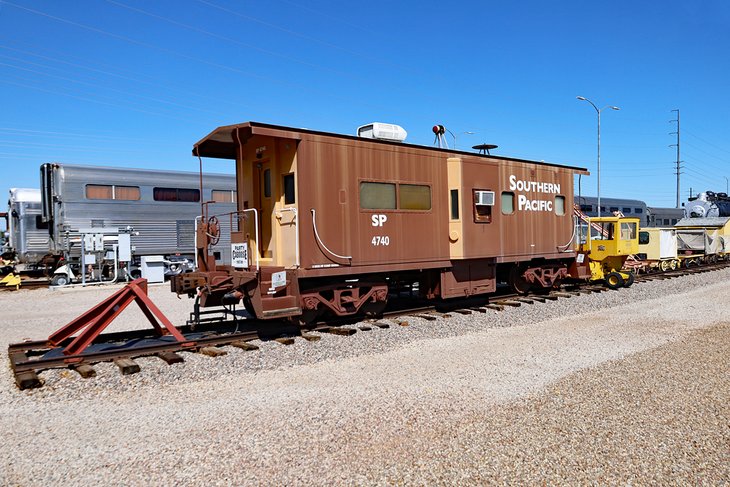 This vast outdoor train museum has an incredible collection of locomotives, rolling stock, and other cool trains like freight cars, passenger cars, and cabooses.
Admission to the Arizona Railway Museum includes a self-guided walking tour of the vast rail yard where the trains are marked with signage about their history. Almost 10 of the cars have been restored, and the interior of those train cars can be toured. There's also a central museum building (an old station depot building) with smaller railroad artifacts.
It's fascinating to learn about the important history Arizona has with the railroads at this Chandler tourist attraction. Trains provided all the goods and products for 100 years before the automobile. It was also a key stop on the transcontinental railroad route, so anything going to California went through Arizona.
You can visit the museum on weekends; it's open from 10am to 4pm, but closes down for the hot summer between June and September.
Address: 330 East Ryan Road, Chandler, Arizona
Official site: http://azrymuseum.org/
8. Explore the City's Cultural History at the Chandler Museum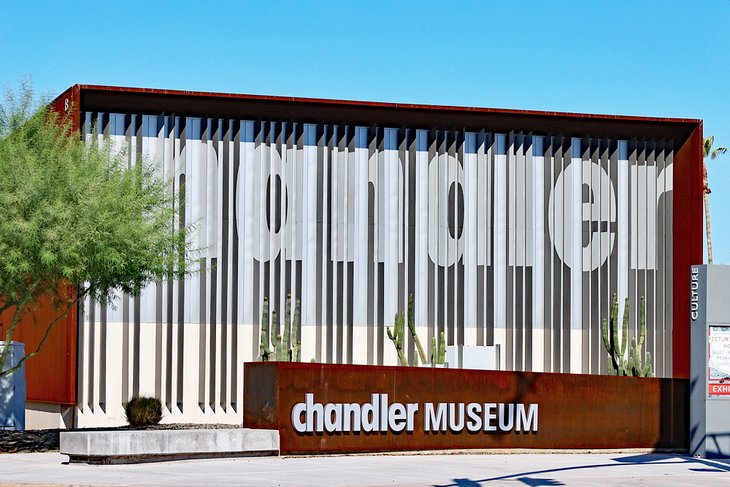 This free, modern museum presents multiple exhibitions each year, both in-house produced shows about Chandler history along with national traveling shows focusing on culture, history, and art. More than a museum, it's a cultural destination, a modern art museum mixed with a history museum mixed with a photo gallery.
The exhibitions are complimented with a wide schedule of free classes, lectures, and workshops for children of all ages and for adults as well. There are also cool events like an outdoor chuckwagon cookout that celebrates the food and cooking techniques of the Old West.
The Chandler Museum is right across the street from the Chandler Fashion Center
300 South Chandler Village Drive, Chandler, Arizona
Official site: https://www.chandleraz.gov/explore/arts-and-culture/chandler-museum
9. Enjoy a Vast Western Art Collection at the Zelma Basha Salmeri Gallery
Anyone from Arizona knows the Bashas' grocery store chain and the son of the founder, Eddie Basha, Jr., amassed a large Western art collection which is open to visitors. Housed within the grocery chain's corporate headquarters, the Zelma Basha Salmeri Gallery features what is formally known as the Eddie Basha Collection of Western American and American Indian Art.
The collection, one of the largest private collections of such materials in the world, concentrates on two areas: modern Western American Art (lots of cowboys and horses) and modern American Indian Art (with American Indians as both artist and subject).
The massive collection includes more than 3,500 pieces. You'll see art in multiple media on the walls, as well as beautiful objects like bowls, baskets, pottery, and jewelry.
The gallery is open from Monday through Friday from 9am to 4pm, but visitors are asked to call ahead, as it sometimes closes for special events.
Address: 22402 South Basha Road, Chandler, Arizona
Official site: https://eddiebashacollection.com/
10. Cool Off at the Mesquite Groves Aquatic Center Water Park
This city-owned facility just may be the country's best public pool, and it's a great thing to do with kids if you're visiting Chandler during the hot summer. Not only is there an Olympic-sized, heated competition pool with diving boards, you can also float down the lazy river, rocket down either of the two waterslides, or get soaked under the 725-gallon tumble-bucket.
Little kids have their own play area, and everyone can use the giant water cannons. There are always lanes reserved for lap swimming, so adults can get some exercise, while the kids have fun.
June, July, and August, they're open every day, with more limited evening and weekend hours during the springtime. The pool normally closes between November and June.
Admission for kids is just $1, adult admission is $2.25 (everyone must pay, even non-swimmers). Lifeguards are on duty; they have changing rooms and lockers, as well as a small café. You are allowed to bring your own snacks, a brown-bag lunch, and drinks in a small, six-pack-sized cooler.
Address: 5901 South Hillcrest Drive, Chandler, Arizona
11. Ride the Desert Breeze Railroad at the Desert Breeze Park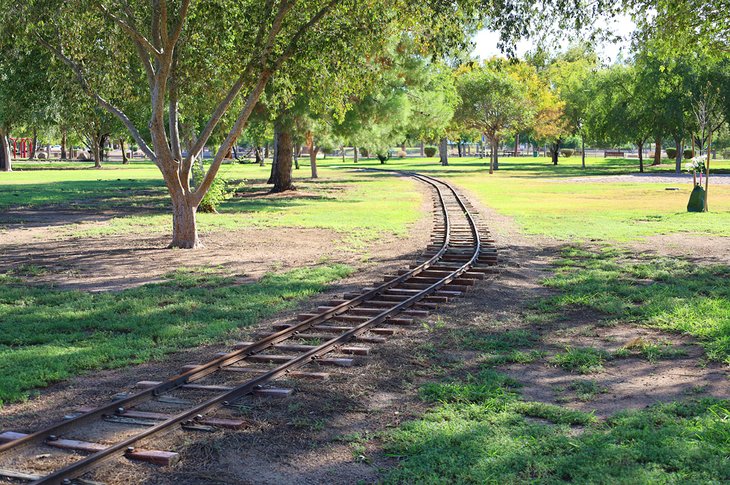 After you've enjoyed the full-size trains at the Arizona Railway Museum, climb aboard and ride a miniature train at Desert Breeze Park. The Desert Breeze Express is a third-scale model railroad with open-top passenger cars you can ride in. The train includes a miniature locomotive, the passenger cars, and even a red caboose.
The Desert Breeze Railroad takes you on a scenic three-quarter-mile ride around the park and its lake. There is a station area with some antique railroad memorabilia. It's a fun thing to do with kids, as there is a merry-go-round and a large children's play area right next to the train depot.
The Desert Breeze Express train runs on Fridays, Saturdays, and Sundays, from Labor Day (early September) through Memorial Day (the end of May).
Address: 660 North Desert Breeze Blvd. East, Chandler, Arizona
Official site: http://desertbreezerr.com/
12. Indulge in Retail and Creative Therapy at the Chandler Fashion Center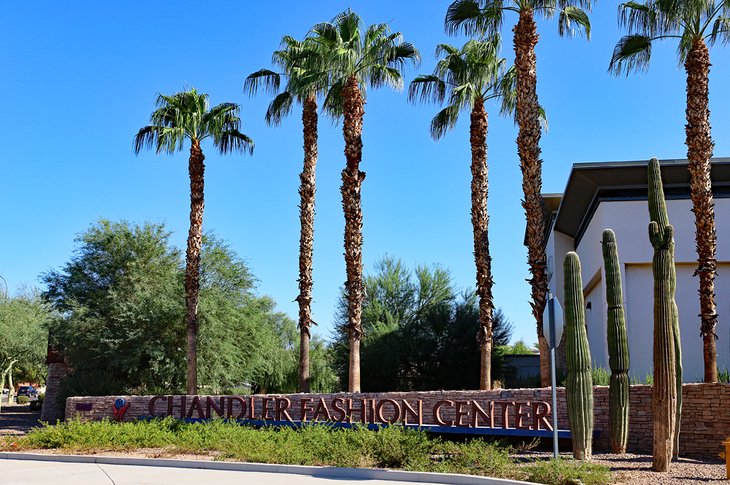 The upscale Chandler Fashion Center mall includes more than 180 premium retailers, like the Apple Store, lululemon, Dillard's, and Urban Outfitters. Break up your shopping with a trip to the Harkins Theatres Fashion 20 (with 20 theaters), and make sure you take the kids to try the Crayola Experience.
One of the best things to do in Chandler for families, the Crayola Experience is an all-day, all-ages activity and creativity space. It's one of only five Crayola Experience centers in the US. You and the kids will find a mix of physical obstacles and activities, video-viewing experiences, and art (physical and digital) workshops.
If you get hungry at the Chandler Fashion Center, there are six different dining experiences awaiting you, including The Cheesecake Factory and P.F. Chang's.
Address: 3111 West Chandler Blvd, Chandler, Arizona
Official site: https://www.shopchandlerfashioncenter.com/
13. Visit Rawhide, an Old West Town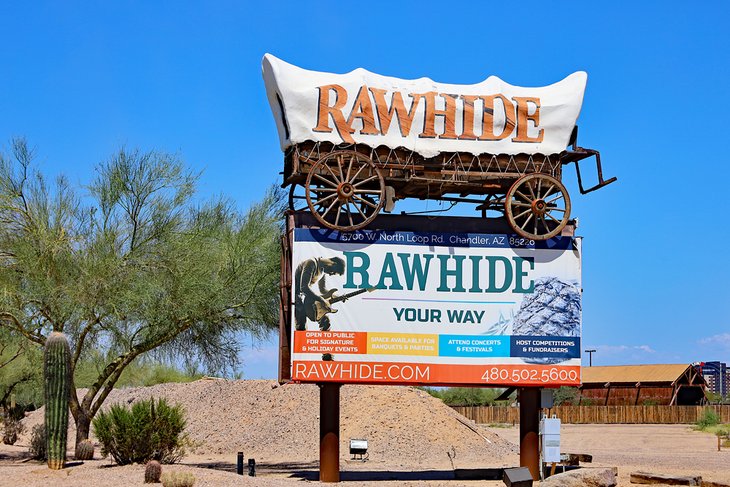 Rawhide is a whole Old West town recreated on 160 acres of the Sonoran Desert in Wild Horse Pass. Sometimes used as a movie set, it's only open to the public for special events (concerts, food festivals, and similar things) and for annual signature holiday events, but it's a very cool place to visit.
Rawhide is like a whole small town with 18 different areas and venues to explore. Aside from the Old West Town, there's a Mexican village, as well as a large rodeo arena. During events, you can do things like rock climbing, gold panning, or testing your aim at the shooting gallery. There are also stagecoach and hay wagon rides.
Check the Rawhide website to see if there are any special events on the schedule, as they are held frequently, and most are open to the public.
Address: 5700 West North Loop Road, Chandler, Arizona
Official site: https://rawhide.com/
14. See a Show at the Chandler Center for the Arts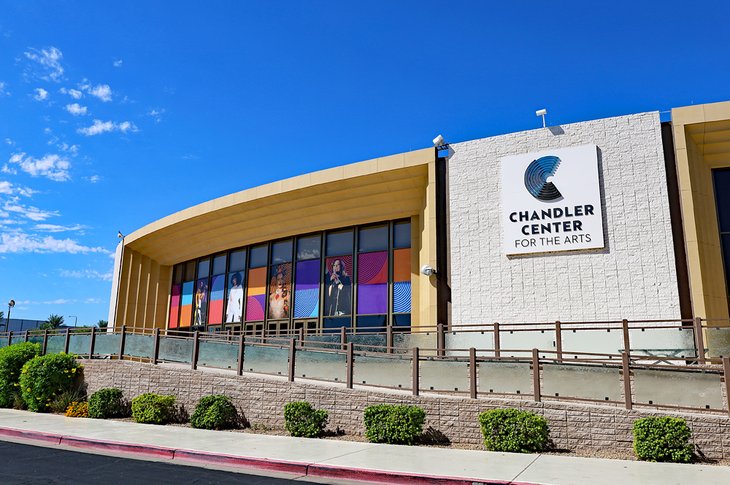 This large theater venue with 1,500 seats is located in downtown Chandler. The Chandler Center for the Arts hosts a seriously wide array of performers appealing to almost everyone. Recent headliners have included Weird Al, Martina McBride, and a Led Zeppelin tribute band. There are also symphony performances, dance and performing arts, comedy, and magic.
In addition to the main auditorium, there are two smaller venues also located in the theater building, which also host a wide selection of programming in both English and Spanish.
The building also houses a beautiful art collection showcased in two different art galleries, in support of the local visual arts community.
The Gallery at CCA is free and open from 10am to 5pm, Monday through Friday, and Saturdays from 12pm to 5pm.
Tickets are available on the theater website.
Address: 250 North Arizona Avenue, Chandler, Arizona
Official site: https://www.chandlercenter.org/
15. Discover a Treasure at the Merchant Square Antique Mall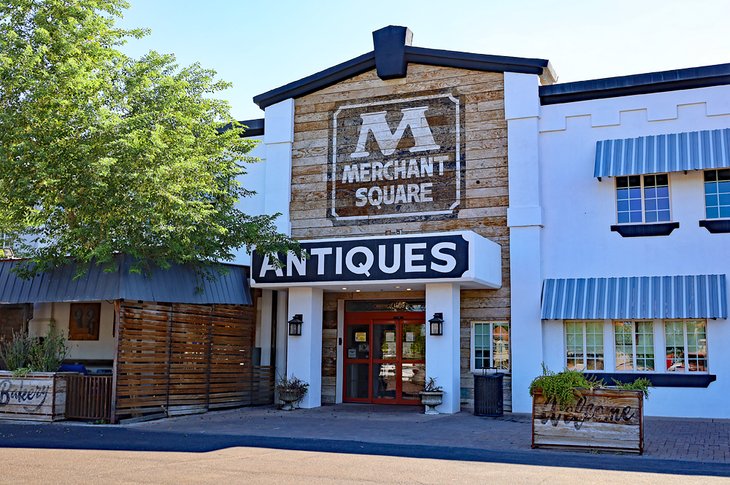 Merchant Square is a 50,000-square-foot indoor antique mall filled with all kinds of treasures to be discovered. There are over 250 merchants selling everything from vintage vinyl to period clothing; action figures; comic books; and all kinds of collectibles, furniture, and more. You'll find a range of Western-themed things.
Before or after your shopping experience, stop by the American Way Market on-site for some of Chandler's best barbecue. The Highland Yard Vintage Market is a separate, home goods market that happens once a month (several times a month in November and December), in a space behind Merchant Square. It's a great place to buy handmade, unique, one-of-a-kind items for your home.
Address: 1509 North Arizona Avenue, Chandler, Arizona
Official site: https://merchantsquareantiques.com/
Map of Things to Do in Chandler, AZ
Chandler, AZ - Climate Chart
Average minimum and maximum temperatures for Chandler, AZ in °C
J
F
M
A
M
J
J
A
S
O
N
D

19

5

22

7

25

9

29

12

34

16

40

21

41

25

40

24

37

21

32

15

24

8

19

4

PlanetWare.com
Average monthly precipitation totals for Chandler, AZ in mm.

26

25

30

8

4

2

23

29

23

21

20

25