From Phoenix to Flagstaff: 4 Best Ways to Get There
To get from Phoenix to Flagstaff, you have a few different options to choose from. With a big, easy-to-drive highway boasting frequent services (for both gasoline vehicles and EVs) along the way, driving is an easy option. Keep in mind, you will probably encounter some snow around Flagstaff during the winter.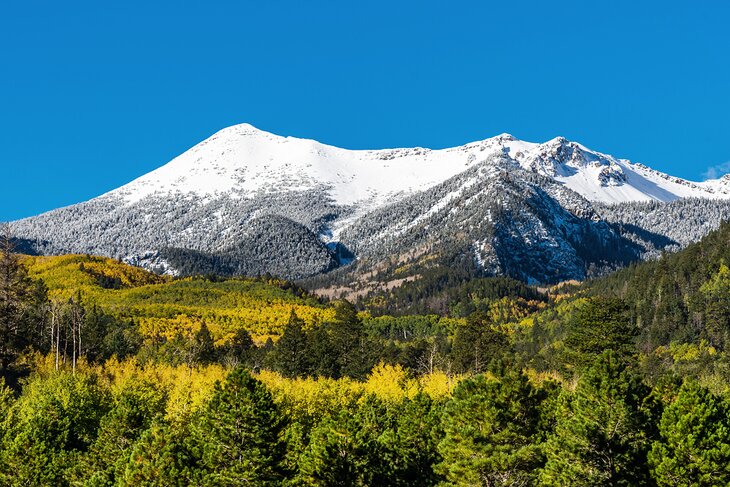 Taking the bus is another option to get from Phoenix to Flagstaff. Both Greyhound and FlixBus have almost direct (one-stop) service between the two cities, and both will get you there in about three hours. Groome Transportation (formerly known as the Arizona Shuttle) makes 10 shuttle van round-trips each day and has long been the most popular way for Flagstaff residents to get to their flights at PHX.
If you want to fly between the cities (PHX to FLG), American Airlines offers three daily non-stop flights, which take less than an hour. To help plan your trip, here is our complete guide to the best ways to get from Phoenix to Flagstaff:
1. From Phoenix to Flagstaff by Car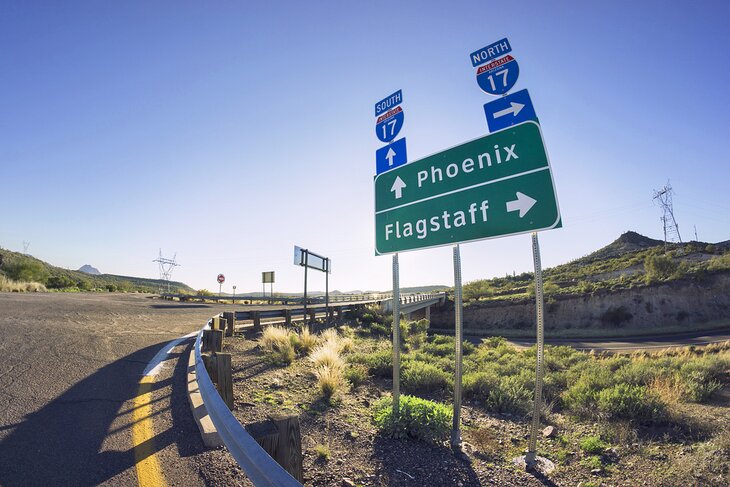 Fastest Driving Route: The easiest way to get from Phoenix to Flagstaff, a distance of about 145 miles, is usually by car. A quick two-and-a-half to three-hour drive along I-17 gets you there, as the interstate highway pretty much directly connects the two cities.
Scenic Driving Route: If you want a scenic drive and don't mind some cliffside roads, hairpin turns, and a little longer drive time, you can branch off I-17 north of Camp Verde on Highway 179. This is a two lane road that takes you through Sedona. At Sedona, the road joins up with Highway 89A, which leads up through the dramatic Oak Creek Canyon on a twisty ascent that will take you to Flagstaff.
This route will take around three hours on average but can take considerably longer on busy weekends if the traffic is heavy through Sedona. depending on traffic.
Be aware that winter weather can be a factor on either of these drives, as the higher areas and the city of Flagstaff receive a lot of snow each winter.
Car Rentals: If you want to rent a car at Phoenix's Sky Harbor International Airport (PHX) for the drive to Flagstaff, the airport has an off-site car rental center (805 E. Sky Harbor Circle South, Phoenix), with multiple companies all in one place. You can rent cars from Hertz, Avis, Enterprise, Budget, Thrifty, National, Dollar, Payless, and other major car rental companies, as they all have booths at the rental car center.
Be sure to reserve a car in advance, walk-up options are extremely limited. For unique and sporty rental cars, check out Sixt. The German car rental company tends to have more interesting premium and luxury car options as far as vehicle choice.
The Sky Harbor International Airport Rental Car Center is easily accessed via a frequent shuttle bus, with stops on the baggage claim level. The shuttle bus runs 24 hours a day, 7 days a week, 365 days a year.
Most major car rental companies also have multiple locations around Phoenix in addition to their locations at the airport, and Enterprise offers free pickup service for car renters.
Another car rental option in Phoenix is Audi on demand, formerly Silvercar. This all-Audi, paperless (app-based) car rental company is based out of an Audi dealership in Scottsdale near the airport, but they can deliver a car to you at PHX. All the cars come with Audi's quattro all-wheel-drive for good traction in wet and snowy conditions.
2. From Phoenix to Flagstaff by Bus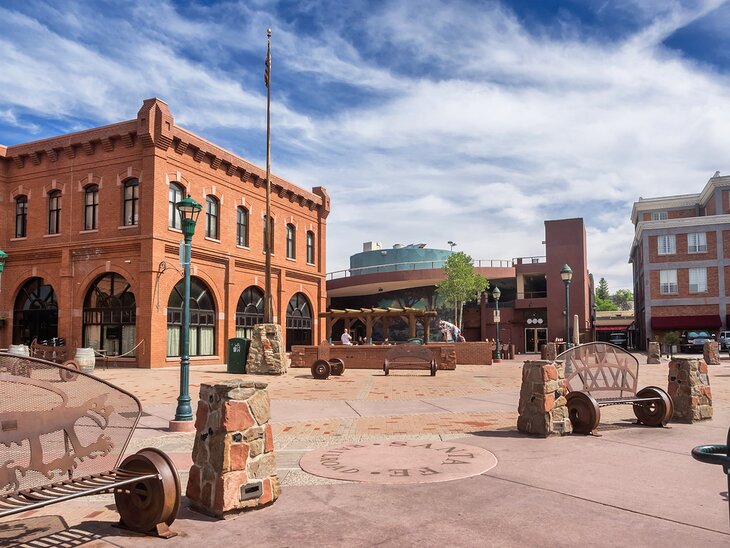 An easy option to get from Phoenix to Flagstaff is to take the bus. Greyhound has multiple buses that make the trip between the two cities in about three hours with only one stop (Glendale, AZ).
Greyhound buses run from the Phoenix Bus Station at 2115 East Buckeye Street to the Flagstaff Bus Station at 880 East Butler Avenue.
Greyhound buses have restrooms and free basic Wi-Fi; premium Wi-Fi is available for an additional fee. They have an entertainment portal with movies and TV shows, accessible on your personal mobile device (phone, laptop, or tablet). Buses have reclining leather seating, with no middle seats, and every seat has its own 110 volt power outlet.
FlixBus has one bus per day running from Phoenix to Flagstaff. The trip also takes about three hours. Buses leave from the 44th Street PHX Sky Train Station at the airport and drop off at the Amtrak station in Flagstaff at 1 East Route 66.
FlixBuses also have a restroom, at-seat power outlets, and free Wi-Fi. With FlixBus, you can reserve your seats online (at an extra cost), reserve seats with extra legroom (also at an additional cost), and book travel with extra baggage or a bicycle. FlixBus also has an entertainment portal with movies and TV shows, viewable on your own mobile device or tablet.
3. From Phoenix to Flagstaff by Plane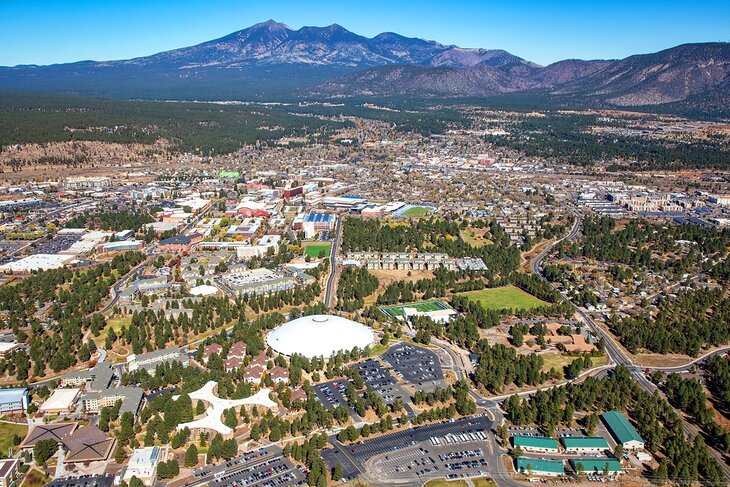 With a flying time of less than an hour, traveling by plane between Phoenix and Flagstaff can be quick and easy, especially during the winter months, when roads can be snowy. As of December 2022, American Airlines operates three non-stop flights a day between Phoenix (PHX) and Flagstaff Pulliam Airport (FLG), aka Grand Canyon Village Airport. The flight time is about 55 minutes.
FLG is about 10 minutes from downtown Flagstaff. To get downtown from the airport, you can take a taxi, a rideshare (Lyft or Uber), or the Groome Transportation shuttle bus, which takes you to the Amtrak station downtown. For an extra fee, the Groome Transportation shuttle drops travelers off at Flagstaff hotels, but this feature must be booked in advance.
4. From Phoenix to Flagstaff by Shuttle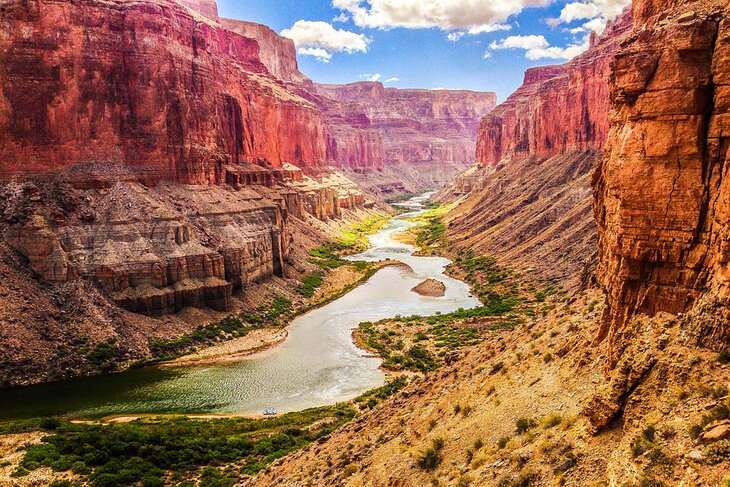 Groome Transportation (formerly the Arizona Shuttle) operates 10 shuttle van trips between Phoenix and Flagstaff every day. The round-trip shuttles run from Flagstaff and stops at Camp Verde, Grand Canyon (Maswik Lodge inside the park), Williams (Grand Canyon Railway Resort), and finally Sky Harbor International Airport (PHX) in Phoenix.
The Groome shuttle now offers home drop-off in these areas with advance booking and for an extra charge. Each Groome Transportation shuttle passenger is limited to two large suitcases and one carry-on. Only service animals are welcome; no pets are allowed on the Groome shuttle.
In Flagstaff, the Groome Transportation shuttle drops off and picks up in the parking lot of the Amtrak station at 1 East Route 66, on the San Francisco Street side of the building. At PHX airport, the shuttle makes stops at the blue Inter-City Shuttle stops along the center island outside the terminal.