22 Top-Rated Attractions & Things to Do in Sedona
We may earn a commission from affiliate links ()
Set amid beautiful red rock mountains, buttes, and canyons, Sedona is one of Arizona's most beautiful destinations. The scenery here is nothing less than stunning, with unbelievable views from every street corner and hiking trail.
Also known as a spiritual center, particularly for its energy vortexes, the city has a unique vibe and attracts visitors with a diverse set of interests. Attractions range from the spectacular natural areas and scenic drives to Native American ruins, architecture, galleries, and sacred sites. Many of the best things to do in Sedona are free, including hiking, mountain biking, or stargazing. The city is a designated Dark Sky Community.
Visitors often come to Sedona on a day trip from Phoenix, but for those with more time, a longer stay is definitely worthwhile. If you decide to use Sedona as a base, you can easily take a day trip to the Grand Canyon or nearby Flagstaff.
Find your way around and plan out your stay with our list of the top tourist attractions in Sedona.
See also: Where to Stay in Sedona
1. Cathedral Rock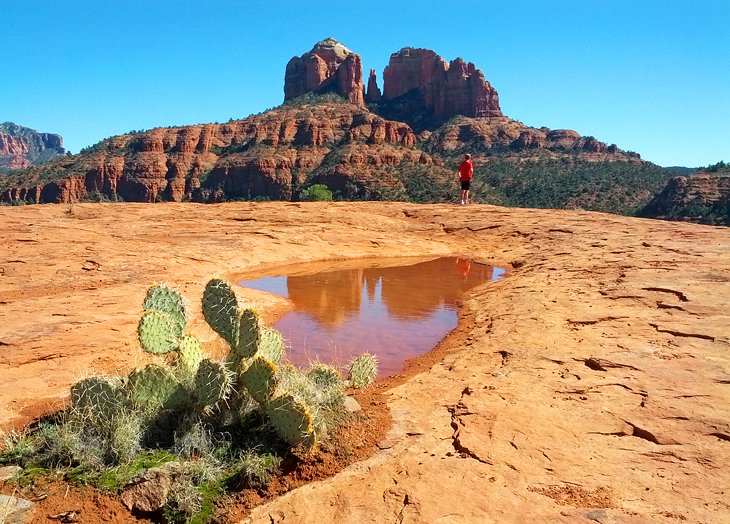 Cathedral Rock is the most photographed attraction in Sedona and one of the city's most impressive sites. You can see the rock from Highway 179 as you drive from Oak Creek Village into Sedona, or from the backside at several locations.
The most classic view of Cathedral Rock is from Red Rock Crossing Park, at the Crescent Moon Picnic Site.
If you feel an urge to climb this amazing rock formation, a hiking trail leads up to the saddle, where you're treated to incredible views to the east and west. It's also the location of an energy vortex.
2. Uptown Sedona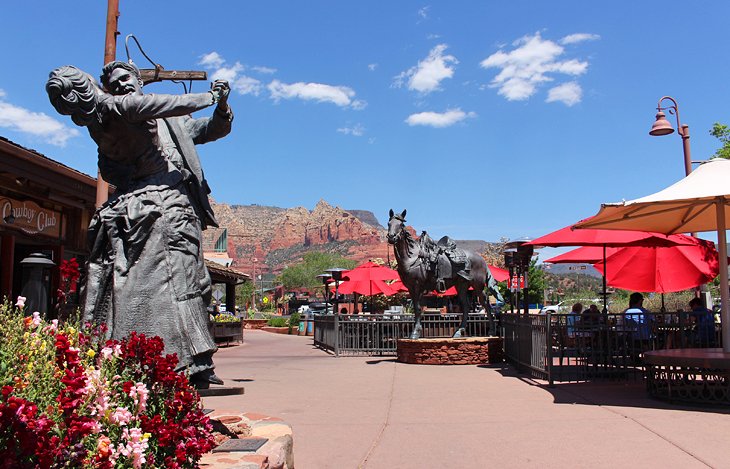 Uptown Sedona is the old town, where you'll find boutiques, tourist shops, galleries, cafes, and restaurants. This area runs along Highway 89A, beginning where Highway 179 ends. If you are heading up Oak Creek Canyon towards Flagstaff, you will pass right through Uptown Sedona.
Establishments here include everything from jewelry and craft stores to crystal sellers and casual cafeteria-style restaurants to fine dining. This is also where Jeep tours start from.
Parking can be at a premium along here, especially on weekends, but there is a parking garage where you can usually find a spot.
This is a convenient location if you plan on staying in Sedona. If you base yourself at a hotel in Uptown, you can walk to dinner, stroll down to Tlaquepaque to browse through galleries, shops, and more restaurants, or sign up for various tours that start from the main street.
Two of the best hotels in this area are the posh hillside L'Auberge de Sedona and the more mid-range Arabella Hotel Sedona.
3. Red Rock Scenic Byway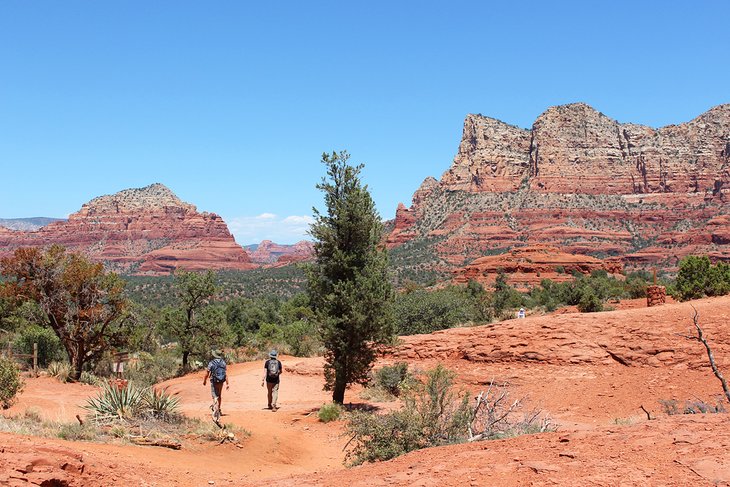 The Red Rock Scenic Byway is a stunning drive along Highway 179, running from south of the Village of Oak Creek to Sedona. Along here are numerous natural attractions; hiking and biking trails; and pullouts with parking lots, which allow you to stop and appreciate the sights. Near the north end is the Tlaquepaque arts and crafts village.
Some of the most popular sights long this route are Bell Rock, Cathedral Rock, and, just a short distance off the road, Chapel of the Holy Cross.
If you are coming from Phoenix, take exit 298 off Interstate 17 to access the Red Rock Scenic Byway.
4. Oak Creek Canyon Scenic Drive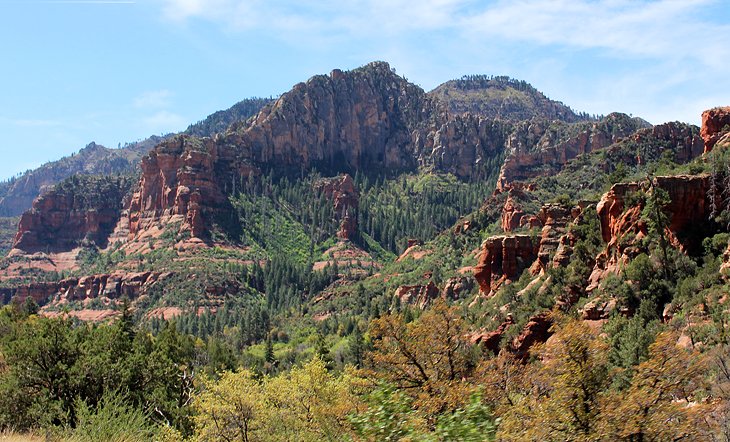 Stunning Oak Creek Canyon is just upstream from Sedona, on the way to Flagstaff. Rock formations, cliff walls, and forests line the scenic road, Highway 89A, which follows Oak Creek before climbing up the canyon along a dramatic stretch of twisting road with switchbacks.
The sharp corners and steep hills make this a road you will want to drive during the day and try to avoid after dark.
One of the main attractions along this route, particularly from spring until fall, is Slide Rock State Park. You'll also find hiking trails off this drive. One of the most spectacular hikes here is the West Fork Trail.
5. Hiking Trails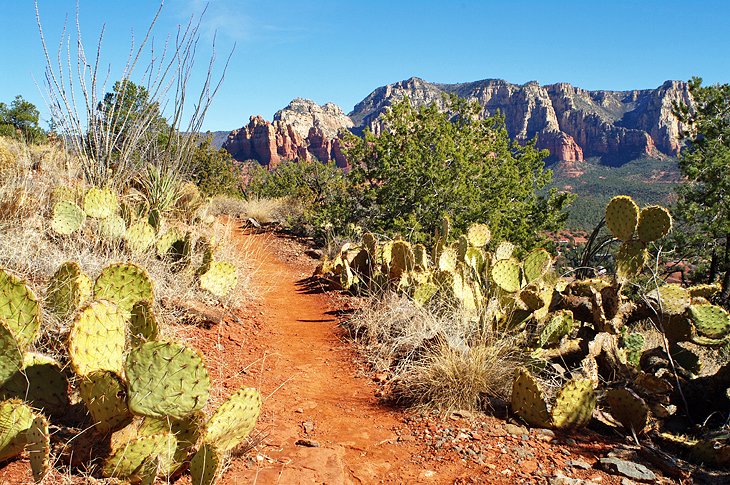 One of the best ways to explore the natural beauty around Sedona is to lace up your hiking boots and hit the trails. Many of the hikes are less than three miles and can easily be done in just a couple of hours, but they offer access to some of the most amazing views in the area. Longer and more challenging hikes can also be found around Sedona, leading to mountain tops and up canyons.
Canyon hikes offer easy hikes, with spectacular scenery and the huge orange cliff walls surrounding you. Alternatively, you can hike to the top of a mountain or butte for fantastic views out over the landscape.
Some of the most popular hikes are to Devil's Bridge, Cathedral Rock, and Bell Rock. These are a few of the usual recommendations from the tourist information office, but if you want to escape the crowds and enjoy some of the local favorites, see our article on the best hikes in Sedona.
6. Jeep Tours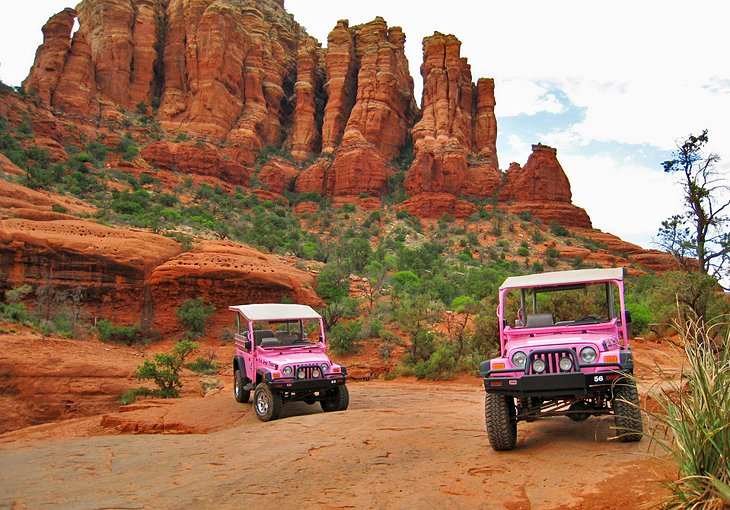 Jeep tours are one of the most popular things to do in Sedona. These trips allow you to see areas you wouldn't be able to reach without an off-road vehicle and take you through some areas you wouldn't think possible in a Jeep.
The Sedona Outback Trail Jeep Adventure is a two-hour off-roading adventure through rugged terrain and past some of the landmark rock formations in the area. These tours are in open-air Jeeps, which are themselves an iconic sight in Sedona. Be prepared for a bumpy ride. The drivers are knowledgeable and keen to share the local history and geology of the area.
7. Chapel of the Holy Cross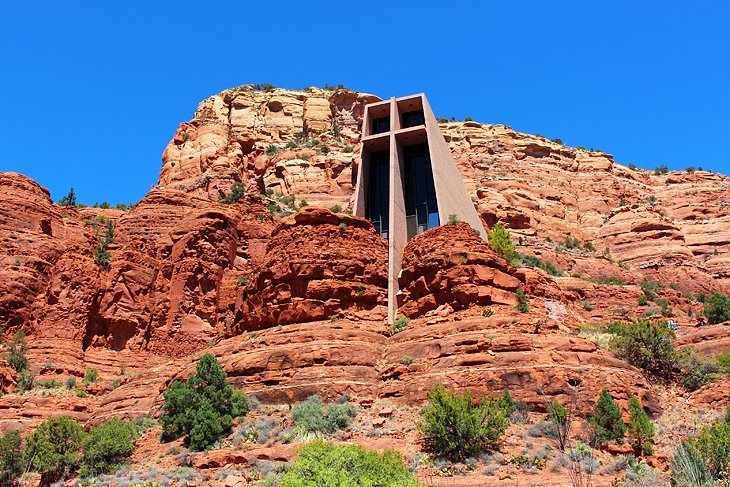 The Chapel of the Holy Cross sits perched on a small red rock plateau below a multi-hued sandstone ridge, creating one of the most impressive architectural sites in Sedona.
It was built in 1956 by Marguerite Brunswig Staude, a pupil of famous architect Frank Lloyd Wright.
This breathtaking landmark building incorporates a 90-foot cross that dominates the structure, and the front face of the chapel is all windows. The modern appearance, with sharp lines and angles, contrasts with the rounded red rocks but fits in beautifully with the surroundings.
8. Mountain Biking Trails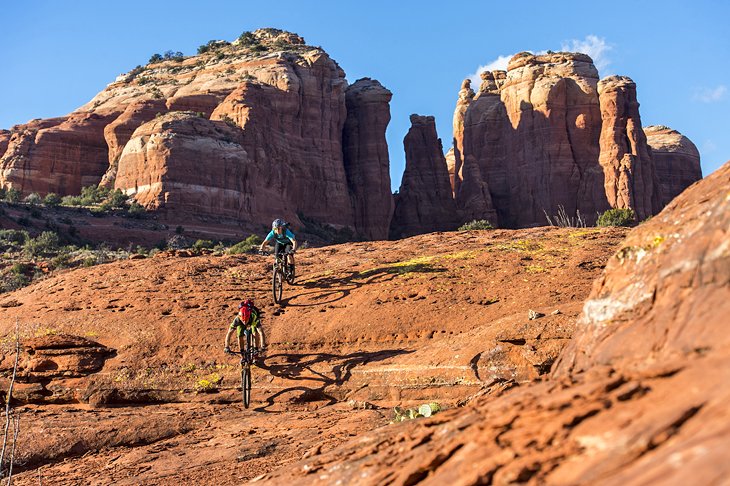 Sedona is one of the best mountain biking destinations in the country. The trails are outstanding and offer a bit of something for all level of abilities, perfect for everyone from families to advanced riders.
Apart from a few snowy days here and there in winter, you can pretty well mountain bike in Sedona year-round.
Trails wind their way through the spectacular mountain scenery, across dirt, and along areas of slickrock. Some of these trails lead past interesting attractions like Bell Rock, Cathedral Rock, and Doe Mesa. The level of difficulty ranges from easy to extreme but there are really trails here for everyone.
Local bike shops offer repairs, bike rentals, information, and maps. One of the best places is Thunder Mountain Bikes in West Sedona. The trails are well marked and rated on maps according to difficulty. The Sedona Mountain Biking Trails map is a must-have item before you head out.
Be sure to bring your camera – these trails feature some of the best photo locations in the entire area. For a closer look at the trails, see our list of the best mountain biking trails in Sedona.
9. Vortexes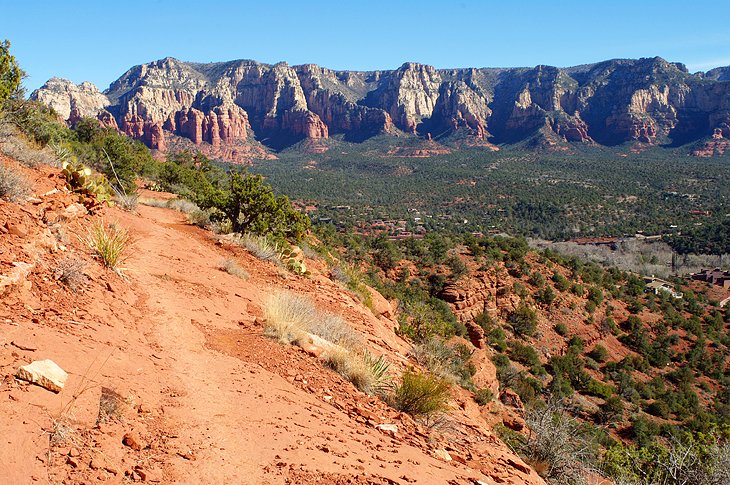 One of the more unique attractions in Sedona are the vortexes, found in natural locations around the area. What is a vortex? These are said to be centers of energy in the earth that can inspire healing, self-awareness, and spirituality.
Vortexes have different properties. Some are masculine vortexes, feminine vortexes, or balanced vortexes, and some of these go by different names, such as electrical, magnetic, or combination vortexes.
Some of the most common and accessible energy vortexes are found in Boynton Canyon, near the start of the Boynton Canyon hike and Enchantment Resort; on Airport Mesa, near an overlook at the side of the road; and on Cathedral Rock.
Boynton Canyon and Airport Mesa are the two easiest locations to reach, both of which are just a short distance from the parking lot. Cathedral Rock requires a short but intense hike. However, if you are up for it, the Cathedral Rock hike is one of the best in Sedona.
If you want to learn more about vortexes and be taken to some of the sites, you can sign up for a Sedona Vortex Tour by Jeep. On these 2.5-hour tours, a guide will point out natural features and explain the history and significance of vortexes.
10. Bell Rock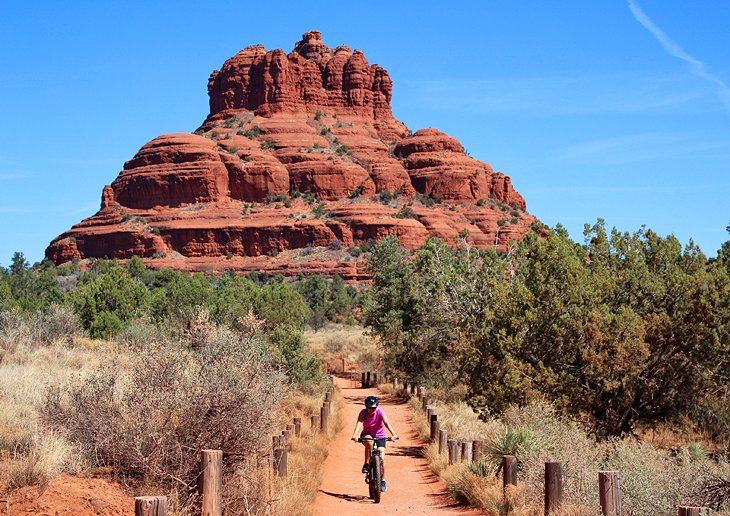 One of the key natural sites around Sedona is the aptly named, Bell Rock. This bell-shaped formation is just south of Sedona in the Village of Oak Creek, along the Red Rock Scenic Byway, and is one of the first sites you will come to as you approach Sedona from the south.
Easily accessible just off the road, this is a popular stop for tourists. You can park and have a quick look, walk up to it, do a short and easy hike along the side of the bell, or if you brought your mountain bike, you can do an easy ride here.
While the trail will take you around the skirt of the rock, you can also scramble up the rock a short distance.
Behind Bell Rock is Courthouse Butte, another famous sight and hike.
11. Boynton Canyon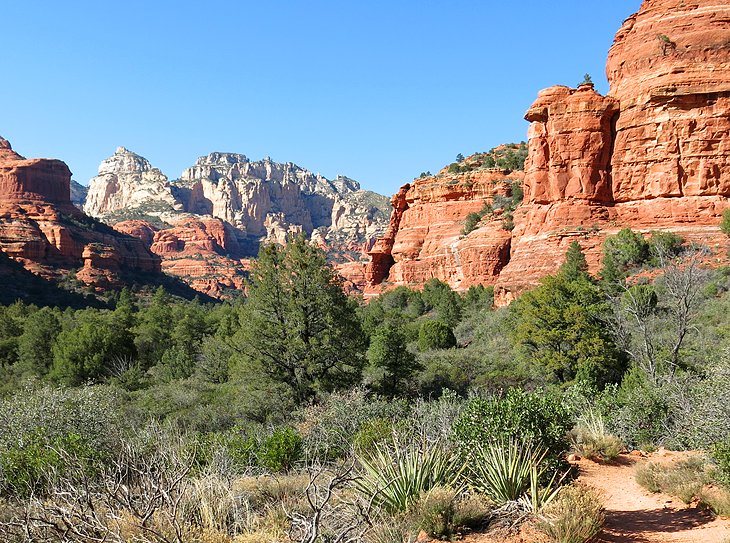 Boynton Canyon, about eight miles west of central Sedona, is another one of those special places with multiple reasons to visit.
The number one reason people come to Boynton Canyon is to do the Boynton Canyon hiking trail. This is a 6.1-mile in-and-out trail below the spectacular canyon walls, through a mix of vegetation, including large pine trees near the far end.
Another reason people visit this area is for the vortex found near the start of the Boynton Canyon hiking trail, on a short side spur. This is one of the more accessible vortexes, and it doesn't require climbing or walking along the edge of a cliff to reach. The vortex, known as a balanced vortex, rests in the saddle between two rock spires.
If you aren't interested in hiking or vortexes, you can simply come to enjoy some of the best views in Sedona. The luxury Enchantment Resort is a great place to come for a meal, or even spend a couple of nights.
The resort has a gated entrance but they are happy to welcome guests who are not staying here and simply want to have a meal at one of the excellent restaurants. Tii Gavo and View 180 restaurants offer outstanding dining for either a casual or upscale experience. You can sit inside and appreciate the views through the floor-to-ceiling windows, or outside, where you can enjoy the warmth of the sun and stare out at the red rocks.
12. Day Trip to the Grand Canyon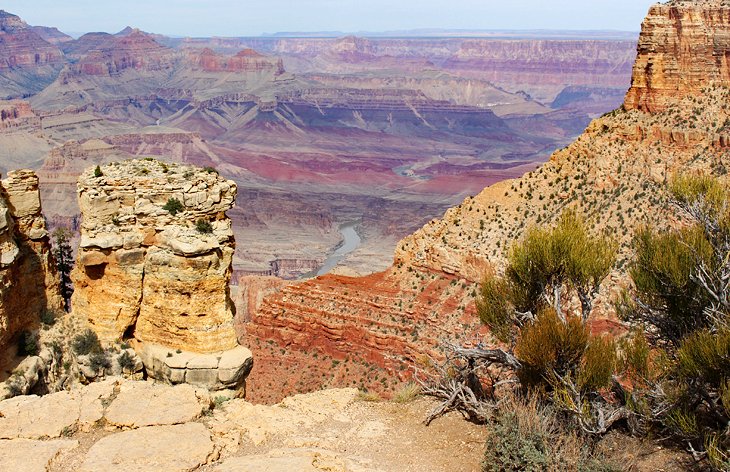 From Sedona, it's just a 2.5-hour drive to one of the most famous and awe-inspiring sights in America.
The drive from Sedona takes you up through the beautiful Oak Creek Canyon to Flagstaff. From here, you can do a loop, driving through Williams or up Highway 180 past the often snowcapped Humphreys Peak, to the Grand Canyon. Several options are available for getting from Sedona to the Grand Canyon.
Spend the day seeing the sights along the rim of the canyon or take a scenic flight over and into the canyon. To complete the loop, follow the Rim Road east along Highway 64 to Cameron and return via Highway 89. This will give you the best overall routing and allow you to see some of the fantastic scenery just east of the canyon, including views over the Little Colorado River.
If you would prefer to sit back and enjoy the scenery rather than watching the road while you drive, the Ultimate Grand Canyon Tour from Sedona or Flagstaff offers a great way to see this amazing site. As well as a fabulous drive along the rim of the Grand Canyon, this tour also stops at Wupatki Ruins, Sunset Crater Volcano National Monument, and a trading post on a Navajo Reservation.
13. Slide Rock State Park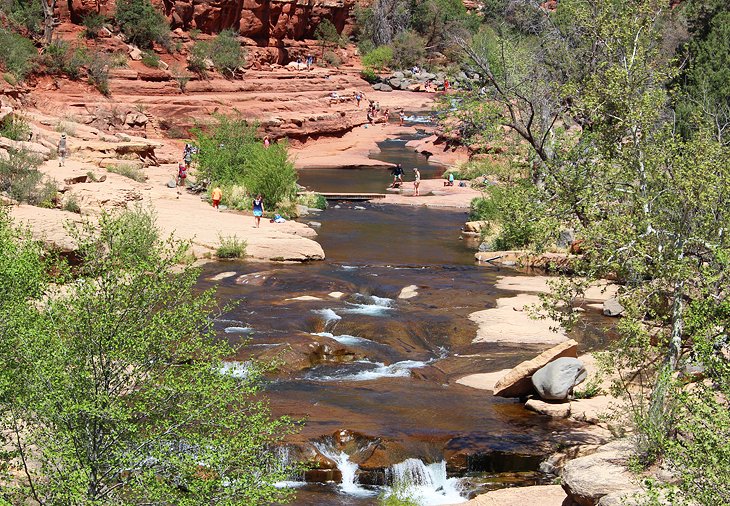 Slide Rock State Park is located along Highway 89A in Oak Creek Canyon, north of Sedona. The park is both a historic site and natural attraction, although most people enjoy coming here on warm days to play in the river.
At this point, Oak Creek flows over a series of small waterfalls on the smooth rock, creating a natural slide and water park. On hot days, the park is packed with people sliding along the rock and swimming in the natural pools. As fun as this looks, the rock is hard, and you can come away a little bumped and bruised if you aren't careful.
The park site was once a large apple farm owned by Frank L. Pendley. He was able to devise an interesting and successful irrigation system that allowed for the growing of apples. The original homestead can still be seen.
Address: 6871 North Highway 89A, Sedona, Arizona
Official site: https://azstateparks.com/slide-rock/
14. Palatki Ruins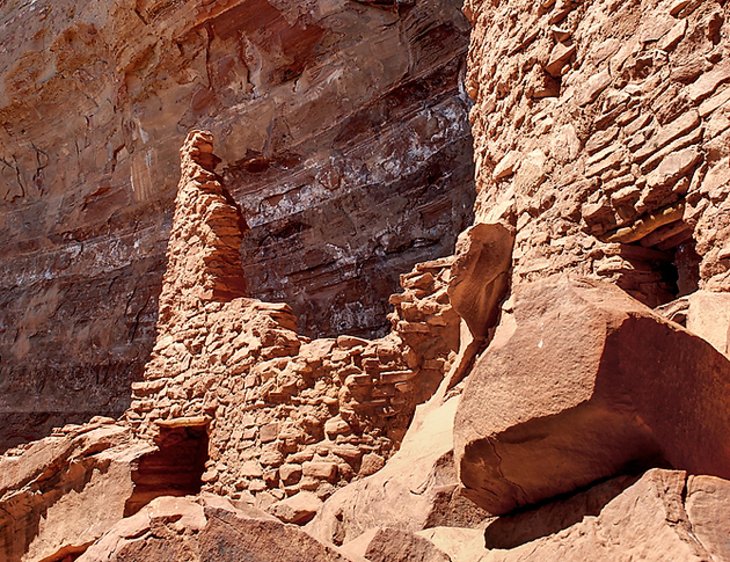 The Palatki Heritage Site is a well-preserved ruin and one of the largest Sinagua villages in the area. Palatki was inhabited by the Sinagua about 800 years ago, but the rock art indicates cultures used this site 3,000 to 5,000 years earlier.
There are two trails at the Palatki Heritage Site: one trail takes visitors to the Sinagua cliff dwellings, and a second trail leads to the rock art alcoves.
It's best to call and make a reservation before showing up. A volunteer guide will show you around the site and explain the history and significance.
A short drive away from here, but in the same vicinity, are the Honanki Cliff Dwellings. This site was occupied from AD 1130-1280, and originally contained about 60 rooms and an unknown number of pictographs. These cliff dwellings are an excellent example of Sinagua architecture and rock art. This sacred site has been well-preserved, and a trail has been added for better viewing.
Official site: http://www.fs.usda.gov/recarea/coconino/recreation/ohv/recarea/?recid=55368&actid=119
15. Airport Mesa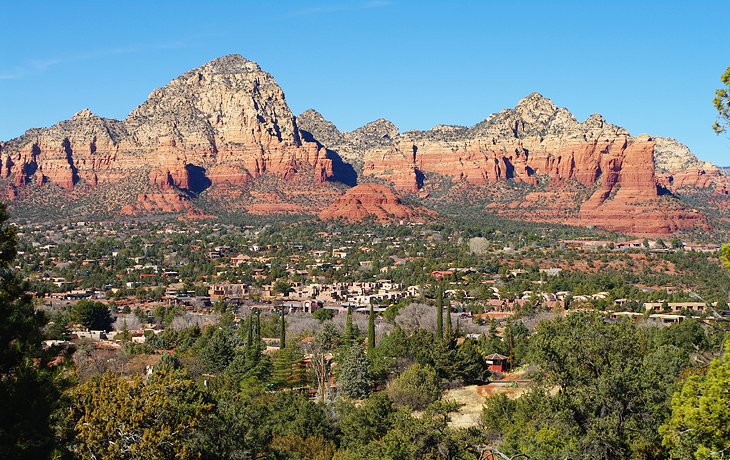 Airport Mesa is a table top mountain in Sedona looking out over the entire area. The airport is located on a flat field on top of the mesa, thus the name, and many people come up here to go for a hike; look out from the viewpoint, which is also the location of an energy vortex; or enjoy a meal at the Mesa Grill, where you can watch the planes take off and land.
Off the winding road leading to the top is the lookout point, on the left side of the road. You'll need to walk about a quarter-mile loop up about 60 feet to the top of a rock, where you can see out over Highway 179 to the colorful face of the Mogollon Rim. Views here are fantastic.
If you are looking for something romantic to do in Sedona, head up to the airport lookout for sunset. A spur leads off this path to the left as you are looking out to the rim, to an unmarked area, which is the masculine or negative energy vortex.
Additional beautiful views can be had from another lookout farther up Airport Road on the right side. Views here extend out over Uptown Sedona towards Coffee Pot Rock and Soldier Pass.
For something a little more adventurous, you can also do the Airport Mesa Loop Trail, a 3.5-mile hiking trail that runs along the edge and around the mesa.
16. Red Rock Crossing and Crescent Moon Picnic Site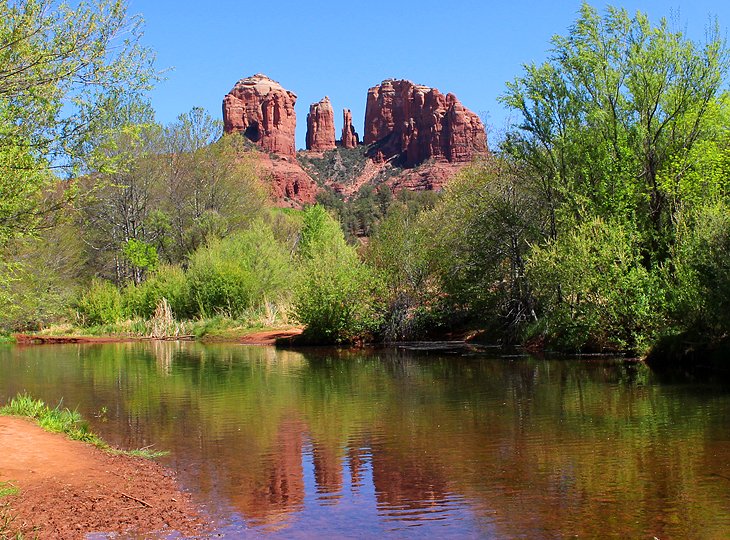 If you are familiar with the classic site of Cathedral Rock reflecting in the calm waters of Oak Creek, this scene is the view from the Crescent Moon Picnic Site at Red Rock Crossing.
This is a fee area but it's a nice place to come and enjoy the creek on a hot day. You can wade in the creek, enjoy a picnic, or just relax and appreciate the scenery.
This is an incredibly popular location with photographers who come here in the late afternoon, when the sun is lighting up Cathedral Rock, and line up on the bank waiting for the right moment to take their shot. This is one of the best places to visit in Sedona if you are looking for the classic view of Cathedral Rock.
17. Tlaquepaque Arts and Crafts Village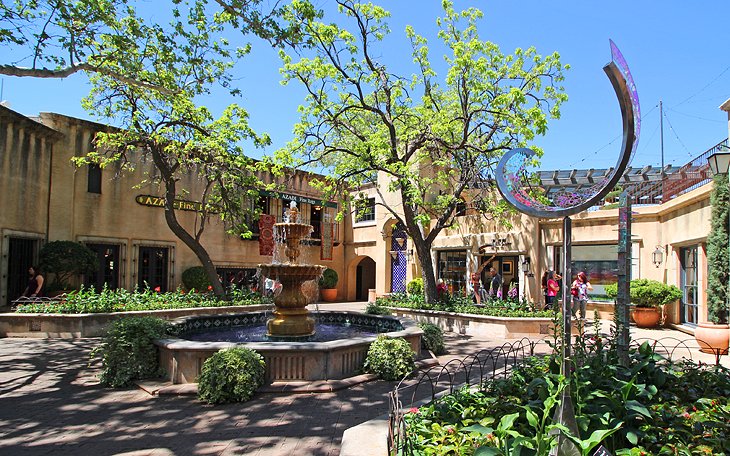 Tlaquepaque is a recreated Mexican-style village with art galleries, craft shops, clothing stores, and restaurants. The original idea behind the village, in the 1970s, was to create an artists community.
Shoppers can still see artists at work, although most of what you will find is simply interesting retail establishments, many of which showcase glass, ceramics, sculptures, weavings, paintings, decorative arts, photography, jewelry, and decor, among others items.
The setting is reminiscent of an older time period, with cobbled streets, courtyard fountains, balconies, majestic archways, and vine-covered buildings. With the addition of Tlaquepaque North, the complex now spans both sides of Highway 179.
Address: 336 State Route 179, Sedona, Arizona
Official site: http://www.tlaq.com/
18. Amitabha Stupa and Peace Park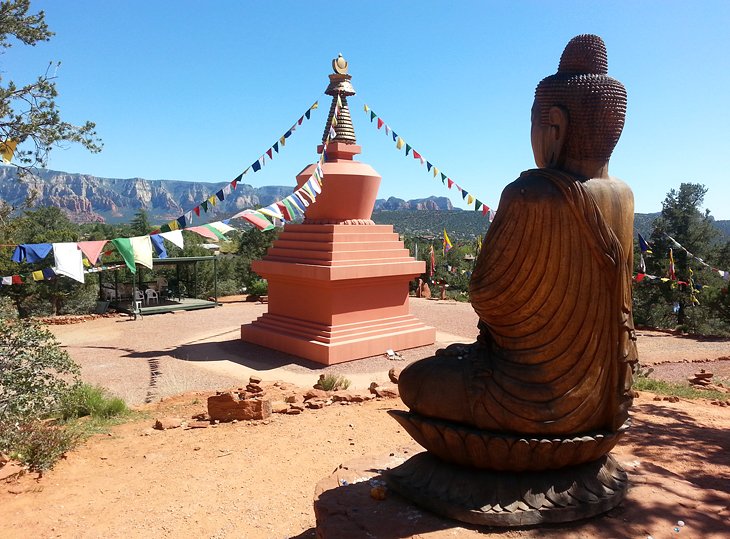 The Amitabha Stupa and Peace Park is a place of serenity and tranquility that is often overlooked by tourists. It's a spiritual place that attracts people of all faiths and fits in beautifully in Sedona. Prayer flags flow off the 36-foot stupa and blow in the wind.
Surrounding the area are juniper trees and prickly pear cactus backed by the distant mountains, glowing an orange color, almost the same hue as the stupa itself.
People come here for prayer and meditation. The custom is to walk around the stupa in a clockwise direction three times.
Amitabha Stupa and Peace Park is located in West Sedona in a residential area.
Address: 2650 Pueblo Drive, Sedona, Arizona
19. Red Rock State Park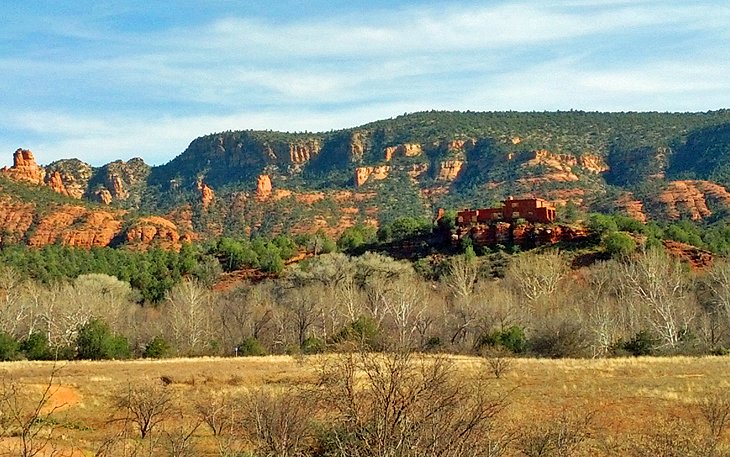 This park, located approximately 10 minutes outside of Sedona towards Cottonwood, is an easy outing for those looking to experience some nature and local history. Located on more than 286 acres, the park encompasses a section of Oak Creek, several hills, and the former site of the Smoke Trail Ranch owned by the famous Jack and Helen Frye.
The visitor center provides an in-depth overview of the flora and fauna found around Sedona, with interactive exhibits suitable for all ages. The fascinating history of the Frye's and their Smoke Trail Ranch, along with the development of the park, is also chronicled.
One of the park's more interesting sites is the abandoned House of Apache Fire, built in 1947, situated on a hilltop commanding beautiful views.
Easy hiking trails provide views out to the red rock countryside and allow for a close-up look at the House of Apache Fire. One of the more impressive views is the Seven Warriors formation, seen from the Bunkhouse Trail.
The park is also a favorite haunt of bird-watchers. On the lower side of the visitors center, a bird feeding station has been set up and attracts a diverse set of avian visitors ranging from hummingbirds to woodpeckers.
Address: 4050 Red Rock Loop Road, Sedona, Arizona
Official site: https://azstateparks.com/red-rock/
20. 1st Friday in the Art Galleries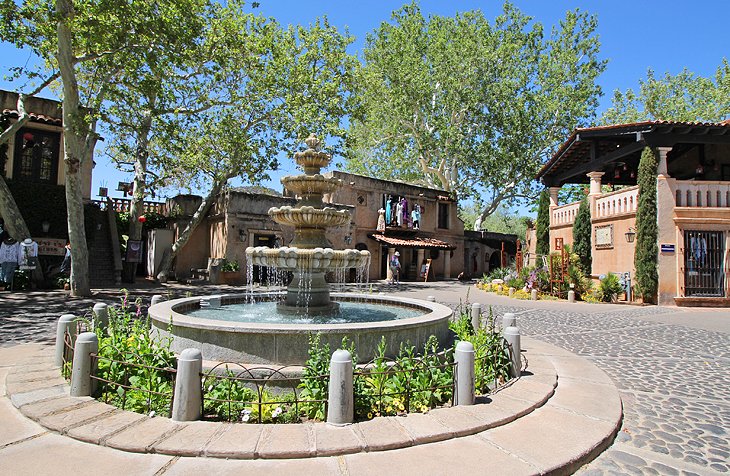 The first Friday of every month, the galleries of Sedona open their doors in fun fashion, offering snacks and beverages and opportunities to meet some of the artists or chat with other tourists.
Rather than the usual quiet gallery settings, the establishments are full of people socializing as they contemplate the art and talk with artists about their pieces and concepts. This is a great introduction to Sedona's art scene.
The 1st Friday in the Galleries runs from 5pm to 8pm and is free. Much of the excitement is focused around the galleries at Tlaquepaque, Uptown Sedona, and Hillside Sedona.
21. Take a Drive to Montezuma Castle National Monument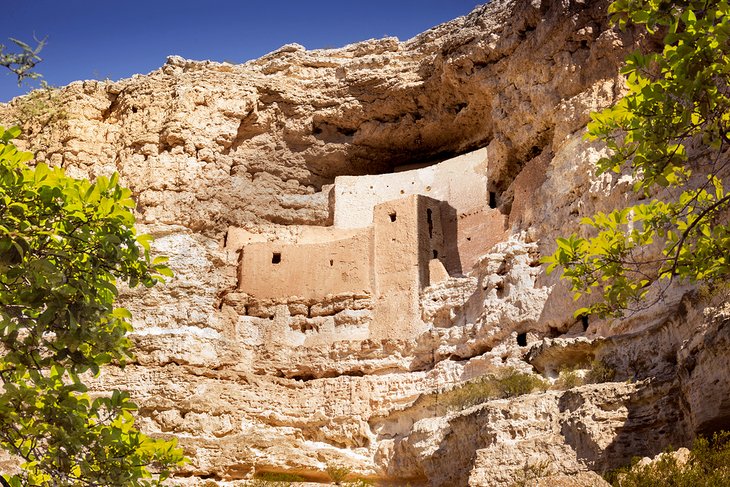 One of Arizona's most impressive cliff dwelling sites is just a short and scenic 30-minute drive from Sedona in Verde Valley. Reached via a short level pathway, the cliff dwellings are located high up in the sheer rock face, underneath a large rock overhang.
Research suggests that the Sinagua people inhabited this site nearly 900 years ago, approximately 1050 CE. Their ingenuity is reflected in the sheer size of the 20-story dwellings they somehow managed to build high up on the cliff walls.
While visiting the cliff dwellings, be sure to also stop by Montezuma Well. This huge desert sinkhole, 386 feet across, is continually filled by 10,000-year-old water from deep within the earth. A pleasant and easy 0.7-mile-loop trail takes you to an overlook and then past a burbling brook that drains the well.
Official site: https://www.nps.gov/moca/index.htm
22. Sedona Heritage Museum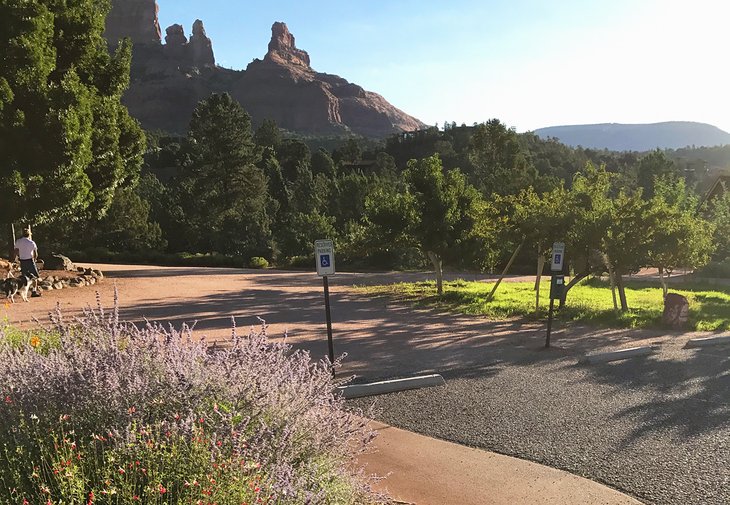 Most people come to Sedona and are instantly captivated by the stunning red rocks and beautiful scenery, but never give a thought to how the city was founded and functioned for many years before it became the place it is today.
Well that deficiency can be easily rectified by a visit and self-guided tour of the Sedona Heritage Museum. Most of the structures from the Jordan Homestead, dating from 1931, have been restored and are listed on the National Register of Historic Places. Inside these structures, you'll find interesting exhibits on the history of Sedona beginning in 1876, it's first residents, Sedona's movie history, and the Jordan family.
The museum is located near uptown Sedona on Jordan Road in the Jordan Historical Park.
Address: 735 Jordan Road, Sedona, Arizona
Official site: https://sedonamuseum.org/
Where to Stay in Sedona for Sightseeing
The best place to stay is near Uptown Sedona, close to shops, restaurants, and galleries, but the luxury resorts outside of town make attractive bases for hikers and nature lovers. The nearby Village of Oak Creek, a six-mile scenic drive to the south, is smaller but is also surrounded by mesas and mountains, and offers a range of budget hotels. West Sedona is a five-minute drive from Uptown and also offers some good hotel choices.
Luxury Hotels:
The Adobe Grand

Villas

, in a quiet area in West Sedona, is a boutique hotel offering large and private, themed luxury villas, along with an outdoor pool and exceptional service. A private chef is on call for your dining requirements.
With lodge and cottage style high-end accommodation, L'Auberge de

Sedona

lies along the banks of Oak Creek and is within easy walking distance of Uptown Sedona.
About eight miles from Uptown and spread out over 80 acres in spectacular Boynton Canyon, Enchantment

Resort

features upscale rooms with amazing red rock views, an outdoor pool, and some great on-site restaurants.
Mid-Range Hotels:
Casa Sedona

Inn

is a cozy boutique property set on one acre of Junipine Forest in West Sedona. The southwestern-style rooms come with fireplaces and a complimentary gourmet breakfast.
Perched on a hill about a mile west of Uptown, the Sky Rock Inn of

Sedona

offers beautiful views, comfortable rooms, and a promenade deck with fire pits and outdoor seating.
The pet-friendly Sedona Real Inn and

Suites

, in West Sedona, has a relaxed feel, a great outdoor pool, and well-priced suites.
Budget Hotels:
The following budget hotels are all in the quaint Village of Oak Creek, six miles from Uptown Sedona. A good option for the value conscious is the Wildflower

Inn,

a short walk from the trailhead of some of the best hiking in the Sedona area.
The Desert Quail

Inn

and The Views Inn

Sedona

are both centrally located in Oak Creek and offer affordable rooms and outdoor pools.