12 Best Lakes in Arizona
Authors Michael and Lana Law have been visiting Arizona for many years. The early spring is one of their favorite times to visit many of the lakes.
Arizona's lakes are some of the most unique bodies of water in the United States. Spread across the entire state, they run the gamut from reservoirs in the desert to flooded canyons to high-altitude gems sparkling in the clear mountain air. Recreation opportunities abound and include pleasure boating, swimming, fishing, waterskiing, wakeboarding, and stand up paddleboarding.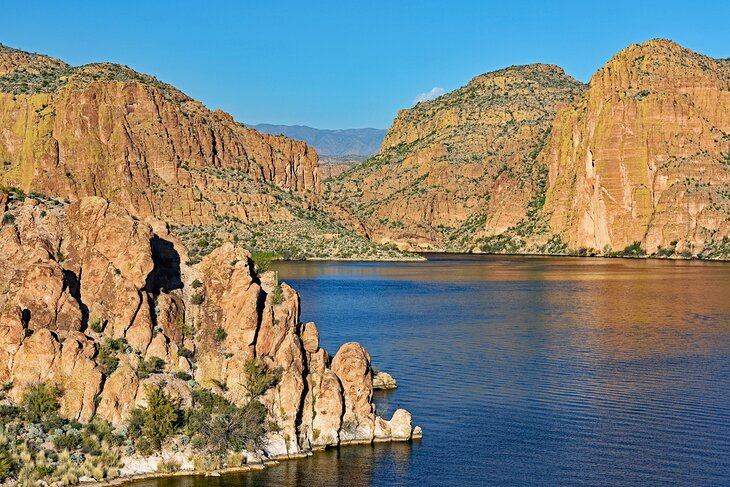 Some of the best lakes in Arizona tend to be close to major population centers, so getting to them is easy and quick, which is a real bonus on a blazing hot summer day. Facilities are very good in most cases - you'll generally find marinas; campgrounds; and even in the most remote locations, an outfitter renting boats or other watercraft.
Many of Arizona's most spectacular lakes are the result of the damming of rivers, including the mighty Colorado, which creates Lake Mead, Lake Mohave, and Lake Havasu. The damming of the Salt River creates Lake Theodore Roosevelt, Apache Lake, and Canyon Lake.
For ideas on where to spend a day on the water, see our list of the best lakes in Arizona.
1. Lake Havasu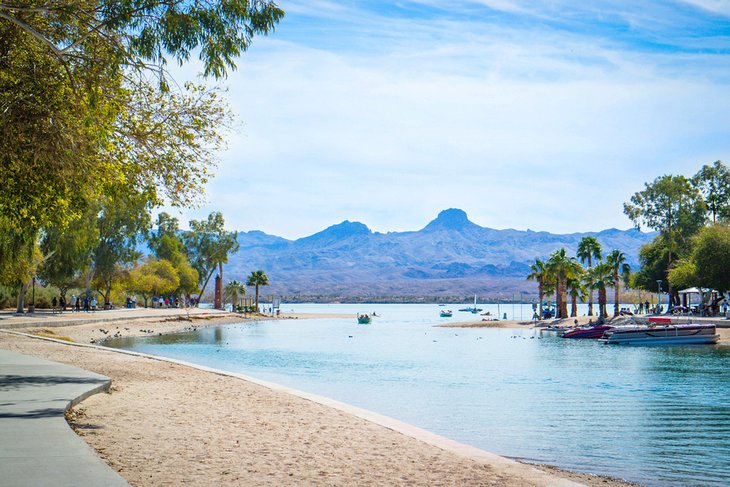 Lake Havasu is one of the best places for hitting the beach and having a good time. Located within the city limits of Lake Havasu, this lake has some of the top beaches in the state. Dotted along the 400 miles of shoreline are stretches of soft sand ideal for setting up lawn chairs under a sunshade.
The water in the lake gets warm, really warm. In August, the water temperature is almost bathtub warm at 87 degrees, and July follows close behind at 83 degrees. September is a very pleasant 79 degrees.
The lake attracts folks from across the state all summer long and even draws down a good cohort of snowbirds in the winter. Pleasure boating is huge here, with everything from pontoon boats right through to decked-out wakeboard boats. All day long, boats and Jet Skis zip around towing water skiers, tubers, and wakeboarding enthusiasts in the warm Arizona sun.
Many people eschew the activity scene and motor up the lake and find their own private cove or beach in the beautiful Topock Gorge area. For those with a need for speed, take note that the lake has no speed limits, and high-performance boats are welcome to crank the throttle.
As the evening approaches, the frenetic activity wanes, and the pleasure cruisers emerge. One of the great pastimes on the lake is a sunset cruise to your favorite restaurant for a dinner on a waterside patio.
2. Lake Mead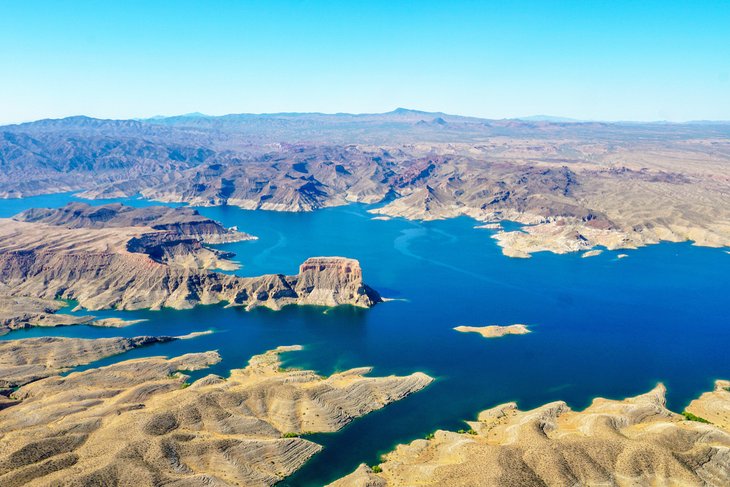 One of the most well-known lakes in Arizona is Lake Mead. Famous for its clear water and wide-open spaces, this lake is a fascinating place, with desert juxtaposed against turquoise waters under impossibly blue skies. Lake Mead is a wonderful place to explore and has rare sights. Boat up a flooded, narrow canyon to a sandstone arch for a bucket-list-worthy experience.
Lake Mead is 247 square miles in size and holds roughly three trillion gallons of water. All this water just begs to be explored and creates an almost endless list of things to do. The lake is easily explored with a powerboat, sailboat, houseboat, stand up paddleboard, or even a kayak.
Easily accessible from nearby Las Vegas, the northern shore of Lake Mead is in Nevada, and the southern shore is in Arizona, but all of it falls within the Lake Mead National Recreation Area.
The shoreline around Lake Mead is an incredible labyrinth of narrowing canyons that lead to amazing sights on shore, secluded beaches, and secret fishing holes. Scuba diving is popular in Lake Mead and is known for interesting geological structures, spectacular wall dives, and even the wreck of a B-52 Bomber plane.
Camping along the shoreline of Lake Mead is another must-do. Most of the developed camping is in Nevada, but in Arizona, you can camp at Temple Bar or wander with your boat until finding your own patch of rock or sand to set up anywhere along the shore.
Water levels on Lake Mead have dropped precipitously in the past number of years making some previously accessible areas high and dry. Five of the six boat launches are no longer operating, and the remaining one, Hemenway Harbor, only allows boats less than 24 feet to be launched. With only one launch facility operating, expect big crowds and long lines for access in and out of the water.
The low water has also exposed razor-sharp beds of Quagga mussels. Water shoes or other protective footwear is recommended when accessing the shoreline.
3. Lake Mohave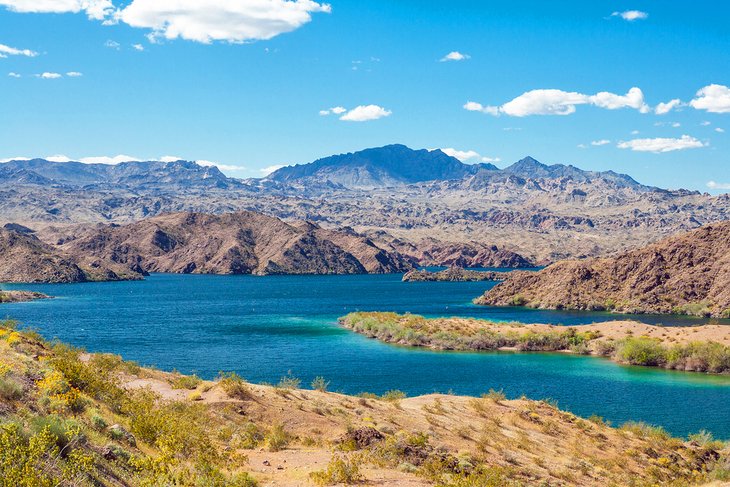 Lake Mohave, near Laughlin, seems to fly below the radar of most water enthusiasts in Arizona. Set along the western edge of the state and bordering Nevada, this long narrow lake is 68 miles long and really just a widening of the Colorado River where it backs up from the Davis Dam. This lake is an adventurer's playground with over 250 miles of rugged coastlines. If you want to get away from the boating crowds in Arizona, this is the place to do it.
The upper 22 miles of the lake are in narrow canyons, and it's a fascinating area to explore and to get back to nature. The water is cold up here, still feeling the effects of the bottom layers of Lake Mead coursing through the Hoover Dam.
Farther down the lake, closer to Laughlin, the water is warm, averaging in the high 70s to mid-80s Fahrenheit, and this is where most of the action on the lake takes place. Access to the lake is easy, and marinas provide all the services boaters require. The Nevada side of the lake is more primitive with no services apart from a few pleasant beaches.
Fishing is good on the lake with striped, small, and largemouth bass, crappie, and rainbow trout, but be aware that the change in water temperatures as you head north make finding the right spots a bit tricky.
4. Lake Pleasant Regional Park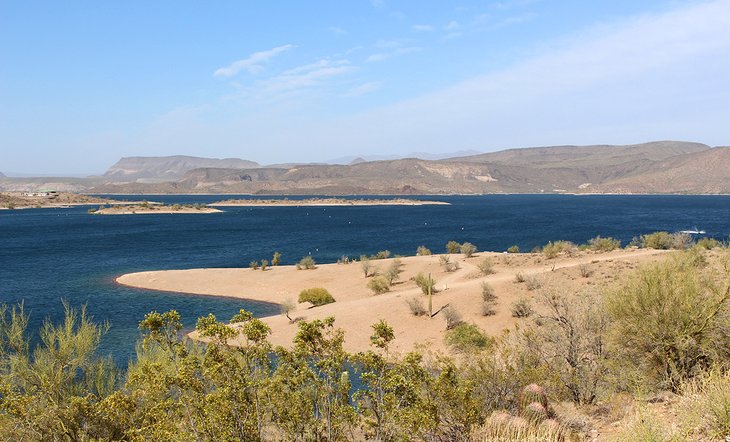 Located a 45-minute drive from downtown Phoenix, this 10,000-acre lake shimmers in the desert sun like a massive oasis. A popular spot for day trippers from the city, Lake Pleasant Regional Park is well set up for the deluge of visitors, with easy access and a full range of services.
Marinas and campgrounds dot its shoreline and on a warm weekend, the lake is a busy spot, with powerboats and Jet Skis racing around in all different directions. Farther out from the shoreline, the lake is quieter, and it's out here you'll see sailboats gliding along, powered by the warm desert winds.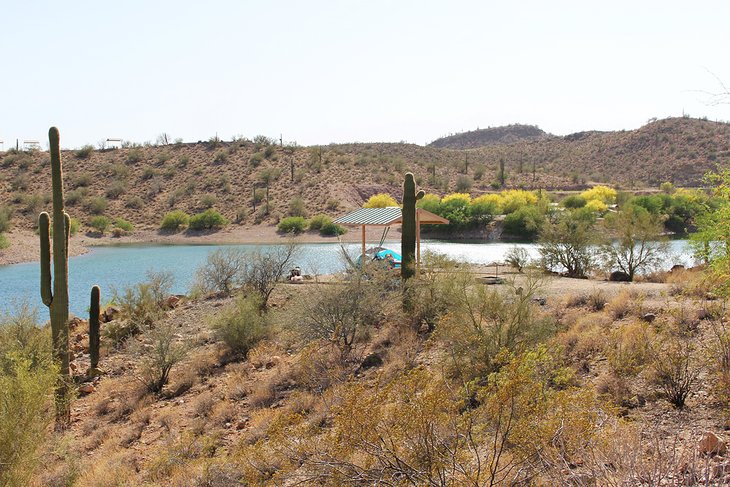 County campgrounds, many with waterfront sites, are found in the park, and if you want to get a prime spot, reservations are recommended. This is one of the top spots for camping near Phoenix. In addition to the campgrounds, additional accommodation options are available at private RV parks.
All manner of powered watercraft can be rented at the marinas. If you'd prefer to let someone else do the driving, cruises around the lake are also worth checking out. Just feel like going for a paddle? Kayaks and stand up paddleboards are also available to rent. Those feeling brave can tackle the giant waterslide, which launches you into the air where you'll eventually splash down into the lake.
5. Canyon Lake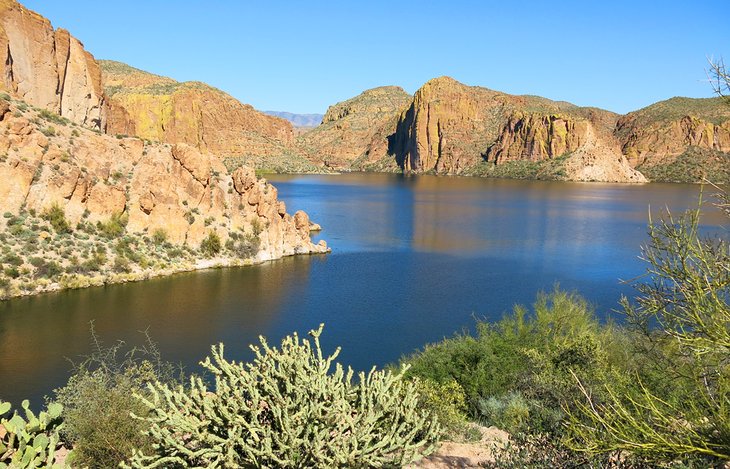 Although this is the smallest of the lakes on the Salt River, Canyon Lake makes up for its diminutive size with its incredible scenery. Just a few miles from the boat launch, incredible towering red rock cliffs run right down to the water's edge.
Things to do at Canyon Lake include hitting the beach, cruising the clear waters to a secluded cove, waterskiing, tubing, and even scuba diving. If you find the lake busy, head to the eastern shoreline where things are a bit quieter.
Fishing on the lake is good despite the number of visitors. Species that will be sure to put up a fight include rainbow trout, yellow bass, and largemouth bass. The fish grow to incredible sizes in this lake, a 15-pound largemouth bass was caught here by a lucky angler.
All this amazing scenery is less than a 45-minute drive from downtown Phoenix, making it a popular spot in the summer, and the number of powerboats is capped. The lake generally reaches capacity mid to early morning most weekends, so plan accordingly.
6. Theodore Roosevelt Lake

The farthest from Phoenix of the trio of lakes formed along the Salt River, Theodore Roosevelt Lake is also the largest. Set in a wide desert area, the lake is a popular destination for anglers and pleasure boaters. The lake has several marinas, campgrounds, and RV parks along its southern shore.
Out on the lake, two of the more interesting places to visit include Cholla Bay and Bachelor Cove. For a more remote experience, drop anchor along the north shore of the lake, where road access is very limited and nature prevails. Like most lakes in Arizona, the water here warms up significantly in the summer, and temps in the mid to high 80s Fahrenheit are common and encourage extensive lounging on air mattresses or other blow-up toys.
7. Apache Lake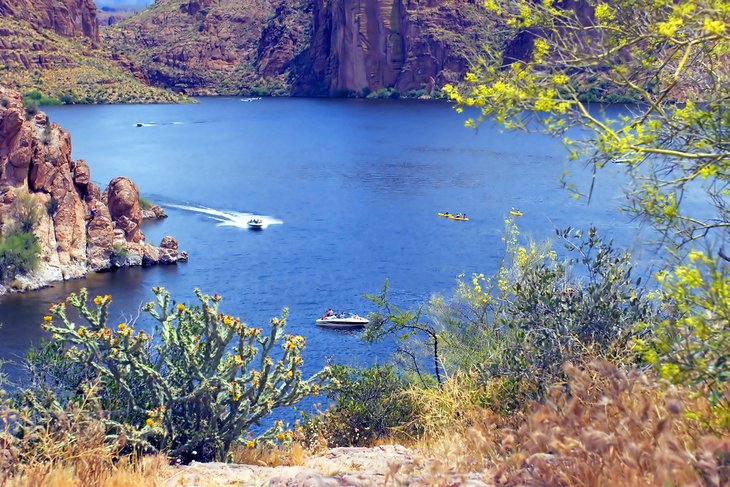 Downstream on the Salt River from Theodore Roosevelt Lake and located in the Superstition Wilderness Area is Apache Lake. The setting for the lake is spectacular, with steep cliffs in some sections and towering mountains in behind. Stretching for 17 miles, the lake provides ample opportunity for all kinds of recreation.
Services are fairly limited, but the Apache Lake Marina offers accommodation, boat rentals, boat slips, camping, and RV sites. The lake sees fewer visitors due to its location and access road, and as a result, there is a very good chance that you will have a secluded bay all to yourself.
8. Watson Lake, Prescott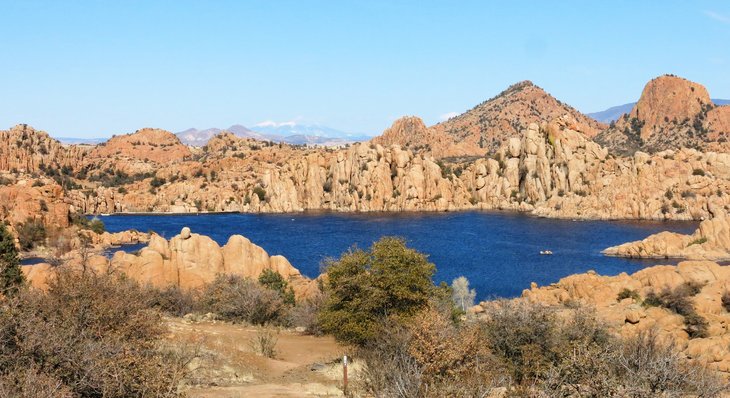 With its bizarre rock formations and crystal-clear waters, Watson Lake is one of the most scenic lakes in Arizona. It's also one of the top attractions in Prescott.
Although swimming is prohibited here, as the lake is the source of Prescott's drinking water, many other aquatic forms of recreation are available. Fishing on Watson Lake is decent, with largemouth bass, crappie, catfish, and carp all lurking below the surface itching for a fight.
Paddling a canoe, kayak, or stand up paddleboard along the shore in the shallows along the rocks is a fascinating exercise in geology. For a more terrestrial experience, hiking trails follow the shoreline and circle the lake. For a wide-open view of the entire lake, follow the entry road right through to the end, and walk a short way to the viewpoint just past the large Ramada.
Back from the lake are wide-open fields, ideal for a game of football or soccer; picnic tables and shelters; and a small campground. A disc golf course, horseshoe pits, bocce ball, and basketball court round off the rest of the sporting options.
A modest fee is charged to enter the built-up park area at the northern end of the lake.
9. Lynx Lake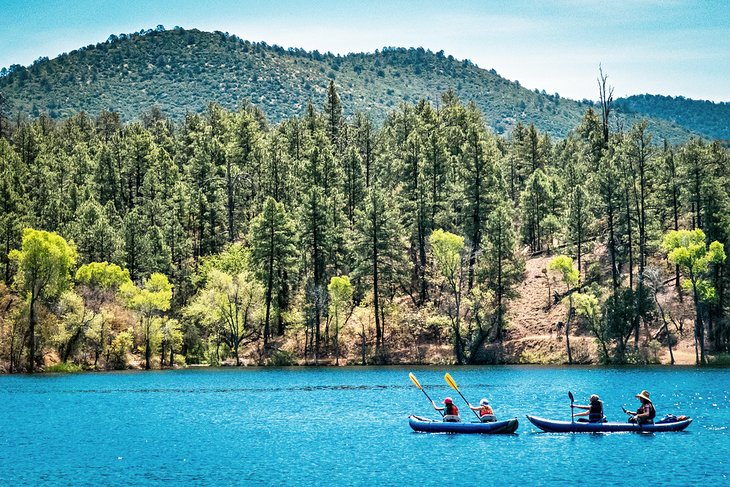 This small lake just a few minutes from Prescott is set in a forested valley. A walking trail circles the entire lake and is a pleasant place for a stroll underneath large pine trees. Motors are prohibited on the lake; only self-propelled watercraft like canoes, kayaks, and stand up paddleboards are allowed.
Due to the elevation of 5,600 feet, the water stays pleasantly cool throughout the summer, and Lynx Lake is a great spot to beat the heat of a Prescott summer. The lake is a wonderful spot to spend a few days, and the large campground just above the lake has excellent, level sites set under towering trees.
Lynx Lake is a popular birding spot in the Prescott area. The consistent freshwater source and dense forest draw birds from far and wide.
10. Woods Canyon Lake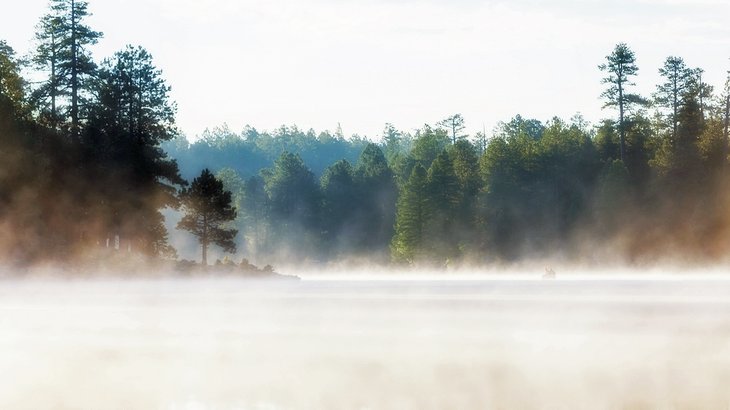 For an alpine lake experience, head up, way up, to the heights of the Mogollon Rim and Woods Canyon Lake. Set at a breathtaking 7,505 feet above sea level, Wood Canyon Lake has cold water that supports a thriving rainbow trout population. The lake is part of the Rim Lakes Recreation area, and just down the road is another lake, Willow Springs. The lake is in a beautiful setting of fir, pine, and oak trees. Sightings of deer and elk are common; less common are bears.
Woods Canyon Lake has a marina and outfitter shop that rents boats, kayaks, and stand up paddleboards. The shop also stocks basic camping supplies for the nearby campgrounds.
11. Alamo Lake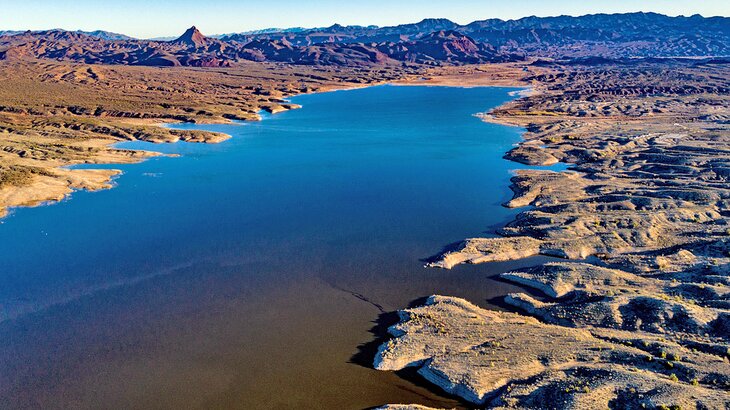 Long a favorite for those who love to fish, Alamo Lake is renowned for its incredible bass and crappie fishery. Although catching a fish is, of course, never guaranteed, you'll up your chances of success by making the trek to this huge reservoir.
However, it's not all about fishing here. Bring your water toys. The lake is also a popular destination for stand up paddleboarding, kayaking, and if the wind is right, kiteboarding.
Powerboating is also a favorite pastime with wakeboarders showing off their latest tricks and water skiers carving up big sprays.
Alamo Lake State Park is just over 2.5 hours from downtown Phoenix making it an easy day trip destination, or if you want to make a weekend of it, consider bringing your camping gear. Alamo Lake State Park has six campgrounds available, some with water and electricity.
12. Lyman Lake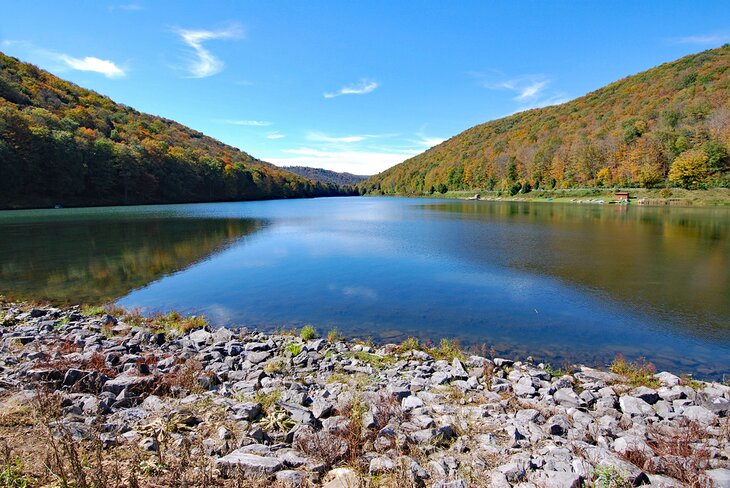 Although getting to Lyman Lake is a bit of a trek, around four hours from Phoenix, the effort is well rewarded with an uncrowded lake in a stunning setting. Spread out over 1,200 acres, the lake is full of wide-open spaces where you'll be able to boat to your own secret spot to swim, fish, or just soak up the scenery.
Blessedly cool in the summer owing to its 6,000-foot elevation, the lake is an ideal place to escape the punishing temperatures of an Arizona summer. Perfect for a summer weekend getaway, Lyman Lake State Park has 56 campsites (38 with hookups), or if you prefer slightly more luxury, rent one of the eight fully equipped cabins. Each cabin has electricity, air conditioning, beds, a picnic table, and a grill. You need to bring your own linens.
If you have the need for speed, Lyman Lake is one of the few lakes in Arizona without boat-size restrictions. Hammer the throttle of that big boy to the floor and fly across its crystal-clear waters.
Map of Lakes in Arizona