13 Top-Rated Things to Do in Flagstaff, AZ
Flagstaff is probably not what many people picture when they think of Arizona. Surrounded by ponderosa pines, volcanoes, and even a ski hill, this city is a far cry from the desert regions just a couple of hours away.
At an elevation of about 6,900 feet, the climate here is cool and snow-covered during much of the winter, and the area offers a full range of things to do, many of which are hard to find in other areas of Arizona.
In summer, Flagstaff is a welcome retreat from the heat of lower areas like Phoenix or Tucson, and many people come here to sightsee, hike, and enjoy the outdoors.
At any time of year, you can explore Native American archeological sites, wander through the volcanic landscape, or learn about the history of the region in some of the local museums and attractions.
For ideas on how to spend your time here, see our list of the top things to do in Flagstaff.
1. Walnut Canyon National Monument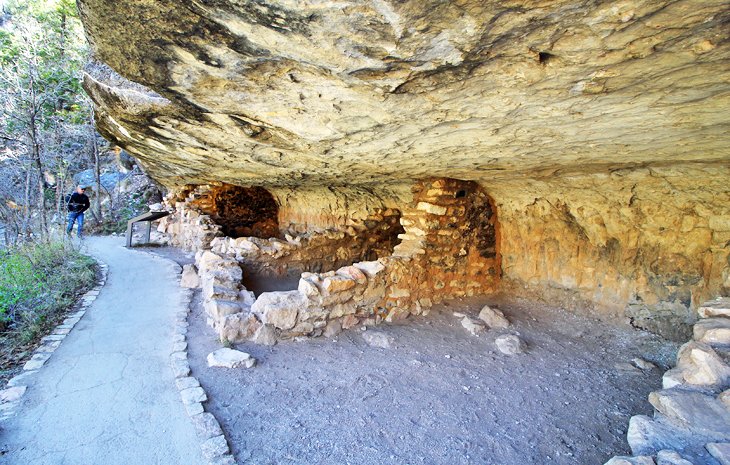 Located just east of Flagstaff, Walnut Canyon National Monument is one of the area's most impressive attractions, both for culture and scenery.
Ancient Sinagua cliff dwellings line the steep canyon walls, which descend to the narrow and dry Walnut Creek at the bottom. From the Visitor Center, you can look out over the canyon and to the ruins on the far wall.
The best way to experience the monument and see the ruins is on the one-mile Island Trail, which begins directly from the Visitor Center. Stairs take you down the canyon wall about 185 feet, where you can walk below the overhanging walls and through a series of reconstructed ruins.
This is an easy hike with stairs with handrails, and it's paved the entire way. Along the way, you'll see large ponderosa pines and Douglas fir trees.
Official site: https://www.nps.gov/waca/index.htm
2. Sunset Crater Volcano National Monument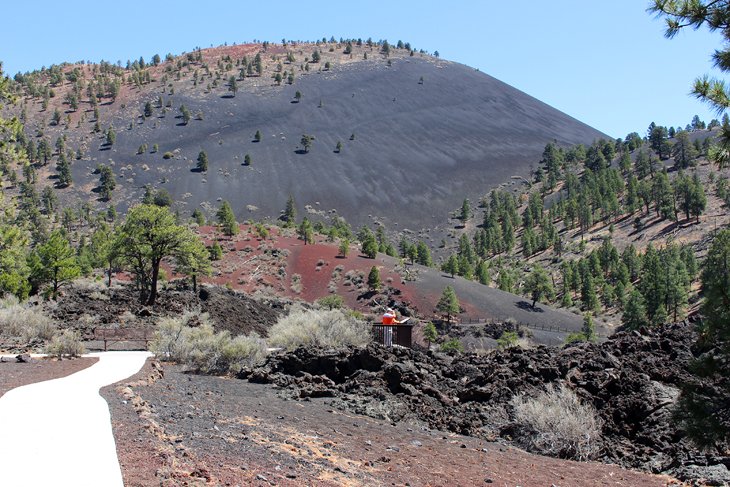 You may not know it as you cruise along Interstate 40, but between Flagstaff and Williams, more than 600 volcanoes dot the landscape. Sunset Crater Volcano is the youngest of these, and the landscape here, which is hard to fully appreciate until you visit the monument, is spectacular.
The cinder cone itself looks like a huge black sand dune, with small grains of lava cascading down the steep hillside. Trails run along the base. Some trails are wide and paved, and others lead through natural areas.
In some areas fields of chunked lava, with no signs of life, stretch out across the landscape. You can see a collapsed lava tube that snakes its way through the field, gaze up at the cinder cone, and appreciate the pine trees and other bits of vegetation that have managed to eek out an existence in this inhospitable landscape.
If you have time for only one excursion in this area, walk the full outer rim of the Lava Flow Trail. It's only one mile, very easy, and one of the best hikes in Arizona.
Beyond Sunset Crater, along the same road, is Wupatki National Monument. Admission to the volcano also covers admission to Wupatki, and these make a perfect pairing. A scenic road joins the two, and you can loop back to Flagstaff by joining up with Highway 89 after Wupatki.
Official site: https://www.nps.gov/sucr/index.htm
3. Wupatki National Monument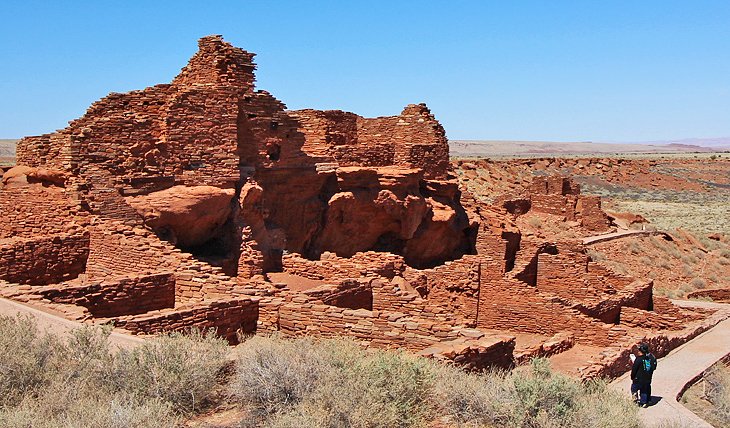 Wupatki National Monument covers a large area of grassland on the Colorado Plateau north of Flagstaff and is home to some fascinating and well preserved American Indian ruins.
The collection of pueblos spread over the monument offers a small glimpse into a way of life that existed and thrived here in the timefram spanning 100 years from 1100 to 1200.
The Wupatki Pueblo was in a strategic position and was the main center for trade among various cultures. The impressive structures, which in some cases stand two or more stories high, are made of stone and mud.
The numerous sites within Wupatki National Monument include the Wukoki Pueblo, Wupatki Pueblo, Lomaki Pueblo, and the Nalakihu and Citadel Pueblos.
If you are arriving from the north end of the monument, one of the first sites you will come to is the Nalakihu and Citadel Pueblos. Be sure to walk up to the Citadel Pueblo for outstanding 360-degree viewing from the top of the citadel. The landscape is different but equally impressive in every direction.
The Visitor Center is located in the middle of the monument and better suited to those arriving from the south.
Most people combine a visit to Wupatki with Sunset Crater Volcano National Monument. The entrance fee covers both places. If you have a national parks interagency pass, these are both covered.
Official site: https://www.nps.gov/wupa/index.htm
4. Arizona Snowbowl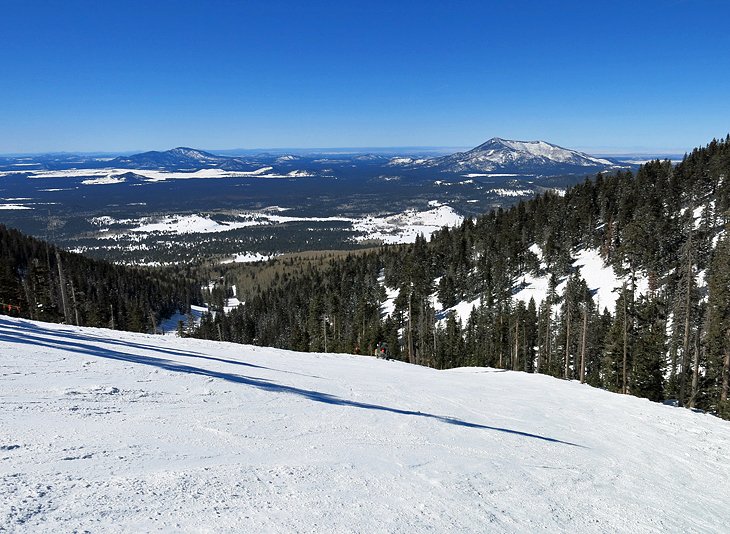 Skiing at Snowbowl can be a unique skiing experience for northerners. Set on the slope of an old volcano known as the San Francisco Peaks, the top elevation of this ski area is 11,500 feet. You can find other ski resorts in Arizona, but Arizona Snowbowl is the best.
Views from the top extend out over the flat plateau below to distant cinder cones and beyond towards the Grand Canyon. Often, you are looking out over a land of grass and trees rather than fields of snow, especially in the spring.
The top of Snowbowl is for strong intermediate to advanced skiers and boarders, primarily because it's steep. However, most of the hill is designed for beginner to intermediate levels.
Winter storms can dump huge amounts of snow on the hill, sometimes measured in feet rather than inches. These storms are usually predicted well in advance, so powder hounds can plan accordingly. Outside of the storms, the hill has extensive snowmaking facilities and offers well-groomed trails.
Arizona Snowbowl has a lot of character and characters. It's not unusual to see the odd skier in costume or even playing a musical instrument as they ski down the most extreme terrain. Locals you meet on the lifts are happy to tell you a thing or two about the hill and the area.
The patio at the base of the Agassiz lift is a sublime spot to pull up an Adirondack chair, soak up the sun, and watch the skiers descend the slopes.
The resort has undertaken significant improvements in the past few years. The old Agassiz lift has been replaced by a brand new six-passenger chair and eight-passenger gondola combination. The new lift now whisks skiers to the summit in seven minutes.
In the summer, the resort operates scenic gondola rides to the peak.
Official site: https://www.snowbowl.ski/
5. Lowell Observatory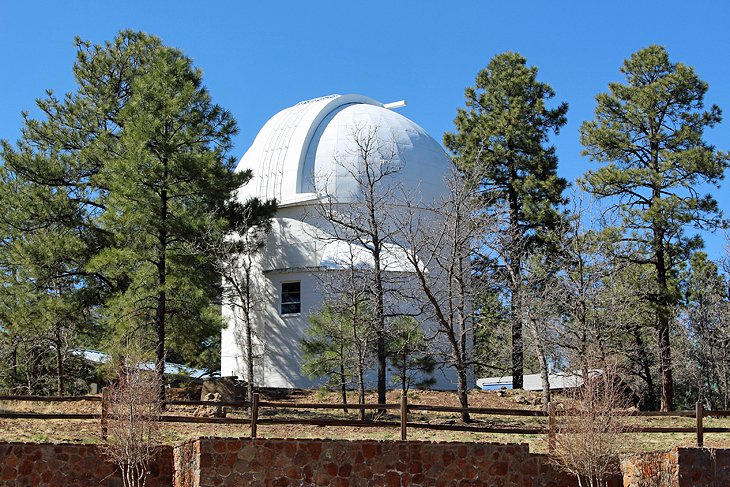 Located right in Flagstaff, on a hill high above the main streets, the Lowell Observatory offers a unique chance to see and learn about the various celestial bodies.
Short programs on a variety of subjects are held at regular intervals throughout the day and evening. Most of these are only 30 minutes to an hour long, and it's well worth checking the program list before you stop by.
In addition to the observatory itself is the Steele Visitor Center, where you will find a multitude of interactive and interesting displays relating to the universe.
Also of note is the Putnam Collection Center, which features items from Percival Lowell's life, including his 1911 Stevens-Duryea automobile and his very first telescope.
Official site: https://lowell.edu/
6. Museum of Northern Arizona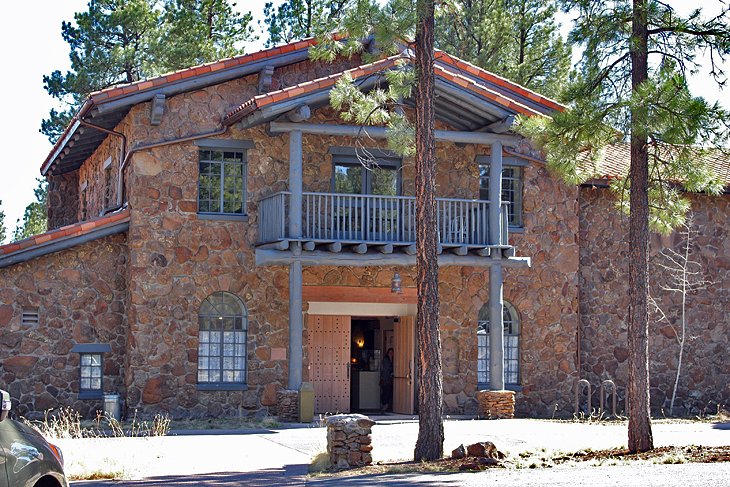 The Museum of Northern Arizona, founded in 1928, has a collection with more than five million pieces related to Northern Arizona and the Colorado Plateau. Topics and collections range from Native American artifacts to fine art pieces and objects related to natural science, among others.
Five permanent exhibitions focus on the Colorado Plateau and include the Hopi Kiva Gallery, the Geology Gallery, the Babbit Gallery, and the outdoor James Golightly courtyard.
The museum also hosts special traveling exhibits and puts on special Heritage Festivals four times throughout the year. It is located just up the road from the Pioneer Museum.
Address: 3101 N Fort Valley Road, Flagstaff, Arizona
Official site: https://musnaz.org/
7. Riordan Mansion State Historic Park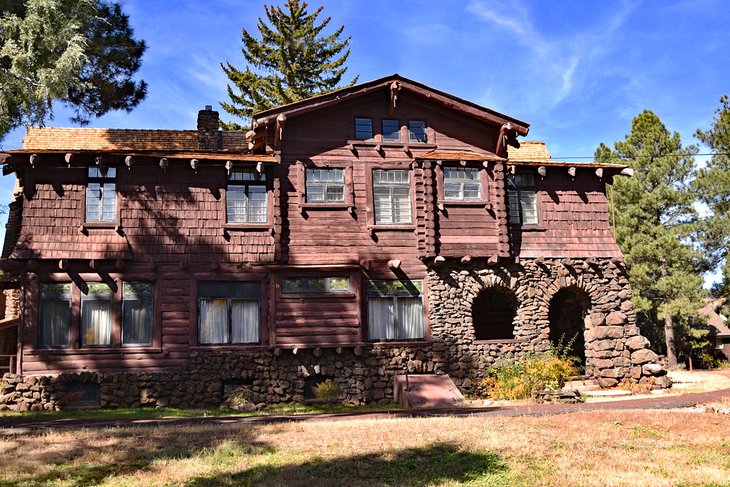 Slightly hidden behind some buildings and set among large pines on the campus of Northern Arizona University is the Riordan Mansion State Historic Park.
The building dates from 1904 and is an excellent example of Arts and Craft architecture. The building features log slab siding and impressive structural elements, including volcanic stones. Inside, the building has been beautifully restored with original elements and period pieces dating from the turn of the century.
The home, which can only be visited on a guided tour, has 40 rooms and is a massive 13,000 square feet. The architect that designed the Riordan Mansion, Charles Whittlesey, also designed and built the El Tovar Hotel at the Grand Canyon.
Address: 409 West Riordan Road, Flagstaff, Arizona
Official site: https://azstateparks.com/riordan-mansion/
8. Pioneer Museum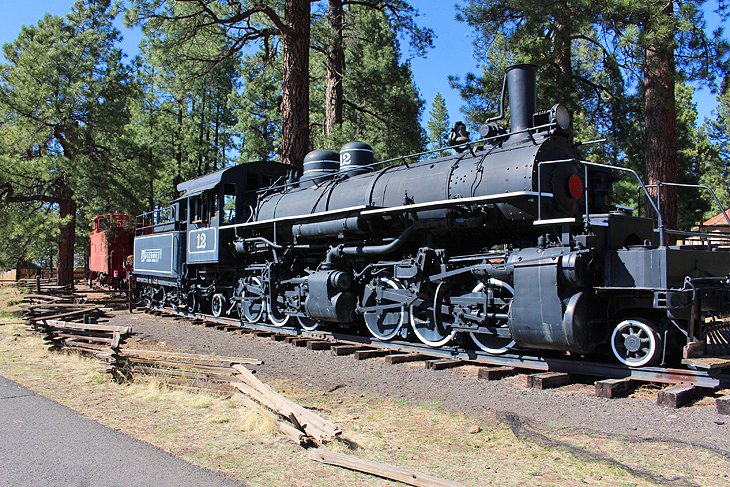 The Pioneer Museum is easy to spot along Highway 180 due to the well-preserved steam engine and boxcars dating from 1929 out in front of the main building.
The museum is housed in a former hospital dating from 1908 and displays artifacts and other items from the early days of Flagstaff. The focus is on the development of Flagstaff from 1880 to 1960 and features information and exhibits on the logging and ranching history of the area, with rooms dedicated to each decade.
Outside the main museum building are expansive grounds showcasing Ben Doney's one room cabin, a 1915 Model T Ford, and a Fire Engine that saved nearby Riordan Mansion.
Address: 2340 N Fort Valley Road, Flagstaff, Arizona
Official site: https://arizonahistoricalsociety.org/museum/pioneer-museum/
9. Extreme Adventures Flagstaff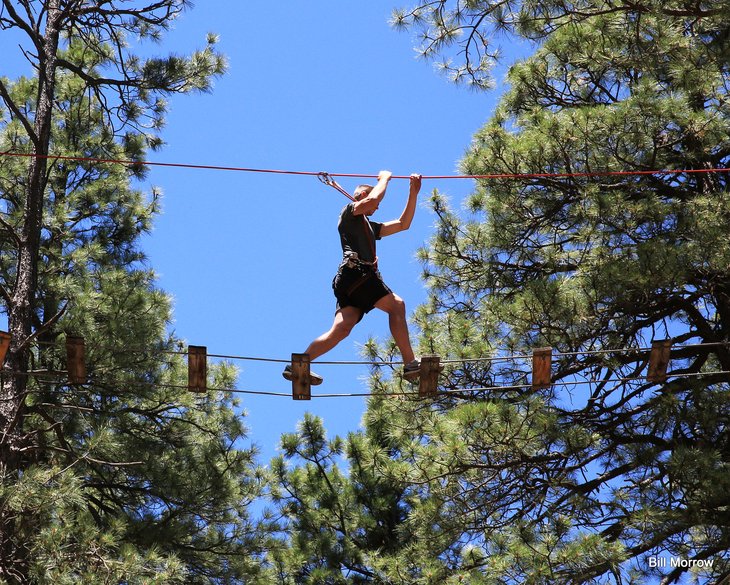 For an afternoon of heart-pumping adventure at 15 to 60 feet above the ground, try a visit to Extreme Adventures Flagstaff. You can sign up for a course led by a qualified instructor and find your way safely through a tree top course with more than 70 obstacles.
If you'd rather just go flying around on the largest zipline course in the Western United States, that option is available as well. The ziplining is self-guided, but you will be provided with extensive safety training prior to setting off on your own.
The zipline experience here is different from some traditional parks. Here, you must climb ladders and cross bridges and you need to have a reasonable level of fitness.
Location: Fort Tuthill County Park, Flagstaff, Arizona
Official site: http://flagstaffextreme.com/
10. Historic Downtown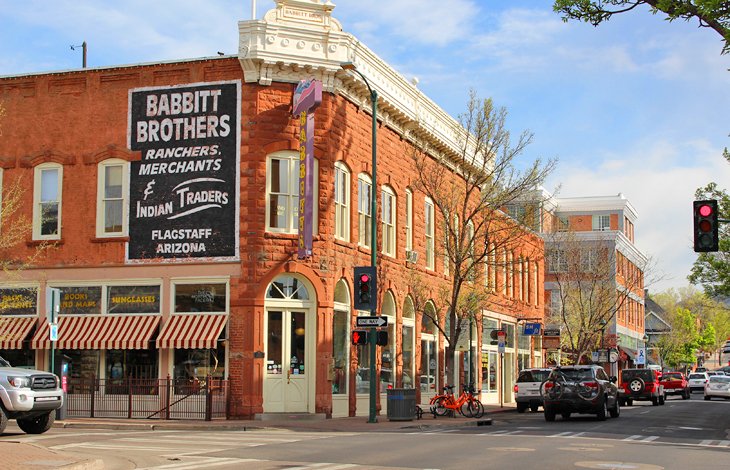 You can still find remnants of Route 66 and a collection of historic buildings in Historic Downtown Flagstaff. Easily walkable, this approximately 12-block area is full of interesting restaurants, boutiques, and tourist shops.
Many of the neon signs and large free-standing billboards, including the towering Hotel Monte Vista and Orpheum Theater signs, have been refurbished and are lit up at night. Aspen Avenue in particular has a great collection of historic buildings.
Look for the Weatherford Hotel, Orpheum Theater, Babbitt Brothers Building, and the Hotel Monte Vista.
The Flagstaff Visitor Center is two blocks south and is housed in the old and refurbished, but still in use, train station.
11. Lava River Cave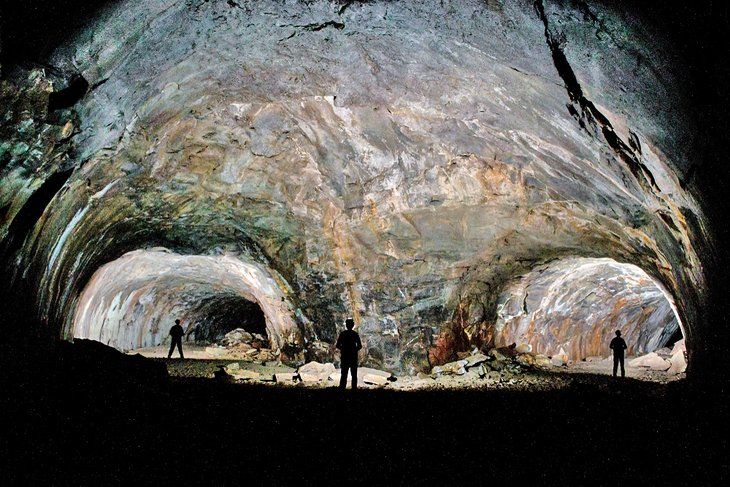 You can find your inner Jules Verne as you drop into the bowels of the earth at the 700,000-year-old Lava River Cave.
The cave is one mile long and is not a prettified tourist attraction. This is a real caving adventure that you do on your own, so if you are planning to go in and down, make sure you are prepared. There is no lighting and no guide. Bring multiple light sources.
Once you climb down inside and walk a short distance, you'll see stone icicles, along with other unique rock features that give the floor the appearance of a frozen river. In some areas, the cave roof is 30 feet high and in other areas, the tube splits into two tubes that eventually rejoin.
The cave is constantly cold, around 35 to 40 F, and the rocks are sharp and slippery, so wear sturdy hiking boots. The Lava River Cave is approximately 14 miles from Flagstaff along paved and gravel roads.
Official site: https://www.fs.usda.gov/recarea/coconino/recarea/?recid=55122&actid=102
12. The Arboretum at Flagstaff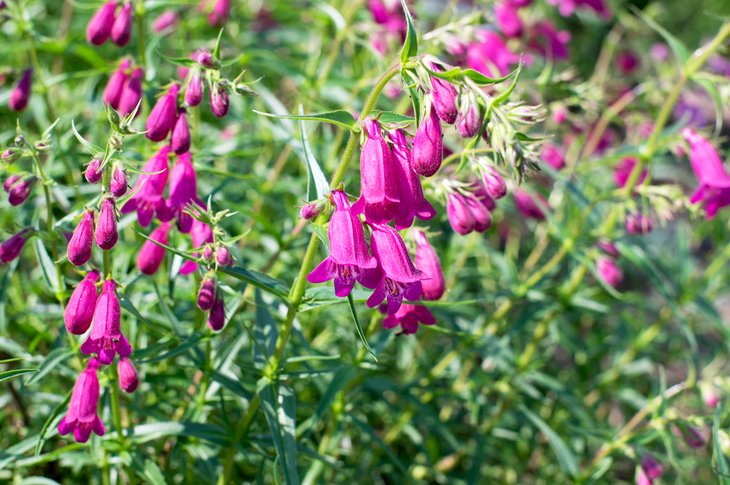 Just south of town, you'll find typical high-altitude nature at its finest. Originally a working ranch, the land has been allowed to return to its natural state and is now home to over 750 different plants adapted to Flagstaff's climate.
One of the highlights of a visit are the incredible variety of beardtongue plants, also known as penstemon. These large flowering plants can grow up to 10 feet high. The peak blooming season is generally mid-July
Admission is by donation – $5.00 per human and $3.00 for dogs is recommended – a guided tour led by a knowledgeable docent is included. If you need any special plants to help spruce up your home or garden, the Arboretum holds plant sales during the main growing season.
Address: 4001 S. Woody Mountain Road, Flagstaff, Arizona
Official site: https://thearb.org/
13. Hike to Red Mountain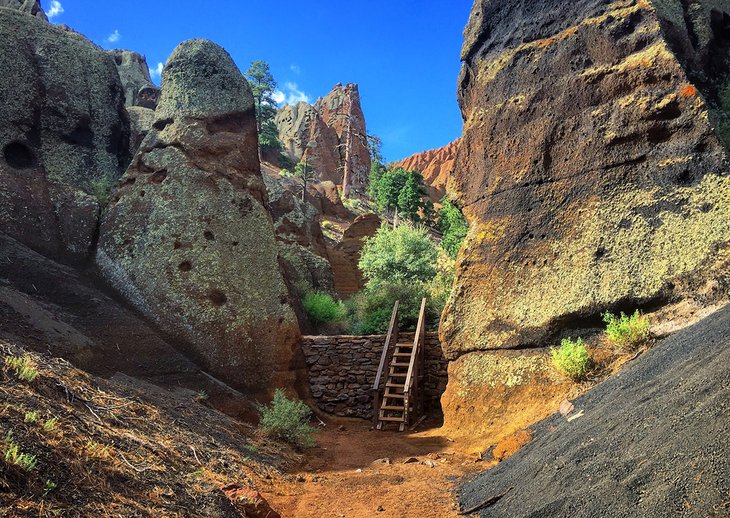 This is a fun family outing while visiting Flagstaff. It's not often that you get to climb to the top of a 1,000-foot, 740,000-year-old cinder cone. The hike is short at 2.6 miles return, but it packs a lot of interesting stuff into a short distance.
Elevation gain is minimal but at one steep section, the park service has installed a ladder. The best part of the trail is near the end, when you'll come across interesting rock formations called hoodoos.
The trailhead is located 25 miles northwest of Flagstaff on Highway 180.
Map of Things to Do in Flagstaff, AZ
Frequently Asked Questions
When is the best time to visit Flagstaff?
Average minimum and maximum temperatures for Flagstaff, AZ in °C
J
F
M
A
M
J
J
A
S
O
N
D

6

-9

8

-7

10

-5

14

-3

20

1

26

5

28

10

27

9

23

6

17

-1

11

-6

7

-8

PlanetWare.com
Average monthly precipitation totals for Flagstaff, AZ in mm.

55

65

67

33

20

11

61

73

54

49

47

47

Average monthly snowfall totals for Flagstaff, AZ in cm.

52

48

62

30

5

0

0

0

0

6

27

45
Average minimum and maximum temperatures for Flagstaff, AZ in °F
J
F
M
A
M
J
J
A
S
O
N
D

43

16

46

19

50

23

58

27

68

34

79

41

82

50

80

49

74

42

63

31

51

22

44

17

PlanetWare.com
Average monthly precipitation totals for Flagstaff, AZ in inches.

2.2

2.6

2.6

1.3

0.8

0.4

2.4

2.9

2.1

1.9

1.9

1.8

Average monthly snowfall totals for Flagstaff, AZ in inches.

21

19

24

12

1.9

0

0

0

0.1

2.5

11

18
Flagstaff, unlike Phoenix two hours south, is up high at an elevation of 6,909 feet. This lofty perch ensures that the summers are temperate, while the winter season can be downright cold, with snow on the ground. In the summer months, Flagstaff experiences a monsoon season that sees frequent and intense afternoon thunderstorms.
The best time to visit for skiing is in January and February, and early March, depending on the season. The best time to visit for hiking and mountain biking is from mid-May through until October. At this time, the trails are dry and clear of snow at the higher elevations. June provides the best chance to see wildflowers on the hiking trails.
Explore the Best Places to Visit near Flagstaff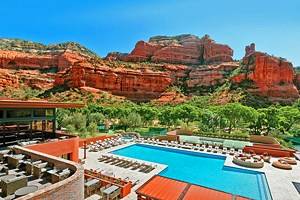 Sedona: Don't miss an opportunity to see Sedona, just a short and scenic drive through Oak Creek Canyon away. If you only have a half day to tour the town, have a look at our top-rated attractions in Sedona article for ideas.
With a full-day to explore, you might want to consider lacing up your boots and heading out on one or two of the best hikes in Sedona.
If you are into mountain biking, you're in luck. Sedona's mountain biking trails range from easy and scenic to absolutely epic. To enjoy a little rest and relaxation, see our guide to the best spa resorts in Arizona.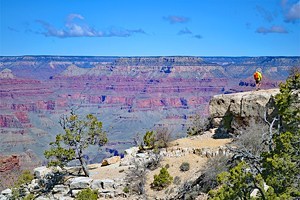 The Grand Canyon: If you have time for a day trip, don't miss a chance to see this spectacular site. In well under two hours, you can be enjoying the views and sites of the Grand Canyon or heading off on one of the hiking trails.
Arizona's Best: For inspirational ideas for traveling around the state, see our Top-Rated Attractions and Best Places to Visit in Arizona and our Best Hikes in Arizona articles. Most visitors to the state will be stopping in at, or transiting through, one of the two main cities. If so, see our features on things to do in Phoenix and Tucson.