9 Best Spa Resorts in Sedona, AZ
Sedona is famous for its red rocks, energy vortexes, and some serious pampering at a number of highly rated spa resorts. This small town in the heart of red rock country is the kind of place that is easy on the eyes and naturally relaxing, even before you add in a full-body massage inspired by local Native American healing rituals at an elegant spa resort.
Beyond spa treatments, Sedona is filled with all sorts of outdoor activities to soothe the soul, including hiking and mountain biking trails, as well as jeep tours and hot air balloon rides, all of which can be arranged via the spa resorts.
The sunrises and sunsets here are phenomenal, especially the sunsets, which set the red rocks and rushing water of Oak Creek aglow in crimson and gold. From couples to families, mid-range to ultra luxe, check out our list of the best spa resorts in Sedona.
1. L'Auberge de Sedona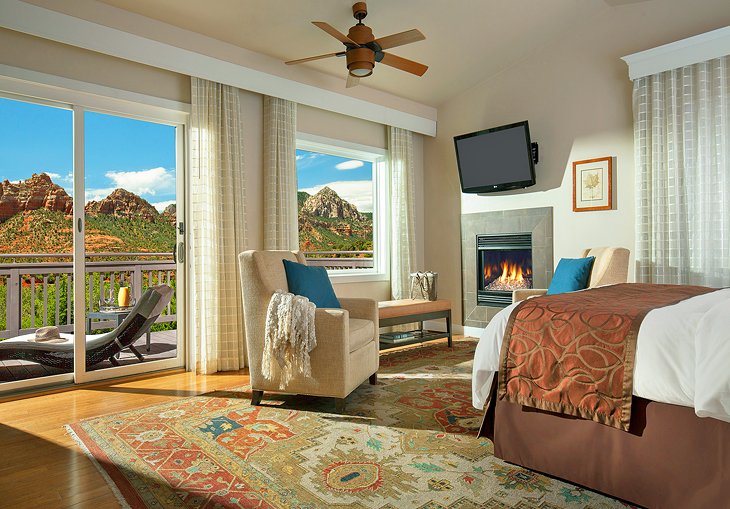 Accommodation: L'Auberge de Sedona
Set right on Oak Creek in the heart of Sedona, L'Auberge is a luxury spa resort that is also known for its fine-dining restaurant on the creek.
Accommodation is in either lodge-style rooms, which are elegantly appointed with comfortable beds, or detached cottages. The cottages feature red rock or creek views from large windows and private porches. Many have whirlpool tubs for two, which are perfect if you're on a romantic vacation. The resort is also kid- and pet-friendly with amenities for both.
On-site amenities include a beach area next to Oak Creek, a saltwater swimming pool, and a hot tub. L'Auberge also offers a rotating list of activities, from natural history talks to photography lessons.
And then there is the full-service spa, L'Apothecary. It offers a range of treatments, from massages to facials, that are inspired by Sedona's natural beauty and that also make use of local botanicals. One unique aspect? An herbal blending station, where body-care products are custom-created.
Address: 301 L'Auberge Lane, Sedona, Arizona
2. Mii amo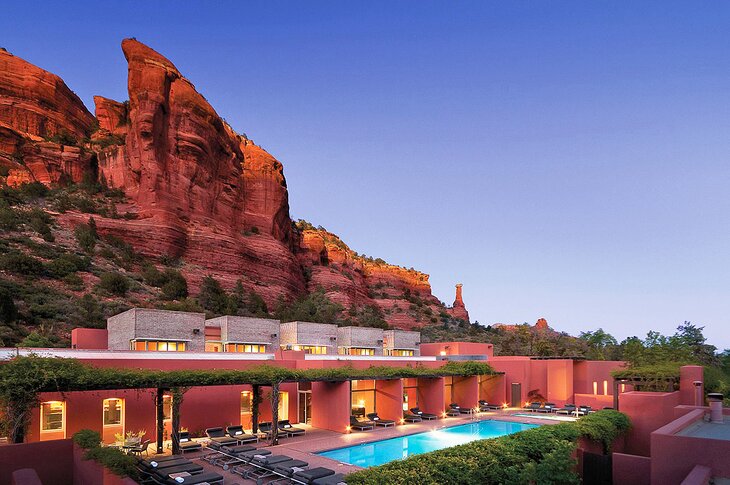 Accommodation: Mii amo
First opened in 2001, Mii amo has been setting the standard for a spa experience in Sedona for well over two decades. The resort has recently undergone a significant top-to-bottom renovation and rejuvenation and is now better than ever.
This very exclusive all-inclusive spa resort is one of the very best in the Southwest. A visit here is more about a holistic personal journey than just spa services. Guests are assigned a Journey Guide to help them plan their stay and ensure they have a well-rounded experience. Stays are a minimum of three days and a maximum of 10.
Set in the stunning and spiritual Boynton Canyon, home to one of Sedona's famous vortex locations, the resort is a calm and relaxing place set beneath towering cottonwood trees. A labyrinth, Sensory Garden with a reflexology path, a hammock grove, pools, workout studio, and yoga lawn are all on-site.
Mii amo is home to only 19 casitas, ensuring peace and quiet are the norm. All accommodations are decorated in a muted, Southwest style and have cozy fireplaces and patios.
Spa services are performed in one of the 21 treatment rooms. Mindfulness and therapy sessions take place in a new relaxation and consultation area.
Meals are provided by the new Hummingbird restaurant featuring locally sourced ingredients presented in an intriguing and eclectic way.
Address: 525 Boynton Canyon Road, Sedona, Arizona
3. Amara Resort & Spa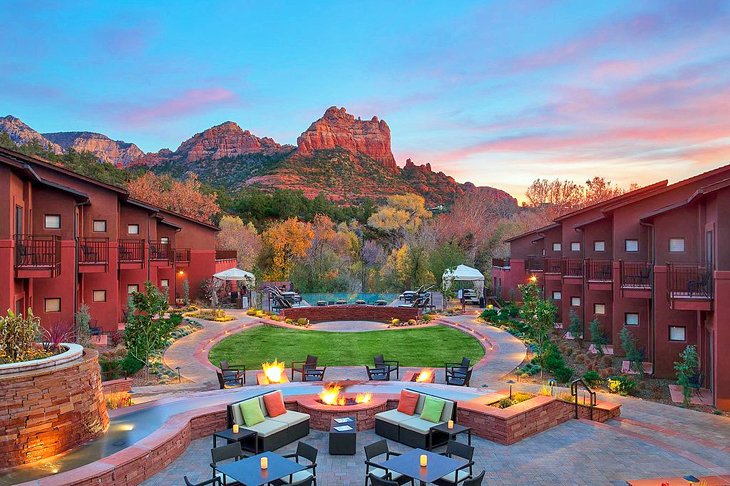 Accommodation: Amara Resort & Spa
The Amara Resort & Spa is a beautiful creekside boutique property that also faces the craggy red rocks Sedona is famous for. The exterior of the resort is adobe colored, while the interior is more desert, mountain contemporary, with wood beamed ceilings and funky chandeliers.
The rooms are lovely and comfortable, with a crimson and copper color palette and high-thread-count linens on super comfy beds. Bathrooms have Atelier Bloem toiletries.
Amenities include a restaurant that serves up delicious food and mountain views. There are also fire pits to relax around post dinner. An infinity swimming pool and hot tub are also on-site.
The Amara Sedona Spa here is a main draw and includes head-to-toe pampering for body and soul. Their signature treatment is the Rain Dance Massage, which draws inspiration from the Native American community and features rosemary, lavender, and sage oils. The spa also offers free group yoga classes in the morning. The Amara is within walking distance from downtown Sedona's shopping and dining scene.
Address: 100 Amara Lane, Sedona, Arizona
4. Hilton Sedona Resort at Bell Rock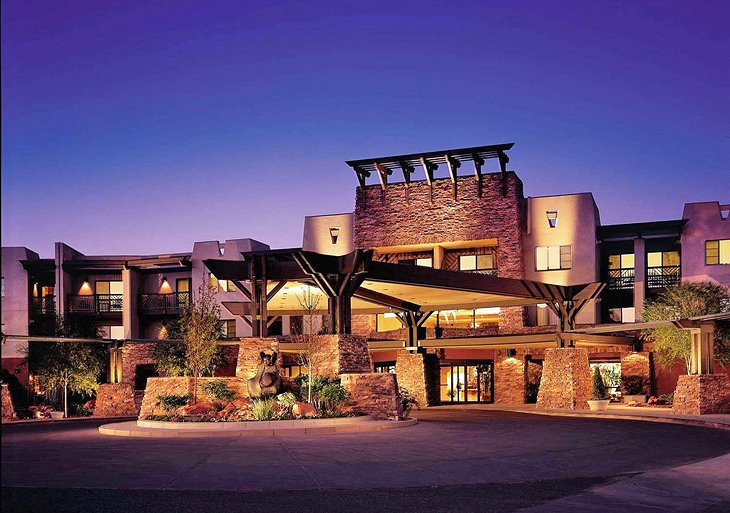 Accommodation: Hilton Sedona Resort
If your idea of the perfect vacation includes a spa resort and a chance to play a championship 18-hole golf course amid a stunning red-rock country backdrop, then you'll want to book a room at the Hilton Sedona Resort at Bell Rock. There are 221 rooms and suites to choose from, and all come with a fireplace and chic desert decor.
On-site amenities include a few different dining options, as well as the 25,000-square-foot Sedona Athletic Club that guests have access to. It features an outdoor lap pool, indoor steam room, sauna, HIIT (High-Intensity Interval Training) Pit, motion studio, and lighted tennis courts.
The Eforea Spa is also located inside this facility and features a range of treatments in seven private rooms. There are also physical therapy and nail services available.
Address: 90 Ridge Trail Drive, Sedona, Arizona
5. The Wilde Resort and Spa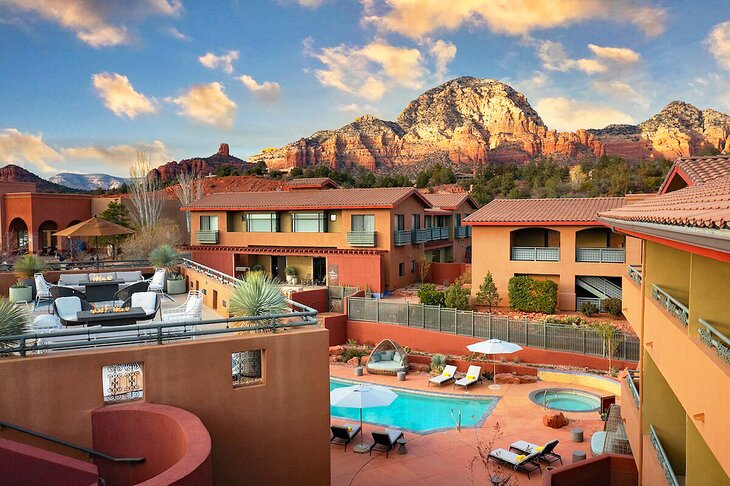 Accommodation: The Wilde Resort and Spa
After a multi-million-dollar renovation, the Sedona Rouge Resort has been rebranded as The Wilde Resort and Spa. Located less than a mile from downtown, the 4-star property offers easy access to shops and restaurants downtown, as well as natural attractions in the vicinity.
The spa here was one major focus of the renovations. It offers a large number of nature-inspired treatments, from massages to facials. It also has outdoor soaking tubs and a beautifully landscaped Healing Garden with a labyrinth and seating areas for meditative contemplation.
Beyond the spa, The Wilde offers a number of activities for guests to participate in. These include stargazing, yoga classes, Sedona history lessons, Native American flute blessings, and talks about the area's famous "energy vortexes."
The 105 rooms and suites are spacious and comfortable. Many boast stunning red-rock views from furnished balconies. Others have soaking tubs and/or fireplaces. Although it does have a spa focus, The Wilde welcomes families and offers kids' meals in its restaurant. The property is also pet friendly should you be traveling with a pup.
Amenities include a heated outdoor swimming pool, a gym with fitness classes, yoga, and bike rentals.
The restaurant Rascal serves artisanal American diner fare with old favorites and new creations. Expect lots of organic and locally sourced produce. The cozy fire pit is perfect for chilly desert nights post dinner.
Address: 2250 West Highway 89A, Sedona, Arizona
6. Adobe Grand Villas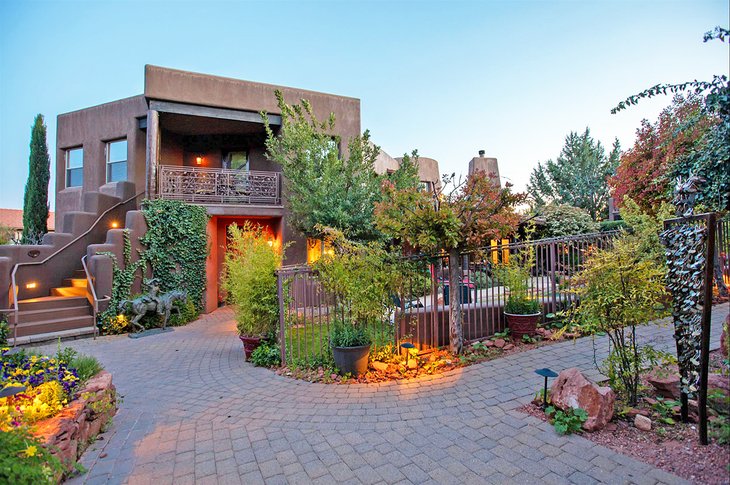 Accommodation: Adobe Grand Villas
Adobe Grand Villas features one-of-a-kind styled villas that come in a number of individual and creative themes. The Wagon Wheel Villa, for instance, has a bed inside a faux-covered wagon and a functioning water wheel on the entryway door. Villas also come with quirky extra like in-room bread makers and a fresh loaf upon arrival. Breakfast is included in the rate and is a five-course affair delivered to your room - a romantic plus.
Amenities include grounds filled with flowers, a swimming pool, and free snacks in the lobby throughout the day. Spa services are also available.
The location in West Sedona is quiet, and it is just a 15- or 20-minute drive to downtown Sedona where you'll find numerous shops and restaurants.
Address: 35 Hozoni Drive, Sedona, Arizona
7. Poco Diablo Resort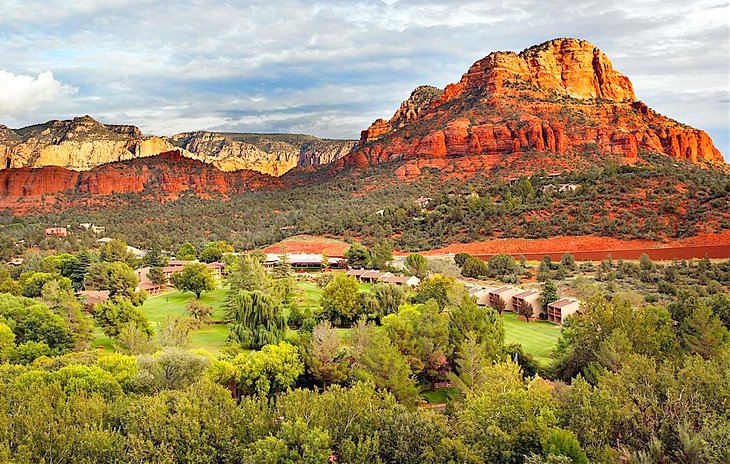 Accommodation: Poco Diablo Resort
For a good-value spa resort check out the upper mid-range Poco Diablo, offering red rock views in all directions. The property has a full-service spa, as well as a number of outdoor amenities, including a nine-hole golf course, four tennis courts, and a heated swimming pool with umbrellas and sun-loungers around it. There is also a hot tub.
The resort is in a residential neighborhood, and there is nothing really within walking distance from it, but it has an on-site restaurant serving Southwestern and classic American fare, so you can have an inclusive resort experience.
The spa offers a full range of massages and facial and body treatments. It also offers hair and nail services. Finally, there is a large gym on-site with a number of cardio machines and weights.
Address: 1752 State Route 179, Sedona, Arizona
8. Junipine Resort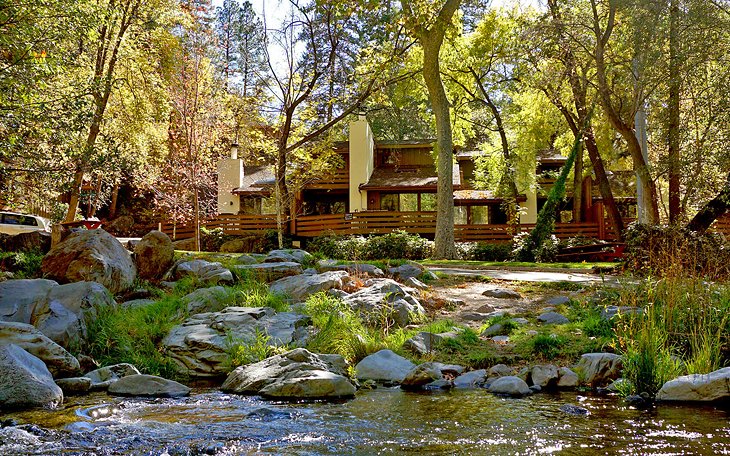 Accommodation: Junipine Resort
Set just off the stunning Red Rock Scenic Byway in Oak Creek Canyon, just eight miles outside Sedona, the Junipine Resort is a perfect destination for outdoor adventure types seeking a back-to-nature experience where you can really tap into Sedona's healing energy.
The luxe property offers a range of spacious two-bedroom, creekside homes with wood-burning fireplaces and fabulous porches with your own private hot tub.
Appealing to couples and families, it has a kids' club and a few different swimming pools, including one for adults and another for children.
Other amenities include fire pits and a few different dining options. And you are just a quick 15-minute drive from downtown Sedona, where you'll find more restaurants, shops, and destination spas you can visit for the day.
Address: 8351 N. Highway 89A, Sedona, Arizona
9. Sedona Springs Resort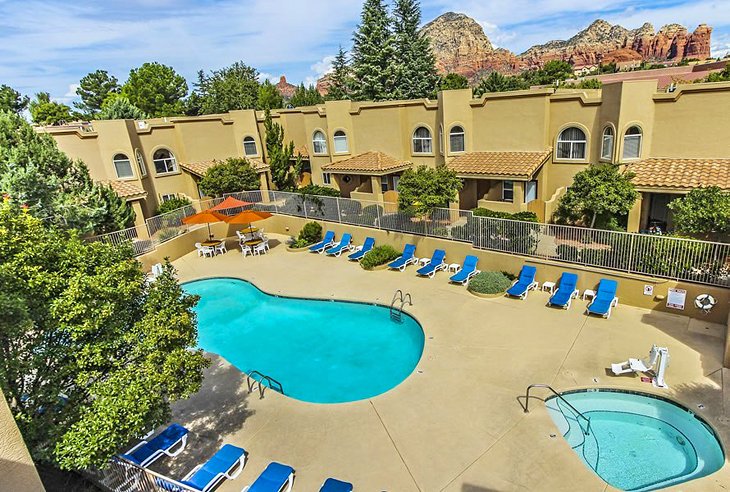 Accommodation: Sedona Springs Resort
The all-suites Sedona Springs Resort is another relaxing choice, especially if you're looking for a property that feels more like an apartment. Choose from studio to two-bedroom units that come with at least a kitchenette, as well as a balcony or patio. Many feature fireplaces, as well as Jacuzzi tubs.
On-site amenities at this family-friendly property include a playground for kids, as well as a game room. There is an outdoor swimming pool and a hot tub, as well as a sauna.
The location is just off the main road west of downtown Sedona, and you'll find many restaurants, shops, and day spas just a short drive away.
Address: 55 Northview Road, Sedona, Arizona
Map of Spa Resorts in Sedona, AZ
Sedona, AZ - Climate Chart
Average minimum and maximum temperatures for Sedona, AZ in °C
J
F
M
A
M
J
J
A
S
O
N
D

13

-1

16

1

18

3

23

6

28

9

34

14

36

18

34

17

31

14

25

9

18

2

14

-1

PlanetWare.com
Average monthly precipitation totals for Sedona, AZ in mm.

53

55

63

30

18

9

42

48

49

42

35

38

Average monthly snowfall totals for Sedona, AZ in cm.

0

1

1

0

0

0

0

0

0

0

0

2
Average minimum and maximum temperatures for Sedona, AZ in °F
J
F
M
A
M
J
J
A
S
O
N
D

56

30

61

33

65

37

73

42

82

49

93

58

97

64

94

63

88

58

77

48

64

36

57

31

PlanetWare.com
Average monthly precipitation totals for Sedona, AZ in inches.

2.1

2.2

2.5

1.2

0.7

0.4

1.7

1.9

1.9

1.7

1.4

1.5

Average monthly snowfall totals for Sedona, AZ in inches.

0.1

0.3

0.5

0

0

0

0

0

0

0

0.1

0.7
More Related Articles on PlanetWare.com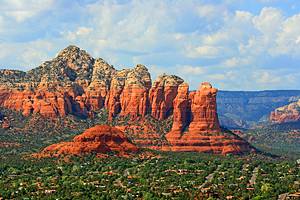 Explore Sedona: There is so much to see and do in the Sedona area. Set amid a landscape of crimson rock mountains, canyons, and buttes, this is an outdoor city that features some awesome and free activities. Enjoy nature on Sedona's best hiking trails and mountain biking trails. At night relax outdoors while stargazing. To learn more, read our Top-Rated Tourist Attractions in Sedona article. Here, we give you the scoop, not only on the natural attractions, but also where to see Native American ruins, quality art galleries, and New Age shops.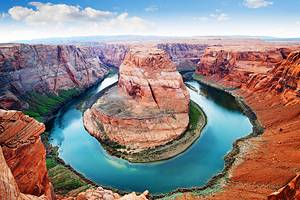 Around Arizona: A trip to Sedona is often combined with other destinations in Arizona, which is home to some monumental things to see and do. This state hosts the Grand Canyon among other natural attractions, as well as vibrant cities like Phoenix, Scottsdale, and Tucson, known for their dining, resorts, and golf scenes. For more, see our article on the Top Rated Attractions & Places to Visit in Arizona. It takes you on an adventure through the state, including to Flagstaff, which is the only place you can ski in Arizona, and the absolutely stunning Monument Valley, which has served as the backdrop for many movies.