6 Top-Rated Campgrounds in Sedona
Sedona's red rocks and beautiful scenery make camping here a special experience, but it's best to plan ahead to find what you're looking for and to secure a spot.
Camping in Sedona consists of three Forest Service campgrounds along Oak Creek Canyon just a few minutes outside of Sedona on Highway 89A, a couple of RV Parks in or around Sedona, and dispersed campsites in designated locations in the desert landscape just outside the city.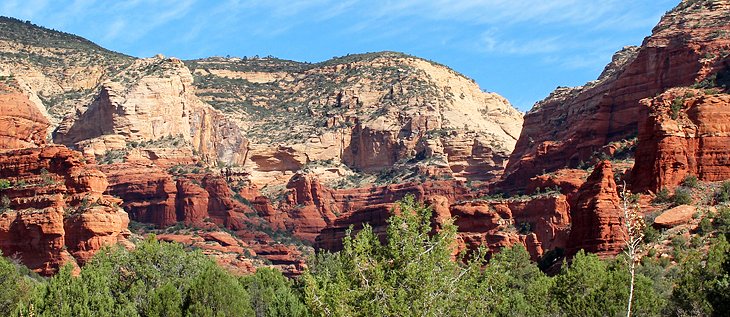 The campgrounds along Oak Creek offer tent-only facilities, as well as campgrounds open to both tents and RVs. Set down in the canyon, these campgrounds are cooler than Sedona and often in shade from the canyon walls. This can be a real asset in summer when the temperatures are high, but it can make for cool camping in fall and spring. Several interesting hikes can be found in this area, as well as Slide Rock State Park.
At the Forest Service campgrounds, you can book sites up to six months in advance on a rolling date basis, and no less than three days prior to arrival. Some of these campgrounds also offer first-come, first-served sites. Sites come with picnic tables, grills, and campfire rings, and all campgrounds offer vault toilets, and some have showers. Generators must be turned off at 9pm.
Dispersed camping comes with no facilities, so you must be fully self-sufficient. These sites are much warmer than those found along Oak Creek Canyon and come with plenty of direct sunlight.
For a complete look at what's available, see our list of the best campgrounds in Sedona.
1. Manzanita Campground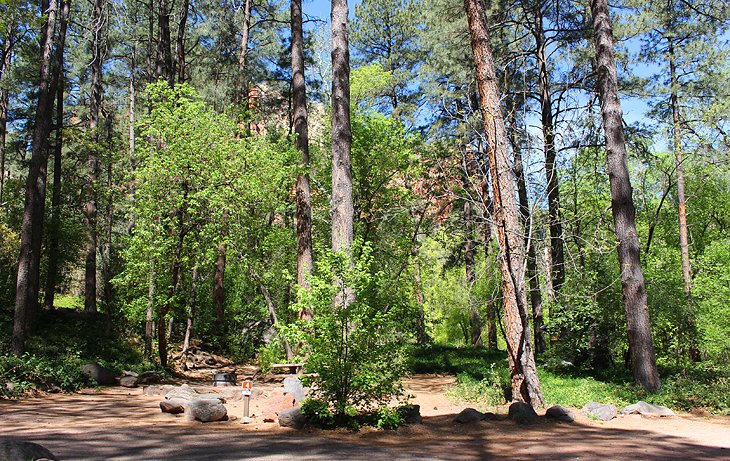 This small campground tucked into the woods on the edge of Highway 89A in Oak Creek Canyon is the closest campground to Sedona and by far the most convenient for accessing the main attractions.
Manzanita is only open to tents but it operates year-round. Tall deciduous trees provide plenty of shade during the hot summer months, and the river running behind adds to the peaceful atmosphere.
For tent campers who are looking to escape the noise of RV generators, this area is a real treat. However, it is just down a hill from the highway, so traffic noise can be a factor. This campground only has 19 sites, each of which can accommodate up to eight people.
Sites are released for one-year advance bookings mid-July of each year. Maximum stay at these sites is seven days; a booking for a weekend requires two nights (three nights for long weekends).
2. Cave Springs Campground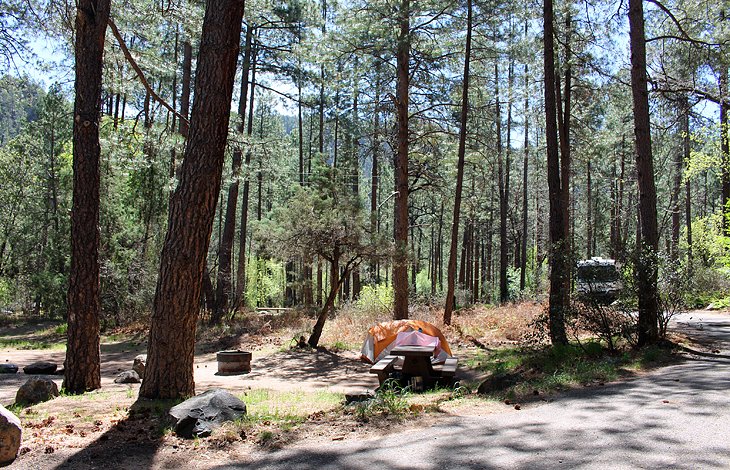 Set well off the road in a heavily forested area, Cave Springs campground is relatively free of highway noise. It is the largest campground in the Oak Creek Canyon area, with 84 campsites, so it has a busier feel. You have a better chance of getting a site here than the smaller campgrounds up the road.
Interesting birds and wildlife frequent the trees and grounds. Many of the trees are deciduous, so they offer dense shade in the summer and more filtered light in the spring.
Nearby Oak Creek is stocked with trout each season, so be sure to bring your fishing rod.
This campground is only open from early April to late October. With the exception of one tent-only site, campsites are open to both tents and RVs and can accommodate trailers and motorhomes up to 36 feet in length.
Reservations are accepted for some sites, but they also offer first-come, first-served loops. This campground has token-operated showers but only vault toilets. Radios and amplified devices are not allowed.
Sites are first-come, first-served from the start of April for a couple of weeks. After that, the sites are all reservable on a six-month rolling basis until the end of October.
3. Pine Flat Campground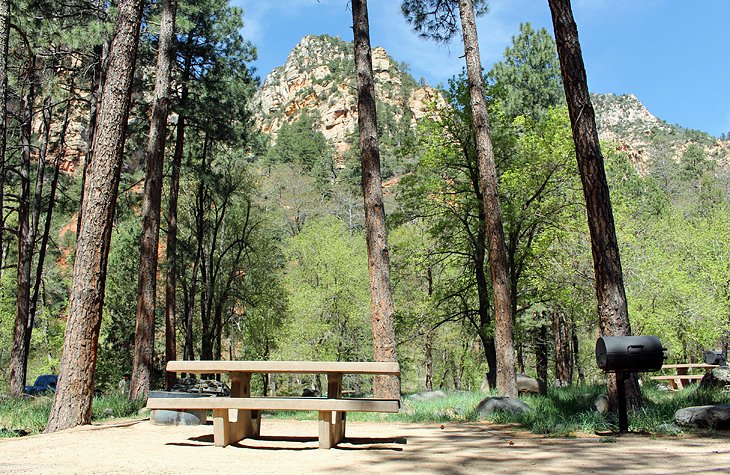 Tall pines and views to the orange cliff walls rising above make this the most scenic of all the campgrounds in Oak Creek Canyon.
Oak Creek runs along the back of the campground and attracts a variety of wildlife. This campground has a total of 59 sites and is open to tents and RVs. The one drawback is the location right along the side of Highway 89A, road noise is a definite issue.
At one end of Pine Flat Campground is a natural spring, with a tap for campers to collect water. Campers staying at Pine Flat are allowed to use the token-operated showers at Cave Springs.
Of the three Forest Service campgrounds, this is the farthest from Sedona. The drive time can vary considerably depending on traffic but generally takes about 25 minutes to Uptown Sedona.
All sites are reservable on a six-month rolling basis until the end of October.
4. Rancho Sedona RV Park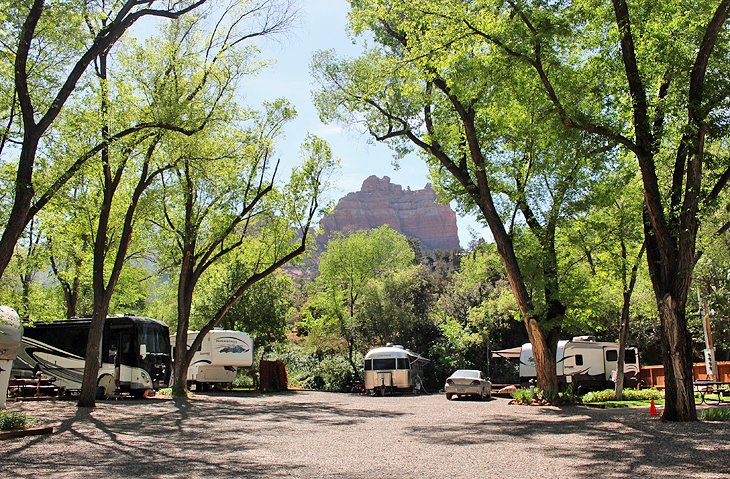 Set right below Uptown Sedona, Rancho Sedona RV Park has an awesome location. This is an RV-only campground; Sedona city regulations currently prohibit tents at this location. If you are traveling with your dog, they are most welcome.
You can look up to see the famous red rock surroundings, set up below huge cottonwood trees, wander along the shores of Oak Creek running alongside the park, or walk to many of the top attractions in Sedona.
From the campground to Uptown Sedona is about a 20-minute walk, but you can be at the shops and restaurants of Tlaquepaque Arts and Crafts Village in just 10 minutes or less.
Sites are mostly gravel, although some have patches of grass, and they are fairly close together. When the trees come out in spring, this facility looks like a botanical park. Note that campfires of any kind, including propane versions, are not permitted.
Official site: www.ranchosedona.com
5. Verde Valley RV Resort & Campground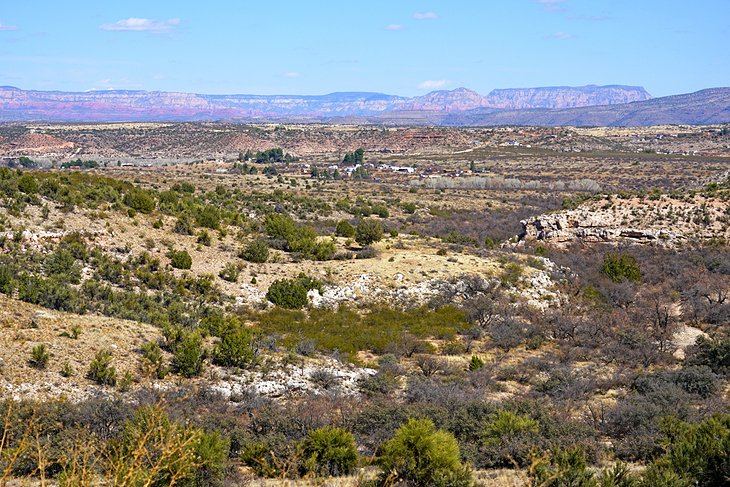 The Verde Valley RV Resort is an oasis of green set on the banks of the Verde River about 30 to 35 minutes from Sedona, near Cottonwood. This 300 acre resort is huge, the size of 226 football fields, giving you lots of room to roam.
Resort features include large trees for ample shade and is open to both tent campers and RVers. Sites are large and offer full hookups.
Comfort stations have showers and flush toilets. On the grounds are ample opportunities for fun, including an outdoor pool, a mini golf course, whirlpool, horseshoe pits, and a recreation center with a pool table and ping pong tables. Even Fido has his own dog park to hang out with all his newfound friends.
This campground's central location also offers easy access to a number of Sedona's most popular mountain biking trails.
If you don't feel like camping, the resort also offers a variety of cabins for rent. Recent extensive renovations have completely updated this RV park.
Official site: http://ttverdevalley.com/
6. Dispersed Camping around Sedona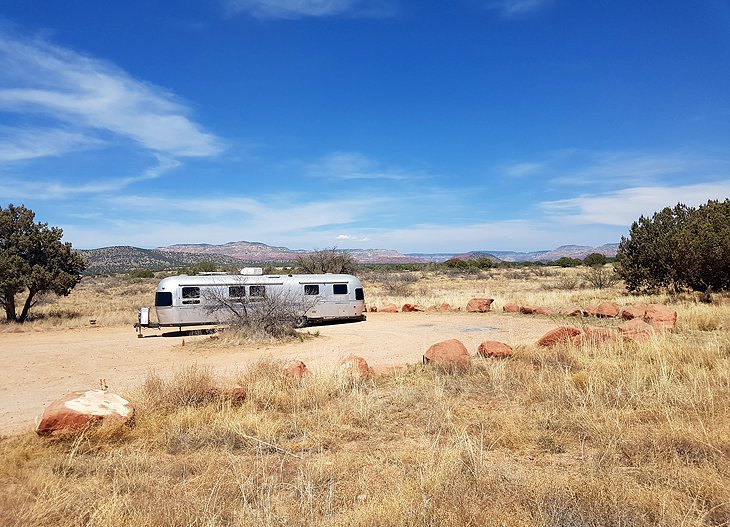 For your own patch of desert with amazing views, peace and quiet, and starlit skies, just drive southwest towards Cottonwood. Find the right road, drive in a short distance, and select your very own piece of land to set up camp.
The area off Highway 89A west of Sedona runs through Coconino National Forest land, and camping is allowed pretty much anywhere. The rules are simple and easy to follow, and the price is right - camping is free. However, with zero cost comes zero facilities. You must be fully self-sufficient and bury your waste or have a self contained unit.
The main area for dispersed camping is off FS525, which is also the road to the Palatki ruins. Note that the area for dispersed camping ends at Boynton Canyon Road (FS152C).
You'll also find camping east of Sedona off the Schnebly Road, but this is a very rough and steep road and not suitable for any type of trailer.
South of Sedona, camping is also available, but this is a significant distance from town and not particularly convenient to the main attractions, except for Montezuma's Well.
Official site: https://www.fs.usda.gov/Internet/FSE_DOCUMENTS/stelprd3839183.pdf
Crescent Moon Ranch Cabin
If your idea of camping doesn't involve sleeping in a nylon tent on the ground, but you still want the nature and outdoor feeling, then the historical Crescent Moon Ranch Cabin is for you. This wonderfully restored cabin, listed on the National Register of Historical Places, dates from 1938 and has been brought back to its original glory by the hard work of the Forest Service and a cast of volunteers.
More home than cabin, this place can accommodate you and nine of your closest camping companions in its three-bedroom, three-bathroom space. A large kitchen is ideal for preparing a big meal for your crew; eat it inside in the bright, airy great room, or enjoy it at the outdoor picnic table.
While your days away by exploring the ranch lands, a former peach orchard, or by just hanging out on the expansive stone deck soaking up the stunning view of Cathedral Rock while Oak Creek burbles nearby.
You'll need to bring all your supplies and linens, but all cooking equipment is supplied. The cabin can be booked online.
Map of Campgrounds in Sedona
Sedona, AZ - Climate Chart
Average minimum and maximum temperatures for Sedona, AZ in °C
J
F
M
A
M
J
J
A
S
O
N
D

13

-1

16

1

18

3

23

6

28

9

34

14

36

18

34

17

31

14

25

9

18

2

14

-1

PlanetWare.com
Average monthly precipitation totals for Sedona, AZ in mm.

53

55

63

30

18

9

42

48

49

42

35

38

Average monthly snowfall totals for Sedona, AZ in cm.

0

1

1

0

0

0

0

0

0

0

0

2
Average minimum and maximum temperatures for Sedona, AZ in °F
J
F
M
A
M
J
J
A
S
O
N
D

56

30

61

33

65

37

73

42

82

49

93

58

97

64

94

63

88

58

77

48

64

36

57

31

PlanetWare.com
Average monthly precipitation totals for Sedona, AZ in inches.

2.1

2.2

2.5

1.2

0.7

0.4

1.7

1.9

1.9

1.7

1.4

1.5

Average monthly snowfall totals for Sedona, AZ in inches.

0.1

0.3

0.5

0

0

0

0

0

0

0

0.1

0.7
Explore More of Arizona's Great Outdoors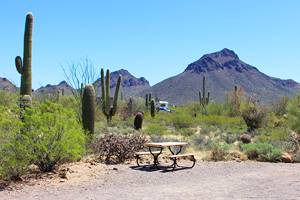 Camping: Camping in Sedona is just the start. Plan the rest of your Arizona outdoor adventure with our guides to the best campgrounds in Prescott, Phoenix, and Tucson. Prescott and Sedona make great destinations in the summer but during the colder months, Tucson and Phoenix are appealing camping areas. If you're not sure where else you might want to set up camp, get inspired with our list of the best places to camp in Arizona.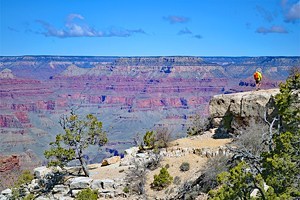 Hiking: From the desert to the mountains, Arizona has all kinds of terrain just waiting to be explored. For some ideas on where to go, be sure to see our most recent picks for the best hikes in Arizona. Some of the most interesting hiking can be found near the major towns and cities. If you know you are going to be traveling to some of these destinations, don't miss our articles on the best hikes in Sedona, Prescott, Phoenix, and Tucson. For serious hikers, the Grand Canyon offers a number of great hikes.