10 Best Cities in Arizona
Authors Michael and Lana Law enjoyed several winters in Arizona and have traveled the state extensively.
The sunny state of Arizona draws you in with its warm climate, beautiful desert scenery, the Grand Canyon, mountains, and lake country. It's for these reasons that Arizona has been attracting legions of new arrivals for years and is one of the fastest-growing regions in the USA. Once you visit, it's hard to leave!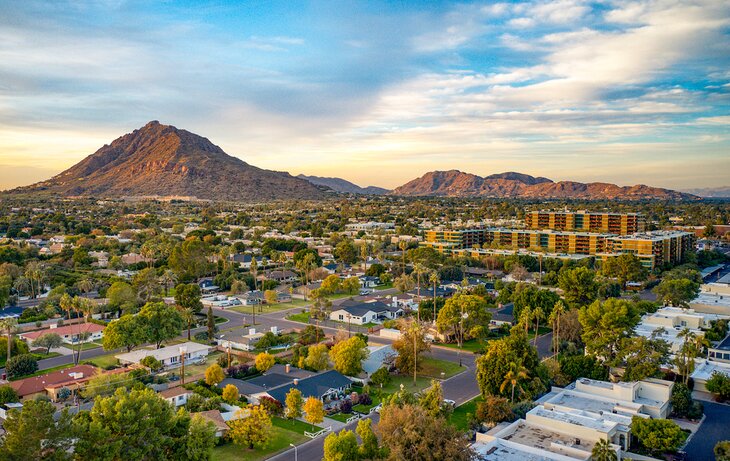 Arizona's cities are as diverse as the state itself. The Phoenix Metropolitan Area, with Scottsdale and Mesa right next door, steal most of the bandwidth, but other places to visit in Arizona also have their own allure. Tucson has its famous gem show; Flagstaff, its university and a local ski resort (yes that's correct, a ski resort in Arizona); and don't forget Prescott, with its beautiful lake and forests. For culture, Yuma has a Spanish flair, for water sports, Lake Havasu has got you covered.
Whether you are thinking of permanently locating to the state or just looking for an escape from the winter cold, this list of the top cities in Arizona will help.
1. Phoenix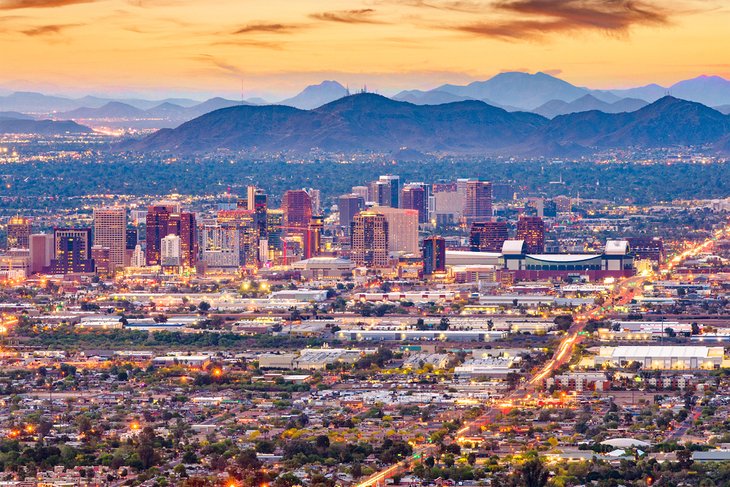 The city of Phoenix has it all — history, fun, glamour, and great hotels and resorts — and it's all situated in the appropriately named Valley of the Sun. Posh resorts and championship golf courses bring in tourists by the planeload each winter, who trade their places by the fire for loungers by the pool, and their snow shovels for golf clubs.
Although the city has high-end resorts, it's also surprisingly affordable for those with smaller budgets. A wide range of hotels are available, and almost all have a pool and sun deck area just perfect for the kids to splash away all day long while mom and dad dive into the latest paperback.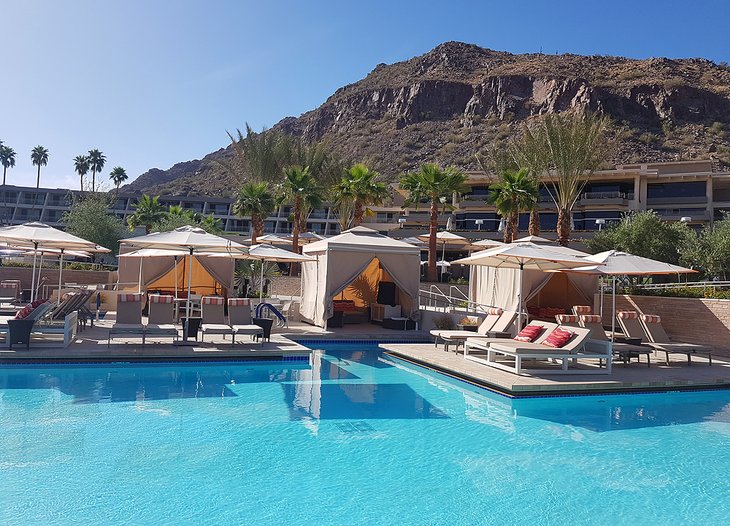 Take a walk through downtown Phoenix, pop in at a museum or two to learn about the history, then snag a table on an outdoor patio. Enjoy a bite or a cool drink, and engage in a bit of people-watching while you relax and recharge. After your busy afternoon, hit the pool and cool off before getting dressed up to head to one of the many fine Phoenix restaurants. Stay out late if you want; you can grab a nap poolside the next day.
You may never leave your resort or hotel area, but if you feel the need to shake off your inner sloth, Phoenix has great hiking, biking, and walking trails nearby. Or get your exercise shopping.
Always wanted to see the Grand Canyon? It can be easily reached in just over 3.5 hours along a very scenic drive, or take a small group tour and let someone else do the driving.
Read More: Top-Rated Attractions in Phoenix
2. Scottsdale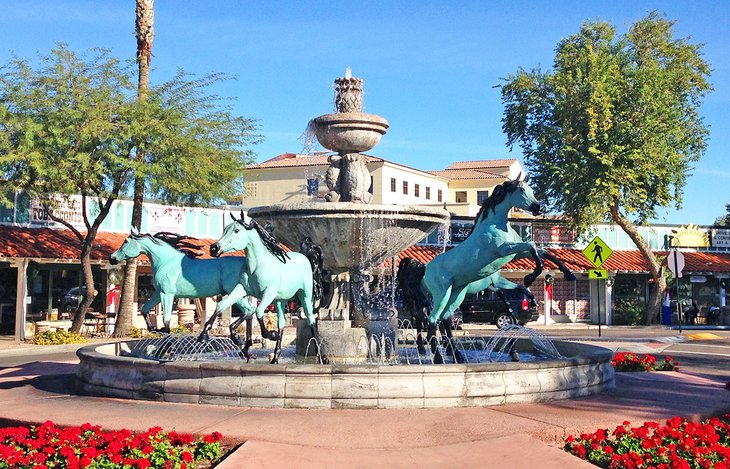 Scottsdale has long been an escape for America's wealthy, and for good reason. This city just east of Phoenix has a variety of things to do and places to visit, along with some of the best resorts, golf courses, exclusive neighborhoods, and dining in Arizona. Palm trees, small mountains, wide boulevards, and a tanned and fit populace make this a coveted place to live and an ideal place to visit.
The Old Town area of Scottsdale is home to historical buildings, covered sidewalks, eclectic shops, public art, and great restaurants. Spend a bit of time exploring this area and then walk west to find exclusive galleries and fashion boutiques. Northeast Scottsdale is home to the famous Frank Lloyd Wright Taliesin East complex.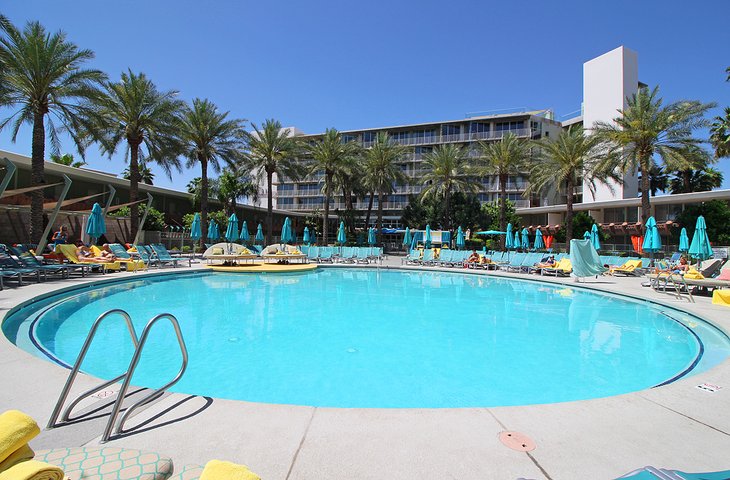 If all you want to do is sit by the pool, enjoy great meals, and not do too much of anything, a Scottsdale resort is the place for you. These resorts have everything you need or could possibly want, and many people never leave the property.
If you do want to do a bit of exploring, the beautiful Santa Catalina Mountains, with their wonderful hiking trails, are only a short distance away. To learn about your desert surroundings, head to the McDowell Sonoran Preserve or the Desert Botanical Garden.
3. Flagstaff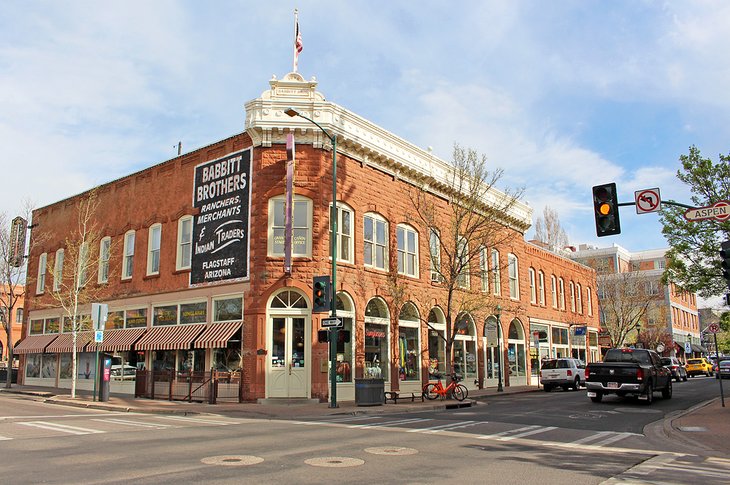 Flagstaff is unlike any major city in Arizona. With its large pine trees, mountain views, rushing rivers, and volcanoes, it's a stark change from pancake-flat deserts. Come here if you like a more temperate climate, four seasons, and aren't afraid of cooler temperatures.
If you are someone who likes to get out, be active, and explore, Flagstaff should be on your list of places to visit. The city and surrounding areas are full of things to do, so bring your hiking boots, mountain bikes, skis, and an adventurous spirit. Within a 15-minute drive of downtown, you can hike to the top of an extinct volcano or to the bottom of a canyon, go downhill skiing, visit ancient Native dwellings, and see petroglyphs.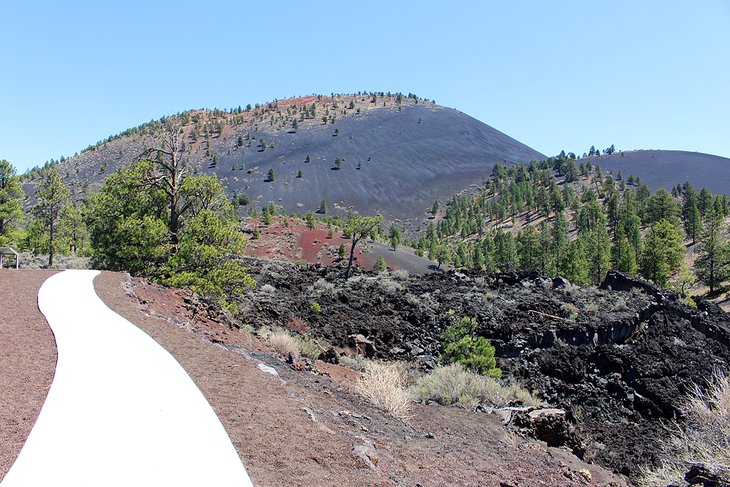 Flagstaff is one of the few cities in Arizona that enjoys four seasons. Summers are temperate, and a visit here during a baking Phoenix summer is a welcome respite from the incredible heat. Spring and summer are cooler, and in the winter, it can be downright cold. So cold, in fact, that this is one of the best places in Arizona to see snow.
Just up the road from town is the Arizona Snowbowl, one the top places to downhill ski in the state.
The city has a young population and a lively spirit owing to the large campus of Northern Arizona University (NAU). This makes for a fun vibe in the old town area near the tracks, where you'll find an assortment of restaurants full of young people. The university population also ensures that a variety of cheap eats are on offer — good news for budget travelers.
Flagstaff is an excellent place to base yourself for a day trip to the Grand Canyon. Getting to the Grand Canyon is easy, the southern rim area is only 1.5 hours away. The drive is easy and spectacular, as it winds its way through the San Francisco peaks and the high desert where it's hard to believe that a 6,000-foot chasm is just ahead.
4. Tucson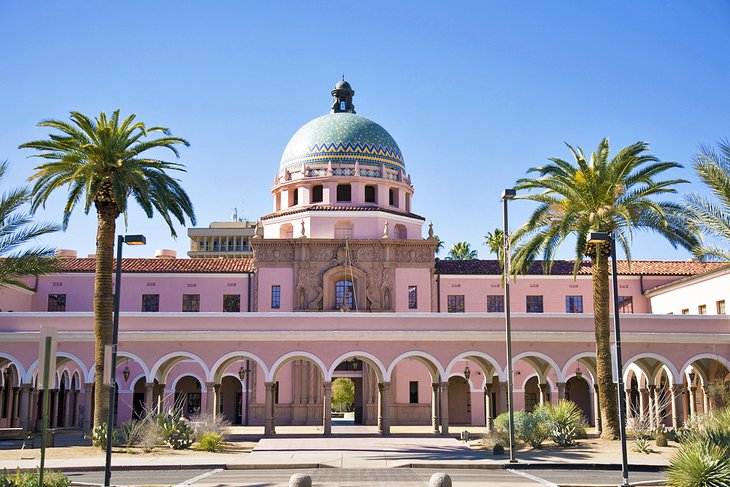 The small city of Tucson is sometimes overlooked by visitors to Arizona, and the locals don't mind one bit. They are more than happy to keep the fact that this growing city is easy to get around, has wonderful recreation opportunities nearby, an incredible national park on its boundary, and a vibrant downtown full of history a secret.
Those more interested in sitting by the pool and soaking up the sun with a good book will also find Tucson's luxury resorts more than meet their needs. At the other end of the accommodation spectrum, campers are also well cared for here - the area in and around Tucson has some incredible campgrounds.
Small and compact, Tucson offers up its treasures readily. The downtown El Presidio Historic District features an assortment of Spanish-Mexican and Anglo-American architecture. Stroll along the restored streets of one of the oldest inhabited areas in the United States, camera at the ready. After a while, grab a table on a patio and soak up the sun while engaging in a bit of people-watching.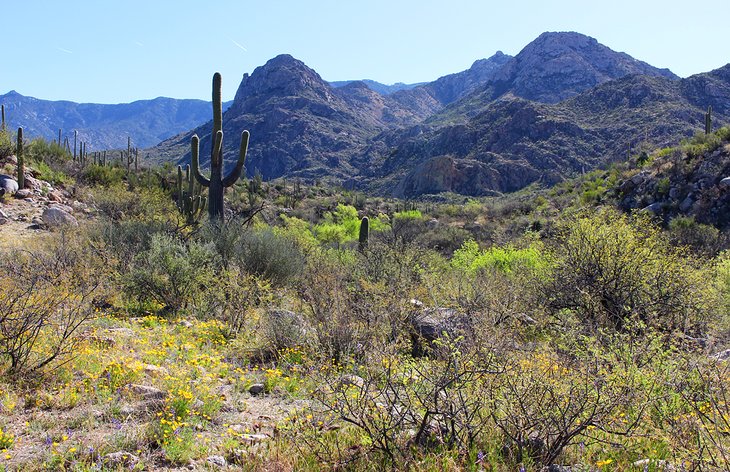 Tucson's natural areas are impressive and are close by. In fact, Saguaro National Park is just outside the city's eastern and western edges. Towering saguaro cactuses stand like sentinels in the desert hills throughout both parks. Easy walking and hiking trails wind their way throughout the surrounding desert, highlighting the flora and fauna of the region.
If you don't feel like venturing outside the city, a short distance from downtown is Tumamoc Hill. Take the paved path up to the top to enjoy wonderful views out over the city and surrounding hills.
One of Tucson's main claims to fame is the annual Gem and Mineral Show that takes place every February. This show draws thousands of hobby enthusiasts and professionals to the city to hunt down that special stone or negotiate prices on precious gems. In addition, special exhibits showcase rare stones only found in private collections not normally seen by the public.
5. Prescott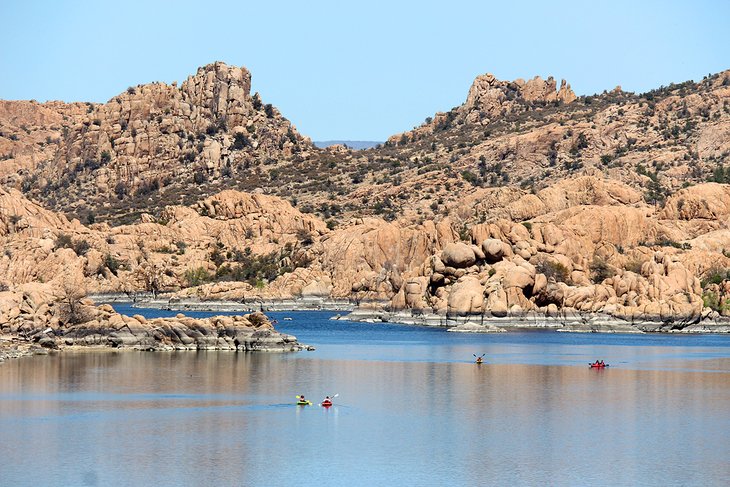 Just under two hours northeast of Phoenix and chock-full of history is Prescott. The city has deep roots in the state, it was once the capital of the Arizona Territory, and today that history is on proud display. Impressive institutions, including the Sharlot Hall, Smoki, and Phippen museums are well worth a visit to understand the role Prescott played in shaping modern-day Arizona and to soak up a bit of Cowboy culture.
Downtown Prescott, with its impressive courthouse building, is a perfect place to park the car and wander about. Many of the city's main attractions are within walking distance of one another. Stroll along the covered walkways and enjoy the ambience of the historical buildings, pop into a shop or two and find that perfect piece of art or jewelry. Stop in for lunch at one of the restaurants featuring local specialties served in a restored 19th-century building.
Prescott is surrounded by nature. It's a short drive to lakes and forest-clad mountains. Here, you can hike to wonderful viewpoints or set up your tent gear or RV at one of the impressive campgrounds just minutes from town.
Watson Lake, another of Prescott's main attractions, is one of the most impressive lakes in Arizona. With its weird boulders and rock cliffs at the northern end of the lake, this is a great place to go for a canoe, kayak, or stand up paddleboard ride.
6. Mesa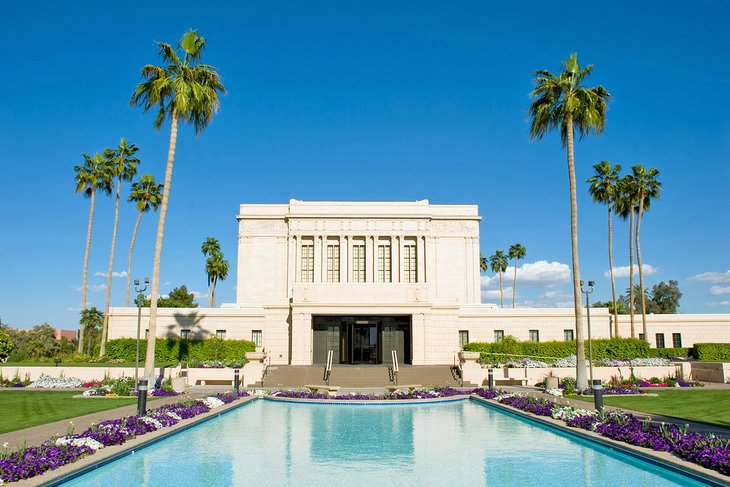 Many people think of Mesa, and the first thing that comes to mind is endless trailer parks filled with snowbirds escaping cold northern winters. However, that would be giving Mesa short shrift. For those in the know, Mesa has much to offer.
Golfers equate Mesa with championship courses. Each year Mesa is home to several marquee golf tournaments, with the best players working hard to beat the courses for decent scores.
Mesa is also famous for another sport played on green grass: baseball. The city is home to baseball's Cactus League spring training action — over 200 games are played in 30 days every March. Both the Chicago Cubs and the Oakland A's called Mesa home, and nearly two million fans attend games each season.
Mesa has other free options for recreation outside of golf courses and baseball stadiums. One of the best is Usery Park. This 3,648-acre park is located at the northwestern end of the city and is home to great hiking, walking, and mountain biking. If you love camping, set up your tent or RV at the Buckhorn Campground beside a large saguaro cactus, sit back, and soak up the view.
The wilderness to the east of Mesa is some of the best in the state, and the city is an ideal place to base yourself for day trips. It's in this area that the Salt River winds its way through rugged terrain, creating deep canyons and several lakes. A fun trip is a drive to the historical town of Tortilla Flat or to take an afternoon cruise on the Desert Belle on Saguaro Lake.
The city of Mesa celebrates its history with an assortment of museums. Two of the best are the Arizona Museum of Natural History and the Mesa Historical Museum. Mesa is also the home of the Arizona Temple of the Church of Jesus Christ of Latter-Day Saints.
7. Lake Havasu City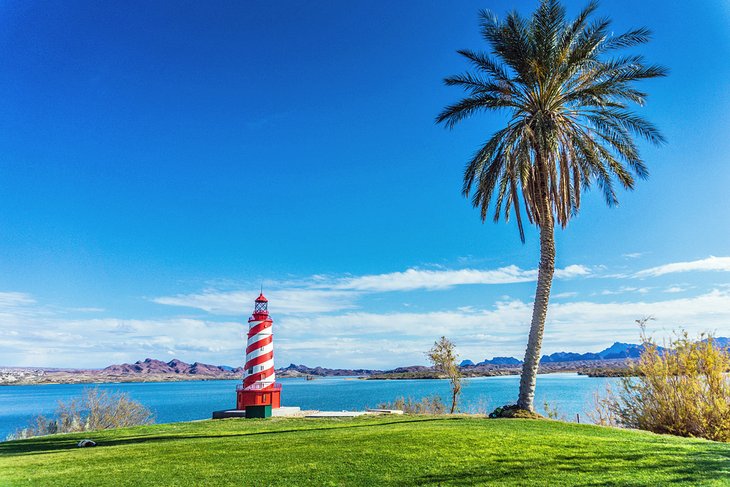 Home to the iconic London Bridge and lighthouses, Lake Havasu City is a water-based playground set in the desert. This small resort destination has been drawing crowds of desert dwellers to its aquatic wonders for ages.
The lake is actually a widening of the Colorado River, but that doesn't stop people from making the most of the clear waters. Waterskiing, fishing, house boating, and, of course, swimming are all popular activities here making Lake Havasu one of the best lakes in Arizona. Along the shoreline, you'll find waterfront restaurants with open-air patios, a perfect spot to while away the afternoon or have a romantic waterside dinner.
Other things to do in Lake Havasu City include stops at the Havasu 95 Speedway for some race car action and the Museum of History to get a bit of background on the area. Pack a picnic lunch for the family and head to the brand-new Cypress Park. Kids will love the wide-open spaces and especially the zipline. Accommodation is plentiful and varied, ranging from luxury resorts to chain hotels right through to camping at Lake Havasu State Park.
8. Yuma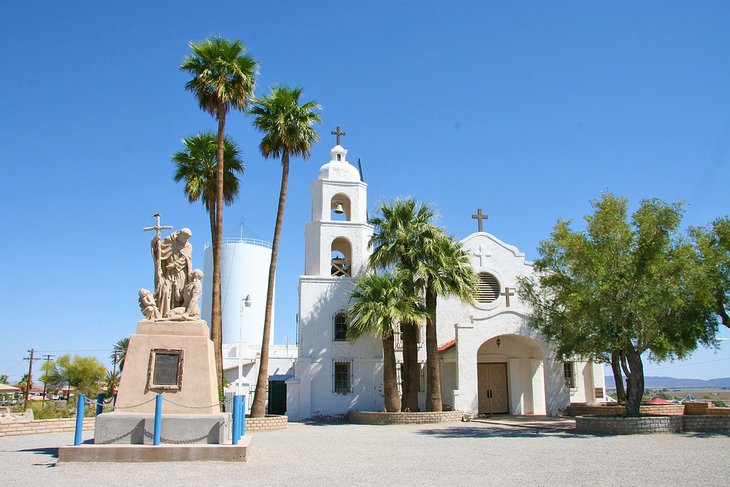 Yuma has long been a destination for snowbirds looking for the absolute warmest place in Arizona in the winter. Situated on the Mexico-USA border, the proximity to its southern neighbor gives this city a Spanish feel.
The city has an interesting history that is best explored at three key attractions: the Arizona Historical Society Sanguinetti, the Yuma Territorial Prison Park, and the Yuma Crossing National Heritage Area. Just on the outskirts of town, the Saint Thomas Yuma Indian Mission, dedicated in 1923, showcases traditional architecture.
Families with small children looking to burn off a bit of excess energy will love West Wetlands Park, with its gigantic play structures, castle, and lake area.
Just outside the city are impressive natural areas, including three national wildlife refuges, the Imperial Sand Dunes, and all the recreational opportunities that the Colorado River has to offer.
9. Tempe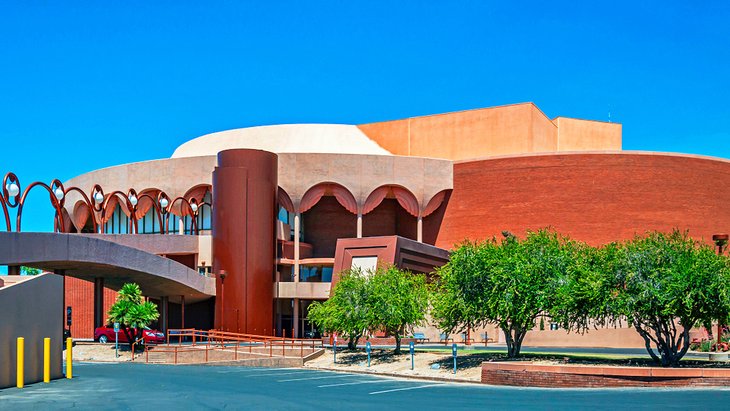 Tempe is a fun, dynamic young city with plenty of things to see and do. It's an ideal place to stay while visiting the Valley of the Sun, as it's located close to the airport. Easily navigable, the city has several districts, parks, and, of course, the impressive campus of Arizona State University.
A great way to spend a fun evening is to head down to the Mill District. This area comes alive at night, with open-air restaurants and other venues. During the day, ice-cream shops, clothing stores, and other retail outlets tempt you to open your wallet and buy that sudden need-to-have item.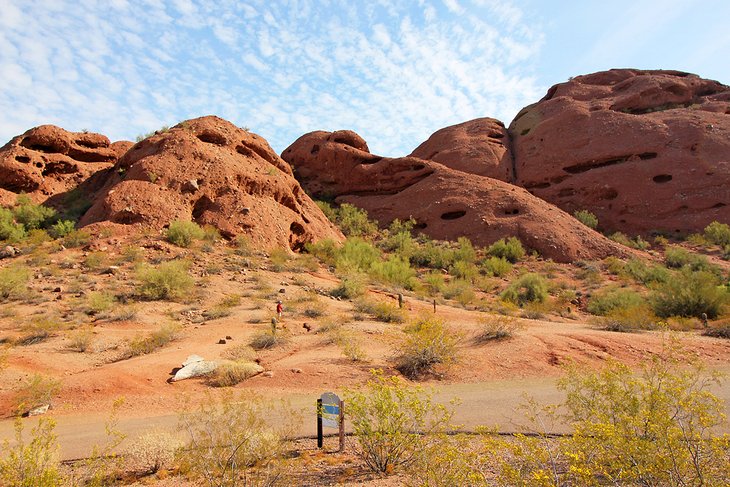 More natural options for exploration also exist in the city, with Papago Park right at the top of the list. Famous for its hiking, biking, and walking trails, the park is also the home of the Desert Botanical Garden and the Zoo. Families will love Kiwanis Park, with its playgrounds, picnic sites, and walking trails.
The Arizona Sea Life Aquarium has over 250 species and the state's only 360-degree ocean tunnel, allowing you to feel what it's like to be on the ocean floor with sea creatures swimming above you. Another family attraction is the world-famous LEGOLAND.
10. Bisbee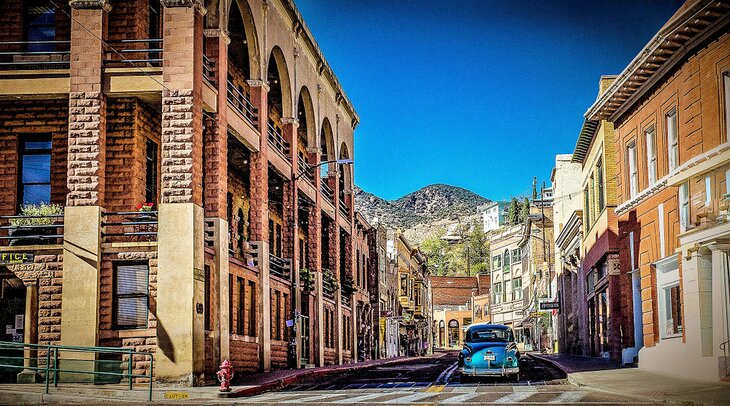 Fun and funky, this small city located in the far east corner of the state, has long been a favorite for intrepid travelers. A former mining town that fell on hard times and was abandoned has risen from those hard times to become a must-visit city in Arizona.
The town has fortunately retained much of its mining history, including 19th-century buildings and old miner homes. Today, you'll find that these buildings are home to restaurants, cafés, eclectic shops, and hotels.
Things to see and do in Bisbee include shopping on the restored main street, going underground in the Copper Queen mine, and browsing the eclectic shops along the main street and the small roads that branch off from it.
Bisbee is also well serviced by coffee roasters. Get your java jolt at the Bisbee Coffee Co, and to buy beans for at-home use (they don't sell cups of coffee), swing by Old Bisbee Roasters.
Bisbee is also ideally positioned for day trips to the cheesy, but fun, tourist town of Tombstone, where you can take in a staged gunfight at the OK Corral.
Map of Cities in Arizona