12 Top-Rated Train Trips in the USA
We may earn a commission from affiliate links ()
There's an intangible charm to traveling by train in the United States. Ride in comfort as you glide past the skyscrapers of the Northeast and through the prairies of the Midwest, alongside gushing rivers and across the western desertscapes and mountains.
Historic stations, with massive windows, marble pillars, chandeliers, and terrazzo floors, are time capsules, providing a glimpse into the glamorous locomotive past and acting as gateways to the many national parks and cultural attractions the country has to offer.
The day the ceremonial golden spike connected the Central Pacific and Union Pacific Railroads in 1869 in Promontory, Utah, life in the country changed forever. The 1,912-mile Transcontinental Railroad made travel and transportation of goods out west easier, revolutionizing the young nation and fueling the economy. The gilded age of train travel may have been replaced by the speed of airplanes, but the romance of journeying by rail remains.
Although many of the original tracks have been abandoned, and Amtrak has built newer rail paths, traveling between states and across the country is easier and more comfortable than ever. Passengers can choose from organized tours, regional and vintage railroad companies, Amtrak Vacations, and curated experiences. Enjoy spectacular vistas as you leisurely make your way to your destination, taking advantage of luxuriously appointed rooms, dining cars, and modern amenities.
Get inspired for your next rail adventure with our list of the best train rides in the United States.
1. Grand Canyon Railway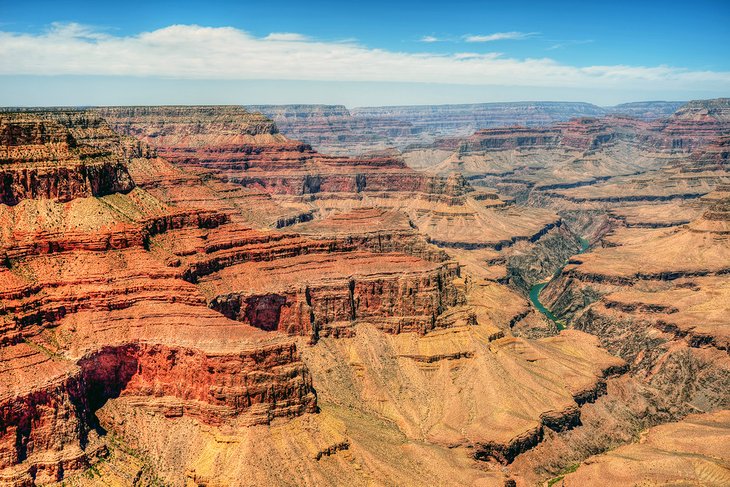 Ride the historic cars of the Grand Canyon Railway to one of the nation's grandest national parks on a Grand Canyon Railway Adventure tour. The rail line opened in 1901 and now operates on recycled waste vegetable oil from restaurants in Williams, Arizona and the South Rim.
The train offers six classes of service, including First, Coach, Pullman, Observation Dome, Luxury Dome, and Luxury Parlor. The Pullman class harkens to 1923 trail voyages, with bench seating and windows that open to fresh air.
Before embarking on your journey in Williams, catch a Wild West shootout show at an outdoor theater. On the full-day round trip, take in the dramatic views of the Grand Canyon while being entertained by Western music and reenactments by railway characters and cowboys. Traverse through pine forests, sprawling prairies, and the San Francisco peaks to reach the iconic park.
Once there, choose from a number of activities, including a motor coach rim tour of the Grand Canyon with stops at highlights such as Hermits Rest, Mohave Point, the Abyss, and Pima Point. Upgraded First Class passengers get a buffet lunch at the Maswik Lodge at the Grand Canyon.
Accommodation: Best Hotels at the Grand Canyon
2. Amtrak Coast Starlight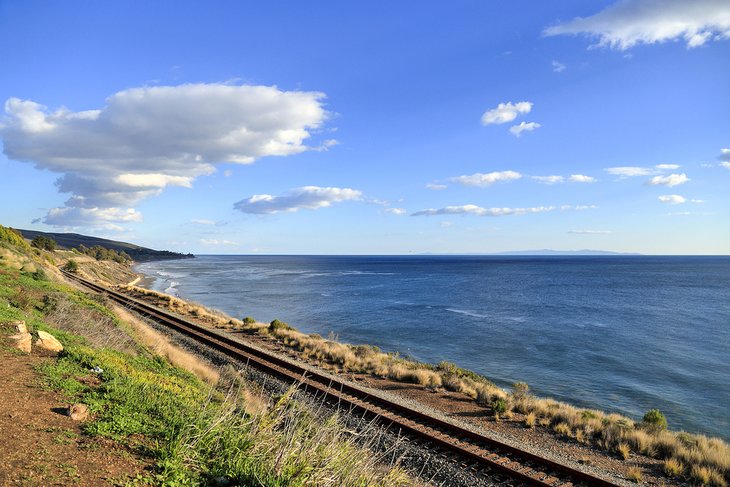 Travel alongside the jaw-dropping Pacific coastline and visit western urban centers on the legendary Amtrak Coast Starlight. The Starlight, equipped with Superliner sleeping, sightseer lounging, and dining cars, takes you on a 36-hour trek from Seattle to Los Angeles. The route stops in Portland, Sacramento, the San Francisco Bay Area, and Santa Barbara, passing by dramatic coastal cliffs, Mount Rainier, the Cascade Mountains, and Puget Sound.
The train has a bi-level coach class featuring long-distance amenities including extra legroom, foot and leg rests, and curtains. Sit on the west side on the upper level for the best views. Upgrade to a private room for perks, including priority boarding, premium dining, and turndown service. Family rooms are available, each accommodating up to four people and featuring private toilet and shower facilities; all private room rates include onboard meals.
3. Amtrak Empire Builder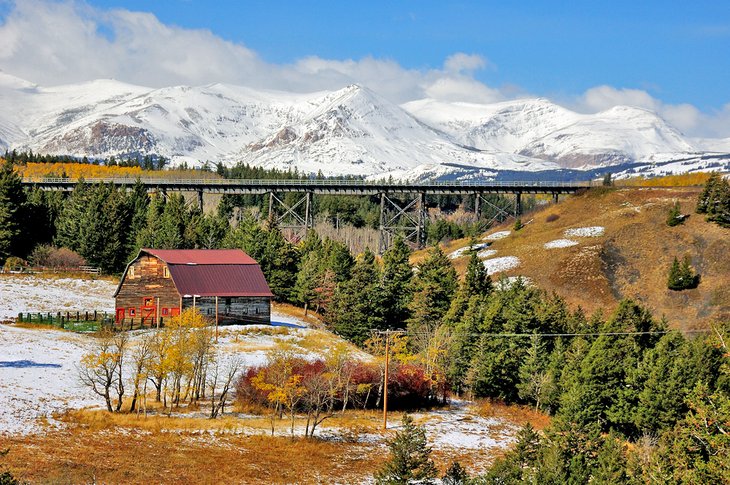 If long train odysseys across the country are up your alley, then the Amtrak Empire Builder traces the steps of Lewis & Clark through the heartland, from Chicago to the Pacific Northwest. The one-way, 46-hour journey delivers majestic views of the Great Plains, Mississippi River, Glacier National Park, Gassman Coulee Trestle, and Montana's Big Sky Country.
The train has a sleeping car, lounging car, and a dining car to make your ride as comfortable as possible. Family rooms and accessible rooms are available, and there are a variety of onboard dining options; however, there is no Wi-Fi service. Each station stop can last anywhere from five minutes to over half an hour, so at times there may be opportunities to hop out and grab a bite to eat, but passengers should be aware that the train will leave at its scheduled time, with or without ticketed passengers.
During warmer months, a volunteer from the National Park Service through the Trails & Rails program boards the train between Shelby, Montana, and Seattle, providing information on the landscapes, habitats, and history.
Trains depart daily to Spokane; upon arrival, you can choose to travel to Seattle or down the Columbia River Gorge to Portland.
4. Rocky Mountaineer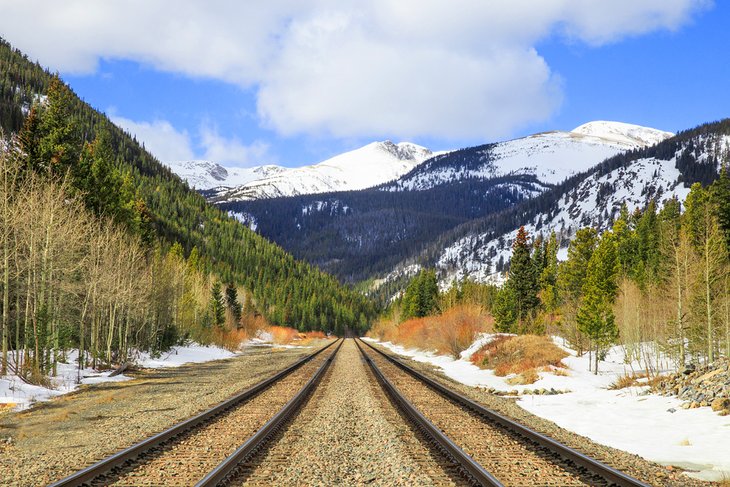 The Rockies to Red Rocks experience is quite different than others, offering a unique approach to rail travel dedicated to sightseeing between Moab, Utah and Denver, Colorado. The first thing passengers will notice is the train cars, custom-designed to maximize views for everyone on board. Standard class cars are one story, featuring large windows that extend up onto the roof, allowing passengers to catch every detail of the landscape.
The other unique aspect of these train tours is the overnight accommodation and opportunity to explore sights along the way. Unlike passenger trains that run from one stop to the next on a tight schedule, the Rocky Mountaineer stops in a city each evening, where passengers disembark and spend the night at a hotel. In addition to being a far more comfortable option, it means that all rail travel is done by daylight, so that passengers don't miss a thing.
"Gold Leaf" passengers are treated to a two-level car with all seating on the top level, which features windows that extend up and over, with only a narrow band obscuring the center of the ceiling. The lower level is a separate dining area, which serves all meals to order from an a-la-carte menu. Standard fare passengers also enjoy all meals as part of the package, served at their seats.
The basic tour package includes all meals, hotel stays, and narration during the train ride by knowledgeable guides. It lasts two days, starting in Moab with an overnight in Glenwood Springs and then on to Denver. Longer packages are also available, including a round-trip sightseeing tour with four days on the train, two full days in Moab, and plenty of time to explore Denver. Other packages include sightseeing flights and time in Las Vegas before an extended stay along the train route, as well as an option to add motor coach portions and a guided tour of Bryce Canyon.
Accommodation: Top-Rated Resorts in Denver, CO
5. Amtrak California Zephyr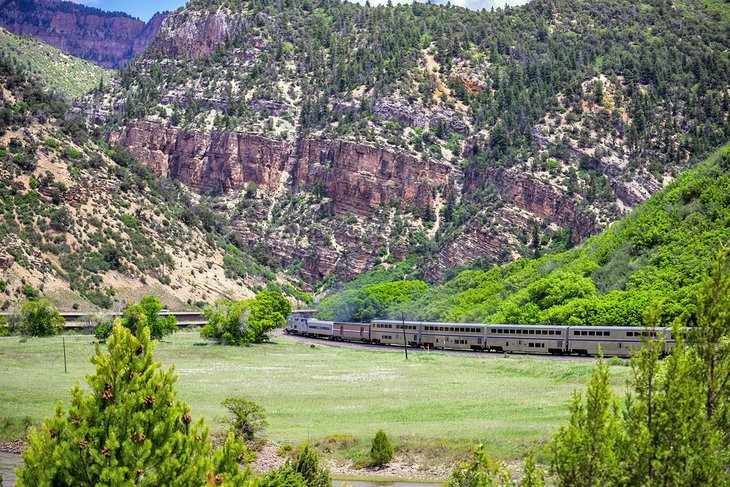 Using a combination of Transcontinental Railroad routes and new tracks, Amtrak's California Zephyr transports passengers across America on an extraordinary two-day expedition. The 2,300-mile, 51-hour-long trip, touted as the most scenic in the country, begins in Chicago and ends in Emeryville, California, located just outside San Francisco in California.
Going across the endless prairies of Nebraska, the scenic Rocky Mountains outside Denver, rugged red rock country in Utah, and the snowcapped Sierra Nevadas, the rail voyage retraces the steps of the early pioneers who settled the Wild West.
The train includes a dining, sightseer lounge, and Sleepliner cars that come with roomettes and bedroom suites (some that can easily accommodate up to six people). Major stops include Omaha, Denver, and Salt Lake City.
The train doesn't have Wi-Fi, and cellular service is spotty, so bring your own downloaded content, books, and board games for entertainment. Amtrak allows you to bring a small cat or dog with you for a separate fare.
6. Verde Canyon Railroad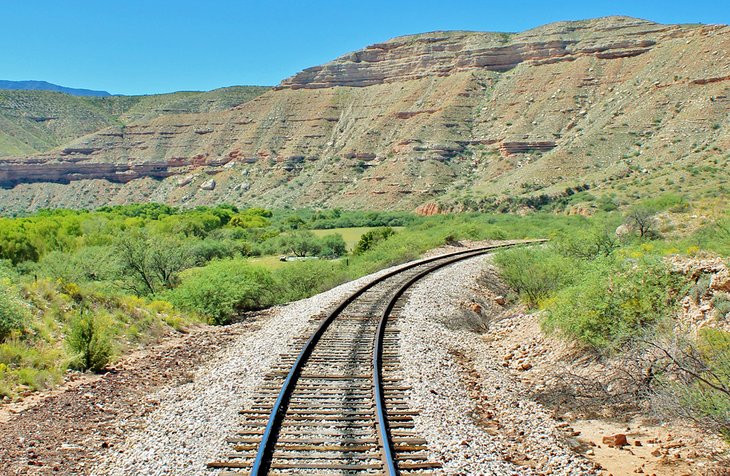 Soar through the natural splendor of Verde Canyon in the American Southwest in a refurbished rail car aboard the Verde Canyon Railroad on a 3.5-hour, 20-mile round trip from Sedona, Arizona. Savor awe-inspiring scenery while comfortably seated in a climate-controlled and thoughtfully decorated car. The train has three classes: coach, first, and luxurious caboose rentals for groups, with both vintage train cars, as well as an open-air viewing car to make the most of your time onboard.
Whether you opt for an organized tour or board the train on your own, be sure to explore the cliff dwellings by the Native American Sinagua people and the old mining sites, and keep a lookout for native wildlife like bald eagles and antelope.
The Verde Canyon Railroad Adventure includes train fare, as well as admission to the John Bell Railroad Museum, located at the depot, which features artifacts and exhibits related to not only rail travel, but the area's Indigenous populations.
Accommodation: Best Spa Resorts in Sedona
7. White Pass & Yukon Railway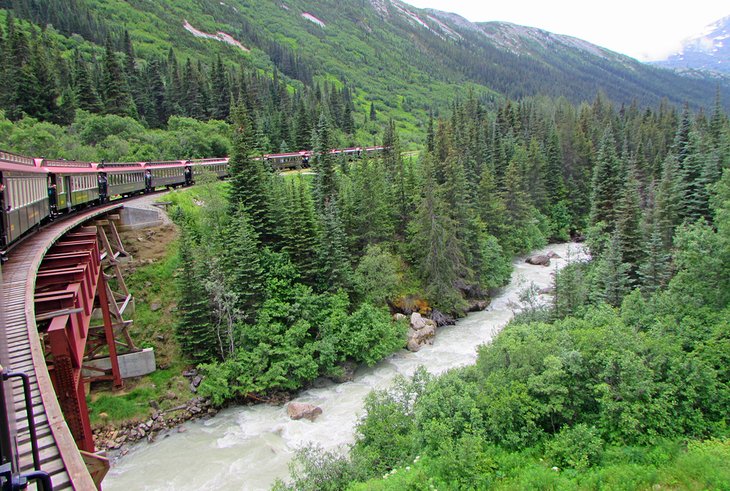 Whether you find yourself in Skagway on a cruise or by way of the Alaska and South Klondike Highways, don't miss the rare opportunity to ride the historic narrow-gauge White Pass and Yukon Route Railway through stunning landscapes. A marvel of engineering, the track was built in 1898 during the Klondike Gold Rush and continues as a tourist attraction to bring passengers on an unforgettable, narrated ride.
The train chugs up to an elevation of 2,885 feet through tunnels, past soaring cliff sides, and cascading waterfalls. Breathe in the fresh Alaskan air as you photograph panoramic vistas of snowcapped mountains, lush gorges, and glaciers.
The summit excursion takes two-and-a-half hours, briefly passing through Canada's Yukon Territory, and makes stops at landmarks such as Bridal Veil Falls, Tormented Valley, and the Skagway scenic overlook.
8. Amtrak Adirondack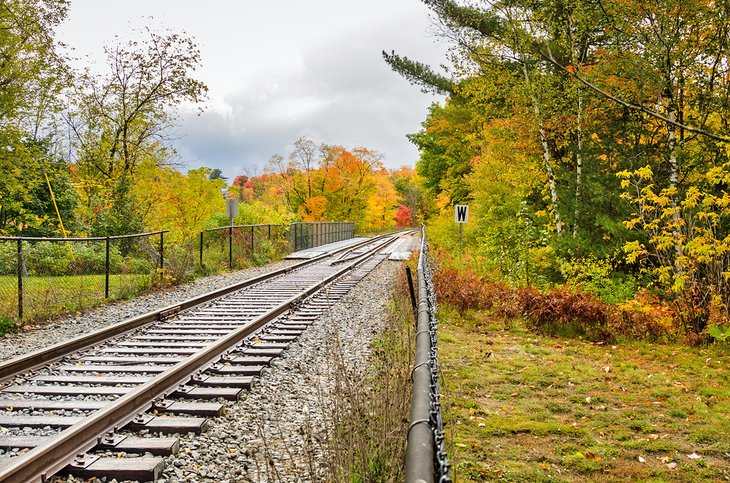 Experience spectacular fall foliage in New York's Hudson River Valley on the Amtrak Adirondack. This high-speed train takes you through Upstate New York on a 10- to 12-hour journey along the Hudson River and Lake Champlain, past mansions, forests, and fields, to Gare Centrale Station in Montreal, Canada. Stops along the way include the towns of Poughkeepsie, Saratoga Springs, Whitehall, and Ticonderoga.
The Amtrak Adirondack departs from New York's Penn Station in the morning and arrives in Montreal in time for dinner. Immigration could take between one to two hours – have your passport and immigration form ready for the officer.
Amenities onboard include a Cafe Car and Wi-Fi (albeit not the best). Keep in mind that there is no reserved seating, so give yourself extra time to get a desirable spot. Seats recline and come with tray tables, extra legroom, and a footrest.
Accommodation: Where to Stay in Montréal: Best Areas & Hotels
9. Durango & Silverton Narrow Gauge Railroad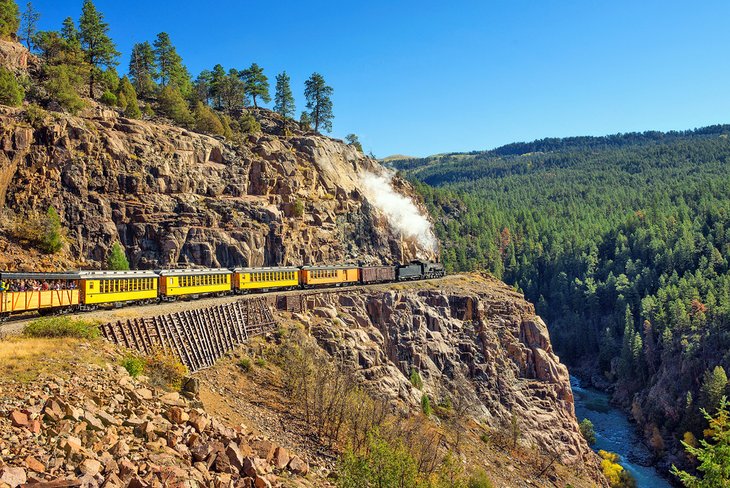 Travel back in time in a vintage coach car on the coal-fired and steam-powered Durango & Silverton Narrow Gauge Railroad ride from Durango to Silverton, Colorado. This train journey is one of the top things to do in Colorado.
Built during the silver mining boom, the tracks have been in continuous use since 1882. When the boom subsided, the train became an opportunity for eager travelers to experience the route of the miners and frontiersmen. Today, it remains among the few narrow-gauge steam railroads in the country.
This three-and-a-half-hour excursion from Durango to Silverton makes its way along the beautiful Animas River on rail lines specifically designed to navigate curves along steep mountainsides. The rock walls seem just inches away from the windows at some point, and the deep gorges provide picture-perfect spectacles, with the steam whistle echoing through the region.
Passengers can also book a hybrid package that includes the train ride in one direction and a deluxe motor coach tour back, allowing tourists to see the landscape from different perspectives. The coach is only a 1.5-hour drive.
The railroad offers several seasonal packages, including a shorter journey through the winter wonderland of the San Juan National Forest in the comfort of heated cars on the Cascade Canyon excursion. Passengers can spot elk and bighorn sheep that call the region home.
If you are looking to explore more of Colorado, consider Colorado Rail Adventure by Vacations By Rail, which brings you across the Colorado Rockies on five standard and narrow gauge railroads, including the Durango & Silverton railroad.
Accommodation: Where to Stay in Durango
10. Great Smoky Mountains Railroad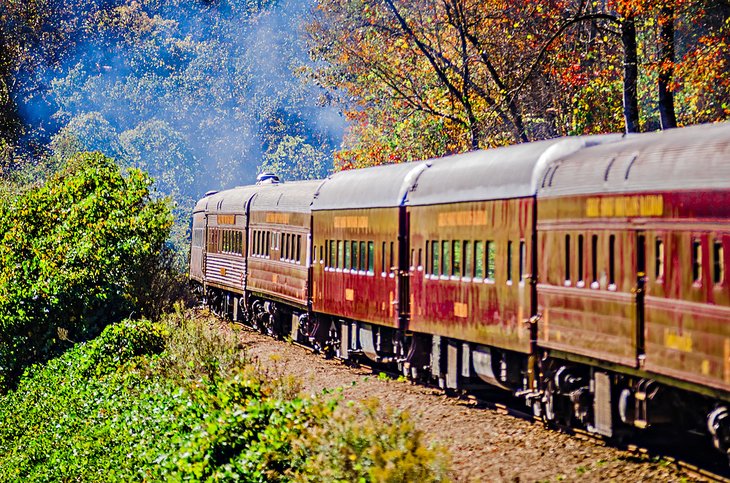 Families and train enthusiasts adore the Great Smoky Mountains Railroad, which offers excursions to experience the remote countryside of Western North Carolina and segments of the Great Smoky Mountains National Park. The train ride, spanning 53 miles with 25 bridges and two tunnels, traverses valleys, through tunnels and carved out mountains overlooking scenic meadows and river gorges. The train departs from Bryson City, and trips last anywhere from three-and-a-half hours to a full day.
Book the 44-mile Nantahala Gorge Excursions for a round trip to the Nantahala Gorge, passing the Little Tennessee and Nantahala Rivers. The 32-mile Tuckasegee River Excursion winds along the eponymous river, and passes through lush valleys and old towns.
Passengers can choose from First Class cars with private attendants or the Open Air Gondola, and they can opt to pre-purchase boxed lunches to be enjoyed on the ride. Premium ticket-holders are served from a separate menu of fresh dishes prepared onboard. The Great Smoky Mountains Railroad also offers special event trains during spring (The Bunny Hopper Express) and winter (The Polar Express Train Ride).
11. Alaska Denali Star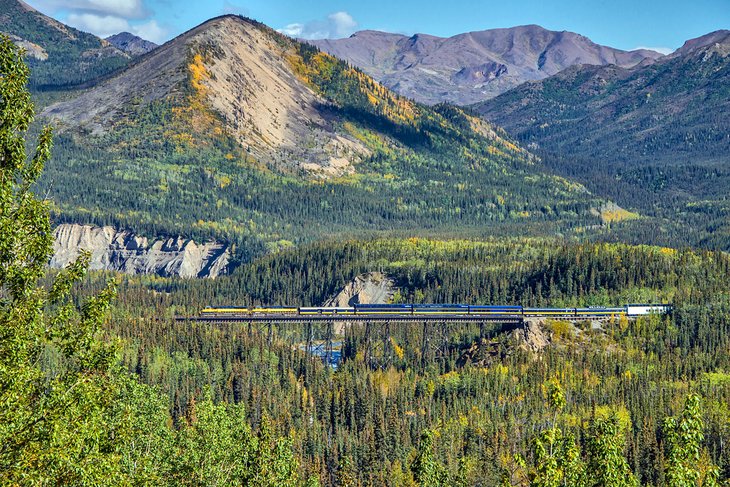 As the name suggests, the Alaska Denali Star brings you to North America's Highest Peak in one of the most scenic national parks: the mighty Denali. Ride in a car with glass-dome ceilings to take in the sublime views. The train leaves from Downtown Anchorage, with stops in Wasilla and Talkeetna, before going through Denali National Park and ending in Fairbanks.
Passengers can pair the rail journey with a day trip in Talkeetna, an excursion in Denali National Park, or spend multiple days exploring the Southcentral and Interior regions of Alaska on overnight stays. It's best to stay overnight due to the distance and time involved.
Amenities onboard the 12-hour train include two classes (GoldStar Service with meals, drinks, and basic Adventure Class), a dining car, dome cars, non-smoking cars, and baggage service. Guests may also travel on the privately run Wilderness Express dome cars at the end of the train with guides, separate dining, and open-air platforms.
Accommodation: Top-Rated Resorts in Alaska
12. Amtrak City of New Orleans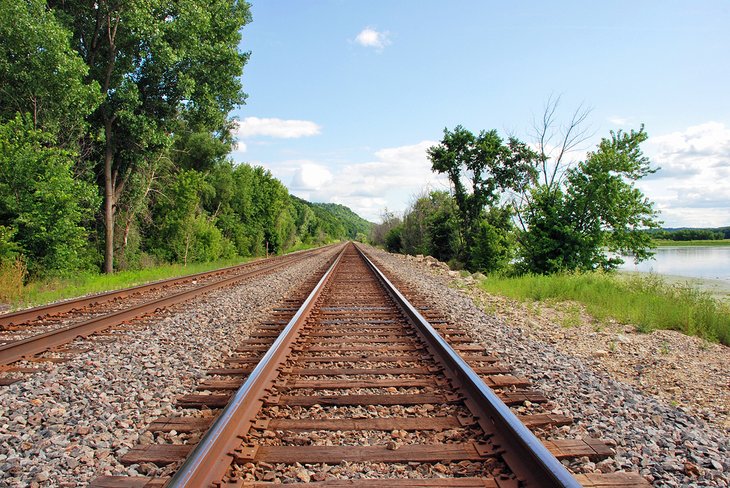 Travel from the Midwest to the South on an overnight train from the musical cities of Chicago to New Orleans, with a stop in Memphis, on the Amtrak City of New Orleans. Say goodbye to shining skyscrapers as you make your way from the Windy City's stunning Union Station towards the Mississippi Delta. Roll past historic towns and the bayous of the Deep South on your way to the New Orleans Union Passenger Terminal.
During the 19 hours aboard, travelers in private rooms can enjoy spacious Superliner accommodations that come with meals and beverages, or purchase meals if you're in Coach class. Amenities include showers; sightseer lounges on the upper level; and a café car, which serves dinner and breakfast northbound and all three meals when traveling southbound.
Accommodation: Top-Rated Resorts in New Orleans