12 Top-Rated Small Towns in Arizona
From intriguing artists' colonies and former ghost towns to historical centers and mountain communities, Arizona's best small towns never fail to impress.
Many of the towns are ideally based for recreation opportunities and, depending on the time of year, you may find yourself hiking on the trails around Sedona, kayaking in Prescott, downhill skiing near Show Low, houseboating near Page, or horseback riding in Wickenburg.
If shopping and art are more your thing, head to the market town of Tubac. For a little history or a glimpse into another era, Arizona has plenty of great places to visit.
For more ideas, have a read through our list of the best small towns in Arizona.
1. Sedona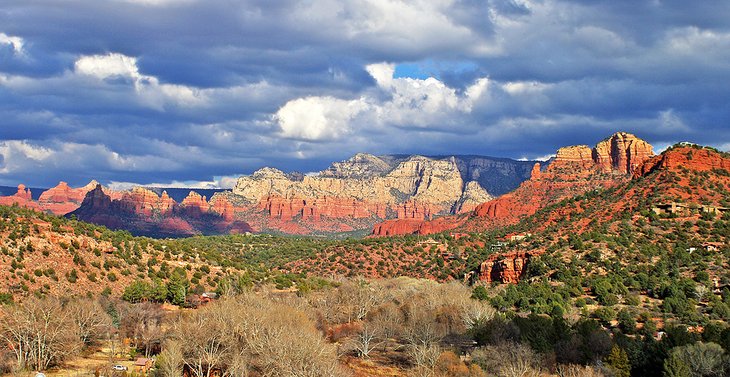 One of the most beautiful small towns in Arizona, particularly for nature lovers, is Sedona. The scenery is breathtaking, with towering buttes, mountains, and cliffs all in vibrant shades of red, orange, and yellow that change color as the sun moves across the sky. Photography possibilities here are almost endless.
Activities in this town are plentiful. Enjoy some of the most stunning hiking trails in Arizona, heart-pumping mountain biking trails, and swimming in Oak Creek at Slide Creek State Park.
Less active pursuits include a drive up to the Sedona Airport Scenic Lookout to take in the expansive views, or a trip to nearby Palatki Heritage Site to see cliff dwellings. Other tourist attractions and places to visit in Sedona include the shops and restaurants in Uptown Sedona, the Chapel of the Holy Cross, and Tlaquepaque Arts and Crafts Village.
Sedona is considered a spiritual place, and many people come here in search of the energy vortexes in the hills around the town. They are easily located through a bit of research, or you can hire a guide who will show you around and perform a small fire ceremony for you.
At night be sure to gaze upwards to the heavens. Sedona is recognized as a Dark Sky Community, and the night skies with millions of twinkling stars and the Milky Way Galaxy are something to behold.
Spend some time here at a luxury resort, like Enchantment Resort. Here, you can lay by the pool and gaze up at the stunning red rock cliffs surrounding the property.
Spring is Sedona's busy season. If you are looking for quieter visit, consider a trip here in January. Day time highs are cooler but you'll likely have sunny weather and pleasant days for sightseeing.
Accommodation: Best Resorts in Sedona
Read More: Best Campgrounds in Sedona
2. Bisbee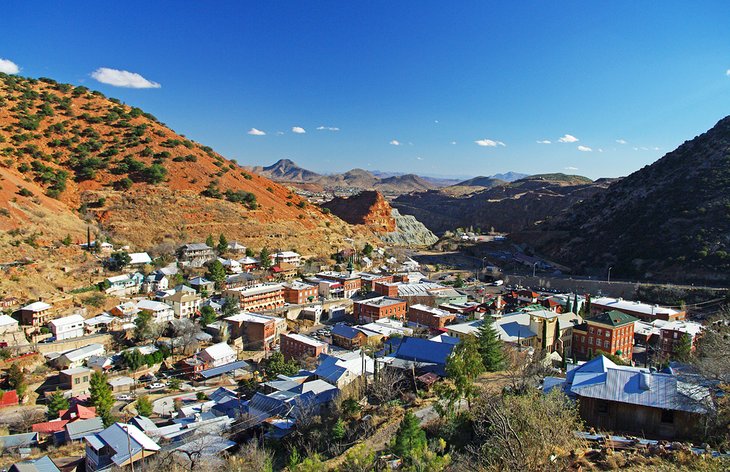 Bisbee is a fun and funky town in the mountains near the Mexican border. Once an abandoned town set in the hills with a big empty open pit mine, Bisbee is now a revitalized little community that has evolved into a great place to visit. Artists and coffee roasters have set up shop in Bisbee, creating a wonderful atmosphere.
You'll find a restored main street with eclectic shops and restaurants. Stroll up and down and check out the unusual things for sale and pop in for a coffee or expresso at Old Bisbee Roasters. Bisbee also has a great assortment of restaurants, from fine dining right through to casual fare, covering cuisines from around the world.
While in town, walk up one of the many staircases and check out the restored miner's cabins. Many of these small homes have been lovingly renovated to their former glory.
One of the highlights of a visit to Bisbee is a tour of the 1915 Copper Queen mine. On this tour, you put on a yellow rain jacket and safety helmet with headlamp and ride a former ore train 1,500 feet into the mine.
3. Jerome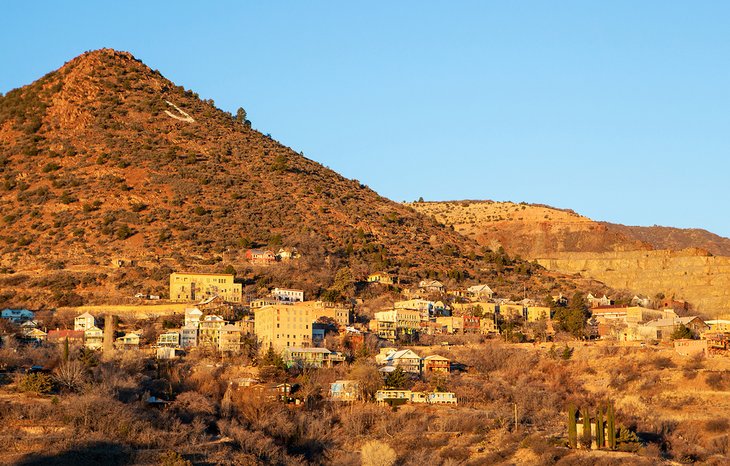 Perched high on a mountainside, the ghost town of Jerome is worth the steep and twisty drive up. Park the car and wander around this former mining town. As you walk up and down the inclined streets, you'll come across coffee shops, galleries, restaurants, and antique stores.
The town is a National Historic Landmark, and many of the buildings, which date from the 19th century, have been restored. Other buildings have not been restored, and the ruins make for fascinating photos.
In the center of town, by the parking lot, you'll find incredible views out over the plains below. Keep an eye out for the Tuzigoot National Monument. On clear days in the cooler months, the snowcapped San Francisco Peaks will be visible off in the distance.
If you drive west through Jerome, the highway becomes the Mingus Mountain Scenic Road. Continue up over the pass, and then you'll eventually find yourself in the delightful small town of Prescott. The views along this twisty and steep highway are spectacular.
4. Tombstone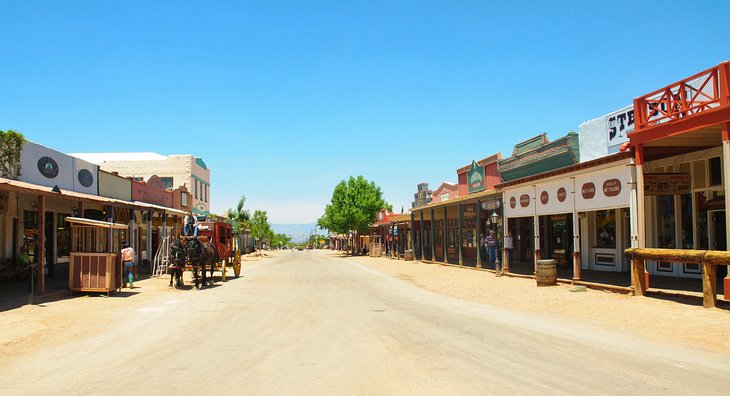 A visit to Tombstone is an amusing experience. Step out of your car and into the Wild West circa 1881. Costumed characters roam the town, and you may come across the occasional staged gun fight or brawl. It's a place that's fun for the whole family.
The center of the action is on Allen Street, the dirt-road main street lined with covered wooden sidewalks. Shops sell all manner of Tombstone memorabilia, and restaurants are done in western theme.
Make sure your visit includes a stop in at the OK Corral. This is the home of the famous 1881 shootout between the rival Clanton and the Earp gangs. The exact event, step by step, is replayed by actors.
Tombstone is more than just the main street. Stop at the Boot Hill Graveyard, head underground at the Good Enough Mine, and finally, swing by the Courtyard State Historical park.
5. Prescott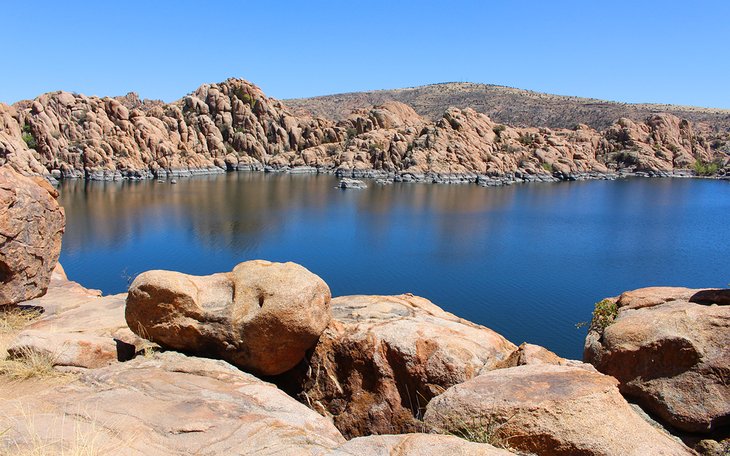 The town of Prescott is a delightful spot with a lovely downtown complete with historic buildings centered around the Courthouse Plaza. Park the car and stroll along the wide sidewalks that front tourist shops and restaurants. If you're in the mood for Indian food, the Taj Mahal serves some of Arizona's finest.
Prescott has a major feature you just don't find in many Arizona towns: a lake. Located on the outskirts of town, Watson Lake is a spectacular body of clear water lined with large, smooth boulders and rocks at the north end.
Although swimming is not permitted, stand up paddleboards, sailing, canoes, kayaks, and other non-motorized watercraft are allowed. The lake is surrounded by hiking trails, and one of the best is the Watson Lake Loop. If you have your camping gear with you or are driving an RV, two of Prescott's campgrounds are located nearby, or head out into the Prescott Basin for some off-grid paradise around a crackling campfire.
In the hills surrounding Prescott, you'll find wonderful hiking trails, including the Thumb Butte Trail. The views over the surrounding countryside at the top of this hike are impressive.
Accommodation options in Prescott range from standard hotel rooms at the Hampton Inn, to the Motor Lodge, a 1950s restored drive-up motel. For a bit of early 20th-century history, stay at the boutique Hotel Vendome, built in 1917 and updated to meet the needs of a discerning traveler.
6. Wickenburg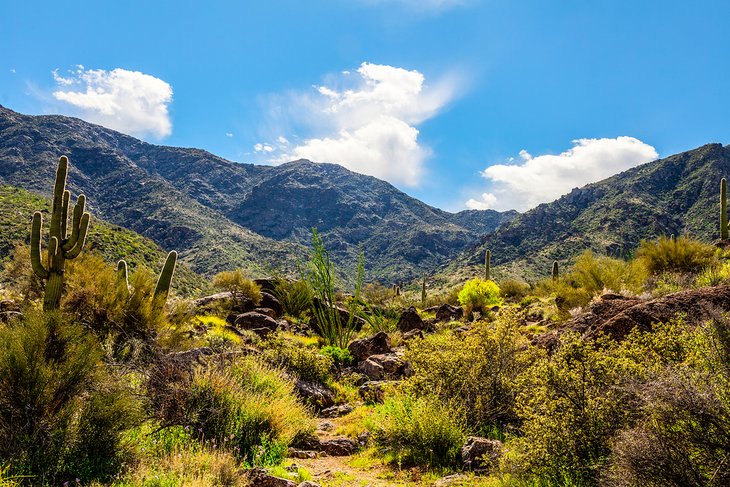 Wickenburg has done a good job of preserving the past with a historic main street and refurbished 19th-century buildings. As you stroll the covered sidewalks throughout town, keep an eye out for the six large bronze sculptures.
The town was founded because of the Vulture mine, and tours of the mine area and the ghost town are a fun family adventure.
Nature lovers should take note that near town is one of Arizona's most unique river areas. Here, the Hassayampa River emerges from underground and creates an oasis in the desert. You'll find an amazing array of desert animals attracted by the clean, clear waters and lush riparian environment.
Wickenburg has some fantastic accommodation options. In town is the usual assortment of chain hotels, however, just outside of town, you'll find the luxurious Rancho de los Caballeros. Here, you can let loose your inner cowboy but still dine on gourmet meals, stop in at the spa, or laze by the pool.
7. Tubac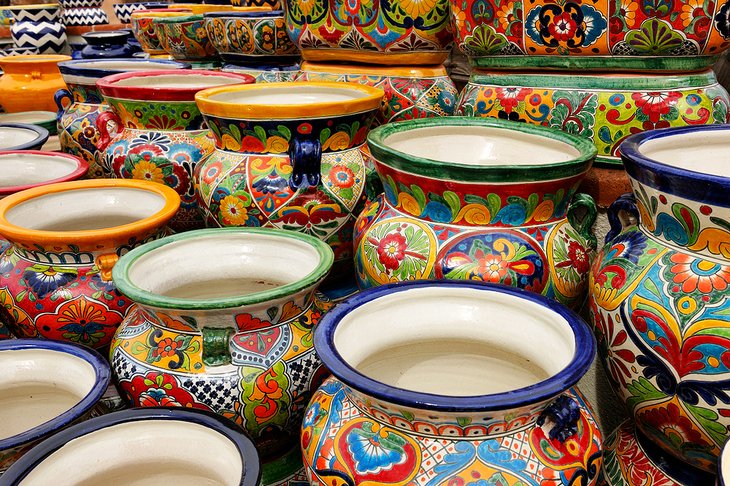 Tubac makes a fantastic day trip from Phoenix (2.5 hours) or Tucson (45 minutes), particularly for shoppers. If you are looking for that perfect piece of southwest décor for your home, Tubac is the place to go. Over 100 vendors are set up in this small town, and it's easy to spend a day browsing the shops.
You'll find everything here, from metal garden items right through to ceramics and fine sculpture. However, the town is not all about décor, innovative jewelry and leather items can also be found along with beautiful paintings.
The town settles down at night and becomes a peaceful oasis. Stroll to a local restaurant and enjoy fine southwest cuisine. Cozy bed and breakfasts are dotted throughout town, but if you feel like a resort experience and perhaps a round of golf, the Tubac Golf Resort and Spa is a very good option.
8. Payson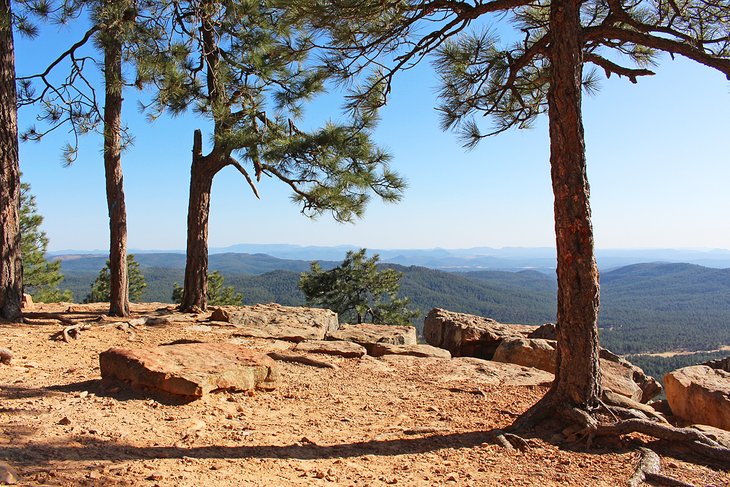 Payson is set in the Tonto National Forest with its large trees and expansive wilderness. You can escape the heat of the desert to a cool, green environment. The forests surrounding town are home to a variety of wildlife, beautiful lakes, and great campgrounds.
Base yourself here and head out on the hiking or mountain bike trails on the PATS (Payson Area Trail System). One of the most popular is the Houston Loop.
A number of scenic drives can also be found in the area. Head east on Highway 260, and you'll come across spectacular views as you travel along and up the Mogollon Rim. Near the top, turn off on Highway 99 for stunning views out over the entire area. Along this road are some beautiful campgrounds, including Spillway, Houston Mesa, and Sharp Creek.
Payson is well set up for visitors, with restaurants, plenty of accommodation options, and shops selling everything from souvenirs right through to basic supplies.
9. Page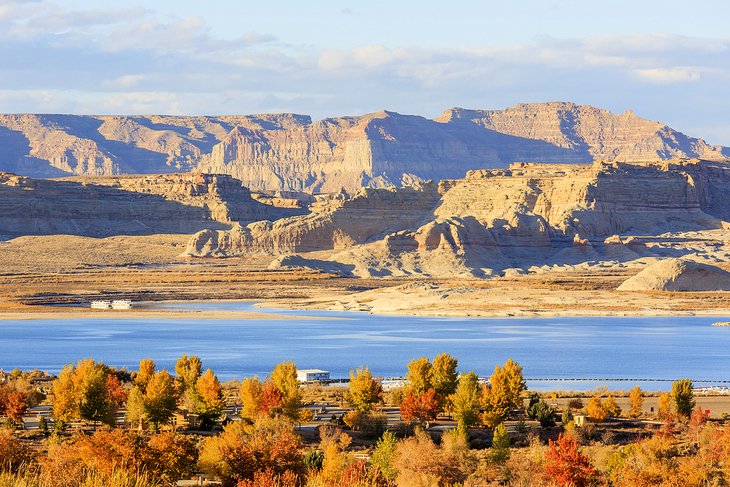 Page is located in Northeast Arizona right near the Utah border and is ideally positioned to take in some of the major sights in the area.
Lake Powell is a short distance from town and is one of the main attractions in the area. Pick your own site and camp on the shoreline at Lone Rock campground. Rent a houseboat and spend a few days cruising the lake and its incredible rock shorelines.
Stunning Antelope Canyon is a short drive from Page. Here, you'll find a slot canyon with narrow, curving walls and soft lighting, a spot that every photographer should try and visit.
Wonderful scenic drives can be planned from Page. Consider a loop along Highway 89A through the Vermillion Cliffs National Monument, through lively Kanab, and back to Page via Big Water. This route takes you down to the Colorado River, past the Navajo Bridge, and then way up to almost 8,000 feet, past giant pine trees at Jacob Lake. The views along this route are spectacular, and the twisty road is fun to drive. Access to the less visited North Rim is off this highway, down road 67.
Just south of Page is the stunning Horseshoe Bend. Here, the Colorado River carves out a giant U shape in the surrounding countryside. Depending on how brave you are, you can walk right out to the edge and peer over, the drop is around 1,000 feet straight down to the river. It's an easy trail to the edge, suitable for all, and is considered one of the best hikes in Arizona.
Accommodation in Page is primarily chain hotels along the main drive in town. You'll also find a good selection of local restaurants and grocery stores in the same area.
10. Show Low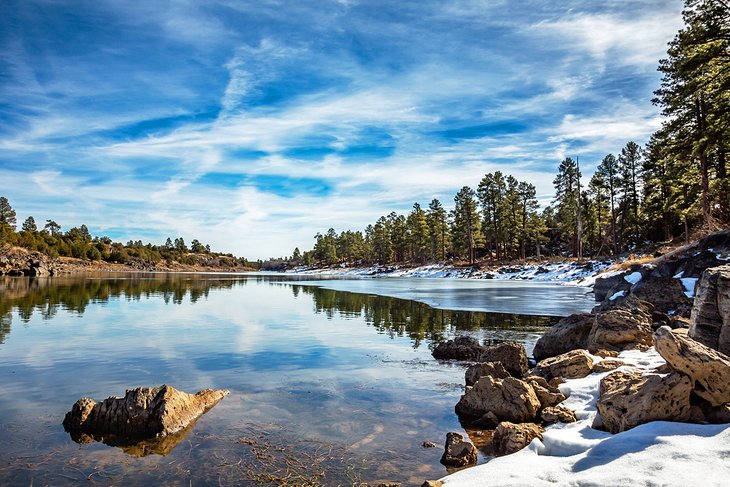 Show Low is set high in the White Mountains at an elevation of 6,400 feet and surrounded by forests, streams, and lakes. It serves as an outdoor playground for the area.
Fishing in the cold, clear streams around town you'll find bass, walleye, crappie, and trout. Show Low is also a favorite destination for birders, the Pintail Lake Wildlife Area attracts a wide variety of local and migratory birds.
Hikers will find an abundance of excellent trails in the White Mountain system. One of the best is the beautiful six-mile-long South Fork #97 route. Horseback riding is also a popular pastime here, horses share the same trails as hikers and mountain bikers.
Show Low is also a popular destination for golfers, with several excellent courses surrounding the town. At least in theory, the courses are at a high elevation, the air is thinner, and your drives from the tee go farther.
In the winter, Show Low attracts downhill skiers. One of Arizona's top ski resorts, and the states largest ski area is nearby Sunrise Ski Park Resort. The hill is located 34 miles from town.
11. Carefree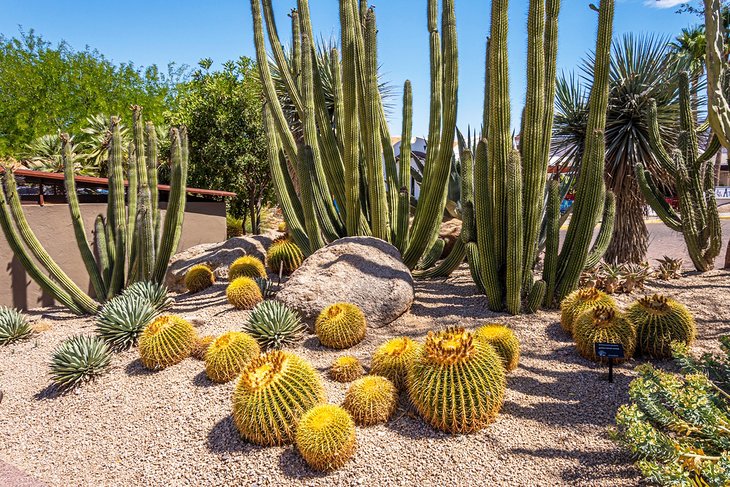 With a name like Carefee, how can your curiosity not be piqued? This laid-back town is well worth the short drive to northeast Phoenix. Carefree sets itself apart from being just another suburb by having a giant sundial.
This mammoth creation dates from 1959, is 72 feet long, and towers 35 feet off the ground. Although there is some debate, the town claims that the sundial is the 3rd largest in the United States. It's located on Easy Street.
Near the sundial are the town's beautiful botanical gardens featuring plants of the Sonoran desert. Curving trails wind their way through the four-acre site. A self-guided walking tour is also available if you'd like more information on what you are looking at. The gardens are free.
12. Globe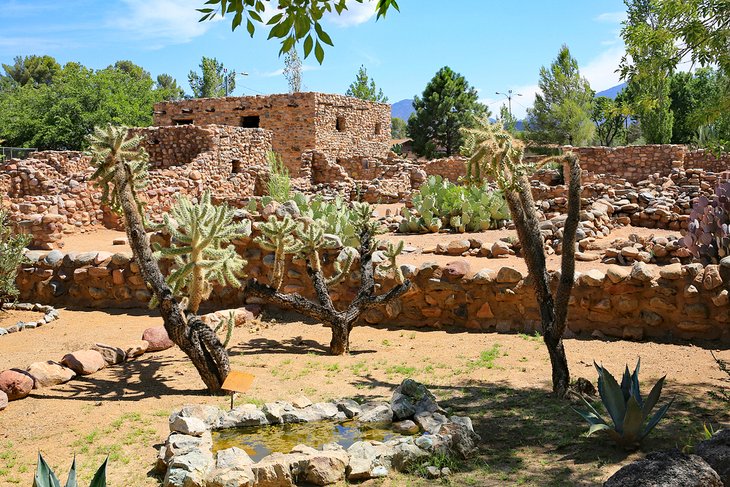 Arizona has a rich mining history, and Globe is good place to drill into it. The town has done an excellent job of preserving its historical downtown, making it a pleasant place to go for a stroll, snap some interesting photos, and get an idea of what life used to be like here around the turn of the century.
Detailed history of the written kind is readily available at both the Gila County Historical Museum, and, if you want more ancient history, the Besh-Ba-Gowa Archeological Park and Museum showcases ruins more than 800 years old.
Globe is also home to a group of talented artists. Check out their work at the Cobre Valley Center for the Arts in the spectacularly restored old Gila County Courthouse. All kinds of interesting items, ranging from paintings right through to jewelry, are for sale.
A pleasant loop that takes in another one of Arizona's best small towns, Payson, can be driven by heading north from Globe. Along the way, you'll ascend into the Tonto National Forest, home to some of Arizona's best campgrounds, before circling back down the very scenic Beeline Highway (AZ87) towards Fountain Hills.
Map of Small Towns in Arizona