13 Top-Rated Mountain Biking Trails in Sedona
Sedona is a hot spot for mountain biking in the American Southwest. It doesn't matter if you are a beginner or hardcore mountain biker, you can find what you're looking for here in the red rock mountains around Sedona.
With astounding scenery from almost every trail, year-round riding, and rides for all abilities, it's hard to imagine a better destination for this sport.
Beginners might want to start out on Bell Rock to get warmed up, then move on to Long Canyon and Deadman's Flat. When you are ready to advance to a more intermediate trail, consider trails like Aerie, Chuckwagon, or even Llama.
Trails like Templeton and Mescal offer a little more challenge for intermediates and run along exposed areas with cliffs. More advanced bikers can look to trails like Slim Shady and Hiline for more challenging terrain. Those who are pros or are slightly insane can give Hangover a try.
Deciding which are the best trails is no easy feat – what appeals to beginners is not what advanced riders may be looking for. Find what suits you with our list of the best mountain biking trails in Sedona.
1. Aerie to Cockscomb Loop Trail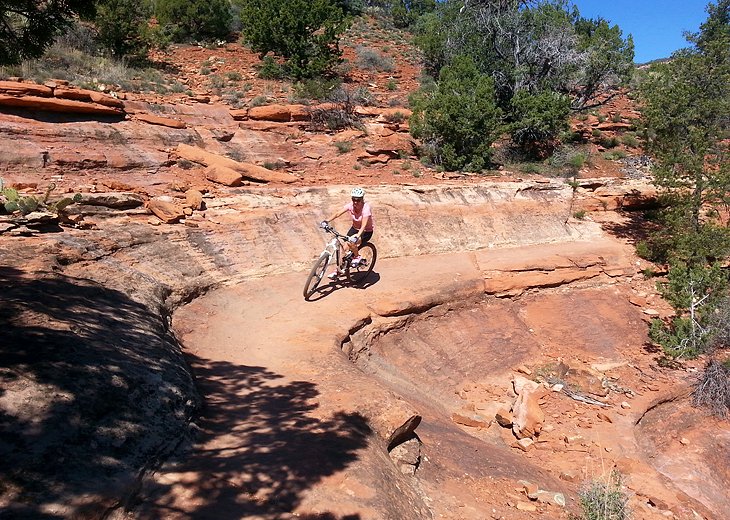 Perhaps the best overall trail in Sedona for intermediate level mountain bikers, with a good combination of fun rolling hills, great descents, and beautiful scenery, is the Aerie Trail combined with the Cockscomb Trail.
This is a 6.1-mile intermediate level route, but beginners who have done a few of the easier trails can try tackling this one when they feel they're ready to advance. Although this same statement can be made about most trails around Sedona, the scenery is outstanding.
You can start from a couple of different locations but the best option is parking at the Boynton Canyon Trailhead. From here, the trail is actually a lollipop, but the first section is fun, and you end up skipping this part if you start from the Aerie Trailhead and just do a loop.
From the Boynton Canyon Trailhead, you'll soon find yourself on a fun, curving, and swooping track, before joining up with the main loop. When you join the loop trail, go in a counter-clockwise direction, which will take you up and around Doe Mountain, and then down some fun descents.
For a shorter and easier alternate loop from the Boynton Canyon Trailhead, take Aerie to Cockscomb, to Dawa, and then hop on the Boynton Pass Road for a short distance at the end to form a complete loop back to your vehicle at the trailhead. This loop is about three miles.
2. Mescal Trail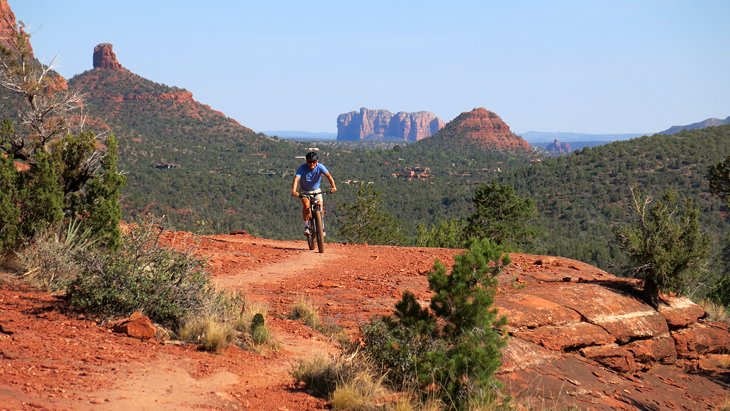 The Mescal Trail, rated as blue square, or moderate, is a great trail to hone your mountain biking skills. This two-mile route combines challenging terrain, stunning scenery, and great slickrock riding.
This trail is not for beginners, but strong intermediates will find it a true test of their abilities. A section of the trail on the skirt of Mescal Mountain has some amazing slickrock, and the views out to Courthouse Butte in the distance are spectacular.
The trail can be done as an out-and-back from the trailhead off Long Canyon Road, or it can be part of a flowy and fun run by combining the easier Long Canyon and Deadman's Pass Trails.
If you do the loop by starting on Long Canyon and Deadman's Pass, the ascent from Deadman's Pass to Mescal can be challenging, but don't be dissuaded, it evens out fairly quickly, and you can always walk your bike up the tough spots.
3. Chuckwagon Trail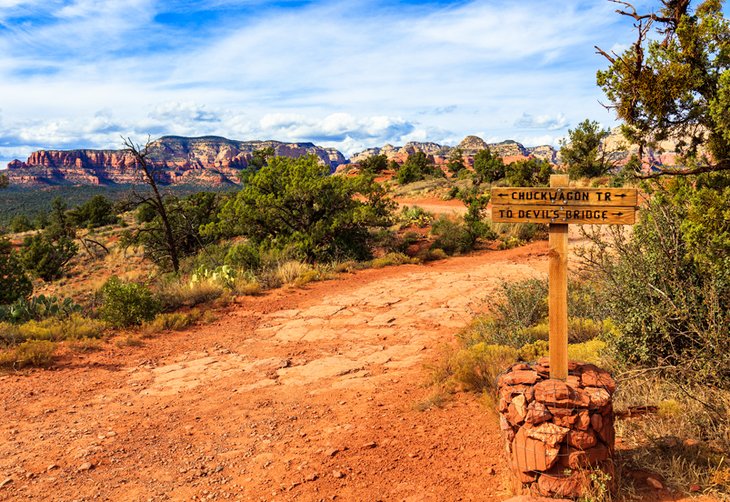 If you crave a bit of solitude on the trails and are a decent intermediate rider, Chuckwagon is a good place to start. It might be a bit busy at first, where you'll face some uphill hikers heading to Devil's Arch, but later on, the trail gets quiet, and you may have this long loop all to yourself.
Rated blue square, Chuckwagon has a bit of everything: red dirt, some slickrock, small trees, tall trees, a stream crossing, small cliff areas, and rocky sections. It's the perfect intermediate trail and will have you coming back time and time again.
The trail goes back quite far into the canyon, so make sure you have all the equipment you need to fix a flat or to do small repairs, as it can be a long walk out.
There are three trailheads, but it's best to park at the second one on Long Canyon Road. This way, you'll skip the first part of the trail, which leaves from Dry Creek Road, where parking is usually an issue due to the number of hikers using this parking area to access Devil's Arch.
The trail is best done counter-clockwise.
4. Llama Trail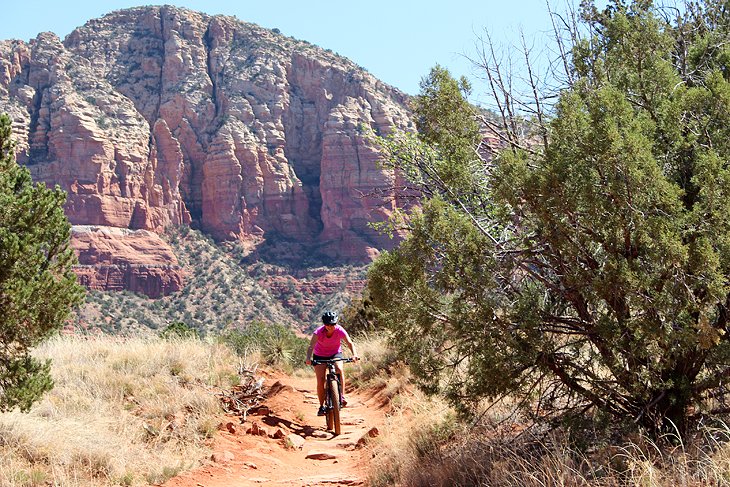 Llama trail is a 2.9-mile, blue-square-rated trail set against a spectacular backdrop of buttes and mountains. This trail, perfect for intermediates, leaves from the Bell Rock area and weaves around and over rocks, red dirt, slickrock, and gravel.
From the trail, you can see the Mogollon Rim, Courthouse Butte, and Bell Rock, and across the valley, you'll see the impressive Cathedral Rock. The trail is fast and flowy in sections but also offers some technical challenges, making it a great trail to improve your skills.
If you find it's a bit more difficult than you expected, the aptly named Bail Trail cuts the distance of Llama in half, and you can head back towards Bell Rock.
5. Long Canyon Trail to Deadman's Flat Trail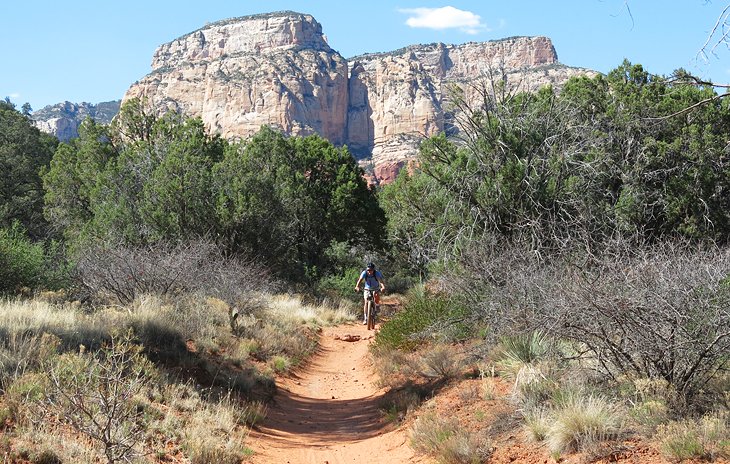 One of the most enjoyable trails, combining a high level of reward with relatively little effort, is the Long Canyon Trail to Deadman's Flat Trail.
This trail is rated green circle, or beginner, and is perfect for those who are just starting out on a mountain bike. The route is 2.2 miles long and has very little elevation gain. Single track mixed with wider sections offer an easy ascent and wonderful long descent, which includes small to moderate drops you can choose to ride off or go around.
Along the way, you'll see the amazing scenery of the Red Rock Secret Mountain Wilderness and Mescal Mountain. At the end of the trail, you will come out at Boynton Canyon Trailhead. If you haven't arranged a pick up from here, you can easily loop back to your car by taking Boynton Pass Road to Long Canyon Road.
6. Slim Shady Trail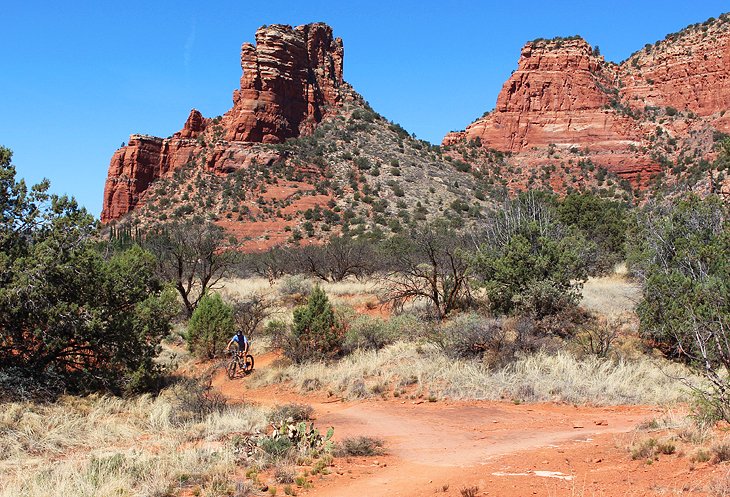 A flowy and twisty 2.6-mile trail on red dirt without much elevation is what you'll find on Slim Shady. This blue-square-rated trail starts across the highway from the Bell Rock Vista parking lot.
The trail runs along the lower reaches of the red rocks through small trees and bushes. It's perfect for advanced intermediates with only a few tricky spots, but these are easily walkable.
This is a great trail to start your day as it connects with some of the more popular trails in the area, including Llama, Templeton, and the Bell Rock Pathway, which you can loop around and then take Slim Shady back.
If you want more challenge, the black-diamond-rated Made in the Shade Trail runs parallel to Slim Shady farther up the mountainside.
7. Bell Rock Trail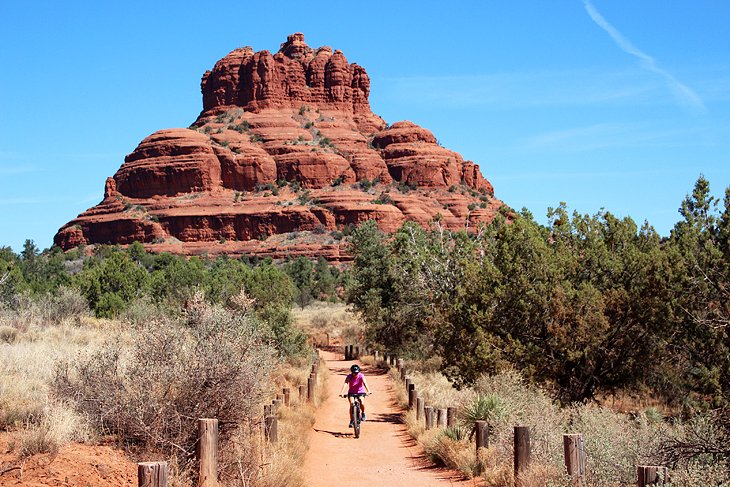 If you are just arriving in Sedona and new to mountain biking, or if you are biking with a family and looking to start out very easy, Bell Rock Trail is the place to begin. To get your bearings on flat ground, you can start off doing some test runs from the Bell Rock Vista parking lot.
The main Bell Rock Trail runs up towards the rock and follows along the west side of the bell. As you approach the rock, the trail climbs up slowly but steadily until you reach the north side, where it levels off. From here, a number of other trails branch off, but the Bell Rock Trail is an in-and-out path.
You can't bike around Bell Rock, the trail is closed to bikers. The return trip is fun and offers enough of a descent to present small challenges to new bikers, but it's perfect for first timers and youngsters.
8. Hiline Trail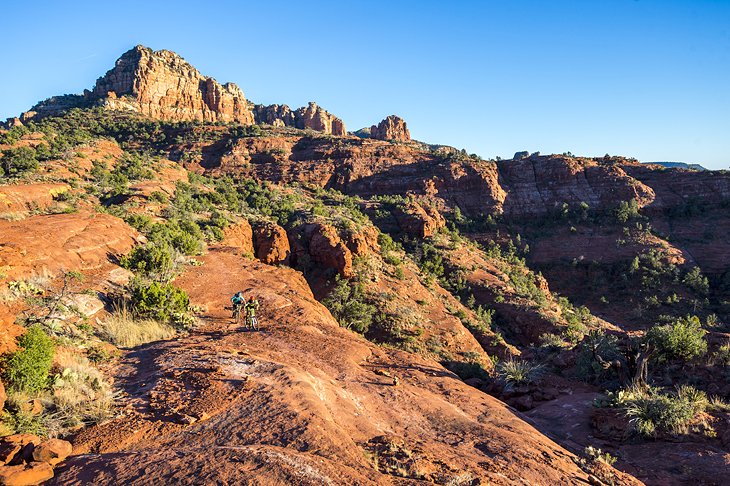 Hiline is one of the toughest trails in the Sedona area and for advanced riders only. If you have the skill set to do it, you'll be back here again and again.
The 3.1-mile trail is rated double black diamond and has lots of cliff edge riding, amazing slickrock, and insane chute-style descents, so you need to know what you are doing, or you and your bike could end up in rough shape.
The start of the trail is very steep and technical, but at the top, you'll be rewarded with amazing views out to the Mogollon Rim, Bell Rock, and Courthouse Butte.
9. Templeton Trail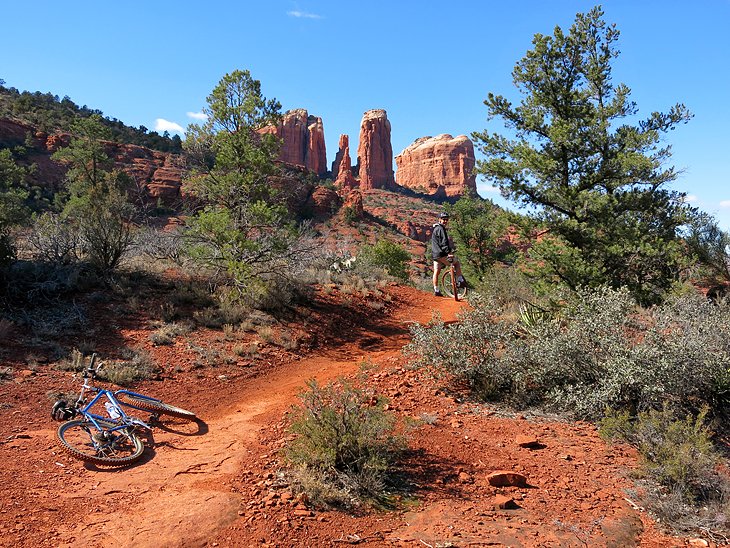 The Templeton trail is a great 3.5-mile intermediate trail that takes you from the Bell Rock area right across the front of Cathedral Rock. Running along a high ridge, views here stretch out to Courthouse Butte and the towering Mogollon Rim.
The trail is fast and fun, with a mix of gravel and slickrock. You'll definitely find yourself stopping for pictures and wondering how such an amazing trail isn't more popular.
The section around Cathedral Rock crosses a hiking trail that brings people up to the saddle area of Cathedral Rock and can be busy, so watch out for people who are not expecting to see bikers on what they thought was only a hiking trail.
The tail end of the trail is difficult as it descends to Oak Creek. Many riders turn around at this point and head back towards the trailhead.
10. Grand Central and Soldier Pass Area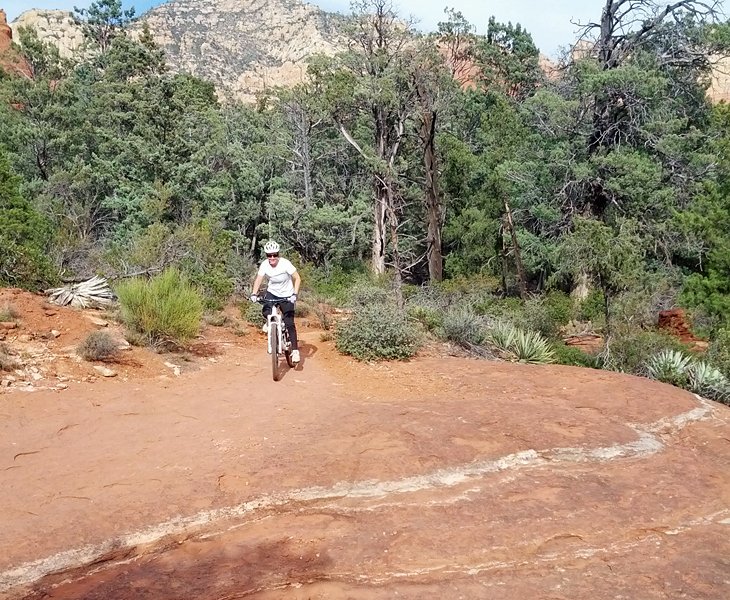 One of the newer trails, Grand Central offers easy access to a number of other great mountain biking trails in the Soldier Pass area. Grand Central is 1.8 miles and offers an excellent way to ascend to the top of this great riding area.
Four trails peel off Grand Central and can be combined to easily create loops. You'll find rolling fun descents through small bushes and trees, along with the odd dry creek crossing. There are also some interesting things to see in this area, including the Devil's Kitchen Sinkhole, located right at the top of the trail, and just a bit farther up along Soldier Pass trail are the Seven Sacred Pools.
The best place to park is at the bottom of Grand Central at the Adobe Jack Trailhead. This will allow you to avoid all the hikers that tend to congregate up near the top, and parking at the top is very limited. Grand Central and the Soldier Pass trails, which include trails like Jordan, Adobe Jack, Ant Hill, and No Name, offer a mix of intermediate and advanced level routes.
The Soldier Pass area is usually less crowded and more of a locals' spot compared with other trails around Sedona. Grand Central is easily accessible via a short ride from Over the Edge Bikes and convenient if you have rented a bike from here.
11. Canyon of Fools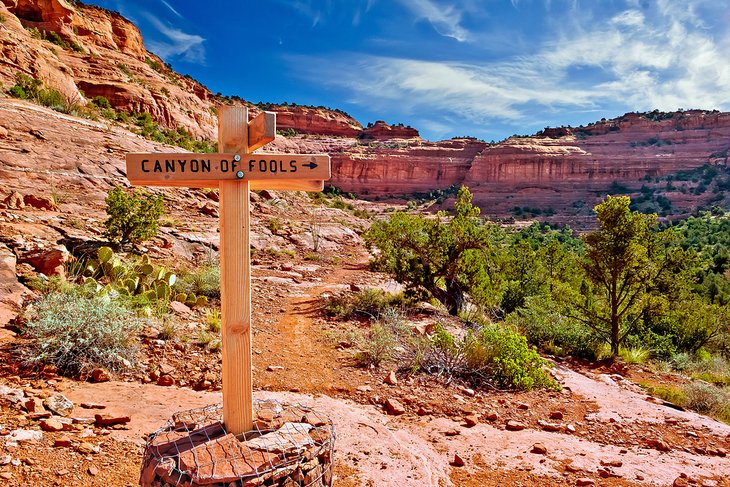 With a name like this, how could you not want to give it a try. This trail, which is not actually in a canyon, but in a riverbed, is a two-kilometer short-snapper that's worth a ride if you've had enough of big, beautiful vistas.
The trail is found off Mescal, and it's a hoot to go ripping down with rocks, sand, tree roots, and just about everything you can imagine. It starts off as a single track and then drops into the creek bed before eventually ending up in a wash area. It's at this point you'll connect with the Yucca Trail.
Unless you like tough ascents that make you wish you were heading in the other direction, start on the Mescal trail. If it has rained recently, don't bother heading down here unless you want to get covered in mud!
12. Hangover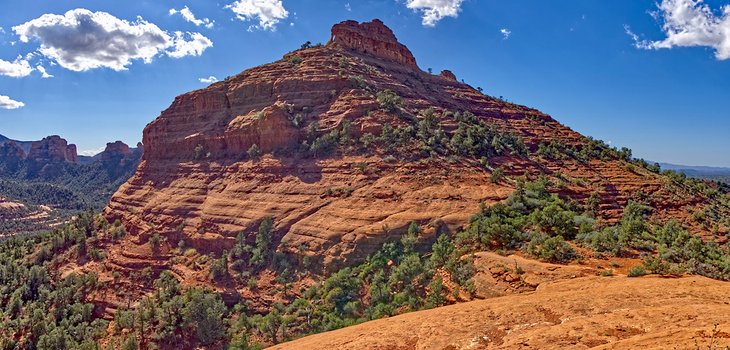 This trail is for pros, experts and those slightly crazy, only. This trail is one of Sedona's hardest and most dangerous, complete with huge drops and tough technical sections. It's definitely not the place to be if you are slightly shaky or feeling a bit off. It's strongly recommended that you hike the trail first if you are even a bit unsure.
It's an eight-mile ride, and with 1,085 feet of elevation, the trail will get your heart pounding. Much of the trail is off-camber slick rock riding, with big drops that will test your suspension to it's maximum, a seat popper is a must.
Many riders choose to ride to the wide-open saddle area, soak up the views with a snack, and then turn back. It's from this point on that the trail gets nasty, complete with a section that is narrow with vertigo-inducing drops to the valley floor several hundred feet below that are surely fatal.
13. Sedona Mountain Bike Park
A fun outing in West Sedona is the newly created Sedona Mountain Bike Park. The bike park continues to grow with the support of the local Sedona government, and new additions include the Tech Flow trail, the Tot Loop, and the Bump Jump trail. The two fast flow tracks and a highly entertaining pump track continue to get better and better.
These routes have all the elements you'll find out on the trails and is a great place to practice your skills. Suitable for riders of all abilities, the trail has banked corners, rolling hills, and jumps if you choose to take them.
Planned and budgeted for upcoming years will be the build-out of the Skills Zone and Jump Zone areas.
The bike park is located in Posse Grounds Park and is free.
Map of Mountain Biking Trails in Sedona
Tips for Mountain Biking in Sedona
Sedona Shuttle: The free shuttle stops at many of the popular hiking and mountain biking trailheads. They have room for three bikes on the front of the vehicle. This is a good way to avoid the hassle of finding a spot at the trailheads or, if your legs are completely done and you want a ride back to your car (providing it's at one of the stops), hop on, sit back, and relax. Check the schedule for more details.
Maps: Be sure to pick up the Sedona Mountain Biking Trails Map, showing the entire area, including the rating of the trails. Trails are rated like runs on a ski hill: green circle for easy, blue square for intermediate, and black diamond for advanced.
Rentals and Tune-ups: For a good selection of rental bikes, or for a tune-up or any other biking needs, stop by Thunder Mountain Bikes in West Sedona. They also sell the trail map and can offer some good advice on where to go based on your abilities.
Park Pass: To park at the trailheads, you'll need a Red Rock Pass or an Interagency National Parks Pass. You can get these at various offices around Sedona.
More Related Articles on PlanetWare.com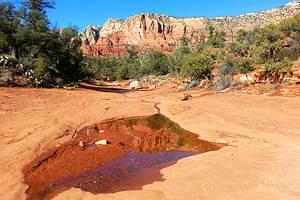 Sedona Outdoors: Another great way to hit the trails is with your hiking boots. Some areas are off limits to bikes, and other areas are just more suitable for hiking. For a complete look at where to go, see our article on the best hikes in Sedona. If you are a true outdoor lover and would prefer to sleep under the stars, have a look at our piece on the top campgrounds in Sedona. For general sightseeing and tour ideas, see our guide to the top attractions in Sedona.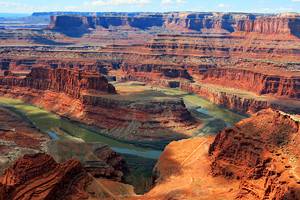 More Destinations for Outdoor Addicts: If you are a serious mountain biker, you've likely heard of Moab, Utah. If not, it's time to put this place on your radar. And there is much more here than just biking. See our article on things to do in Moab to find out about mountain biking, hiking, and more adrenaline-based activities. If you are headed east, you might also want to consider some adventures in Colorado. Mountain biking, hiking, and climbing are all part of the scene in Durango.