12 Top-Rated Campgrounds in Arizona
Authors Michael and Lana Law have camped all over Arizona with their tent, from the hot desert areas to the cool pine-covered hills in places like Payson and Prescott.
If the idea of waking up in a forest, in the desert, or beside a lake or stream to the sound of birds chirping is what you call camping, then you can find everything you're looking for in Arizona. Camping here ranges from warm nights out in the desert to sitting by a campfire beneath Ponderosa pines, or even lazing by a lake, perhaps with a fishing rod.
In winter, campgrounds at upper elevations, like Payson, Prescott, Flagstaff, and the Grand Canyon, are often covered in snow, but you can head to the desert campgrounds around Tucson, Phoenix, and areas farther south for pleasant temperatures.
Campgrounds in Arizona are generally well-kept and very well-placed for travelers wanting to see the best of the state's natural wonders.
Below are some of the best places to camp and the best campgrounds for you to set up a tent, trailer, or RV.
1. Organ Pipe Cactus National Monument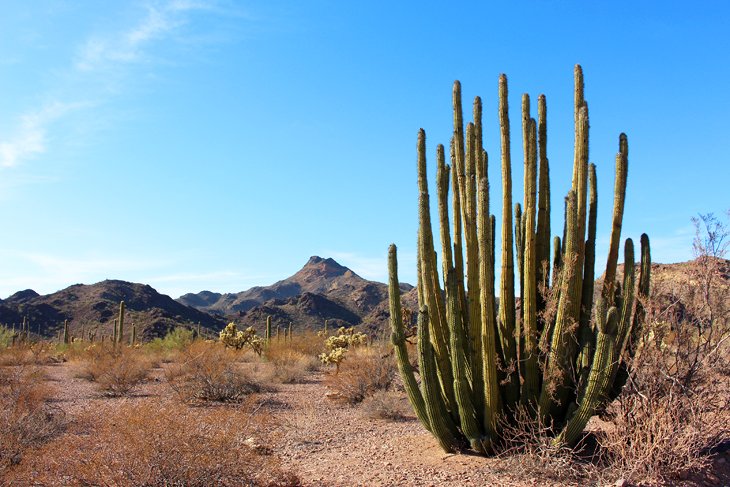 In the far south of Arizona, near the Mexico border, Organ Pipe Cactus National Monument is an often overlooked gem. For anyone looking to get away and camp out under a star-filled sky in the desert, this is the place to come.
The organ pipe cactus is an interesting sight that you only see in this area of the state. Mountains, saguaros, organ pipe cacti, and what can only be described as a green desert, make this an outstanding area of natural beauty.
Organ Pipe National Monument is also home to one of the best hikes in Arizona. It's easy to entertain yourself in this park.
The campground is surrounded by lush desert and views to the mountains. Due to its remote location, the campground rarely, if ever, fills up, even on weekends. Reservations can be made online — the maximum stay is 21 days if you are a planner or worrier.
The 208 sites are divided up into an area for RVs and a separate generator-free area for tents.
Quiet except for birdsong, this campground has an end-of-the-world type feel, but still offers a reasonable level of comfort, with showers and flush toilets.
If you are arriving late on the first night or need accommodation near the park for some other reason, head about 20 minutes down the road from the entrance to Ajo, the nearest town to the monument, and check out either the Sonoran Desert Inn or the more modestly priced and recently renovated La Siesta Motel featuring a pool and hot tub.
2. The Grand Canyon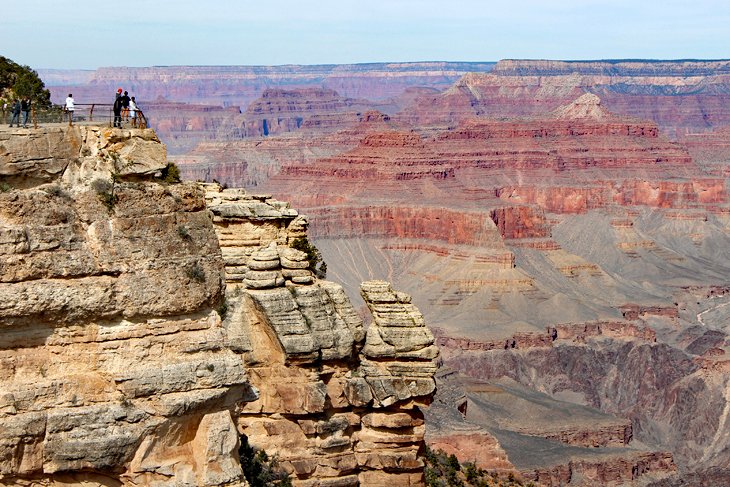 Camping at the Grand Canyon is a great way to avoid the daily crowds and have this amazing wonder of the world practically all to yourself. There is nothing quite like the feeling of watching the sunrise or sunset over the Grand Canyon before all the day trippers have arrived or left.
Developed campgrounds can be found along the rim on the south and north sides of the canyon. The South Rim is the largest camping area and is open all year. The north side is higher and open only from May 15th to October 31st.
Camping on the South Rim at Mather Campground will give you great access to some of the most famous sites and hiking trails in the park. The campground has 327 sites spread throughout a pine forest. Each site has a picnic table, fire ring, and enough space for three tents. Flush toilets and potable water are available throughout the campground.
This is a wonderful place to camp — the shuttle bus stops at the campground and a short ride will take you to the attractions at the canyon rim only a mile away. Campsites can be booked up to six months in advance online. Maximum stay is seven nights.
For those who prefer to tow an RV, the Trailer Village RV Park has 80 sites with hookups that accommodate rigs up to 50 feet long. These can be booked online through a third-party concessionaire. The Trailer Village RV park is open year-round.
If you can't get a site here, there is also free dispersed camping just south of the entrance in the Kaibab National forest.
Read More: Best Time to Visit the Grand Canyon, AZ
3. Lake Powell, Glen Canyon National Recreation Area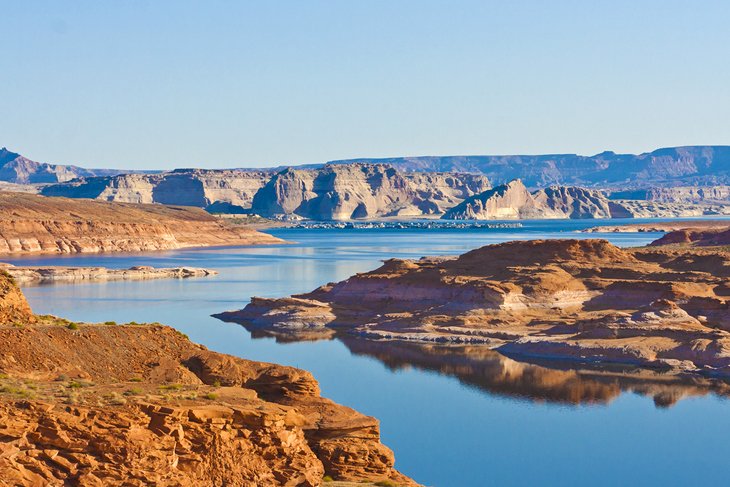 One of the more unique camping options in Arizona can be found along the shores of Lake Powell, just north of Page, in Glen Canyon National Recreation Area.
You can pitch your tent or park your RV along the shoreline of beautiful Lake Powell and wake to views out over the water towards the sandstone towers that line the lake.
Camping here is ideal if you own a boat, canoe, or personal watercraft, as you can park it right near your campsite.
The camping area is large and level, so there is plenty of room for you to pick a spot. Camping is free, but there is a fee to enter the park.
This camping area continues to change and evolve with the dropping water levels on Lake Powell, so be sure to check the latest status before planning a trip here.
Read More: Best Lakes in Arizona
4. Gilbert Ray Campground, Tucson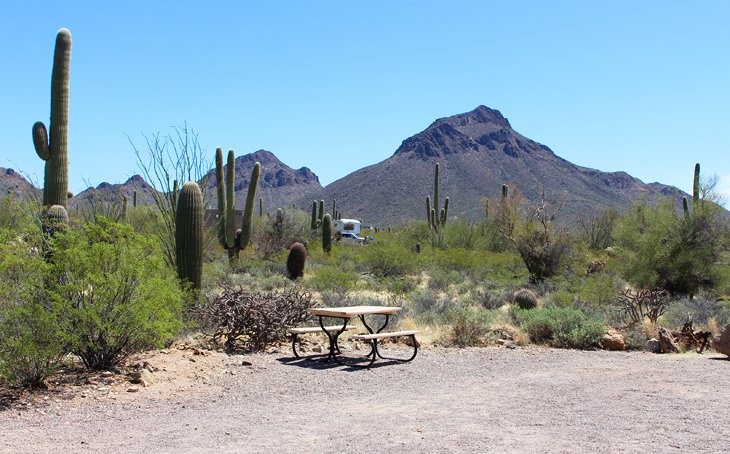 Gilbert Ray Campground in Tucson Mountain Park is another extraordinary campground that gives you the feeling of wilderness camping even though you're just 15 minutes from the main attractions of Tucson.
Set among saguaros and prickly pear cacti, this campground has 130 well-spaced sites with electricity and water. The campground is set far from any roadways and is quiet and scenic with views westward out over the plains and east towards the mountain range that hides Tucson.
In addition to being close to Tucson, the campground is also handy to the western section of the Saguaro National Park, Old Tucson Movie Studios, and the Arizona-Sonora Desert Museum. Great hiking is at your doorstep here, with the stunning Valley View Overlook trail just minutes away.
Campsites can be booked in advance, and this is recommended for the peak season from December to April.
Address: 8451 West McCain Loop Road, Tucson, Arizona
5. Lake Havasu State Park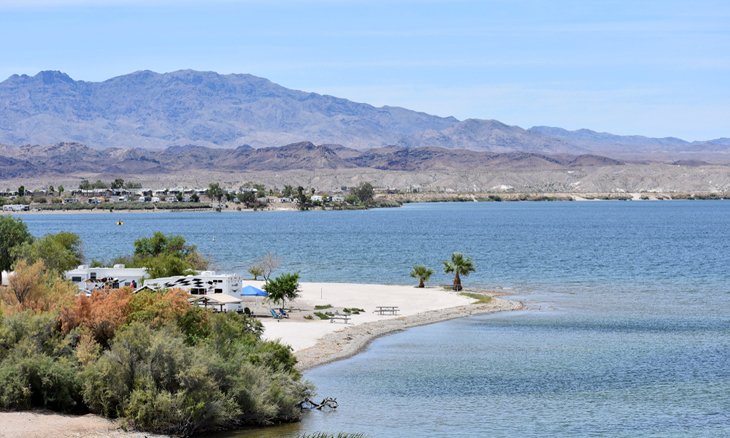 While beaches probably aren't what you picture when you think of camping in Arizona, it's what you can expect if you decide to camp at Lake Havasu.
The campground at Lake Havasu State Park offers campsites set among small trees right in front of a beautiful stretch of soft-sand beach. The views out over the stunning blue waters of the lake to the barren hills in the distance are spectacular.
In peak season, this park can be very busy with a lively boating scene. This isn't a quiet nature retreat, it's for people looking for fun and action.
The campsites have water and 50-amp electricity at each site, so you can run your air conditioner in your rig.
Address: 699 London Bridge Road, Lake Havasu City, Arizona
Read More: Top-Rated Things to Do in Lake Havasu City
6. Sedona, Oak Creek Canyon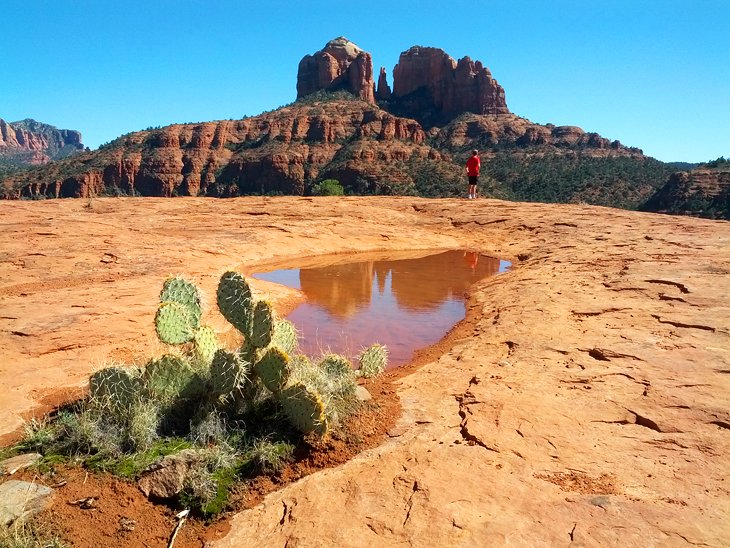 One of the highlights of Sedona is Oak Creek Canyon, where you'll also find three lovely campgrounds. Slide Rock State Park is just a short drive away, as are some of the best hikes in Sedona. All these campgrounds can be booked up to six months in advance on a rolling date basis.
Manzanita Campground is the most convenient if you are visiting Sedona. Manzanita only has 18 sites, so getting a site can be challenging.
Cave Springs Campground is located just over 20 minutes north of Sedona and allows you to easily enjoy the best of beautiful Oak Creek Canyon without the traffic issues of Sedona. This campground has 89 sites and is well located away from busy Highway 89A, in a wide valley with large deciduous trees towering overhead.
Sites are grassy and well-spaced, and the ones on the western edge have views of the steep canyon walls. Those on the eastern edge get to enjoy the sound of Oak Creek rushing by.
If Cave Springs is full, Pine Flat Campground is another option, just a few minutes farther north on 89A.
Desert camping under big skies and incredible starry nights is also an option for those with a taste for adventure. You'll need to be fully self-sufficient, have all the gear, and be prepared to bury your waste as no services are available.
All that said, this camping is 100 percent free. The dispersed sites area is located off Highway 89A on FS525. The rules, which can be found online, are easy to follow.
7. Chiricahua National Monument, Bonita Canyon Campground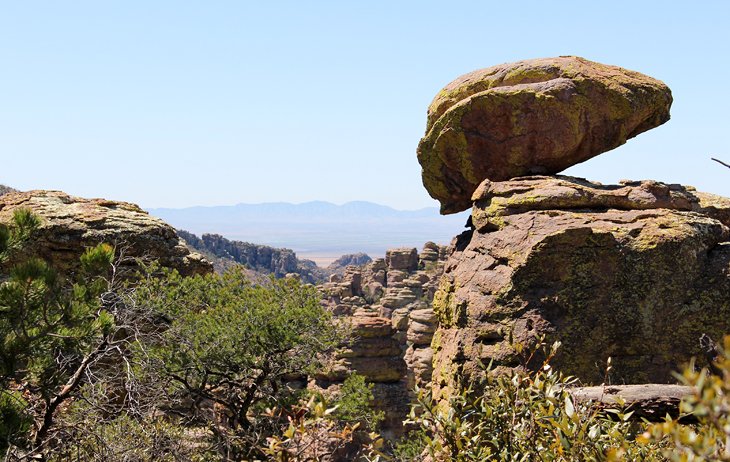 In southern Arizona, not far from the border with Mexico, Chiricahua National Monument protects a sky island, a small mountain range set apart from other mountains.
The Chiricahuas are known for their dramatic landscape of huge rock pinnacles. Pine trees dot the landscape, and the views are spectacular. Most people come here for the hiking trails, which wind their way up and down the mountainside, through stone towers.
Camping here is a real treat, particularly during the hotter months from spring until fall. The elevation at the Bonita Canyon Campground, which is at a lower elevation than much of the monument, is still well over 5,000 feet, meaning the temperatures are cooler, particularly at night, than the surrounding desert below.
The campground itself is well forested, and campgrounds are spaced a good distance from each other, offering nature and privacy. Through the trees, you can see some of the surrounding peaks. All sites are reservable up to six months in advance on a rolling basis.
Address: 12856, E Rhyolite Creek Road, Willcox, Arizona
8. Spillway Campground near Payson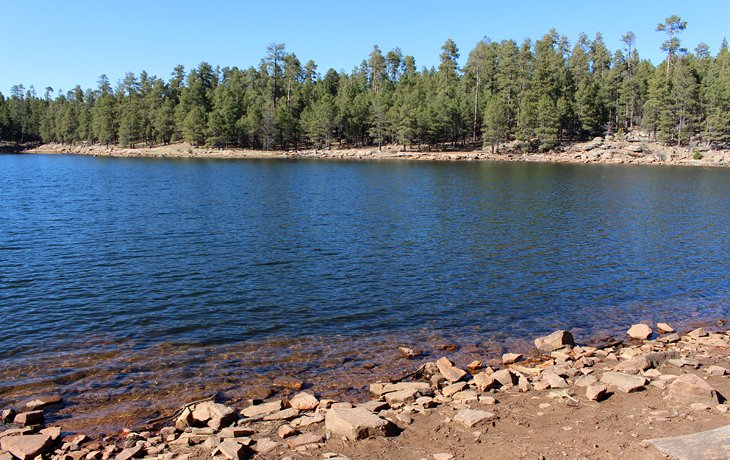 Set on the shores of Wood's Lake, Spillway Campground is small, cozy, and quaint, by camping standards. The campground is up high on the Mogollon Rim, at 7,500 feet in the Apache-Sitgreaves National Forest, an area that is known for outdoor recreational activities.
This is an ideal spot in summer if you like fishing as the lake is stocked with trout. The cool, clear, and deep waters are ideal for swimming, canoeing, and small boats. Most campsites are an easy stroll from the lake, although a few are lakefront.
Tall Ponderosa pines and other smaller trees provide shade and privacy between the well-spaced sites. Spillway Campground has only 25 sites and books up early. If you can't get in here, Aspen and Rim campgrounds are nearby.
Due to the elevation, this area is cool or even cold, depending on the time of year. Campgrounds up here open in late spring. If you want something a little lower down but in the same general vicinity, check out the campgrounds around Payson.
Address: Forest Service Rd 105, Payson, Arizona
Read More: Top-Rated Small Towns in Arizona
9. Catalina State Park, Campground A or B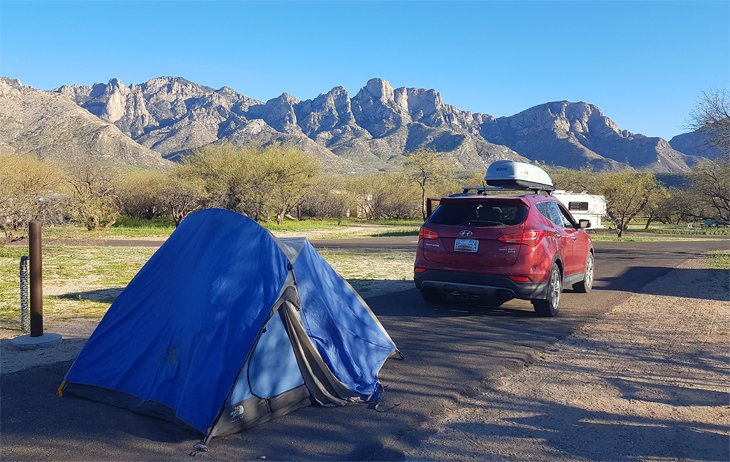 If you are looking to camp in a relatively urban setting close to a city, with amenities like showers, and while still enjoying nature, this is the place to camp. Campground A and Campground B in Catalina State Park, outside of Tucson, offer large sites with paved parking pads in a wide-open area on flat terrain.
Views to the mountains are astounding, and wildlife in here is surprisingly plentiful. You can watch all kinds of birds flitting by and landing in the trees right from your camp chair. Prairie dogs are definitely a part of the landscape here, and you may see a range of other critters, from bobcats to white-tailed deer.
Listen at night for the yipping of coyotes and the hooting of owls. Catalina State Park is home to some of the best hikes in the Tucson area. Most Wednesdays and Sundays the park hosts birdwatching excursions, and on most Saturdays, rangers do talks on the local wildlife.
Address: Catalina State Park, 11570 N Oracle Road, Tucson, Arizona
10. Prescott, Lynx Campground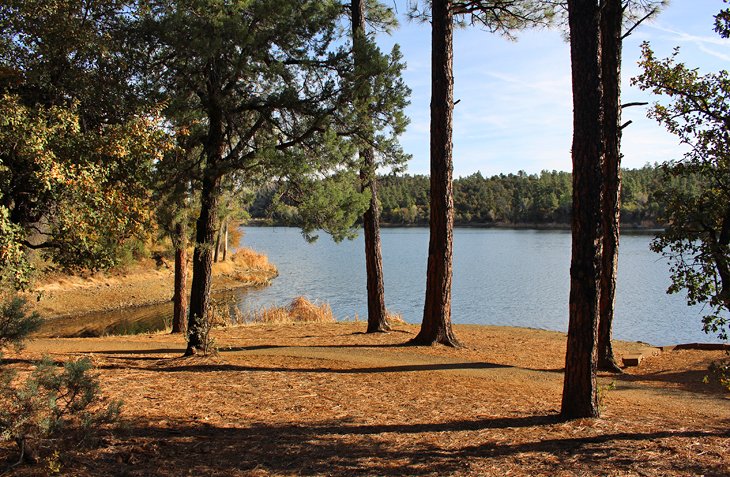 Lynx Campground, located just 10 minutes outside of Prescott on Lynx Lake, allows you to camp below tall Ponderosa pines, enjoy the recreational opportunities provided by the lake, and easily drive back to town to grab any supplies you may have forgotten.
The area has great bird life, good fishing, and several hiking trails and mountain biking trails nearby.
Sites are quite a distance apart, private, and immaculately maintained by the park staff. The area is quiet, and since the campground is set at 5,600 feet, the days are sunny and warm without being overly hot, and nights are refreshingly cool.
The campground has seven loops with a total of 35 sites and tends to fill up during the late spring and summer months, when the weather is the best for camping around Prescott.
Address: Walker Road, Prescott, Arizona
11. Flagstaff, Bonito Campground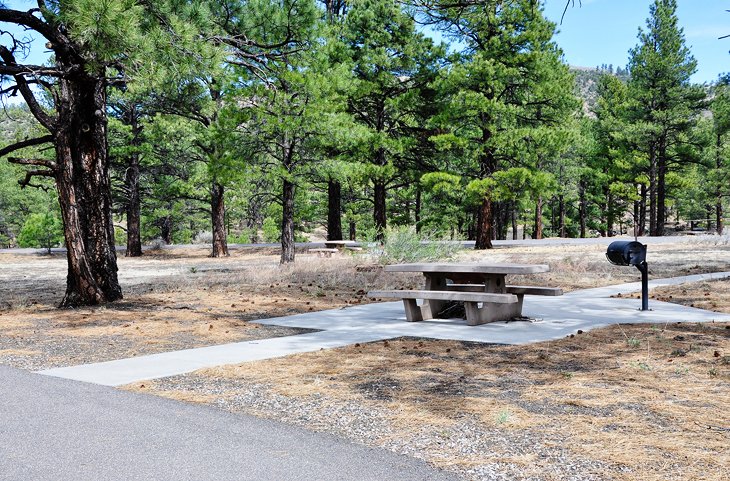 The experience of camping at the Bonito Campground near Flagstaff with all the volcanic topography may make you feel like you are in Hawaii instead of Arizona.
Weird and wonderful rock formations, lava tubes, and massive cinder cones are a short drive away. Activities range from hiking over desolate volcanic lava flows, exploring ancient Indian settlements at Wupatki, or seeing the more recent history along Route 66 in historic downtown Flagstaff.
The campground has 44 sites available on a first-come, first-served basis. The campground is at 6,900 feet, so it's refreshingly cool throughout the summer and covered in snow during the winter.
Address: Coconino, Flagstaff, Arizona
12. Usery Mountain Regional Park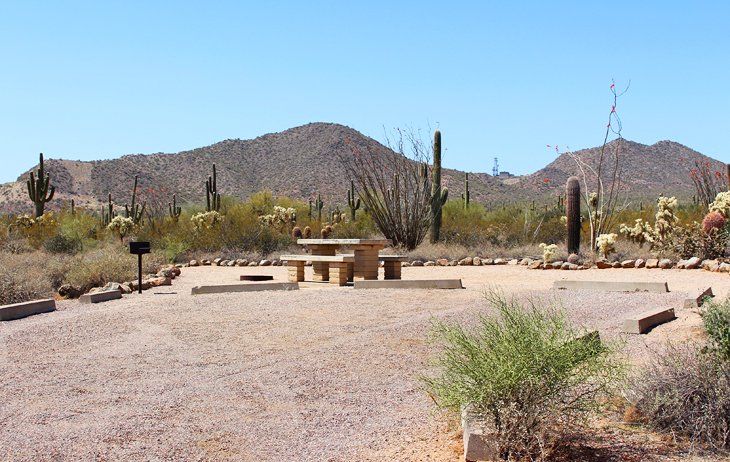 Usery Mountain Regional Park is handy if you want to camp close to the greater Phoenix area. The campground is set among saguaro cactus, in behind are the Goldfield mountains. This is an ideal campground for those who love to explore. Over 29 miles of hiking, biking, and equestrian trails wind their way through the park.
The campground has 73 sites, all well-spaced and all with water and electrical hookups along with fire pits and picnic tables. Comfort stations have flush toilets and showers with hot water.
Sites can be reserved up to six months in advance.
Address: 3939 N Usery Pass Road, Mesa, Arizona
Read More: Top-Rated Hiking Trails in Phoenix, AZ
When is the Best Time to Camp in Arizona?
The best time to camp in Arizona depends on one major factor: elevation. The higher you are, the colder it gets. So, that said, the summer months are perfect in the higher elevations like the Mogollon Rim or Flagstaff, but in the winter these areas are snow-covered.
Also, in the summer, frequent monsoon storms roll through in the afternoon, so although you may not think about it because you are in the desert, rain gear is an important thing to pack.
In the spring and fall, camping on the desert floor is lovely, with warm days and cool nights, but in the summer it's blazing hot and inhospitable (except in an RV with the air conditioning running full tilt).
Camping in the winter is also possible and quite popular for those fleeing northern climes. At this time you'll find sunny but cool days and cold nights, which is ideal for RV'ing but not tent camping. Getting a spot at this time of year near the major cities can be challenging if you haven't booked well in advance.
More Related Articles on PlanetWare.com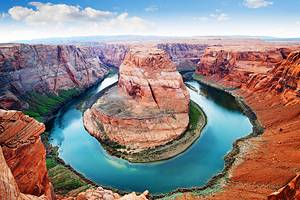 The Best of Arizona: For ideas to help with planning your trip, a good place to start is with our best of Arizona series of guides. Outdoor enthusiasts will enjoy our most recent picks for the best hikes in Arizona. If you are interested in sightseeing or national parks, begin with a look at our list of the top attractions and best places to visit in Arizona. From here, you can expand out to explore our hiking, camping, and outdoor articles on various destinations around the state.