12 Top-Rated Hiking Trails in Tucson
The hiking trails around Tucson offer a surprising diversity that ranges from walking among cactuses in the desert to strolling through tall pines in alpine areas.
You can find a good selection of short or long trails, challenging hikes with large elevation gains, or flat trails that allow for a more modest day of hiking.
Birds and other wildlife are abundant in the surrounding parks and natural areas, so you have a decent chance of spotting animals. If you don't feel like venturing outside the city center, Tumamoc Hill offers hiking right in the heart of Tucson.
For an overview of our top picks, see our list of the best hikes in Tucson.
See also: Where to Stay in Tucson for Easy Access to Hiking and Nature
1. Seven Falls Trail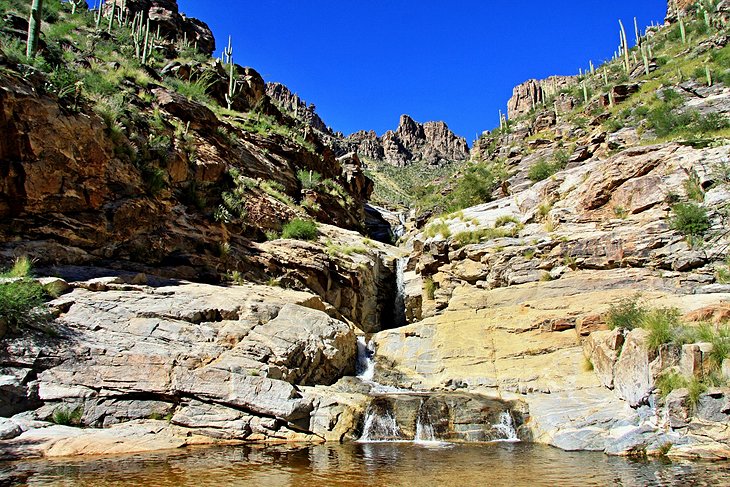 Located in the Sabino Canyon Recreational Area, this beautiful trail takes you from the desert, up Bear Canyon, to a beautiful set of pools. The trail follows a stream, which you criss-cross many times. Along the way, you'll see saguaro, buckhorn cholla, barrel cactus, and cottonwood trees.
Bring your bathing suit for a swim or wade into the water to cool off after you climb the switchbacks near the end of the hike. The elevation gain is 720 feet, and the total length of the hike from the trailhead is five miles return, if you use the tram.
If you leave from the parking lot you will need to add another four miles return to your hike for a total of nine miles and just over 900 feet of elevation gain.
The tram, which is an extremely popular way of doing this hike, leaves on an hourly schedule, and there is a fee to ride and a fee to enter the Sabino Canyon Recreation Area. This trail is located near the luxury Loews Ventana Canyon Resort.
Location: Sabino Canyon Recreation Area
2. Sutherland Trail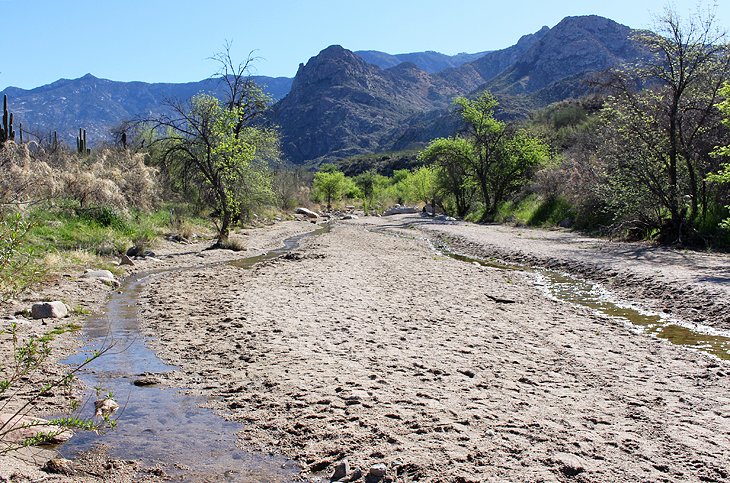 Beginning from Catalina State Park, the Sutherland Trail offers a scenic hike through desert landscape and then takes you up into the mountains to an elevation of 8,600 feet.
The full hike is 10.8 miles and not for the faint of heart, but you don't have to complete the entire trail to enjoy this area.
The first few miles are incredibly popular with people who just want a nice hike through the desert, and it's a great place to get up close to some large saguaros, see some birdlife, and in spring, enjoy the color from the blooming flowers. The trail here crosses a seasonal stream and runs over some gently rolling terrain.
If you have the energy and time, the full hike, with a total elevation gain of 5,900 feet, offers much different scenery. The trail climbs up, in some sections quite steeply, to a land of tall pine trees and incredible views over the mountains.
Location: Catalina State Park
3. Romero Pools Trail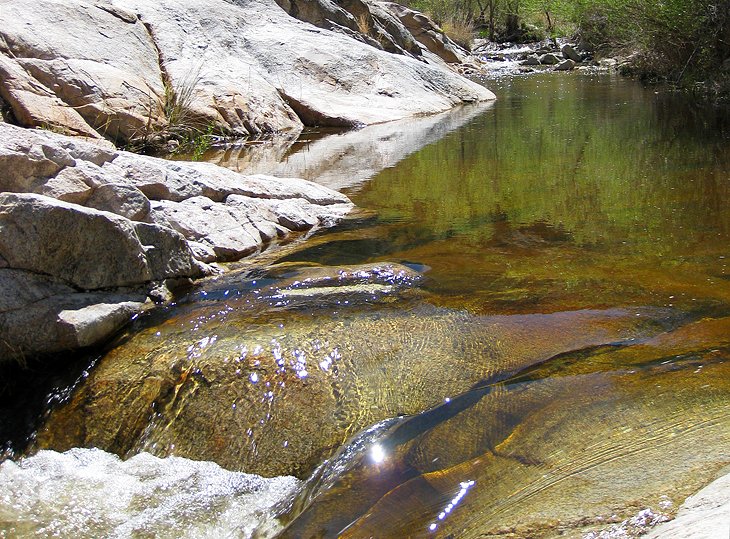 Another interesting trail in Catalina State Park is the hike to Romero Pools, part of the longer Romero Canyon Trail. This is a 5.6-mile return hike that takes you to Romero Pools, a water catchment area that flows seasonally.
On a hot day, this is a great place to go for a quick dip, so bring your swimsuit. Depending on the time of year, the pools may have only a small amount of water.
The trail is level at the start but then climbs over rocky terrain gaining a total of 1,000 feet in elevation. If you want to continue on to do the full Romero Canyon Trail, come prepared. This is a 14.4-mile hike that can take five to six hours and gains a total of 3,300 feet in elevation.
Location: Catalina State Park
4. Valley View Overlook Trail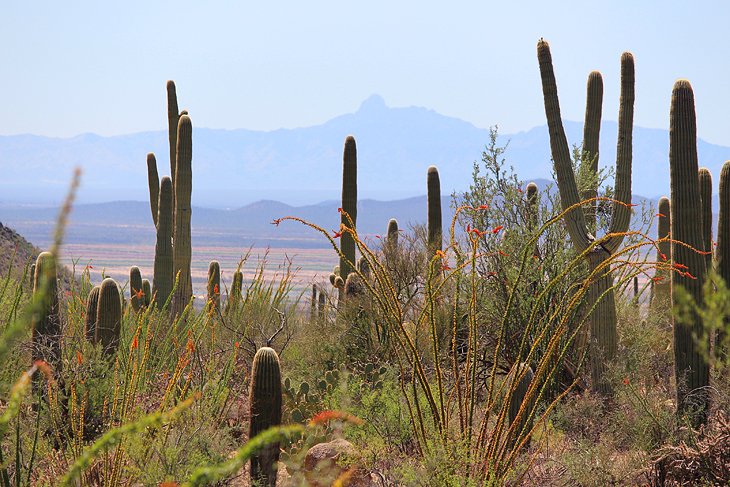 Despite being only a .8-mile round-trip hike, this is one of the most beautiful hikes in the Tucson area. This rolling trail dips down into a wash and gradually climbs uphill to a lookout, before returning along the same path. The area is thick with saguaros lining the hills and mountains.
Views stretch beyond the rolling landscape to the valley below and off to the far distant mountains. When the huge ocotillos and prickly pear are in bloom, this is an incredible area for a walk.
This hike is located off the graded dirt Bajada Loop Road in the west section of Saguaro National Park, known as the Tucson Mountain District.
Location: Tucson Mountain District, Saguaro National Park
5. Tumamoc Hill Trail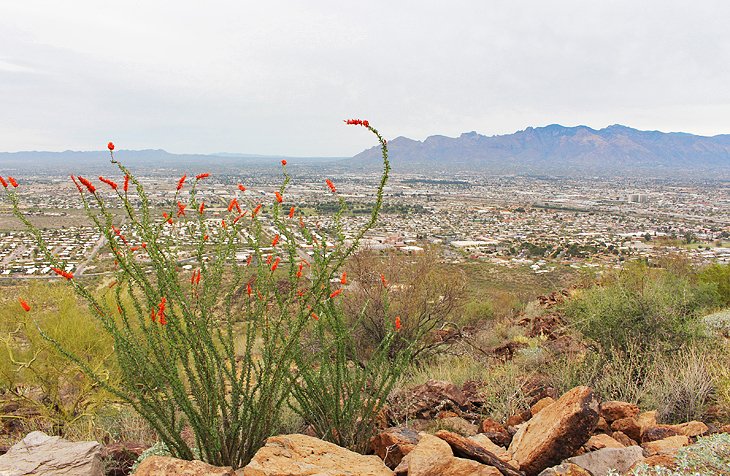 The real advantage of the Tumamoc Hill Trail is its accessibility, and for solo hikers, it's a safe option compared to heading out on an isolated trail outside the city.
This paved trail winds its way up Tumamoc Hill, a butte in downtown Tucson, gaining just over 700 feet in a little over 1.5 miles. The total round-trip hike is 3.1 miles and it's all uphill in one direction, and all downhill on the return trip.
Saguaros line the hillside, and signposts along the way add insight into the wildlife that inhabits the area, including the horned lizard, also known as "tumamoc" in the Tohono O'odham language.
Great great views extend over the city in a number of different directions as you ascend. This is a good workout, and you can walk it, run it, or push a stroller along the wide path.
6. Freeman Homestead Nature Trail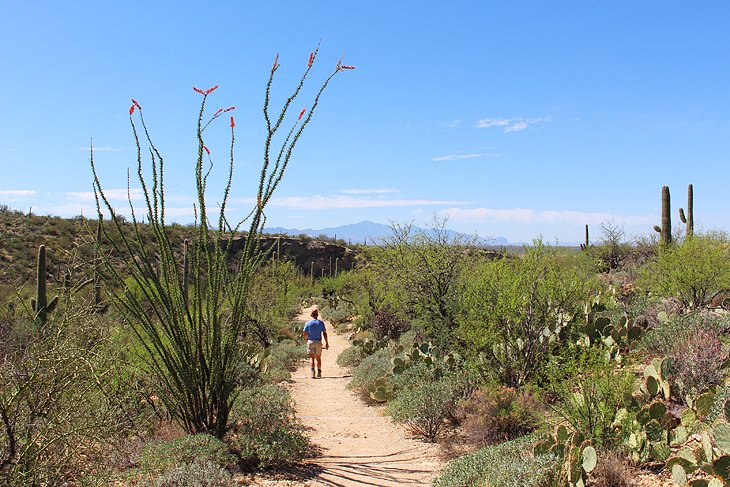 For an easy and scenic walk in the Rincon Mountain District, the east section of Saguaro National Park, head to the Freeman Homestead Nature Trail.
The main reason to do this loop is for the scenery, the Freeman Homestead no longer exists. The desert here is almost lush, with all kinds of vegetation, including huge saguaros, ocotillos, prickly pear, mesquite, and other native plants.
The rolling landscape adds a certain drama to this one-mile loop trail. You can see the valley and mountains off in the distance. The hike is located off the Cactus Forest Scenic Loop Drive. This is a one-way loop, so keep a close eye out for the turn for the Javelina picnic area.
The trailhead for the Freeman Homestead Nature Trail is on this short spur, just before the picnic area.
Location: Rincon Mountain District, Saguaro National Park
7. Yetman Trail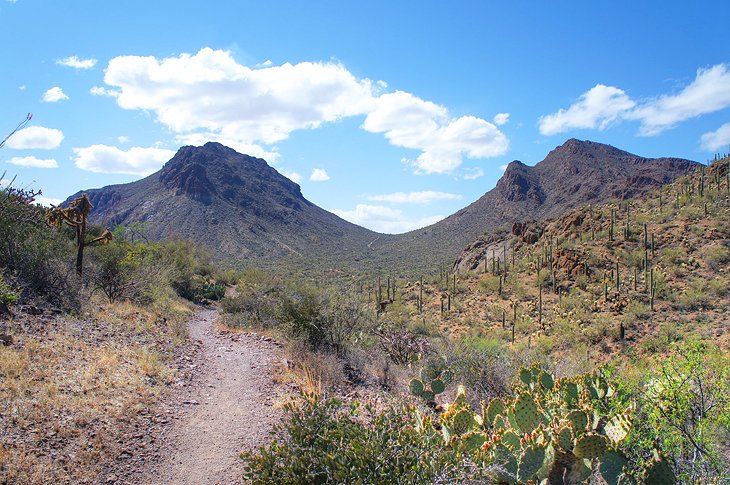 If you are looking for a longer hike, but one without a huge amount of elevation, the 12-mile return-trip Yetman Trail is a beautiful option, with only about 500 to 700 feet of elevation, depending on your starting point. The Yetman Trail will take you through a landscape of saguaros, barrel cactus, ocotillos, and other botanical treasures of the Sonoran Desert.
Another interesting site on this hike is the Bowen Homestead, or "stone house" as it's often called. These ruins date from the 1930s.
You can also do short variations on this trail, which might include only hiking as far as the Bowen Ruins for a much more modest 2.2-mile return hike from the main Camino de Oeste Trailhead.
You can also access the Yetman Trail from the JW Marriott Tucson Starr Pass Resort & Spa.
Location: Camino de Oeste Trailhead, Tucson Mountain Park
8. Linda Vista Trail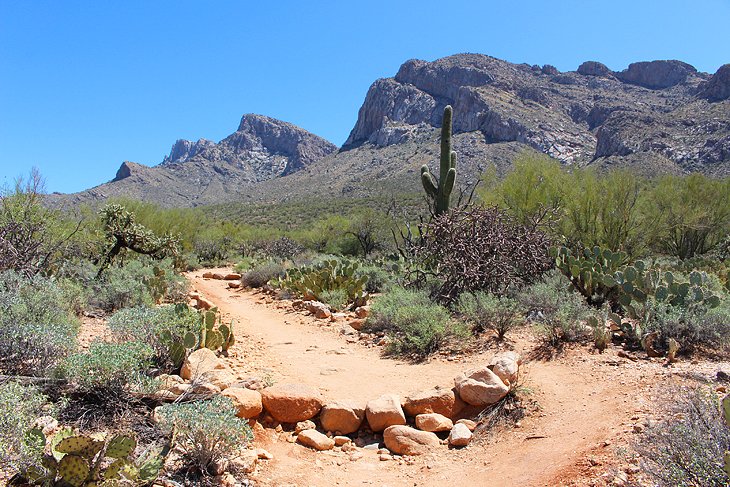 For an easy but scenic hike on the north side of Tucson in Oro Valley, Linda Vista Trail is a good option. This hike leads through a beautiful section of desert, which almost looks like a desert botanical area, to the base of Pusch Ridge.
You can do a straight in-and-out hike of about 1.5 miles, or loop together various trails for longer hikes. There is some elevation, but most trails will not take you up more than 300 feet.
This hike is just down the road from the El Conquistador Tucson, A Hilton Resort and makes a nice outing if you are staying here.
Location: Trailhead is on Linda Vista Boulevard, off North Oracle Road, Oro Valley
9. Tanque Verde Falls Trail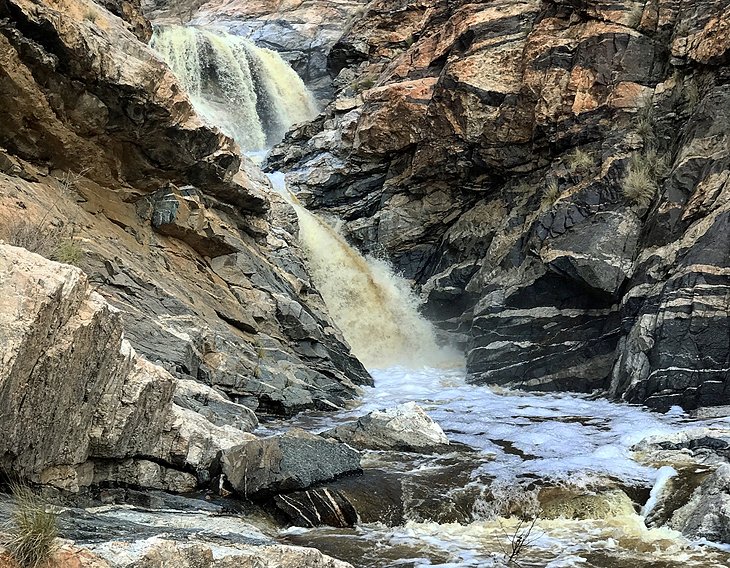 Tanque Verde Falls is a beautiful sight in the desert, with water tumbling 80 feet over a rock wall. You can reach it on this slightly more than two-mile round-trip hike.
This is a relatively easy walk, with only about 100 feet in elevation. The amount of water flowing over the falls depends on the season and recent rains.
Near the start of the trail is a wash. If there is water in here, that's a good indication that the falls will be running.
Location: Lower Tanque Verde Falls Trailhead, off Reddington Road, east side of Tucson
10. Blackett's Ridge Trail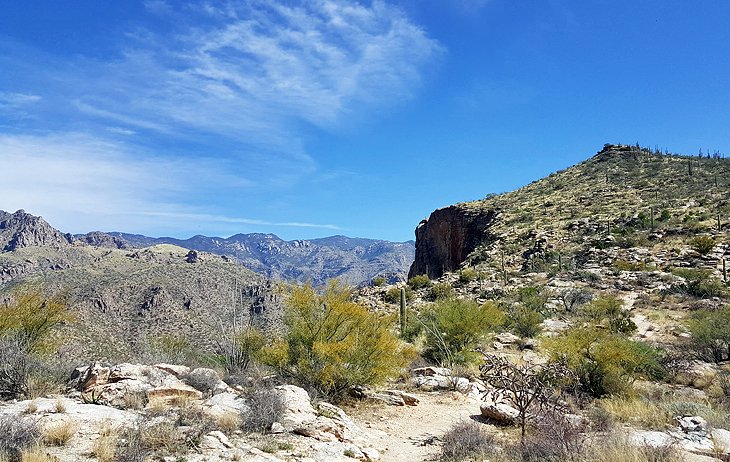 Beautiful views over Tucson, as well as Sabino and Bear Canyons, are what this hike is all about. The trail climbs approximately 1,800 feet, and the total distance is just under six miles return.
However, the grunt up is worth the vista at the top. Some sections of the Blackett's Ridge Trail are very steep and rocky and require a little scrambling over boulders.
Location: Sabino Canyon Recreation Area
11. Cactus Forest Trail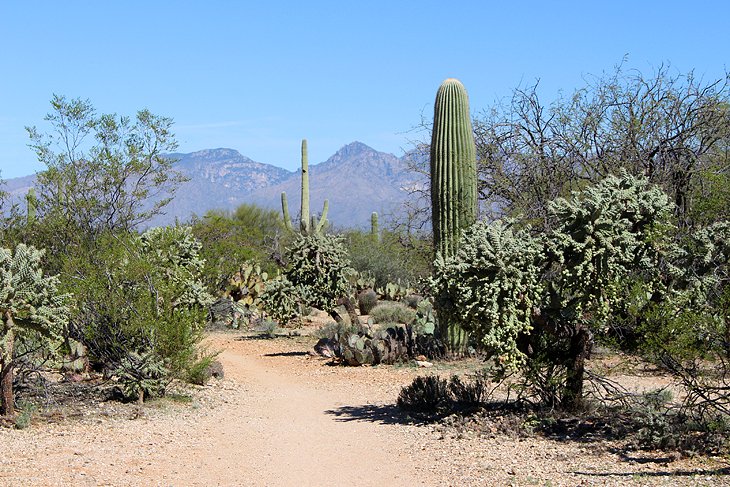 Another easy, but slightly longer trail in the Rincon Mountain District of Saguaro National Park is the Cactus Forest Trail.
This is a flat 2.5-mile trail that runs through the interior of the Cactus Forest Scenic Loop Drive, past saguaro and other desert vegetation.
Watch for wildlife, particularly birds. You can often see, or at least hear, the baby-like cries of quail, as well as the peeping of woodpeckers, which you can see landing on the saguaros.
The trail can be accessed at either the north or south trailheads, but it is most scenic as you head north, so if you are only going to do it in one direction, using a car shuttle, it's best to start at the south trailhead.
Most people do not have the convenience of a car shuttle, so it becomes a five-mile out-and-back trail. If you want a shorter walk, just hike in as far as the lime kiln and turn around. From the south trailhead, this is a three-mile round-trip hike, and from the north trailhead it is just two miles return.
Location: Rincon Mountain District, Saguaro National Park
12. Mount Wrightson via Old Baldy Trail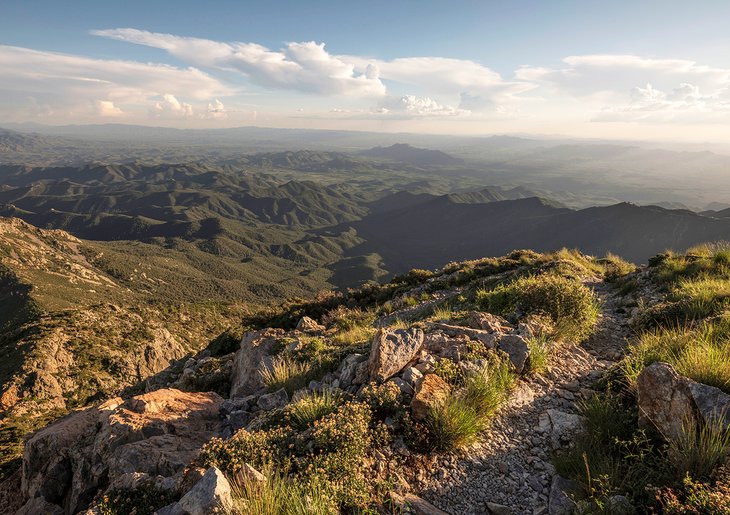 If you have the strength and stamina to tackle a longer, harder hike consider the Mount Wrightson trail.
Climbing up nearly 4,000 vertical feet in five miles (10 return) the trail is not for the faint of heart. Those that make it to the top are treated to expansive views; in the spring, the wildflowers are spectacular.
The lower part of the trail has some shade, but as you ascend, it becomes more open; breezes often make this section quite pleasant on a warm day.
Due to the elevation, snow and ice are frequently found on the trail in January and February, so bring along micro spikes and poles if you plan to go at this time.
A fee is charged to park at the base.
Where to Stay in Tucson for Easy Access to Hiking and Nature
Luxury Resorts and Hotels: For the ultimate in luxury, combined with easy access to great hiking areas, the JW Marriott Tucson Starr Pass Resort &

Spa

is set in a beautiful location on the edge of Tucson Mountain Park and the Tucson Mountain District of Saguaro National Park. Come home after a morning of hiking or an afternoon spent visiting Old Tucson Studios to unwind in the pools, enjoy fine dining, or play a round of golf.

On the opposite side of the city, the small and quaint Hacienda Del Sol Guest Ranch

Resort

is set in the Catalina Foothills and offers quick access to Catalina State Park and Sabino Canyon Recreation Area. The hillside pool looks out to the mountains, and the incredible gardens make this property feel like an intimate mountain retreat.

Also on the northeast side of Tucson and within easy striking distance of the same natural areas as Hacienda Del Sol, is Loews Ventana Canyon

Resort

. This is a larger luxury resort on the edge of the Catalina Mountains, offering tennis courts, access to two 18-hole golf courses, and a pool.

For a more complete look at luxury resorts in the area, see our list of the Top Resorts in Tucson.
Mid-Range Hotels: At the top-end of mid-range is the popular White Stallion

Ranch

. This is a dude ranch and is best suited for people who want to participate in outdoor activities, like learning rodeo skills, hiking, and sitting around a campfire with other guests in the evening, but who still want luxury and comfort. Rooms are decorated in western style.

In downtown Tucson, one of the best-value mid-range choices is The Downtown

Clifton

hotel. While this is a more central location, it's only about a 30-minute drive to many of the best hiking areas, including Tucson Mountain Park and Sabino Canyon. Rooms have a colorful southwestern decor, wood ceilings, and open beams. It is also a convenient place to stay for exploring the city.
Budget Hotels: The Best Western Inn & Suites Tucson

Foothills

offers clean, comfortable rooms and is well located for hitting hiking trails to the north of the city. Rooms surround a courtyard with a pool, and your stay comes with a free breakfast.

Northwest of the city center is the Red Roof Inn Tucson North -

Marana

. This property offers a convenient location close to restaurants and shopping, and 10 minutes from downtown Tucson, and about 30 minutes to popular hiking areas.
More Hiking & Camping near Tucson & around Arizona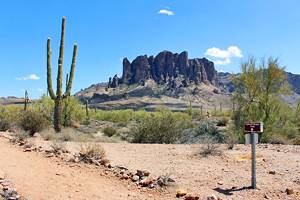 Hiking Trails: Arizona is a hiker's haven, and Tucson is just the tip of the iceberg. If you have time for more on-foot exploration of the state, see our complete guides to the top hikes in the following destinations: Phoenix, Sedona, and Prescott. Also see our list of the absolute best hikes in Arizona.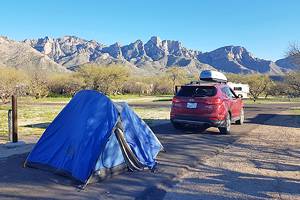 Camping & Campgrounds: Camping around Tucson is outstanding! If you are at all interested in this topic, see our list of the best places to camp near Tucson. If you are heading farther afield, take a look at our list of the top places to camp in Arizona to discover places only two to three hours away, like Chiricahua National Monument or Organ Pipe Cactus National Monument.
Frequently Asked Questions
When is the best time to hike in Tucson?
The best time to hike in Tucson is from September to April. The weather is usually sunny and pleasant. In September and April, you'll want to start your hike early in the day to avoid the heat. From October to February and into March, you should be fine hiking throughout the day.
Are there rattlesnakes on the hiking trails?
Yes. The prime season for snake encounters is the spring, generally from mid-March to mid-April, when the weather starts to warm up. Stay on the trails to help avoid snakes.