11 Top-Rated Day Trips from Phoenix
Author Lana Law spent several winters residing in Sedona and traveling through Arizona, and she frequently returns to this part of the country.
Phoenix is a wonderful city to explore, but it also makes a good base for touring around the Southwest. From here, you can easily day trip to some of the most scenic landscapes in Arizona, along with historic towns and popular attractions.
If you are flying into the city or if you simply don't want to bother with a car, you can also take organized tours to some of the best places to visit around Phoenix. Excursions from Phoenix can range from a full-day Grand Canyon outing to a half-day scenic drive to a nearby town for lunch.
If you have more than just a day, you can easily turn these day trips into weekend getaways. Some of these places, particularly those to the north, can also be combined if you want to turn a half-day trip into a full-day trip.
Enjoy some short getaways with our list of the best day trips from Phoenix.
1. Grand Canyon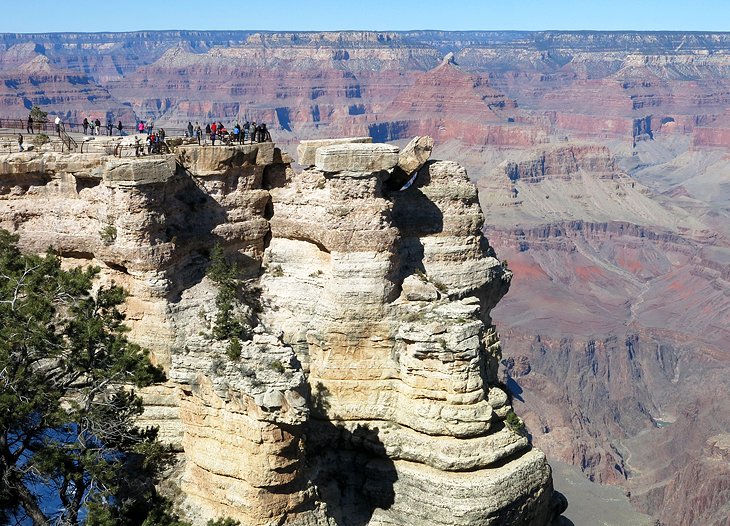 The Grand Canyon is the most visited natural attraction in the Southwestern USA and one of the seven natural wonders of the world. If you have time for only one day trip from Phoenix and have not seen it before, you should definitely make time to visit the Grand Canyon.
From Phoenix, by car, this trip takes a full-day, but the drive is spectacular. You can do this drive as a quick there-and-back trip along the interstates or plan a few detours and turn the trip into a loop.
The most scenic option on the way to the Grand Canyon is to drive north on Highway 17, breaking off at Highway 179 to 89A to see the red rock scenery of Sedona, and then drive through scenic Oak Creek Canyon to Flagstaff. Be aware, the Oak Creek section is a steep and narrow paved road, with switchbacks, that can be very busy on holidays and weekends during the high season.
From Flagstaff, you can either take Interstate 40 West to 64 North, which is the fastest route, or Hwy 180 North to 64 North for a more scenic option.
Once you reach Grand Canyon National Park, you can spend a few hours seeing the sites and lookouts along the Canyon Rim and admiring the views.
For a quick return, head back out the way you came, south on Hwy 64 from Grand Canyon Villages to Interstate 40 East, and then south on Interstate 17 to Phoenix.
For the more scenic loop option, follow Hwy 64 east along the canyon rim and return on Hwy 89 South to Flagstaff and Interstate 17 South to Phoenix.
If you want to relax and not worry about planning the trip on your own, you can easily join an organized tour of the Grand Canyon from Phoenix.
To turn a day trip to the Grand Canyon into an overnight getaway, you can find accommodation right outside the park entrance in the small town of Tusayan.
2. Sedona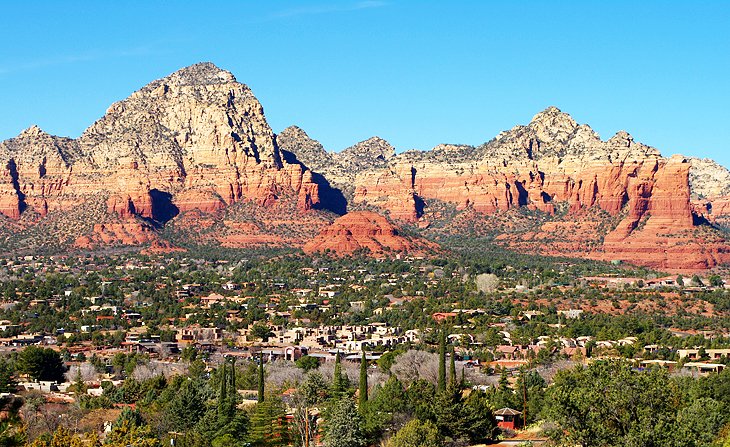 One of the most popular easy day trips from Phoenix is to the town of Sedona. Surrounded by striking red rock mountains, cut through by the meandering Oak Creek, and said to contain vortexes, Sedona is one of the most scenic and intriguing towns in the entire Southwest.
The main street consists mainly of tourist shops and restaurants, but is also home to crystal sellers, fortune tellers, and other unique retail outlets you can't find just anywhere, including places to buy metaphysical gifts or get an aura photo and aura readings.
If you have time, an Outback Trail Jeep Adventure is a wonderful way to get out into the landscape and see some of the sites, including ancient ruins and rock wall art.
Hikers will find fantastic hiking trails around Sedona. You can hike to a saddle of the famous Cathedral Rock or take in some of the easier but equally beautiful canyon hikes.
To experience the powers of an energy vortex, you can take a Sedona Vortex Tour, where a guide will explain what these mystical places are all about.
While most of the appeal is the incredible surroundings, other things to see and do in Sedona include visiting ancient cliff dwellings and ruins, having a look at the Chapel of the Holy Cross, stopping at Slide Rock State Park, or tackling some of the local mountain biking trails.
If you don't want to be bothered with doing any of this on your own, operators out of Phoenix offer full-day trips to Sedona that will let you do it all. The 11-hour Day Tour to Sedona Red Rock Country & Native American Ruins is a popular way to see all the top sites.
On the way to Sedona, you can stop off at Montezuma Castle National Monument, a 12th-century cliff dwelling off Interstate 17, just north of Camp Verde.
If you have time, spend a night in Sedona and allow yourself a full day to explore the numerous attractions and enjoy some fine dining or time around a pool. Enchantment Resort offers some of the best scenery in the Sedona area, a fabulous pool looking out to the red rock cliffs, great restaurants, and easy access to lovely hiking trails and a nearby energy vortex.
Accommodation: Best Spa Resorts in Sedona
3. Jerome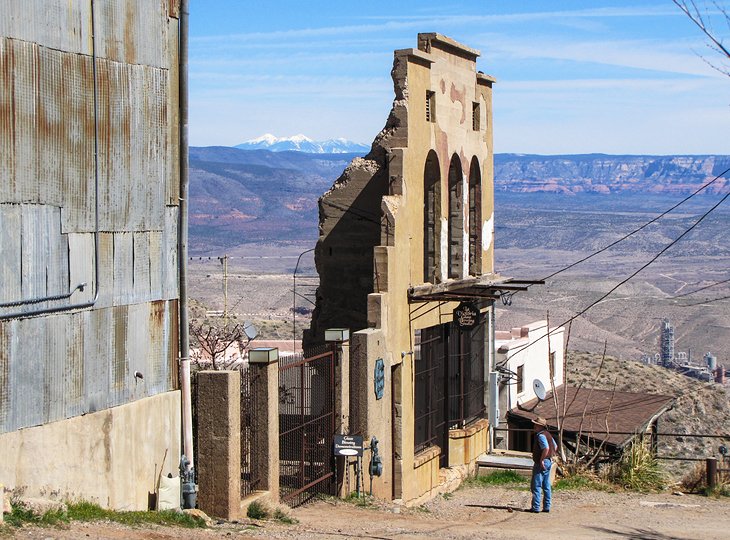 Perched on a mountainside, looking out over the valley below and distant mountains, is the former mining town of Jerome. Abandoned and left to become a ghost town, Jerome has found new life through tourism.
The twisting road that winds through the town is now a mix of rustic and restored buildings that have been turned into small shops and converted into restaurants. The town has been updated enough to make it enjoyable for tourists but still maintains some of the Old West character.
The town's mining history is on full display at the Jerome State Historic Park and the Mine Museum.
The drive to Jerome, up a paved road of switchbacks, is also part of the attraction of this day trip. Total drive time from Phoenix one-way is about two hours.
You can make a full-day outing by driving to Sedona, then up to Jerome, and over the mountain behind Jerome to the historic town of Prescott, before returning to Phoenix.
Read More: Top-Rated Small Towns in Arizona
4. Saguaro National Park, Tucson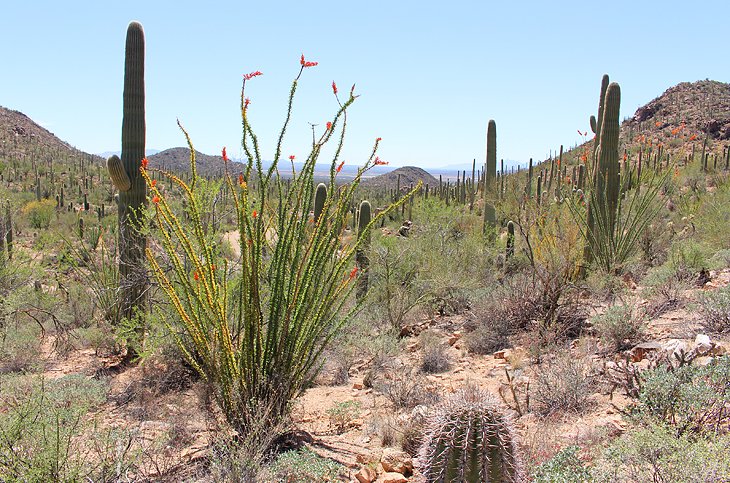 Hikers and anyone with a love of saguaros and desert scenery will enjoy a trip to Saguaro National Park, near Tucson. This is about a two-hour drive from Phoenix.
Scenic drives through the park offer beautiful views up the cactus-covered mountainsides, and hiking trails offer a chance to get out into the serenity of the desert and see some of the wildlife and vegetation up close.
On the east side of Tucson is the Rincon Mountain District of Saguaro, with a paved loop road and a couple of easy hikes. To the west of Tucson is the Tucson Mountain District of the park, also featuring lovely Sonoran Desert scenery, a more primitive dirt road loop, and short hiking trails.
Nearby is the Arizona-Sonora Desert Museum, which is also worth a stop. This peaceful and entertaining museum, set on 89 acres, is mostly outdoors and more of a zoo and botanical garden than a museum.
Accommodation: Best Resorts in Tucson
Read More:
5. Flagstaff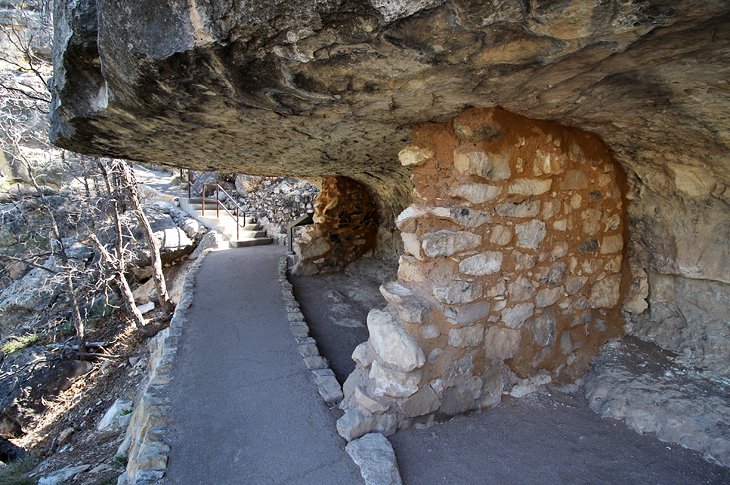 At an elevation of approximately 6,900 feet, Flagstaff has a dramatically different landscape and a completely different climate than Phoenix. Towering pine trees surround the city, giving it an almost alpine fee.
The downtown, which includes a section of historic Route 66, has a number of historic buildings, interesting restaurants, and sports stores.
Nearby, you can explore Ancient Sinagua cliff dwellings at Walnut Canyon National Monument or the volcanic landscape of Sunset Crater Volcano National Monument.
During the winter months, you can expect to find snow in Flagstaff, and often lots of it in the surrounding mountains.
Just outside of town, on the slopes of an ancient volcano, is the Arizona Snowbowl ski hill, with a top elevation of 11,500 feet. This is just one of a few good ski resorts in Arizona. After winter storms, you can find some great powder here. Hiking is popular in this area from spring until fall, when the area is free of snow.
Although you can reach Flagstaff by taking Interstate 17, a more scenic option runs through the town of Sedona and up a winding road with switchbacks, through the Scenic Oak Creek Canyon to Flagstaff. The best option is to take Interstate 17 north to Highway 179, which will take you to Sedona, then follow Highway 89A up Oak Creek Canyon to Flagstaff. Return to Phoenix on Interstate 17.
6. Montezuma Castle National Monument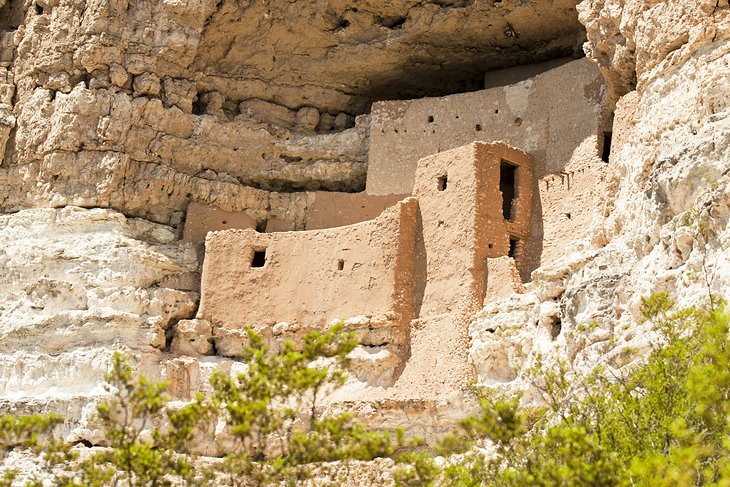 Built into a limestone cliff wall, this Native American cliff dwelling is one of the most impressive of its kind near Phoenix. Although you can't go inside the dwellings, you can view it from almost immediately below, and since it's not far up the wall, you can get quite close.
Montezuma Castle National Monument is also incredibly easy to access. The site sits right off Interstate 17, about 1.5 hours north of central Phoenix. At the monument is a visitor center and a picnic area with large trees that provide plenty of shade.
You can combine a visit to Montezuma Castle National Monument with a stop at nearby Montezuma Well National Monument, a few minutes to the south of here. This site overlooks a small lake, which is actually a sinkhole fed by an underground spring. A pleasant walking trail loops through the monument.
You can also combine a trip to Montezuma Castle National Monument with a stop in nearby Sedona.
Read More: Best National Parks and Monuments in Arizona
7. Prescott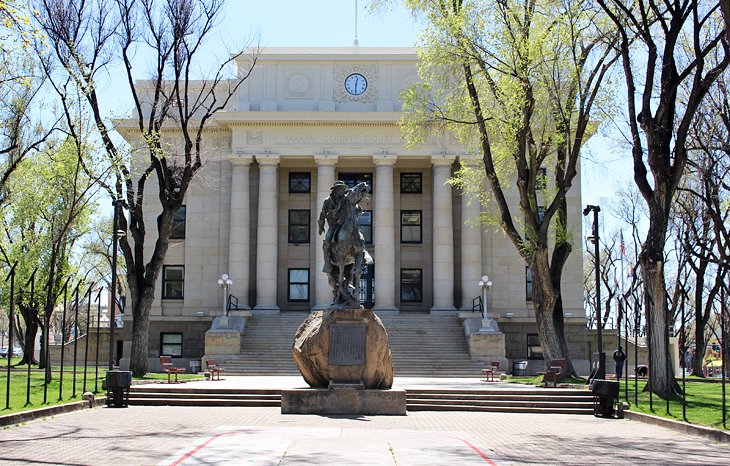 The historic city of Prescott makes a great day trip destination for people who want to see the old city center and enjoy a lunch or for those looking for a little outdoor activity. From Phoenix to Prescott is less than a two-hour drive.
The surrounding area offers unique scenery with excellent hiking trails, as well as opportunities for camping. The boulder strewn shores of Watson Lake make a pleasant area for a stroll or a bike ride. You can even go kayaking in the deep blue waters of the reservoir.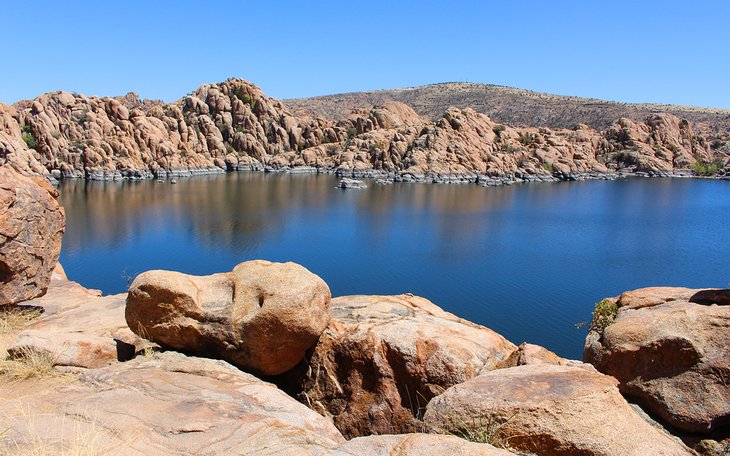 If you are out for a scenic drive and don't mind a twisty mountain road, combine a trip to Prescott with a stop in the old mining town of Jerome and make a loop back to Phoenix. From Prescott, Highway 89A leads up to Jerome. You can return to Phoenix via Cottonwood on Highway 260, which will take you back to Interstate 17.
8. Tortilla Flat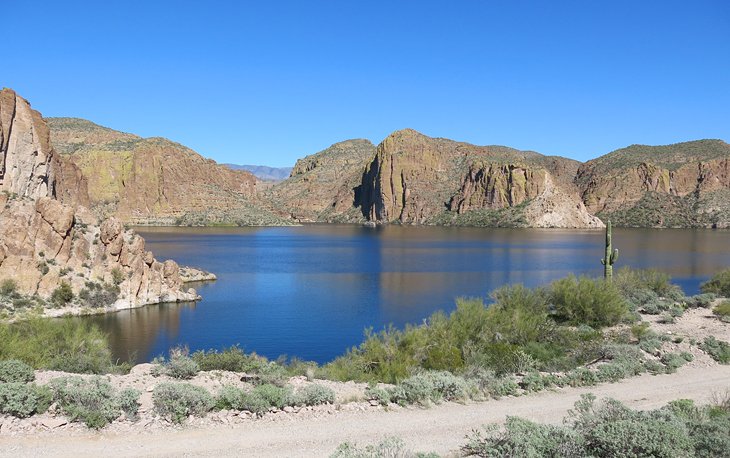 Although Tortilla Flat consists of little more than a handful of buildings and a single digit population, this destination attracts large numbers of day trippers who come up here mainly for the ride and to enjoy lunch.
About a 1.5-hour drive east from Phoenix along State Route 88, the road hugs the hillsides as it runs up into the Superstition Mountains and alongside Canyon Lake, before reaching the site.
This Old West town was a former stagecoach stop on the Historic Apache Trail. Visitors can grab a bite to eat, enjoy a gelato at the country store, pick up a souvenir, and stop by the tiny museum located in a replica of a one-room school house that once operated in the town.
9. Joshua Tree National Park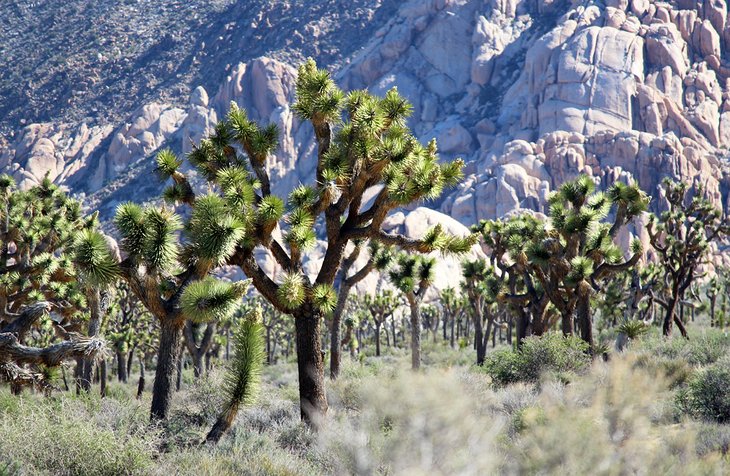 For an all-day outing to a complete change of scenery, consider a trip to Joshua Tree National Park. This is the perfect place to see these delightful trees, as well as some incredible landscapes and a few other added attractions.
From Phoenix, you can reach the south side of the park in a little over three hours, along Interstate 10. From here, it's at least an hour drive to get to the attractions on the far side of the park, but there are things to see along the way.
Plan on a few hours in the park to stop and see some of the highlights, like Skull Rock, the Cholla Cactus Garden, Keys View, Hidden Valley, and maybe even tackle some of the hiking trails.
For this day trip, be sure to get an early start and plan for a long day. Day use areas in the park are perfect places to visit for a picnic lunch. If you want to make this a loop, you can drive through to Twentynine Palms and come back along the roads outside of the park (Highway 60 to 177, and back on to Interstate 10).
The best option for spending the night, unless you want to camp in Joshua Tree National Park, is to base yourself in nearby Twentynine Palms.
10. Tombstone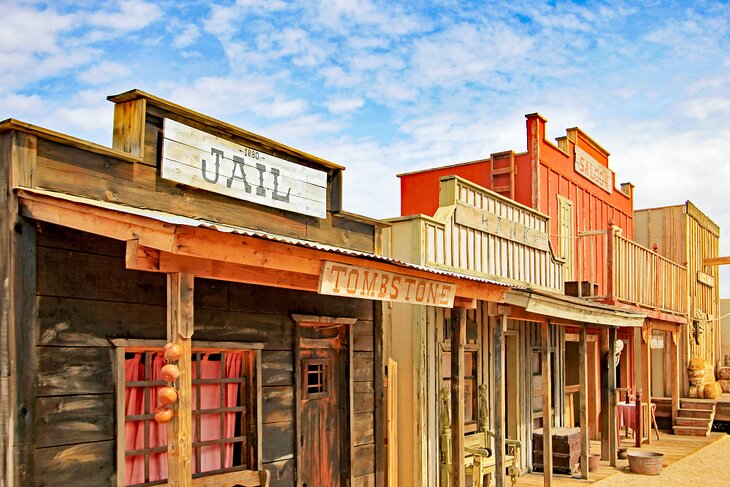 The slightly (or many people say totally) cheesy tourist town of Tombstone is well worth the three-hour drive southeast of Phoenix. A main street made of dirt, a made-up Wild West town, and the odd gunfight in the street make for good family fun.
Wander along the boardwalk and pop into the shops, restaurants, and the Bird Cage Theater, and even go underground in a gold mine. Along the way, pick up a few trinkets and souvenirs—but whatever you do, don't miss the gunfight at the OK Corral. This reenactment of the famous 1881 shootout between the Earp and Clanton Gangs is well done.
11. Payson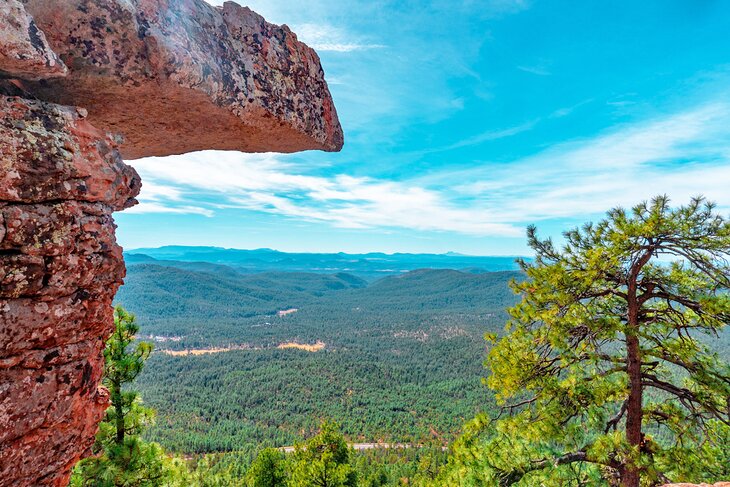 Payson, located up in the highlands of the Mogollon Rim, is a mountain town complete with tall pine trees, incredible scenery, and lots of things to do and see. Up here, you'll find cooler temperatures in the summer, fantastic camping, and good fishing. It's the perfect antidote for pancake-flat Phoenix.
The drive up to Payson is particularly scenic, as the spectacular Highway 87 winds its way higher and higher through the foothills and then onwards into Tonto National Forest. Once in town, grab a bite to eat at Macky's Grill and then, fully fortified, head out onto a nearby hiking trail to explore the forest or perhaps swing by Tonto Natural Bridge State Park and check out this incredible sight.
Read More: Best Places to See Snow in Arizona
Map of Day Trips from Phoenix