10 Best National Parks and Monuments in Arizona
Arizona is home to a spectacular assortment of parks that are all different in their own way. National parks and monuments range from spectacular canyons to rare desert ecosystems and prehistoric forest remains right through to bizarrely formed rock pinnacles and historical sites.
The national parks and monuments are spread out across the state, from the far north right down to the Mexican border. Fortunately, many of them are grouped relatively close together near major cities, so visiting more than one in a day is easy.
Or, should you prefer a bit of luxury, stay at one of Arizona's best resorts in Tucson and day trip to places like Saguaro National Park or Organ Pipe Cactus and Chiricahua National Monuments.
Plan your adventure with our list of Arizona's best national parks and monuments.
Note: Some businesses may be temporarily closed due to recent global health and safety issues.
1. Grand Canyon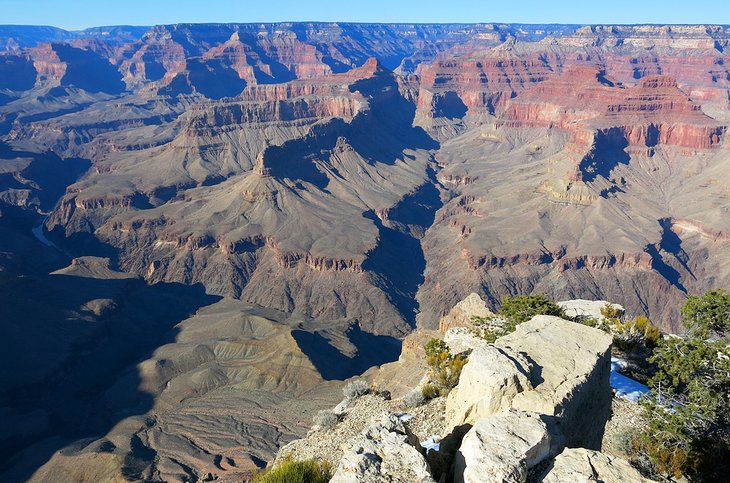 The most famous of all the national parks in Arizona, or even in the entire United States, is Grand Canyon National Park. It's here that the Colorado River slices over a mile deep into the earth, showcasing an amazing display of colorful rocks and unique rock formations.
So, it's no surprise that over six million people visit the Grand Canyon every year, primarily along the south rim. They come to walk out to the edge at Mather Point Lookout, learn about the rocks at the historical Geology Museum, and climb the unique and unusual Desert View Watchtower. Those with the energy and stamina head down the Bright Angel trail to the river's edge and set up camp for the night.
Most people come in the summer months, and it can be busy, but the park has taken steps in recent years to alleviate some of the issues. If you have the time and ability, consider visiting in the fall when it's still warm, and most of the crowds have gone.
Official site: https://www.nps.gov/grca/index.htm
2. Saguaro National Park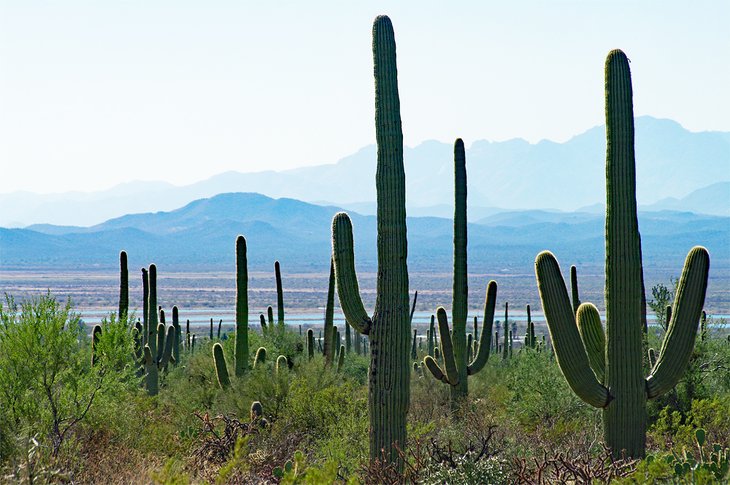 Saguaro National Park, with its towering cactuses, is one national park you don't want to miss. Spread over two park units, one to the east of Tucson and one to the west, this national park provides amazing insight into the flora and fauna of the surrounding desert.
The eastern section of the park has a wonderful, relatively short scenic drive that takes you past some of the largest cactuses, a good lookout point, and the trailheads of some short walks. If you choose to take one of the walks, keep an eye out for Gila woodpeckers, desert tortoises, and long-eared jackrabbits.
The western section is hillier, wilder, and wide-open. The scenery is just as spectacular in its own way, and it's hard to believe you are only a short distance from Tucson. Hiking here is more strenuous, but the incredible viewpoints make it well worthwhile.
Note that most of the roads in the western section are gravel and can get very dusty. If you are looking to camp, the pleasant Gilbert Ray campground is set among the cactuses and is a very pleasant spot to set up for a while.
Official site: https://www.nps.gov/sagu/index.htm
3. Canyon de Chelly National Monument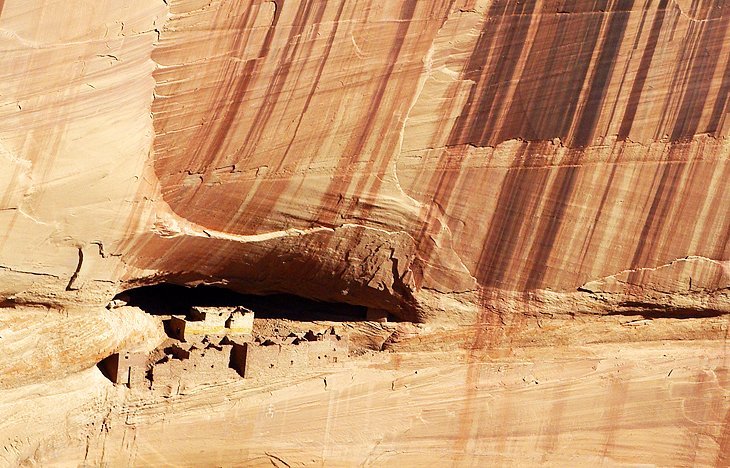 As you drive across the desolate lands north of Interstate 40 towards Canyon de Chelly, you may wonder why you are out here in the middle of nowhere. However, continue onwards because once you get there and start driving up South Rim Drive, your effort will be more than rewarded.
Canyon de Chelly is a fascinating place to visit for not only the sheer natural beauty of the canyon, created by Chinle Creek and its tributaries, but also for the ancient cliff dwellings high up in the walls. Archeologists estimate humans have been living in the area for over 4,000 years.
Highlights of a visit here include a drive along South Rim Drive with stops at White House Overlook, Spider Rock Overlook, and Junction Overlook. If you want to tour the canyon floor, you will need to book a 4WD trip with one of the local operators in Chinle.
Official site: https://www.nps.gov/cach/index.htm
4. Organ Pipe Cactus National Monument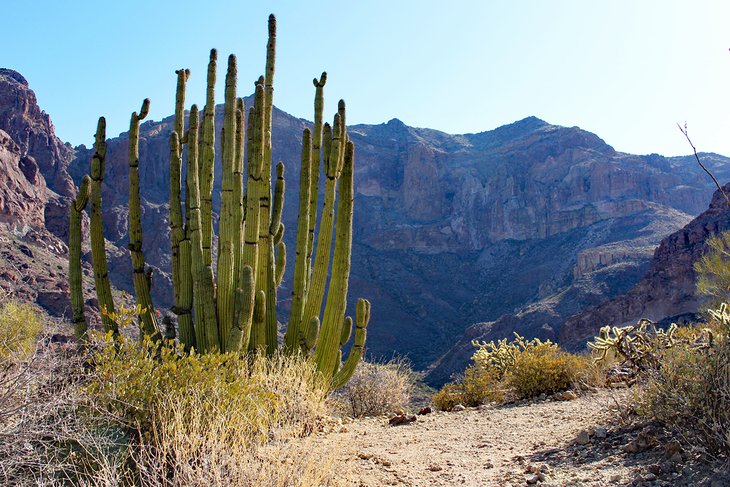 In the far southern reaches of Arizona, along the Mexican border, you'll find one of the more unique national monuments in the country. Spread out over 516 square miles, Organ Pipe Cactus National Monument is considered one of the best examples of undisturbed Sonoran Desert.
As the namesake suggests, the national monument is home to the unique Organ Pipe Cactus and is the only place in the United States they are found in any significant numbers. These fascinating (and large) cactus bloom only at night in May and June. You'll more likely see the bright red fruits that spring forth in early July.
You may think that because this large park is in the desert that it would be flat and uninteresting; however, the opposite is true. The monument has some surprisingly high mountains, with Mt. Ajo topping out at 4,800 feet in elevation.
This varied landscape makes for excellent hiking. One of the best trails for those with the stamina is the Bull Pasture hike, one of the best hikes in Arizona. This three-mile round trip ascends part of Mount Ajo and offers spectacular views out over the surrounding area. Mexico can be seen off in the distance as well.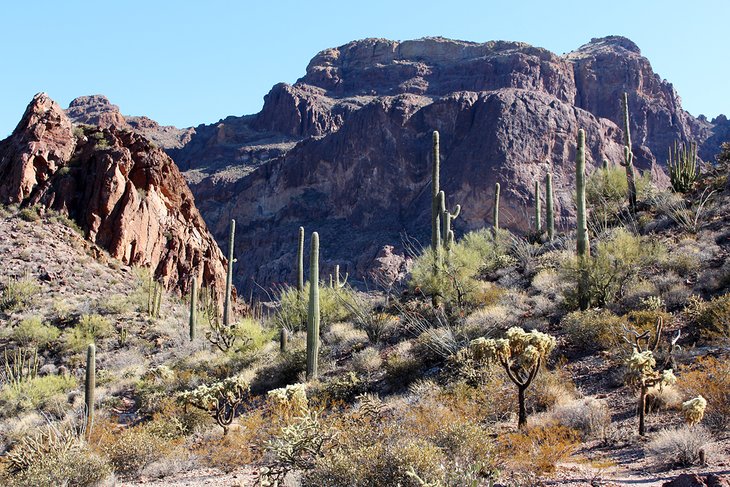 One of the great pleasures of a visit to Organ Pipe Cactus National Monument is camping in the desert. The park's Twin Peaks campground is one of the best campgrounds in Arizona. Set up your tent or RV among the cactuses, and be prepared for the show; at night the clear skies are ablaze with a billion stars.
The campground has 174 sites for RV (no hookups) and tents, and 34 for tents only. Camper comfort stations include flush toilets and solar-heated showers. Water taps are strategically placed throughout the entire campgrounds. For those looking to get farther off the beaten track, backcountry camping is also available.
Official site: https://www.nps.gov/orpi/index.htm
5. Petrified Forest National Park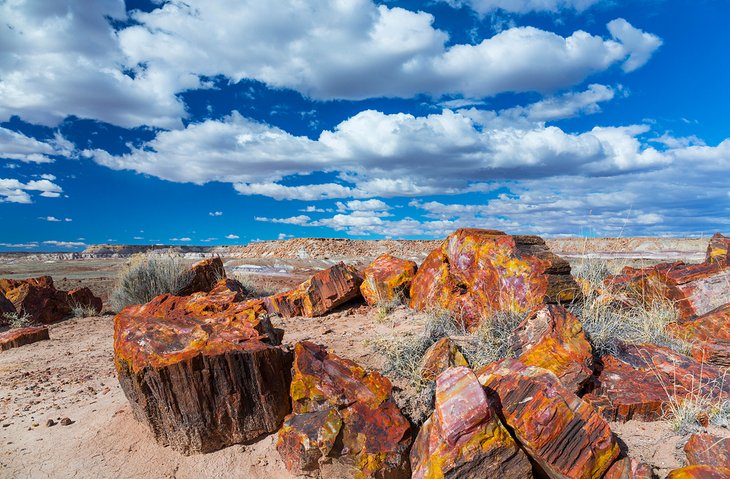 You may have seen the signs for Petrified Forest National Park as you race along Interstate 40 and thought that it sounds like an interesting place, but you haven't had the chance to stop. Well, next time you find yourself near Holbrook in the high desert, stop in and be prepared to be amazed.
Petrified Forest National Park allows you to see a glimpse of which plants and animals lived over 200 million years ago in the Triassic Period, just before the more well-known Jurassic Period. One of the easiest fossils to see in the park are the petrified trees. At one time, these trees were living things, but over the passage of time, they transformed from wood to quartz.
The park only sees about 800,000 visitors a year and is spread out across a wide area. There's a good chance that you'll have the place to yourself no matter when you arrive. A visit to Petrified Forest National Park is easily added to an east or westbound trip on Interstate 40, count on an additional hour, longer if you start exploring.
If you are traveling from the East, take exit 311, and drive down through the park, hitting all the highlights, until you emerge on Highway 180. At that point, turn right and follow the highway until it joins up with the Interstate again.
If you are coming from the west, take exit 285 for Highway 180, and follow it south for 19 miles to the park entrance. Follow the road through the park, and you'll eventually join up with Interstate 40, where you can continue eastward.
Official site: https://www.nps.gov/pefo/index.htm
6. Sunset Crater National Monument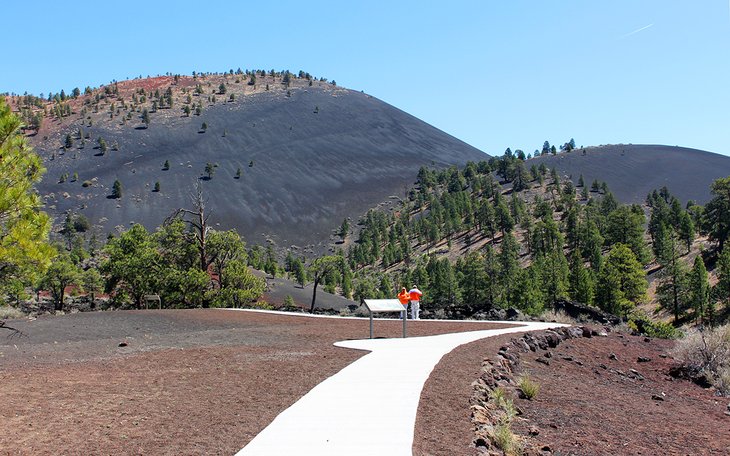 Just a short distance from Flagstaff is a wonderful world of volcanoes, lava tubes, and cinder cones. The area, known as Sunset Crater National Monument, showcases how at one time the surrounding area, known as the San Francisco Volcanic Field, was home to over 600 volcanoes.
As you look back towards Flagstaff, the giant mountain towering 12,637 feet over Flagstaff is actually a dormant volcano known as Mount Humphreys.
Sunset Crater National Monument is a great family destination with lots of natural phenomenon to explore. One of the best ways to see the park is to take the one-mile Lava Flow Trail through an ancient lava field. Don't forget to bring your dog for your hike; pets are more than welcome on the paved portion of the trail.
Official site: https://www.nps.gov/sucr/index.htm
7. Wupatki National Monument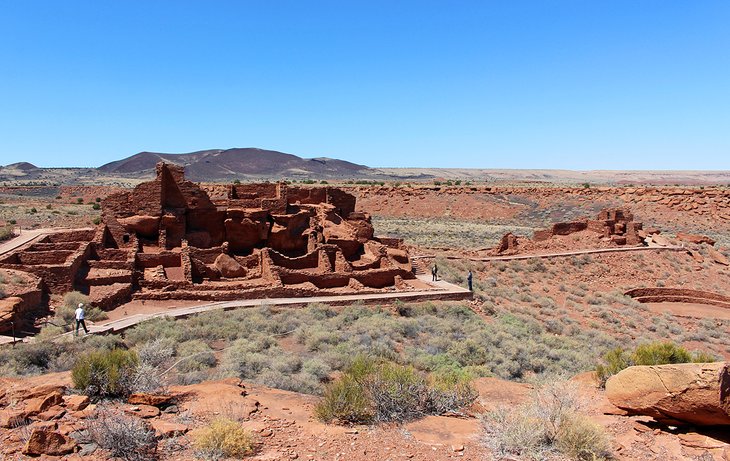 A short distance farther along Highway 395 to the south of Sunset Crater National Monument is the culturally significant Wupatki National Monument. Home to several dozen ancient and now partially restored, Puebloan villages, the monument is a fascinating place.
This is a hostile land of hot days, cold nights, and long winters. As you tour through the pueblos, it's hard to think how the ancient people who lived here were able to survive.
The main attraction in the monument is the Wupatki Pueblo. Researchers have estimated that it is over 900 years old and once had over 100 rooms. Today it's easily reached by a half-mile round-trip walk on a paved pathway. The views out over the Painted Desert from the trail are spectacular.
Admission to Sunset Crater National Monument includes admission to Wupatki.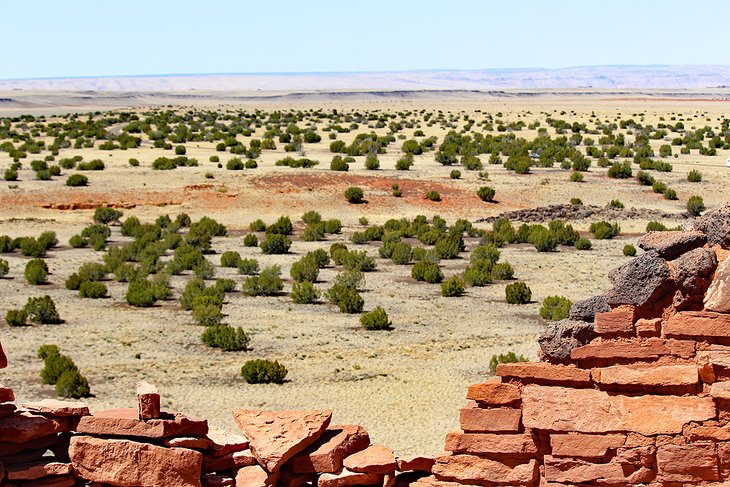 Another pueblo worth checking out is the easily accessible Wukoki Pueblo. Also around 900 years old, this smaller settlement is especially worth visiting for its amazing views of the nearby San Francisco peaks. The trail to and from Wukoki is an easy 0.2-mile round trip.
Official site: https://www.nps.gov/wupa/index.htm
8. Walnut Canyon National Monument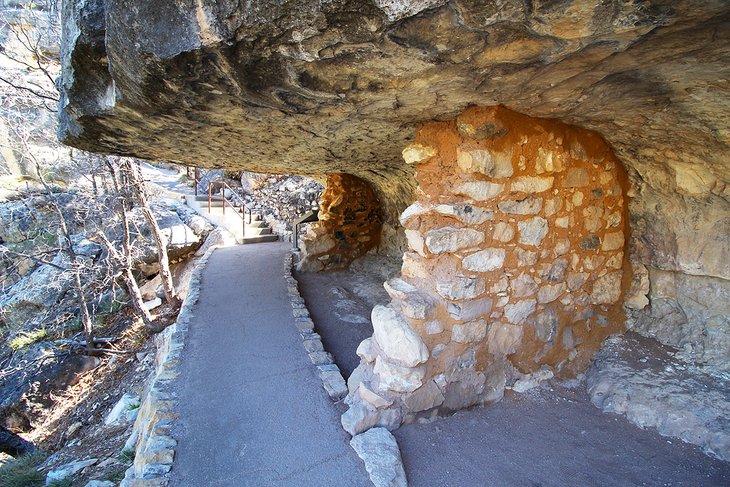 Walnut Canyon National Monument is an often overlooked national monument near Flagstaff. Geared more towards those with a bit of a taste for adventure, the national monument is home to two fantastic hikes showcasing ancient dwellings.
Swing by the visitor center before deciding on which hike you'll choose to conquer. For those in reasonable physical condition who can handle 736 stairs, the Island Trail is the best option. This one-mile trip descends 185 feet into the canyon and winds its way past 25 ancient dwellings estimated to be at least 700 years old. In addition to the dwellings, the path also offers good views across the canyon floor to additional dwellings.
For those less inclined to that level of activity, the Rim Trail is a good option. This 0.7-mile round-trip trail is mostly level and provides nice views out over the canyon to ancient dwellings on the far side. The trail also passes by a partially rebuilt pueblo and pit house.
Official site: https://www.nps.gov/waca/index.htm
9. Montezuma Castle National Monument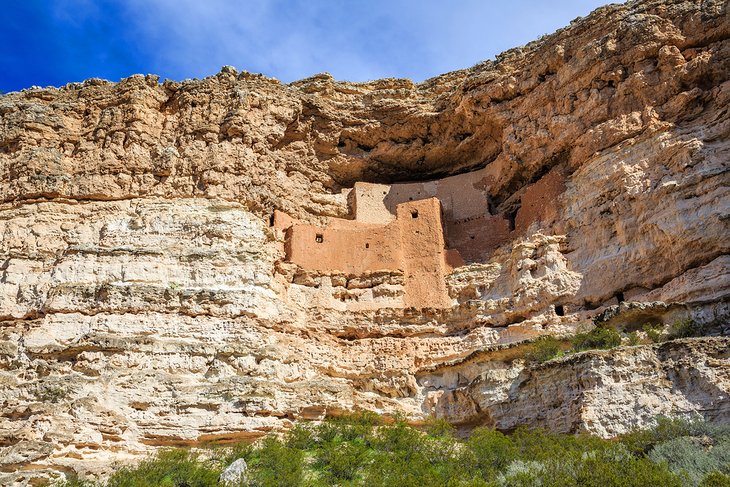 Montezuma Castle National Monument is located near the small city of Camp Verde, not far from the tourist hot spot of Sedona. It's here that you'll find the well-preserved remains of an ancient settlement over 900 years old. Tucked strategically under a massive rock overhang, the cliff dwellings occupy a strategic spot, allowing the former residents to avoid floodwaters, keep an eye on approaching visitors, and escape the harsh desert weather.
Montezuma Castle is reached by a paved third-of-a-mile trail. The route passes under large trees and provides ample shade from the relentless Arizona sun. Along the way are informative exhibits providing background on the region and its inhabitants. The trail passes beneath the cliff dwellings and then loops back to the visitor center. Note that you are not allowed to climb up to the cliff dwellings.
Not to be missed at the Montezuma National Monument is Montezuma's Well. This rare upwelling of water in the middle of the parched desert is a unique geological feature. Drive to the trailhead and take the short hike across to the lookout, and peer down into the deep waters below. It's hard to comprehend that Montezuma's Well contains over 15 million gallons of water. Continue along the trail to find an ancient canal system, still functioning, along with a pleasant area with large shade trees and benches.
Official site: https://www.nps.gov/moca/index.htm
10. Chiricahua National Monument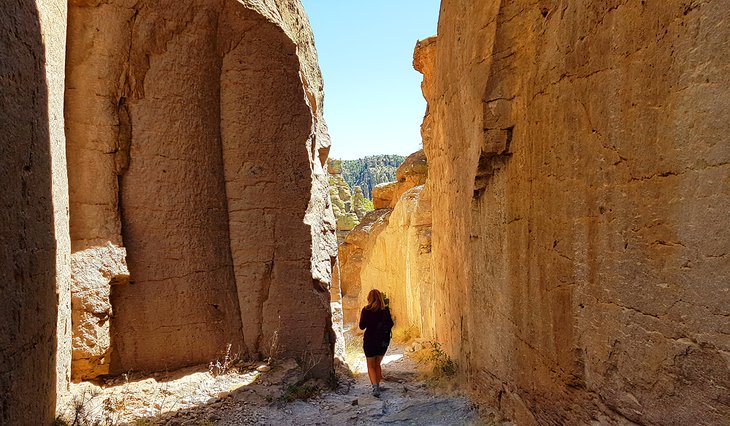 Located in the southeast corner of Arizona, the Chiricahua National Monument is home to a forest of bizarre rock formations. Known colloquially as the "Wonderland of Rocks," the park is spread out over 12,025 acres of wilderness.
One of the highlights of a visit here is the Echo Canyon Loop hiking trail. This 3.3-mile trail takes about two hours to complete and takes you to the heart of the rock formations and past notable sights, including Wallstreet, the Grottoes, and Echo Park. Be sure to walk the loop counterclockwise to avoid a particularly steep section in Echo Canyon.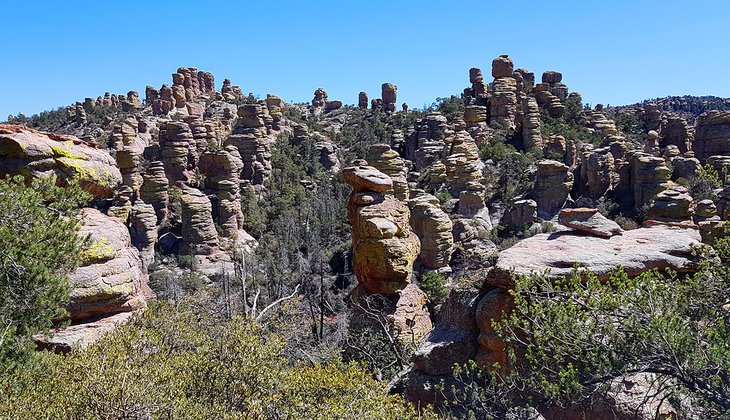 For those less inclined to strenuous activity, shorter trails are available, or you may choose to just do the Bonita Canyon Drive to the lookout atop the 6,870 foot-high Massai Plateau. If you'd like to spend a bit more time here, Chiricahua National Monument has a delightful campground with 25 sites, plus one group site, set among towering oak and pine trees.
Official site: https://www.nps.gov/chir/index.htm