14 Best Family Vacations on a Budget
We may earn a commission from affiliate links ()
Inexpensive family vacations can seem hard to come by, but it's not impossible to find cheap places to go with your family. Often the best time to get good deals on hotels and flights is in the off-season, but this list includes several summer vacation ideas that can be accomplished on a budget.
Many of the best cheap family vacations are in destinations that offer free or low-price admission to the top family attractions and have plenty of kid-friendly outdoor activities. Discover the cheapest places to visit with the kids with our list of the best family vacations on a budget.
1. Yosemite National Park, California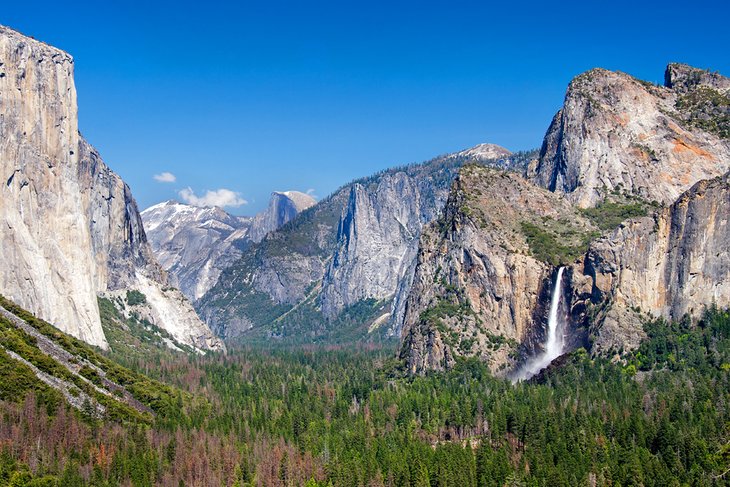 Camping can be an excellent way for families to stick to a budget while getting quality time together, and this is a great option for those who want plenty of time to explore Yosemite National Park. It is best known for its stunning cliffs and rock formations that are among the world's most popular rock-climbing spots.
Yosemite's 1,169 square miles offer an incredible amount of things to see and do, but the Yosemite Valley area is home to the park's most popular attractions including Yosemite Falls, Half Dome, El Capitan, and Tunnel View, among many other sites. Several spots and vistas can be enjoyed from near the road, but hiking provides many opportunities to get unparalleled views.
Visitors who want to camp within the park have 13 campgrounds to chose from, all of which must be reserved ahead of time through the National Park Service. There are a variety of sites available, including group sites, RV sites, and tent-only areas. Those camping or staying in a hotel outside the park will also need to make a reservation to enter the park with their own vehicle.
2. Tampa, Florida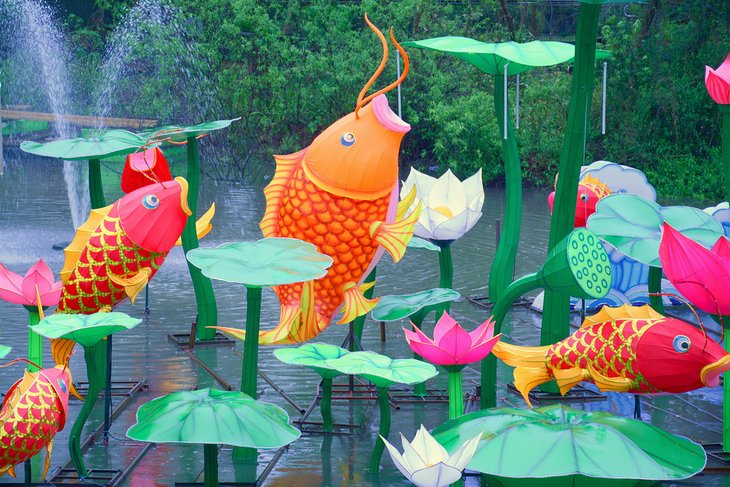 Tampa is an affordable Florida vacation alternative to Orlando, with plenty of excellent family attractions and amusement parks at a range of prices to fit every budget. The best-known park in Tampa is Busch Gardens, and although its admission prices are comparable to Disney and Universal, families get a lot for their money with an amusement park and zoo all in one. Families can save even more with package deals.
An excellent Tampa attraction that has incredibly low admission is the Museum of Science and Industry (MOSI), an expansive hands-on science museum that makes topics like math and physics fun, and exposes kids to the newest technology. The museum is also home to an IMAX theater, a rope adventure course, and other activities.
3. Destin, Florida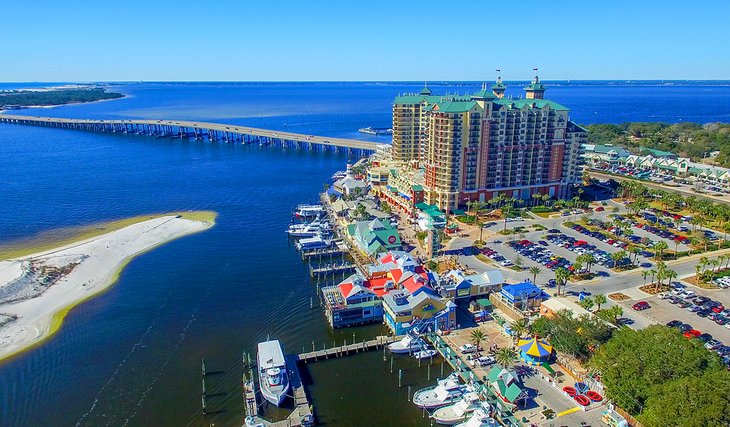 Destin offers families all the perks of a Florida beach vacation with a much more reasonable price tag than Florida's big-name beach towns. There are several excellent beaches to choose from, and Henderson Beach State Park offers campsites that will save money and provide an unforgettable vacation.
When the kids want a break from the water, check out Harborwalk Village, Destin's main boardwalk area. In addition to plenty of restaurants and souvenir stands, visitors have a great selection of diversions to choose from, including classic carnival games, mini golf, ziplining, fireworks, and entertainment.
4. Grand Canyon National Park, Arizona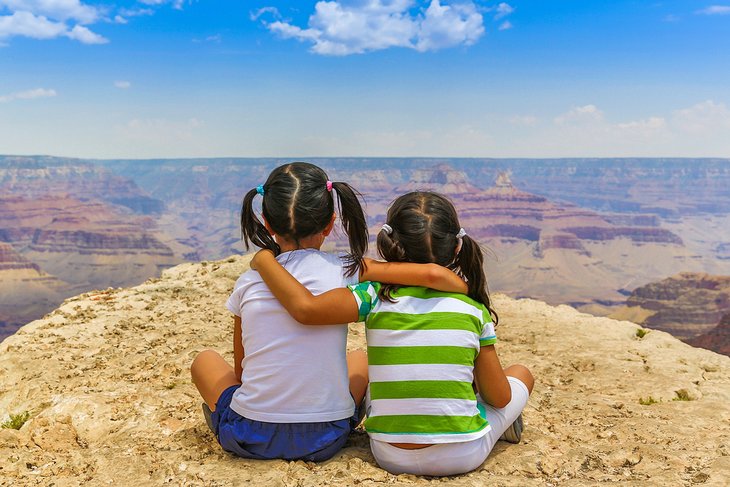 Grand Canyon National Park is an unforgettable attraction that doesn't have to cost much. The best time to visit the Grand Canyon on a budget is during the milder spring and fall seasons, which are also far less crowded than the summer months.
Most visitors head to the South Rim, the most easily accessible side of the canyon. The south entrance is home to the main visitor center, as well as the popular Mather Point Overlook, which is just a short hike from here. This is also the starting point of the South Rim Trail, one of the best hiking trails at the Grand Canyon.
Accommodation: Best Hotels at the Grand Canyon
5. Prague, Czech Republic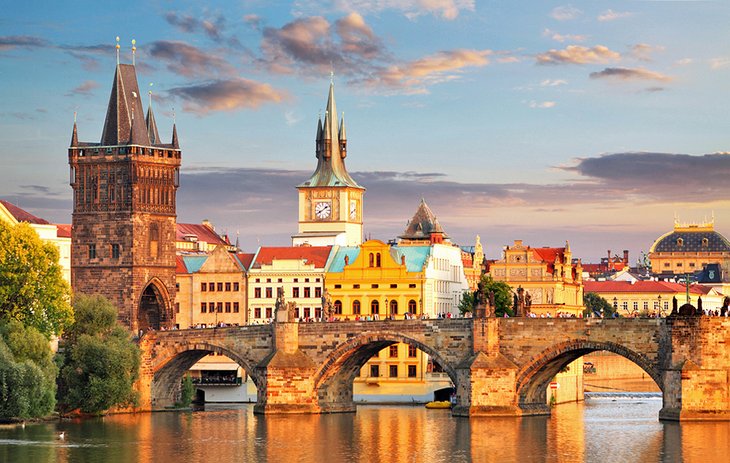 The fairy-tale city of Prague is an ideal place for those who want to have a family vacation in Europe on a budget. It is a walking-friendly city that offers a good variety of affordable hotel options, and most of the city's top attractions can be appreciated at little or no cost. With a historically advantageous exchange rate, even a large family can enjoy everything this historic city has to offer while saving money.
Tours of Prague Castle, the city's top tourist attraction, are available for a low entrance fee, with kids up to age six free, and family packages that include up to five kids for the price of two adults. The gardens and park surrounding the castle are entirely free, and are home to the famous Singing Fountain and other landmarks.
Admission to the Prague Zoo is also nominal, despite the fact that it is one of the best zoos in the world, home to more than 650 species. Visitors can get a bird's-eye view of the habitats from a unique chairlift that traverses the 140-acre park.
6. Yellowstone National Park, Wyoming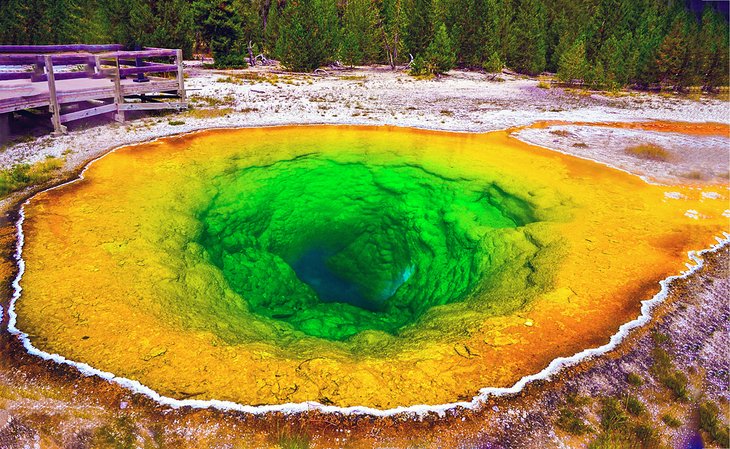 Yellowstone is a classic family vacation spot that offers dramatic natural attractions that kids of all ages will be fascinated with. Unlike many other parks, most of the top Yellowstone attractions can be accessed via car with only a short walk, so those who aren't fans of hiking can still enjoy the sights.
Many of the most popular spots including Old Faithful and the Canyon Village area are wheelchair accessible, and there are extensive boardwalks throughout the park.
The most budget-friendly way to enjoy the park is by driving the Grand Loop, which links all of the major tourist attractions. Families should plan on at least two days to explore the entire loop, but if visiting during the summer in peak tourist season, it's best to allow more time since traffic can move slowly. Those who want to focus on the scenery and not the driving can also find many tour options.
Official site: http://www.nps.gov/yell/index.htm
Read More:
7. Williamsburg, Virginia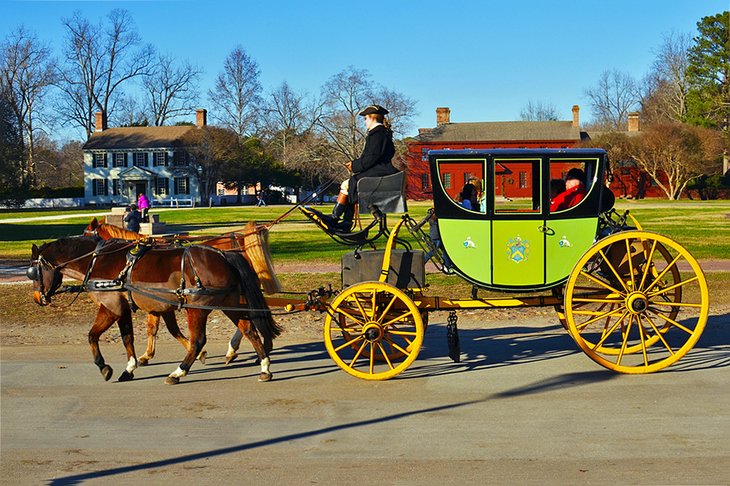 Any family vacation to Williamsburg needs to begin at Colonial Williamsburg, one of the world's best living history museums. Even the most reluctant of kids will find themselves having fun and even learning while exploring the 100-plus 18th-century homes and shops and interacting with expert costumed interpreters.
The Historic Jamestowne Visitor Center is a lesser-known but incredibly interesting active archaeological site that explores the lives of native Americans and early European settlers.
Families visiting during the summer will want to spend a day or two at Water Country USA, and families who also want to visit Busch Gardens Williamsburg can save money by getting combination tickets. To get the most for your money, use the park's mobile app to plan ahead. Families can also find great off-season and package deals that include lodgings at one of the many nearby family resorts.
Accommodation: Top-Rated Resorts in Williamsburg, VA
8. Niagara Falls, Canada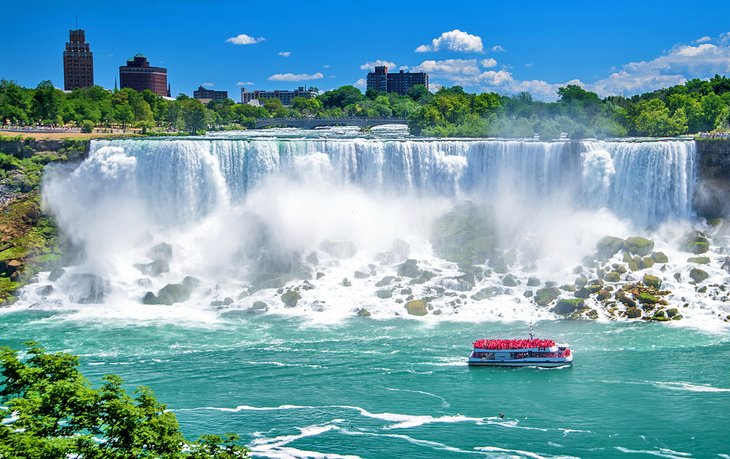 The Canadian side of the famous Niagara Falls is the best place for families to stay, offering the best views over the stunning waterfalls and a variety of things to do. This is the best vantage point to admire Horseshoe Falls, the largest and best-known of the three. It is a particularly lovely sight at night when the falls are lit in color, and it's entirely free to take in the view, as it is to explore many of the trails and walkways.
Visitors who want to get closer can access the observation deck behind the falls, and packages are available for more daring tourists who want to try the zipline past Horseshoe Falls and American Falls.
A slightly less intimidating option is the Whirlpool Aero Car, a vintage cable car that spans the Niagara River over the Whirlpool Rapids. Those who don't mind getting damp (despite the ponchos) can take a cruise to see the base of all three falls up close.
Another great family attraction in Niagara Falls is MarineLand, a summer amusement park that is also home to dolphins and whales.
9. Washington, D.C.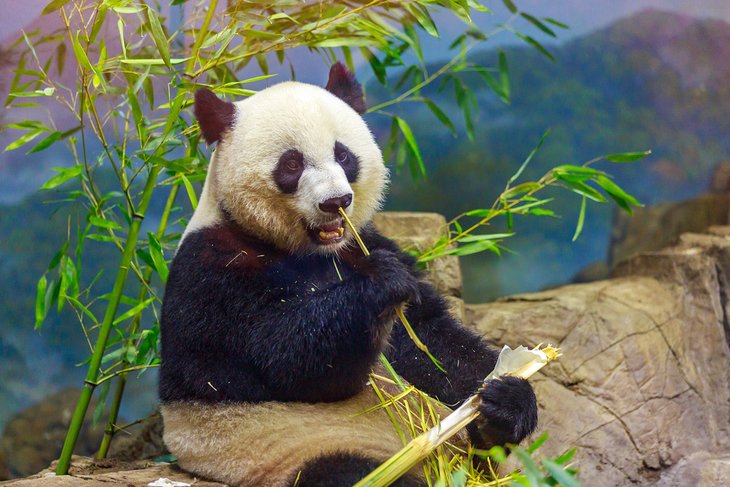 Washington, D.C. is the top pick for a great budget family vacation thanks to the Smithsonian Institution, which operates some of the world's best museums and doesn't charge a penny for admission. Tourists could easily spend at least a full day in each, and almost all Smithsonian sites are conveniently located on or near the National Mall, home of the Lincoln Memorial, the Reflecting Pool, and the Washington Monument, within easy walking distance of each other. It's also possible to hit the highlights of several museums in one day if you are short on time.
The typical family-favorite among the museums is the National Air and Space Museum, home to everything from the Wright Brothers Flyer to actual spacecraft, as well as interactive exhibits including flight simulators.
The National Zoological Park is another top Smithsonian-operated free family attraction, home to giant pandas, red pandas, elephants, cheetahs, and many more residents from all over the world.
The National Museum of Natural History and the National Museum of American History are also excellent attractions that engage both kids and adults.
With all of these free family attractions, families can afford a modest splurge to visit the International Spy Museum, dedicated to the role of espionage over the past three centuries. Exhibits include real-life spy gadgets used by American and foreign counter-intelligence agencies like the KGB, and even artifacts used by spies during the Revolutionary and Civil Wars. James Bond fans will be especially fascinated with the section devoted entirely to the international man of mystery, with plenty of real set props and stories of the real-life situations that inspired the adventures.
Accommodation: Where to Stay in Washington, D.C.: Best Areas & Hotels
Read More: Top-Rated Tourist Attractions in Washington, D.C.
10. Denver, Colorado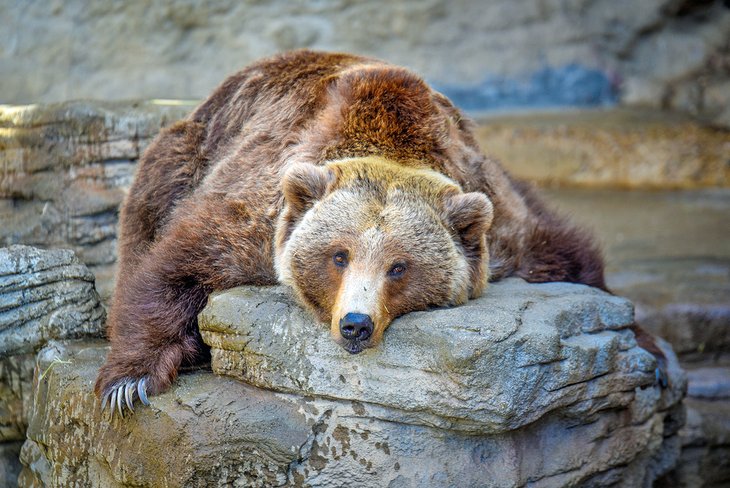 Denver is home to several excellent low-cost attractions and activities that will help your family save money. City Park is a great place to visit to find free and low-cost things to do. It's home to a lake with swimming and other water sports, playgrounds, and free summer concerts.
Adjacent to the park are the Denver Zoo and the Denver Museum of Nature and Science, two excellent family attractions that will keep the kids (and adults) happy all day long.
Denver Firefighter's Museum is a reasonably-priced attraction that fascinates visitors of all ages, located within walking distance of the Colorado State Capitol Building.
A top choice for younger kids is the Children's Museum of Denver, located on the Marisco Campus. Another fascinating attraction that is reasonably priced is the Wings Over the Rockies Air & Space Museum, home to a variety of private and military aircraft, as well as interactive exhibits like a flight simulator.
Accommodation: Where to Stay in Denver: Best Areas & Hotels
11. Columbus, Ohio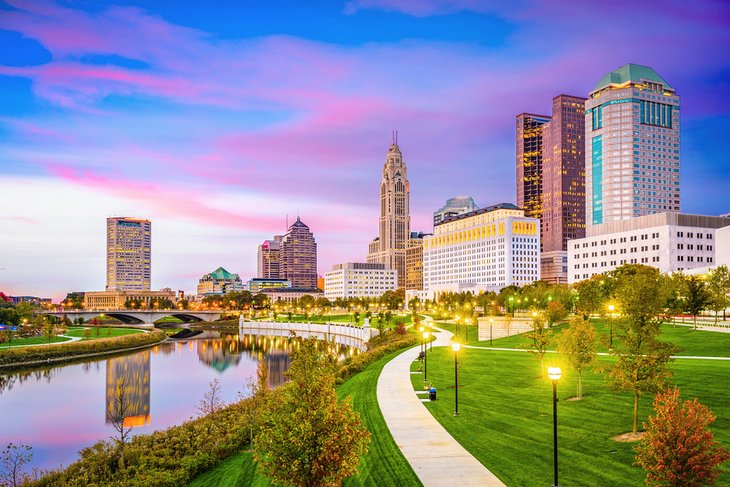 One of the things that makes Columbus an excellent budget option is its inexpensive lodgings, a savings that allows families to visit more attractions and experience everything the city has to offer.
One of the city's most popular family attractions is the Columbus Zoo and Aquarium, home to 10,000 animals from every continent and the oceans in between. Nature-lovers will also enjoy the Franklin Park Conservatory, an indoor attraction that features examples of various biomes found around the world.
Another popular attraction for families is the Center of Science and Industry (COSI), full of interactive science exhibits and home to a planetarium. Legoland Discover Center is popular with all ages, with huge indoor building areas and a 4-D theater.
An excellent summer attraction in Columbus is the Zoombezi Bay water park, with dedicated baby and toddler areas for its smallest visitors, as well as waterslides and, of course, a lazy river.
Accommodation: Best Budget Hotels & Motels in Columbus, Ohio
12. Myrtle Beach, South Carolina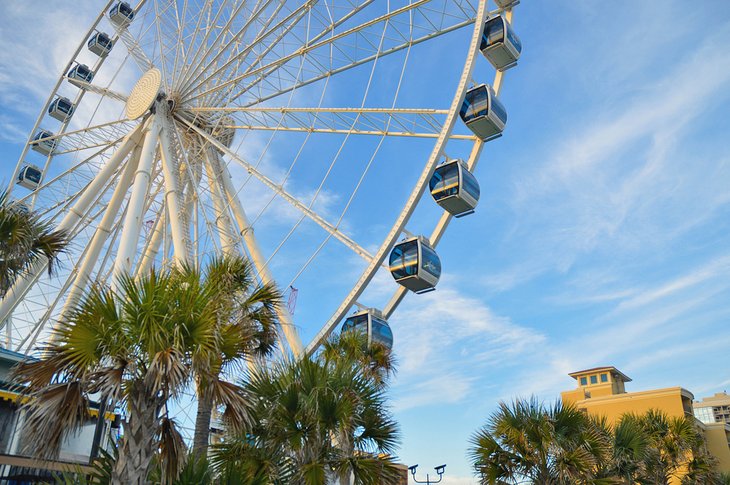 Depending on your family's interests, a family vacation to Myrtle Beach can be as cheap or as expensive as you want. For those who simply want to enjoy the sun, sand, and water, it's worth paying just a little more to secure a beachfront hotel where you will have access to everything you need in one spot.
The southern end of the beach is more popular with families, and although it is a bit removed from the bustle of the Boardwalk, it is a great choice for those who don't want to be tempted by souvenir shops and arcades.
The Boardwalk can offer quite a bit of free entertainment, however, especially if you are visiting during one of the numerous festivals, and a ride on the Skywheel is a must for any visitor.
Off-beach family attractions are centered around Broadway at the Beach, an area that includes Ripley's Aquarium and WonderWorks, as well as many restaurants and activities like mini-golf.
Accommodation: Top-Rated Resorts in Myrtle Beach for Families
13. Lisbon, Portugal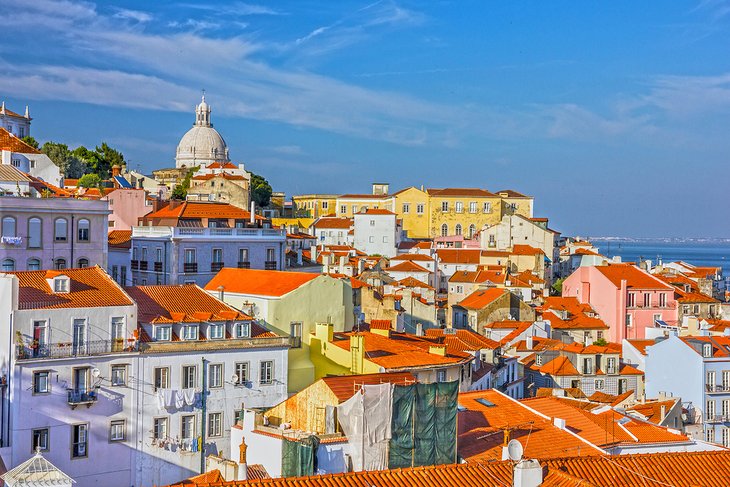 Lisbon's good selection of budget family hotels and inexpensive attractions makes it an ideal place to visit for an extra-special family vacation that doesn't break the bank. Along with the numerous historic and architectural attractions in Portugal's capital city, there are plenty of attractions that will keep kids interested and excited.
One of the top family attractions is the Oceanário de Lisboa (Lisbon Oceanarium), one of the world's largest aquariums. It is home to an astounding variety of marine life from the Antarctic, Atlantic, Indian, and Pacific oceans.
Another attraction popular with kids is the Santa Justa Lift, an elevator that feels more like a time capsule with its century-old wood panels and polished brass instruments. It provides beautiful views of the Baixa neighborhood (downtown) and is a great way to get to the trendy Barrio Alto neighborhood.
Accommodation: Where to Stay in Lisbon: Best Areas & Hotels
Read More: Top-Rated Tourist Attractions in Lisbon
14. Ocean City, Maryland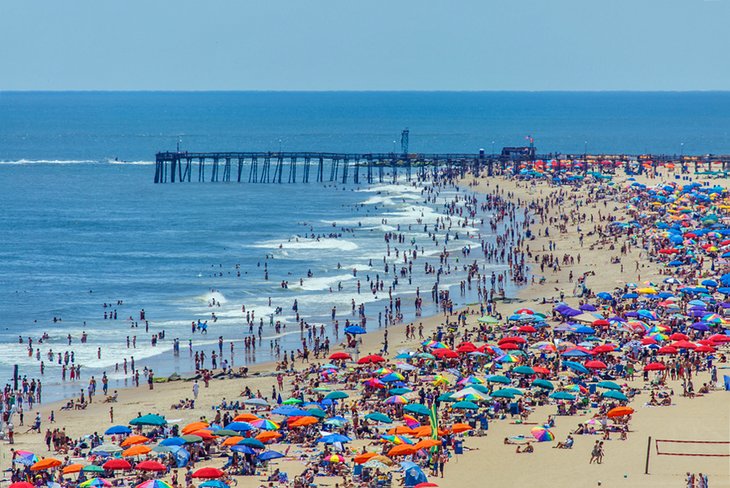 Ocean City is one of the smaller seaside beach towns on the East coast, which makes it an excellent option for summer vacation on a budget, as well as families with younger children. Adults will appreciate the nostalgic feel of its three-mile wooden Boardwalk, complete with a vintage 1902 carousel, a lazy Ferris wheel, and even a roller coaster right on the beach.
The 10 miles of public beaches are free to visit, and a low-cost tram will carry tired little ones after a long day of play.
Accommodation: Where to Stay in Ocean City