12 Top-Rated Hiking Trails in Phoenix, AZ
Author Lana Law has spent numerous winters in Arizona and hiked many of trails around Phoenix and throughout the state.
You don't even need to leave the city limits to enjoy beautiful hikes around Phoenix. Looking out over the city from some of the high ridges, you can see the entire metropolitan area, including many of the well-known rock formations, like those in Papago Park, as well as Camelback Mountain and Pinnacle Peak.
The high points are definitely some of the most popular hiking destinations, but you can also find easy trails that meander through the beautiful landscape of the Sonoran Desert. Walking among the saguaros or blooming wildflowers brings its own type of serenity and awe.
Whether you are looking for an easy walking trail or a heart-pumping hike up a mountain, you'll find it here on our list of the best hikes in Phoenix, AZ.
1. Tom's Thumb Trail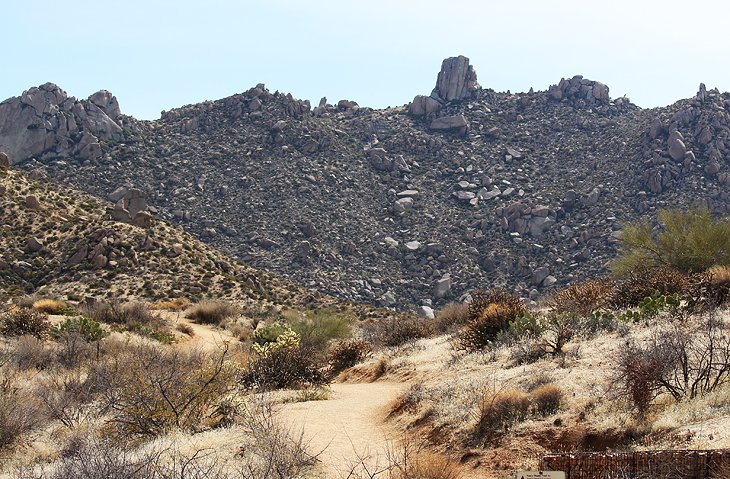 From the trailhead and surrounding area, this hike looks intimidating. Tom's Thumb can be seen projecting from the ridge far above, and the rubbly hillside of the mountain looks harsh.
Once you start traversing the switchbacks and reach a point high enough to see off into the distance, it's easy to be distracted by the views rather than your exertion level. And the reward is worth the effort for the incredible vista from the top and a close-up look at Tom's Thumb. You'll also find small caves to explore up here.
Done as an out-and-back hike, this trail is 4.2 miles in total, with an elevation of approximately 1,000 feet. If you want to seriously challenge yourself, you can combine this with the East End Loop for a more than 11-mile hike, and at least twice the overall elevation gain.
Be sure to set out early in the day before the heat sets in. At the trailhead is a completely overbuilt facility, with restrooms, a large covered outdoor area, and information.
Accommodation: Top-Rated Resorts in the Phoenix Area
Read More: Best Hiking Trails in Arizona
2. Pinnacle Peak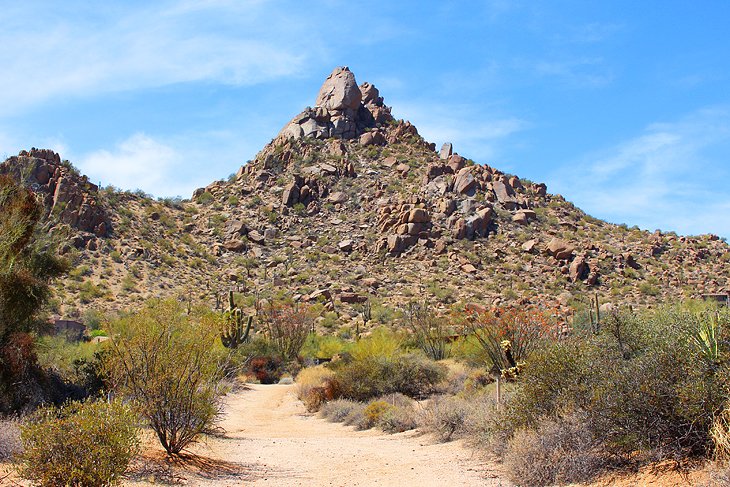 This hike at Pinnacle Peak Park is one of the most popular and busy hikes in Scottsdale, known for its spectacular setting and relative ease.
A gradual ascent up a boulder-covered peak dotted with Sonoran Desert flora, identified by small signposts, leads to a spectacular view out over the surrounding area. You can look out to Tom's Thumb and over the Troon North Golf Club and the Four Seasons Resort directly below. The green fairways are a stark contrast to the brown desert.
This is a 3.5-mile, out-and-back hike with an elevation gain of 1,300 feet. All manner of hikers frequent this trail, from fully outfitted trail runners to those just out for a slow walk in their flip flops, and even those stopping to do yoga poses along the way. Depending on the time of year, you may also see some rock climbers making their way to the top.
Shade is essentially non-existent on this hike, so it's best to start early in the day to avoid the heat and the crowds. The parking lot has room for only 90 cars, but street parking is available.
At the base is a fully staffed visitor center complete with washrooms and information.
If you are staying at the Four Seasons Troon North Resort, you can access Pinnacle Peak from a trail at the resort, or even join a group at the resort for a morning Zen hike.
Accommodation: Top-Rated Resorts in Scottsdale
Read More: Top-Rated Things to Do in Scottsdale
3. Papago Park Trails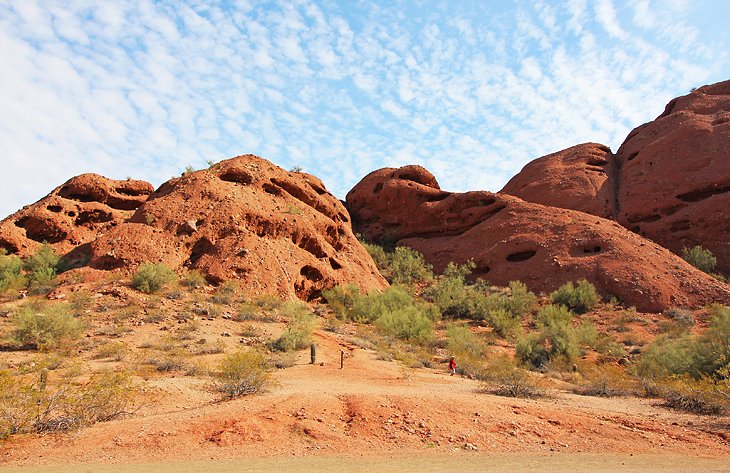 Papago Park Trails, located right in the city, offers a convenient and interesting place for hiking and exploration.
The Eliot Ramada and Double Butte Loop Trail is a 2.3-mile hike that leads around the base of some of the signature sandstone buttes that make this park so scenic and unique.
Using this trail as your base, you can opt for shorter or longer hikes. You don't need to do the entire loop, you can easily walk in as far as Papago Buttes and return without circumnavigating the butte.
All along the trail are opportunities to take short side spurs up into the rocks for closer looks at small caves and holes in the buttes, or to reach saddles for views on the back side.
This is a particularly fun area for families, with opportunities for kids or teens to climb up boulders and explore on their own. At the base of Papago Buttes is a large ramada with picnic tables, offering a welcome break from the sun.
Other popular walking trails in Papago Park are the half-mile Nature Trail and the 0.2-mile Hole-in-the-Rock Trail.
4. Lost Dog Wash Trailhead Trails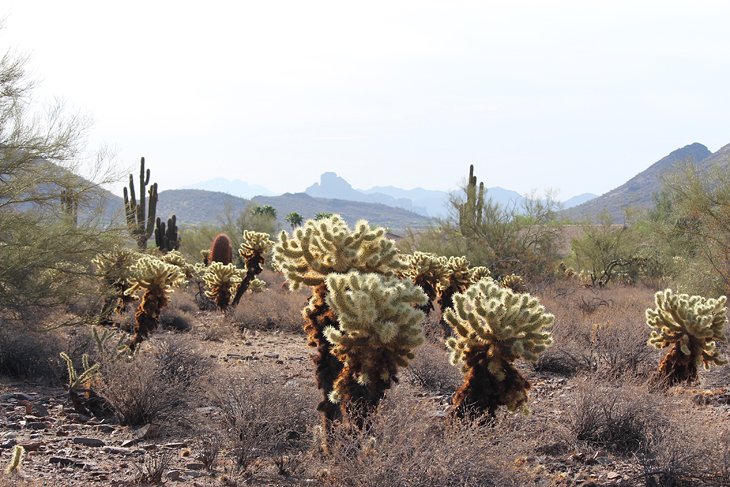 The Lost Dog Wash Trailhead, part of the McDowell Sonoran Conservancy, offers a number of relatively easy but scenic trails that can be combined to make loops of varying lengths.
The landscape of each of the trails is arguably similar, although some of the hikes farther up the hillside offer different views.
The main attractions on these hikes are the solitude and desert scenery. The desert here is lush by Phoenix standards, with saguaros, chollas, ocotillos, and various other plants of the Sonoran Desert. You can also expect to see all kinds of birds, and possibly some animals.
For a short hike, try linking Lost Dog Trail, Sunrise Trail, Anasazi Trail, and back to Lost Dog Trail. This is a nice 2.4-mile, clockwise, loop trail with only 250 feet of elevation gain.
A lovely longer hike is the Sunrise Trail East, which is four miles in length and has 1,150 feet of elevation.
And for a longer hike without much elevation, the Taliesin Overlook Trail is a four-mile hike up 350 feet to a low ridge overlooking Frank Lloyd Wright's Taliesin West.
All these hiking trails leave from the Lost Dog Wash Trailhead.
5. Flatiron Summit via Siphon Draw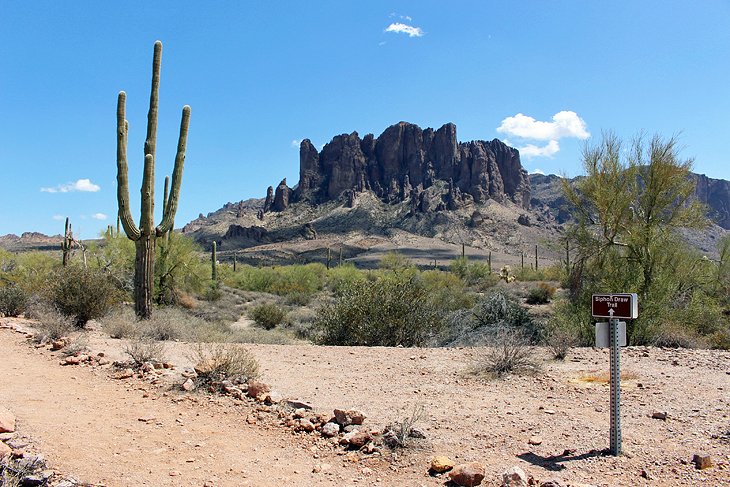 The Flatiron Summit via Siphon Draw is for experienced hikers in good physical shape, and those with a taste for adventure.
This is a strenuous, five- to six-hour hike. You may be lulled into thinking this is an easy trail at the start but later on, the hike is quite steep and some scrambling is required near the top.
If you consider doing this hike, bear in mind it is a 6.2-mile round-trip journey, with an elevation gain of close to 3,000 feet, and much of it is in full sun. At the top, you'll find stunning 360-degree views and a deeply satisfying sense of accomplishment.
Trail finding can be tricky at times, so take your time to make sure you are on the right path. The main trail is marked with white and blue dots. The path is uneven with gravel in many areas, and climbing some boulders is required.
Flat Iron Summit Trail is in Lost Dutchman State Park. A day fee is required. If you want to get an early start on this hike, camping in the park is a convenient option. For more information see our article on the best campgrounds around Phoenix.
6. Mormon Loop Trail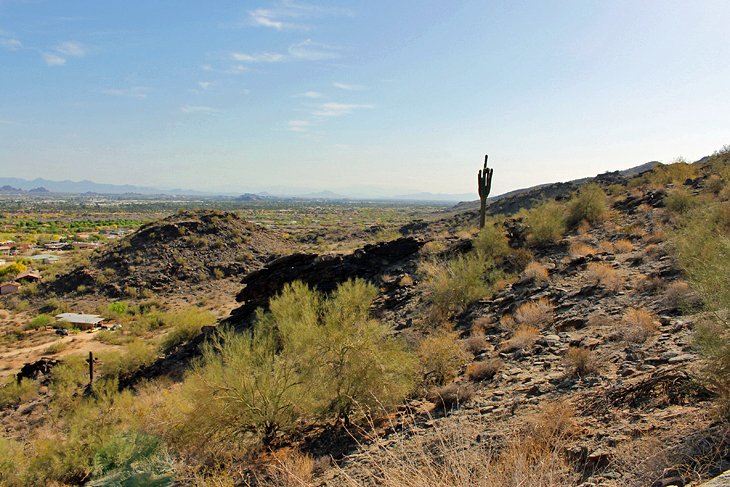 Another easy-to-reach city hike is the Mormon Trail or the more extended hike, the Mormon Loop Trail.
The Mormon Trail is a 1.2-mile, in-and-out hike with a little over 700 feet of elevation. The trail climbs steadily from the parking lot as it makes its way up to a ridge. As you ascend, you can look out over Phoenix and see some of the city's signature natural features, including the rock buttes of Papago Park, the easy to recognize Camelback Mountain, and Piestewa Peak.
Mormon Trail joins up with the Mormon Loop Trail. If you choose to do the loop, the total hike is 4.7 miles, and the elevation gain is over 1,150 feet.
You can see some saguaro at the higher elevations, as well as ocotillo and other desert scrub, and of course, fabulous views out over the city and beyond to the Superstition Mountains.
7. Camelback Mountain, Echo Trail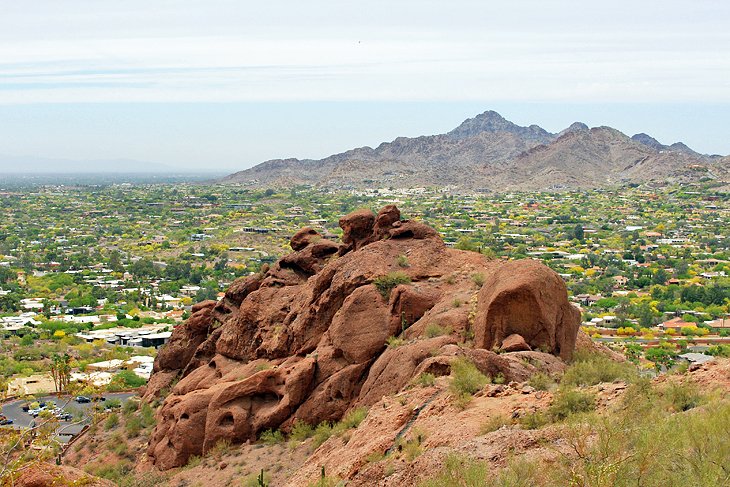 This short but scenic trail in Scottsdale is the most famous hike in the Phoenix area and absurdly popular. It's also much more difficult than it first sounds.
It's only 1.2 miles to the summit but has an elevation gain of almost 1,300 feet, and is notorious for wreaking havoc on hikers.
This is a trail for experienced hikers. It's steep and has sections where you will definitely be using your hands and feet. Handrails run up the steepest sections, but that doesn't make it any less challenging and often adds congestion to sections of the hike.
The first section is a reasonable hike up to a saddle. From the saddle are beautiful views in both directions out over the city and along the steep walls of Camelback Mountain. If you aren't up for the challenge of the full hike, this is a good place to turn around.
The next section follows a wall up a set of stairs, and the last section is a steep climb up rocks. A handrail runs up through this section to help hikers. It's often congested, and many hikers simply climb up the rock using all fours.
Echo Trail is rated as extremely difficult and there are warning signs at the start about heat, exertion, and falling. This trail often has the most rescues per year of any hike in a metropolitan area in the United States, and sometimes the highest number of deaths.
A park ranger is now always stationed at the bottom of the trail to warn hikers about the level of difficulty to expect, so people know what they're getting into.
8. Piestewa Peak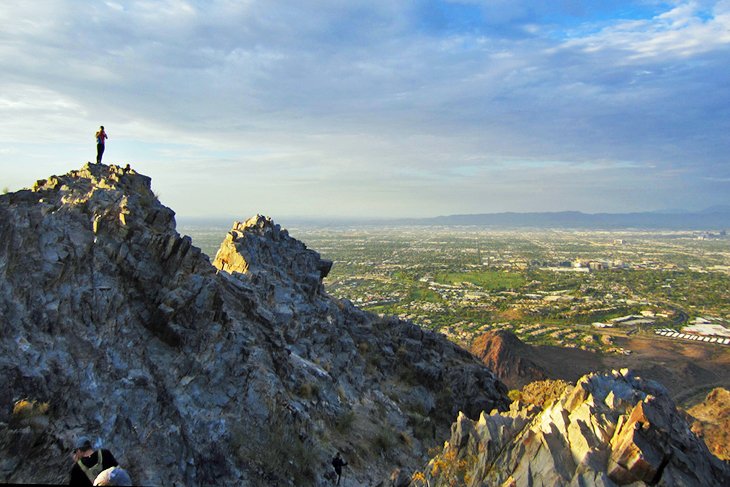 Piestewa Peak Park is home to numerous trails, and you can opt for difficult or easy, but serious hikers head for Piestewa Peak. Casual hikers can try the Nature Trail.
Piestewa Peak is located almost in the center of Phoenix and can be seen from most areas of the city. As a result, the hiking trail to the summit is very popular, so be prepared for big crowds of walkers, hikers, and trail runners of all shapes and sizes.
If you have the energy and strength to make the 1.9-mile trip to the top, gaining 1,200 feet of elevation on the way, you'll be rewarded with a 360-degree view. Sights include Camelback, Superstition, and White Tanks Mountains, along with the red hills of Papago Park.
The trail is well developed with handrails in certain sections to help with the substantial number of stairs. You should be prepared for a series of knee-jarring steps down on your return trip.
The Piestewa Peak Nature Trail is a much more moderate hike, popular with beginner hikers or people interested in a less demanding trail. This 1.5-mile hike is rocky but only has an elevation gain of 180 feet. It offers a good chance to see wildlife.
Parking for the trails is limited, so be sure to arrive early in the day. Restrooms and drinking fountains can be found at the trailhead.
9. Wind Cave Trail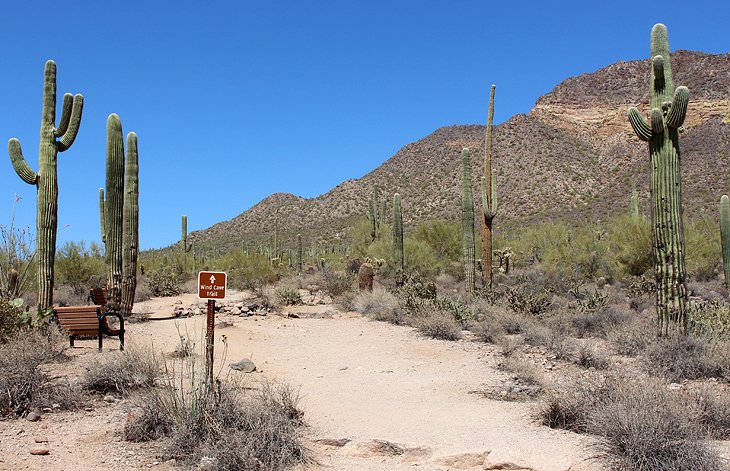 The Wind Cave Trail, located in the southeastern edge of the Phoenix area, beyond the city of Mesa, provides fantastic views out over the surrounding countryside. At the end of the trail, a small cave is an added bonus.
From the trailhead, you can see the trail snaking up the wall of rock in front of you. Don't be dissuaded by the workout ahead, this trail provides a good reward for moderate effort.
It starts off relatively easily and then climbs steadily until you reach the cave at the end. The cave is about 12 feet high and is a welcome stop with shade after a sweaty hike up.
This is an in-and-out, 2.6-mile trail with 770 feet of elevation. The trailhead is located in Usery Regional Park.
10. Brown's Ranch Trail System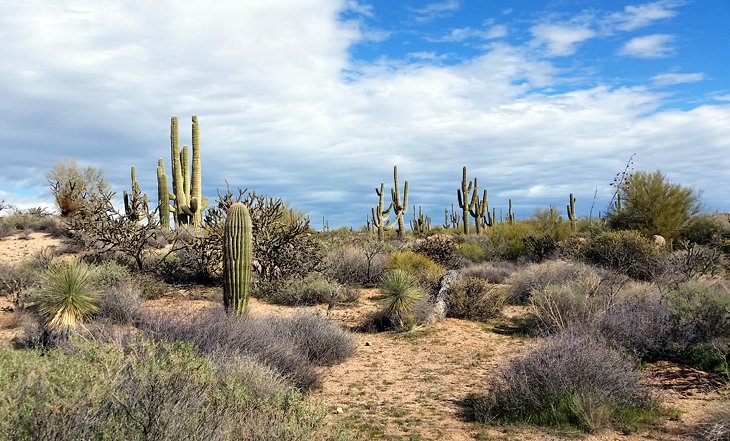 If you are looking for a pleasant walk in the desert rather than a strenuous climb up a mountain, this is the place to come. The Brown's Ranch area has a little bit of everything; Sonoran Desert scenery, historical buildings, and in the spring, a wonderful display of wildflowers.
The Brown's Ranch trail is an out-and-back trail and is 3.1 miles long with 100 feet of elevation gain. Ideal for large groups, the trail is wide and level with occasional patches of sand.
At the former ranch site, you'll find remnants of old ranch equipment rusting quietly in the desert sun. The trailhead has excellent facilities, including washrooms and even a ground level water fountain for your four-legged friend.
11. Fat Man's Pass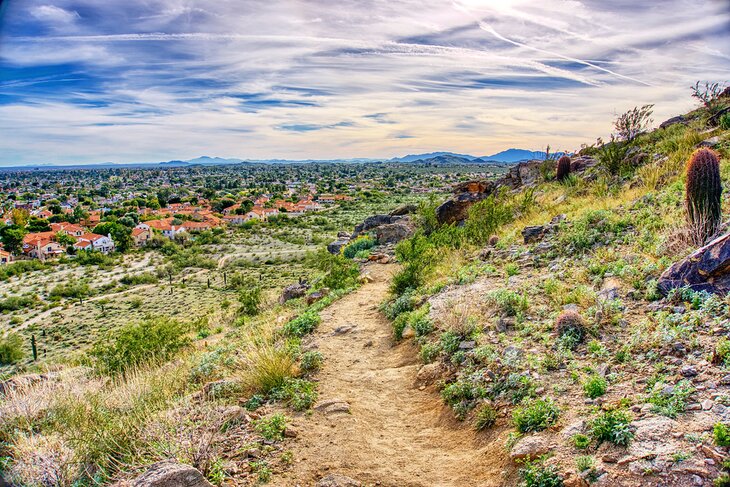 The Fat Man's Pass hike is one of the best hikes around Phoenix for families with children who can hike independently. It's just under four miles in length and has an elevation gain of 985 feet, making it a somewhat challenging hike but doable for most people in average condition.
In fact, you may not notice the elevation gain as you tackle the switchbacks—the reason for this is that you are treated to ever-more-wonderful views back out over the city of Phoenix as you ascend. Fat Man's Pass is reached off the Mormon Loop Trail detailed above; be sure to keep an eye out for the sign.
The prize for all the effort is a jumble of huge boulders and a very narrow passageway between some of them. If you've got kids with you, they'll enjoy climbing in and around the boulder field.
Fat Man's Pass is located in the South Mountains Preserve and is dog-friendly.
12. Pipeline Canyon to Yavapai Point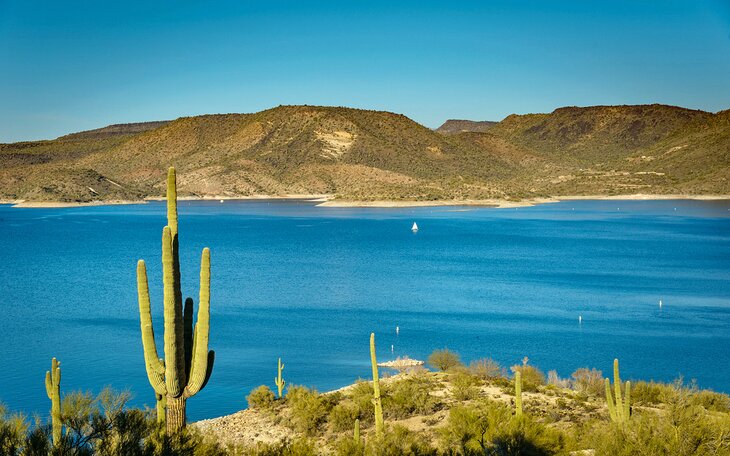 It's not often that you embark on a hike in Arizona and end up with a spectacular viewpoint out over a shimmering blue lake. Fortunately a hike like this exists not far from the north end of Phoenix.
The Pipeline Canyon to Yavapai Point is a relatively easy three-mile out-and-back trail with an elevation gain of only 380 feet. For your effort, you are rewarded with a 360-degree view out over Lake Pleasant, surrounding peaks, and the city to the south. The trail builders were even thoughtful enough to provide a bench at the very top.
The trail is easy to follow and well marked and moderately busy year round with hikers.
The trailhead is located at the Cottonwood day use area parking lot and a fee is charged to enter Lake Pleasant Regional Park.
Phoenix, AZ - Climate Chart
Average minimum and maximum temperatures for Phoenix, AZ in °C
J
F
M
A
M
J
J
A
S
O
N
D

19

7

22

9

24

11

29

14

34

19

40

24

42

27

41

27

37

24

31

17

24

10

21

7

PlanetWare.com
Average monthly precipitation totals for Phoenix, AZ in mm.

21

20

27

6

4

2

25

24

19

20

19

23
More Related Articles on PlanetWare.com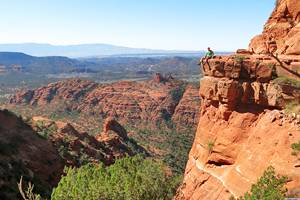 Hiking in Arizona: For general inspiration and ideas on where to hike in the state, see our feature article on the Best Hiking Trails in Arizona. You may be surprised to find that some of the top destinations for hiking are around towns and cities. For a more detailed look at hiking by area, see our articles on the Top-Rated Hikes in Tucson, as well as Sedona and Prescott.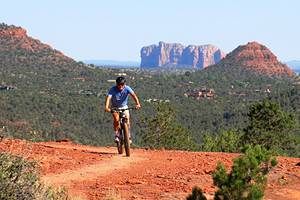 Mountain Biking and Camping: You don't need to limit your trail experiences to just hiking. If you are interested in mountain biking, be sure to see our piece on the Best Mountain Biking Trails in Sedona. This is one of the top mountain biking areas in the state. And, if you are a camper, we offer a complete series on where to camp in the Southwest. Start by taking a look at our article on the Best Places to Camp in Arizona.