13 Top-Rated Campgrounds near Payson, Arizona
Pine forests teeming with wildlife, alpine lakes, and hiking and mountain biking trails make the area around Payson a beautiful spot for camping. It's also a great escape during the summer months from the heat of the desert.
Deciding where to camp often depends on the time of year, whether or not you are looking to be close to town or off in a remote location, and what type of recreational activities you're interested in.
The most outstanding area for camping is along the Mogollon Rim, where you'll find several campgrounds along the Rim Road. These campgrounds are all over 7,500 feet, and they open later in the season than the campgrounds closer to town, which are between 1,500 to 2,000 feet lower. At the higher elevations, you can expect much cooler temperatures even in summer.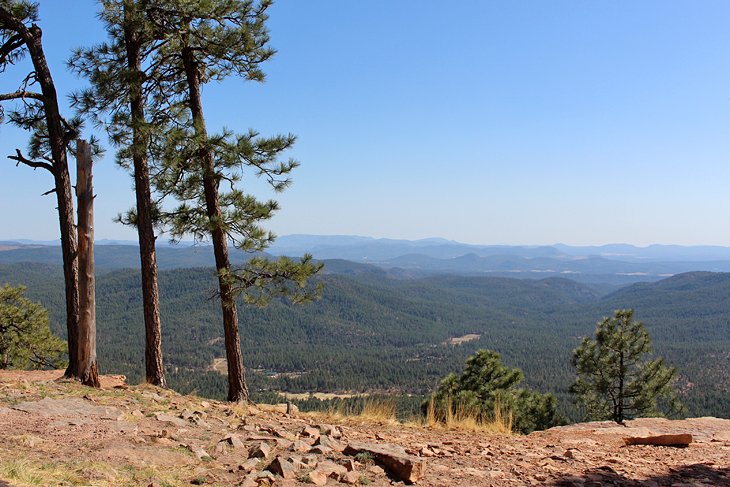 You won't find a bad campground around Payson. All campgrounds are set among pine trees, and they all come with picnic tables and firepits at the very least.
Apart from Houston Mesa Campground, which has flush toilets and showers, all campgrounds mentioned here have only vault toilets, water available in central locations, and no hookups.
All the campgrounds listed are reservable online, but some also offer first-come, first-served sites as well.
Elk, coyotes, bear, and other wildlife frequent the area, so you need to be mindful of your food. Some campgrounds offer food lockers, but many do not.
Learn more details and decide where to base yourself with our list of the best campgrounds near Payson.
1. Spillway Campground on Rim Road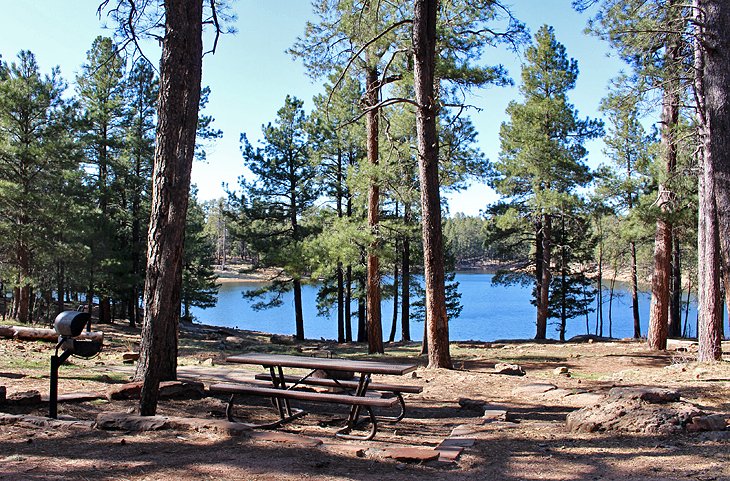 Set on the edge of the lovely rock-lined shores of Woods Canyon Lake, Spillway Campground is a summer favorite.
Located on the Mogollon Rim, at an elevation of about 7,500 feet, this area offers a cool retreat from the heat of the summer. The lake is a hot spot for fishing and home to a large supply of trout.
In the area, you'll also find hiking, including the Mogollon Rim Interpretive Trail, which offers incredible views from the Rim out over the rolling mountains and valley below.
With only 25 sites, including one group site, all of which are reservable, the campground often books up well in advance. Apart from a couple of lakeside campsites, most are set back from the water. Pine trees and deciduous trees provide privacy between sites in most cases.
A camp store offers some conveniences, and it's also possible to rent a small boat.
If you can't get a site here, try Aspen Campground, directly across the road from Spillway Campground.
2. Houston Mesa Campground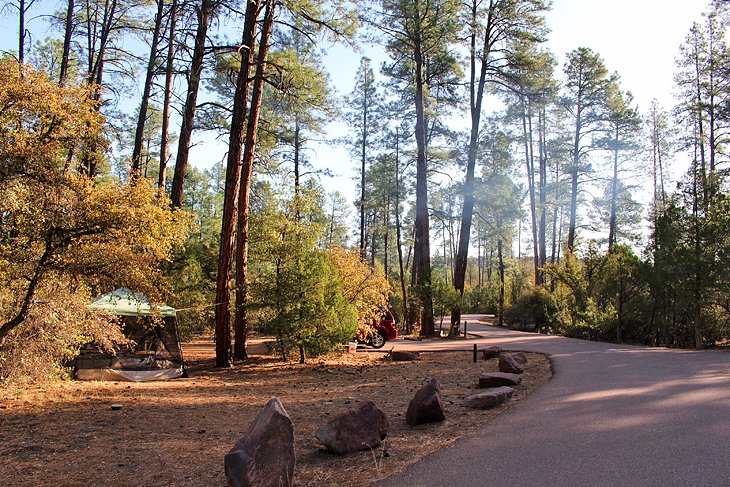 If you are looking to camp close to town, or you are camping early in the season before the higher elevations open up, Houston Mesa Campground is a wonderful choice.
Located just outside the town of Payson, at an elevation of approximately 5,200 feet, Houston Mesa Campground is convenient, as well as scenic. This is lower than many of the others in the area, and it makes for warmer camping, which is perfect in the spring or fall.
The various loops offer a mix of camping experiences, from a quiet tents-only loop to RV areas, and even equestrian sites for campers with horses.
For tent campers, this campground is a pleasant place to set up for a few days. The tenting area, named the black bear loop, offers spacious sites among huge pines that make you feel like you are backcountry camping, but offer the convenience of showers and flush toilets.
Elk loop and mountain lion loop are also quiet and well-treed areas, and open to RVs. The mountain lion loop has smaller trees and less shade. Sites are a mix of reservable and first-come, first-served.
3. Aspen Campground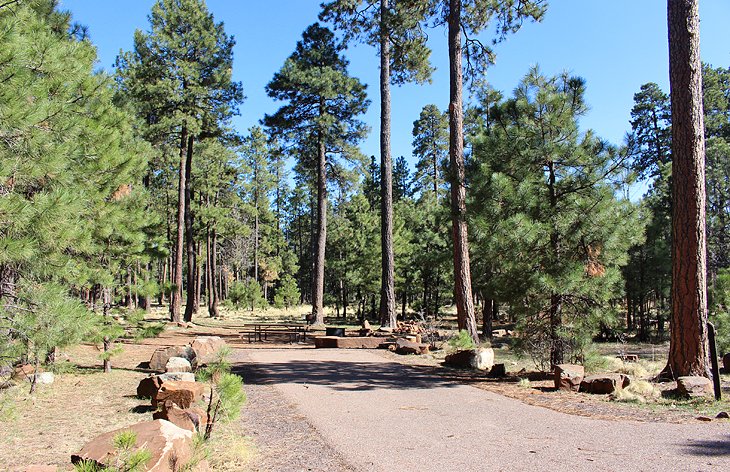 Directly across the road from Spillway Campground is Aspen Campground. If you can't get in to Spillway, the alternative is Aspen, but you won't be disappointed if you end up camping here.
The forest setting combined with large sites make this an ideal area for a peaceful getaway to the woods. You can access the lake at nearby Spillway Campground, hike, or enjoy a scenic drive along the Rim Road, with fabulous overlooks.
This is a much larger campground than Spillway but it's well laid out, and you can often find a place to camp here throughout the summer. Most of the 136 sites are reservable, but some first-come, first-served sites are available.
Aspen Campground has no hookups but does have a dump station.
4. Christopher Creek Campground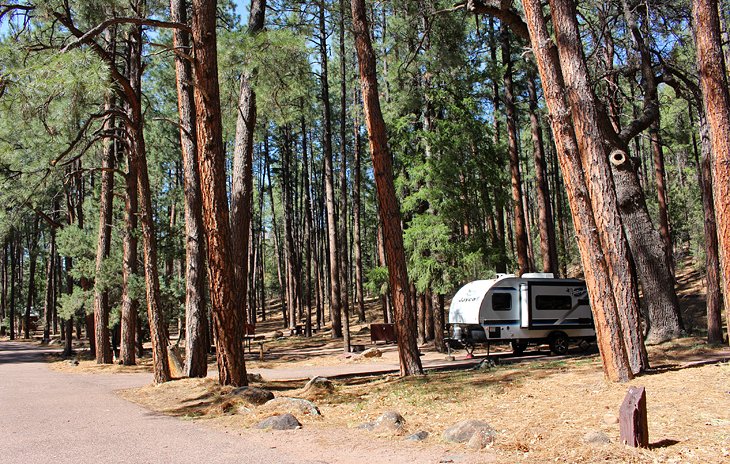 About 20 minutes outside of Payson, Christopher Creek Campground is located off Highway 260 and at an elevation of just over 5,600 feet.
Straddling the scenic little creek, this campground has a beautiful setting in the pines. From the open areas, you can see glimpses of the surrounding mountain ridges through the tall trees.
The side nearest the highway offers large sites but little undergrowth for privacy. On the opposite side of the creek, sites are also large but farther apart. Although it's just off the highway, it's set well below the road, and traffic noise is not overwhelming. The hilly terrain also gives it an intimate feel.
The campground has 43 sites in total, which are a mix of reservable and first-come, first-served.
5. Sharp Creek Campground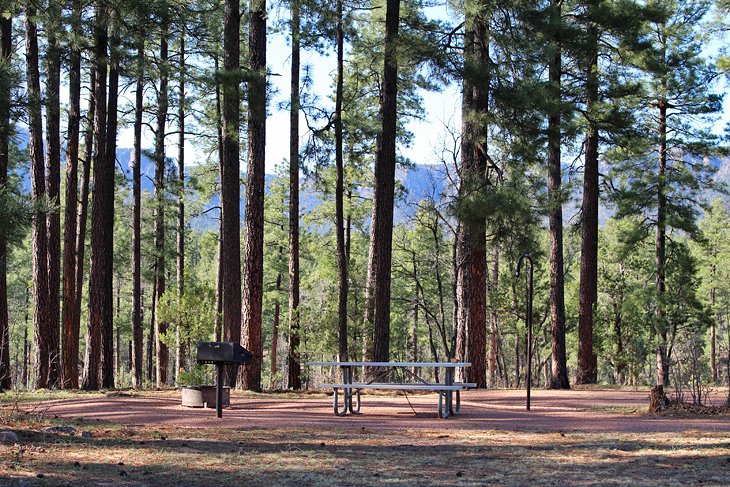 Just a few minutes' drive beyond Christopher Creek Campground on Highway 260, this is a small and scenic campground. The 20 sites are spread over multiple loops, offering privacy and a feeling of remoteness, despite the fact it is really just off the highway.
From some of the campsites, you can catch beautiful views through the pines of the Rim far above. Although this campground, at 6,000 feet, is only slightly higher than Christopher Creek, it is cooler here, and certainly cooler than camping at Houston Mesa.
Sharp Creek Campground is heavily wooded, and the sites are large and have plenty of space between each other. You'll find a mix of camping options, from tent-only to pull-through sites. All campsites are reservable.
6. Ponderosa Campground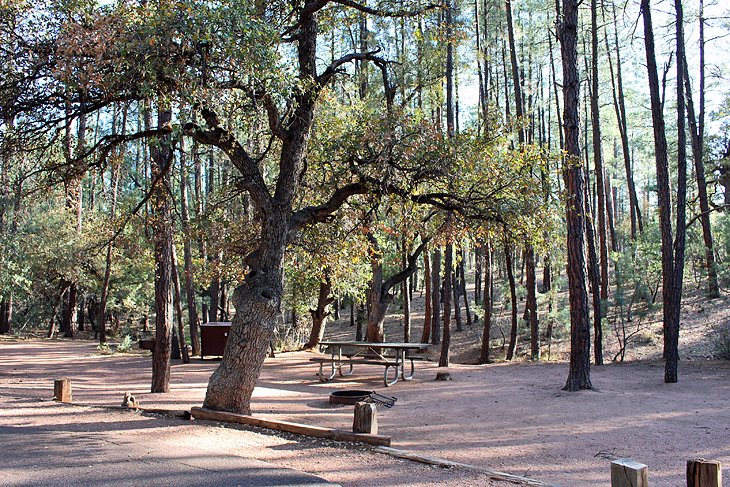 Just over 15 minutes from Payson, Ponderosa Campground is a good option for anyone looking for a woodsy camping experience in the forest, but still wanting the convenience of being close to a major town.
The 50 campsites, two of which are group sites, are spread out in an area of ponderosa pines, junipers, and oaks. Sites are flat, but many are set down a few steps from the parking area. You can reserve sites here, but first-come, first-served sites are also available. This campground has a dump station.
7. Sinkhole Campground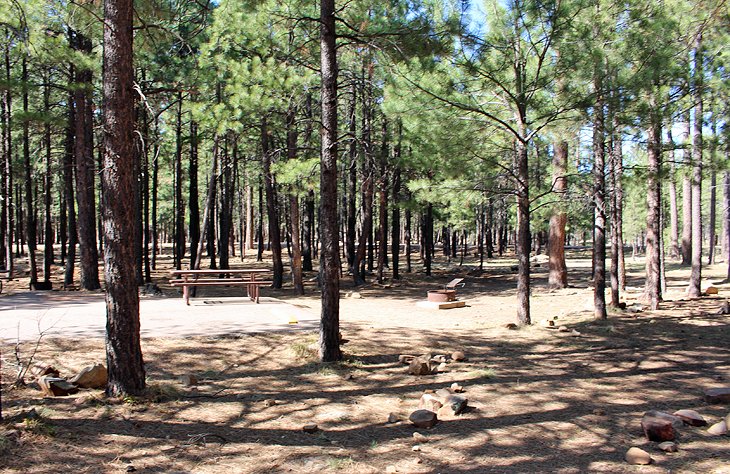 Just beyond the Rim Road on Highway 260, Sinkhole Campground is about 35 minutes from Payson at an elevation of over 7,500 feet. Like many of the others in this area, it's dominated by tall pines and prone to cool temperatures, especially at night.
One of the big draws of this campground is Willow Springs Lake, which is within walking distance of the campground. People come to this area to fish, boat, hike, and mountain bike.
The campground has 26 sites, divided equally into reservable and first-come, first-served.
8. Mogollon Campground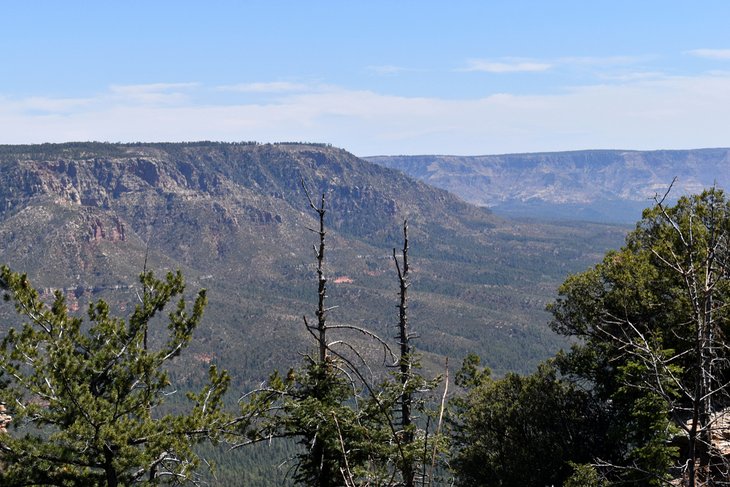 Located near Spillway and the other campgrounds off Rim Road, the Mogollon campground is set on level ground among tall trees.
The Mogollon campground has only 24 sites, which makes it a pleasant and quiet place to camp. Another advantage of this campground is that it is an easy walk from here to the incredible views of the Mogollon Rim.
All sites have picnic tables, grills, and fire pits. Water is available, and comfort facilities consist of pit toilets.
Sites are large and can accommodate units up to 40 feet long. Of the 26 sites, 14 are reservable online, the other 12 are first-come, first served.
9. Rim Campground
Located at the start of the Rim Road, Rim Campground is another good option for campers who want to set up on the Rim Road. Like Spillway and Aspen campgrounds, Rim Campground is up at an elevation of around 7,500 feet.
Although it's perhaps less scenic than the other two, it's about three miles from Woods Canyon Lake and offers access to all of the same recreational opportunities. Half of the 26 sites are first-come, first-served, and the rest are all reservable.
10. Haigler Campground
Haigler campground is a small 14-site hideaway in the forest about 34 miles from Payson. Known by anglers as a hot spot, Haigler creek runs near the campground and is generally stocked with rainbow and brown trout.
Camping here is for those who truly want to get off the beaten track and crave a natural experience.
Sites have picnic tables and grills; all are surrounded by a variety of trees providing good privacy. No water is available, and campground facilities consist only of a wheelchair-accessible pit toilet.
Trails leave the campground and wind their way through the forest to swimming holes in the canyon.
Trailers are limited to a length of 20 feet, and all access roads are gravel. After heavy rains, the access roads may become unpassable.
11. Colcord Ridge Campground
Located among well-spaced ponderosa pines, the Colcord Ridge Campground offers lots of room to roam and is ideal for families, but the best part is that the camping is free.
Camping here is dispersed, but in general there are about 15 sites, identifiable by large logs. Most sites have a picnic table, and all have fire pits. Note that no water is available here, so bring plenty with you and be prepared to bear proof your food.
Comfort facilities consist of pit toilets. Sites are first-come, first-served. The campground is 33 miles east of Payson, and the final access roads are all gravel.
12. Black Canyon Rim Campground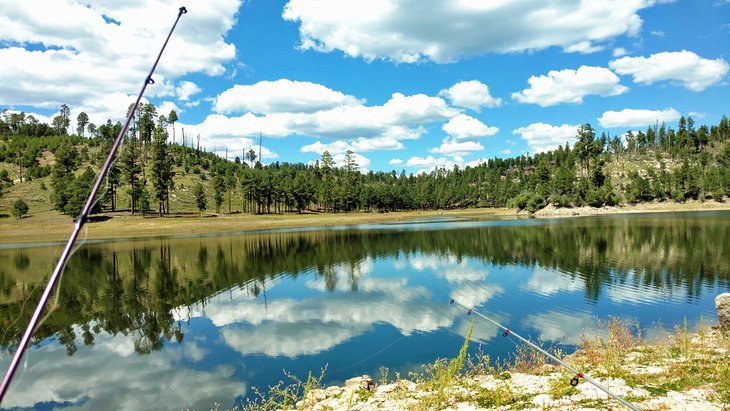 Pleasant sites are situated underneath huge Ponderosa Pines in this popular campground near Herber/Overgaard. The campground is popular for fishermen for good catches of trout on Black Canyon Lake, located 2.5 miles northeast.
Black Canyon Rim Campground is a small place with only 20 sites, all very well spaced. RVs up to 40 feet are accommodated in only a few sites, but tents and pop-up trailers are welcome to use any site.
Facilities are basic, with vault toilets and drinking water, and a campground host is on-site to answer any questions and to collect the nightly fee. Sites are reservable in advance online.
This campground is unique for the wild horses that wander through on their way to Black Canyon Lake for a drink. The campground also has a bit of history: gravesites of three men who perished in the Pleasant Valley War are within walking distance.
The campground is just over 40 miles east of Payson, just off Highway 260
13. Knoll Lake Campground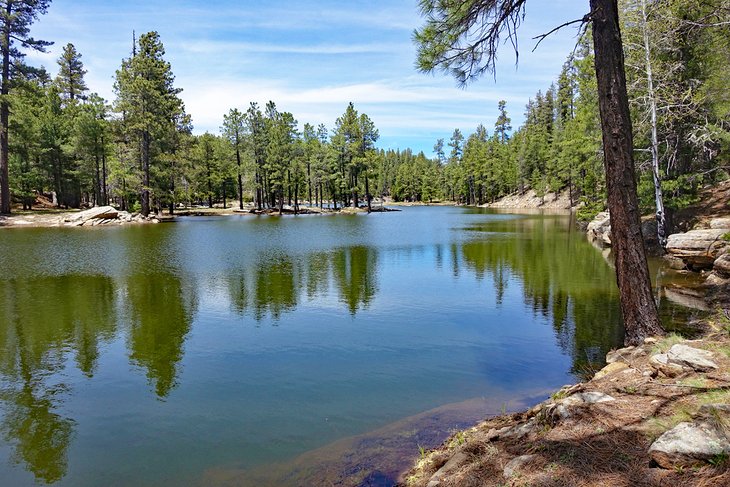 A wonderful campground, a beautiful lake, and incredible views from the Mogollon Rim – it's no surprise that Knoll Lake Campground is a popular destination for outdoor enthusiasts.
Pitch your tent or set up your small RV under tall ponderosa pines, most of the time, you'll be able to secure one of the 30 sites. Each site has a picnic table and fire ring; vault toilets and drinking water are nearby.
Knoll Lake, the star attraction here, is about 10 minutes away and well worth the trip. The lake is perfect for canoeing, kayaking, or stand up paddleboarding. A popular destination is the scenic island in the middle of the lake.
Anglers should be sure to dip a line and try their luck at catching rainbow, brook, or brown trout.
In addition to the lake, the views of the surrounding countryside from the Mogollon Rim are simply stunning.
Sites here are not reservable, and are all first-come, first-served. Knoll Lake is just over 50 miles to the east of Payson; the last third or so is on gravel roads.
Map of Campgrounds near Payson, Arizona
Payson, AZ - Climate Chart
Average minimum and maximum temperatures for Payson, AZ in °C
J
F
M
A
M
J
J
A
S
O
N
D

12

-4

15

-3

17

-1

22

2

27

6

32

10

34

14

33

14

29

11

24

4

17

-1

13

-4

PlanetWare.com
Average monthly precipitation totals for Payson, AZ in mm.

59

59

68

29

17

9

62

75

46

48

43

45

Average monthly snowfall totals for Payson, AZ in cm.

11

15

14

4

0

0

0

0

0

0

5

19
Average minimum and maximum temperatures for Payson, AZ in °F
J
F
M
A
M
J
J
A
S
O
N
D

54

25

59

27

63

31

71

35

80

42

90

50

93

58

91

58

85

51

75

40

63

30

55

25

PlanetWare.com
Average monthly precipitation totals for Payson, AZ in inches.

2.3

2.3

2.7

1.2

0.7

0.4

2.4

3.0

1.8

1.9

1.7

1.8

Average monthly snowfall totals for Payson, AZ in inches.

4.3

5.8

5.6

1.6

0

0

0

0

0

0

1.9

7.6
More Great Campgrounds & Outdoor Activities in Arizona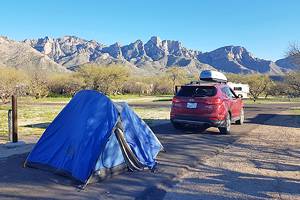 Tucson: Payson makes a great camping destination during the warmer months, but in winter you may want to camp at much lower elevations, where the temperatures and conditions are more suitable. Campgrounds around Tucson offer some interesting alternatives. You barely need to drive outside the city limits to find beautiful desert campgrounds and hiking trails.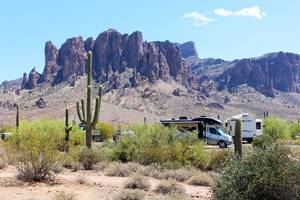 Phoenix and Beyond: You'll also find a number of campgrounds in the mountains and regional parks around Phoenix. Here, you can set up in your own patch of desert next to a saguaro or blooming ocotillo. And for a look at the best of the best, see our article on the top places to camp in Arizona.