10 Top-Rated Campgrounds near Tucson
Author Lana Law is an avid tent camper and has enjoyed many nights camping in the Tucson area.
Just minutes from the edge of Tucson, you can find campgrounds that are equal or better than the best you'll find in some states. The desert and nearby mountains provide outstanding scenery, and the birds and other wildlife are surprisingly abundant.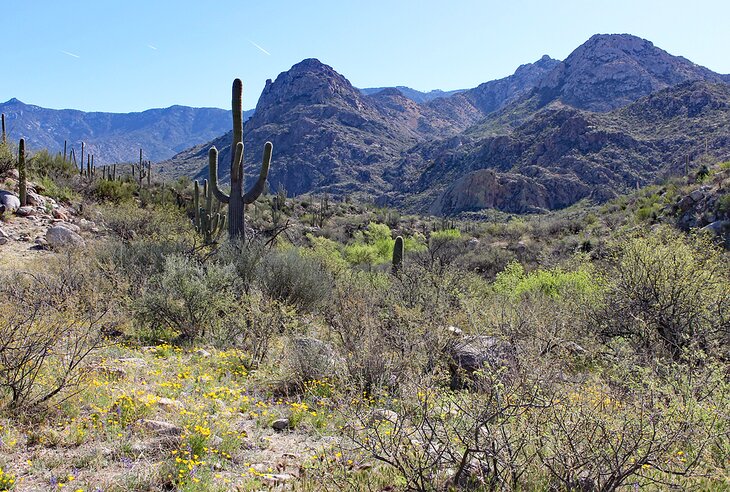 The different elevations around Tucson also create opportunities for a diverse range of camping experiences, from setting up next to a saguaro in the heat of the desert to pitching a tent under a tall ponderosa pine near a lake.
Where you choose to camp may depend on the season. Higher regions make great escapes in the summer but are too cold for camping in winter.
It's also worth noting that tents and RVs coexist quite amicably in most of the campgrounds around Tucson. RVers who want to enjoy the natural surroundings don't need to limit themselves to an urban RV park, and tenters have a full range of options.
Find what you're looking for with our list of the best campgrounds near Tucson.
1. Gilbert Ray Campground, Tucson Mountain Park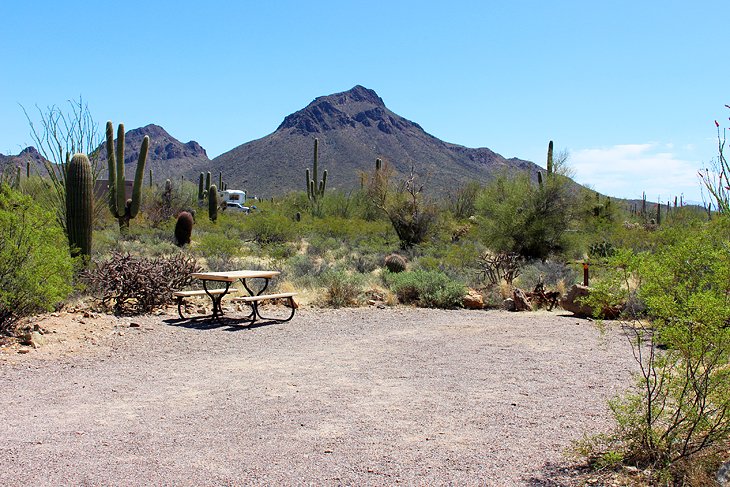 If you truly want to camp in the desert while still having the convenience of a designated campground, you can't beat the Gilbert Ray Campground. This is one of the best campgrounds in Arizona.
Campsites are surrounded by saguaro and prickly pear cactus, and the views stretch out to the mountains and distant valley.
This campground, only 13 miles from Tucson, puts you right on the doorstep of the west section of Saguaro National Park. Just down the road are hiking trails, Old Tucson Studios, and the Arizona-Sonora Desert Museum.
This is a Pima County campground with 130 sites. In the past, this was a first-come, first-serve campground, but now it's been tugged into the next century, and sites can actually be booked online in advance.
Booking online is easy at the county website, but be aware that reservations must be made a minimum of 72 hours in advance. Those without reservations can try for a site in Loop H, which remains first-come, first-served.
It can accommodate tents and RVs and has 30-amp electrical hookups. Only a few sites have shade covers; almost all are in full sun.
You can stay up to seven days and then must vacate for a minimum of seven days.
The county is upgrading the electrical service in Loop A from May 1st 2023 until the end of December 2023—as a result, this loop will be closed and no reservations accepted.
2. Campgrounds A and B, Catalina State Park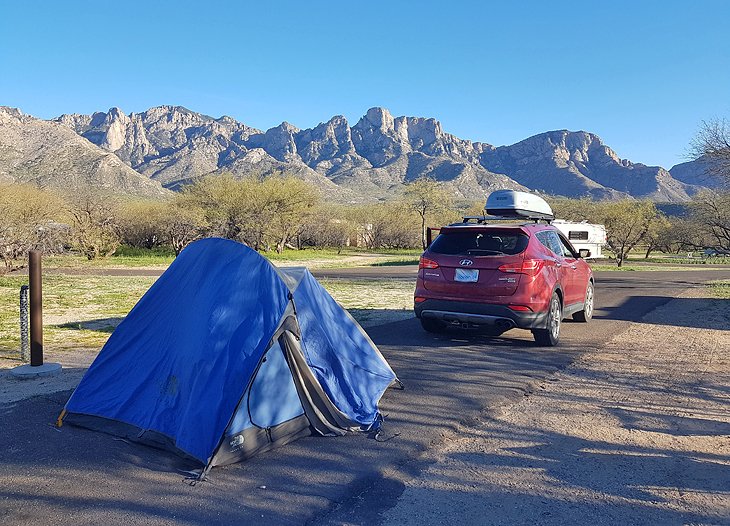 Just 15 miles from the heart of downtown Tucson, on the northern edge of the city, Catalina State Park offers some amazing camping. It's one of the best state parks in Arizona.
Campgrounds A and B are two camping areas in the park, almost adjacent to each other, and both offer outstanding views to Mount Lemmon and incredible wildlife viewing. You can expect to see vermillion fly catchers, hear owls hooting at night, possibly spot a bobcat, and almost trip over prairie dogs everywhere in the campground.
Two of the most popular hiking trails in the Tucson area leave from this region of the park and are just a five-minute drive from the campgrounds.
Amenities: Each site has a picnic table, but shade is hard to come by. Sites are huge, with flat parking pads. Small trees offer some privacy and attract birds. The two campgrounds combined offer 120 drive-in sites, each with water and a majority with electricity, and free Wi-Fi. Facilities includes hot showers, restrooms, and a dump station.
Reservations: All sites are reservable for up to 14 days and should be booked well in advance. You can reserve online or by phone. This is an incredibly popular campground, so plan well in advance.
This campground is extremely convenient to shops and services. Pretty much anything you need is within three miles, including grocery stores, restaurants, a Target, and a Super Walmart.
3. Rose Canyon Lake Campground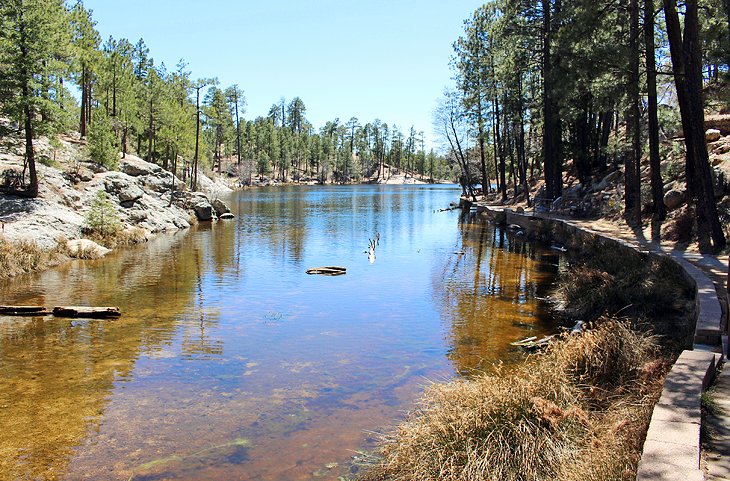 If you are looking for a quick weekend camping getaway from Tucson during the warmer months, Rose Canyon Lake Campground is a wonderful destination.
Not far from Mt. Lemmon Ski Valley, this campground is centered around scenic Rose Canyon Lake. At an elevation of about 7,000 feet, the area has a real alpine feel, with stands of huge ponderosa pines and Gambel oak. It's even one of the places in Arizona that sees snow. The campsites are back from the lake but well spread out, with plenty of space at each site.
The campground has 70 sites and is the most developed of the five or six campgrounds in the area. Sites can be reserved on a six-month rolling basis, and availability is released on a set schedule. Facilities are limited to pit toilets and central water taps.
While it seems a world away from the city, way up in the sky island, it is only 22 miles from Tucson.
Read More: Best Lakes in Arizona
4. Molino Basin Campground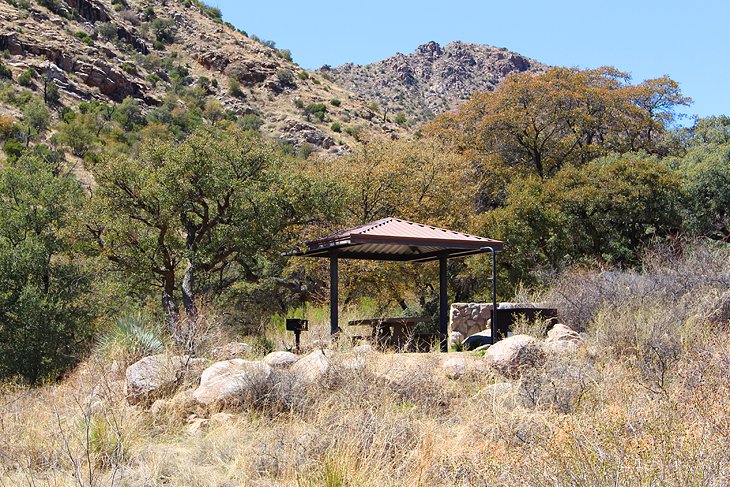 Molino Basin Campground is the first of a series of campgrounds along the Sky Island Scenic Byway, east of Tucson, also known as the Mount Lemmon Highway.
This campground is set at an elevation of approximately 4,500 feet, but despite the altitude, it still has a very desert-like feel. Small to medium-size trees (oak and mesquite) are scattered around the campground, but the landscape is mostly long grass, often a golden color.
This is one of the nicest campgrounds in the area. Scenic hills surround the area, sites are well spaced and offer plenty of privacy, and most sites are level. Many are perched on a small hill, out on their own. Some sites have shade covers, but many do not.
Molino Basin Campground has 37 campsites and is best suited to tents and small trailers. A small number of sites are walk-in. The group site can be booked, the rest of the sites are first-come, first-served.
Facilities are limited to pit toilets and there is no drinking water at this campground.
5. General Hitchcock Campground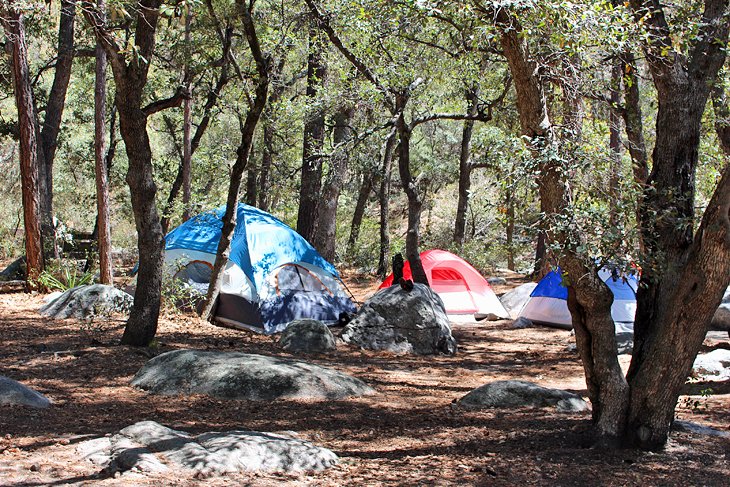 Beyond Molino Basin Campground on the Sky Island Scenic Byway, at an elevation of over 6,000 feet, General Hitchcock Campground is the first campground along here with some tall ponderosa pines and an alpine setting.
This location has just 12 tent-only campsites, all first-come, first-served, but the setting here is beautiful. Large boulders are strewn about the landscape in among the trees and sites, and pine needles carpet the ground. Each site has a fire pit and standing barbecue. There is no water at this campground and only pit toilets.
The Green Mountain Trail, open to hikers and bikers, leaves from the campground.
Beyond this campground, the highway is quite dramatic. The road hugs the mountainside, sometimes on bridges, and the canyon becomes quite narrow in some sections.
6. Colossal Cave Mountain Park Campground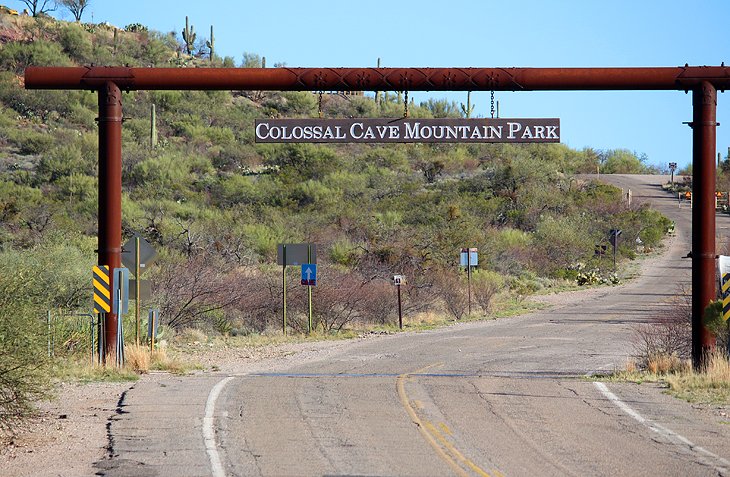 Another campground with a beautiful setting on the southeastern edge of Tucson is the Colossal Cave Mountain Park campground. Built in the Posta Quemada canyon by the Civilian Corp of Engineers in 1934, it's a shady place with historic features. Sites are set among large saguaro cactus and mesquite trees.
The campground has 30 sites and is primarily geared toward tent camping but can accommodate a limited number of RVs. This is a primitive campground with no electrical sites and limited restrooms and water. Campsites have tables and barbecue grills. Pets are welcome.
Sites are available on a first-come, first-served basis, check in at the Cave Shop first.
The main park gate is locked each night, so no entrance or exit is allowed after certain hours. This park is well positioned, just 11 miles south of Saguaro National Park (East), on Old Spanish Trail.
7. Picacho Peak State Park Campground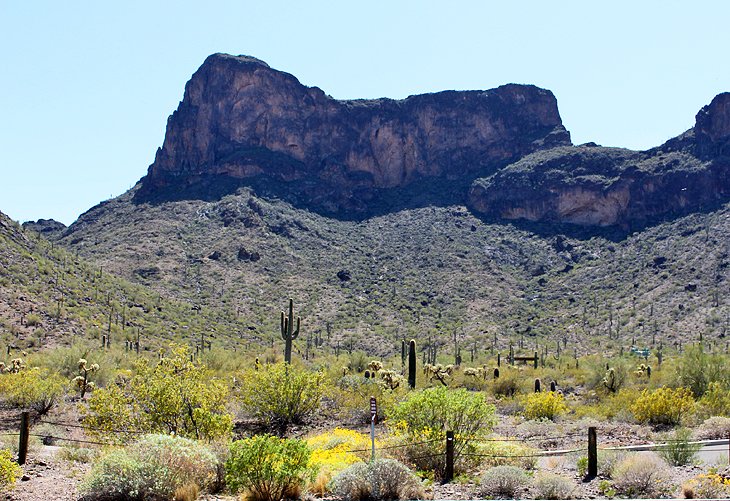 Located 40 miles northwest of Tucson on Interstate 10, Picacho Peak is hard to miss. Standing much higher than anything in the surrounding area, the angular peak is particularly eye-catching from a distance.
The campground at the base of the peak is a lovely retreat in the desert, close to interesting hiking trails and set among saguaros and other vegetation of the Sonoran Desert.
The 85 campsites are reservable. Facilities include restrooms, showers, electrical sites, and a dump station. The campground gate is closed and locked each night at 10pm.
8. Saguaro National Park Backcountry Campsites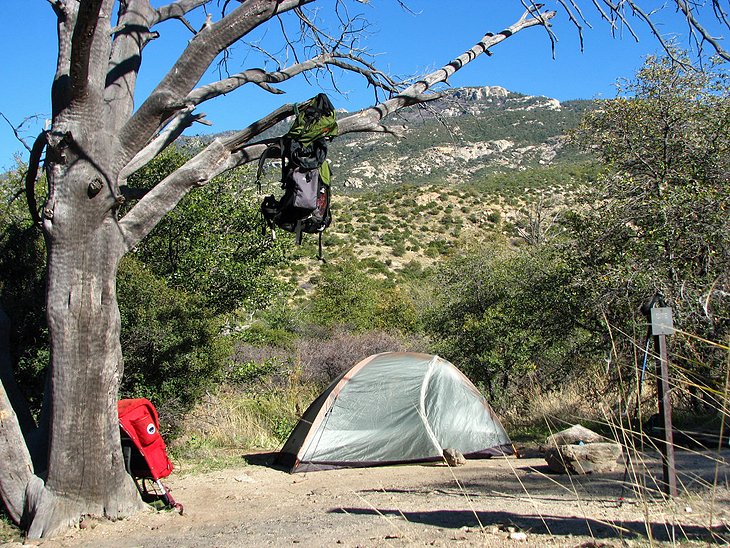 If your idea of camping involves throwing a backpack on your back and heading off into the wilderness for alone time, the Rincon Mountain District of Saguaro National Park has just what you're after.
Located in the east section of the park, in the Rincon Mountain District, is the Saguaro Wilderness Area, with six backcountry campgrounds.
These are not just simple walk-in sites, these are sites you must hike into on foot or with livestock to access, and many have serious elevation gains.
The campgrounds are located at altitudes that range from 4,800 feet to 9,000 feet, high up in the pine forest. Temperatures are much cooler at these higher elevations.
You can reach the trailheads at several different access points, and you should educate yourself fully on the complexities of this undertaking before hitting the trails.
Facilities at the campsites include pit toilets and hitching rails for horses. Bear boxes are provided. Seasonal water sources are available, but all water must be treated.
Permits are required and can be booked online up to six months in advance on a rolling date basis.
Read More: Best National Parks and Monuments in Arizona
9. Spencer Canyon Campground
The Spencer Canyon Campground, located near Summerhaven, has 66 sites in a rustic setting with large ponderosa pine trees. Set at an elevation of 8,000 feet, the campground is pleasantly cool in the heat of a Tucson summer.
Amenities: Each site has a picnic table, fire ring, bear box, and barbecue. Water is available; comfort facilities consist of pit toilets. It may seem strange, but the night views of the city lights down the canyon towards Tucson are quite spectacular.
A campground host is on-site throughout the season and can answer any questions you may have, and also sell you firewood. Bring your hiking boots, because some wonderful trails are located nearby. After your hike, be sure to swing by the fun (and appropriately named) Summerhaven for an ice cream or a snack.
The campground has size restrictions: no trailers or RVs over 22 feet are allowed. All sites are first-come, first-served. This campground is open from April through October.
10. Lazy Days KOA
For a style of camping that focuses more on amenities and fun as opposed to nature and wilderness, consider the Lazy Days KOA. This campground is large, with 388 sites open to RVs and tents, and for those who'd like to stay indoors, there are also Deluxe Cabins.
Amenities: Once you've got your campsite all set up, you can start enjoying some of the extensive amenities Lazy Days has to offer. These include not just one, but two outdoor pools, a nine-hole putting course, Pickle Ball courts, a playground, workout room, hot tub, sauna, and even a dog wash station.
Cook your own meal or swing by BBQ Rush for a big feed of Texas Style BBQ — the choice is yours.
Sites all come with a maximum of 50-amp service, sewer, and water. Cable TV is offered, as is resort-wide Wi-Fi.
Tucson, AZ - Climate Chart
Average minimum and maximum temperatures for Tucson, AZ in °C
J
F
M
A
M
J
J
A
S
O
N
D

19

6

21

7

24

9

28

12

33

17

38

22

38

25

37

24

35

22

29

16

23

9

19

6

PlanetWare.com
Average monthly precipitation totals for Tucson, AZ in mm.

26

24

22

8

5

7

49

57

32

31

17

26

Average monthly snowfall totals for Tucson, AZ in cm.

1

0

1

0

0

0

0

0

0

0

0

0
Average minimum and maximum temperatures for Tucson, AZ in °F
J
F
M
A
M
J
J
A
S
O
N
D

66

42

70

45

75

49

82

54

91

63

100

72

101

77

99

75

95

71

85

60

74

48

66

42

PlanetWare.com
Average monthly precipitation totals for Tucson, AZ in inches.

1.0

1.0

0.9

0.3

0.2

0.3

1.9

2.2

1.2

1.2

0.7

1.0

Average monthly snowfall totals for Tucson, AZ in inches.

0.2

0.1

0.2

0

0

0

0

0

0

0

0

0.1
Map of Tucson - Top-Rated Campgrounds
More Outdoor Adventures in Arizona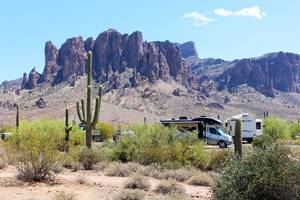 Camping in Arizona: For inspiration in planning more camping adventures, and to point you in the direction of some areas you may not have considered, see our article on the best campgrounds in Arizona. If you are heading north, learn more about where to camp with our piece on the top campgrounds in the Phoenix area. You'll be surprised what you find around this metropolitan area, including lakefront campsites. As well, have a look at the best places to camp in Sedona and Prescott.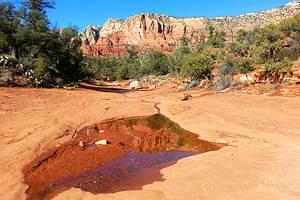 Hiking in Arizona: You'll find no end to great hiking in Arizona. For the best of the best, see our comprehensive series of articles on hiking in the following destinations: Phoenix, Sedona, Prescott, and an overall look at the best hikes in Arizona.