9 Top-Rated Campgrounds in the Phoenix Area
Author Lana Law has camped throughout Arizona on multiple trips, including stays in the campgrounds around Phoenix.
If you are craving a bit of nature and want a break from the metropolitan area, you can find a good selection of campgrounds in the mountains on either side of Phoenix. Many of the best camping areas are found in regional parks operated by Maricopa County, which also generally offer a range of activities or are based around natural features.
Hikers, mountain bikers, and even those looking for a place to go horseback riding will find campgrounds that offer areas for these activities nearby. If you simply want to enjoy some scenery and escape the city, you can set up camp on the shore of a lake or the base of a mountain.
Camping on the east side of the city offers the easiest access to the major attractions of Scottsdale, Phoenix, and Mesa.
Campgrounds on the west side of the city are quite a distance, both in terms of geography and traffic congestion, from the city sights. They do not make a good base if you are coming to the area with the intention of spending time in the city.
For all Maricopa County Parks, the maximum stay is 14 days, and you can reserve sites up to six months in advance on a rolling basis starting at 6am Arizona time. Some campgrounds ask you to leave for a period of time; others may simply ask you to move sites.
For more information and a comprehensive overview, see our list of the best campgrounds in Phoenix.
1. Usery Mountain County Park Campground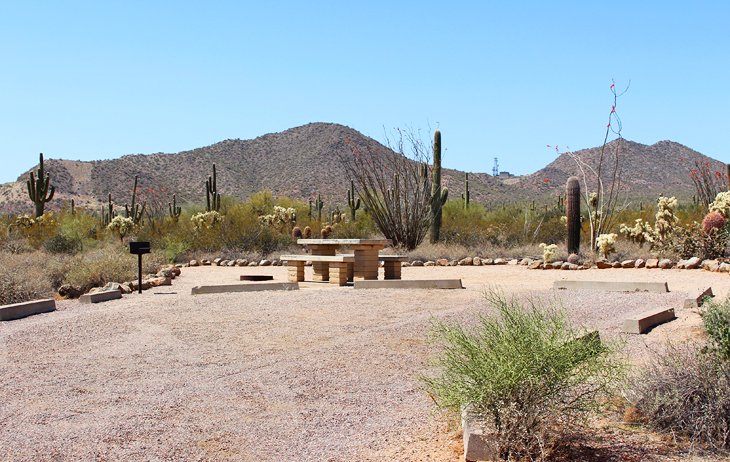 Usery Mountain Regional Park is set against the stunning backdrop of a colorful mountainside, on the eastern edge of Mesa.
Most of the 73 campsites offer a beautiful panorama and are well spaced and surrounded by palo verde trees, cholla cactus, tall saguaros, and barrel cactus. Sites have paved parking areas, water, and electrical hookups, a picnic table, and a fire ring. Facilities include flush toilets but no showers.
The popular Wind Cave hike is just a short drive from the campground. Also available in the area is an archery range, and fitness buffs will find outdoor equipment located near the Merkle Trail.
2. Lost Dutchman State Park Campground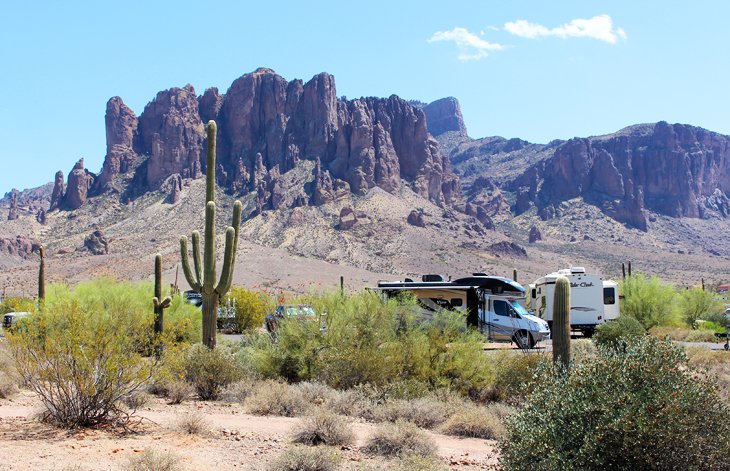 Although Lost Dutchman State Park is just a short distance east of Phoenix, it feels a world away. Flat Iron Mountain provides the spectacular backdrop to this state park, and views from the campsites will make you want to park yourself here for a few days.
The 134-site campground at Lost Dutchman State Park offers a true desert setting, with individual sites plunked in around the vegetation. A few saguaros dot the landscape here and there, but most of the vegetation is low-level bushes. Only a few sites have shade ramadas, otherwise, you can expect to be camping in full sun.
This campground is well set up for RVs, with large sites and level parking pads, back-in and pull-through sites, and 68 have electric (50/30/20 amp) service and water hookups. All sizes of RVs are accepted. You'll also find tent camping areas. Showers and flush toilets are available.
The hike up the mountain, Flat Iron Summit via Siphon Draw is one of the top hikes in the Phoenix area, and if you want to get an early start on this demanding trail, it's best to camp here.
3. Cave Creek Regional Park Campground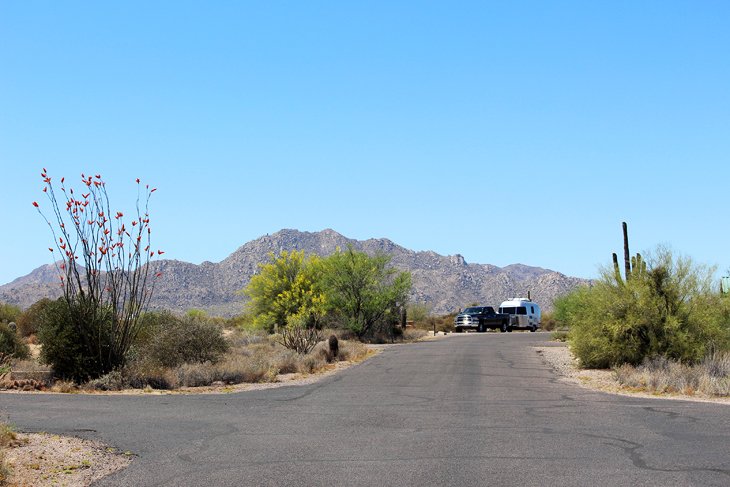 Set at the base of low mountains, this is a beautiful area for camping, with multi-use trails running through the surrounding hills. Cave Creek Regional Park Campground is a great option if you want to base yourself in this area north of Phoenix.
The campground itself is quite small, with only 44 developed sites. Set well apart from each other, and surrounded by low bushes, ocotillos, and saguaros, the sites offer plenty of privacy.
Sites are flat and have paved parking pads, as well as water and electric hookups. Some campsites have areas for horses. Comfort stations have flush toilets and showers.
4. McDowell Mountain Regional Park Campground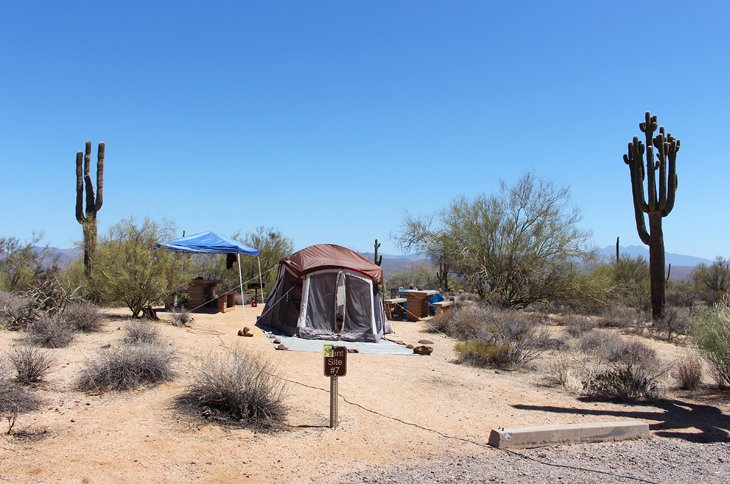 With 50 miles of multi-use trails, McDowell Mountain Regional Park Campground is popular with campers who also have an interest in hiking, horseback riding, and particularly mountain biking. In addition to the single-track trails, the park also has a competitive track.
McDowell Mountain Regional Park is located in the far northeast of Phoenix, 10 miles beyond Fountain Hills, and is quite a distance from any services. You should come prepared and be fully self-sufficient.
There are two campground areas, Ironwood and E.I. Rowland. Ironwood is two miles beyond E.I. Rowland and is reserved exclusively for tents, with a total of 13 sites. E.I. Rowland is open to both tents and RVs and can accommodate rigs up to 45 feet. Both campgrounds have paved parking areas, fire rings, and barbeques, and the sites are spaced a good distance from each other.
In the E.I. Rowland campground, each site also has water and electricity. Both campgrounds have flush toilets and showers in the comfort stations. One unique feature of the E.I Rowland campground is the covered children's play area with several kinds of climbing structures.
The surrounding countryside is a mix of small scrub bushes and the occasional saguaro. At night, you might hear the coyotes howling.
5. Lake Pleasant Regional Park Campground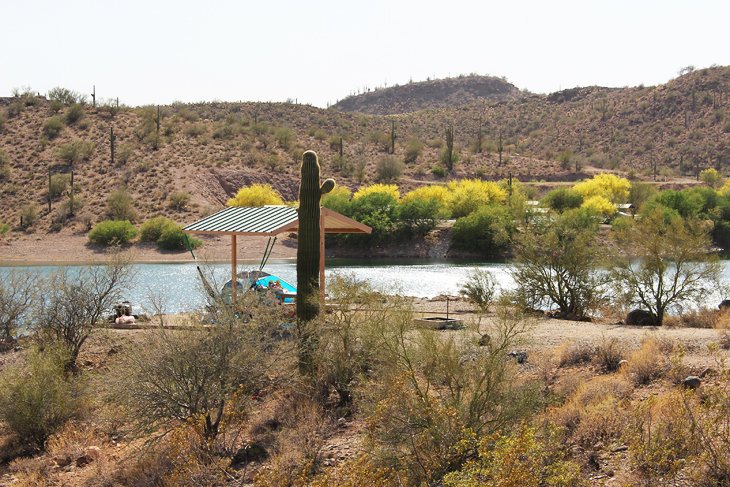 Camping next to a large lake in Arizona is a rare and unusual experience and staying at Lake Pleasant Regional Park Campground allows you that pleasure.
Campsites are spread along the shoreline and range from developed to primitive. At over 1,600 feet, the slightly higher elevation and large lake provide a bit of relief from the heat of Phoenix.
Depending on the campground you choose, you will be right by the water or up above, with views out over the lake and surrounding countryside. The park has 148 sites, some of which have electrical and some of which do not, but all sites generally come with a shade ramada, fire pit, picnic table, and barbecue. The comfort stations all have flush toilets and showers.
The park has two main campgrounds, Desert Tortoise, with a mix of developed and semi-developed sites, and Roadrunner, with all developed sites.
Desert Tortoise has three loops, one of which, the Bajada Loop, is out on a peninsula and provides great views.
The Roadrunner has three loops as well and is set back from the water, but the campground is more modern, less dusty, and a bit more organized. Starting in July 10th, 2023, the Roadrunner Campground will be closed until the end of the year. The park is undertaking major infrastructure repairs to the electrical and water lines.
One camping option that many people find hard to believe it exists is camping overnight on a boat. This popular pasttime is available on a reservation basis, and sites are also available same day on a first-come, first-served basis. Twenty eight permits are available, and with your permit you can camp anywhere on the lake at anchor. You cannot camp on shore. There's nothing quite like enjoying an evening on the water in the middle of the desert under a canopy of stars.
Read More: Best Lakes in Arizona
6. White Tank Mountain Regional Park Campground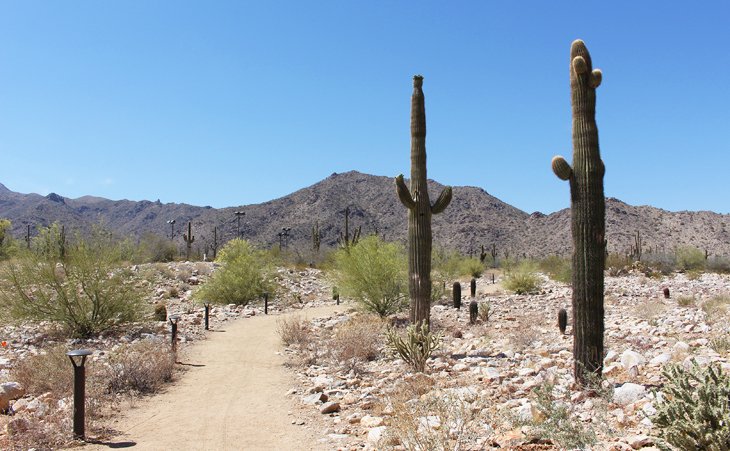 White Tank Mountain Regional Park is spread out over nearly 30,000 acres on the eastern fringes of Phoenix. The camping consists of 40 sites of varying sizes, each with water and electrical service, a picnic table, and barbecue fire ring. Tents and RVs use the same sites, and the maximum RV length accepted is 45 feet.
Hiking, biking, and equestrian trails are located throughout the park, along with a competitive track. White Tank Mountain Regional Park is a long way from the city, and services like grocery stores are scarce, so make sure you are well equipped.
Showers, flush toilets, and a dump station are available. Note that jet aircraft noise can be an issue here, as Luke Airforce Base is located nearby.
One unusual feature of the park is the modern public library set just outside the gates, which is combined with the White Tank Mountain Regional Park Nature Center.
7. Coon Bluff Campground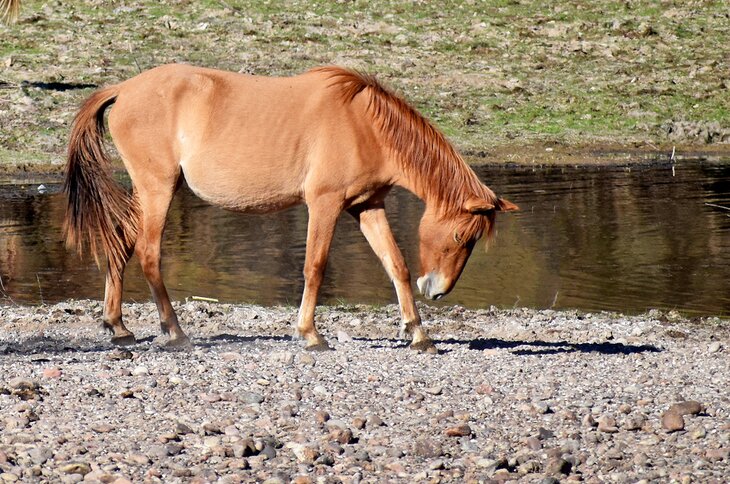 Imagine camping near a cool river in the middle of the desert. This is what you'll find at Coon Bluff Campground. Layer onto that amazing setup an abundance of wild horses and other wildlife attracted by the permanent water source, it's one of the best places to camp near Mesa.
Located 17 miles from Mesa, this basic campground has limited facilities, but it's the setting that is what will make you want to go. The campground is filled with mesquite trees that provide ample shade, and the river access is easy. Note that RVs are restricted to 40 feet and under.
Only five true sites are available, but camping is permitted pretty much anywhere you can put a tent. Camping is first-come, first-served and only permitted on weekends from October 1st to March 31st.
Camping is free with a Tonto Pass, available at local retailers around the city.
8. Saddle Mountain Dispersed Camping on BLM Lands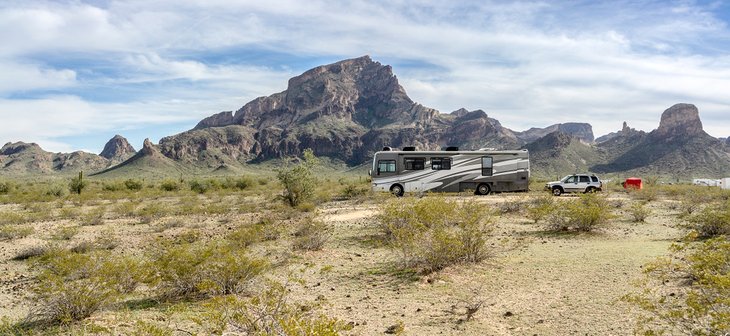 Just to the west of Phoenix, near Tonapah, you'll find a wonderful place in the desert to set up camp. Just follow the roads in, pick your patch of sand, and set up. Camping here is free.
This is dry camping or "boondocking" in RV speak, so there are no facilities whatsoever, except a stone fire ring. You need to be fully equipped with water, food, and something to provide shade. Most people out here are in RVs.
Access is south off Interstate 10 on Courthouse Road. Anywhere past mile marker 13 on the left is flat with decent roads.
9. Desert's Edge RV Park
A traditional RV park, Desert's Edge is a good option for those looking for a comfortable place to park for a few days or weeks and aren't interested in natural surroundings. This huge operation has over 220 sites with water and electricity. Each site also comes with a concrete patio and picnic table.
Park facilities include a heated pool, hot tub, recreation center, and more. An on-site recreation manager is always dreaming up fun group activities. Fido is more than welcome here; the park is dog-friendly with both on- and off-leash runs so your four-legged traveling companion can meet and sniff to his or her content.
The park is well located for seeing some of Phoenix's most interesting attractions; car buffs and gearheads should definitely book in here—Barrett Jackson's classic car automobile auction is mere minutes away.
Map of Campgrounds in the Phoenix Area
Phoenix, AZ - Climate Chart
Average minimum and maximum temperatures for Phoenix, AZ in °C
J
F
M
A
M
J
J
A
S
O
N
D

19

7

22

9

24

11

29

14

34

19

40

24

42

27

41

27

37

24

31

17

24

10

21

7

PlanetWare.com
Average monthly precipitation totals for Phoenix, AZ in mm.

21

20

27

6

4

2

25

24

19

20

19

23
More to Explore near Phoenix and Other Areas of Arizona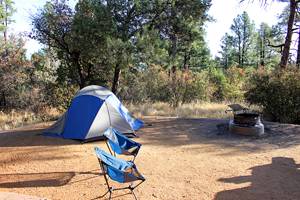 Camping: Just a couple of hours away, you'll find more outstanding campgrounds around Tucson. In summer, and especially during hot spells, head to the hills and find a cool retreat in the campgrounds around Payson, Prescott, and Sedona. These destinations are much higher and offer cooler temperatures, and campsites among tall pine trees. And, if you really want to experience some great camping, see our article on the best places to camp in Arizona.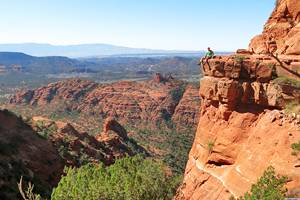 Hiking: If you are interested in camping, chances are, you are interested in hiking and walking trails. Discover where to go hiking with our guide to the best hikes in Arizona. For more details on hiking around urban areas, which tend to include shorter walks and nature trails, see our articles on the top hikes around Tucson, Prescott and Sedona.