15 Best Things to Do in Henderson, NV
No longer just a residential suburb of Las Vegas, Henderson in Nevada has developed into an exciting destination city, with world-class shopping and dining, great outdoor spaces to experience, and fascinating local history to explore.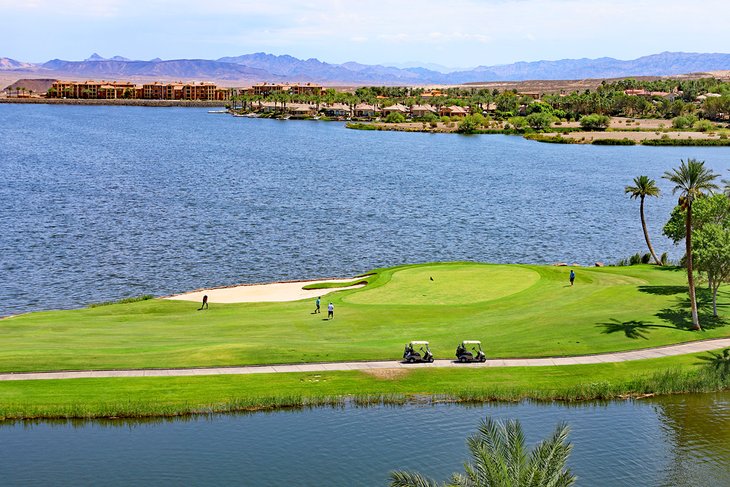 Visitors have a wide range of things to do and attractions to choose from in Henderson, ranging from feeding lions at the Lion Habitat Ranch to driving a Ferrari on a track at SPEEDVEGAS. Henderson visitors can cool off with a visit to the Cowabunga Water Park, or by renting a kayak and setting out for a paddle on Lake Las Vegas.
Explore the local mountains with a hike in Sloan Canyon or with a ride around the River Mountains Loop Trail, a 34-mile bikeway that connects Henderson with Hoover Dam.
For more sightseeing ideas, read our list of the best things to do in Henderson, NV.
1. Feed Lions at the Lion Habitat Ranch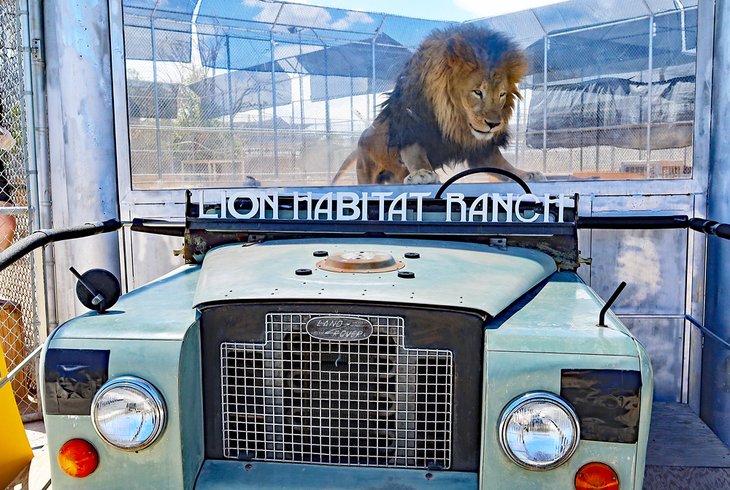 What started as a home for the lions that used to be on display at the MGM Resort, the Lion Habitat Ranch has evolved into a sanctuary for these incredible animals.
Aside from a pride of lions, you'll see a giraffe, ostriches, emus, tortoises, and parrots. You can take a self-guided tour of the facility or do one of the visitor experiences, which include a behind-the-scenes tour, feeding the giraffe, or feeding the lions. There are keepers on-hand to answer your questions.
It's one of the best things to do in Henderson with kids – they love getting up close and personal (through thick glass) with the lions.
Aside from the Henderson sanctuary, the ranch participates in animal welfare and conservation efforts in Africa, native home to their giraffes and lions.
The Lion Habitat Ranch is open from Thursday through Monday from 10am to 2pm, with the last tour at 1pm.
Address: 382 Bruner Avenue, Henderson, Nevada
Official site: https://lionhabitatranch.org/
2. Learn about Henderson History at the Clark County Museum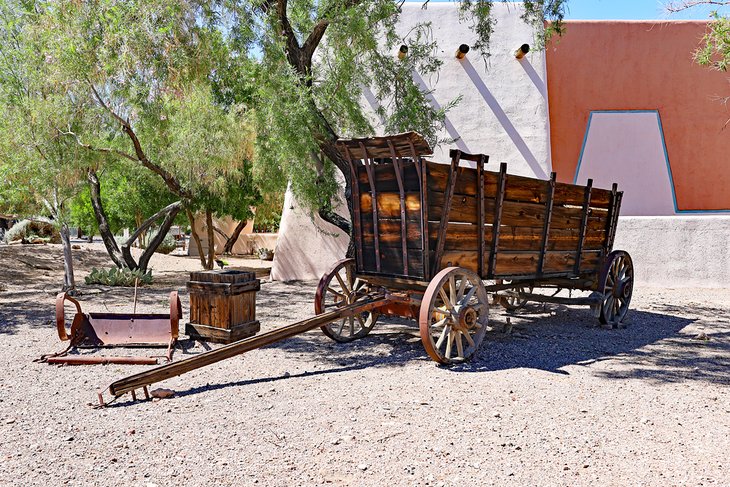 More than just a museum with exhibits, the Clark County Museum is a series of historic buildings located on a large open-air campus. Aside from the buildings, there is a lot of cool stuff, like a huge 1918 Union Pacific steam locomotive, mining equipment, and agricultural machines.
Part of the 30-acre museum campus is a Heritage Street, a collection of restored residential and commercial buildings.
Train buffs will love the caboose and old train depot in addition to the steam engine.
The main Clark County Museum building houses some fascinating exhibits about the history of Southern Nevada, from prehistoric times to today. It shows the modern progression of the Henderson area, from mining to agricultural to residential, much of which has happened in the last 100 years.
Address: 1830 South Boulder Highway, Henderson, Nevada
3. Henderson Bird Viewing Preserve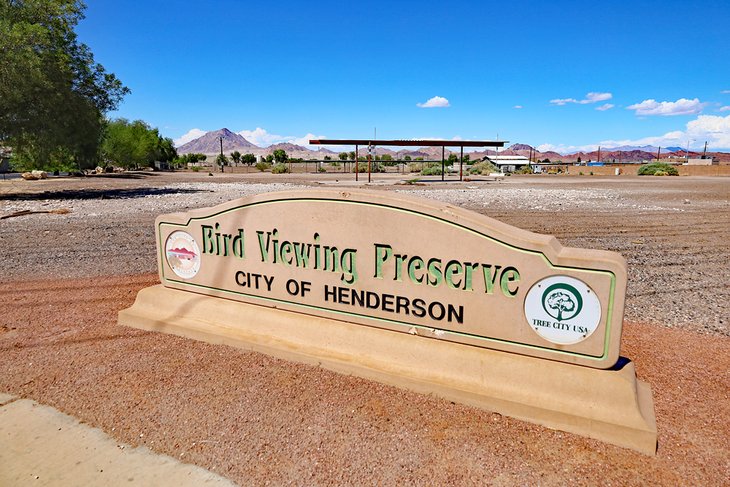 The Henderson Bird Viewing Preserve is a 140-acre site dedicated to bird-watching. You will see resident desert birds, as well as visiting migratory waterfowl, as the site is on the edge of something called the Pacific Migratory Flyway. Birds flying between North and South America stop here for rest and food.
Located within Henderson's water reclamation facility, there are nine ponds surrounded by paved (wheelchair-accessible) and soft trails. The water is treated wastewater, and the wetland area was created by the operation of the reclamation facility. The water is also used for golf course irrigation.
The Henderson Bird Viewing Preserve's website has a printable bird checklist to help you spot the different birds found here. There is a gift shop, and docent-led walking tours are available. Bring binoculars or borrow some (the gift shop has some loaner binoculars).
Guided tours in a golf cart (the "Bird Mobile") are available on the weekends. It's a very peaceful place to visit, especially at dawn or dusk when the birds are most active.
Address: 350 East Galleria Drive, Henderson, Nevada
4. Have a Spa Day at M Resort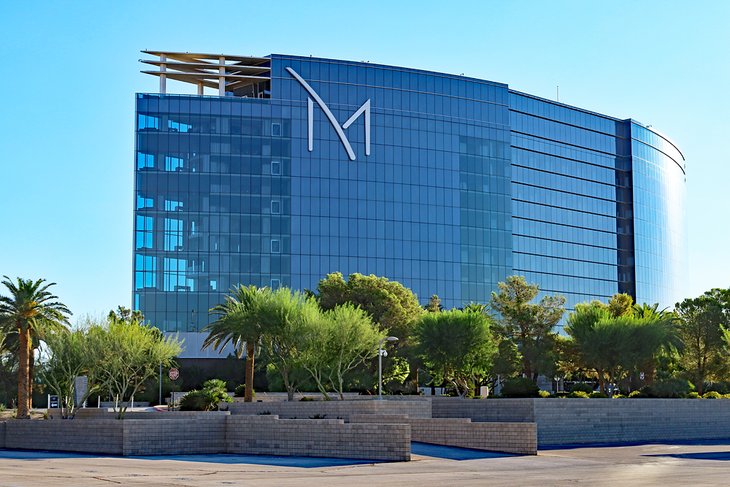 This luxury resort sits at the very south end of the Strip, in Henderson. M Resort is the official team hotel of the Las Vegas Raiders. It's a great place to stay if you're a Raiders fan. The resort's luxurious Spa Mio is the biggest and is considered the best spa in Henderson at 23,000 square feet, with 16 treatment rooms.
The spa menu includes a wide range of skin, face, body, and beauty treatments and a full array of massages. There is also a full-service beauty salon and a master barber for men.
Aside from the treatments, spa guests can use a eucalyptus steam room, dry sauna, indoor hot tubs, and a huge fitness center.
Day passes to the spa and its amenities are available to non-hotel guests. Non-guests can also pay to access the M Pool, a 100,000-square-foot fun space with two heated infinity-edge pools, two huge whirlpool hot tubs, and a wading pool area on each end.
Address: 12300 Las Vegas Blvd. South, Henderson, Nevada
5. Play on the Beach at Lake Las Vegas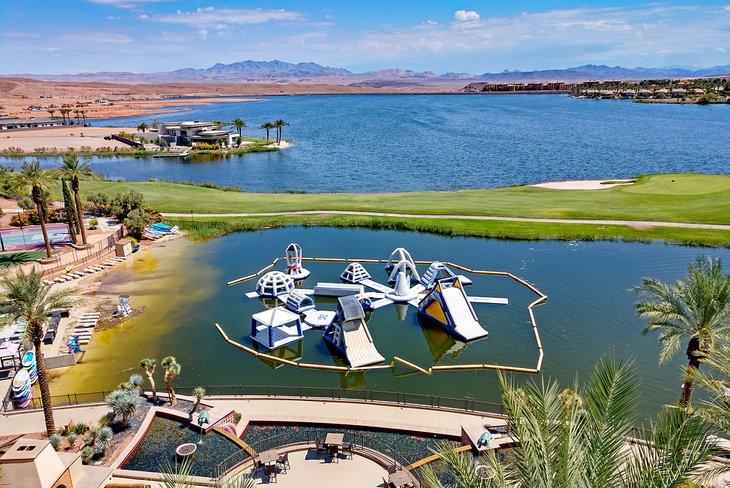 High in the hills of Henderson, close to Lake Mead, the Lake Las Vegas resort area includes luxury homes and condos, along with several resorts. The Westin Lake Las Vegas Resort & Spa has its own beach on a private lagoon. There's a lifeguard, and the resort sets out beach chairs and umbrellas. Aside from the beach, there's an inflatable water park play area in the private lagoon and a range of rental watercraft available, including Ski-Doos and WaveRunners.
For a more peaceful experience, explore the placid lake in a kayak or atop a stand up paddleboard. Resort guests can enjoy the hotel's impressive double-level Nuala Pool.
Another fun thing to do in Henderson at Lake Las Vegas is to take an e-bike ride around the lake. Pedego in The Village shopping area offers e-bike rentals at their storefront or at the Westin.
Address: 101 Montelago Blvd., Henderson, Nevada
6. Ethel M Chocolates Factory & Cactus Garden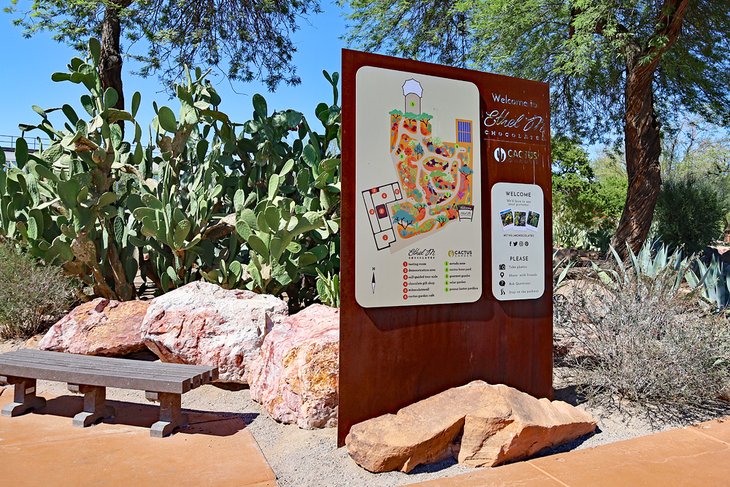 Perhaps the only place in the world where you can taste freshly made chocolate and explore a cactus garden is the Ethel M Chocolates Factory & Cactus Garden in Henderson. The company store, which is located next to the actual chocolate factory, includes a gift shop and a café. You can do chocolate tastings and other cool experiences, and many free samples are always available.
Outside the factory store, you're welcome to do a self-guided tour of Nevada's largest botanical cactus garden, which showcases one of the world's largest collections of its kind. The three acres of drought-tolerant English landscape garden-inspired landscape are home to over 300 species of cacti and succulents coming from all over the world. They were chosen for their beauty and their ability to adapt to Henderson's desert climate.
There is no charge to visit the Ethel M company store or the Botanical Cactus Garden and it's open every day, year-round from 10am to 7pm.
Address: 2 Cactus Garden Drive, Henderson, Nevada
7. Hike through Sloan Canyon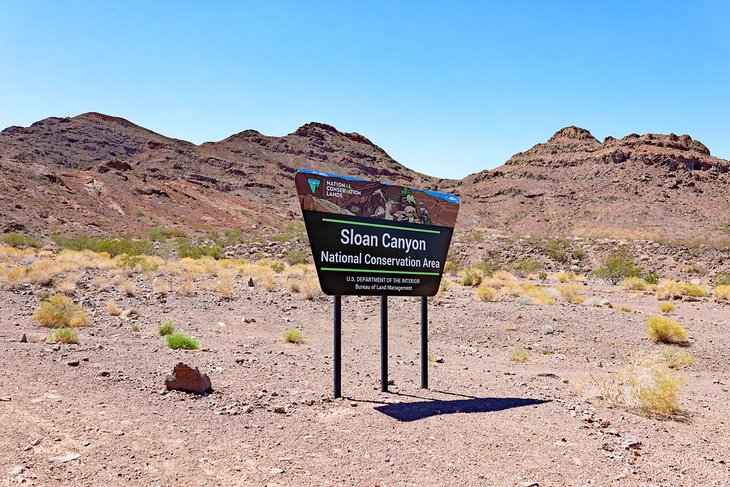 Part of the Sloan Canyon National Conservation Area, Sloan Canyon is a huge outdoor space just waiting to be explored. There are miles of hiking trails with several trailheads in multiple areas of Henderson. For silence and solitude, consider hiking in Sloan Canyon's North McCullough Wilderness area, about 30 minutes from Henderson.
Aside from hiking, be sure to explore the Petroglyph Trail and the Petroglyph Canyon. The canyon area has over 300 rock art petroglyphs created by native cultures. Some of the artwork dates back more than 10,000 years, and they are considered some of the best and most unique examples that exist anywhere in the world.
Access to the canyon is limited to groups of no more than 20 people. It's a day-use-only area, open from 8:30am to 4:30pm. All visitors must check in at the Sloan Canyon Visitor Contact Station before hiking the trail or entering the canyon.
Henderson gets hot, especially in the summer. This hike is best done in the fall or winter. Summer hikes should only be done at dawn or dusk.
Read More: Top-Rated Hiking Trails near Las Vegas, NV
8. Cool Off at Cowabunga Bay Water Park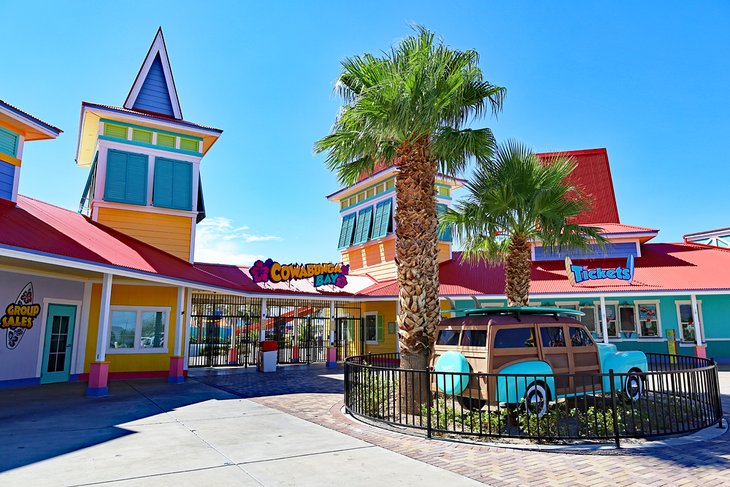 If you're traveling with kids, one of the best things to do in Henderson is to spend the day at Cowabunga Bay. The massive water park has over 25 waterslides, multiple pools, a giant wave pool, a lazy river, and all kinds of ways to have fun in the water.
The park promotes its wave pool as making the largest man-made water park waves in the world. There are even sandy beaches to relax on. Little kids and toddlers have their own special play area with a wading pool.
Cabanas are available for rental if you have a big family or are traveling as a group and want a bit of luxury and privacy. Food and drinks are available, including burgers, sodas, and more.
Cowabunga Bay is open weekends (Friday, Saturday, Sunday) from April through September and every day in June and July and during holidays like Spring Break.
Address: 900 Galleria Drive, Henderson, Nevada
Official site: https://cowabungavegas.com/
9. Bike around the River Mountains Loop Trail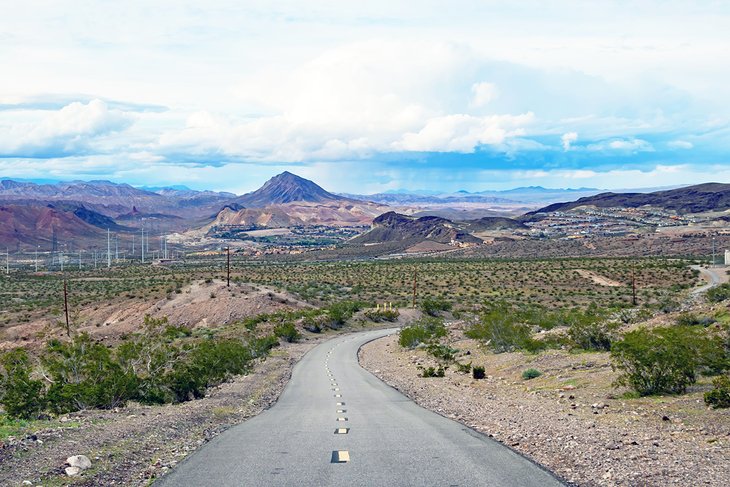 This 34-mile-long paved, dog-friendly trail for non-motorized fun (biking, walking, running) connects Henderson with the Lake Mead National Recreation Area, Hoover Dam, Boulder City, and the greater Las Vegas Valley.
The loop trail surrounds the River Mountains area and showcases the incredible Mojave Desert environment. It's a great way to see the natural scenic beauty of Henderson and the surrounding area.
There are three trailheads in different locations throughout Henderson, which all connect to the River Mountains Loop Trail. You can take a short stroll or head out on a bike and try to complete the full loop.
Riding the full 35-mile loop trail takes a few hours and is considered a moderate ride. Most riders go clockwise, which, due to elevation changes, is a bit easier than going the other direction. Portions of the route even have a second gravel trail for horseback riders next to the paved path.
10. Shop and Dine at The District at Green Valley Ranch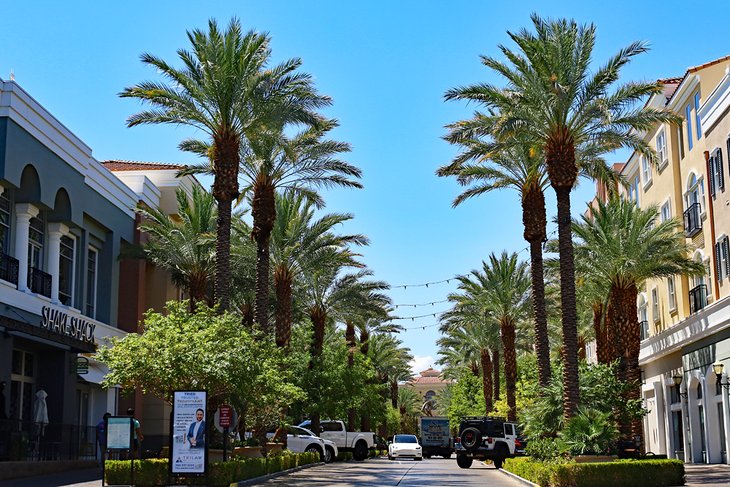 This outdoor upscale shopping district, adjacent to the Green Valley Ranch Resort & Spa, provides a luxurious location to shop and/or dine.
Aside from shopping and eating, the District presents an array of fun things to do. Friday and Saturday nights, the District features local musicians performing in the courtyard area, and Sunday mornings bring activities like free outdoor yoga and fitness classes.
There's a farmers market on Thursdays, and a few times a month the District holds free outdoor movie screenings. Since the District also includes offices and residential areas, it's a fun mix of tourists and Henderson locals and District residents.
The District has 21 different dining options, like the very popular Shake Shack burger cafe. Stores include REI, Anthropologie, and lululemon. Be sure to stop by Mayweather Boxing and Fitness, the Champ's new fitness center and gym.
Address: 2240 Village Walk Drive, Henderson, Nevada
Official site: https://shopthedistrictgvr.com/
11. Go Mall Walking at Galleria at Sunset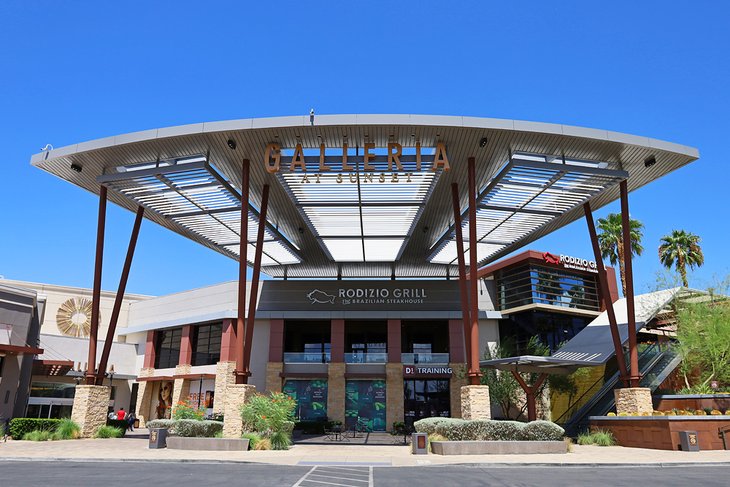 Henderson's largest and only enclosed mall, the Galleria at Sunset opens an hour earlier for mall walkers. Take your morning stroll in a safe, cool, comfortable environment and then enjoy a bite to eat or some retail therapy after your exercise.
Walkers are allowed in at 10am, the mall opens to shoppers at 11am. A loop around each Y-shaped floor is a half-mile, so you can do a mile by walking a lap on each of the mall's two levels. With its fountains and stylish architectural design, it's a nice place to walk, with a lot to look at.
The mall walk is a great thing to do during the summer, when Henderson's outside temperature can hit 100 degrees by 10am. Inside the mall, it's a nice 72 degrees Fahrenheit at 10am.
The Galleria at Sunset is one of the largest malls in Nevada and boasts four department stores (Dillard's, Kohl's, Macy's and JCPenney); over 100 individual retailers; and more than 20 dining options, including sit-down restaurants and fast-casual food court places.
Address: 1300 West Sunset Road, Henderson, Nevada
Official site: https://www.galleriaatsunset.com/en.html
12. Feed the Ducks at Cornerstone Park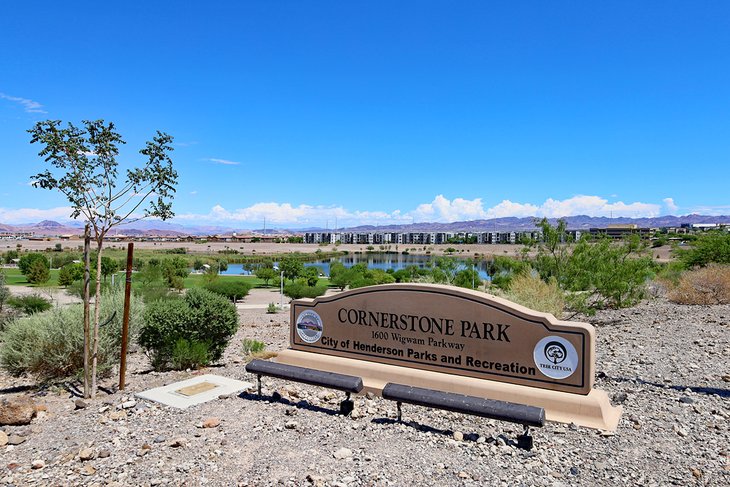 If you're looking for a good place to visit in Henderson for a hike, run, picnic, or gentle stroll, Cornerstone Park is a spacious green space focused around a beautiful 31-acre lake. Created from a former quarry, the dog-friendly space is a popular spot for Henderson residents to exercise.
The scenery is striking, with the mountains in the background, and the lake makes for a dramatic centerpiece as you walk (or run) around it.
There are lighted basketball courts and lighted volleyball courts, and the park is open until midnight, so it's common for there to be a lot of people here, especially on hot summer nights.
There are walking and hiking trails and courses and exercise courses and trails with instructive signage. It's a great place for picnicking, with covered shelters, BBQ grills, and restrooms.
Address: 1600 Wigwam Parkway, Henderson, Nevada
13. Test Your Aim at the Green Valley Range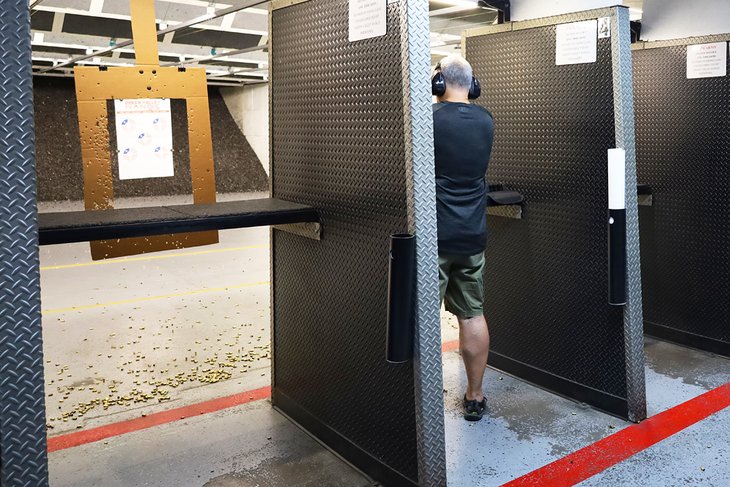 The Green Valley Range is a full-service indoor target shooting range and gun shop. The public is welcome, and the range offers a selection of almost 100 rental guns, including rifles. The modern range allows you to test your skill and aim in a safe, controlled environment.
Both experienced shooters and newcomers are welcome, and the staff is always happy to help first-time shooters. Instructors are available for some professional guidance to develop and improve your technique.
Range experiences with a rental gun include lane rental, targets, eye and ear protection, and the use of several different firearms. Popular with the local law enforcement community, the shop focuses on safety, and all rentals and range activities are overseen by a Range Safety Officer.
The range is open during the week from 11am to 7pm and on weekends from 9am to 7pm. Visitors from out of state and out of the country can shoot at the range, as long as they have government-issued ID. Children over seven, when accompanied by a parent, are welcome in the range.
Address: 175 Cassia Way, Henderson, Nevada
Official site: https://www.greenvalleyrange.com/
14. Drive a Ferrari at SPEEDVEGAS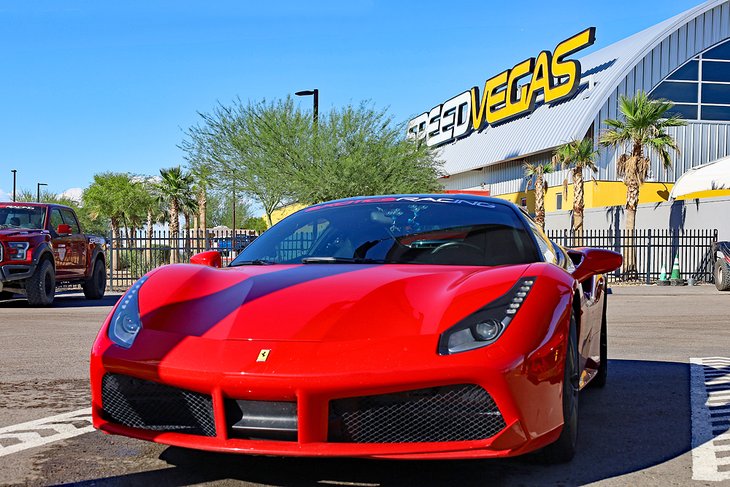 The name may say Vegas but the SPEEDVEGAS racetrack is located in Henderson. For less than the price of a dinner at one of Gordon Ramsay's newest restaurants, you can get behind the wheel of a serious exotic car, like a Ferrari 488 GTB or Lamborghini Gallardo, and take it out on a racetrack.
After two orientation laps as a passenger in a Porsche Cayenne, you get behind the wheel of a supercar and head out onto the track. With an instructor in the passenger seat constantly giving you real-time instructions, it's an almost overwhelming experience.
More than a cruise or ride-along, this is a serious racing experience, where you'll exceed 100 miles per hour on the straightaways and then stomp on the ceramic brakes as you enter a turn.
In addition to the supercar driving experiences, SPEEDVEGAS does offer ride-alongs for those who want the thrill of going around the track but don't want to drive themselves. You can also do a crazy ride-along in a tire-shredding drift car with a pro driver, or go off-road and do a four-wheel-drive experience in a race truck on the dirt course.
Address: 14200 South Las Vegas Blvd., Henderson, Nevada
15. Operate a Giant Bulldozer or Excavator at Dig This!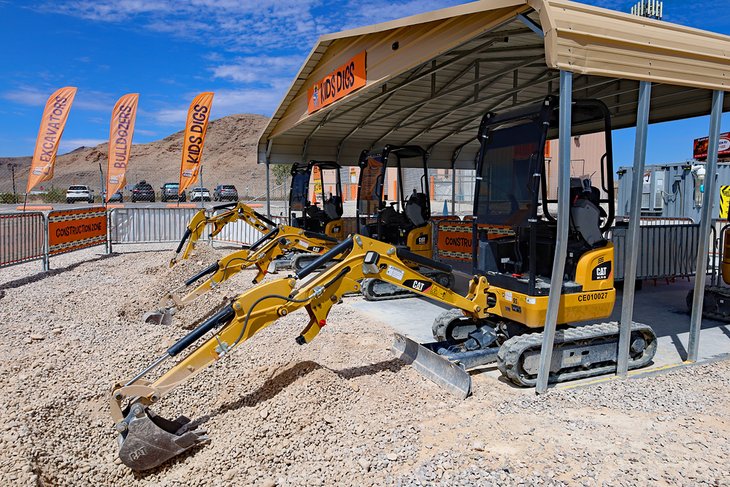 Another one of the best things to do in Henderson is to drive a giant bulldozer or excavator. Many car enthusiasts have done supercar drives or ride-alongs, but how would you like to be able to live out your childhood sandbox fantasies and operate a piece of huge construction equipment?
Dig This! allows regular folks with no experience to drive and operate these iconic pieces of machinery. After a video training session, you put on a hardhat and safety vest and climb into the cab of a Caterpillar excavator or bulldozer. With an instructor (with a remote kill switch) giving you directions on a headset, you dig huge holes, pile up dirt, and move these giant machines around a large dirt lot.
It's a lot of fun, as the machines are operated like a video game, with most control done with two joysticks and two levels. The instructor tells you things on the headset like "move the right joystick up and the left joystick to the left," and you see how the machine reacts. After a few minutes, you learn how the controls work, and it becomes easier to follow the directions.
Address: 800 West Roban Avenue, Henderson, Nevada
Official site: https://digthisvegas.com/
Map of Things to Do in Henderson, NV
Henderson, NV - Climate Chart
Average minimum and maximum temperatures for Henderson, NV in °C
J
F
M
A
M
J
J
A
S
O
N
D

12

3

15

6

18

8

23

12

28

16

34

22

37

25

36

24

32

21

26

14

17

8

12

3

PlanetWare.com
Average monthly precipitation totals for Henderson, NV in mm.

19

20

24

6

6

3

14

23

16

7

12

12