12 Top-Rated Tourist Attractions in Reno, NV
Things are happening in Reno! This underrated city has traditionally been happy to be in the shadow of its flashier cousin to the south, Las Vegas, but not any longer. The city is growing fast, and nearby in Sparks, Tesla has built its Gigafactory, reportedly the largest building in the world.
Boasting more than five million visitors a year, Reno offers a wide range of entertainment and educational attractions, many of which are ideal for families. Some of the fun and unique things to do here include hot-air balloon races, bowling tournaments, car shows, and concert performances at the many large resorts here.
Reno also makes a great base if you are planning to visit the Lake Tahoe recreational area 45 minutes away, as well as Pyramid Lake to the northeast of the city. Learn more about the best places to visit with our list of the top attractions in Reno.
1. National Automobile Museum (The Harrah Collection)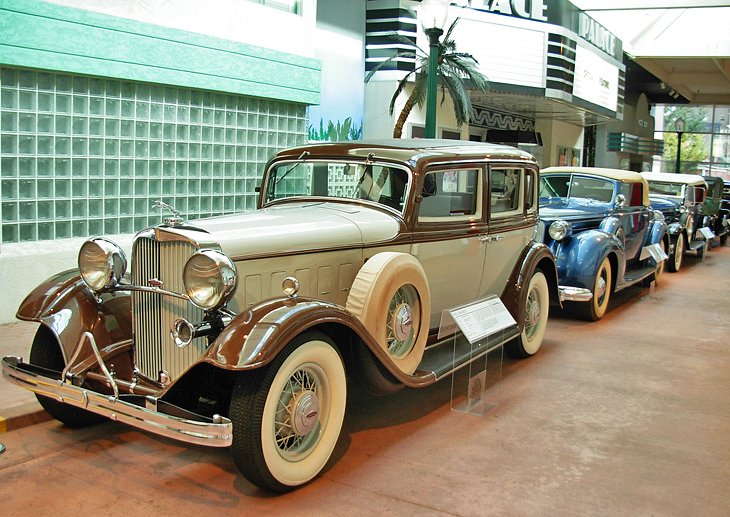 Car enthusiasts will want to be sure to visit the National Automobile Museum (The Harrah Collection). This museum - based on a private collection that originally held 1,450 vehicles - is home to some 200 vehicles and is undoubtedly one of the highlights of a visit to Reno, with everything from vintage cars right through to modern vehicles.
The museum is divided into four galleries: 1890s-1910, teens-1930s, 1930s-1950s, and the 1950s and beyond. Of special note are luxury cars once owned by stars and celebrities, including Elvis Presley's 1973 Cadillac Eldorado, Frank Sinatra's 1961 Ghia L6.4, and John Wayne's 1953 Chevrolet Corvette.
Also on display are two art collections that encompass auto-related pieces, as well as costumes and accessories. The museum offers historical lectures on the development of cars and a "Passports to Adventure" program, which helps children learn about the history of cars in the United States. Check the museum's calendar for upcoming events, activities, and exhibits.
Address: 10 South Lake Street, Reno, Nevada
Official site: https://automuseum.org/
2. Animal Ark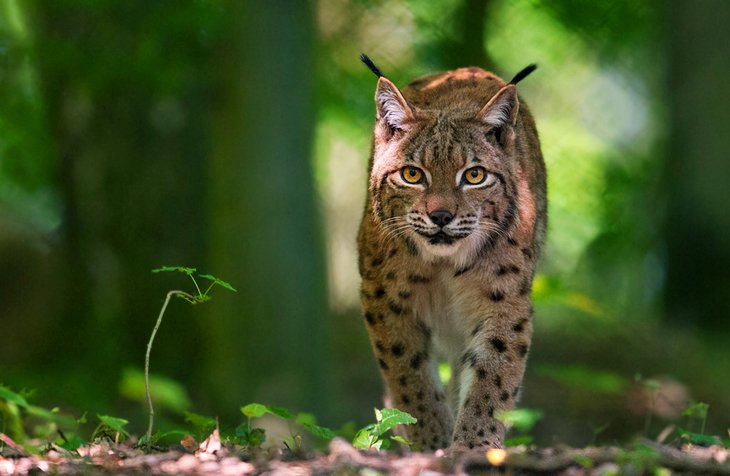 Animal Ark, just outside Reno, is a great place for families and animal lovers. This wildlife sanctuary and its dedicated staff help non-releasable wildlife survive in a stunning rural setting. While the Ark focuses mainly on the rescue and rehabilitation of North American predators, several exotic species have found sanctuary at the Ark as well.
The animal collection is quite diverse, ranging from tortoises and cheetahs to bears and wolves. The organization hosts tens of thousands of tourists each year for educational opportunities on topics related to the rescued wildlife and the ecological principals governing their habitat.
The enclosures at the Ark are full of native trees and other vegetation, as well as boulders and materials that mimic natural habitat. For a truly memorable experience, try to plan your visit to coincide with events such as the thrilling "Cheetah Runs," when you'll have the rare opportunity to see these very fast cats dashing across the desert.
Address: 1265 Deerlodge Road, Reno, Nevada
Official site: www.animalark.org
3. Explore the Riverwalk and Arts District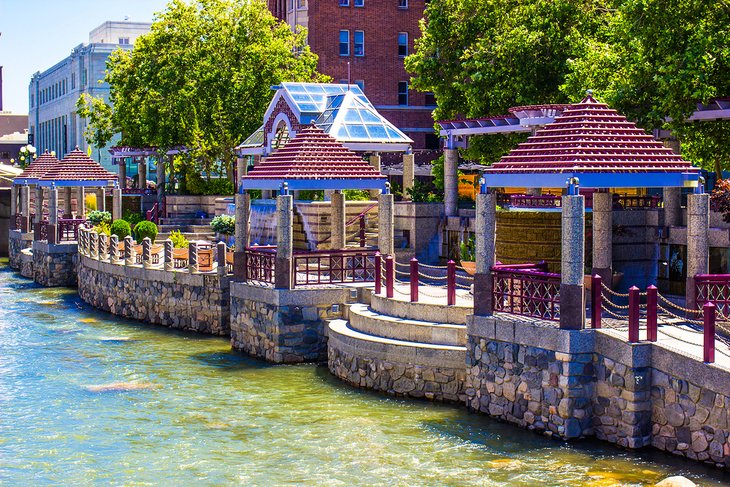 Reno has done a great job of making the Truckee River area accessible in the heart of the city. Walking trails line the river, and bridges cross in several sections, and benches are ideally placed to allow you to rest and soak up the pleasant atmosphere.
Restaurants with sunny patios line the riverfront, and this area has a relaxed vibe, with people basking in a bit of nature right downtown. Barbara Bennet Park, Wingfield Park, and Bicentennial Park are all within easy walking distance of one another.
4. Nevada Museum of Art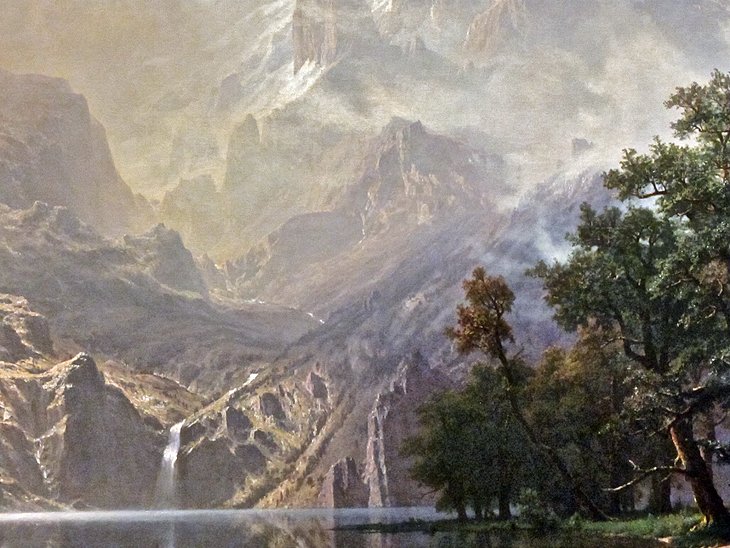 Considered one of the finest art museums in the state, the Nevada Museum of Art features its own unique collections and frequently hosts national and international traveling exhibitions. Of particular note in the permanent collection is the work of E.L. Wiegand and the Sierra Nevada/Great Basin works. The museum's signature exhibit is the Altered Landscape: Photographs of a Changing Environment, a photography collection focused on human interaction and interdependence with the natural world.
Be sure to look into the regular educational programming available here, too, including art classes (drawing, painting, and ceramics) and workshops aimed at children and teens. Guided tours are also available. The museum is a good cultural addition to the city and a great escape from the usual resort entertainment. It can also be rented for events and private functions.
Also worth visiting if art is your thing is the Stremmel Gallery, a contemporary art gallery showcasing paintings and sculptures from America and Europe.
Address: 160 West Liberty Street, Reno, Nevada
Official site: www.nevadaart.org
5. Pioneer Center for the Performing Arts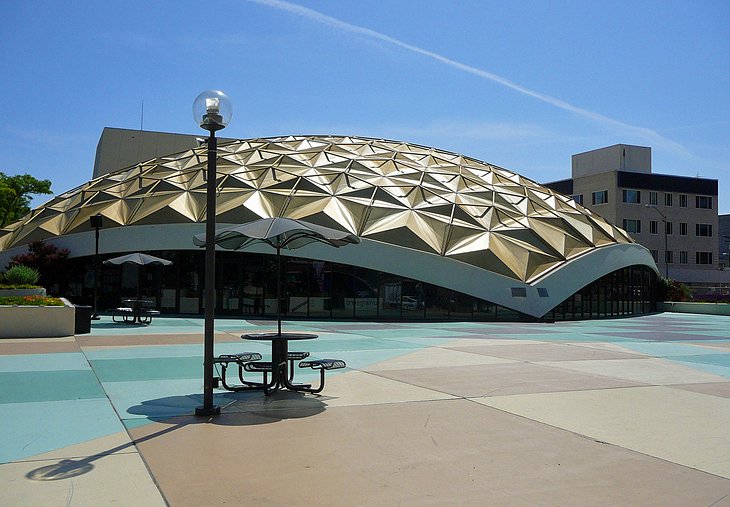 Located in a beautifully designed building, the Pioneer Center for the Performing Arts offers an eclectic choice of entertainment options ranging from professional opera and ballet performances to rock concerts. It's a good sized venue, capable of holding audiences of up to 1,500 people and is the largest such facility in northern Nevada, boasting an impressive 100-plus events and an annual turn-out of more than 100,000 visitors.
Highlights include performances by the Reno Philharmonic Orchestra, A.V.A. Ballet Theatre, and the perennial favorite Broadway Comes to Reno series. For those who enjoy a good laugh, be sure to check out the center's Pioneer Underground comedy shows, put on regularly by the Reno Tahoe Comedy group (these and other performance schedules can be found on the facility's website).
Address: 100 S. Virginia Street, Reno, Nevada
Official site: http://pioneercenter.com
6. STIHL National Championship Air Races & Air Show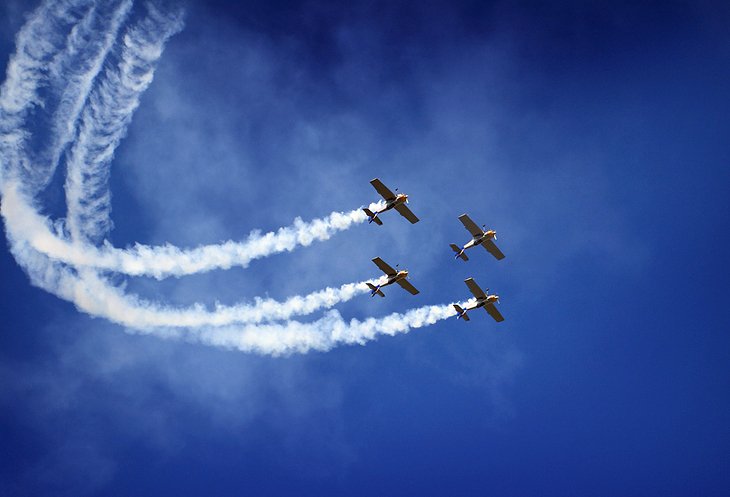 The STIHL National Championship Air Races, also known as the Reno Air Races, are a five-decade-old September tradition that takes off from the Reno-Stead Airport just a few miles north of the city. The race features amazing multi-aircraft races over three- to eight-mile courses. Racing planes range from World War II aircraft all the way up to modern jets and everything in between, many of them home-built.
The show also features air show acrobatics and military flight demonstrations, static displays of vintage military aircraft, along with vendors and food stands (they're everywhere!). Check the website below for updated event dates and entrance fees.
Address: 14501 Mt. Anderson Street, Reno, Nevada
Official site: www.airrace.org
7. Nevada Historical Society Museum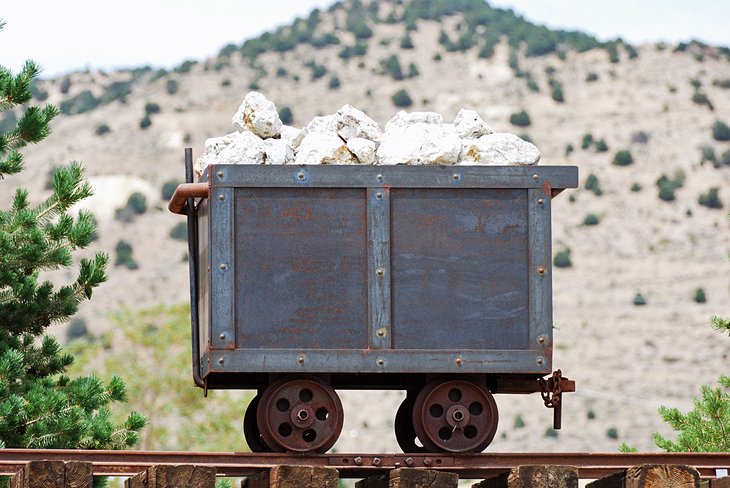 The Nevada Historical Society Museum in Reno is Nevada's oldest museum, founded in 1904, and has been going strong ever since. Some of the most interesting permanent exhibits include "Living on the Land," "Neon Nights," and "Riches of the Earth," which together provide a fascinating insight into the human habitation of the Reno area over the past 10,000 years, from the early Paleo people to the Paiute, to the coming of the Euro-Americans and events right up to the present day. The museum also hosts an impressive research library, along with a well-stocked book store.
Address: 1650 North Virginia Street, Reno, Nevada
Official site: http://nvculture.org/historicalsociety/
8. Reno Arch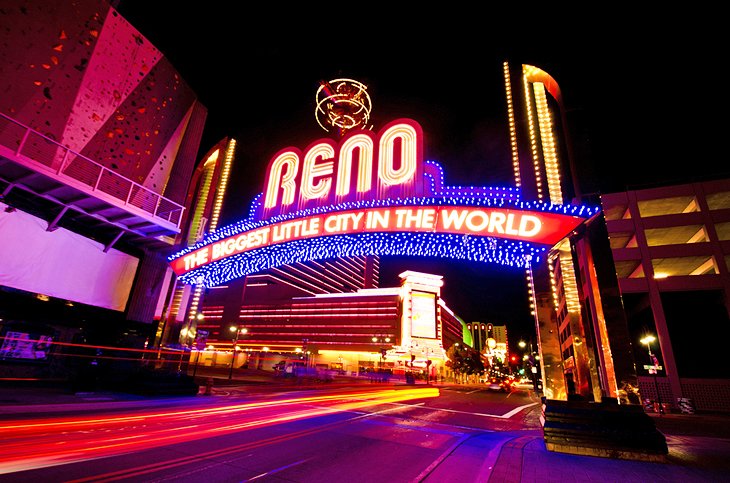 Currently lighting up the night sky as it towers over Virginia Street and Commercial Row in the entertainment district, the famous Reno Arch has moved about the city since its creation in 1926. Now in its third location, this iconic landmark was originally built to honor the Nevada Transcontinental Highway Exposition. After the exposition, the city fathers held a contest for a town slogan, and the phrase "The Biggest Little City in the World" was coined.
In November 2009, the City of Reno replaced the 2,076 incandescent light bulbs in the Reno Arch with energy efficient LED bulbs, the colors of which are changed regularly to coincide with special events and celebrations in the city.
9. Take a Day Trip to Lake Tahoe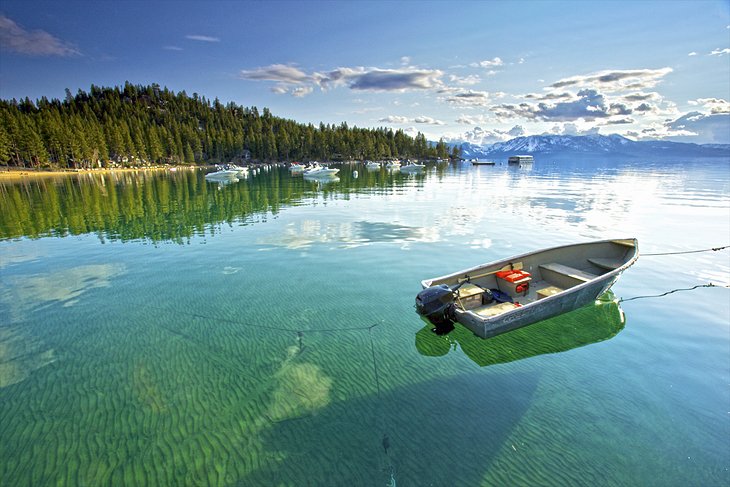 For an escape from the city, it's hard to beat the attractions of beautiful Lake Tahoe, just over an hour's drive south of Reno. Set high in the Sierra Nevada Mountains, Lake Tahoe is a magnet for outdoor enthusiasts who enjoy water sports and activities such as swimming, sailing, diving, and fishing.
The massive two-million-year-old freshwater lake is 22 miles long and the second deepest lake in the United States. Originally inhabited by the Washoe people, the area is now home to a number of top resorts and hotels, as well as ample boating, water skiing, mountain biking, and hiking trails. Surrounded by hills of pine trees, the water is crystal clear and is rimmed by sandy beaches in some areas. The higher altitude allows for a cooler climate, making it a pleasant destination in summer.
In the winter, Lake Tahoe ski hills bustle with skiers hitting some of the best ski resorts in California and Nevada. Some of the most awesome skiing in the Sierra Nevada Mountains takes place here, with famous resorts like Squaw Valley, Heavenly, and Northstar to name a few.
Mount Rose holds the title for being the closest resort to Reno. One of the best in the Lake Tahoe area, the resort is an easy 35-minute drive from Reno. You'll be on the slopes cranking up vertical in no time.
10. The Discovery and the Fleischmann Atmospherium Planetarium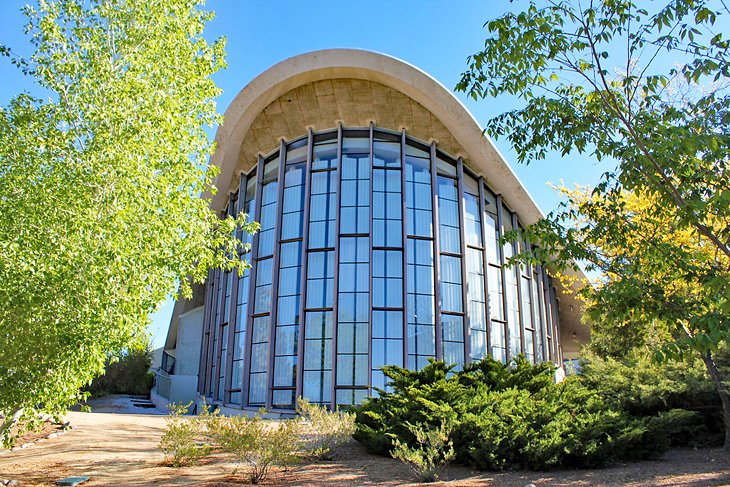 The Terry Lee Wells Nevada Discovery Museum - most commonly referred to simply as "The Discovery" - is one of Reno's newest attractions (it opened in 2012) and has made a name for itself among visitors and locals alike for its first-rate exhibits and educational programming. With its focus on the areas of technology, engineering, science, math, and art, this hi-tech science museum makes for a fascinating day of, well, discovery for young and old alike.
Highlights include numerous fun interactive, hands-on exhibits and galleries dealing with exploration and learning, including an excellent human anatomy experience that demonstrates how our bodies grow and work; a Smithsonian laboratory that deals with invention (and marketing an invention); and the "cloud climber," a fun climbing area that also teaches about clouds and rainfall.
Another science-related attraction that's well worth a visit is the Fleischmann Atmospherium Planetarium, famous for its unique design and its early adoption of 360-degree projection technology when it opened in 1963. The facility offers a variety of fun, educational shows related to the stars and planets. Another science-related attraction is the W.M. Keck Earth Science and Mineral Engineering Museum, located at the University of Nevada and boasting one of the country's most impressive (and oldest) collections of ores, minerals, and fossils; it opened to the public in 1908.
Address: 490 S Center Street, Reno, Nevada
Official site: https://nvdm.org
11. Sparks Heritage Museum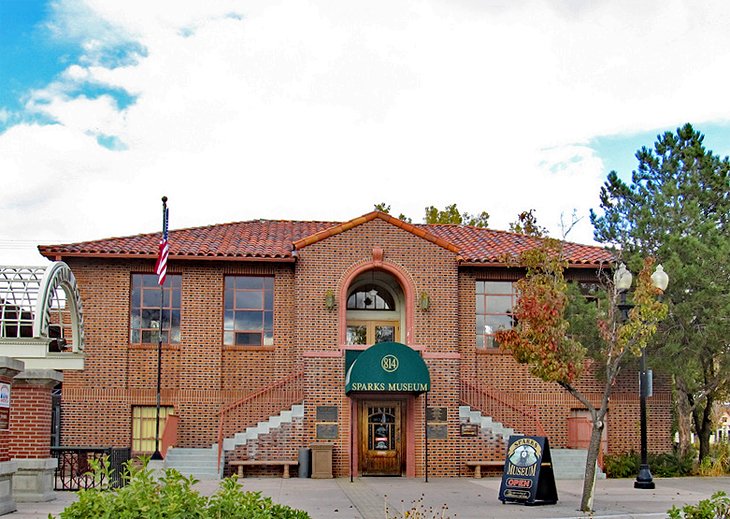 Well worth the short drive from downtown Reno, the Sparks Heritage Museum offers a fascinating glimpse into the past of the city's Sparks and Truckee Meadows areas. With a mandate to preserve this rich history, the museum offers interesting displays of related artifacts and materials in its permanent indoor exhibits, along with large outdoor exhibits, including a number of railroad-related items, such as a railroad bridge built by Chinese immigrants (and an accompanying memorial), plus a steam engine and Pullman car.
For a great photo op, stand next to the giant statue of a cowboy and prospector nicknamed "Last Chance Joe." The displays and information related to the region's immigrant settlers is also worth checking out, as are the reproduction buildings and dioramas showcasing the lives of the first settlers here.
Address: 814 Victorian Ave, Sparks, Nevada
Official site: http://sparksmuseum.org
12. National Bowling Stadium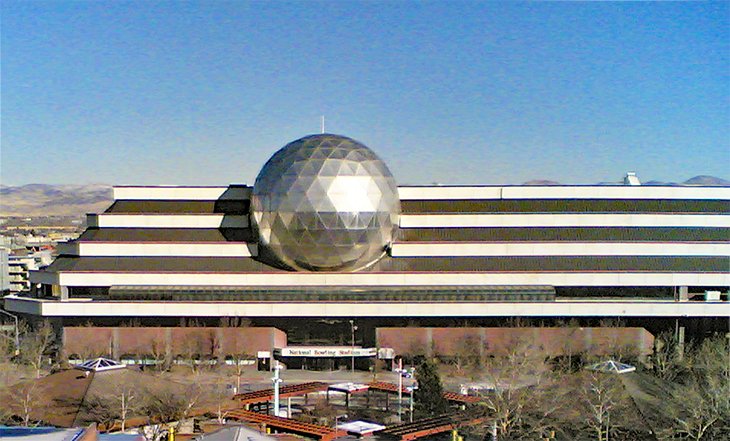 The world's largest facility dedicated to ten-pin bowling, the huge National Bowling Stadium covers an impressive 363,000 square feet in the heart of Reno - and you can't miss it, thanks to the massive 80-foot aluminum bowling ball affixed to its roof. Since it opened in 1995, this 78-lane stadium has not only attracted vast numbers of the sport's amateur enthusiasts, it's also a big draw for professionals competing in high stakes tournaments.
It's also a popular convention space, capable of hosting up to 100,000 participants, and has also been used as a backdrop for countless movies with bowling scenes. Among the best known of these are Kingpin, starring Bill Murray, and Greedy, with Kirk Douglas and Michael J. Fox.
While visiting, check out the on-site International Bowling Museum with its interesting collection of bowling-related paraphernalia, plus the Bowling Hall of Fame.
Address: 300 N Center Street, Reno, Nevada
Tips and Tours: How to Make the Most of Your Visit to Reno
Free Fun in Reno: For those looking for free things to do in Reno, here are a few favorites that needn't cost a penny. Topping the list is strolling the Riverwalk and Arts District, a pleasant pedestrian zone built along a section of the Truckee River known for its great shopping, galleries, cafés, and restaurants. For a slightly different perspective of the city, head to the Hunter Creek Trail, a gentle six-mile hiking trail on the outskirts of Reno, which offers great views and a chance to get up close to a waterfall. Another adventure that's free and fun is the Truckee River Whitewater Park, a 2,600-foot-long stretch of the river with numerous man-made obstacles including drops and rapids - all you need is a kayak, canoe, or water tube.
Fun for Kids: For a city that's known for its adult-centric activities and attractions, Reno boasts a surprising number of fun things for kids to do. A few of the top entertainment and adventure spots for kids include Need 2 Speed, a fun and fast indoor go-kart track, which offers special races for youngsters where these nippy vehicles are programmed for reduced speeds. For those with a sweet tooth, a tour of the Kimmie Candy factory may be just the ticket (and a free one at that... with samples included). Afterwards, bounce off that sugar high at Fly High Trampoline Park; suitable for novices and pros alike, this facility also offers fun foam pits for much younger kids.
Map of Attractions & Things to Do in Reno, NV
Reno, NV - Climate Chart
Average minimum and maximum temperatures for Reno, NV in °C
J
F
M
A
M
J
J
A
S
O
N
D

7

-6

11

-4

14

-2

18

1

23

4

28

8

33

11

32

10

28

6

21

1

13

-3

8

-6

PlanetWare.com
Average monthly precipitation totals for Reno, NV in mm.

27

27

22

9

16

12

6

7

11

11

20

22

Average monthly snowfall totals for Reno, NV in cm.

13

13

11

4

4

0

0

0

0

1

6

12
Average minimum and maximum temperatures for Reno, NV in °F
J
F
M
A
M
J
J
A
S
O
N
D

45

22

52

25

57

29

64

33

73

40

83

47

91

51

90

50

82

43

70

34

55

26

46

21

PlanetWare.com
Average monthly precipitation totals for Reno, NV in inches.

1.1

1.1

0.9

0.4

0.6

0.5

0.2

0.3

0.5

0.4

0.8

0.9

Average monthly snowfall totals for Reno, NV in inches.

5.1

5.2

4.3

1.5

1.4

0

0

0

0.1

0.4

2.5

4.8
More Related Articles on PlanetWare.com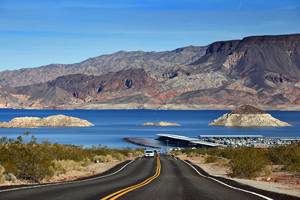 Fun Day Trips: The "Silver State" has plenty of great things to see and do beyond Reno. A must-visit is Las Vegas, famous for its miles-long 'strip', home to countless resorts, hotels, and entertainment complexes. And when you're done with all that excitement, jump into the car and enjoy a myriad of fun day trips in the surrounding area, including a trip to the spectacular Hoover Dam and the dramatic scenery of Red Rock Canyon National Conservation Area. There are also numerous excellent hiking trails in and around Las Vegas, too, all just waiting to be explored.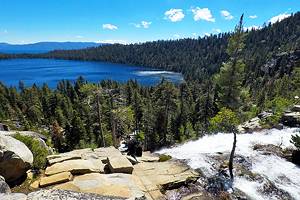 Explore Lake Tahoe: Encompassing some of the best scenery of both Nevada and California, spectacular Lake Tahoe offers no end of excitement and adventure. It's an area that's especially popular for campers, drawn here by the opportunity to bed down in a variety of excellent lakeside campgrounds, any one of which would serve as a superb base from which to head out and explore the region's many hiking trails. Come winter time, it's all about skiing. Find out where to hit the slopes with our article on the best ski resorts at Lake Tahoe or Nevada's Best Ski Resorts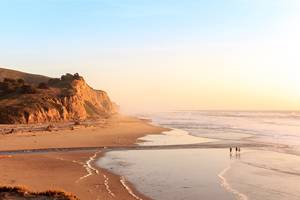 Explore California: Thanks to its proximity to California, Reno makes for a great base from which to explore the "Golden State." From here, you are only three hours from the incredible sites of Yosemite National Park , and about 3.5 hours from San Francisco. If you want to head a little farther afield you can also explore California's most attractive desert scenery, including Death Valley National Park (the country's second largest park).