6 Best Ski Resorts in Nevada
We may earn a commission from affiliate links ()
When most people think of skiing, Nevada may not be top of mind, and the locals are simply fine with that. Most of the large resorts are in the high elevations surrounding Lake Tahoe near the California border. The smaller ones are farther south near Las Vegas, and another is off on its own in the eastern part of the state.
Ski resorts in Nevada range from full-service resorts right through to community-operated mountains with limited facilities run by volunteers and kept up through community support. In addition to the traditional resorts, a heli-skiing company is also in operation, offering untracked descents in the remote Ruby Mountains.
One thing all the resorts have in common is sunny skies. The desert climate in Nevada ensures bluebird days most of the time, except when it's dumping snow during a storm.
Skiing in Nevada is also economical. Lift tickets are reasonably priced, but the real savings come in accommodation and meals. It's possible to pick up incredible room rates in places like Reno or Las Vegas, and in 30 to 45 minutes you'll be at the resort. Crank it up a notch by skiing in the morning and golfing, mountain biking, or hiking in the afternoon.
Find out where to hit the slopes with our list of the best ski resorts in Nevada.
Note: Some businesses may be temporarily closed due to recent global health and safety issues.
1. Heavenly Ski Resort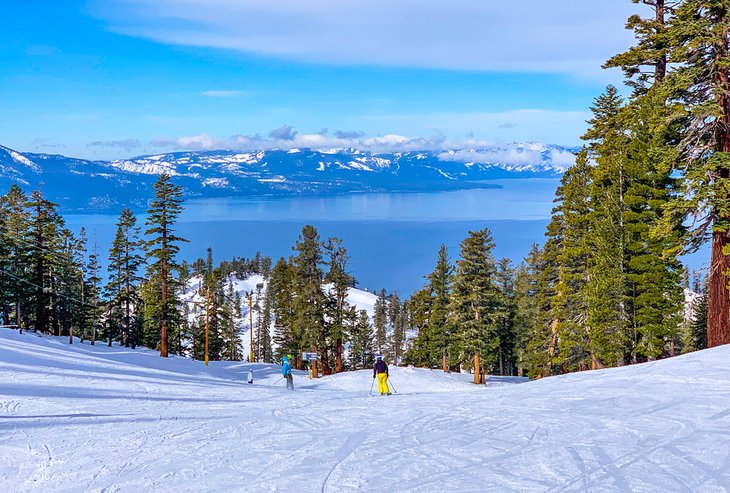 Many people think that Heavenly is in California, and they would be partially right. The resort straddles the state line, so it has a dual personality. Heavenly Ski Resort is Nevada's largest ski resort and one of the only places you can ski in two states with one lift ticket.
The mountain is big, in fact it's the largest ski resort in the Lake Tahoe area. Over 4,800 acres of skiable area offers up a wide variety of terrain to suit everyone. Runs include long cruisers, steep chutes, and endless mogul runs. If that's not enough, three gates open even more backcountry challenge.
Heavenly boasts 34 miles of cruisers, enough to tire out even the strongest of quads. If you love skiing in the trees, the resort has you covered. Well-spaced trees trap the big dumps of snow that funnel up from the Pacific Ocean. And if you are a daredevil and like the steeps, drop into Heavenly's 1,600-foot double black canyon runs and avoid a yard sale at all costs.
Heavenly is high; the peak is at 10,067 feet, so the season starts early and finishes late. Twenty-nine lifts, including nine high-speed quads, service 3,500 vertical feet of pure skiing pleasure. Pack your sunscreen. Heavenly gets over 300 clear blue-sky days each year, and when you combine that with over 30 feet of snow a season, it's an amazing combination.
Boarders and freestylers will love the two terrain parks where you can ride rails, soar off the jumps, and do laps until your legs give out. Re-Mix park is for more experienced boarders, with bigger sizes of everything, Groove park is for those just starting out and looking to progress to more difficult features.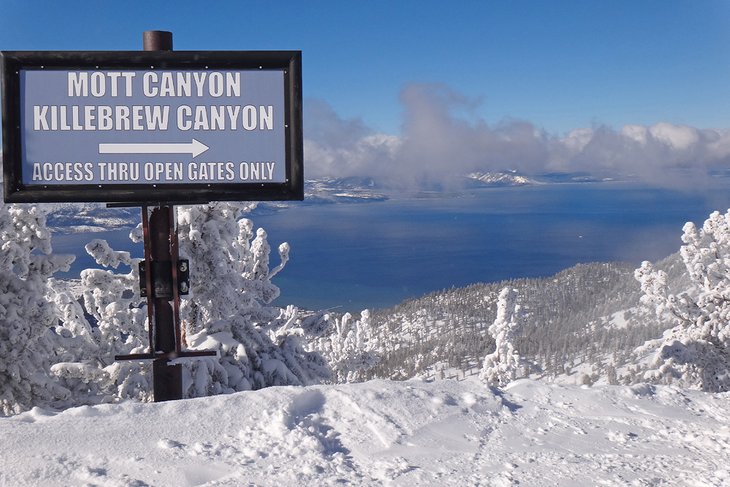 Heavenly has four base areas, and which one you go to depends on what kind of skier you are. In Nevada, the Boulder Lodge and Stagecoach Lodge areas are reached via the same road off the main highway. The runs near Boulder Lodge are some of the easiest on the mountain and with ample parking, this is an ideal place for families to access the mountain.
Stagecoach is smaller and the place for those who like to get on the mountain early. The Stagecoach lift gets you up to some of the best intermediate and advanced skiing on the mountain before the California crowds arrive. Parking here is at a premium, so arrive early.
The Village Gondola leaves from the center of town. This lift is generally utilized by those staying right in the town or at one of the big, new hotels recently constructed in this area. Parking is extremely limited, so this isn't a recommended access point for day skiers.
The California Base Lodge is the largest access point on the mountain. Here, you'll find two lifts to take you up, the Gun Barrel Express or the TRAM. The parking is extensive, and the base facilities have everything from rentals right through to great restaurants.
Heavenly is owned by Vail Resorts and is part of the Epic Pass program.
Official site: https://www.skiheavenly.com/
2. Mount Rose Ski Resort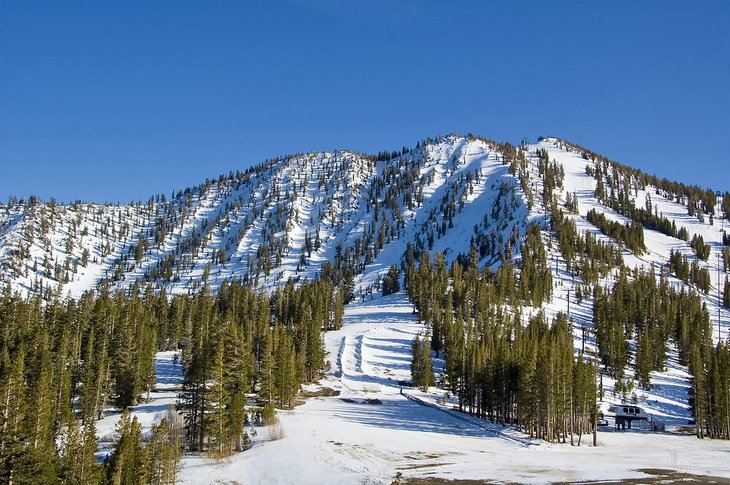 Mount Rose is the highest ski resort in Nevada and the highest ski resort of all the resorts in the Lake Tahoe area. Starting at a breathtaking 8,260 feet at the base area and rising to 9,700 feet, this mountain is well positioned to catch any and all snow that heads up over the Sierras. Seasonal snowfalls typically reach or exceed 30 feet, and with the extreme elevation, the snow falls early and stays late.
Mount Rose is so confident in their snow that they offer a guarantee. If you don't like what you see by 9:30am, they'll refund your ticket no questions asked.
Skiing here is a laid-back affair, with many of the skiers originating from nearby Reno. The mountain has it all: gentle terrain for beginners and children, a wide variety of long intermediate cruisers, and an extensive assortment of black diamond runs.
Mount Rose is an economical place to learn how to ski or get the kids interested in skiing or boarding. Check out the First Time Package, which includes lessons, a full day lift ticket, along with ski or snowboard rentals, and start your life-long enjoyment of this great snow sport.
The black diamond runs include the area called The Chutes. Advanced and expert skiers will be in their element as they pick and choose which descent they feel they can conquer. The Chutes area is spread out over 200-plus acres, and some of the inclines are a jaw-clenching 55 degrees. Access is through one of nine gates, and The Chutes area has its own exclusive chair called the Chuter.
Four terrain parks will have boarders and freestylers shredding with perma-grins. Rose Mountain staff are constantly changing up the features to keep things fresh, interesting, and challenging.
Mount Rose has 60 named runs serviced by nine major lifts, including two six-pack high speed chairs ensuring lift lines are rarely an issue here. The skiable terrain is spread out over 1,200 acres, and the vertical drop is an impressive 1,800 feet.
On a budget? Mount Rose is one of the most affordable places to ski around Lake Tahoe when you factor in the low-cost accommodation options in nearby Reno. The city, aka "The Biggest Little City in the World" is an easy 25-minute drive away and claims to have 9,000 hotel rooms on offer. In addition to reasonably priced hotels, you'll also find a great assortment of dining options.
If you'd prefer to be closer to the resort, consider staying at Incline Village, only 10 minutes away.
Official site: https://skirose.com/
3. Diamond Peak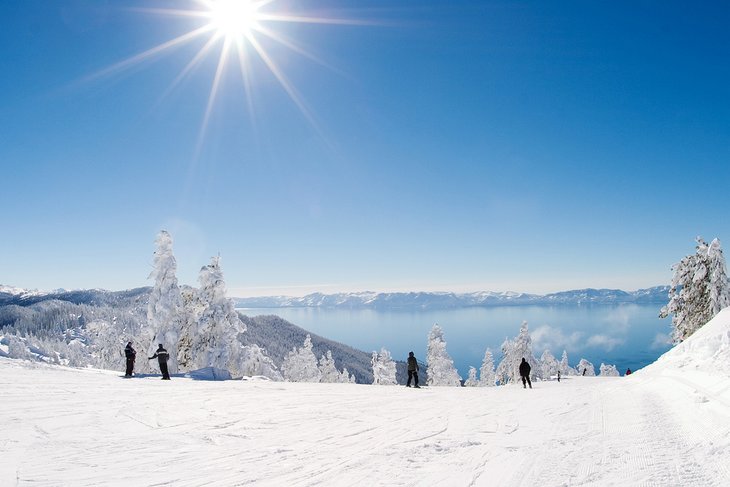 Perhaps one of the more underrated ski resorts in the Lake Tahoe area, Diamond Peak is an undiscovered gem. The resort has a vertical drop of 1,840 feet, which puts them on par with Mount Rose just up the road. This is a skier's mountain that does double duty as a great family resort.
Diamond Peak has six lifts, the most important of which is the Crystal Express. This lift services most of the long runs at the resort, including the wonderful long cruiser called The Great Plunge. The mountain has 30 runs, and they are spread out over 655 acres. If you love to ski in the trees, Diamond Peak claims to have the best glade runs in the entire Lake Tahoe region.
On big snow days, head to the Solitude Canyon area for extensive sections of untracked powder that stick around longer than at the bigger resorts on the other side of the lake.
The Village Terrain Park is serviced by its own chairlift, allowing you to accumulate laps in double time. The park has the usual rails, boxes, jibes, and jumps plus whatever the mountain staff can dream up.
If you are traveling with children, be sure to look into the wonderful instructors at the Child Care Ski Center. Targeted at children ages three to six, this innovative and fun program has a maximum of five children per lesson, so that everyone gets the help they need. Lessons are also available for older children and adults in the Ski & Ride Center.
The resort receives plenty of snow each year, and for whatever Mother Nature does not provide, snowmaking covers 75 percent of the mountain. The resort has recently invested in additional capacity with the most technologically advanced snow guns available.
No accommodation is available right at the hill, but Incline Village is just a few minutes away. Here, you'll find the large Hyatt Regency Lake Tahoe Resort along with many other hotel and dining options.
Official site: https://www.diamondpeak.com/
4. Lee Canyon Ski Resort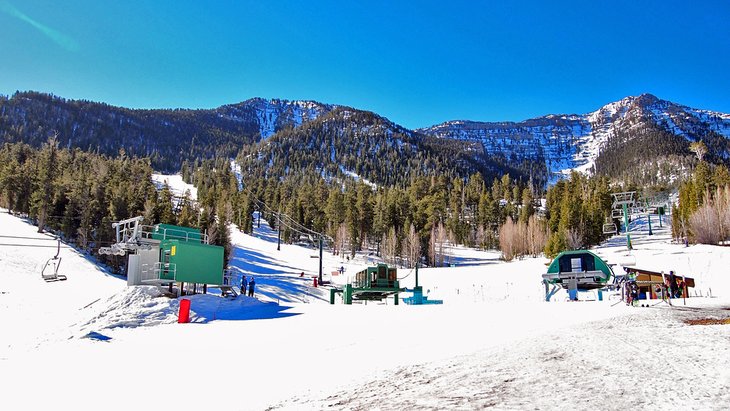 As you are sitting poolside at your resort in Las Vegas, perhaps the furthest thing from your mind is downhill skiing. However, one of the top ski resorts in Nevada is only 45 minutes from the glitz and glamour of The Strip.
Lee Canyon Ski Resort sits on the lofty flanks of 11,916-feet-high Mount Charleston. The resort is ideally positioned to catch any moisture that flows over from the Pacific. On average, the mountain receives nearly 11 feet of snow each year and supplements that total with snowmaking on 35 percent of the skiable area.
The resort has 24 named trails serviced by three lifts (two quads and a triple) spread out across 445 acres. With a vertical drop of 860 feet, there's plenty of terrain to keep you busy. If you crave some off-piste adventure and don't mind doing a bit of hiking, the vertical drop increases to 1,919 feet.
If you are a full-time desert dweller and have always wanted to learn how to ski or just get out and play on the snow, Lee Canyon is the place to go. The resort has an excellent ski school that can get you heading downhill in a controlled manner. Equipment rentals are also available and are usually combined with a lesson at a discount.
If you'd rather not ski, a tubing hill is available for some slip-sliding fun. No matter what you decide to do, bring your sunscreen, Lee Valley basks in the sun over 300 days a year.
Official site: https://www.leecanyonlv.com/
5. Elko Snobowl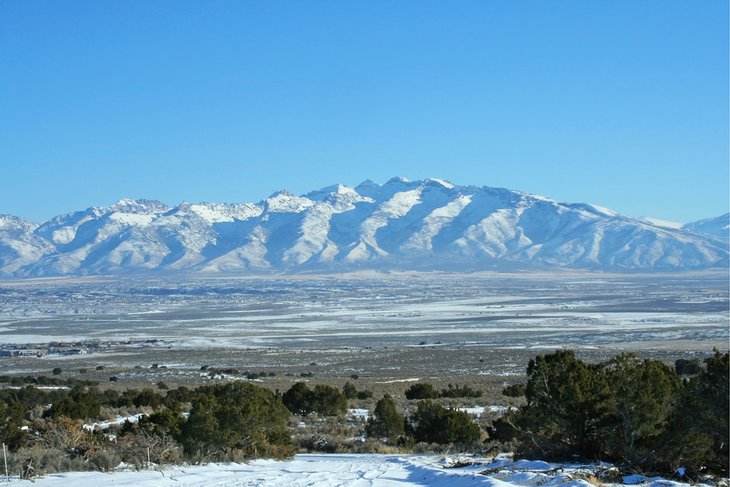 Off on its own in the northeast corner of the state is the community-owned Elko Snobowl. You won't find long lift lines or any whiff of pretension at this fun and friendly place. It's just locals having a good time. This is an ideal family destination and a wonderful place to foster the love of skiing in children.
The resort has a vertical drop of 700 feet, and the top of the mountain is a surprisingly high 7,000 feet. The only chairlift runs right up the middle of the mountain, and the terrain is all above the treeline. Most of the runs are not groomed, but those that are tend to be long and wonderful. This is an incredible place to ski after a big storm, as the fresh snow and wide-open spaces mean fresh tracks for a long time.
In addition to the downhill skiing, cross-country (Nordic) skiing is also available. Those who just want to play in the snow should visit the snow tubing hill.
Elko Snobowl is a tremendous value; the lift tickets are very inexpensive, and if you just want to use the rope tow, there's no charge. Elko Snobowl is just under eight miles from the town of Elko.
6. Ruby Mountain Heli Ski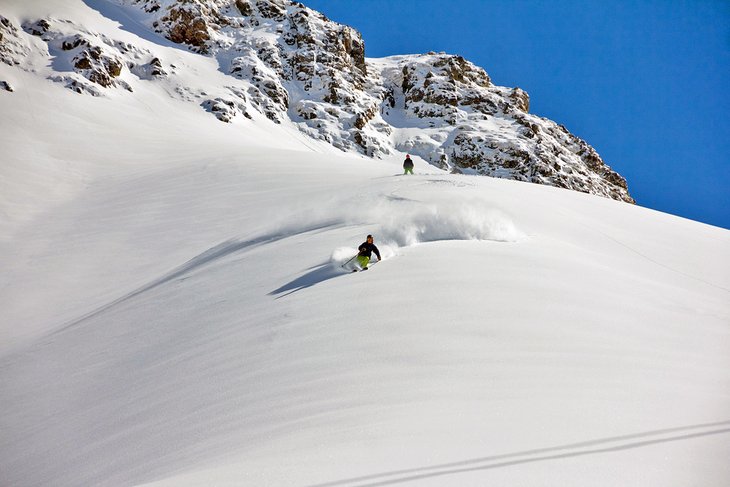 In the northeastern part of Nevada lies the remote Ruby mountain range. Not far from Elko, this range of mountains has 15 peaks that top out above 11,000 feet. Stretching for 80 miles in a north to south alignment, this range stands high above the desert floor and accumulates over 25 feet of snow per season as storms track in from the Pacific northwest.
The only way to access this wonderful, light dry snow is via helicopter or snowcat. Owing to their position in the high desert, you'll have a better chance of getting a bluebird day here than in the traditional heli-skiing areas farther north.
Ruby Mountains Heli-Experience has been operating in this area for over 45 years, and their staff are the local experts. It operates a base lodge and two yurts up in the mountains. Guests are transported to the mountains from the lodge via helicopter and have their choice of runs in over 200,000 skiable acres.
Official site: https://helicopterskiing.com/