12 Best Cheap Places to Travel in June
We may earn a commission from affiliate links ()
Scoring a cheap holiday any time of the year means careful planning to search for discounts, but it requires even more effort when it comes to the busy summer travel period, when more tourists are planning vacations. If cheapest is your top priority in June, you will be looking at spots like the Caribbean that no doubt have deeply discounted hotel and airfare rates. The trade-off is that the weather may not be ideal, since temperatures are hot in June.
If cheaper-than-high-season rates satisfies your tighter budget, you can still get great discounts in traditionally more expensive destinations that are not quite in peak season or possibly in the midst of their rainy seasons.
No matter where you decide to go, there is always a trade-off for cheaper prices, but you can still plan an exciting vacation by knowing that ahead of time. Find a great place for your next vacation with our list of the best cheap places to travel in June.
Note: Some businesses may be temporarily closed due to recent global health and safety issues.
1. Las Vegas, Nevada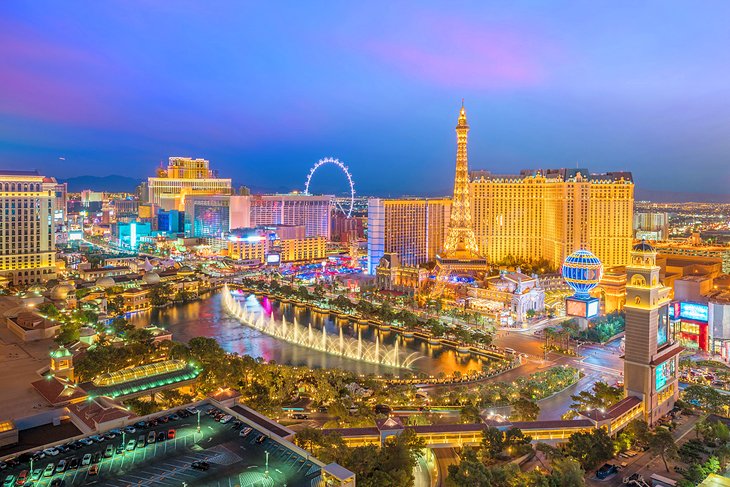 Yes, it is quite hot in Las Vegas in June, but since it is the off-season, you will be able to find great deals. With so many hotel rooms available in Las Vegas you will have no problem scoring low rates as the resorts try to fill the space during the less popular summer months. You will save on flights, too. With fewer tourists heading here, and plenty of flight options available, you should be able to find rates for less than $200 round-trip in June.
Take your trip savings and use them for fun activities in Las Vegas, which is always an exciting place to visit. While daytime temperatures easily top triple digits in June, you can take advantage of the dry heat and fewer crowds to hike the Red Rock Canyon or get on the water with a boat tour of Hoover Dam.
Stroll The Forum shops along the Strip and get the best vantage point of the Las Vegas lights from on top of the Eiffel Tower at the Paris Las Vegas or take a gondola ride at The Venetian Resort. To save even more money on your vacation, you can just relax by the hotel pool and enjoy the discounted buffets.
Accommodation: Where to Stay in Las Vegas: Best Areas & Hotels
2. Cancun, Mexico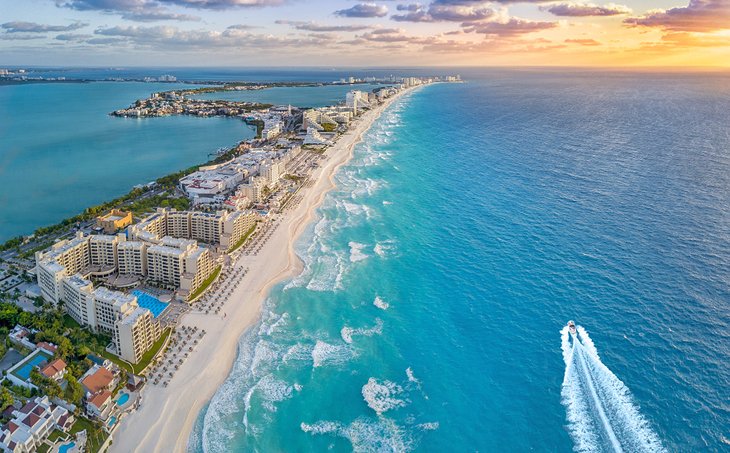 Summer is the off-peak season in Cancun, which makes it one of the cheapest places to go in June. Airfares can be almost 50 percent less than during the peak-travel season in the winter months. Resorts and hotels also slash rates significantly to fill rooms. Many resorts will throw in credits to use for spa services, on-site restaurants, and free nights to entice summer travelers.
What's the catch? It's hot in Mexico in June, but since you are by the ocean, it's easy to cool off if that means saving hundreds of dollars for an affordable vacation. June is also on the front-end of the hurricane season, which lasts through November, but most storms hit on the tail-end of the season.
You can use your Cancun vacation to hit the pristine beaches with fewer people and take advantage of the many water sports available. Maybe this is the year you learn how to parasail. If you feel like getting out of the beach chair, you can always visit the Chichén Itzá Mayan archaeological site or Tulum.
Accommodation: Where to Stay in Cancun: Best Areas & Hotels
3. Canada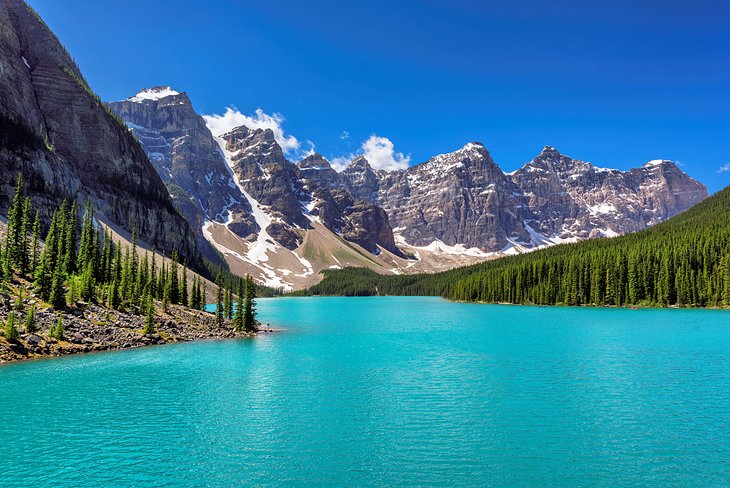 Almost anywhere in Canada is going to be popular for summer vacations, but if that is your window to travel and you want to include locations like Banff National Park, Jasper National Park, Vancouver, or Niagara Falls to your Canada itinerary, June is the month to do it. In Canada, children are generally in school until the last week in June and prices tend to remain low until school holidays begin.
Rates will not be cheap, but they will be less expensive in June since it is on the shoulder season before tourists and travel rates tick up in July. Also, Flights into Canadian destinations in June will be slightly lower.
The price factor for Canada also has to include your ability to see attractions or explore the parks in decent weather. Winter months might be cheaper to travel, but if you cannot visit the sites then it defeats the purpose of saving money. June in Canada offers the best option for discounted rates and decent weather.
4. San Juan, Puerto Rico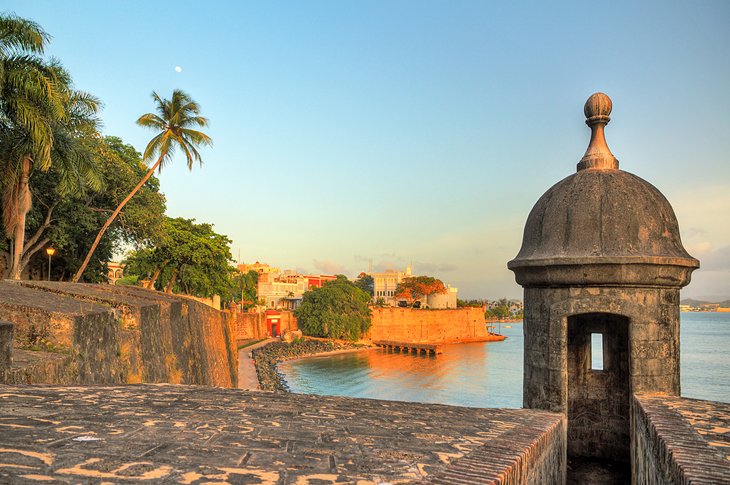 You will always get the best rates when destinations are in the shoulder season or off-peak season, which is what June is in San Juan, Puerto Rico. June is the beginning of the off-season, so you will see rates for hotels continue to decline throughout the month. June is when you will start to see fewer tourists at the beaches and attractions, too. There are many flights to San Juan, so you can keep an eye out for bargain or last minute fares from major airlines.
All-inclusive resorts are popular in San Juan, so you can find package rates heading down this month, and you might be able to take advantage of additional incentives like discounted tours and spa credits by booking parts of your trip through the resort. Explore Old San Juan and the cobblestone streets and colonial architecture that give the city so much of its charm. Then make your way to the modern side of the city in New San Juan, with top-rated dining and beachfront hotels.
5. Fort Lauderdale, Florida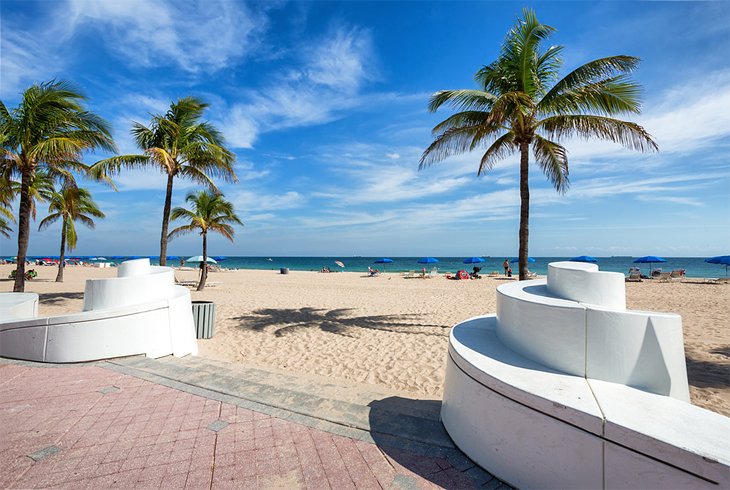 June is the off-season in Fort Lauderdale and the start of the hurricane season, but if you pack accordingly, you can score big on airline and hotel discounts for summer travel to the city. Since Fort Lauderdale is a popular cruise port in Florida there are plenty of flights available, with schedules and rates that can fit your budget.
Fort Lauderdale is a fun waterside community that suits both beachgoers and those looking for some time to explore a new destination. While Fort Lauderdale Beach will take center stage during your vacation, you can also book some time to take in the wildlife and scenery at the Sawgrass Recreation Park and plan an airboat ride. To cool off from the sizzling June temperatures, you can hop on board a boat tour of the city.
Accommodation: Top-Rated Resorts in Fort Lauderdale
6. Beijing, China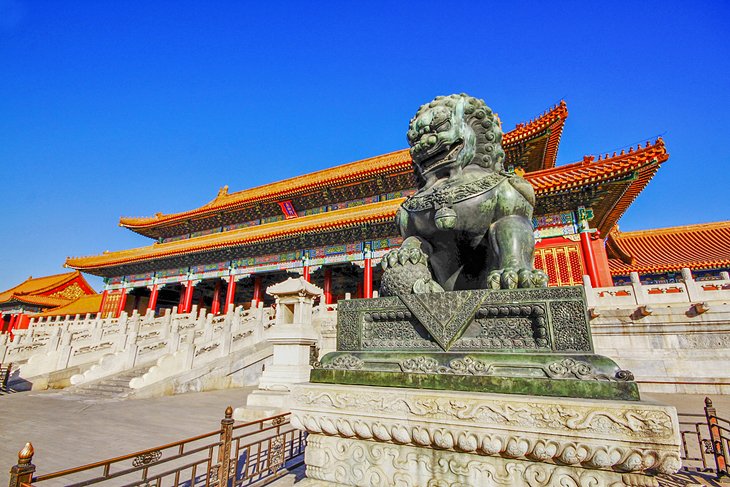 If you have been wanting to go to China but are deterred by the sticker price to do so, a June trip to Beijing might be of interest. This month is in the shoulder season, so hotel rates are excellent, and flight deals can be found. It is possible to stay in a four-star hotel in Beijing in June for less than 80 USD a night.
Another detail to consider for June travel to Beijing is that there are no domestic holidays, which means tourists coming into the city from other parts of China will be fewer. With lower costs in June, you might consider booking a few extra days in Beijing to spend more time at The Great Wall of China and other attractions like the Forbidden City, Tiananmen Square, and strolling through the narrow streets of Nanluoguxiang.
Accommodation: Best Hotels in Beijing
7. Dominican Republic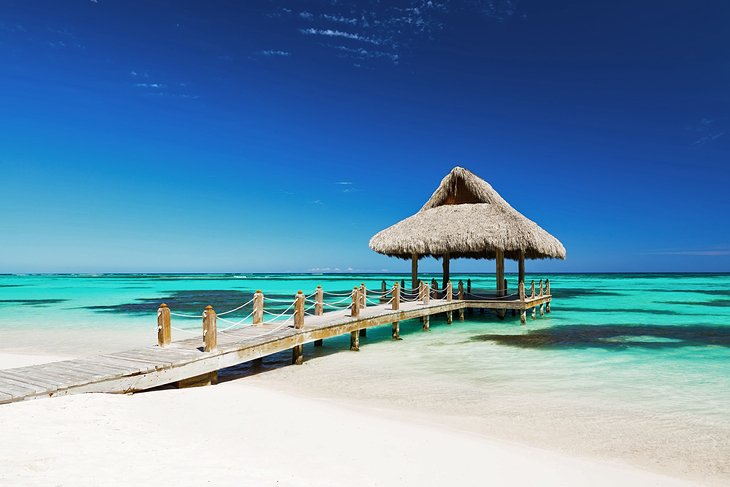 Summer offers the best deals to the popular vacation destination of the Dominican Republic. This is when the Caribbean island resorts slash their multi-day all-inclusive rates. Punta Cana and Puerto Plata are full of all-inclusive resorts that will often help you package your flights, too, which can save you even more money. These resorts are designed to draw tourists all year, and they go the extra mile in June to fill their rooms. Since dozens of airlines service the island, you can also find cheap flights.
Since the resorts offer plenty to do, from water sports and private beaches to spa services, you never have to leave the property. If you do want to plan more in your itinerary than just the beaches, you can book a boat tour or snorkeling trip. There are also a variety of golf courses, animal parks, and swimming-with-dolphin excursions available on the island.
Accommodation: Top-Rated Family Resorts in the Dominican Republic
8. Dubai, United Arab Emirates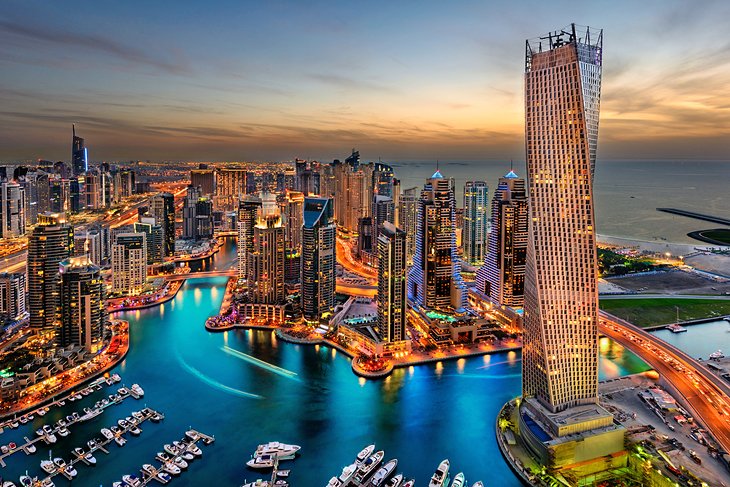 The international destination with one of the most discounted rates for travel in June is Dubai. While it is a pricey Middle Eastern city to visit most times of the year, a June vacation can net you up to 70 percent off hotel rates. And, as a major international business hub, flights are easy to book, and airfare deals are not hard to find.
The Dubai city skyline is as spectacular as its turquoise waters. With the cash you save on lodging and airfare, you can splurge at the Dubai Mall with more than 1,300 stores. Be sure to book some time in your Dubai itinerary to visit the spectacular Burj Al Arab building and relax on the public Jumeirah Beach.
Accommodation: Where to Stay in Dubai: Best Areas & Hotels
9. Australia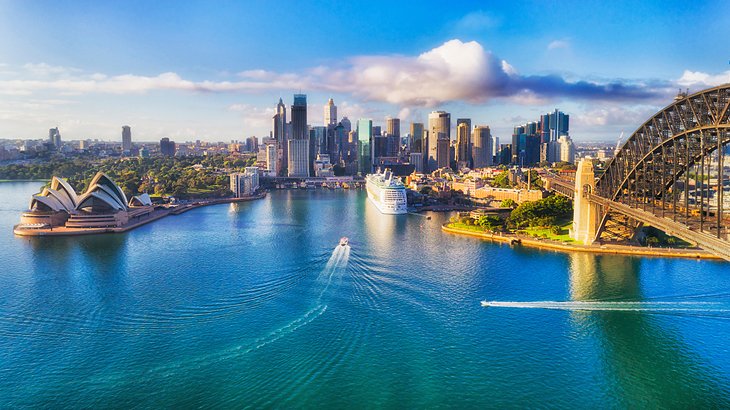 Travel to Australia can be hot and expensive, but if you book a vacation in June, you will catch a break on both because it is wintertime in the country. You can catch about a 30 percent drop in rates on flights and hotels to Australia and be able to experience the country with more comfortable temperatures than during the high-season months.
Once you narrow down whether to visit Sydney, Darwin, Melbourne, or a combination of several cities and destinations further afield, you can fill in the itinerary with some of the festivals and attractions in those regions. There are many annual music festivals and winter festivals happening, so Australia is as thriving with things to do in the winter as it is in the summer; it's just a tad cooler.
No matter where you plan to travel in Australia, you will likely go through Sydney and should spend a few days there to see the stunning Sydney Harbour Bridge and the iconic Sydney Opera House.
10. Grenada
The lush Caribbean island of Grenada is a stunning paradise getaway, but June makes it an affordable one, too, compared to other times of the year. A Grenada vacation in June will cost you about 50 percent less, so you can use that money to spend while visiting the island's famous spice plantations.
You can easily find three- and four-star hotels and resorts for less than 100 USD a night, and many direct flights discounted also. During the tourist dip in June in Grenada, you will also find offers like hotel room upgrades, discounts for families, spa services, and discounted excursions like snorkeling that will add to the savings.
Grenada is an underrated vacation spot that is often overshadowed by its more popular competitors like Barbados. It has incredible dive sites and 45 beaches to soak up the summer sun. Grand Anse Beach is the most popular, but you can try a different one every day if you like. While the water and natural environment are the top attractions in Grenada there are other tourist adventures on the island, like Market Square for shopping, tasty samples at the Grenada Chocolate Company, and the charming downtown of St. George's neighborhood.
11. Costa Rica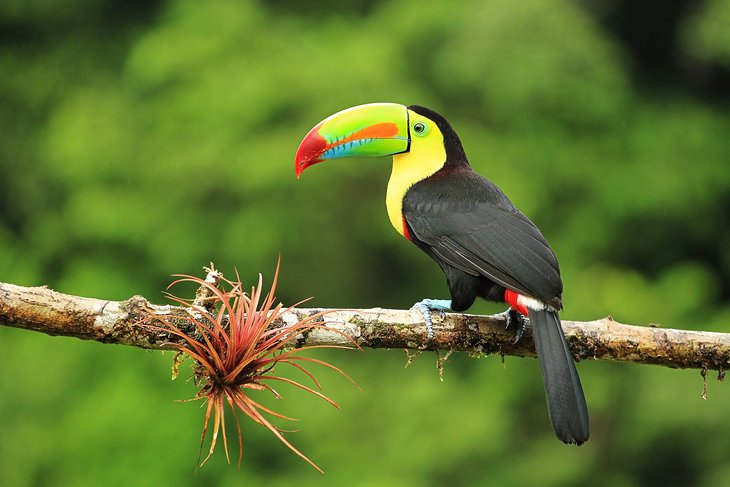 Prices in Costa Rica are at their lowest this time of year, and since the conversion rate is favorable, especially to the US dollar, it makes even more sense to travel here in June. Hotels and resorts discount their rates to lure in summer travelers outside of the peak tourist season. The rain forests, which the region is known for, benefit from the high humidity and rainfall in June, so you will not miss any of the adventure by coming in the off-season.
Besides the breathtaking rain forests and an abundance of wildlife, like wild monkeys and birds, Costa Rica has stunning beaches to enjoy. There are many types of outdoor adventures to experience to take full advantage of your visit, from ziplining through the forest canopy to trekking the volcanoes in the region. Since there are fewer tourists in June, check with your hotel or resort to see where you can get additional discounts on tours.
Accommodation: Top Rated Beach Resorts in Costa Rica
12. Krakow, Poland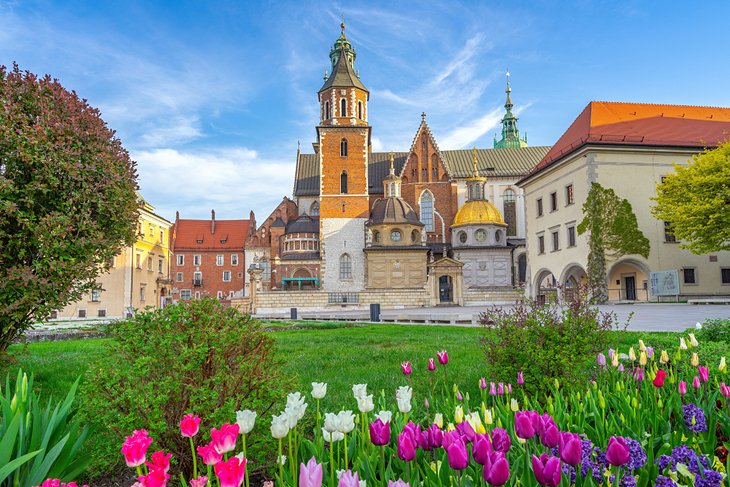 Most businesses in Europe take a holiday in July and August, so June is an ideal month to hit a less traveled place like Krakow, Poland for great rates, nice weather, and less crowded attractions before the major tourist rush. Since Krakow has many hostels and cheap hotels in the city, you can save even more by going that route.
This historic town is one of the oldest cities in Poland and it has an elegant central city with stunning architecture. You will have no problem filling your agenda with sites that you can walk to in June's comfortable weather, like the Main Market Square and St. Mary's Basilica. Compared to other destinations in Europe your money will go further in Krakow, especially with discounts that you can find throughout the month of June.
More Related Articles on PlanetWare.com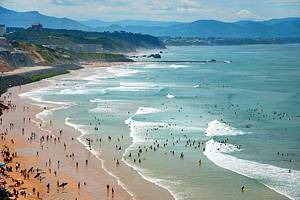 More Summer Vacation Ideas: If you are looking for other summer vacation ideas, you may want to explore destinations in Europe like Budapest, London, or Florence, or the many European resorts that cater to vacationers. Since Europe is a popular summer destination, you may want to plan travel to the many beaches in France during the winter months or plan to spend the holidays in the French Alps.