12 Top-Rated Tourist Attractions in San Juan, Puerto Rico
San Juan is a beautiful capital city, with soft-sand beaches, a multitude of cultural attractions, and a vibe that could easily make it a destination for an entire vacation. Beachfront luxury hotels and resorts can be found right in San Juan and neighboring districts. Historic forts, colonial architecture, fine dining, museums, and much more, are all within easy walking distance.
At the heart of the city is Old San Juan, a UNESCO World Heritage Site, where colonial architecture mixes with contemporary Puerto Rican culture. The old buildings are now home to many of the city's attractions and tourist establishments.
San Juan is also a major cruise ship destination, and is known for being one of the largest home-based cruise ports in the world. Depending on the number of cruise ships in port, the city can either be very quiet or extremely lively.
Plan your sightseeing with our list of top attractions in San Juan.
See also: Where to Stay in San Juan
1. Old San Juan (San Juan Viejo)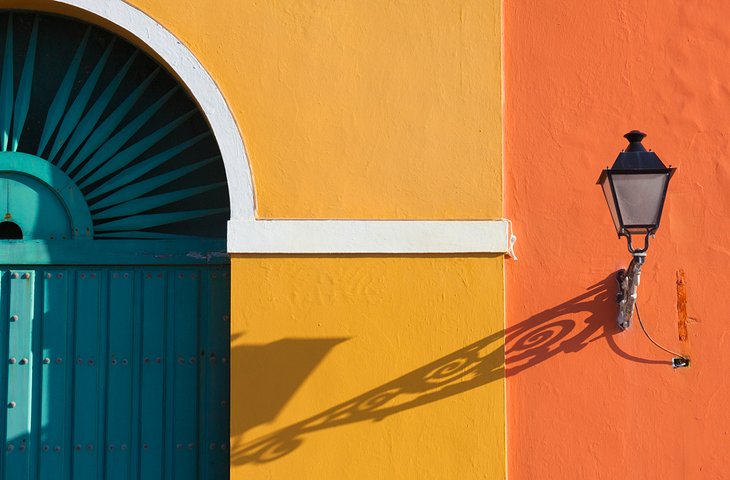 Showcasing almost 500 years of history, the streets of Old San Juan (San Juan Viejo) are windows to the past, with historic forts and Spanish colonial architecture setting the scene. This World Cultural Heritage Site is the second oldest city in the Americas and the oldest city under the US flag.
The seven-square-block area contains more than 400 beautifully restored 16th- and 17th-century colonial buildings, many of which contain shops, restaurants, museums, hotels, and other public buildings.
The most dramatic feature, and the real showpiece of Old San Juan is the Fuerte San Felipe del Morro, known more commonly as El Morro, set out on a point of land overlooking the sea in the San Juan National Historic Site.
Experience the city's real charm by simply wandering the streets, admiring the old architecture, and enjoying a meal on an outdoor patio. Other highlights are Fortaleza, the San Juan Cathedral, and Castillo de San Cristóbal.
As you stroll, be sure to pop into some of the museums, many of which are worth stepping into just to appreciate the architecture of the structure housing the collections. This whole area can be explored on foot, although the walk out to El Morro fort adds considerably more to the length of a walking tour.
2. Fuerte San Felipe del Morro (El Morro)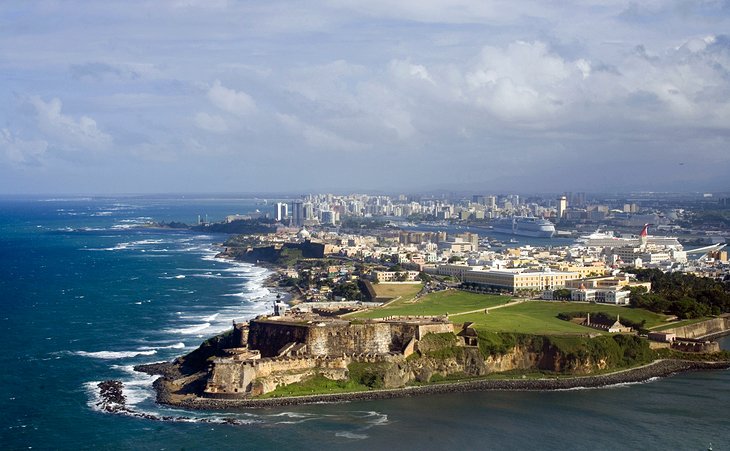 Protecting the entrance to San Juan Bay, the fort, commonly referred to as El Morro, is dramatically perched above the sea on a point of land jutting out into the ocean.
A designated National Historic Site and a UNESCO World Heritage Site, El Morro was built in 1539. Construction continued for another 250 years to make it one of the largest Spanish forts in the Caribbean. A majority of the additional construction took place between the 1760s and 1780s, when many of the walls you see today were added.
The fort today is a maze of ramps, outposts, barracks, dungeons, and tunnels, dotted with small, circular sentry boxes called "garitas." These garitas are unique to Puerto Rican forts and have become a national symbol.
The area approaching the fort is open lawn looking out to incredible views on every side, either back towards San Juan, including a view to San Juan Cemetery, or out to sea.
3. Castillo de San Cristóbal (Fort San Cristóbal)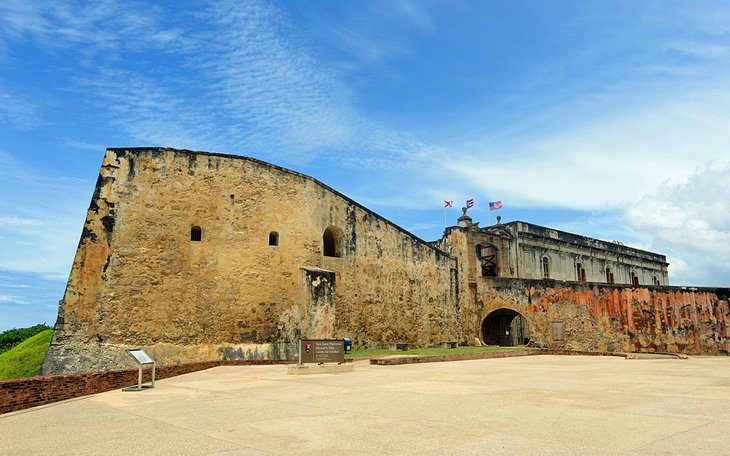 While El Morro gets all the fame, Castillo de San Cristóbal is equally fascinating and well worth a visit. San Cristobal is bigger than El Morro, and is the largest fort the Spanish ever built in the New World.
Spread over 27 acres, it features five independent units connected by moat and tunnel, each designed to be self-sufficient should the others fall. The fort was built between 1634 and 1790 to guard the eastern gate to what is today, Old San Juan. It was designed to protect against a land attack, making it quite different from El Morro, which was designed to guard against attacks by sea.
4. San Juan Cemetery (Santa Maria Magdalena de Pazzis Cemetery)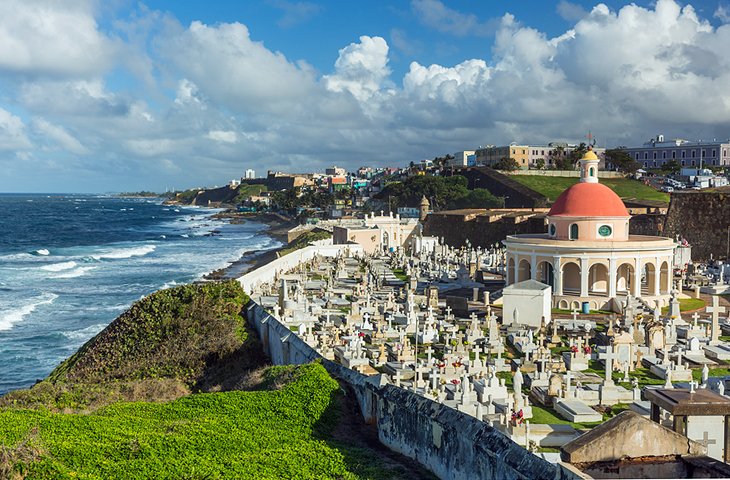 Set along the coast, adjacent to El Morro, and high above the ocean, is the beautiful San Juan Cemetery. Elaborate tombstones, statues, and a circular red-domed Neoclassical chapel dedicated to Mary Magdalene are some of what make this cemetery outstanding.
From its hillside setting above the sea are lovely views out to the ocean and towards El Morro. The graves are all above ground, similar to those found in New Orleans. The chapel in the cemetery dates to the 19th century, and many of Puerto Rico's earliest colonists are buried here.
5. San Juan Cathedral (Catedral de San Juan)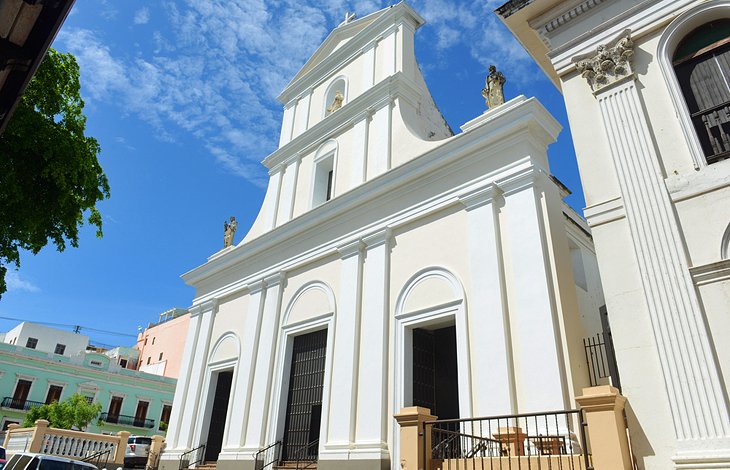 The San Juan Cathedral, begun in 1540, is known for being one of the oldest cathedrals in the Americas and one of the oldest buildings in San Juan. The interior, with its black-and-white checkered tile floor and yellow décor is surprisingly ornate and cheery.
The body of the great Spanish explorer, Ponce de León, has laid here in a marble tomb since 1913. Also entombed here since 1862 is San Pío, a Roman Catholic martyr. The cathedral still holds regular services, and tours are available.
Address: Calle del Cristo #151-153, San Juan
6. Museo de las Américas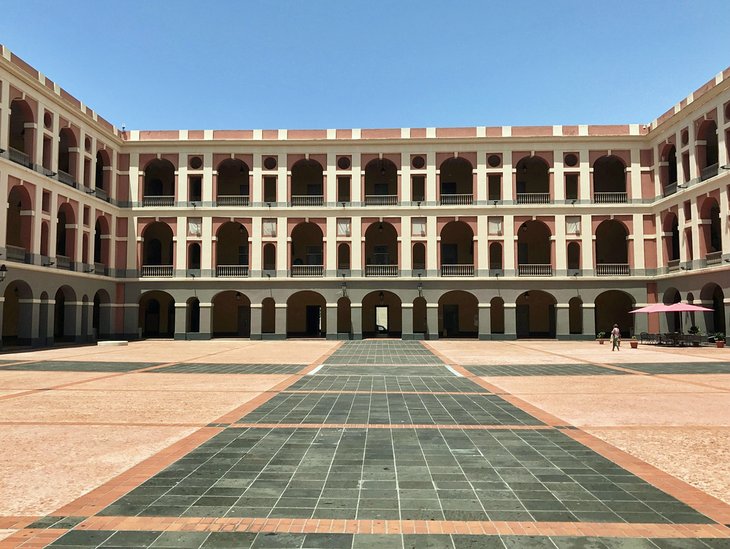 The Museo de las Americas, in Old San Juan, explores the history of Puerto Rico, with a focus on the art, the ethnic groups, and the colonization of the country. Permanent exhibits offer a solid overview of the country's history, but temporary exhibits round out the experience, with interesting themes that include anything from contemporary art to traditional practices. This museum is a good place to start before embarking on a tour of the country's cultural and historic sites.
Address: Calle Beneficencia, San Juan
7. Condado and Ocean Park Beach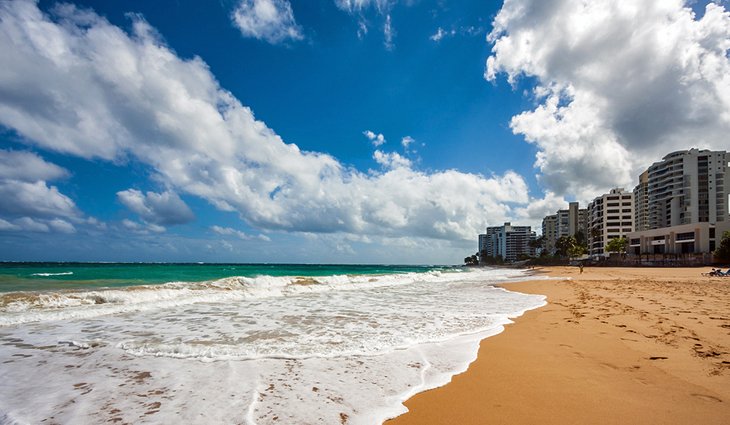 The Condado district lies on a piece of land between the Atlantic Ocean and Laguna Condado. The district was originally developed as San Juan's first tourist zone in the 1950s, creating a mini Miami Beach on the doorsteps of the city.
The main axis of the town is Avenida Ashford, along which stand a number of luxury hotels and resorts. Condado offers a broad selection of accommodations and facilities in all price ranges. In the eastern area of the district is Ocean Park, a one-mile-wide beach encompassing residential homes and beach retreats.
The white-sand beach is clean and very popular with locals. There are no facilities or change rooms here. Condado is also home to the huge Convention Center, with shopping, theaters, restaurants, and space for festivals and exhibitions.
8. La Fortaleza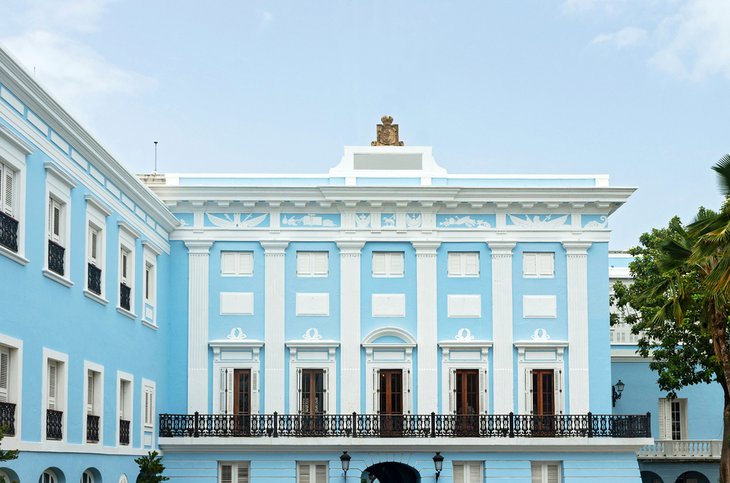 La Fortaleza was completed in 1540 as a defense against the Carib Indians and other foreign invaders. It was occupied twice by invaders; first by the Earl of Cumberland in 1598 and then by the Dutch General Bowdoin Hendrick in 1625 when fire damaged the building.
The Fortaleza eventually lost its military value and became the residence of Puerto Rican governors, a role it still maintains today. La Fortaleza is the oldest governor's mansion still used as such in the Western Hemisphere, with more than 150 governors having lived or stayed here. The building itself has undergone many changes in its long history. The result is a blend of 16th-century military architecture with the refinements of the 19th century.
Address: 52 Calle Fortaleza, San Juan
9. Museum of Puerto Rican Art (Museo de Arte de Puerto Rico)
The Museo de Arte de Puerto Rico is one of the highlights of San Juan, and is a prominent player in the Caribbean cultural scene. The building, which was opened in 2000, was constructed around a 1920's hospital building. The older portion of the building displays the museum's permanent collection and is the first thing you will see as you enter.
The newer portion (the east wing) is a five-story structure containing a multi-story atrium, a theater with seating for up to 400 people, a sculpture garden, and a popular restaurant. There are also other rooms available for workshops and exhibitions. In total, the museum contains more than 130,000 feet of space used to display an excellent permanent collection and host temporary exhibitions.
Address: 299 Avenida de Diego, Santurce
Official site: http://www.mapr.org/es
10. San Jose Church (Iglesia de San José)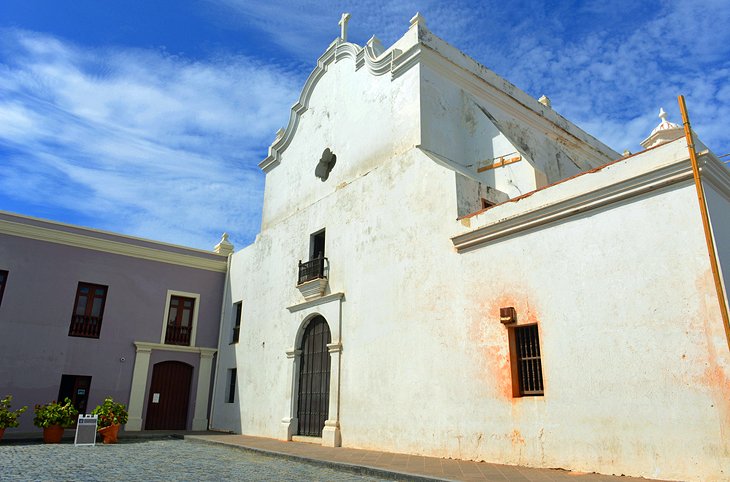 Dominican friars built the Iglesia de San José in 1532, making it one of the earliest examples of Spanish Gothic architecture in the Americas. Unlike the San Juan Cathedral, this church is small, with a modest façade, but the vaulted interior gives it an airy feel.
For almost 300 years, the Spanish explorer Ponce de León was buried here until his body was moved to the San Juan Cathedral in 1913. The 18th-century Puerto Rican artist, José Campeche, is also buried here.
Address: Calle San Sebastián, San Juan
11. Puerto Rico Museum of Contemporary Art (Museo de Arte Contemporáneo de Puerto Rico)
Founded in 1984, this museum is the place to see the work of Puerto Rico's finest modern day artists. Changing exhibits showcase the museum's collection of modern island-made prints, paintings, posters, and sculptures.
Located inside Sacred Heart University in the Barat building, the museum can be tricky to find. As the exhibits change frequently, be sure to contact the museum or visit their excellent website to find out about the most current exhibits.
Address: Edificio Histórico Rafael M. Labra, Ave. Juan Ponce de León, esquina Ave. Roberto H. Todd, Parada 18, Santurce
Official site: http://mac-pr.org/
12. Plaza las Americas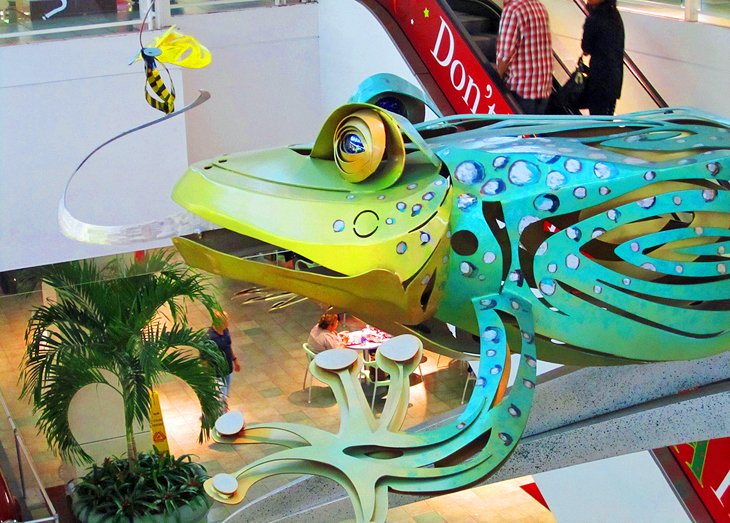 When the culture, beaches, and heat of San Juan have taken their toll and it's time for a little escape, the Plaza las Americas might be the answer. This modern indoor shopping plaza is the place to come for a little retail therapy or to pick up something that was left at home or lost at the airport.
This is not the place to find traditional Puerto Rican souvenirs and trinkets; this is a large mall with US chain stores, the latest fashions, American restaurants, movie theaters, and some unique stores. It is considered by Puerto Ricans to be the best mall in Puerto Rico. Although it might not be at the top of the must-do list, this is a great rainy day option.
Address: 525 Ave Franklin Delano Roosevelt, San Juan
Where to Stay in San Juan for Sightseeing
We recommend these charming hotels, near top attractions and the cobbled streets of Old San Juan:
Condado Vanderbilt

Hotel

: This 5-star luxury beachfront hotel is one of the best hotels in the city. Created in Spanish Revival-style, it offers butler service, an ocean-view pool, and a deluxe spa. Located in Condado, it's just a short drive from Old San Juan.
Decanter

Hotel

: This mid-range hotel in Old San Juan is set in a 19th-century colonial-style building with a rooftop terrace and 24-hour concierge.
CasaBlanca

Hotel

: For something a little quainter, try this affordable boutique hotel. Its decor is Moroccan themed, and the property features a rooftop deck with soaking tubs. This is a great choice for a romantic getaway.