British Virgin Islands in Pictures: 17 Beautiful Places to Photograph
The British Virgin Islands (BVI) are absolutely gorgeous and offer some of the most picture-perfect beaches and harbors set against a lush green and blue background that makes for dazzling photographs.
The BVI comprises 60 islands scattered across the Caribbean Sea and North Atlantic Ocean. The main islands in the BVI are Tortola, Virgin Gorda, Anegada, and Jost Van Dyke. Tortola is the gateway and home to many popular things to do in the British Virgin Islands, but all the islands make for some amazing images.
Here are some of the best places in BVI to take pictures, pose for Instagram, or make a Tik-Tok video.
1. The Baths National Park, Virgin Gorda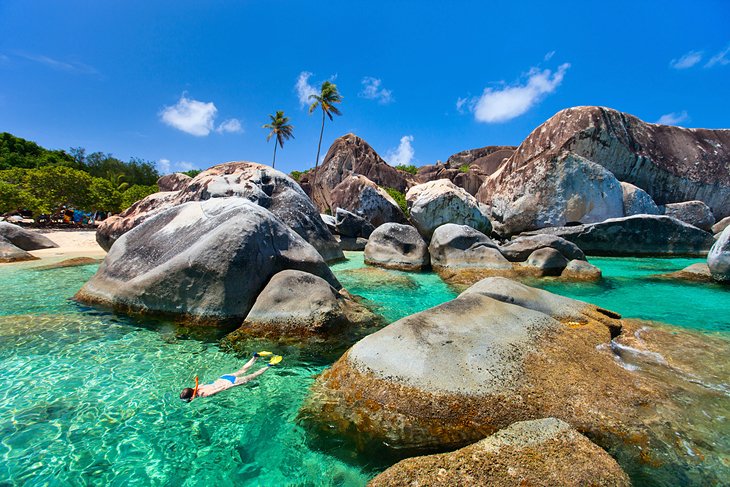 Virgin Gorda's most famous attraction, The Baths is unique among Caribbean beaches. The white-sand beach here is framed by giant granite boulders that create amazing formations to snorkel around, like the woman in the above image is doing.
Virgin Gorda is also where you'll find some of the best resorts in the BVI.
2. North Sound, Virgin Gorda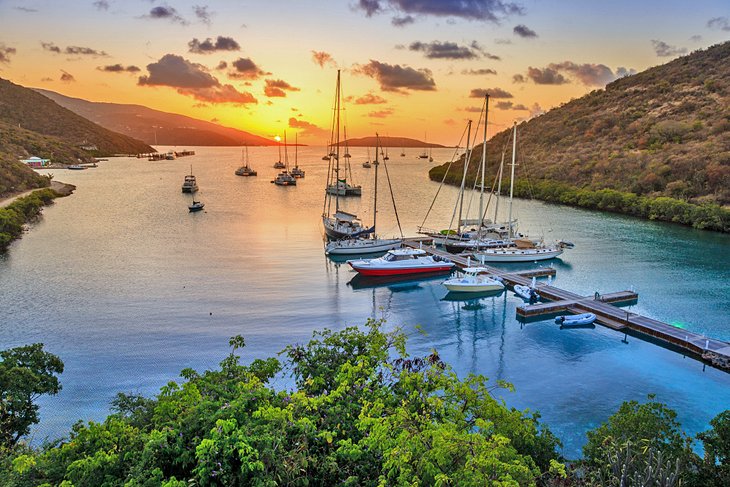 Virgin Gorda is home to some stunning sunset scenes that can be viewed all over the island, but head to the northwest side of the isle around North Sound to catch some of the most spectacular pictures of the sun setting into the sea beyond the yachts and sailboats.
3. Loblolly Beach, Anegada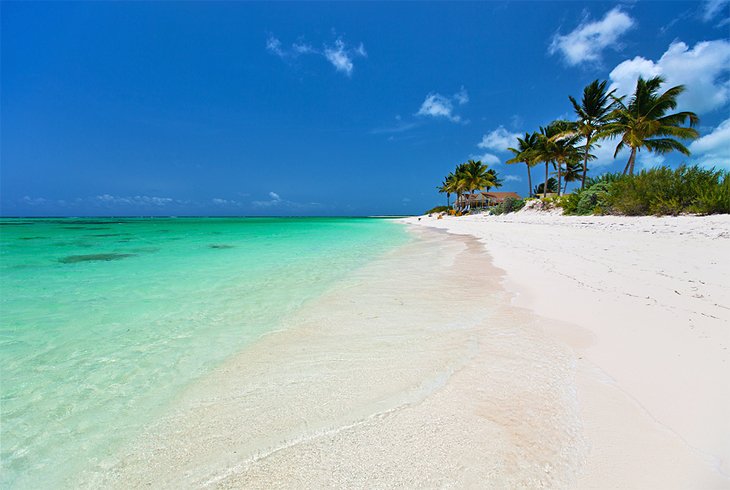 Absolutely stunning turquoise sea meets silky-soft white sand and swaying palms at Loblolly Beach on the island of Anegada in the British Virgin Islands. This beach on the northern coast offers some of the Caribbean's top shore-accessed snorkeling – on a clear day, you can see as deep as 30 meters, and there is plenty of coral and tropical fish.
4. White Bay Beach, Jost Van Dyke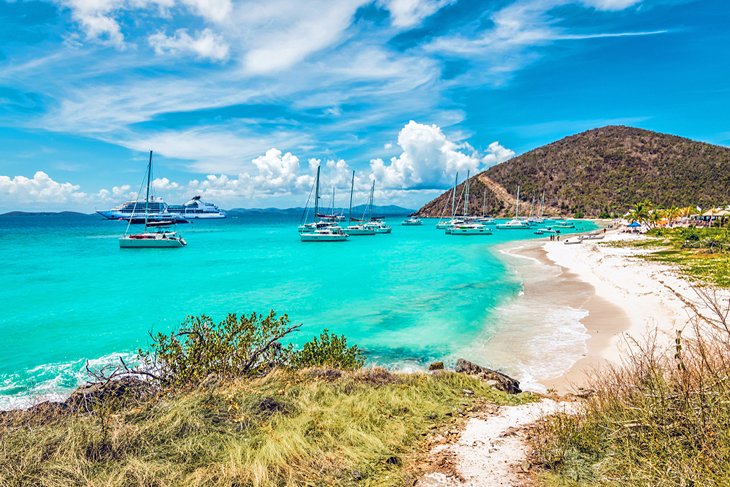 On Jost Van Dyke Island, White Bay Beach is another beautiful white-sand and turquoise ocean affair complete with swaying palm trees. The water is deep enough to swim here, and there is snorkeling at the west end of the beach.
5. Road Town, Tortola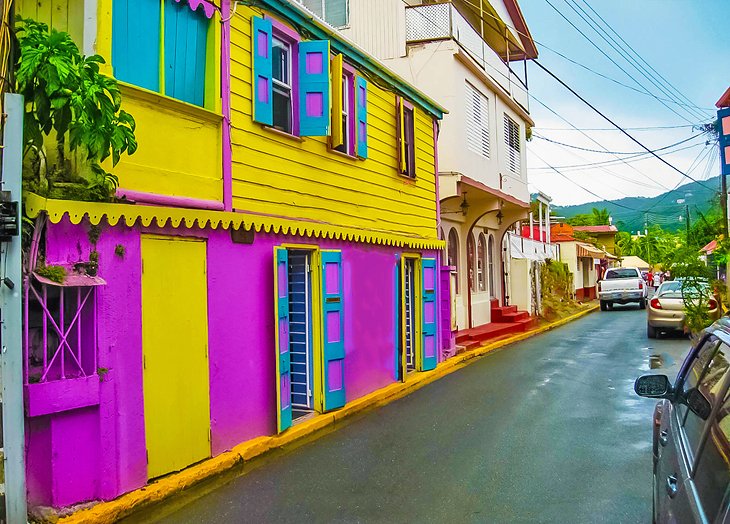 The capital of the British Virgin Islands is Road Town on the island of Tortola. Painted with bright, popping colors, the Main Street Shops pictured above are a great spot to stop and snap a few images.
6. Sandy Cay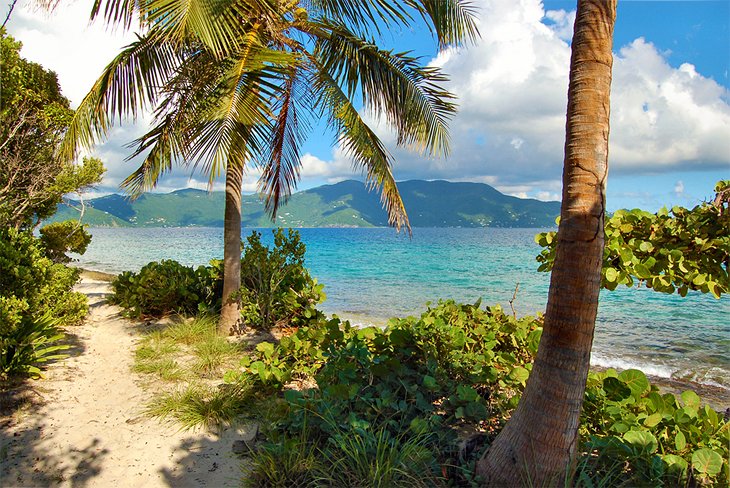 A 14-acre nature preserve, Sandy Cay, pictured here, is located between Jost Van Dyke and Tortola and is not inhabited. You can visit on a day trip and hike around the island on a well-maintained trail or just chill on a white sandy beach surrounded by coconut palms. There is also excellent snorkeling and diving off Sandy Cay.
7. Soper's Hole, Tortola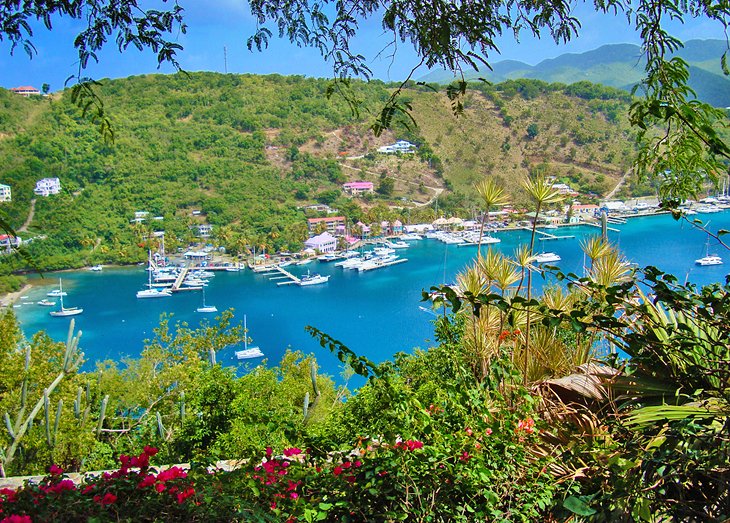 At the far western end of Tortola, Soper's Hole is deep harbor where many yachts and sailboats anchor. It is also a ferry port. There are a number of shops and restaurants clustered around the docks here. If you're looking to get out on the water, all sorts of excursions, from diving and snorkeling to fishing can be arranged at Soper's Hole as well.
8. Cane Garden Bay, Tortola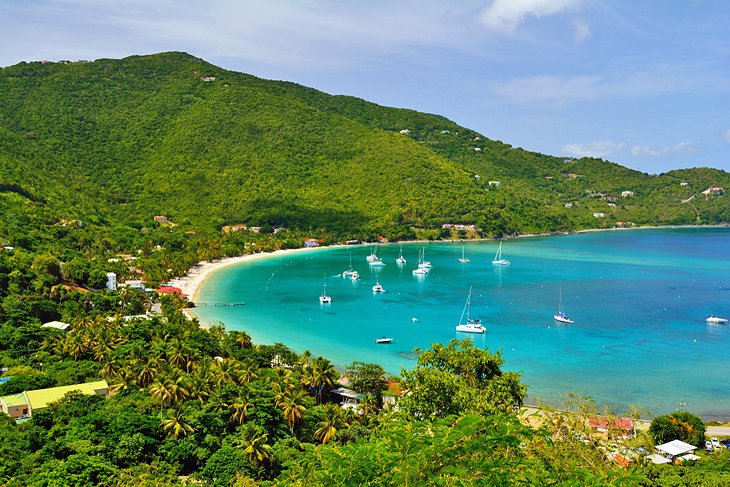 On Tortola, Cane Garden Bay is a picture-perfect spot, where the turquoise blue harbor is filled with catamarans and sailboats. There are also a number of white-sand beaches on which sun loungers and umbrellas can be rented, as well as restaurants where lunch is served with sea views.
9. Long Bay Beach, Beef Island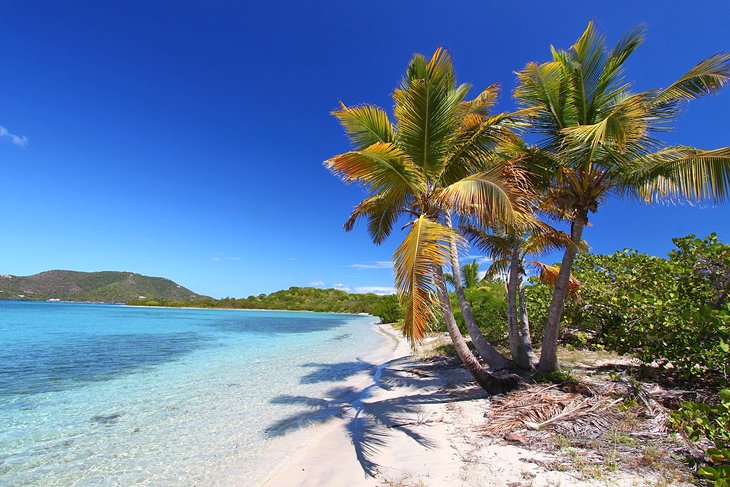 Connected to Tortola by a bridge, Beef Island is where the airport is located. It is also home to Long Bay Beach, which is a truly photogenic white-sand-meets-turquoise-water beach that is great for a romantic photo session by the swaying coconut palms.
10. Brewers Bay, Tortola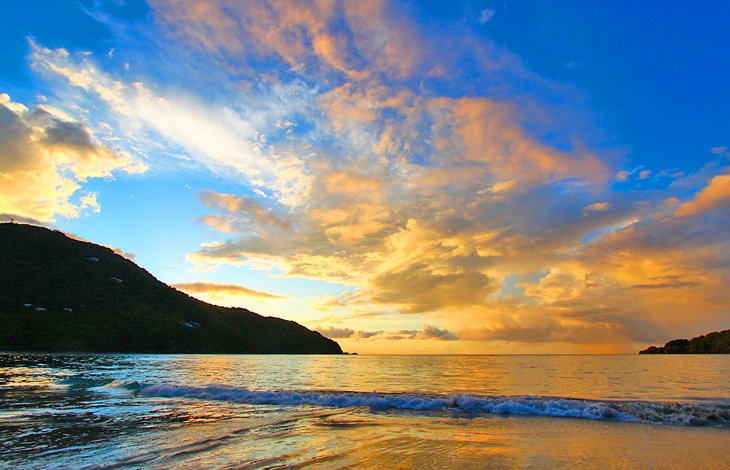 Head to Brewers Bay, on Tortola's northwest coast, at sunset. As this image shows, sunset here is a beautiful sight. More secluded and less crowded than Cane Garden Bay, located just south, Brewers Bay beaches offer excellent snorkeling just offshore.
11. Anegada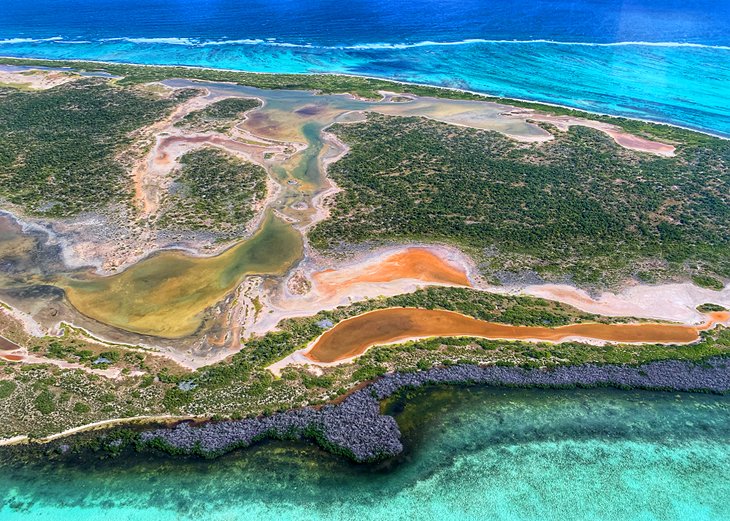 The only coral island in an otherwise volcanic chain that makes up the Virgin Islands group, Anegada is a snorkeler's and diver's paradise, with diverse and colorful coral reefs surrounding it, as well as secluded, beautiful beaches that are perfect for a romantic picture-snapping session.
12. Gorda Peak, Virgin Gorda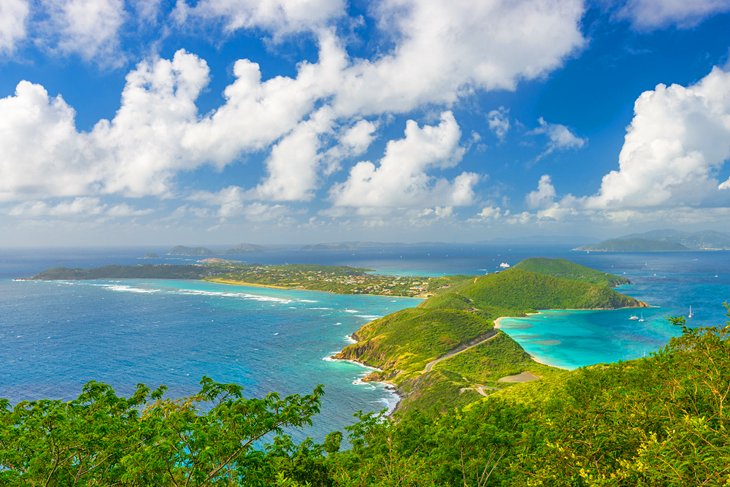 The view from Gorda Peak, pictured here, on Virgin Gorda is beautiful. The summit, at 1,370 feet, is the highest point on the island, and the mountain is protected as part of Gorda Peak National Park. It is one of the last remaining Caribbean dry forests in the region.
13. Conch Island, Anegada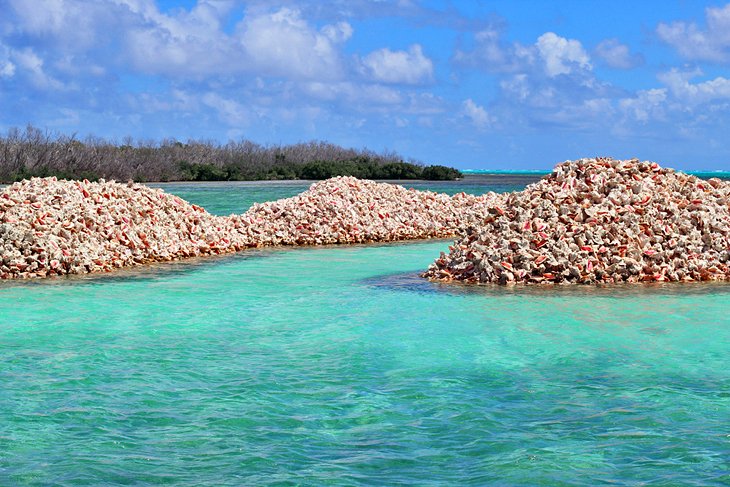 At the eastern end of Anegada is what is known as Conch Island. Pictured here, you will see it is piles of shells rising almost as high as four meters. These are actually ancient conch mounds left behind by the Arawak.
14. Bones Bight Beach, Anegada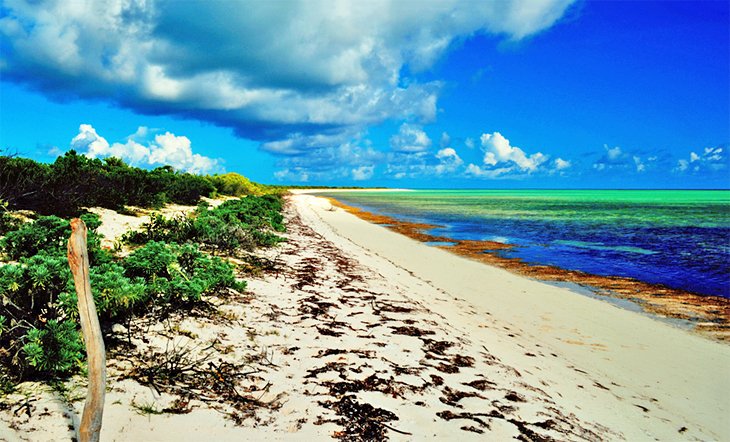 On the northwest coast of Anegada, Bones Bight Beach, pictured above, is usually crowd-free and a great place to snap a picture of the sunset thanks to its location. It also features a long sandy beach that is peach-hued due to the coral mixed into it. Juxtaposed against the turquoise water, it is a beautiful sight.
15. Caves at The Baths, Virgin Gorda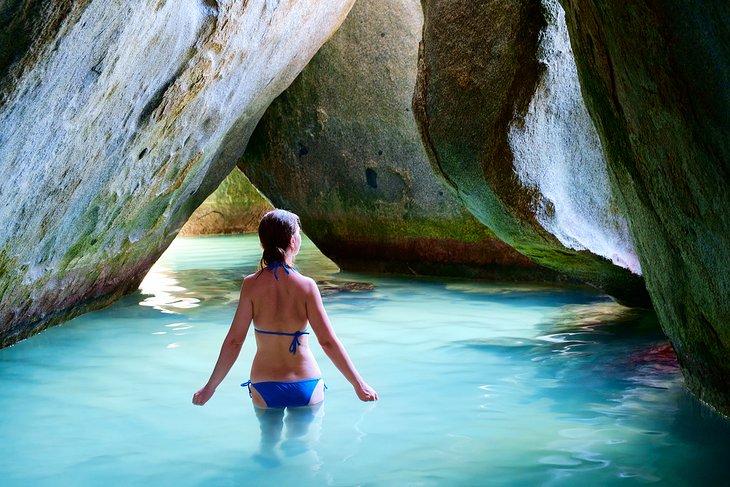 The Baths National Park is home to some cool caves, like the one pictured here. These fill with waist-deep turquoise water and make great subjects for pictures. If you are looking for a great image for your Instagram, consider photographing at one of these caves.
Come in late afternoon for the best light, although really these caves can be photogenic all day long.
16. Scuba Diving with Sea Turtles, Multiple Locations, British Virgin Islands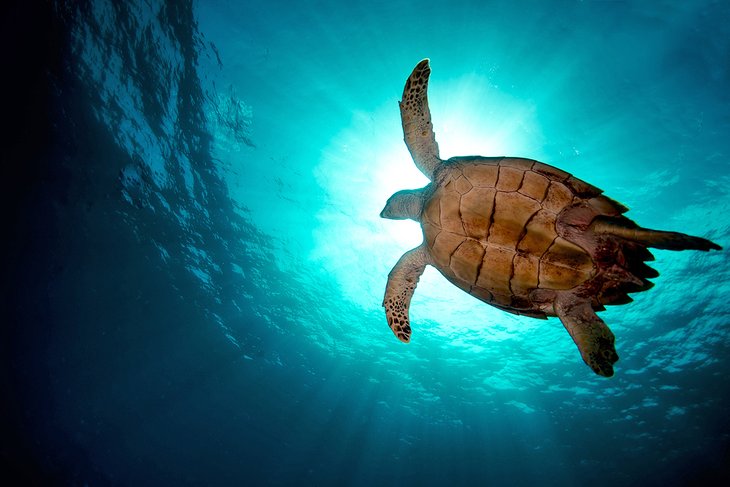 The British Virgin Islands are home to a healthy population of sea turtles, like the one pictured here, and it can be very easy to spot them at numerous dive spots around the islands.
Many of the dive spots, including Ginger Steps, Alice in Wonderland, Dry Rocks East, and Devil's Kitchen are all within a few hundred yards of each other, which makes it easy to dive a few different spots in a day.
There are no shore dives in BVI, so you'll need to either do a liveaboard trip or take a guided boat tour.
17. Peter Island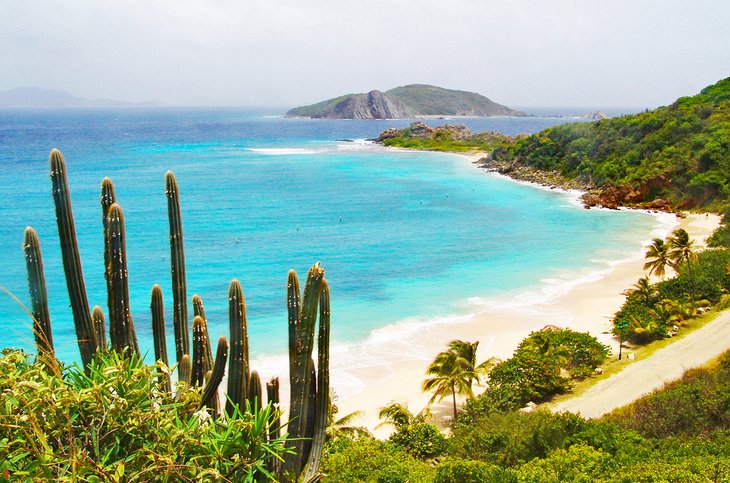 While cacti are not something one immediately thinks of when picturing a Caribbean vacation they do grow in certain places in the British Virgin Islands. This photo is snapped overlooking a beach on Peter Island. The isle is off the coast from Tortola. There is a public ferry that transports you between the two destinations.