12 Best Beaches in Anguilla
We may earn a commission from affiliate links ()
Anguilla's luscious shores offer the perfect escape from reality. The true definition of paradise, translucent turquoise water laps pristine white beaches on this idyllic Caribbean isle. The sand here is so silky soft, you can't help but sigh as your feet sink in.
It's no secret that Anguilla's beaches are the island's best tourist attractions. Bordered by towering palms and sea grape trees on one side and that captivatingly aquamarine ocean on the other, they're so picture-perfect you won't want to leave. Ever.
Covering 35 square miles, Anguilla may be small, but it certainly packs a beautiful punch. Over 33 flawless beaches stretch across its shores, offering access to some of the most serene strands visitors are likely to see. Seriously, these beaches are so gorgeous they may ruin other beaches for you.
With so many lovely strands on offer, it can be tough to choose which to visit first. Our list of the best beaches in Anguilla will help you decide.
Note: Some businesses may be temporarily closed due to recent global health and safety issues.
1. Shoal Bay East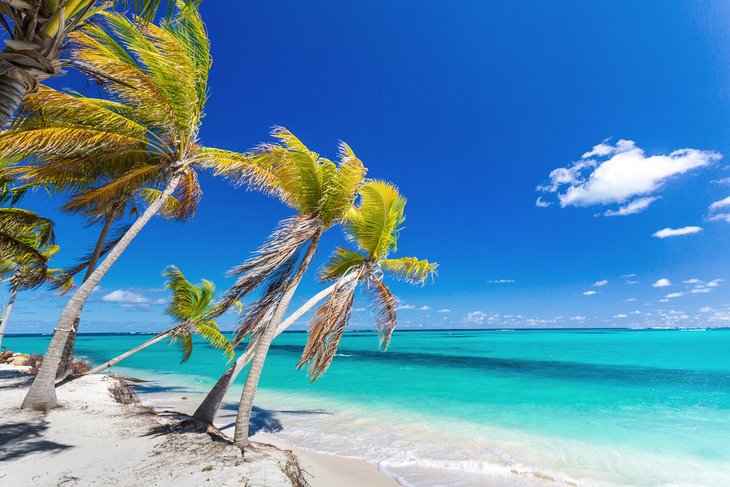 Shoal Bay boasts one of the best beaches in the Caribbean; some would even argue it's one of the best beaches in the world. Its crystal-clear water radiates a kaleidoscope of blues, and its soft, rosy white sand is the stuff of dreams. Another bonus: you'll never feel crowded.
Two miles of sand invite visitors to wander the shore, enjoying light ocean breezes as they soak up the blissful view from this northern Anguilla shore. Despite being Anguilla's most popular strand, there's always plenty of space to spread out at Shoal Bay East.
Beach chairs and umbrellas are available to rent for a reasonable fee, and multiple restaurants provide sustenance along the waterfront, making it easy to stay all day.
Day-trippers from nearby St. Martin flock here for its perfection, which means amenities such as water sports rentals are also available. If you're hoping to stay on-site, there are a few lovely resorts to choose from.
2. Rendezvous Bay Beach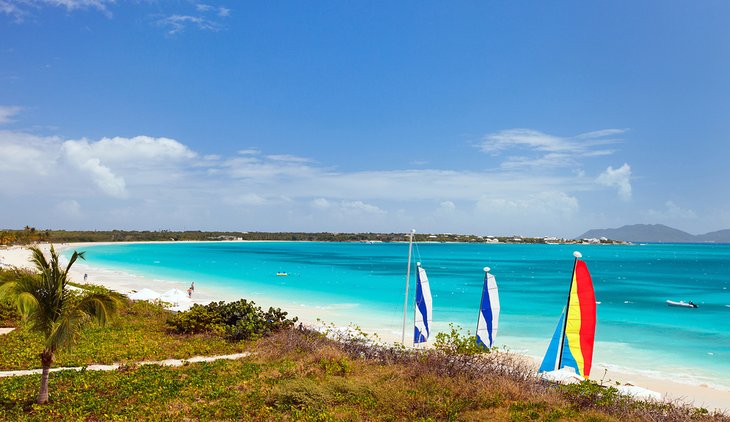 A truly exceptional beach hugs the shore of Anguilla's southwest coast. It, too, boasts the luminous turquoise water made famous in this region, and its soft, sugar-white sand are a welcome treat for toes everywhere. Called Rendezvous Bay Beach, this lovely strand is one you won't want to miss.
A mile and a half of coconut-palm-lined shoreline make up this stunning superstar whose panoramic views, including that of neighboring St. Martin, are unparalleled. Rent a beach chair and settle in for a day filled with blissful fun. We're talking snorkeling, swimming, sailing, kayaking, and merely lounging.
When it's time to eat, head towards the Sunshine Shack, where staff serve up tasty grub, cold drinks, and reggae music from their colorful beachfront hut.
3. Sandy Ground Beach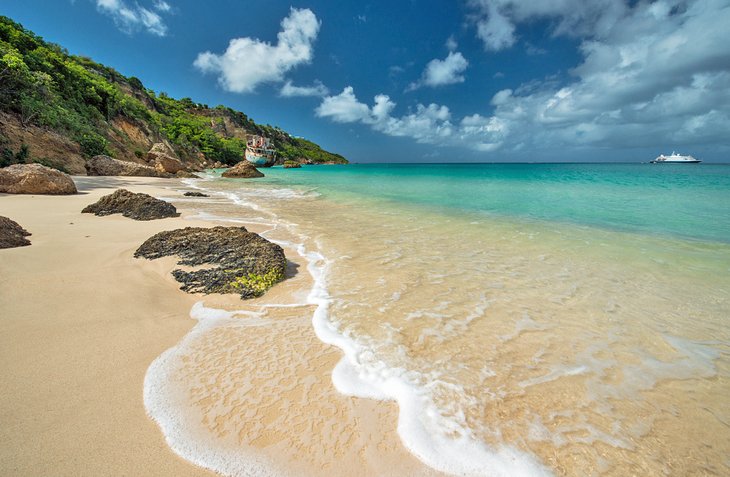 Those looking for a more urban feel will love Sandy Ground Beach. The most cosmopolitan of the beaches on this list, this pretty strand is the liveliest of Anguilla's shores and sits beside the popular Sandy Ground Village. Anchored sailboats and yachts dot the shallows near land.
The sand here is more golden than the white cover found on neighboring beaches, but it's just as soft. Due to its popularity (and status as the island's "hub"), you'll find plenty of amenities on-site.
Vendors selling food and drinks set up on the sand, while restaurants like Johnno's, Ripples, and Ship Galley welcome those craving a more hearty and authentic meal. At night, the area transforms into a music-infused fun zone as beachgoers flock here for a bit of entertainment with the view.
The annual Anguilla Summer Festival is held on Sandy Ground Beach each August and includes concerts, food, and boat races that celebrate Caribbean culture.
4. Barnes Bay Beach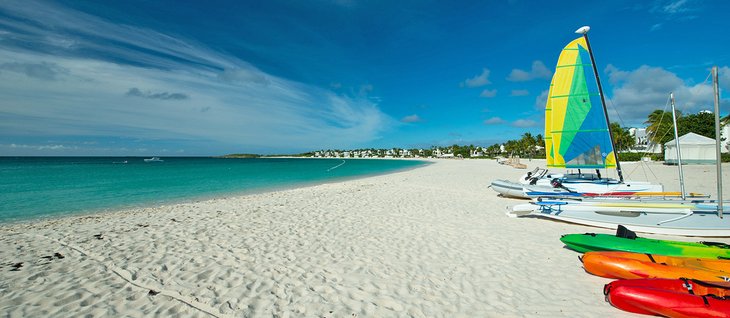 A secluded haven awaits beachgoers to Anguilla's northwestern shore. The island's best spot to watch a sunset, Barnes Bay Beach is exceptionally romantic and less crowded than other local strands. If you're hoping for an amorous place to visit without being bombarded by vendors hawking their wares, it's here.
This pretty locale is made up of fine, powdery sand and lies between Meads Bay and West End Bay. Due to its proximity to luxury hotels, there are plenty of water activities on offer (like snorkeling, sailing, and kayaking) and a bevy of good restaurants nearby.
Book a stay at one of Anguilla's top resorts, the spectacular Four Seasons Resort and Residences. You'll never be far from the beach, plus you'll have three remarkable pools, a sports pavilion, and a spa at your disposal.
5. Meads Bay Beach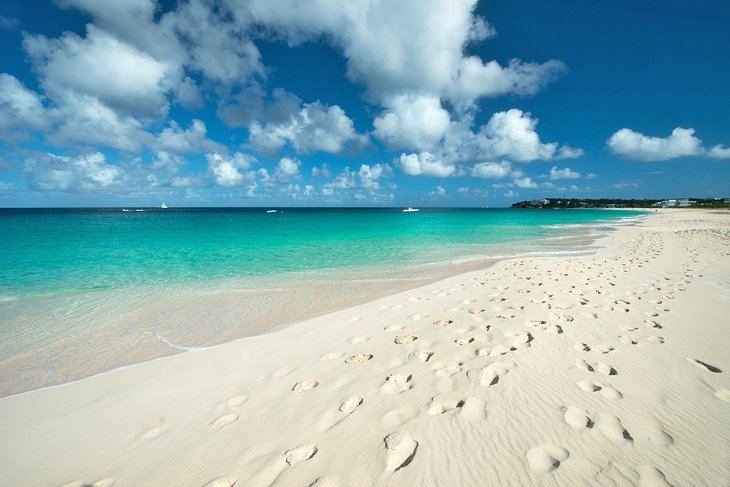 Another northwestern gem, Meads Bay Beach is a wonderful spot to relax upon rosy-hued sand. This strand offers a wide expanse of sand so soft, it's actually challenging to walk on, but boy is it a comfy place for a nap.
Locals always freque-nt the best places, and they choose this lovely strand time and again. Actually, Meads Bay Beach has a loyal fan base both on the island and across the world. Yes, the vibrant blue water helps entice visitors, but it's the serene locale that keeps them coming back.
Luxury hotels like the Four Seasons mentioned above have latched on to this strand's immense beauty, popping up between Barnes Bay Beach and this spectacular spot. The upside of their attention: well-kept shores, fine restaurants, and first-class spas.
6. Cove Bay Beach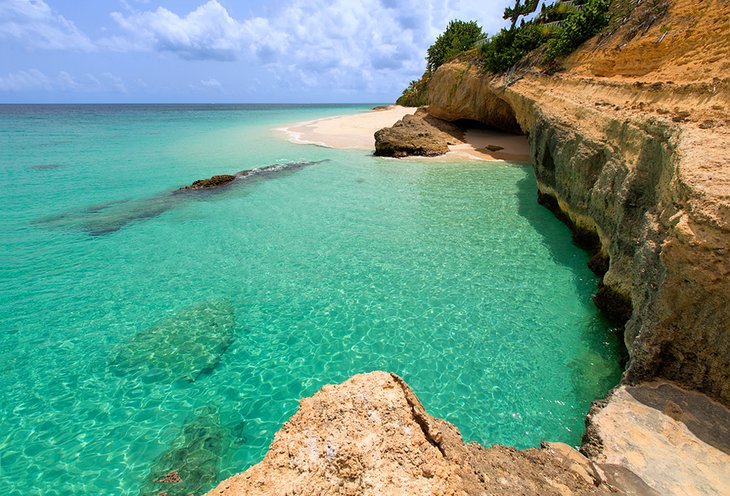 Cove Bay Beach is a tranquil beauty untouched by modern development. You won't find fancy restaurants or world-class hotels lining this pristine shore. Instead, it's the natural wonders that draw visitors to this sublime locale.
A family- and couple-friendly beach, Cove Bay features shallow, calm azure water and floury white sand that is perfect for building sandcastles - as long as you wet it first. Snuggle into a beach chair, snorkel offshore, splash in the warm waves, or try your luck at kitesurfing.
If you're lucky, you'll spy a few visitors wandering this southwest Anguillan shore on horseback, admiring the view of lovely St. Martin across the way.
Brush the sand off your suit and head to Smokey's at the Cove, the only restaurant near this silky strand. Here, you can enjoy fresh food and upbeat music right on the beach. Visit on a Sunday for live music and beach games.
7. Maundays Bay Beach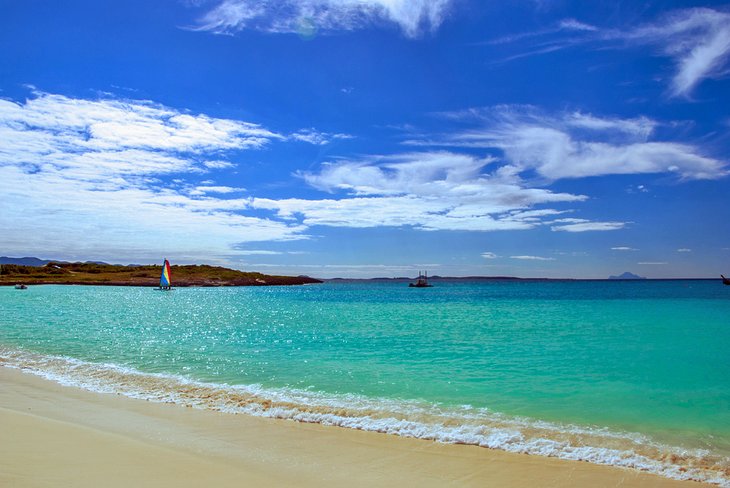 A crescent of golden sand and the most vibrant turquoise water welcome visitors to Maundays Bay Beach. Somehow the sand seems even softer and whiter on this magnificent shore, and the azure water even brighter than it is on other beaches.
A local favorite, Maundays Bay Beach has been deemed one of the poshest and most beautiful strands on the island. The water here is perfect for swimming, snorkeling, or floating, while the beach is ideal for lazing about and not lifting a finger.
If you'd like to lap up the life of luxury, book a stay at the exquisite beachfront hotel, Belmond Cap Juluca. A truly lush experience, you'll feel like royalty at this lavish hideaway featuring a spa, tennis courts, infinity pool, and high-end restaurants.
8. Little Bay Beach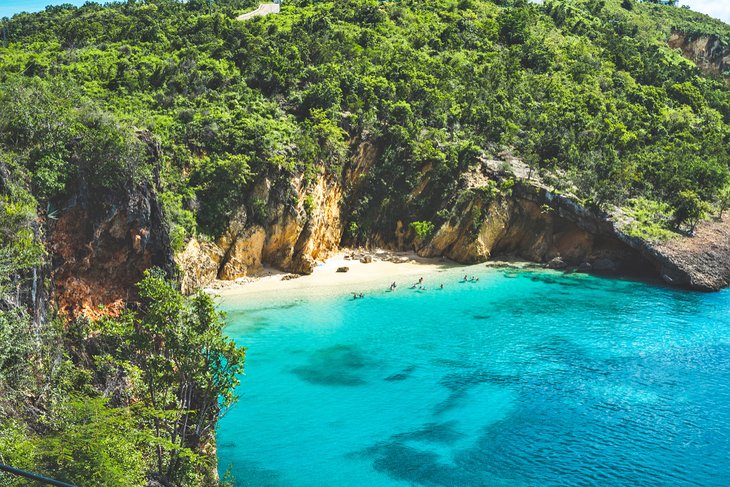 Looking for paradise? You'll find it at the secluded Little Bay Beach. Dramatically rugged cliffs tower over this untouched shore, which is only reachable by boat or via a rope leading down from a high cliff. A truly romantic destination, this picturesque wonderland is the perfect place to unwind.
Set apart from the rest of the island, you won't find hotels or restaurants near this shore, but that's what makes it so appealing. Without the bustle found on other, busier beaches, you're left to appreciate the immense splendor that emanates from this magical locale.
Pack snacks, water, a towel, and most importantly, your sense of adventure for a truly wonderful day out at Little Bay Beach.
It's a popular place to snorkel, and you'll want to bring a bit of gear, as well, if you're planning to get up close and personal with the marine life. Turtles and stingrays swim among the colorful fish.
9. Crocus Bay Beach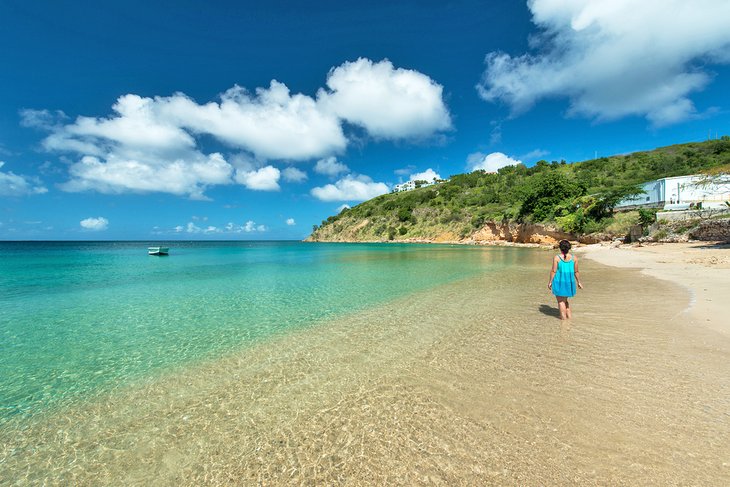 Crocus Bay Beach radiates tranquility. Another off-the-beaten-path marvel, this quiet haven beckons those looking for privacy. The velvety white sand of this slender strand boasts a rosy hue, especially closer to the ocean. Kayak in the crystalline water, snorkel, sail, or merely soak up the rays on a sun lounger.
Located on Anguilla's southeastern shore, Crocus Bay Beach is a calm and protected spot perfect for couples hoping to laze about or little ones wanting to wade in for a safe swimming adventure. Tourists arrive by boat daily from nearby St. Martin, but this beach never feels crowded.
The only structure on this strand is da'Vida Restaurant, the island's best eatery. This famous spot isn't like the shack-like establishments you'll find on other beaches. This high-end locale is luxuriously open, well-decorated, and serves food so good you'll want seconds. Insider's tip: They boast vegan and gluten-free options.
10. Island Harbour Beach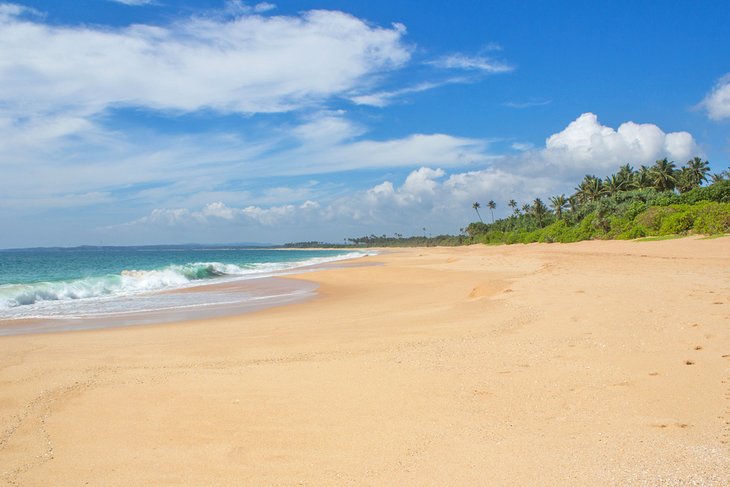 Anguilla's northeastern shore plays host to a quaint beach lined with eateries. A local fave, Island Harbour Beach fronts the charming fishing village of the same name. The turquoise water is dotted with colorful sailboats guiding tourists on fun adventures to nearby isles. Pretty Scilly Cay sits on the close horizon.
This ancient spot has been home to island anglers for centuries. You'll see their boats bobbing about near the shore. They're kind, friendly, and always up for a chat, making this an ideal place to get to know the locals and learn more about their culture.
They'll likely guide you to one of the neighboring restaurants and tell you to sample the tasty pastries. Falcon Nest is located just steps from the Island Harbour Wharf, where fishermen unload their catch. A popular place to grab a bite, they offer shaded benches and remarkably fresh fare.
11. Captain's Bay Beach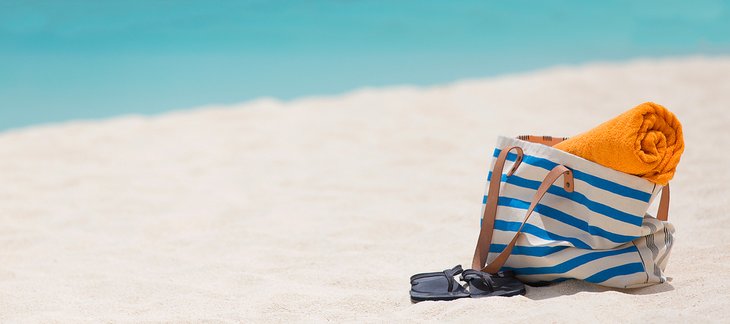 It's not easy to find Captain's Bay Beach, which is a big part of its allure. A wonderfully hidden gem, this strand is best reached with the help of a local guide. Pack your own snacks, towels, and water, as there's literally nothing on this beach besides rocks and sand.
Hold on tight to little ones if you have them in tow. Known to have a strong, dangerous undertow, this beautiful spot isn't great for swimming. It is, however, a lovely place to enjoy a long walk, climb the rocks that line the shore, and enjoy a romantic picnic.
Stick around for sunset (as long as you remember how to get back to your car), as this northwest-facing beauty serves up pretty impressive sunsets.
12. Junk's Hole Beach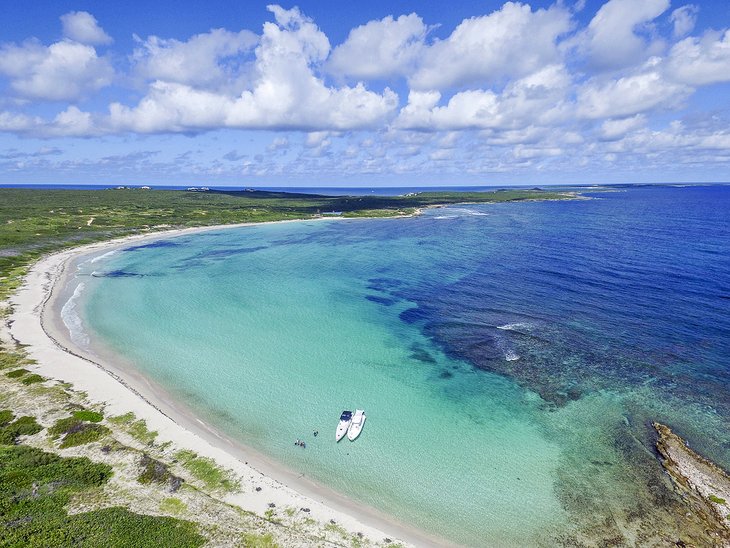 Also known as Savannah Bay Beach, this windswept marvel is refreshingly untouched. The largest and least developed of Anguilla's beaches, Junk's Hole is a lovely, sheltered spot for a relaxing day spent partaking in the area's three most popular activities: swimming, sunbathing, and snorkeling.
Tall, waving palm trees provide much appreciated shade from the sun, while the shallow water is a perfect spot for a dip, especially for those traveling with kids. Beware, though, as strong currents can crop up, and large winds can cause the surf to swell.
Located on the southeast coast of the island, Junk's Hole Beach is reached by traveling along a bumpy, rutted road just over one kilometer from Walter Hodge Road. Insider's tip: Pack insect repellant, as bugs tend to bite near the marshy land behind the sand.
Nat's Place is the best (and only) restaurant near this shore. A family-run gem, it's beloved by locals and tourists alike and serves mouth-wateringly good Anguillan fare.
More Related Articles on PlanetWare.com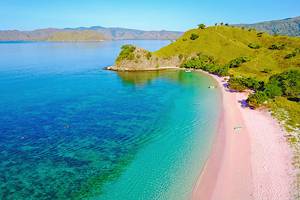 More Beaches to Visit: There's little better than a beach vacay to boost your mood. Why not head a little farther from home by visiting one of these best black sand beaches in the world? Or perhaps you prefer your strand with a rosy hue. These best pink sand beaches are must-sees.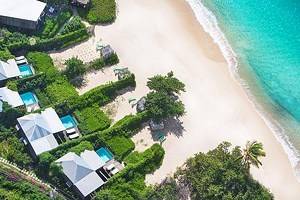 Visiting the Caribbean 101: There's little worse than having bad weather on a beach vacation. Plan your trip wisely by choosing the best time to visit the Caribbean. Next, it's time to pick where to stay. A visit to one of these luxury all-inclusive resorts will up your fun factor.