9 Top-Rated Tourist Attractions in Pointe-à-Pitre
Pointe-à-Pitre, on the island of Grand-Terre, is the largest city and economic center of Guadeloupe, with a sheltered cruise ship port five minutes from town.
Founded in the mid 1600s, this busy market town is still small enough to cross in 15 minutes. Colorful 19th-century buildings line the older streets, such as rue Achille René Boisneuf, and the focal point of the city is the Place de la Victoire, a park surrounded by old homes and restaurants.
Browsing the bustling markets is one of the most popular things to do in Pointe-à-Pitre. Tropical produce piled high, aromatic spices, and vendors dressed in flamboyant attire all add to the lively ambience.
Near Pointe-à-Pitre, the commune of Le Gosier, with its large marina and many tourist facilities, is a gateway for excursions to the islands of Marie-Galante and Les Saintes.
Find out more about the best places to visit in and around this popular cruise port with our list of the top attractions in Pointe-à-Pitre.
1. Mémorial ACTe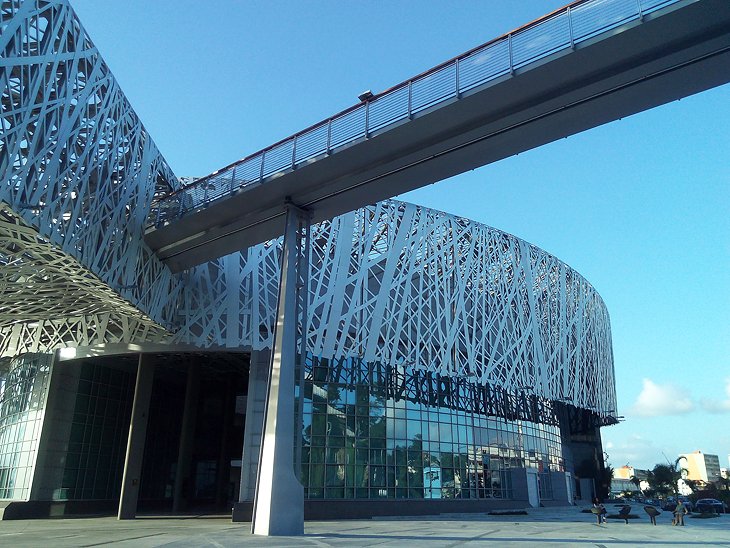 Opened in 2015, Mémorial ACTe is a world-class museum that traces the history of slavery, not just in Guadeloupe and the Caribbean but around the world.
The museum occupies a former sugar factory on the waterfront, a distinctive box-shaped complex topped by a tangled web of silver latticework.
Audio-guides in the language of your choice take you on a thematically-arranged somber journey through the history of the slave trade, told through a series of poignant and thought-provoking interactive exhibits, artifacts, artwork, and audio-visual testimonials. Restaurants, shops, and genealogical research areas are also on-site.
This impressive museum is not only one of the top attractions in Pointe-a-Pitre, browsing its powerful exhibits is one of the top things to do in Guadeloupe.
Address: Darboussier, Rue Raspail, Pointe-a-Pitre, Guadeloupe
2. Markets and Shopping Streets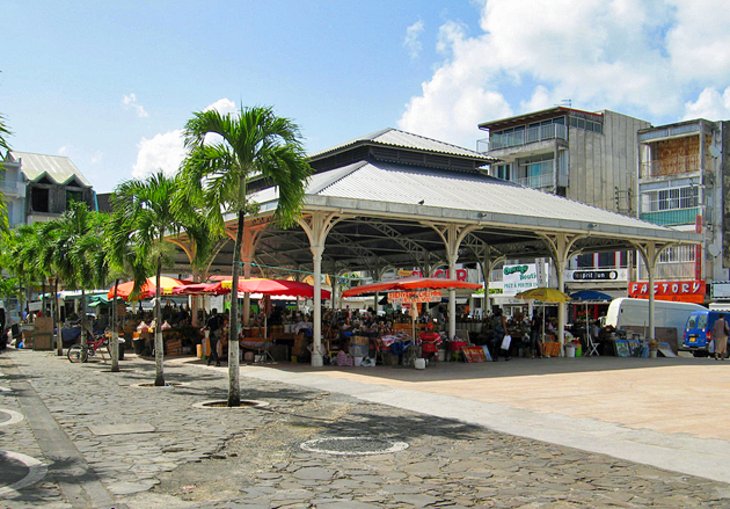 Need a shopping fix? The bustling markets of Pointe-à-Pitre are a great place to visit to stock up on souvenirs and fresh produce. Piled high with goodies, they exude all the culture and color of this French-flavored town.
Tropical fruits, fragrant spices, local crafts, and brightly hued flowers are a sensory feast at the harborside market along La Darse, the inner harbor road. Fishing boats tie up here to sell their catch, and you can also check out other markets such as Saint-Antoine.
If you're looking for more upscale items, shopping hot spots include the Center Saint-John Perse and the boutiques and jewelry shops of Frébault, Nozières, and Schoelcher Streets.
3. Place de la Victoire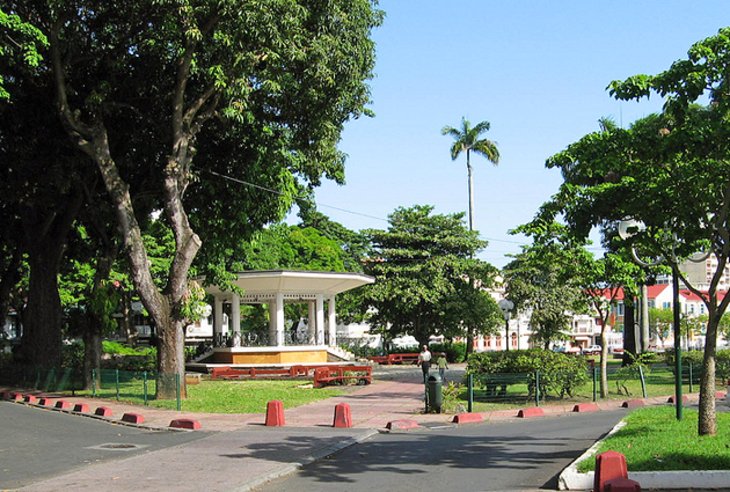 A large park dotted with poinciana trees and royal palms, Place de la Victoire is a great place to take a break on a hot day or start a sightseeing tour of the city. You can stroll past the charming old homes along the Rue de Comdt Mortenal on the east side and relax at the sidewalk cafés lining Rue Bébion on the west side of the park.
If you're interested in finding out more about the island's history, you'll also find several historical monuments scattered throughout the park.
4. Musée Saint-John Perse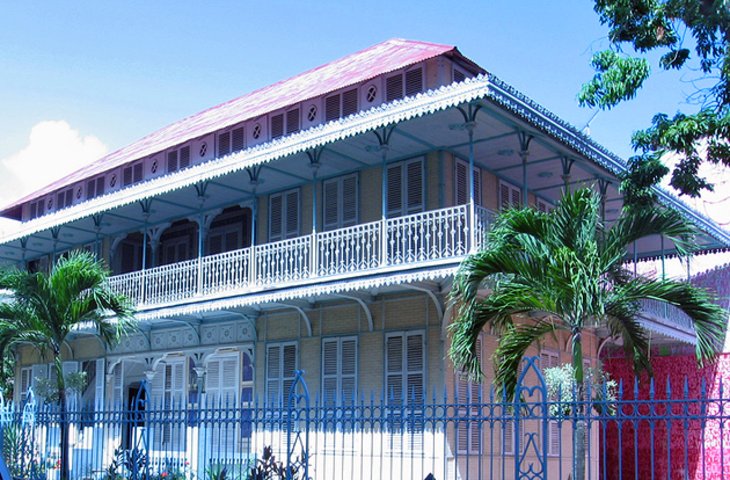 The Museum Saint John Perse (Musée Saint-John Perse) honors the island's renowned poet and Nobel Laureate, who was also known as Alexis Saint-Léger.
The museum is housed in a carefully restored two-story colonial house dating from the 19th century. On the ground floor, you can explore an authentic period Creole residence, while the top floor contains exhibits on the poet's life, a library, and video library.
The poet's house of birth is nearby at 54 Rue de Nozières.
Address: 9 Nozières Street, Pointe-à-Pitre
5. Cathédrale de St.-Pierre et St.-Paul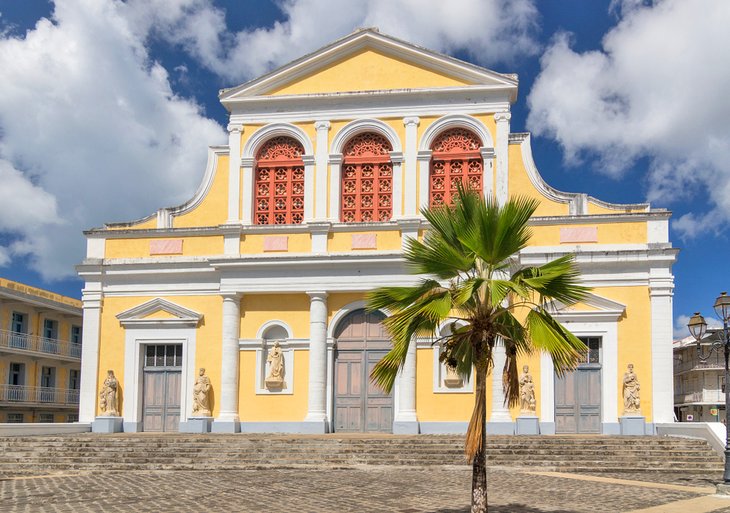 The Cathédrale de St. Pierre et St. Paul in Pointe-à-Pitre is one of the city's most distinctive landmarks. It makes a striking photo subject on a sunny day, with its bright yellow facade and white trim popping against the deep blue sky.
Step inside, and you'll be surprised by the soaring ceilings. Nicknamed "the Iron Cathedral," it features tall arches constructed of riveted iron girders to protect it from hurricanes and earthquakes, which have inflicted much damage in the past.
The best time to visit the cathedral is on a Sunday during a church service, and if you're looking for fresh tropical flowers, the stalls outside the cathedral are a great place to buy a bouquet.
Address: Rue du Général Ruillier, Pointe-a-Pitre
6. Le Gosier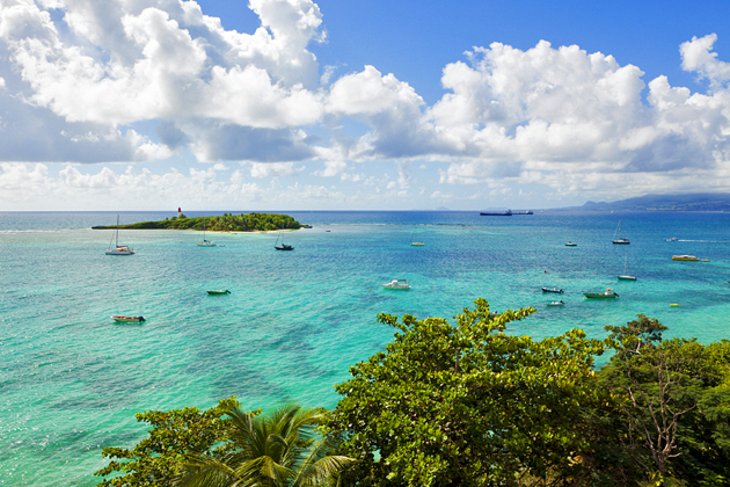 A commune of Pointe-a-Pitre, Le Gosier is a picturesque seaside tourist town about a 15-minute drive from Pointe-a-Pitre. Here, you'll find a large marina, some touristy shops, and a wider range of places to stay than the sprinkling of Pointe-a-Pitre hotels.
The Aquarium de la Guadeloupe is one of the area's top tourist attractions, with snorkeling tours and tons of family-friendly exhibits. And if you want to explore the islands of Marie-Galante and Les Saintes, boats leave from the marina here.
Near Le Gosier, at Fort Fleur d'Epé, lie the ruins of a French garrison built in 1759 to guard against English raids. Photographers will enjoy the flowering trees, rusting cannons, and views out to sea.
If you've been looking for appealing Pointe-a-Pitre beaches and can't seem to find the perfect spot, check out Plage de la Datcha. Fringed with palms and sea grape trees, this narrow band of soft white sand sits just across from the Isle of Gosier (Ilet du Gosier), which offers another beautiful stretch of sand and sea. You can rent kayaks here to paddle across to the island.
7. Ilet du Gosier Day Trip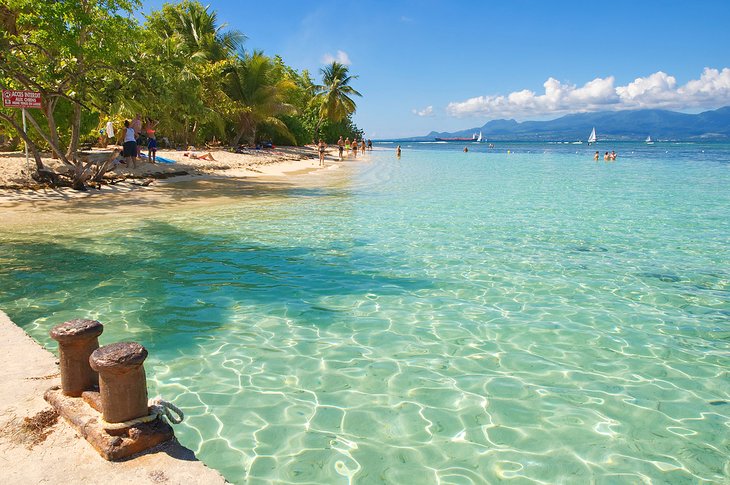 Who can resist a pretty little palm-studded island? Ilet du Gosier is just that, beckoning across the blue waters from Le Gosier, and it makes a popular day trip, or half-day trip, from Pointe-à-Pitre.
Hammocks slung between swaying palms, and soft white sand lapped by turquoise shallows tick all the boxes for a relaxing tropical escape. Families with small children will also appreciate the typically calm waters here - perfect for pint-sized paddlers.
Feeling peckish? A restaurant serves up refreshments and BBQ fish and chicken dishes, as well as some mouthwatering desserts (try the bananas flambé or coconut flan). But be warned: the island lacks restrooms.
Wondering how to get here? Ilet du Gosier lies a cheap seven-minute ferry ride away from the town of Le Gosier, which lies about 15 minutes from Pointe-à-Pitre.
8. Aquarium de la Guadeloupe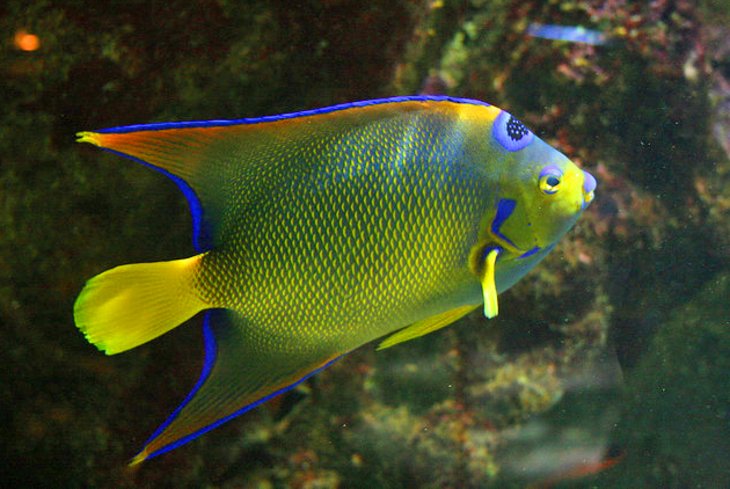 Rated among the best French aquariums, Aquarium de la Guadeloupe in Gosier showcases the region's rich marine life. The museum is about 11-minutes by car from Pointe-à-Pitre.
More than 60 species of tropical fish, as well as sharks and turtles, are contained in numerous ponds. Moray eels, seahorses, sea stars, and lobsters are just some of the species you can see here, and each exhibit represents one of Guadeloupe's ecosystems, from mangroves to sandy-bottomed shallows and coral reef.
Wondering what to do in Guadeloupe on a cruise? This is one of the islands' most popular shore excursions - especially if you want to see Guadeloupe's undersea life without getting wet.
Address: Place Creole, La Marina, Gosier
Official site: http://www.aquariumdelaguadeloupe.com/
9. Fête des Cuisinières
Fête des Cuisinières or Festival of the Women Cooks is an annual Guadeloupe event held in August. During this time, women dress in colorful costume, and celebrations take place throughout the day and into the evening, with entertainment, dancing, and food. Tickets sell out almost instantly for the festival's five-hour feast, which many consider is some of the best Creole cuisine in the Caribbean.
Map of Tourist Attractions in Pointe-à-Pitre
More Related Articles on PlanetWare.com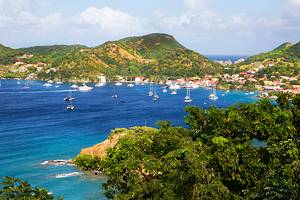 Exploring Guadeloupe and Martinique: Now that you've explored the top things to see and do in Pointe-a-Pitre, venture further afield and check out some of Guadeloupe's other top attractions. Bask on the golden beaches of Bass-Terre and Grande-Terre or stroll around the sleepy fishing villages on Les Saintes. Want another dose of French culture in the Caribbean? Martinique sits south of Guadeloupe, on the other side of Dominica, with more gorgeous beaches and magnificent mountain hikes.