16 Top-Rated Tourist Attractions in Martinique
Distinctly French, Martinique offers a seductive mix of magnificent beaches, dramatic mountains, tropical gardens, and fascinating history. Fort-de-France is the main city and capital. Here, you can explore architectural attractions and learn about the island's pre-Columbian and colonial past at the city's museums.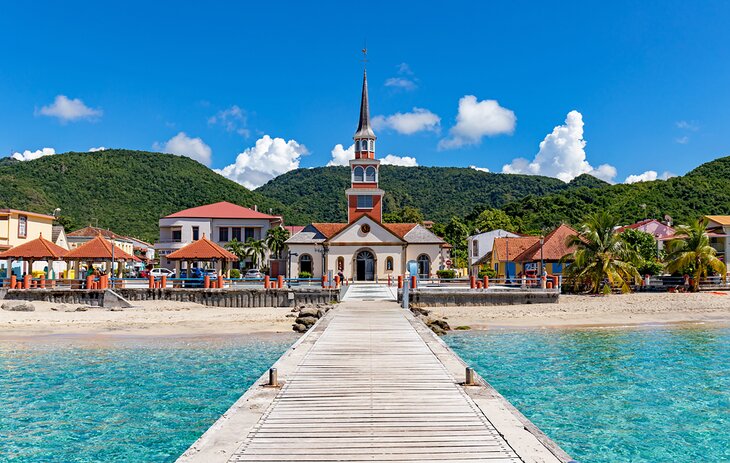 For a poignant reminder of nature's power, visit Saint-Pierre. This city, built among the ruins of Martinique's former capital, was totally destroyed by the 1902 eruption of Mount Pelée. The volcano's soaring peak provides a stark backdrop to the surrounding towns and beaches.
More active things to do in Martinique include diving, snorkeling, and hiking the extensive system of trails, past waterfalls and lush scenery. However, many tourists simply come to bask on the fabulous beaches, feast on fine French and Creole cuisine, and savor a luscious taste of France in the tropics.
For ideas on the best places to visit on this enchanting island, read our list of the top tourist attractions in Martinique.
1. Les Trois-Ilets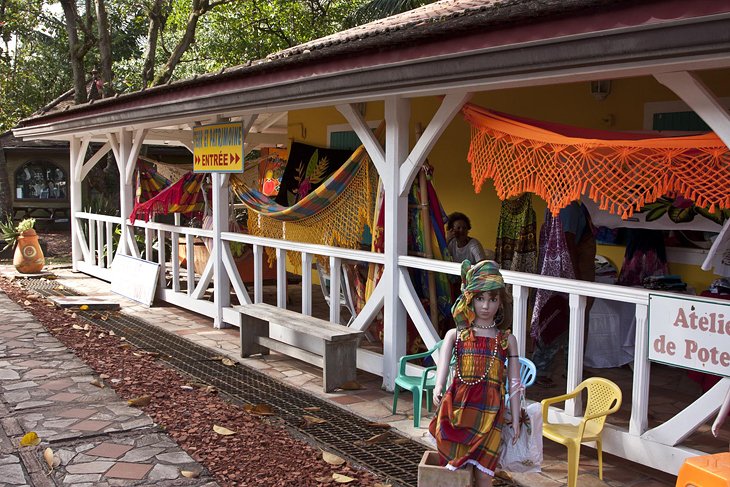 On the opposite side of the bay, South of Fort-de-France, Les Trois-Ilets is a popular tourist area, with hotels, restaurants, and several attractions that illustrate the island's history and culture.
Two of these center around former industries: sugarcane and pottery. Village de la Poterie des Trois-Ilets is a large complex housed in a former pottery yard where roof tiles were made. Today, the buildings house craft studios and shops, along with restaurants and a sports center where you can take kayak tours.
Small boutiques sell clothing, locally made soaps, art, and local crafts. Among the crafts people are jewelry makers, potters, and an artist who creates contemporary sand paintings using the many colors of local earth and stone.
Near the pottery yards is Maison de la Canne (House of Sugar) in an old sugar factory. Here, you can learn about sugar production and its history, from the slave trade to its later industrialization.
Pointe du Bout is a tourist center, where you'll find most of the hotels, along with boutiques, ice-cream parlors, and dining options. A ferry service shuttles back and forth across the bay to Fort-de-France. West of Pointe du Bout, tourists flock to the creamy sands of Anse Mitan, one of the best beaches on Martinique.
Accommodation: Best Resorts in Martinique
2. Sainte-Anne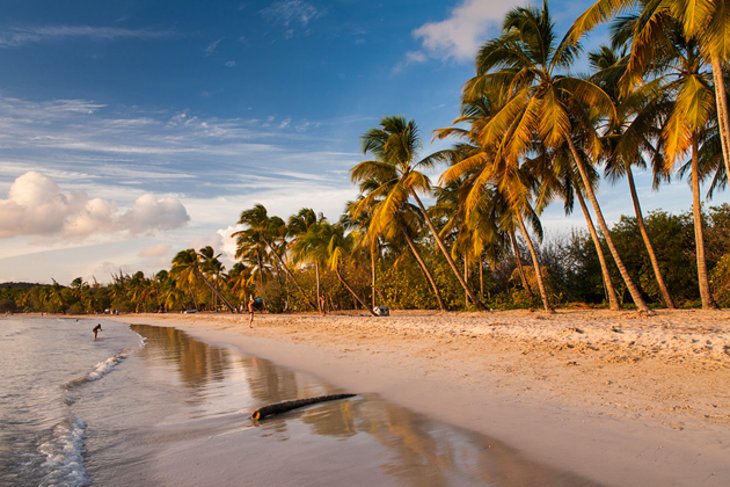 Sprinkled with palm-fringed coves, Sainte-Anne has the distinction of being the island's southernmost village and one of its prettiest. Shops, restaurants, and a craft market are here, but the main attractions are the beaches.
South of Sainte-Anne, at the very tip of the peninsula, are the dramatic red-earth landscapes of Savane Des Petrifications, which you can explore on trails from Anse a Prunes.
One of the island's most upscale and highly ranked resorts, Club Med Buccaneer's Creek Sainte-Anne sits on the beachfront.
3. Fort-de-France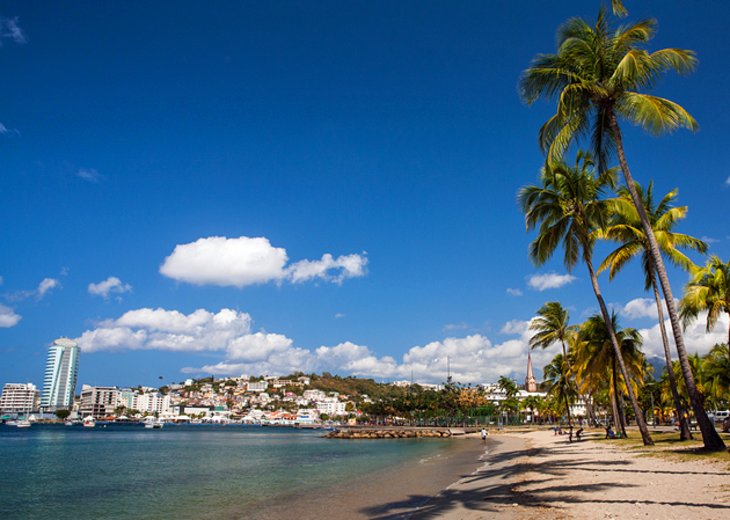 Although it's not brimming with tourist attractions itself, bustling Fort-de-France is the capital of Martinique, the main port, and a launching point for island adventures and sightseeing tours.
The center is laid out alongside Place de la Savane. Nearby, you will find the Bibliothèque Schoelcher, named for Victor Schoelcher, an activist for the abolition of slavery in the French colonies. One of the most visited attractions in Martinique, this building was constructed in Paris and shown in the 1889 World Exposition before being disassembled and shipped to Martinique.
Other architectural attractions include Fort Royal (Fort Saint Louis), dating from 1638; the Palais de Justice; and the Cathédrale Saint-Louis with its distinctive spire.
If you're looking for more things to do in Fort-de-France, you can soak up some of the island's history at the Musée Départemental d'Archéologie, with exhibits on pre-Columbian history. Then head to the Musée Régional d'Histoire et d'Ethnographie, which features Creole furnishings, clothing, jewelry, and musical instruments.
Fancy some shopping? The busy market is a good place to find locally grown fruits and spices, as well as colorful beach towels; the craft market at the harbor is most active when cruise ships are in port.
4. Balata Botanical Garden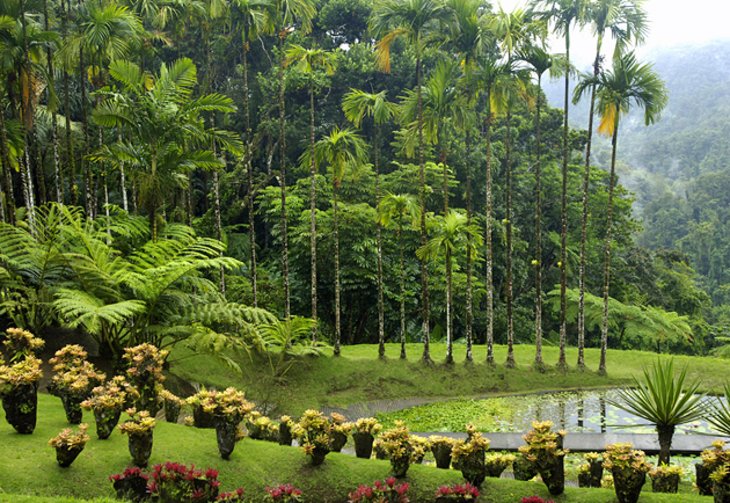 Green thumbs will love Balata Botanical Garden (Jardin de Balata). Created by a passionate horticulturalist, the garden features more than 3,000 species of tropical plants and flowers that cascade down a hillside, past ponds punctuated with water lilies and lotus blossoms.
Raised wooden rope bridges suspended amid the treetops give an aerial view over the lush gardens while hummingbirds buzz in the fragrant air.
Plenty of benches are tucked amid the foliage to relax and admire the beautiful mountain views framed by the gardens. An excursion to these beautiful gardens is one of the most popular things to do in Martinique on a cruise.
Address: Km 10, Route de Balata, Fort-de-France
5. Saint-Pierre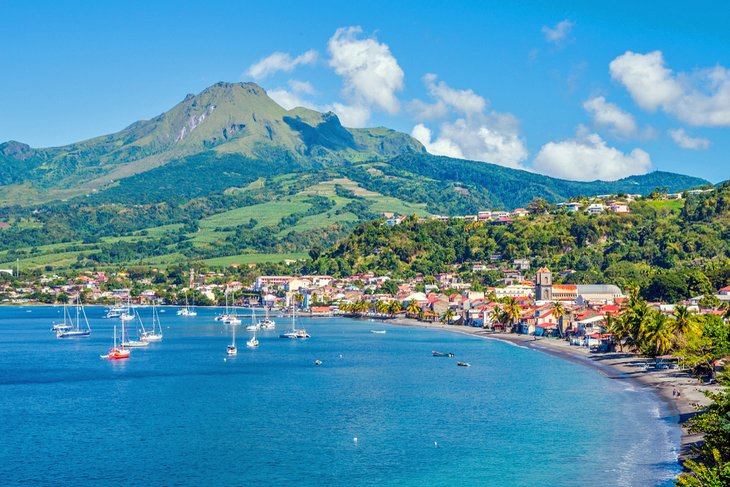 With dramatic views of volcanic Mount Pelée, Saint-Pierre is built among the ruins of old Saint-Pierre. The town was once Martinique's main city and port, a beautiful city once known as the Pearl of the West Indies, until Mount Pelée erupted in 1902.
The volcanic blast destroyed the town and killed all 30,000 residents, with the exception of a prisoner, who was protected by his thick cell walls. Today, you can walk among some of the stone ruins, including the survivor's prison cell, the old theater, and the ruins of Le Figuier — a group of single-story houses.
Consider taking the tourist train from the port, as Saint-Pierre sits on a steep hillside, and it's a long, hot climb between ruins. Stop at the tourist office for a helpful map.
On the hillside above Le Figuier, the one-room Volcanological Museum (Musée Volcanologique) displays the charred remains of items salvaged from the old town and harbor and provides a tangible reminder of the tragedy.
All but one of the boats anchored in the harbor sank in the tidal wave that followed the eruption. The area is now popular with scuba divers who come to dive the wrecks.
6. La Savane des Esclaves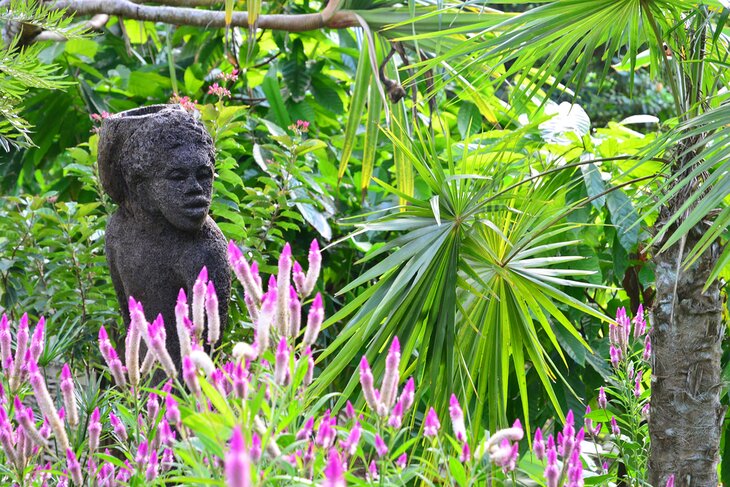 Right near Musée de la Pagerie, La Savane des Esclaves complements the museum by providing a glimpse into the lives of slaves on Martinique.
Here, a reconstructed slave village of traditional huts with earth floors and sugarcane-leaf roofs tells about the history of slavery on the island. Carved mahogany sculptures illustrate the life of slaves, escape attempts, and final liberation.
You can even see exhibits on traditional skills and foods, such as cacao, cassava, and sugarcane juice, as well as a garden of fruits, vegetables, and medicinal plants on which their lives depended.
Address: Quartier Pagerie, Trois-Ilets
7. Les Salines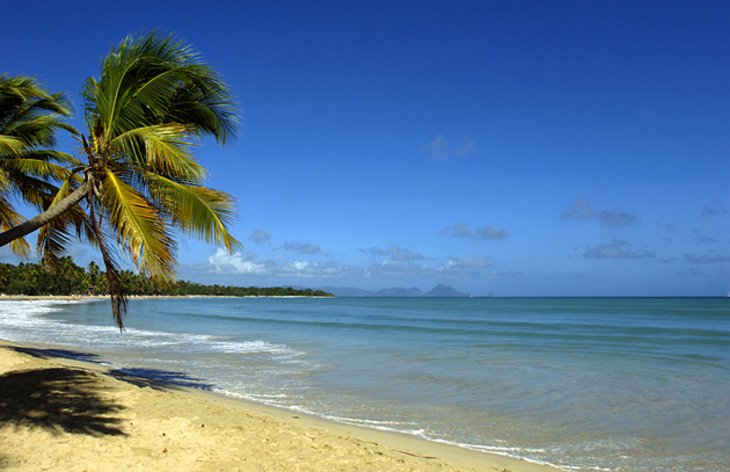 A short distance south of Sainte-Anne, Les Salines is one of the best beaches in Martinique. Named for the nearby salt pond, this one-kilometer stretch of coast at the southern tip of Martinique is a postcard picture of classic Caribbean scenery, with calm waters and soft, white sand.
Arching coconut palms frame views of the sea and provide perfect patches of shade where you can spread a towel and bask in all the beauty.
Les Salines can be crowded with families on the weekend, but tends to be a little more tranquil during the week. If you're feeling a bit peckish after all that sunbathing and swimming, vendors sell lunch and drinks behind the beach.
8. Zoo de Martinique and Le Carbet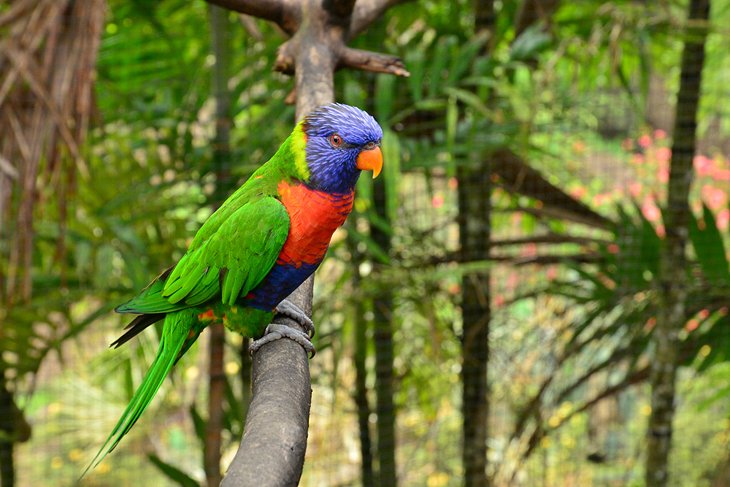 About 10 minutes' drive north of Le Carbet, Zoo de Martinique — Habitation Latouche is a family-friendly attraction nestled among botanical gardens and the ruins of an old sugar plantation. If you're visiting on a couple's holiday, don't worry — this fun attraction isn't just for children. There are plenty of entertaining things to do for adults as well. In fact, a visit to this charming zoo may be just the thing to make you feel like a kid again.
The beautiful setting is as delightful as the small zoo. Paths and rope bridges meander through the lush tropical plants, and the large, well-designed animal enclosures are often built around the atmospheric ruins.
Highlights include the monkeys, jaguars, raccoons, and the chance to interact with colorful rainbow lorikeets. Note that you score a discount when you visit both Jardin Balata and Zoo Martinique.
After visiting the zoo, you can explore the nearby town of Le Carbet, which became a parish as early as 1645 and is the supposed landing site of Christopher Columbus on June 15, 1502. It's also the town where Gauguin lived and painted in 1887.
Location: Anse Latouche, Le Carbet
9. Anse Dufour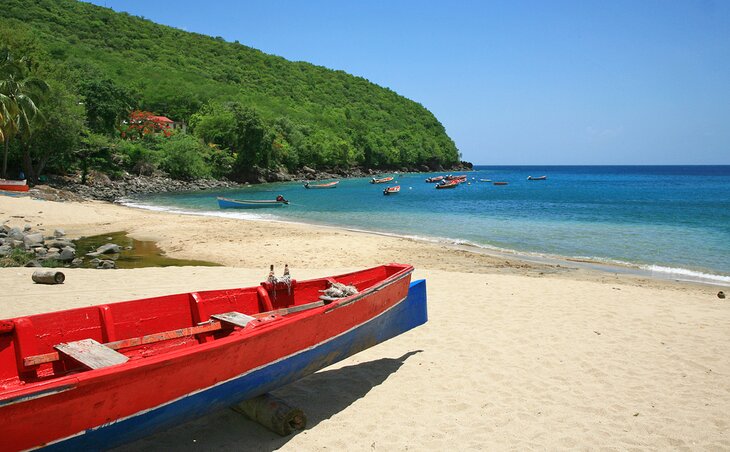 Anse Dufour is a romantic beach for couples in Martinique. Once you arrive, you'll see why. A small and intimate stretch of black sand curves in a horseshoe shape, inviting you to dig your toes into the soft base of this pretty beach.
Snorkeling off the shore is one of the more popular things to do at Anse Dufour, and those who do so are often rewarded by a turtle sighting. The earlier you arrive, the quieter the beach, which means you'll be more likely to spot a turtle. If you don't see one, don't worry. There are plenty of brightly colored fish and other sea creatures to enjoy.
Kayaks are available to rent, and there are facilities on-site, which makes it easy to spend at least half a day here. Families also enjoy the small nature of this beach, as well as the many activities on offer.
10. Château Dubuc and the Caravelle Peninsula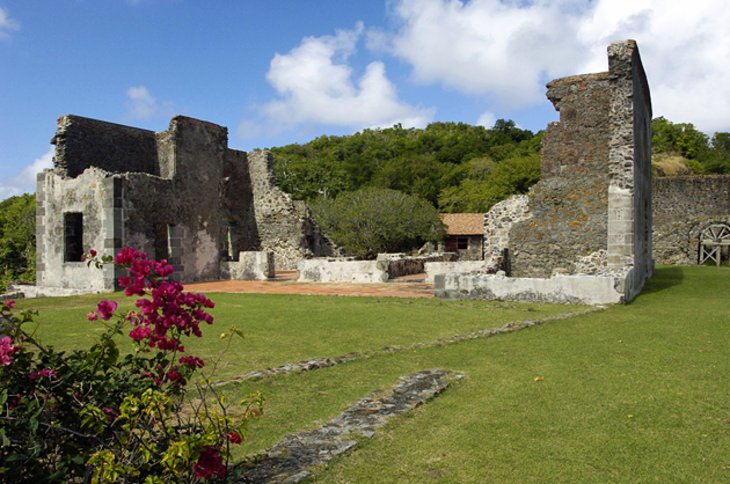 The ruins of Château Dubuc, the grandiose former home of the wealthy Dubuc family who owned the peninsula during the 18th century, are surrounded by the remains of their vast sugar refinery.
No other place on the island tells the story of the island's once-mainstay industry so well, and certainly not in such a beautiful setting. An innovative clickable map activates the free audio-guide for detailed descriptions in English, explaining each site and what happened here, from the grinding of raw cane to the shipment of molasses from the plantation's dock.
Nature lovers will find many things to see and do at the Caravelle Peninsula, in eastern Martinique. La Caravelle Nature Trail, near the entrance to Château Dubuc, is a one-hour hike through mangrove forest with views over the rugged eastern coastline. The nature reserve that protects the peninsula includes more than 150 species of local plants and many species of birds.
The town of Tartane stretches along a swimming beach, faced by a row of restaurants. Surfers will find some of Martinique's best swells nearby.
On the hill above, but only a short walk to the beach, the luxury boutique resort of French Coco is set among lush gardens and offers fine dining. It reopened in late November, 2022.
Address: Tartane, La Trinité, East Martinique
11. Diamond Rock & Le Mémorial de l'Anse Caffard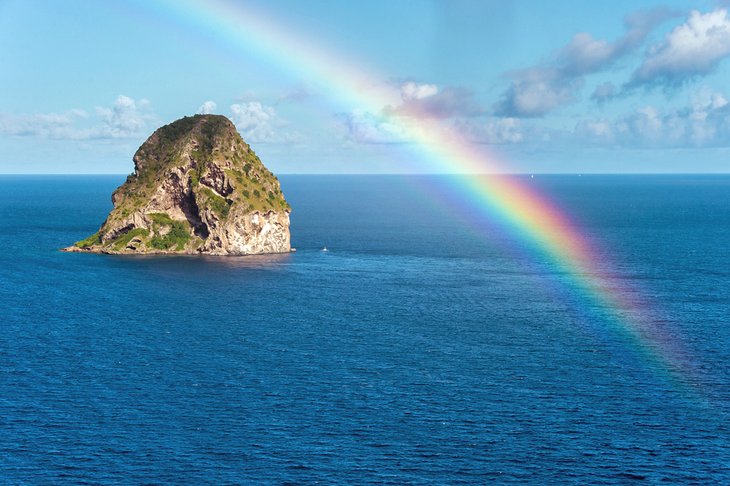 Rising almost straight above the sea, three kilometers off the south coast of Martinique, the dramatic Diamond Rock is the site of an unusual slice of naval history.
In 1804, the British dropped sailors on the volcanic island and registered the rock as a ship, the HMS Diamond Rock. After 17 months of unsuccessful attacks, the French used a creative strategy to overpower the sailors and take back the rock. Today, this volcanic mound marks one of the island's best dive sites, and you can learn all about its intriguing history at the nearby town of Le Diamant.
Peppered with arching coconut palms, Diamond Beach rims the shore here and is a beautiful place for a stroll. The sea is rough and not always safe for swimming, but this is one of the island's best surf spots.
Perched on a hill overlooking Diamond Rock and the beautiful Diamond Beach, Le Mémorial de l'Anse Caffard (the Anse Cafard Slave Memorial) pays tribute to victims of the tragic 1830s shipwreck off the southwest coast of Martinique that killed many of the passengers, including the 20 slaves chained to the boat. You can visit the 20 statues that stare out to sea, a poignant reminder of the turbulent history of this beautiful island.
12. Musée de la Pagerie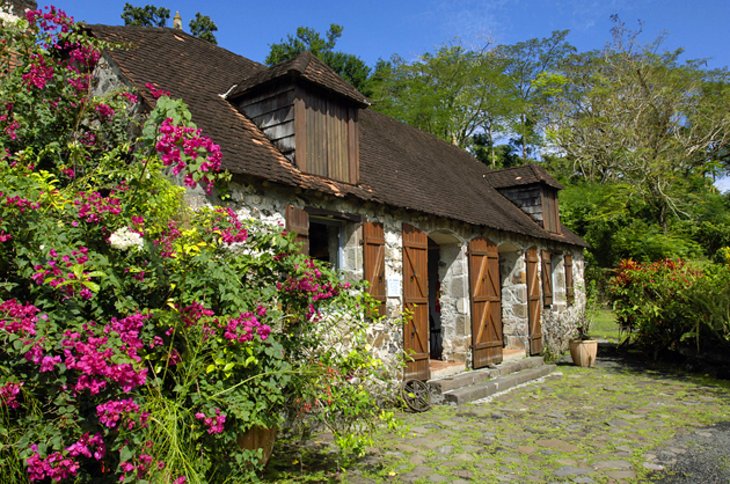 A former sugar estate, the Musée de la Pagerie was the birthplace of Marie Joseph Rose Tascher de la Pagerie, who would later become Napoleon's Empress Josephine. The stone cottage has been partially restored and contains some of Josephine's personal items, including a marriage certificate and love letters from Napoleon.
Guides, some of whom speak English, tell some fascinating stories about Josephine's childhood and her arranged marriage to the famous French emperor. You can also visit a small kitchen house and garden.
A tour of Musée de la Pagerie gives a picture of colonial life on Martinique in the 18th century, but it only tells half the story. For a picture of what life was like for the slaves who did the actual work that kept the plantation running, visit La Savane des Esclaves, nearby.
Address: D38, Les Trois-Ilets
13. Hike on Mount Pelée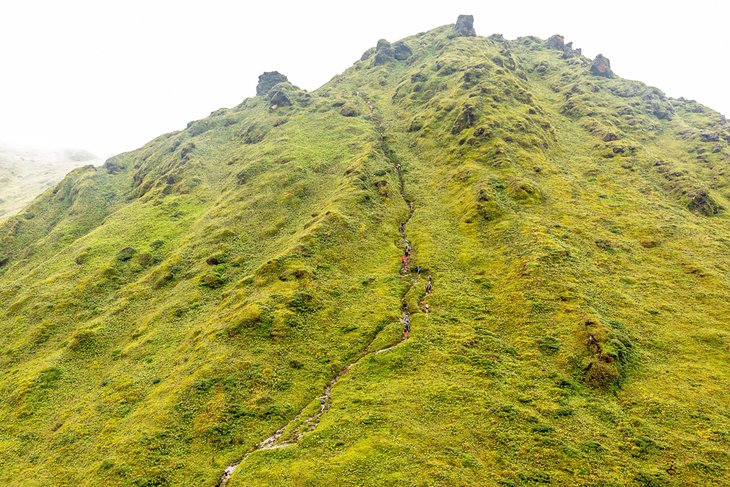 An active volcano, Mount Pelée erupted on May 8, 1902, destroying the nearby city of Saint-Pierre and killing thousands of people.
The volcano is currently in a quiet phase, and you can hike to the summit and, on clear days, enjoy spectacular views of the Atlantic, the surrounding mountains, and the neighboring island of Dominica.
Early morning hikes are usually rewarded with less cloud cover to obscure the views. Trails of varying difficulty begin in Morne Rouge, Ajoupa-Bouillon, Grand Rivière, Le Prêcheur, and Macouba. The most popular trail is from Ajoupa Bouillon. Getting from the trailhead to Le Chinois, the true summit of Pelee, takes about two to four hours one way, depending on your ability and the trail conditions.
All trails require hiking boots, and can be hazardous after rains. Be sure to check the weather forecast before setting out.
14. Hike at Gorges de la Falaise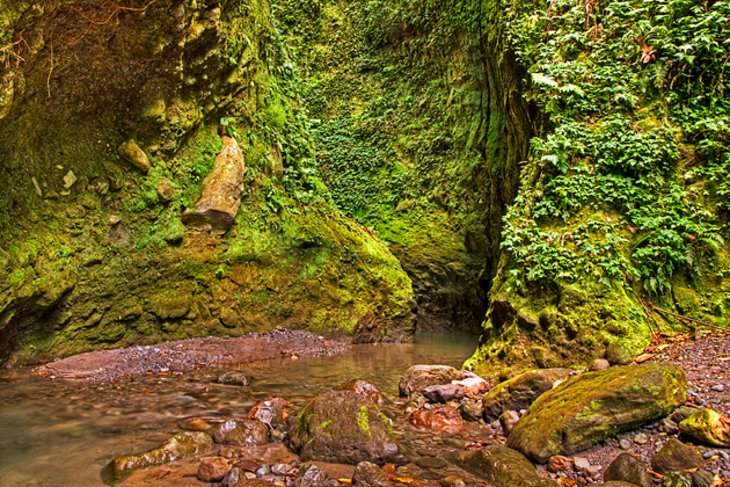 Near the village of Ajoupa-Bouillon, at the base of Mount Pelée, Gorges de la Falaise is a series of small gorges along the Falaise River, which lead to a beautiful waterfall.
The hike begins with a steep descent and a stream crossing, but once you make it down into the gorge, guides are on hand to help you negotiate the section of deep-water (sometimes very deep) wading to the falls, where you can swim under the pelting water.
Sturdy waterproof hiking shoes are essential, and it's also a good idea to bring a swimsuit, towel, and waterproof camera. The entire hike is only about a kilometer each way, but the experience is quite strenuous, especially when the water is high.
Also in Ajoupa-Bouillon Les Ombrages is a nature center with trails through the native fauna alongside a river. Several gardens — Creole, Caribbean, Heliconia, and the Calabash Garden — are planted to display various indigenous species, with interpretive signs that show how humans and nature have interacted here.
15. Boat Tours from Pointe du Bout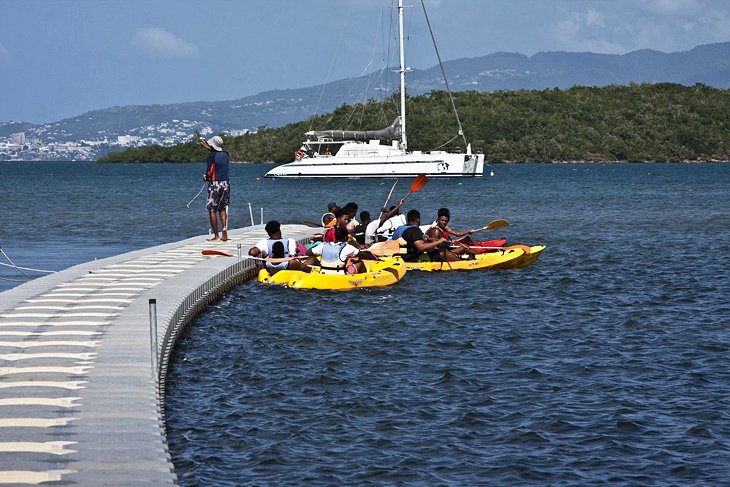 One of the most popular things to do in Martinique is go on a cruise, and beautiful Fort-de-France Bay is the starting point for boat trips of all kinds. Cruisers, skiffs, sailboats, catamarans, and other craft depart from the tourist enclave of Pointe du Bout, and from other places in Trois Ilets, on the south shore of the bay.
Dolphin-watch cruises are among the most popular, and you can join guided kayak tours of the mangrove forests from Pointe du Bout or from Village de la Poterie des Trois-Ilets.
Near the town of Le Francois, on the island's east coast, boat tours depart to another popular Martinique tourist attraction: the Fonds Blanc or La Baignoire de Joséphine (Joséphine's Baths). These sandy shallows are where Empress Joséphine reputedly bathed, and they are one of the top places to visit on swimming and snorkeling tours.
Address: Pointe du Bout, Les Trois-Ilets
16. Drive the Route de la Trace to Morne Rouge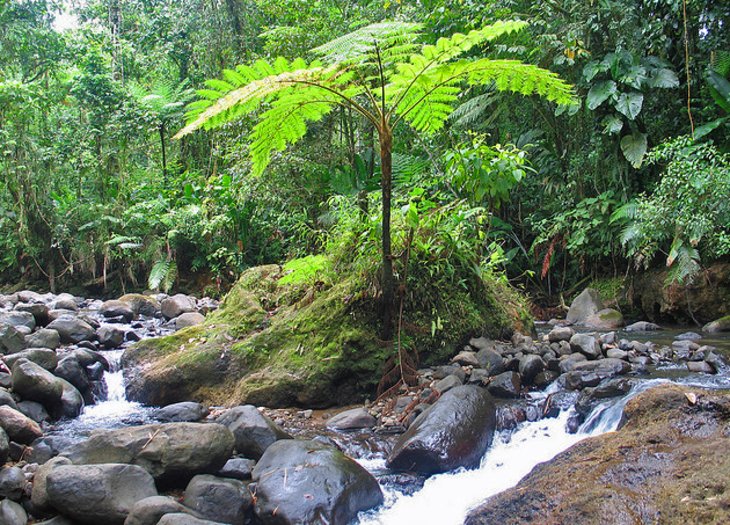 Scenic Route de la Trace (highway N3) runs north from Fort-de-France through the lush interior rainforest to L'Ajoupa-Bouillon, on the side of Mount Pelée.
Cut by the Jesuits in the 1600s, the road winds along the volcanic Pitons du Carbet (Carbet Mountains), with signposted hiking trails leading to their peaks.
Just north of Fort-de-France, on a hillside, Sacre Coeur de Balata Church is a small size replica of Sacré-Coeur Basilica in Paris, with beautiful views over the city. The popular Jardin de Balata (Balata Botanical Garden) is just beyond.
Continuing north, the route passes through Morne Rouge, the highest town in Martinique, near Mount Pelée. On August 30, 1902 a large pyroclastic flow buried Morne Rouge killing almost 1,500 people only months after the volcanic blast at Saint-Pierre. Named for its red-hued volcanic soil, Morne Rouge is now a pilgrimage site.
A small co-operative on the north end of the town sells handmade soaps, jewelry, and other handcrafts. La Chaudiere, one of the finest restaurants in Martinique, is on the southern edge of Morne Rouge.
Martinique - Climate Chart
Average minimum and maximum temperatures for Fort-de-France, Martinique in °C
J
F
M
A
M
J
J
A
S
O
N
D

28

21

28

21

29

22

30

22

30

23

30

24

30

24

31

24

31

23

31

23

30

23

29

22

PlanetWare.com
Average monthly precipitation totals for Fort-de-France, Martinique in mm.

119

89

89

97

125

170

203

252

236

269

224

158
Average minimum and maximum temperatures for Fort-de-France, Martinique in °F
J
F
M
A
M
J
J
A
S
O
N
D

82

70

83

70

83

70

85

72

86

74

86

75

86

75

86

75

87

73

86

73

85

72

84

71

PlanetWare.com
Average monthly precipitation totals for Fort-de-France, Martinique in inches.

4.7

3.5

3.5

3.8

4.9

6.7

8.0

9.9

9.3

11

8.8

6.2
More Must-See Islands near Martinique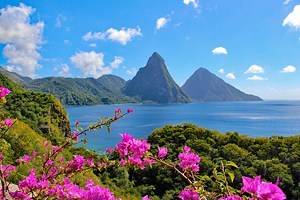 Martinique lies halfway between St. Lucia, with its towering twin volcanic peaks, known as the Pitons, and Dominica, another island rich in natural beauty and laced with superb hiking trails. If you're looking for the perfect place to stay, St. Lucia is home to some sumptuous luxury resorts, including one of the best luxury all-inclusive resorts in the Caribbean.