St. Lucia in Pictures: 19 Beautiful Places to Photograph
With its striking, signature pointy-green peaks known as the Pitons, the island of St. Lucia is one of the most glamorous (and photo-worthy) vacation destinations in the Caribbean. From beautiful white-sand beaches framed by a calm, turquoise sea to a wild interior forged by volcanic eruptions, where you'll find hikes through the jungle, to thundering waterfalls, St. Lucia has plenty of things to do and gorgeous places to photograph.
More opportunities for beautiful pictures abound underwater in the colorful coral reefs.
1. The Pitons from Jade Mountain Resort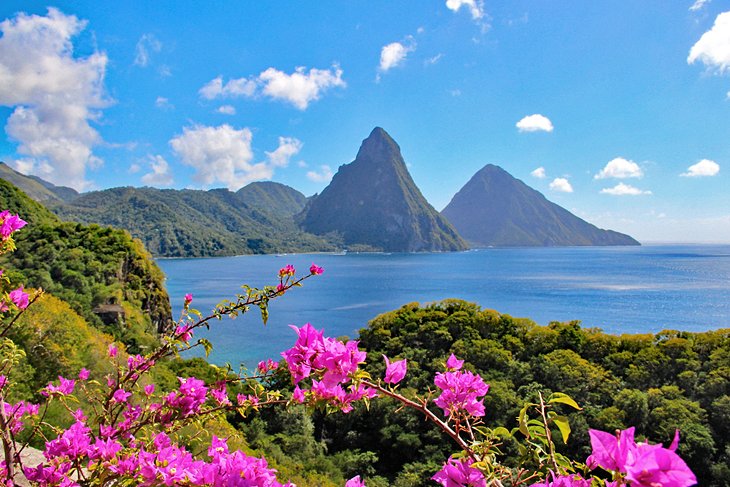 What makes St. Lucia so stunning from a photography perspective are the two pointy green peaks known as the Pitons. One of the top places to photograph these mountains is from Jade Mountain Resort (where this image was taken), which also happens to be one of the best luxury, all-inclusive properties in the Caribbean.
2. Marigot Bay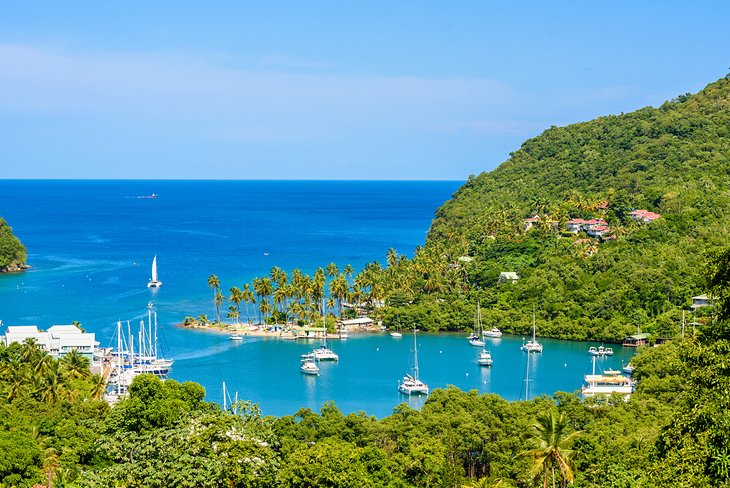 One of St Lucia's most photographic vistas, gorgeous Marigot Bay makes a wonderful picture – it is filled with moored yachts and sailboats juxtaposed against a deep blue sea. For the best image, head to a vista point on the road running parallel to the main coastal route but closer to the bay.
Accommodation: Top-Rated Resorts in St. Lucia
3. Paradise Beach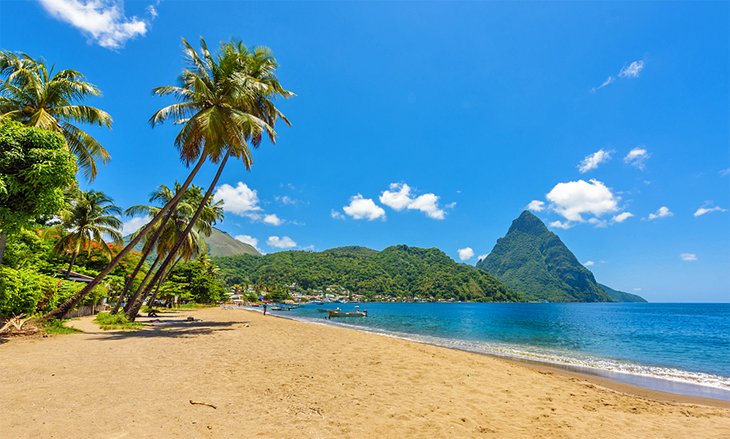 Paradise Beach at Soufriere Bay fronts the small fishing village of Soufriere. It is a pretty stretch of gold-hued sand backed by warm, clear turquoise and emerald-hued water, with a Piton view anchoring one end. Families and couples alike will find it a great place for a photo shoot.
4. Diamond Waterfall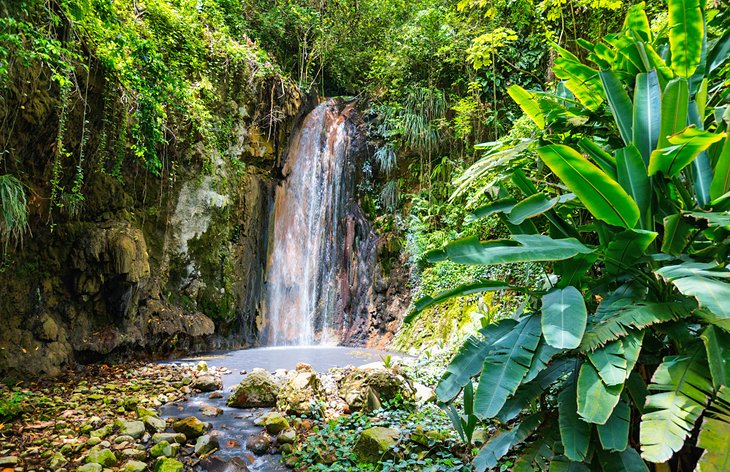 Cascading down a cliff into a pool below, Diamond Waterfall is a pretty natural site to photograph. There is a lush green jungle backdrop and moss-covered rocks surrounding the frosted-looking pool that gets its color from mineral deposits.
5. Anse Chastanet Marine National Park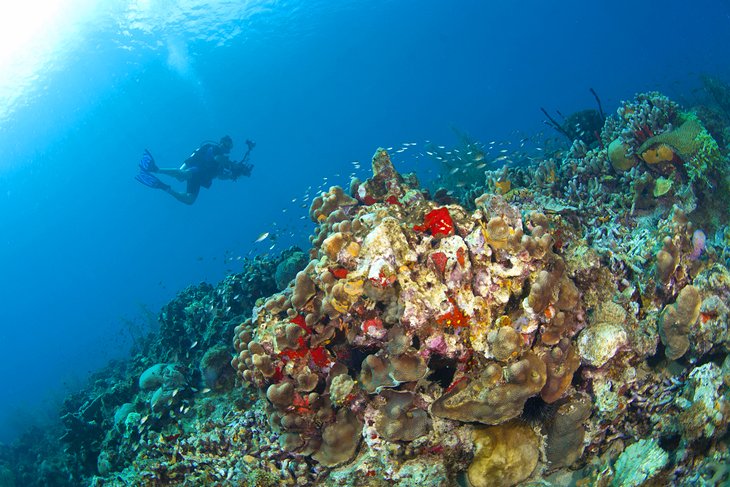 Bring an underwater camera when exploring the protected coral reef in the Anse Chastanet Marine National Park. Here, you'll find excellent snorkeling and diving amid tropical fish and gardens of colorful coral along the edge of a plateau wall that drops down 46 meters.
6. Soufriere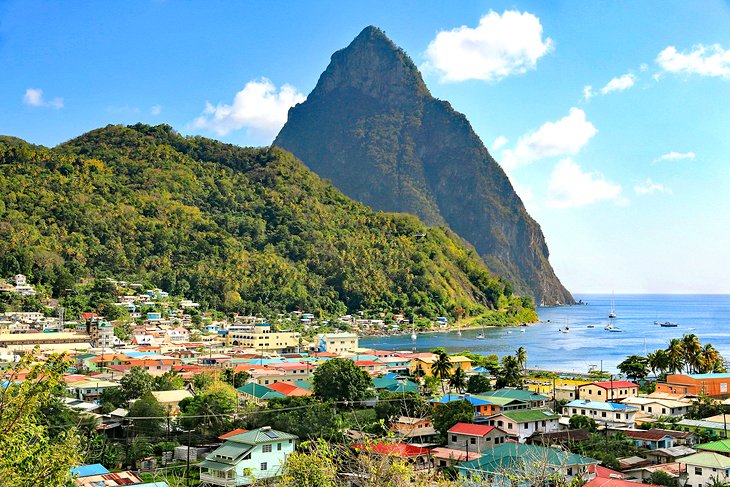 Some of the best views of the Pitons can be seen from the small fishing village of Soufriere. On St. Lucia's west coast, it was founded by the French and originally served as the island's capital city. Today, it is filled with colorful buildings.
7. Gros Piton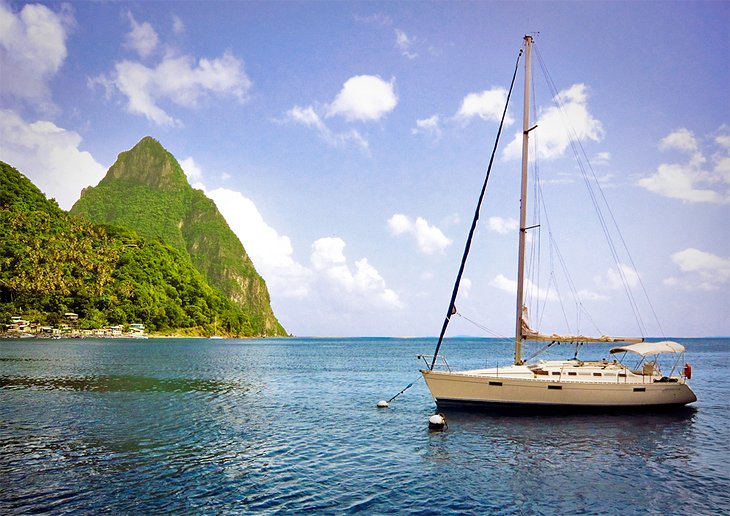 Take in the lush pointy wonder that is Gros Piton from a sailboat for a dreamy view. The largest of the peaks, it is 798 meters high. A number of companies around St. Lucia offer sailboat and yacht charters, which are a popular way to explore around the island - and take great pictures of the Pitons.
8. Sulphur Springs Park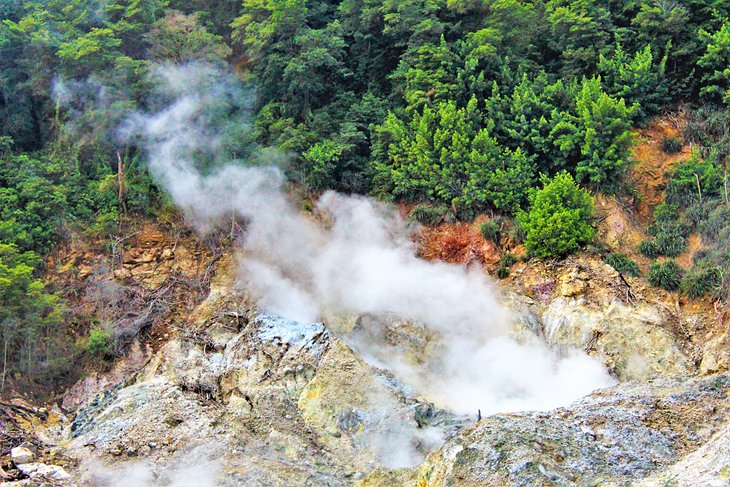 St. Lucia is home to the Lesser Antilles most active geothermal area, Sulphur Springs Park. It is considered a "drive-through" volcano because the road traverses the 274-meter crater that once was Mount Soufriere. Although the volcano hasn't erupted in more than 40,000 years, there are still boiling-hot pools of sulphur water scattered about. You can soak in some of these springs.
9. Enbas Sauf Waterfall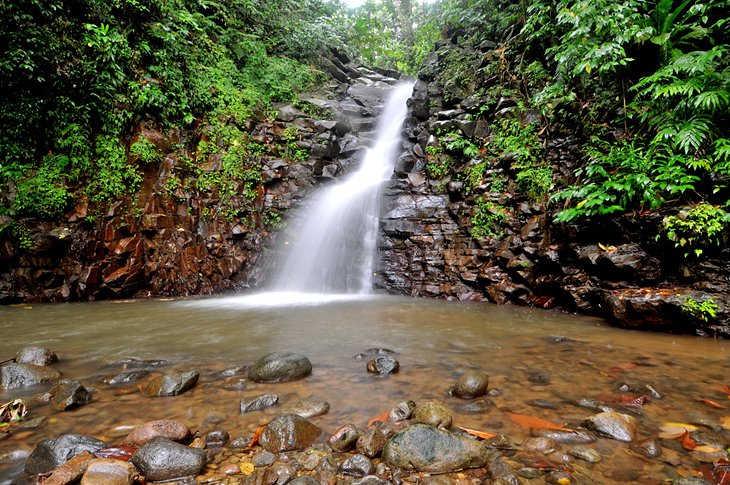 Hike through lush rainforest on the slopes of Mount Gimie, the highest mountain on St. Lucia, to reach Enbas Sauf Waterfall (pictured above). The waterfall hike takes about 2.5 hours and requires some really steep ups and downs. Keep an eye out for colorful birds along the way.
10. Castries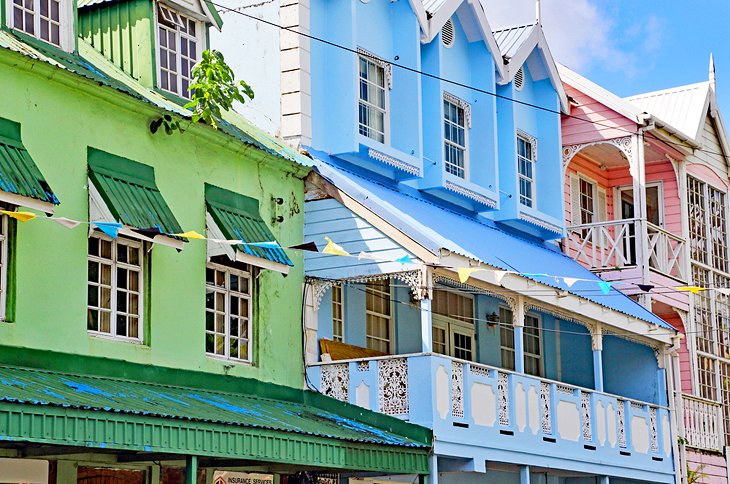 Castries is St. Lucia's capital city, although really it is more village-like. You'll find gingerbread, colonial-era, pastel-hued buildings like the ones pictured here. Castries is also a harbor, and cruise ships dock here. Head to the harbor's easternmost edge to check out the Castries market. You can buy everything from baskets of spices to local fruits and veggies and a variety of handicrafts.
11. Rodney Bay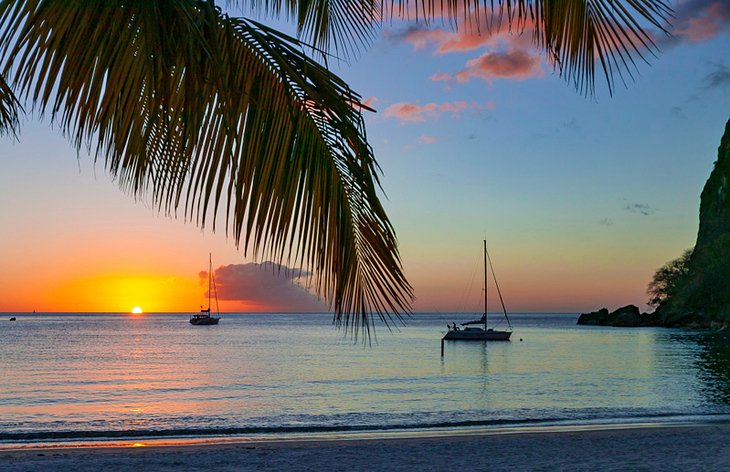 Head to pretty Rodney Bay at sunset to snap a photo of the sun sinking low and turning to fire. The bay is located on the northwest corner of St. Lucia, hence the particularly stunning sunsets. The landmass beyond Rodney Bay is Pigeon Island.
12. Tet Paul Nature Trail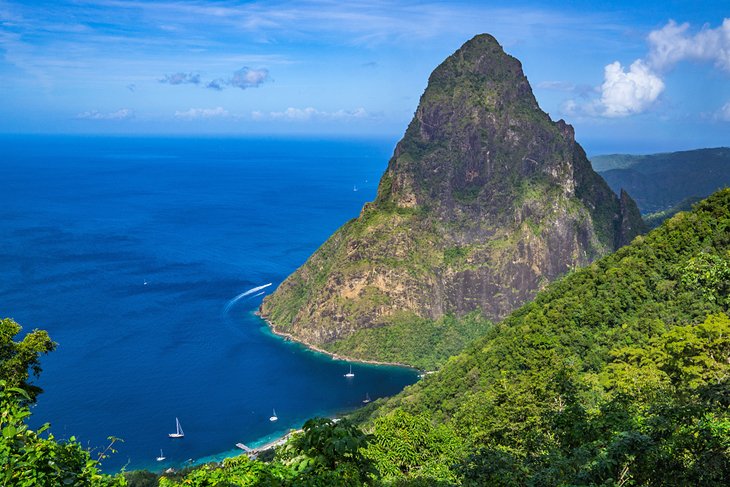 Hike the Tet Paul Nature Trail to the observation point for some of the most picture-perfect views in St. Lucia. On a clear day, you can see the nearby islands of Martinique and St. Vincent in the background. The hike to the top takes about 45 minutes each way.
13. Fairyland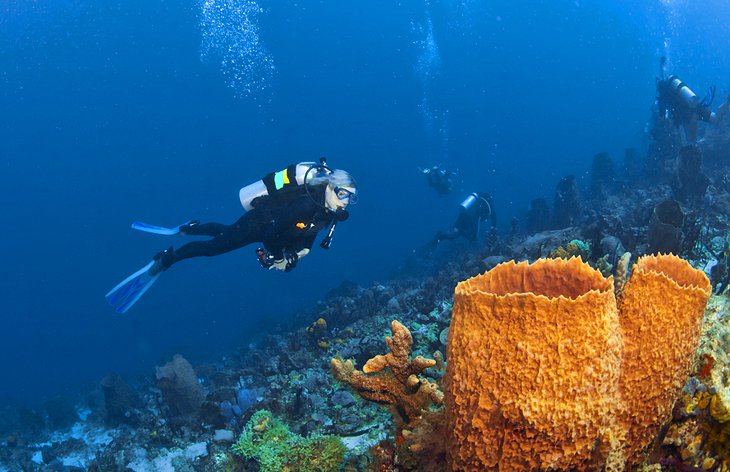 St. Lucia is home to a number of excellent dive spots, where you'll usually have great visibility and plenty of colorful fish and coral to swim amid and photograph. Fairyland is one such spot. Head to the wall for drift diving or stay in the shallow water for an opportunity to possibly see turtles.
14. Derek Walcott Square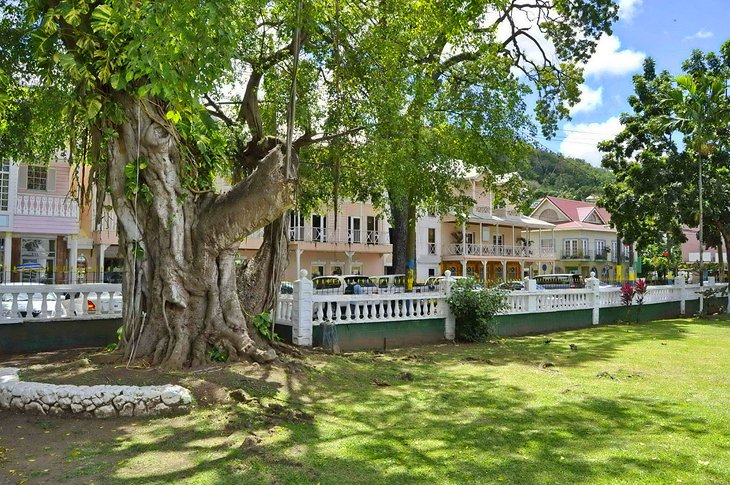 In St. Lucia's capital, Castries, Derek Walcott Square is worth a stroll and a few images. Here, you'll find the Cathedral of the Immaculate Conception. The cathedral is right on the square and boasts an Italianate-style clock tower that is hard to miss.
15. Morne Fortune Historic Area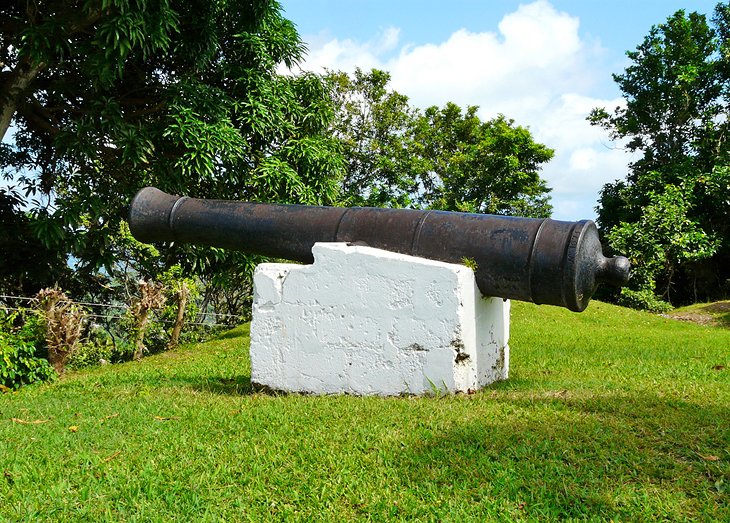 South of Castries, what is now Morne Fortune Historic Area once served as an 18th-century French fort. The cannon in this photo was part of the battlement. Today, you can also take beautiful photographs atop this hill with panoramic island vista backdrops.
16. Fort Rodney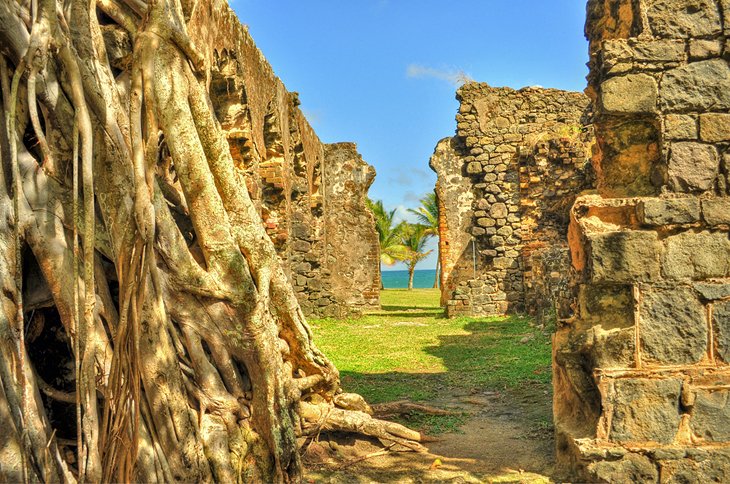 The ruins of Fort Rodney on Pigeon Island are pictured. In the 18th-century, it served as a British fort. Today, it is a national landmark that preserves the original cannons and ruins on the hilltop. The views from up here are also stellar.
17. La Souffriere Bay at Sunset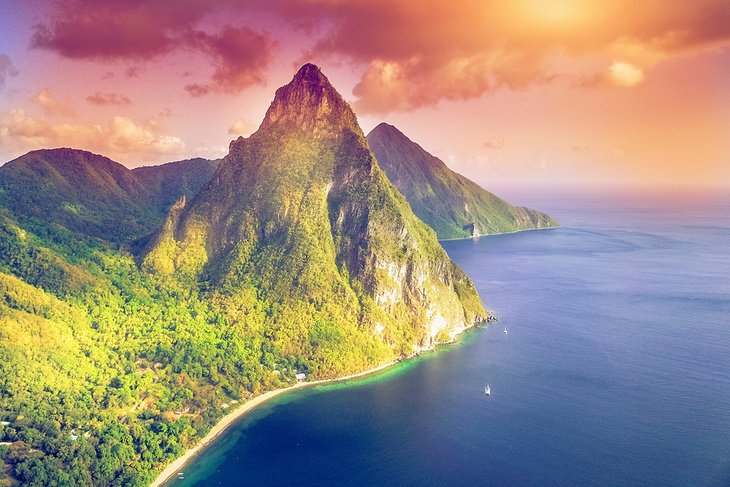 Take a boat out on La Souffriere Bay to watch the sunset and capture some amazing pictures like the one here. The bay fronts the town of Souffriere and offers some of the most dramatic views of the Pitons.
On nights when there is a little cloud cover, you can get some of the best sunset colors. We love how the mountains appear to glow yellow here. If you wait a few minutes longer, this lighting will likely turn to a tableau of pinks and purples.
18. Swing Set in the Sea at Sandals Grande St. Lucian Resort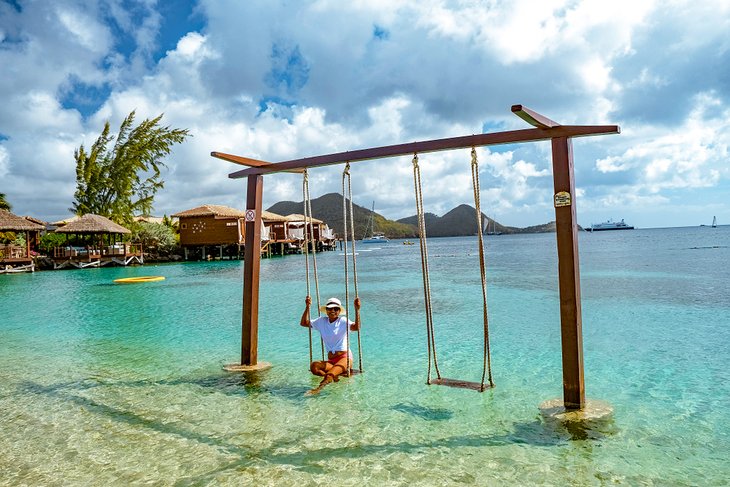 Snapping photos on swings in the ocean have become super popular on social media. To recreate this image for yourself, you'll need to head to the Sandals Grande St. Lucian Resort.
The five-star, all-inclusive property is adults only and geared exclusively towards couples. One of the best resorts in St. Lucia, it's located between Rodney Bay and the Caribbean Sea.
19. Waterfall at Sulphur Springs Park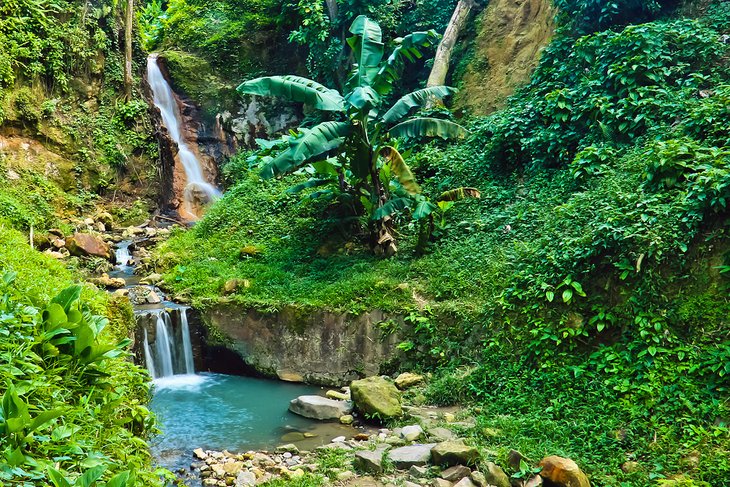 This waterfall is located in Sulphur Springs Park, mentioned in another entry above. The park is known for its boiling hot springs, as well as some absolutely gorgeous waterfalls with clear blue swimming holes like the one pictured here. The lush green jungle makes a great backdrop.