Grenada in Pictures: 14 Beautiful Places to Photograph
Known as "the Spice Island" for the fragrant plants that flourish here, Grenada is a lush volcanic island in the south of the Caribbean that is filled with picture-perfect photo ops. From its capital city of St. George's, which is considered one of the prettiest in the Caribbean, to offshore islands like Carriacou, known for its coral reefs, to beaches like Grand Anse and a lush interior that is home to stunning Annandale Falls, Grenada is packed with top places to snap dynamic photographs.
Note: Some businesses may be temporarily closed due to recent global health and safety issues.
1. Grand Anse Beach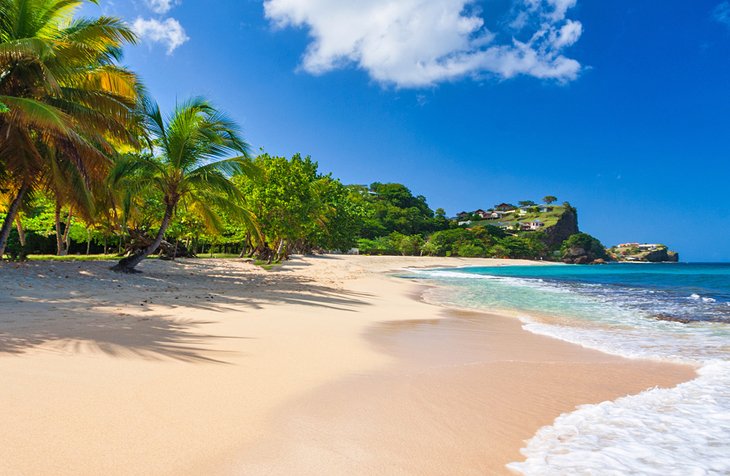 Beautiful Grand Anse Beach runs for three kilometers and features golden sand and gentle surf. The beach can get crowded when the cruise ships are in town, as this is where many people end up. The water here is calm and gets deep enough for swimming. Some of Grenada's top luxury resorts are found on this beach.
2. Annandale Falls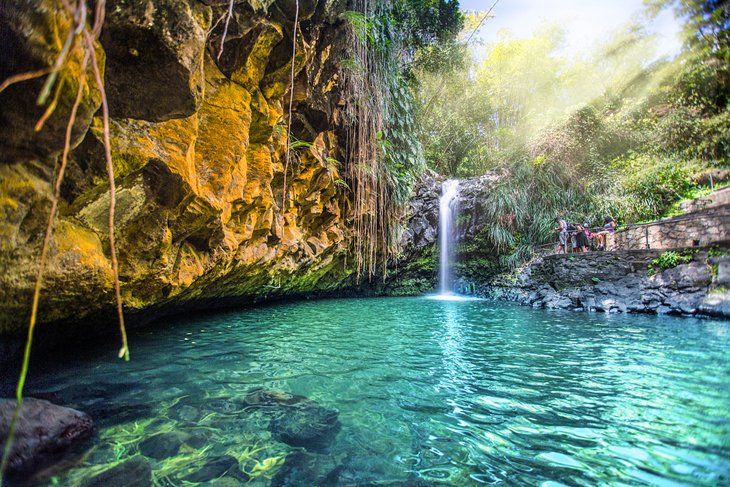 One of the most picture-perfect sights in Grenada, Annandale Falls is a 10-meter-high waterfall that plunges down into the clear turquoise pool surrounded by lush foliage, pictured above. The falls, in the mountains north of St. George's, are reached via a short hiking trail, and you can swim in the pool.
3. St. George's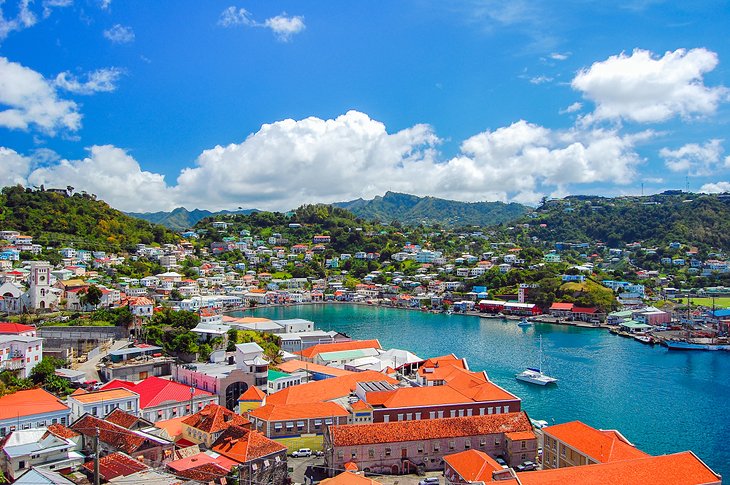 Grenada's capital of St. George's is one of the prettiest Caribbean port towns. It features a horseshoe-shaped harbor backed by a volcanic hillside with red-tile roofed homes tumbling down it. If you're in town on a Saturday morning, head to St. George's Market Square to soak up some local ambience.
4. Underwater Sculpture Park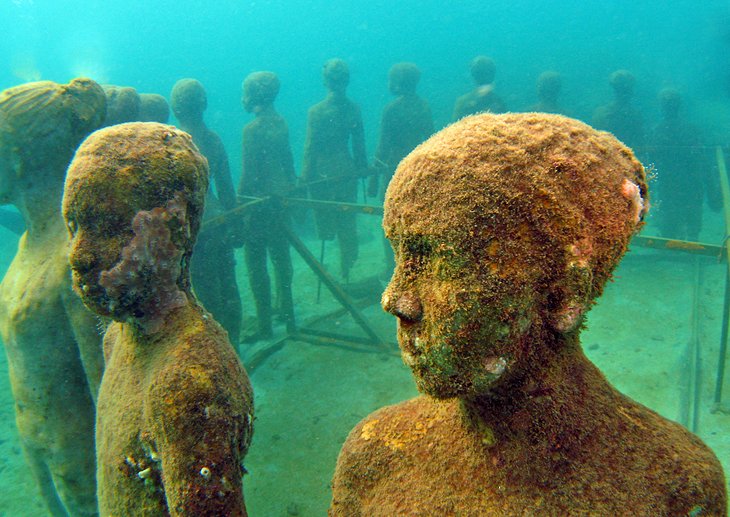 The Underwater Sculpture Park, pictured above, is the creation of artist Jason deCaires Taylor. The park, which is located just north of St. George's at Moliniere Bay on Grenada's west coast, features life-size figures and Amerindian petroglyphs. Photograph it on a dive or snorkel trip or from a glass-bottom boat.
5. Grand Etang National Forest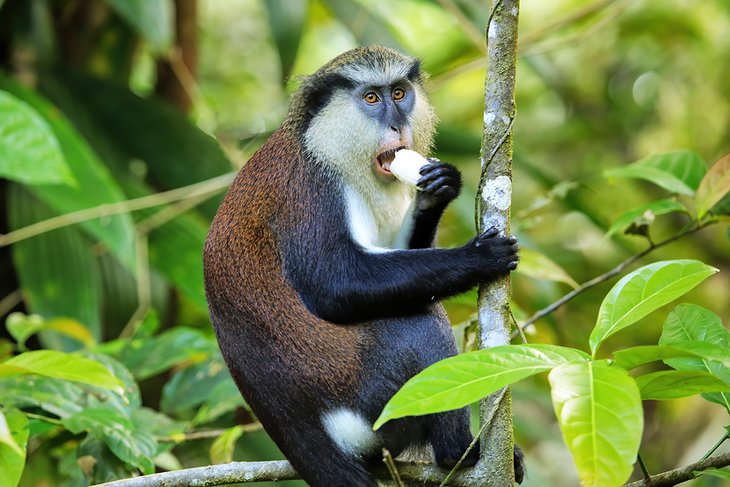 Snapping a picture of a mona monkey (like the fellow in this photograph) in Grand Etang National Forest is a trip highlight of a journey to Grenada. The park is home to a number of animal species, as well as stunning rainforest scenery and excellent hiking.
6. La Sagesse Beach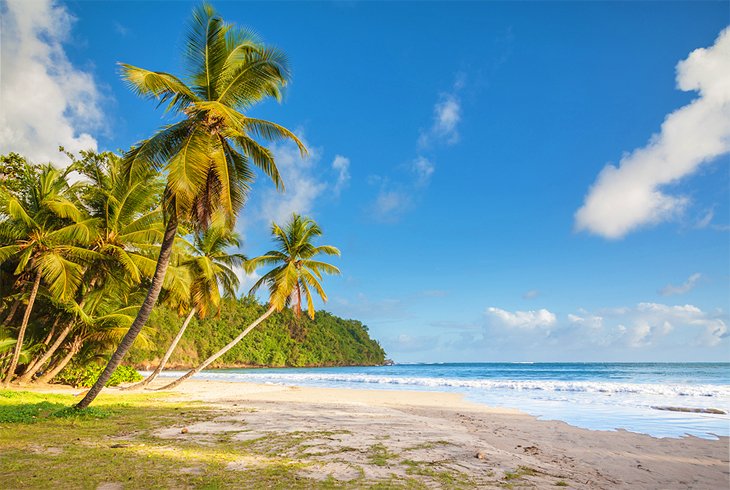 On Grenada's Atlantic coastline, La Sagesse is a gold-sand beach fronting a protected bay with great swimming. The former estate of Queen Elizabeth's cousin, Lord Brownlow, is also located here, and today it's a hotel with a lovely restaurant. The area is also known for its excellent birding with a number of avian species living in the nearby mangroves, salt ponds, and scrub forests.
7. Bathways Beach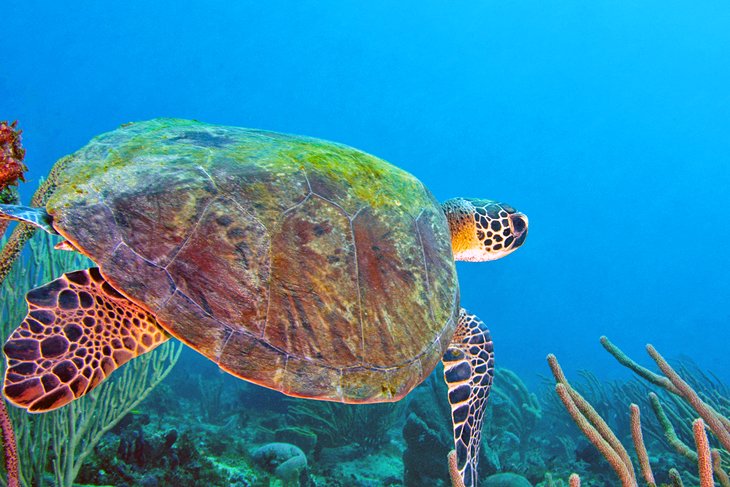 Bathways Beach in Levera National Park is frequently used by sea turtles, like the one pictured above, as a nesting ground. Just offshore from the beach is a beautiful reef with good snorkeling, where you may see turtles, as well as colorful fish and coral.
8. Anse La Roche Bay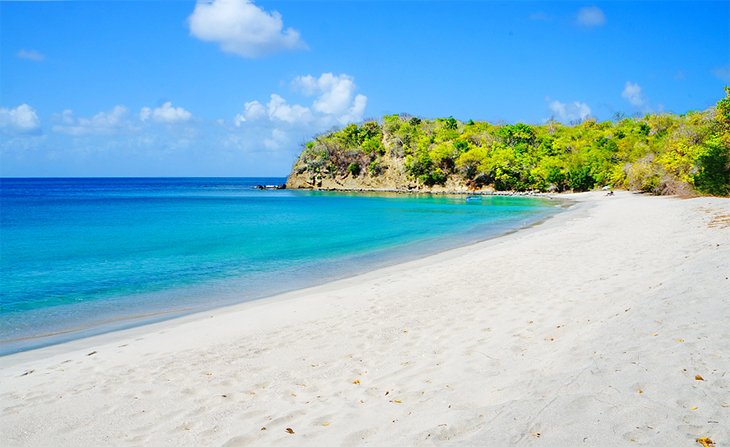 Carriacou Island is Grenada's sister island, located just to the northeast and easy to visit on a day trip or overnight. Head to beautiful Anse La Roche Bay (pictured above) for some great photographs. It is one of a number of sandy beaches on Grenada's sister island, which is famous for its snorkeling and diving around its coral reefs.
9. Morne Rouge Beach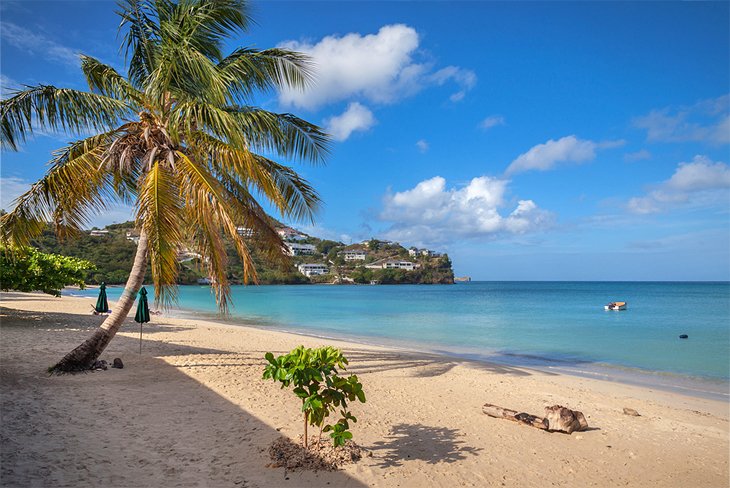 Idyllic Morne Rouge Beach is often nearly empty, as this photo depicts. It is located south of Grand Anse, close to Grenada's southern tip. The 1.5-kilometer-long beach is backed by calm, emerald-hued water that is perfect for swimming. There are a few restaurants by the sand serving up lunch and snacks.
10. Levera National Park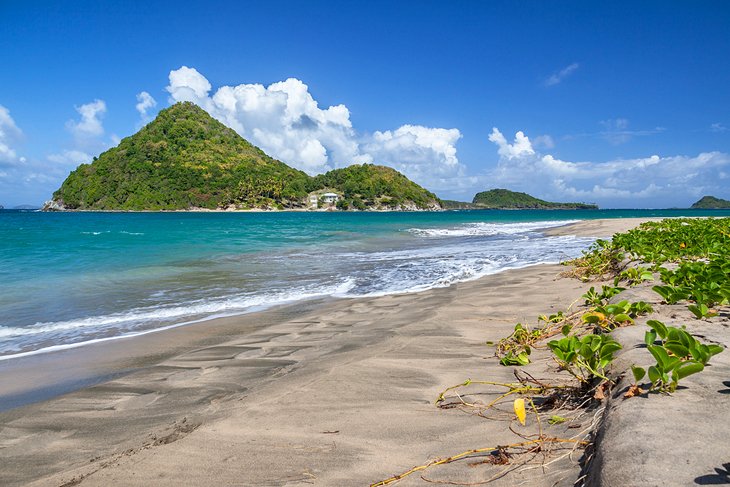 On the northern tip of Grenada where the Caribbean Sea meets the Atlantic Ocean, Levera National Park is home to some of the island's most dynamic scenery, including beautiful beaches like the one pictured here.
11. The Carenage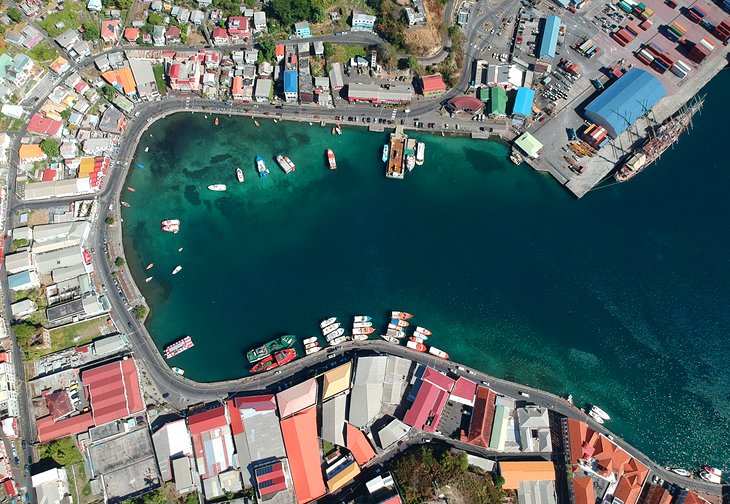 This picture depicts the inner harbor and docks known as the Carenage. It is a nice place to snap a few pictures while browsing the shops in the waterfront area. There are also a number of local restaurant choices in this area. Grab a seat and do some people watching while you wait for your food.
12. Fort George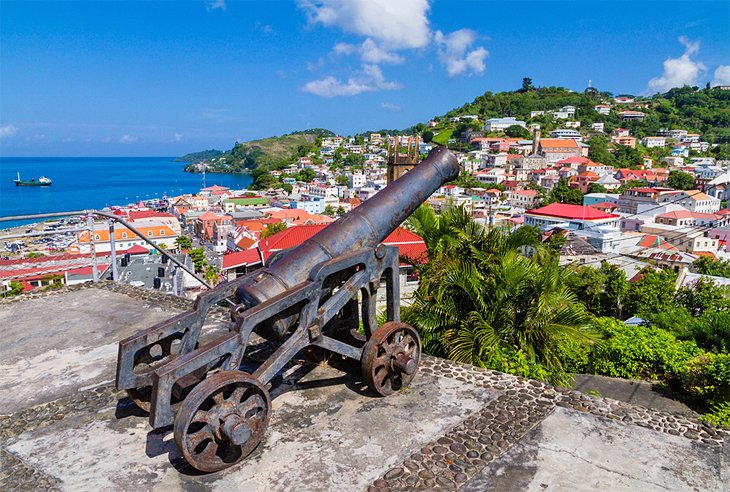 On a promontory west of the harbor, Fort George is Grenada's oldest fort. It was built by the French in 1705 to protect the harbor. To reach the fort, you'll need to hike up a flight of stairs (it's a good workout). From here, you'll be rewarded with photogenic, 360-degree views of St. George's and the harbor and ocean beyond.
13. Grand Anse Craft and Spice Market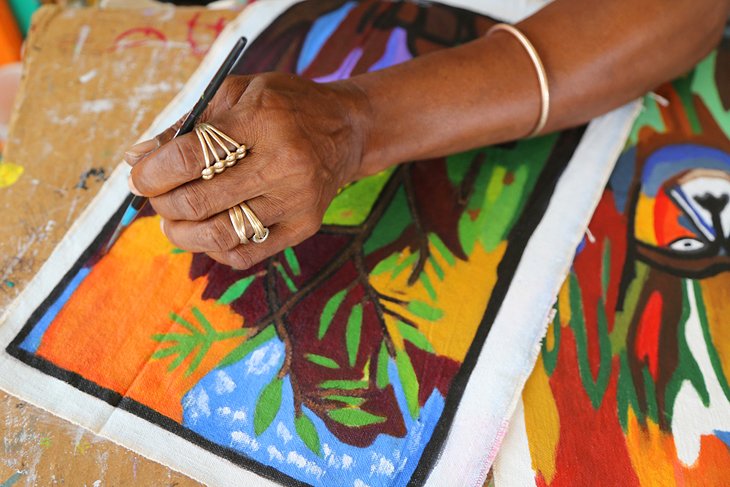 Located about halfway down Grenada's main beach, Grand Anse, the Grand Anse Craft and Spice Market (pictured above) is a good place to purchase local handicrafts. It gets crowded on days that the cruise ships are docked in town.
14. Fort Frederick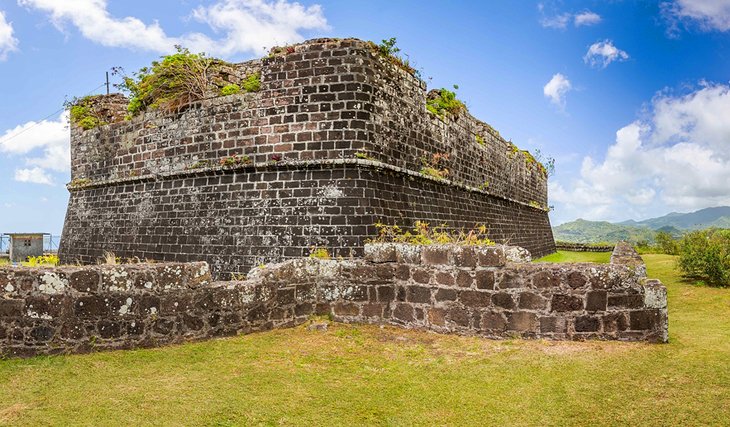 The views from Fort Frederick, which is located atop Richmond Hill, make for some beautiful photographs looking down at St. George's and the ocean. The fort's construction was started by the French in 1779 but finished by the British 12 years later in 1791. Also note that the canons here don't face the sea, but instead inland, because the French feared the British would attack them from this direction.