12 Top-Rated Tourist Attractions in Trinidad and Tobago
Trinidad and Tobago are two islands joined as one nation with very different characters and attractions.
Trinidad, near Venezuela, is the busier of the two and the southernmost of all the West Indian islands. In the bustling capital, Port of Spain, you will find some impressive examples of colonial and Renaissance-style architecture, as well as an eclectic cultural mix of Creoles, Africans, Amerindians, Europeans, and East Indians.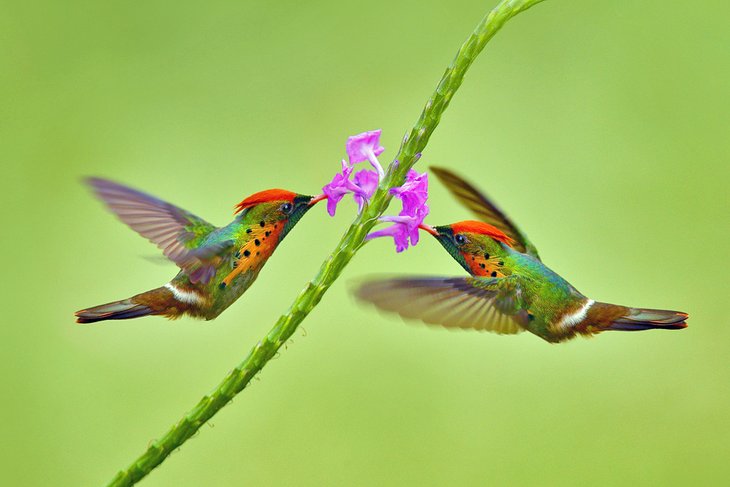 Naturally beautiful Tobago is Trinidad's less-developed younger sister, although you will find luxury resorts. Rainforests, reefs, and white-sand beaches are the prime tourist attractions here, with excellent opportunities for snorkeling and diving.
The islands attract many independent travelers who appreciate the unpretentious ambience and dramatic topography. In particular, both islands are renowned for their excellent birding, with many avian species from nearby South America enriching the biodiversity. Trinidad and Tobago is also famous for its Carnival, held on the Monday and Tuesday before Ash Wednesday.
Discover the best places to visit and most rewarding things to do in these alluring islands with our list of the top attractions in Trinidad & Tobago.
1. Port of Spain, Trinidad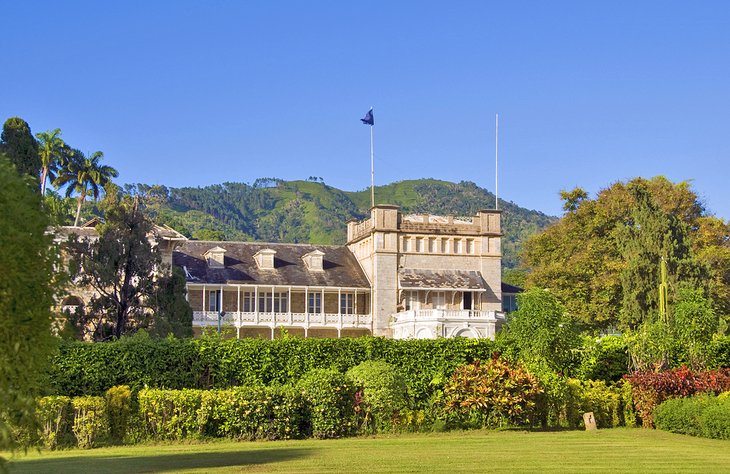 Capital of the nation, this bustling business center is known for its many fine examples of colonial-style architecture, as well as a few tourist attractions.
One of the most popular things to do in Port of Spain is to soak up the architectural highlights around Queen's Park Savannah. Here, elegant mansions called the "Magnificent Seven," line the sprawling green space. Architecture fans should also visit the impressive Red House Parliament in Woodford Square.
Near Queen's Park Savannah, you will also find the beautiful Royal Botanic Gardens, bordering the president's grand residence, and the National Museum and Art Gallery, with exhibits on local art, history, and culture.
Carnival: Port of Spain is perhaps most famous for its exuberant Carnival. The city comes alive the Monday and Tuesday before Ash Wednesday with an extravaganza of colorful costumes, limbo competitions, and contagious calypso and soca rhythms.
2. Maracas Bay, Trinidad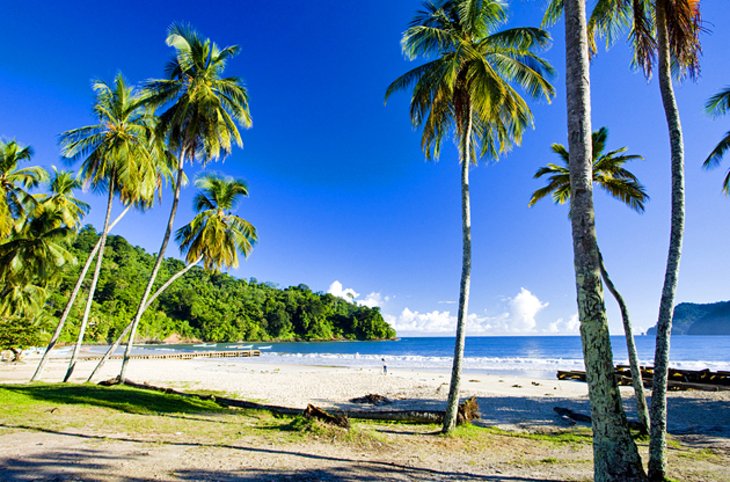 Fringed by coconut palms, Maracas Bay is one of Trinidad's most famous beaches. From Port of Spain, the scenic 40-minute drive through mountainous rainforest provides breathtaking views of lush peninsulas jutting into the sea.
The beach itself is one of the most beautiful beaches close to the city. A deep blue bay laps this idyllic crescent of golden sand, and lushly-cloaked hillsides rise at its edges.
You can rent umbrellas and chairs to make your beach time more comfortable, and food trucks and vendors provide tasty snacks along the beach, including Richard's Bake & Shark, a local favorite. Showers are also available.
If you're looking for places to spend the day in Trinidad and soak up the local vibe, this is a great choice. Locals love to "lime" here (hang out and enjoy the scene), in fact this is one of the most popular places to lime in Trinidad.
If you're looking for a more low-key beach day, beautiful Las Cuevas Beach, about 15 minutes from Maracas Bay, is much quieter and less crowded. The calmer waters here also make it a better choice for families.
Address: North Coast Road, Port of Spain, Trinidad
3. Pigeon Point, Tobago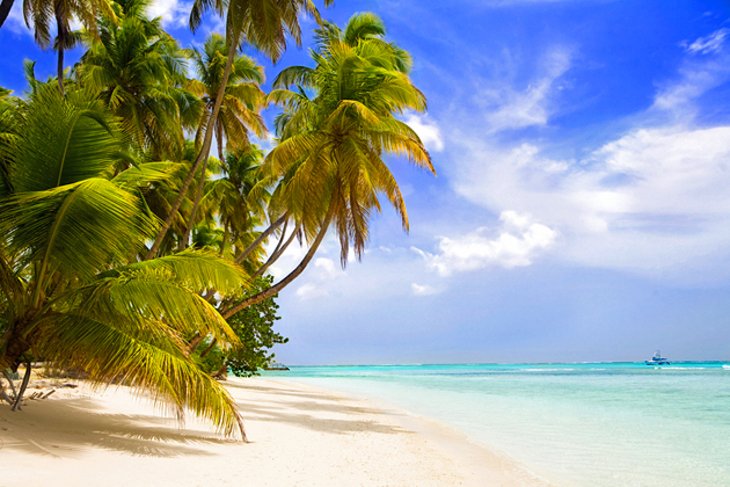 Also known as the Pigeon Point Heritage Park, Pigeon Point is one of the most popular stretches of coast on Tobago. White coral-sand rims the aqua waters here, and you'll find a range of different water sports, including stand up paddleboarding, kayaking, and snorkeling.
Amenities: Unlike Englishman's Bay, this beach offers many amenities, which makes it a great place to base yourself for a day. Snack bars, shops, change rooms, and thatch-covered seating are all available, and you can also rent sun loungers. But the beach does require an entrance fee.
Boats leave from here for snorkeling trips to Buccoo Reef and a swim at Nylon Pool, a meter-deep offshore sandbar with crystal-clear turquoise water that looks like a giant swimming pool.
4. Nylon Pool, Tobago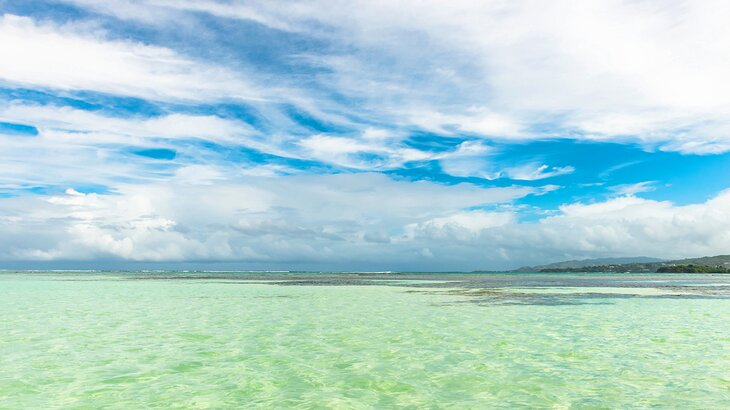 As mentioned earlier, the unique Nylon Pool lies just off Pigeon Point and provides an unforgettable swimming experience. It is set in the sea and features waist-high water so crystalline that visitors can see straight to the soft, white coral base.
This natural pool is one of the best places to visit in Tobago for its relaxing locale and optimal swimming conditions. It is easily reached by boat from Pigeon Point and Store Bay.
Nylon Pool is perfect for families, as the water is clear, warm, and shallow. Everyone will love the feeling of being able to stand in the middle of an ocean, and kids will love the glass bottom boat expedition.
Nylon Pool was named by Princess Margaret, who honeymooned in the area in 1962. She thought the water's transparent qualities resembled a nylon, hence the name. It has since become a highly romantic destination for couples in the area.
5. Argyle Falls, Tobago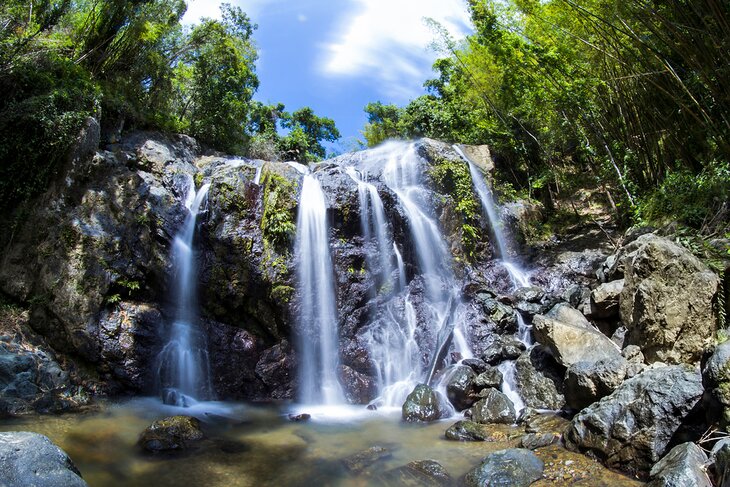 Argyle Falls is the highest waterfall in Tobago. Dropping 54 meters, this resplendent cascade is both beautiful and relaxing. Named after the Argyle River, the falls end in deep pools of water that are crisp and clear.
How to Get There: To reach the falls, visitors must embark on an easy 1.2-mile trail located near St. Paul on the east side of Tobago. Depending on how quickly you walk, it could take 20 minutes or longer to wander this trail through the rainforest. Along the way, walkers will encounter some of the area's most beautiful flora and fauna, including kingfishers and butterflies.
Once you arrive, you'll realize the trek was worthwhile. The soothing sound of water crashing over the cascade is extremely relaxing, while a dip in one of the refreshing pools is a welcome reward for visitors of all ages.
6. Fort King George & the Tobago Museum, Tobago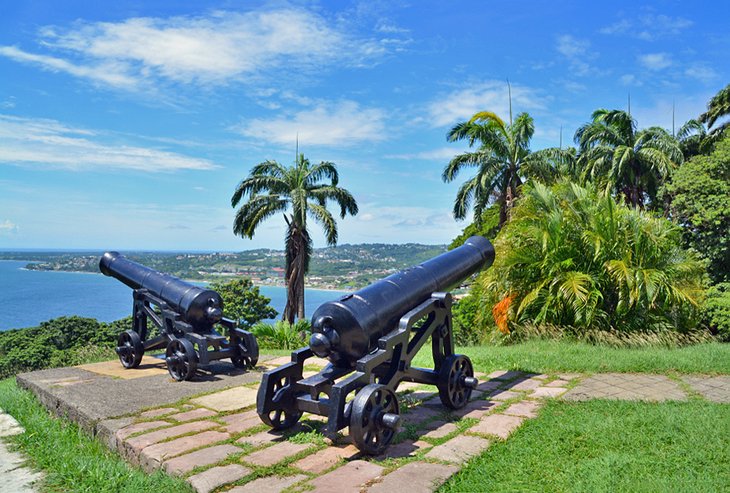 Built in the 1780s overlooking Scarborough Bay, Fort King George is one of the top historical tourist attractions in Tobago and the most well-preserved fort on the island. It offers beautiful views over town and the coast, and is a lovely spot to wander around, with lush lawns, magnificent old trees, and beautiful plantings.
Still surviving are remnants of the original brick and stone walls, an early prison, the officers' mess, several cannons, and a lighthouse.
Also on the grounds, The Tobago Museum adds context to the fort's history. It displays collections of antique maps, African Art, Amerindian artifacts, coins, and shells.
7. Englishman's Bay, Tobago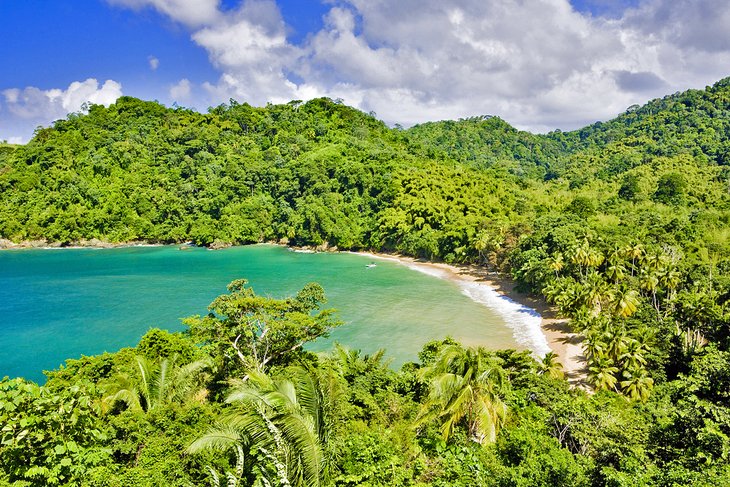 For a quintessential slice of coastal beauty in Tobago, pack a picnic and head to Englishman's Bay. This secluded beach lies about 1.5 kilometers from Castara along a twisty narrow road, and it's worth the journey. Kicking back on these dazzling shores is one of the top things to do in Tobago.
Jungle-cloaked hills, peppered with palms, tumble down to this gorgeous crescent of golden sand and jade-green sea — if you're looking for the perfect postcard shot to make all your friends at home jealous, this is the place to bring your camera.
The tucked-away location of this picturesque slice of coast makes it one of the most romantic places in Trinidad & Tobago. You can swim and snorkel in the clear sea, and if you want to make your beach basking more comfortable, you can rent chairs and umbrellas from the little café in the car park.
A couple of gift shops here sell bamboo bird feeders and other knick knacks. But it's the scenery that steals the show.
8. Caroni Bird Sanctuary, Trinidad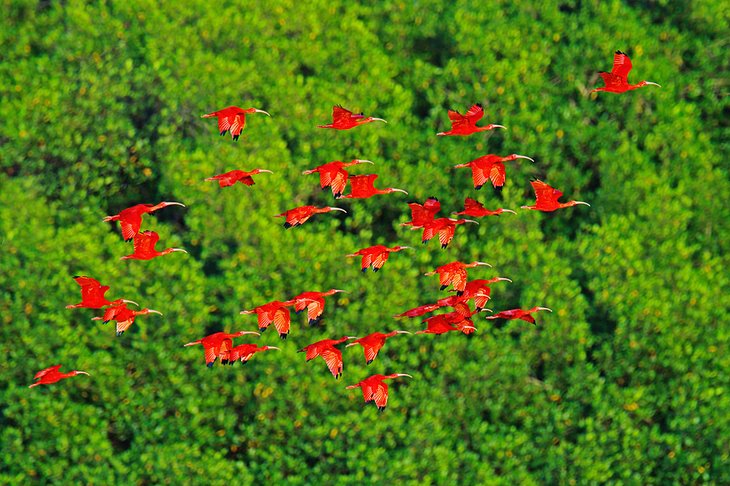 Caroni Bird Sanctuary (Caroni Swamp), just south of Port of Spain, is a nirvana for nature lovers. This series of mangrove-lined waterways is the nesting place of the scarlet ibis, the national bird of Trinidad and Tobago.
Afternoon boat tours cruise the estuaries in search of these spectacular flame-colored birds. Sign up for a cruise just before sunset, and you can capture beautiful photos of the birds as they descend on the trees in large flocks to roost for the evening. It makes a great photo op.
The area is rich in biodiversity, and you can also spot many other species of wildlife, such as herons, egrets, cormorants, tree boas, anteaters, and caimans. Fishing and photography tours are also available.
Address: Butler Highway, Caroni, Trinidad
9. Little Tobago Island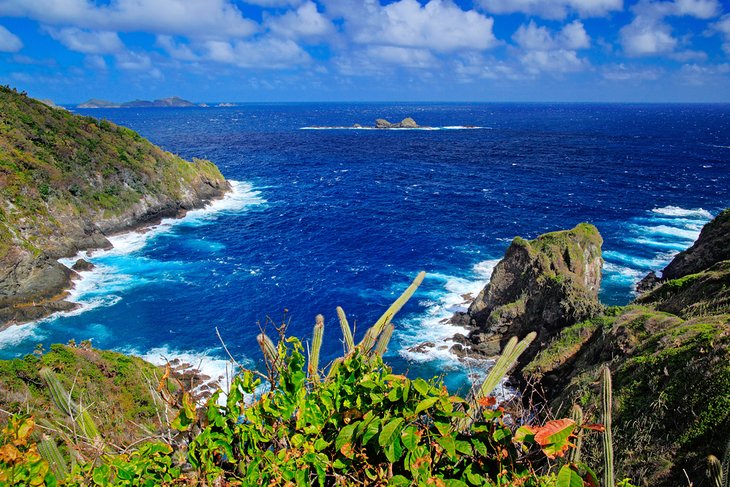 On the east end of Tobago, across from Speyside, Little Tobago Island is one of the most important sea-bird sanctuaries in the Caribbean. The island is uninhabited, and several kilometers of trails weave through the lush foliage.
Look seaward from the hilltops for the most spectacular views, and you can see red-footed boobies, red-billed tropicbirds, and frigate birds swoop in large flocks. More than 50 species of birds live on the island, including Audubon's shearwater and laughing gulls.
Tours: Glass-bottomed boats whisk you to the island, revealing the coral reefs below as they circle past the smaller Goat Island in Tyrrell's Bay. Tours often include snorkeling on the nearby reef and a hike to the island's peak.
10. Mount St. Benedict Monastery, Trinidad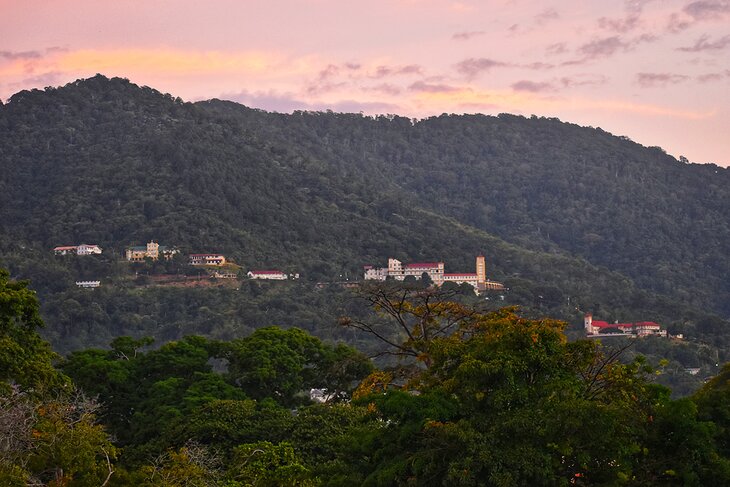 Rising above the Northern Range Hills over Tunapuna, the red-roofed church tower of Mount St. Benedict Monastery is one of the most striking landmarks east of Port of Spain.
Benedictine monks established this community in 1912, and the monastery is the largest and oldest in the Caribbean. Founded on the principles of self-sufficiency and hospitality to strangers, the monastery complex encompasses religious buildings, a farm, a rehabilitation center, and guesthouse.
Hiking and birding opportunities abound in the surrounding forest, and the monastery is famous for its yogurt, which is shipped to supermarkets across the country.
11. Pointe-a-Pierre Wildfowl Trust, Trinidad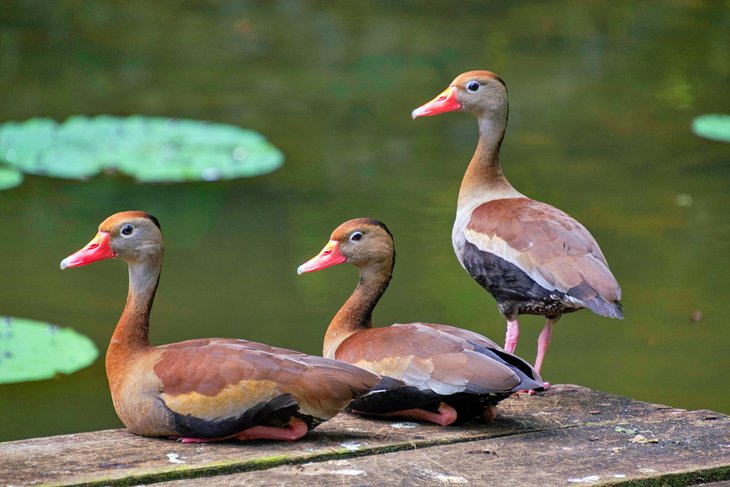 The middle of an oil refinery may seem an odd place to visit a nature sanctuary, but this is one of the best bird-watching spots in Trinidad. Surrounded by lush tropical foliage, the 30-hectare sanctuary encompasses an interpretive center and nature trails along lily-topped lakes, where you can spot species such as the scarlet ibis, black-bellied whistling duck, and white-cheeked pintail.
This is a great spot for photographers hoping to catch a close-up shot of one of these feathered beauties.
The Pointe-a-Pierre Wildfowl Trust protects the sanctuary and operates rehabilitation and captive breeding programs for endangered species.
Address: San Fernando, Trinidad
12. Main Ridge Forest Reserve, Tobago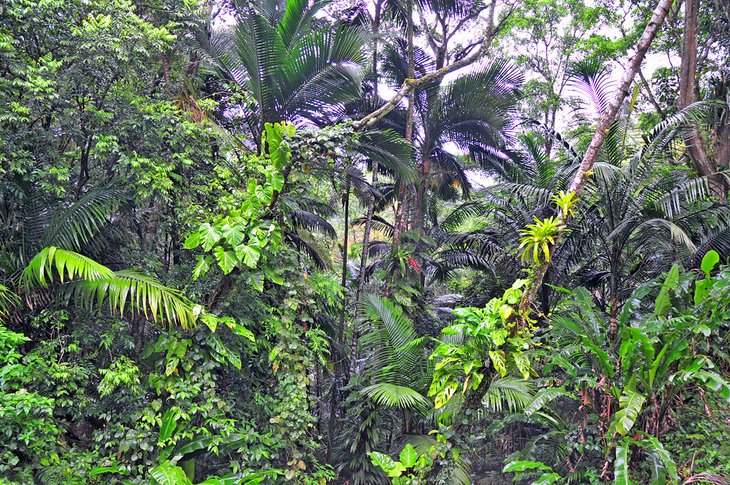 Rich in biodiversity, the Main Ridge Forest Reserve is purportedly the oldest legally protected forest in the Western Hemisphere. The reserve harbors more than half the island's bird species, including the blue-backed manakin, collared trogon, and many species of hummingbirds - the rare white-tailed sabrewing hummingbird is also a resident here.
Hiking through the lush foliage, you can also spot frogs, lizards, snakes, and butterflies. The road through the reserve from north to south, near the eastern end of Tobago, is one of the more scenic ways to see the forest. At the top of the ridge are hiking trails and freelance guides.
Map of Trinidad and Tobago - Top-Rated Tourist Attractions