St. Vincent and the Grenadines in Pictures: 15 Beautiful Places to Photograph
Made up of 32 islands just south of St. Lucia that form the southern end of the Lesser Antiles, St. Vincent and the Grenadines is a beautiful Caribbean holiday getaway destination with plenty of white-sand beaches and idyllic turquoise water for picture-perfect photographs. There are also pristine coral reefs offshore from these West Indies isles that are home to colorful marine creatures, including tropical fish and sea turtles. St. Vincent is the largest island and the most developed.
From here, the 31 islands of the Grenadines stretch south and include the posh Mustique, a long-revered vacation spot for the rich and famous, and more laid-back Bequia, Union Island, and Mayreau. Here are some of the most beautiful places to take a picture in St. Vincent and the Grenadines.
Note: Some businesses may be temporarily closed due to recent global health and safety issues.
1. Union Island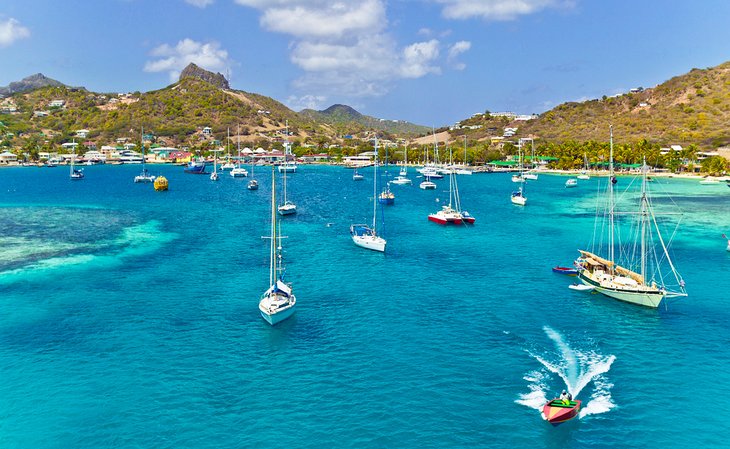 Union Island, pictured above, is a beautiful place to snap a few photos, especially as you are approaching from sea in a boat. You can also arrive by airplane, as Union Island is home to a small airport, two villages, and a number of guesthouses and restaurants.
2. Tobago Cays Marine Park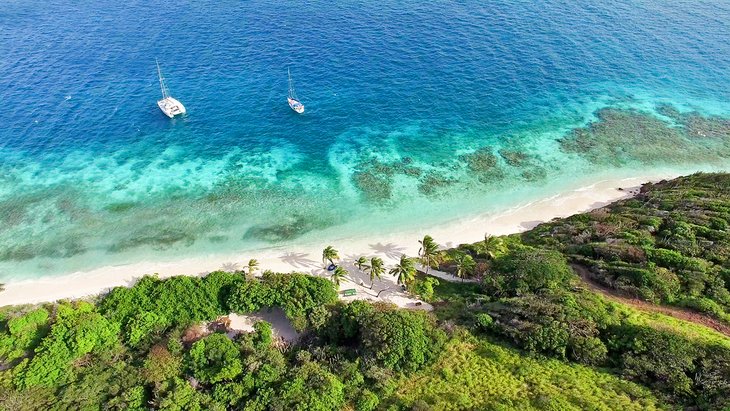 In the southern Grenadines, the Tobago Cays are a set of five small islands surrounded by beautiful coral reefs and a clear turquoise lagoon. Protected as a marine park, these islands are not inhabited but are popular day trip destinations for travelers. You can also snorkel along the nearly 2.5-mile-long Horseshoe Reef.
3. Mustique Island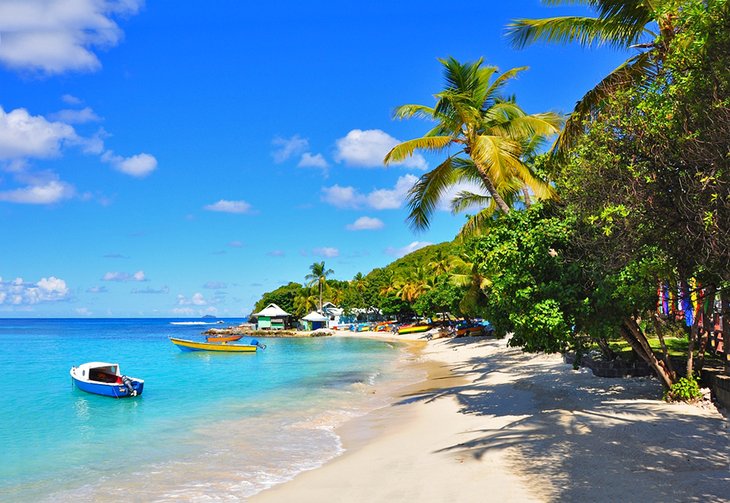 Gorgeous Mustique is a private island and a popular hideout for celebrities and world leaders. It is famed for its nine beautiful white-sand beaches with names like Macaroni Beach and Endeavor Bay that are coveted for Instagram photo shoots. There are only two hotels on Mustique, both of which are very intimate in size. The island also has its own airport.
4. Barrouallie, St. Vincent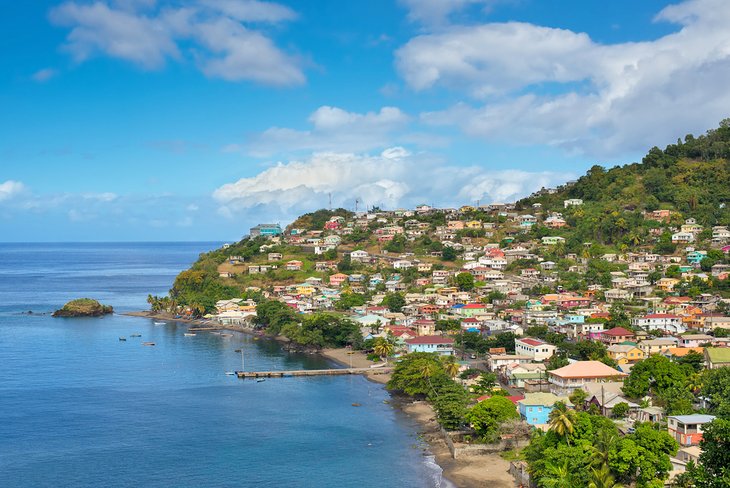 Founded in 1719 by French colonists, Barrouallie, pictured in the above photograph, is on the big island of St. Vincent and once served as its capital. Today, it is a colorful village with friendly locals and a lovely white-sand beach. There are views across to the island of St. Lucia as well.
5. Bequia Island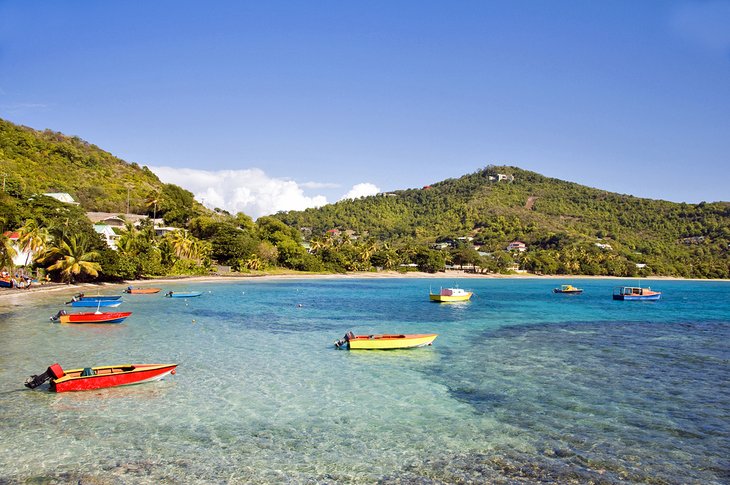 The second largest island in the Grenadines, Bequia is a beautiful destination. It is filled with lush green mountains rolling down into turquoise and navy-hued bays, like Friendship Bay, seen in the above photograph. The beach at Friendship Bay is also beautiful, with white sand against a turquoise-hued sea. There is also excellent diving around Bequia's reefs, which are less well suited for snorkeling.
6. Baradal Island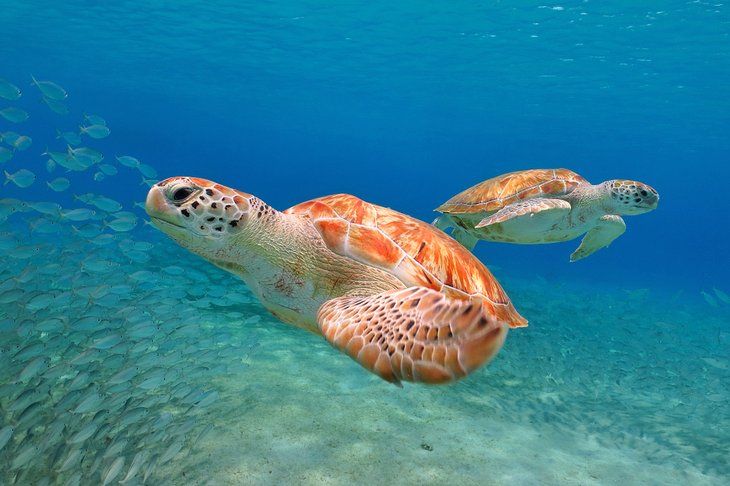 One of the five islands that make up the Tobago Cays archipelago, Baradal Island is home to excellent diving and snorkeling offshore. It is also one of the best places in the Caribbean to swim alongside sea turtles like the ones pictured above. Note that you can only stay overnight in these islands if you're sleeping offshore in a boat.
7. Round About Reef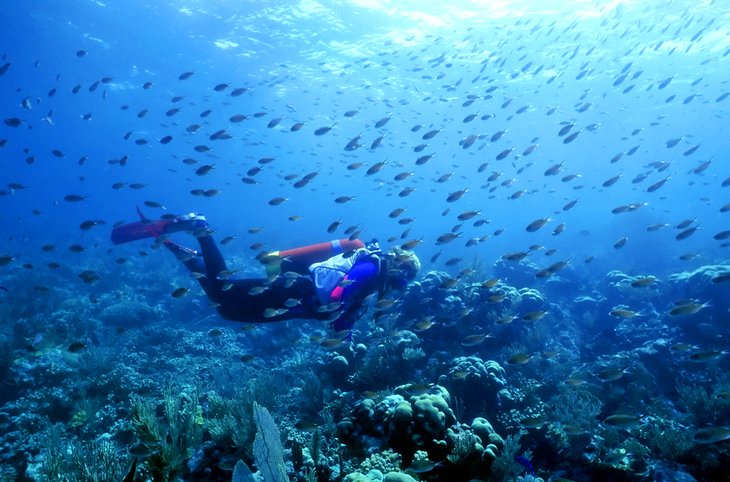 There is excellent scuba diving and snorkeling around Union Island, including Round About Reef. The reef systems here are fairly shallow, which makes them great for beginners, but they are teeming with fish and often sea turtles.
8. Cumberland Bay, St. Vincent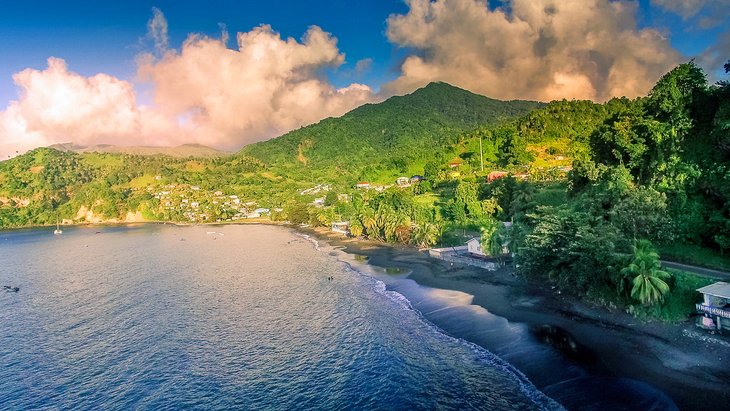 On the big island of St. Vincent, Cumberland Bay is another beautiful spot to snap a few photos. Here, the dark water is set against a lush green jungle and volcanic mountain backdrop. Many travelers experience Cumberland Bay on a day trip. The area is also home to Dark View Falls.
9. Mayreau Island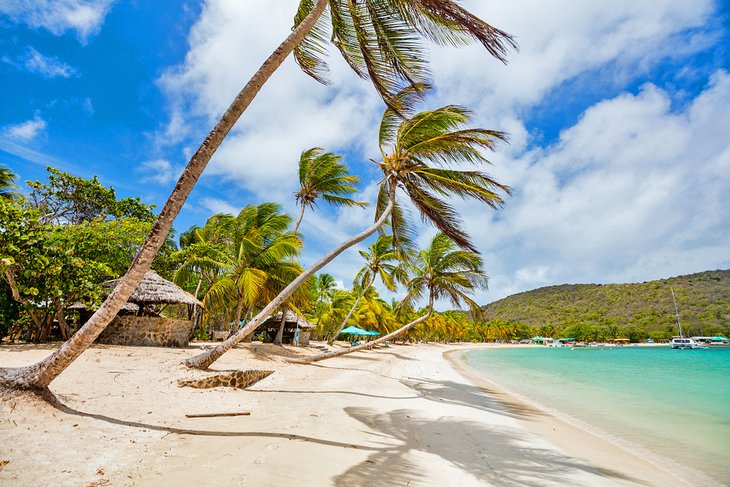 One of the larger islands in the Grenadines, but the smallest to be inhabited, Mayreau features beautiful white-sand beaches like the one in the photograph above. These are juxtaposed against a sea of turquoise and patches of deep navy blue teeming with marine life and living coral.
10. Britannia Bay, Mustique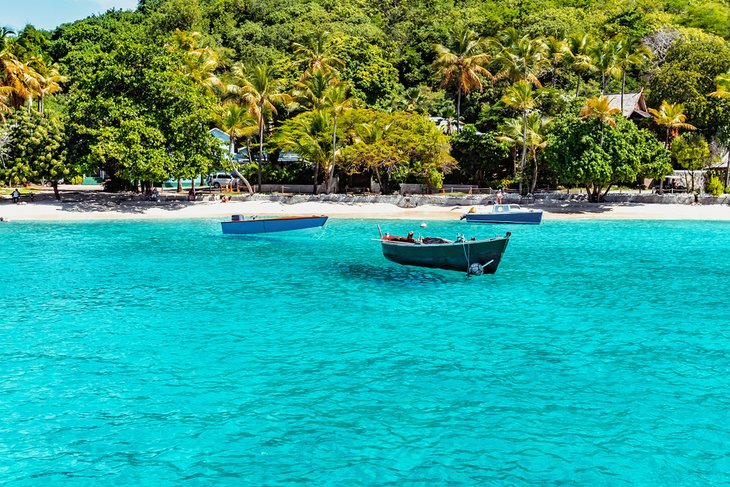 On Mustique Island, Britannia Bay is nothing short of stunning, with a white-sand beach backed by clear turquoise water. It is a favorite spot to get married and makes for beautiful photographs. Mustique is a private island, however, so you will need to be booked into one of the two hotels on its shores.
11. Mopion Island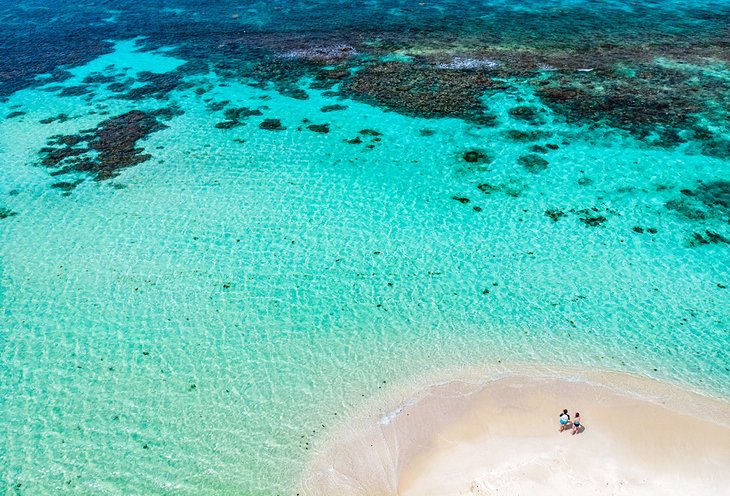 One of the smallest islands in all of the Caribbean, Mopion in the Grenadines is really just a sandbar set in the middle of a sparkling turquoise sea. The island is completely deserted except for one thatched umbrella and a bottle opener, both of which are great stage props for a photo shoot.
12. Petit St. Vincent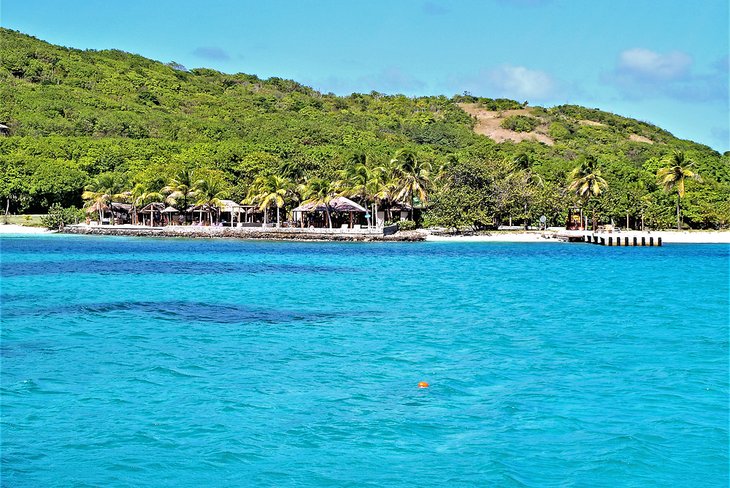 Located at the southernmost end of the Grenadine island chain, Petit St. Vincent is home to just one eco-friendly boutique hotel. The five-star property has just 22 rooms and is perfect for a romantic getaway.
13. Kingstown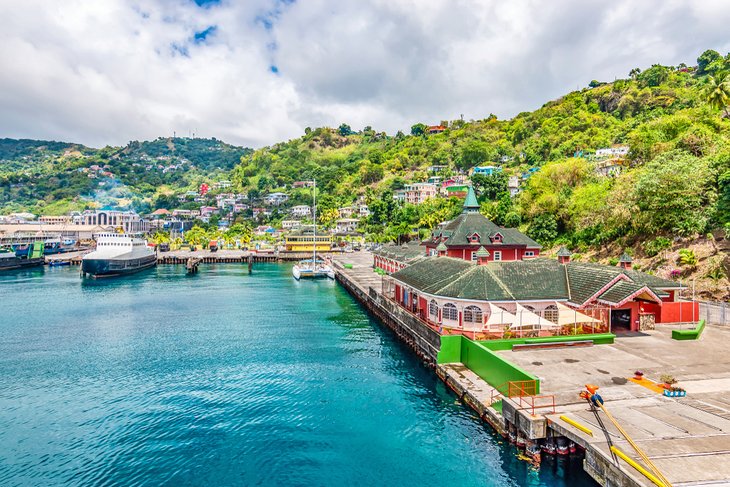 Kingstown on St. Vincent is the capital of St. Vincent and the Grenadines. It is home to a port (pictured above), as well as a number of churches from the 1800s and a fort set on the ridge above its bay. The fort was built in 1806.
14. St. Vincent and the Grenadines Botanic Gardens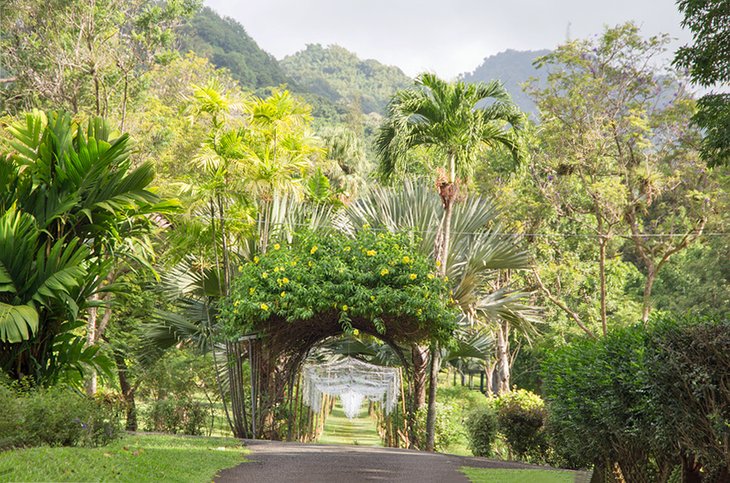 Kingstown is also famous for its botanic gardens, featured in this photograph. The gardens were created way back in 1765, making them some of the oldest in the Western Hemisphere. They protect a number of rare species of tropical plants and also house aviaries.
15. St. George's Anglican Cathedral, St. Vincent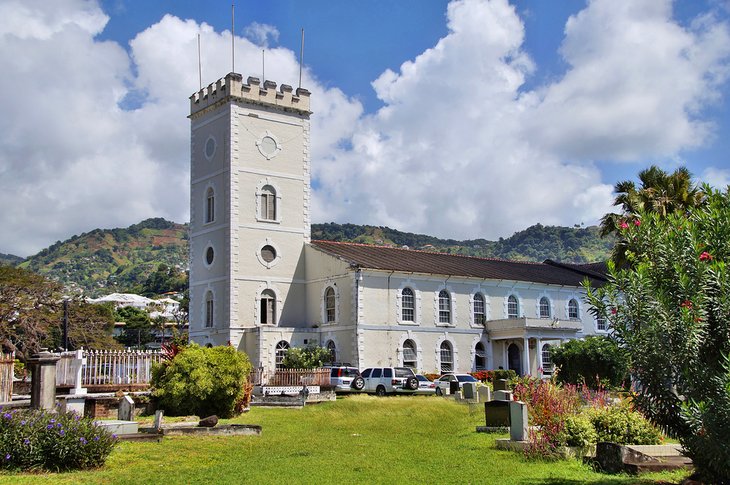 In Kingstown, this Anglican Church dates back to 1820. The largest church on St. Vincent, it was built on the site of a former church that had been destroyed in a storm in the 1700s. Peek inside to see a stained-glass window that was a gift from Queen Victoria, as well as a beautiful gilded wood chandelier.