15 Top-Rated Tourist Attractions in Grenada
Grenada offers an intoxicating taste of the Old Caribbean. Fragrant nutmeg, cinnamon, cloves, vanilla, and cocoa flourish in its fertile volcanic soil, earning it the name, "the Spice Island," and the island's rich culture makes it a top choice for tourists looking for an authentic Caribbean getaway.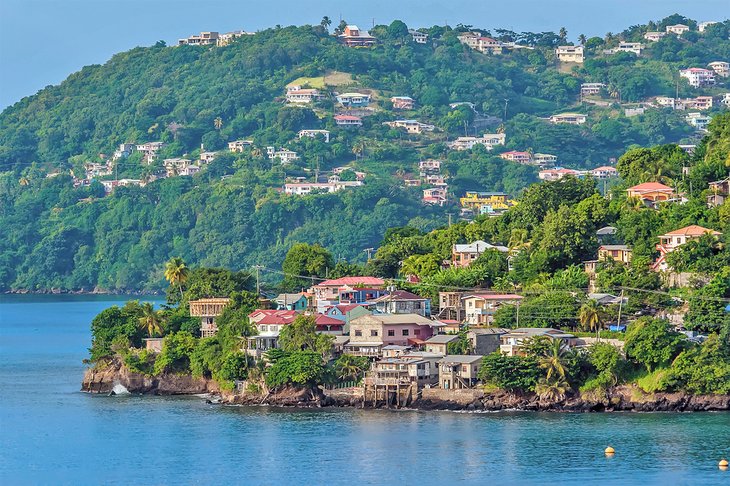 Lushly cloaked mountains, rainforests, plantations, and colorful seaside villages provide picturesque photo ops, and you can bask on beautiful beaches framed by frangipani and flamboyant trees.
St. George's, Grenada's capital, is one of the prettiest cities in the Caribbean, its busy harbor of Carenage bristling with sailboats. You can even island hop in Grenada — the quieter islands of Carriacou and Petite Martinique lie off the island's northeast coast.
Many visitors spend their time around Grand Anse Beach, one of the best beaches in the Caribbean. This is also where you'll find some of Grenada's best resorts.
Grenada offers more things to see and do than just basking on its sun-kissed sands. Waterfalls gush in the island's interior; hiking trails thread through the lush rainforest; and coral reefs rim the coast, where you can swim, dive, snorkel, and fish. History buffs will also enjoy exploring the country's forts and museums.
For ideas on the best places to visit, read through our list of the top attractions in Grenada.
1. Grand Anse Beach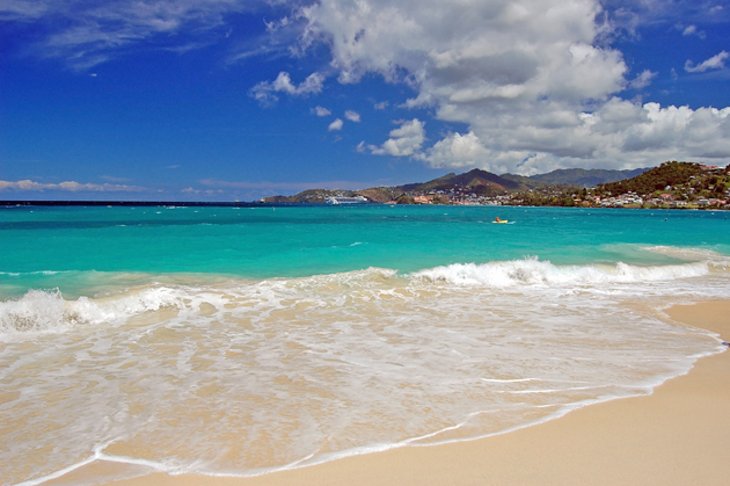 Fringed by sea grapes, almond trees, and coconut palms, Grand Anse is Grenada's most famous beach. Cruise ship visitors flock to this three-kilometer arc of golden sand and gentle surf, as do families looking for a fun day at the shore.
Water hues range from clear turquoise in the shallows to deep cobalt blue, and the calm waters are perfect for swimming. Many hawkers patrol the sands, but a polite "No, thank you" will keep them at bay.
If you feel like indulging in a little shopping, midway along the beach is the Grande Anse Craft and Spice Market, another popular stop for cruise ship visitors who are searching for something special to take home.
Many of the best hotels in Grenada lie along the shores of Grand Anse. Steps from the sand, Spice Island Beach Resort is one of the island's most famous boutique hotels and one of the best luxury all-inclusive resorts in the Caribbean.
2. Grenada Underwater Sculpture Park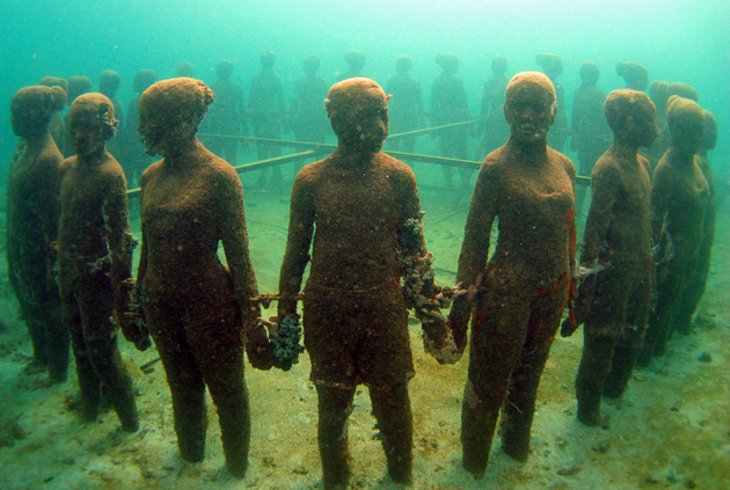 Grenada Underwater Sculpture Park is a unique submerged gallery that also serves as an artificial reef in a marine protected area. It lies on the west coast of Grenada, a short drive north of St. George's at Moliniere Bay.
Created by artist Jason deCaires Taylor, the sculptures range from Amerindian petroglyphs to life-size figures cast from local children.
Divers, snorkelers, and glass-bottom boat passengers can admire this underwater exhibition, although coming face-to-face with these sculptures below sea level is the best way to appreciate their artistry. Visiting this one-of-a-kind attraction is one of the most memorable things to do in Grenada. Be sure to pack a waterproof camera to get shots of the unique finds and colorful fish you'll see during your adventure.
3. St. George's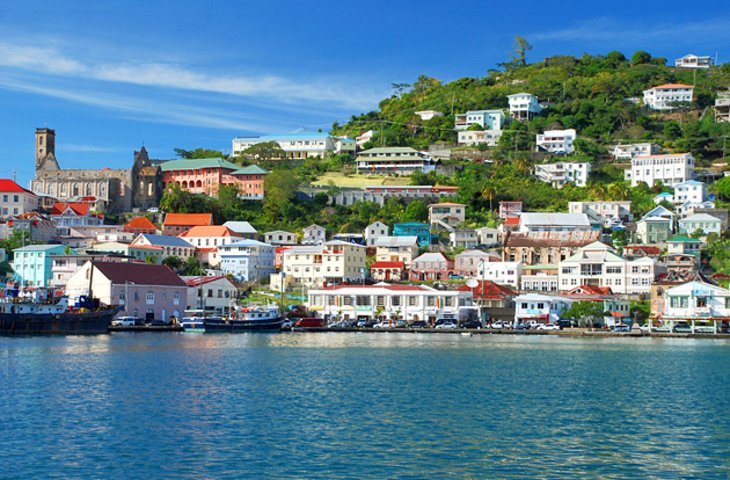 One of the prettiest port towns in the Caribbean, St. George's curves along a horseshoe-shaped harbor backed by volcanic hills.
This colorful capital of Grenada is popular with boaters, who dock in the busy harbor, called the Carenage. Brick and stone buildings with red-tiled roofs line the streets, where locals sell spices and crafts.
Two of the main historical attractions in the city are Fort George, built by the French in the early 18th century, and Fort Frederick. Both offer beautiful views over the town and the sea.
Another one of the top things to do in St. George is visit the House of Chocolate. Here, you can browse exhibits on the local cocoa industry and sample decadent sweet treats. This is a must for chocoholics!
To soak up some local color and buy fresh tropical fruits and spices, stop by the popular Saturday morning market at St. George's Market Square.
4. Carriacou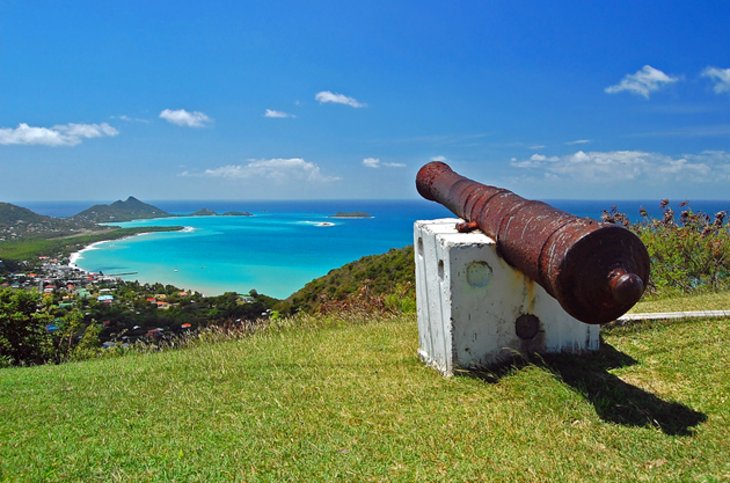 While not technically on Grenada, the island of Carriacou (carry-a-cou), also known as the "Land of Reefs," is a beautiful day trip destination. This pretty isle lies just northeast of Grenada, an easy, 90-minute boat trip away. It is one of the most popular places to visit when on vacation in Grenada, which is why it makes our list of the area's best attractions.
Both white- and black-sand beaches fringe the coast, and coral reefs lie offshore with great opportunities for diving and snorkeling. Nearby Sandy Island, in a Marine Protected Area, is also excellent for snorkeling.
Carriacou has a number of small villages, but the main population center is Hillsborough. The Carriacou Museum here displays Carib, European, and African artifacts, and the island offers several hiking trails.
You can access Carriacou via high-speed ferry from St. George's Carenage (a 60- to 90-minute trip) or on flights from Grenada's Point Saline International Airport.
5. Fort George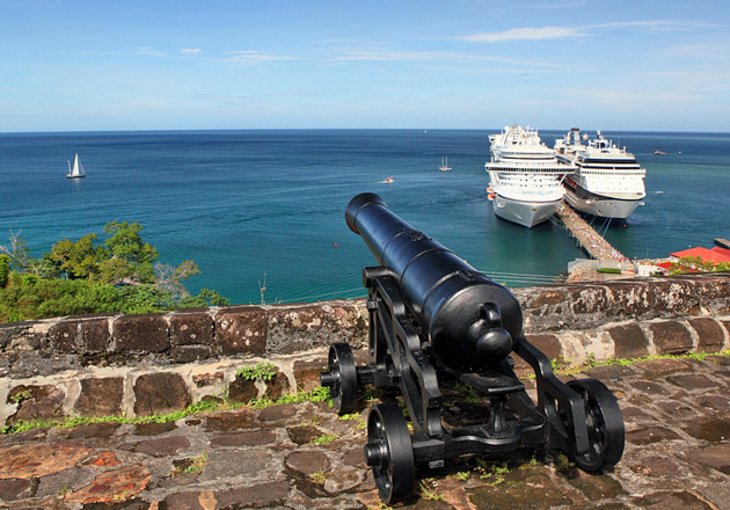 Built in 1705 by the French, Fort George lies on the promontory to the west of the harbor and is Grenada's oldest fort. It was built to protect the harbor, but stands mostly derelict today.
The main draw here is the spectacular 360-degree view across the town's red-tiled roofs and church spires to the harbor and sea beyond. You'll also spot a few of the original cannons, which are still fired on special occasions. The police headquarters currently sit on a section of the property.
Be prepared for a hot and steamy hike up a flight of stairs to reach the fort.
Address: Church Street, St. George's
6. Spice Tours & Tastings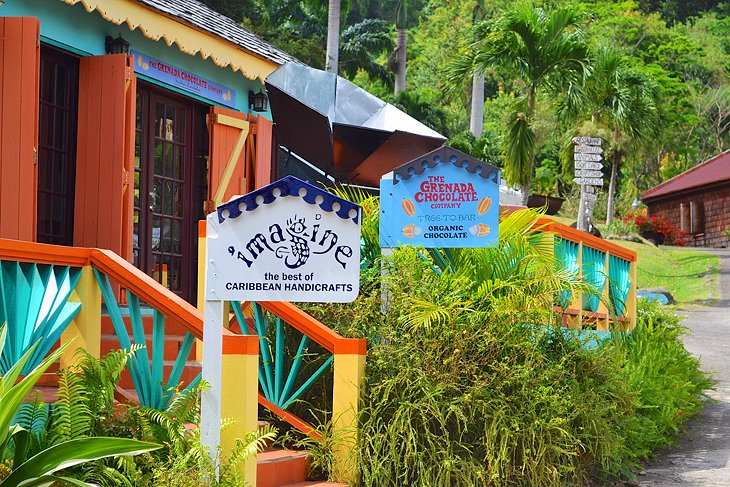 Sampling fragrant spices is one of the most unique things to do in Grenada. You'll find plenty of interesting places to visit where you can learn about the spice industry and see how the plants are cultivated.
About an hour's drive from St. George's, the Belmont Estate offers a variety of tours that explore the organic farm and its tropical fruits and spices. At this 17th-century plantation, you can also learn about the cultivation of cocoa and how the fruit is made into chocolate (with tastings along the way). Serious chocoholics can sign up for a tour, which includes a scrumptious three-course lunch spotlighting chocolate in every course.
Other fun things to do here include browsing the small heritage museum and shopping for chocolate-related treats and local crafts. Children will enjoy the petting zoo and all the animal residents, including goats, donkeys, tortoises, and talking parrots.
Laura Herb & Spice Garden offers a more intimate experience. Your visit begins with a guided tour through the beautiful spice gardens, with tastings and tips on health benefits.
After all these tours, you can stock up on nutmeg, vanilla, cinnamon, cloves, and other goodies in the on-site gift shops.
7. Annandale Falls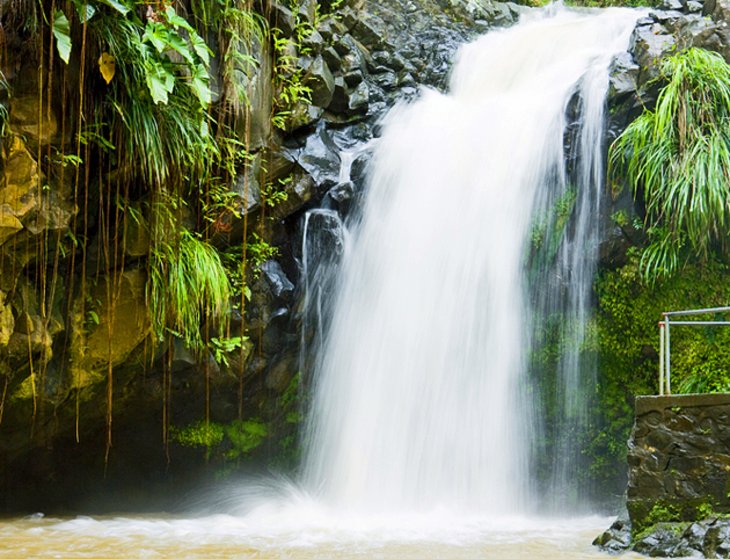 Annandale Falls plunges 10 meters into a pool tucked amid tropical foliage. It's located in the mountains north of St. George's.
The short trail to the waterfall begins at the Annandale Falls Centre. Along the way, you'll see beautiful tropical flowers and foliage, like ferns and wild ginger.
One of the highlights of a visit is watching fearless local divers leap into the water from the top — but be prepared that they may ask for a donation. You can also swim at the base of the cascades, and change rooms are available.
If you're seeking a more peaceful waterfall experience, Royal Mount Carmel Falls, on the island's east coast, is worth visiting. The hike is only about 10 minutes, and you can slide down the rocks and cool off in the crystal-clear pools.
8. Grand Etang National Park & Forest Reserve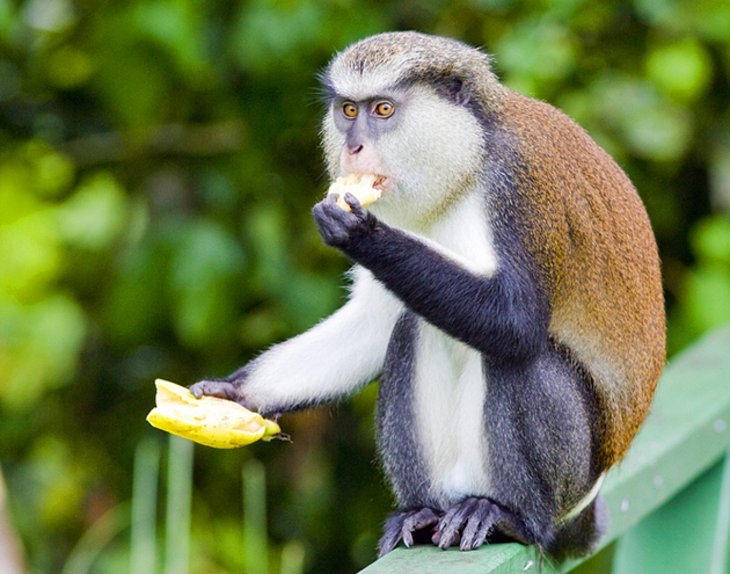 Grand Etang National Park offers some beautiful rainforest scenery and rewarding hikes. Travelers of all ages, from families toting young children to honeymooning couples can hike these trails, and the park hosts a rich diversity of plants and animals.
One of the focal points of the park is the beautiful crater-formed Grand Etang Lake. From the Grand Etang visitor center, several trails lead through the park, ranging from the 30-minute self-guided Morne LaBaye Trail, with many specimens of native plants, to the more challenging Concord Falls Trail, which passes a trio of cascades with swimming areas.
Other popular hikes include the Shoreline Trail around the Grand Etang Lake; the Seven Sisters Falls hike; and the Mount Qua Qua Trail, a three-hour uphill trek with views over the forest. Along the trails, you can spot many species of birds, orchids, and towering rainforest trees.
9. Carenage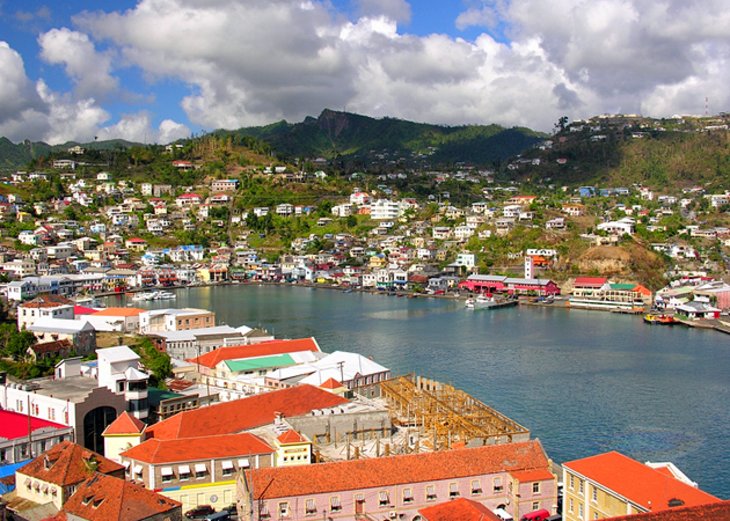 The inner harbor and anchorage, known as the Carenage, is the lively hub of St. George's. This horseshoe-shaped point of interest is a lovely place to wander along the waterfront and soak up daily life.
Watch fisherman unload their catch from colorful wooden schooners, spy locals haggling for the fresh catch of the day, and witness supplies being unloaded from container ships. There is a lot of action happening at this busy attraction.
You can also browse the shops, or relax at one of the restaurants selling fresh seafood and snacks. Wharf Road runs along the harbor offering great views of the area.
While you're here, look for the bronze Christ of the Deep statue. It was donated by the owners of a luxury liner in gratitude for local rescue efforts after the ship exploded off Grand Anse.
10. St. George's Market Square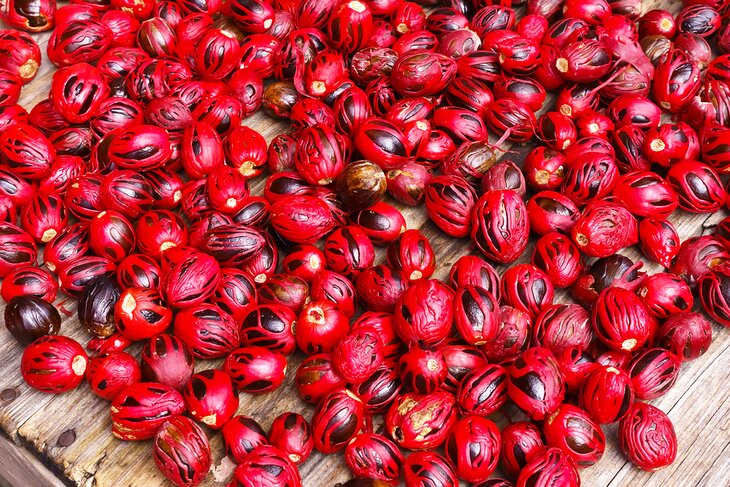 The best time to visit St. George's Market Square is on a Saturday morning, when the market really bustles. Set in the heart of downtown, a mere block from the Cruise Ship Terminal, Market Square is home to the region's best spice market and is considered one of the city's top attractions.
This is where you'll find heaps of fresh fruits and veggies overflowing their baskets in a kaleidoscope of colors. Bring your appetite, not to mention a camera, as you'll want to enjoy these local goods in every way possible.
The earlier you arrive, the more selection you'll have, but don't worry, there's no shortage of tasty and creative things on sale here. From spices to papaya to jewelry and touristy kitsch, you're sure to find something to excite your inner shopaholic.
11. Fort Frederick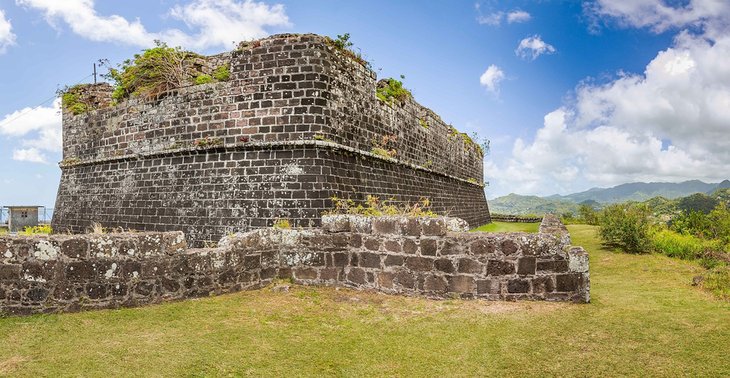 Fort Frederick offers stunning views of St. George's and the sea. You'll find it at the end of winding hairpin turns atop Richmond Hill.
The fort has an interesting history. The French began construction of Fort Frederick in 1779, and the British then completed it in 1791. It is nicknamed the "backwards facing fort" because its cannons face inland instead of out to sea, thanks to the French who feared a surprise land attack after they used this successful strategy with the British. In 1850, the fort was abandoned completely until it was later occupied by the Grenadian military.
A small entrance fee gives you access to the site, but the views are worth it.
12. Morne Rouge Bay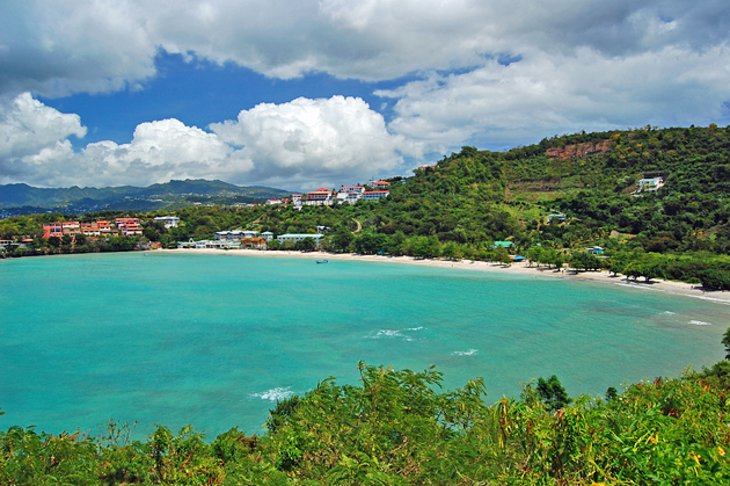 Morne Rouge Bay is usually a quieter alternative to Grand Anse Beach. It's located one bay south of Grand Anse, near the southern tip of Grenada. Calm, jade-green seas slosh upon this one-and-a-half-kilometer crescent of white sand making this one of the safest beaches in Grenada for swimming.
Bring the kids along for a family-friendly day by the sea or settle on the sand with your loved one for an amorous couples' day out. No matter who you're traveling with, you won't be disappointed by a few hours spent at this lovely beach!
Resort restaurants along the beach offer snacks, and the lush foliage fringing the beach provides plenty of shady areas to sit and relax. You can also rent sun loungers here, as well as paddleboards and snorkel equipment.
13. Levera National Park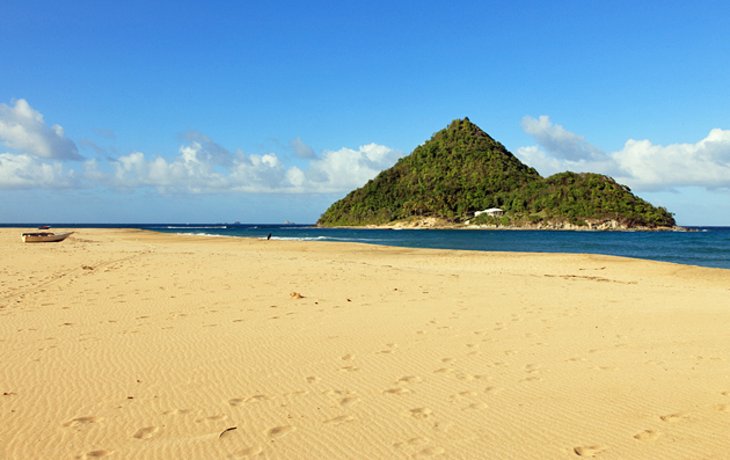 Levera National Park, on the northeastern shore of the island, offers some beautiful and dramatic scenery where the Caribbean Sea meets the Atlantic.
You'll find some inviting, relatively undeveloped beaches here. Backed by cliffs, coral-sand Bathway Beach offers pretty views of the pointy-peaked Sugar Loaf (Levera Island) and other islands in the distance, while a natural offshore reef affords good protection for swimming. This means it's an ideal beach for families with young children to spend a day.
Levera Beach is also pretty, with less visitors than Bathway. Sea turtles frequently nest on the beaches here.
Also of interest is Levera Pond, a water-filled, ancient volcanic crater and an important habitat for birds such as black-necked stilts and herons.
Stop by the visitor center at the entrance to the park before you visit to find out more about these important habitats.
14. La Sagesse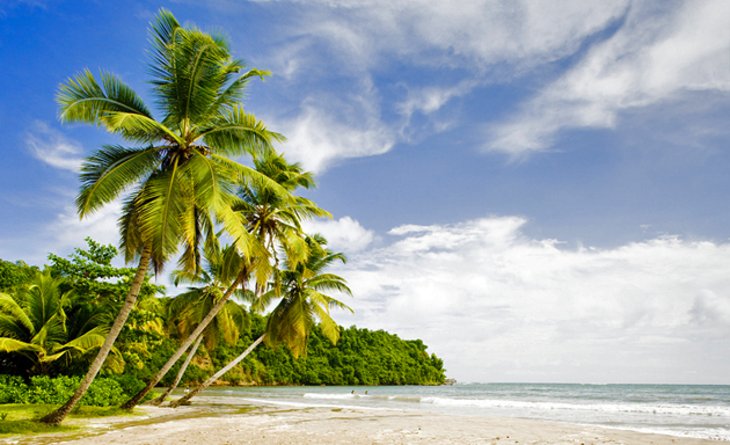 On the Atlantic side of the island, La Sagesse lies on the former estate of Lord Brownlow, Queen Elizabeth's cousin. His beachside residence has been renovated and turned into a romantic hotel and restaurant fronting a golden-sand beach, with great swimming in the protected bay.
The restaurant here is a lovely spot for lunch, with locally caught seafood dishes and produce plucked fresh from the organic garden. After lunch, you can explore the nature trails that lead up through the windswept hills, with pretty views over the ocean.
The area is also great for birding. Many avian species make their home in the area's scrub forests, mangroves, and salt ponds. This is a fun day trip far from the crowds on the well-trodden tourist track.
15. Petite Martinique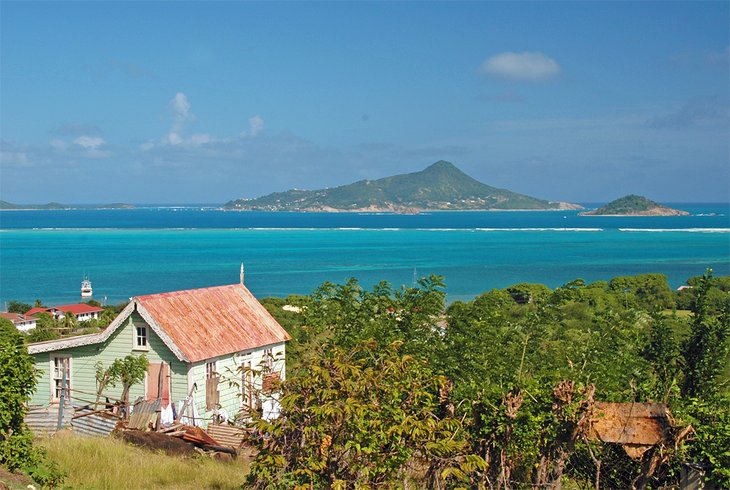 Five kilometers northeast of Carriacou, Petite Martinique is even quieter than its neighbor and equally beautiful. Fishing is the mainstay of this tiny island, and you can watch the locals haul in their catch, or stroll along the beaches and chat with boat builders as they work.
This is truly an island getaway, with few tourist facilities except a couple of guesthouses and family-run restaurants, but you'll find plenty of local color. Many boaters stop here to dine at one of the island's restaurants or hike up the piton, the island's highest peak, for fabulous views.
From Carriacou, you can catch a ferry or water taxi across to the island.
Map of Tourist Attractions in Grenada
More Related Articles on PlanetWare.com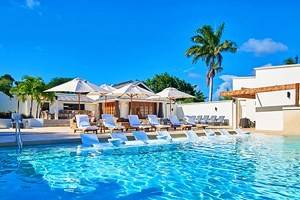 Where to Stay in Grenada: If you're looking for the perfect place to stay on this beautiful island, check out our article on the top resorts in Grenada, from the family-owned Spice Island Resort to Sandals Grenada Resort & Spa.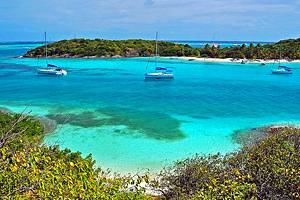 Island Hopping: Want to combine a visit to Grenada with some other Caribbean islands? Just to the north of Grenada lies St. Vincent and the Grenadines, a spectacular chain of emerald islands, where sailing and other water sports are among the top things to do. North of St. Vincent and the Grenadines, St. Lucia is another classic Caribbean beauty, with lush volcanic peaks and luxury resorts.