St. Barths in Pictures: 14 Beautiful Places to Photograph
A favorite vacation spot of the rich and famous, gorgeous Saint Barthélemy (otherwise known as St. Barts or St. Barths) is a photographer's dream, with some of the Caribbean's most beautiful scenery. The French chic island is filled with charming coastal villages like Gustavia; sun-soaked white sand meets turquoise water, perfect for social media photo shoots; and excellent snorkeling and diving spots.
St. Barths is also popular with the yachting community, and many a superyacht docks at its marina. Check out our recommendations for the best places to stage some striking photographs around St. Barths.
1. Gustavia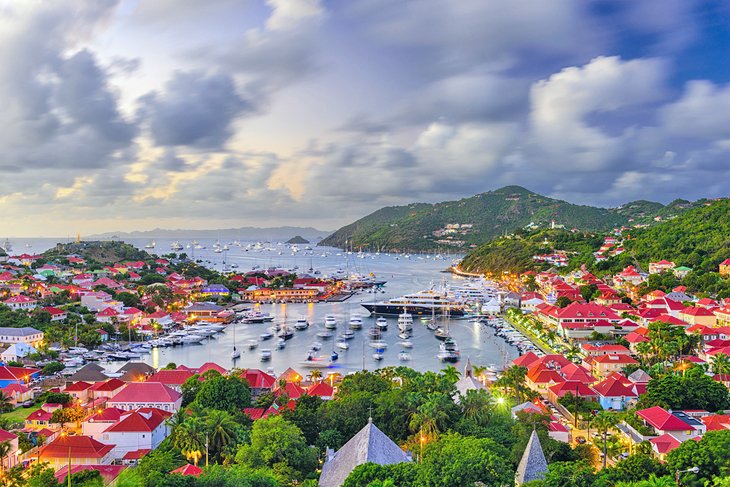 St. Barths' charming U-shaped harbor town, Gustavia, is a beautiful place to photograph, especially at sunset when the water appears to glow. The island's capital is filled with red-roofed houses and gets crowded when cruise ships call at the port here. The downtown is filled with boutiques, galleries, and chic restaurants serving French-inspired fare. You may even run into a movie star or two.
2. St. Jean's Bay Beach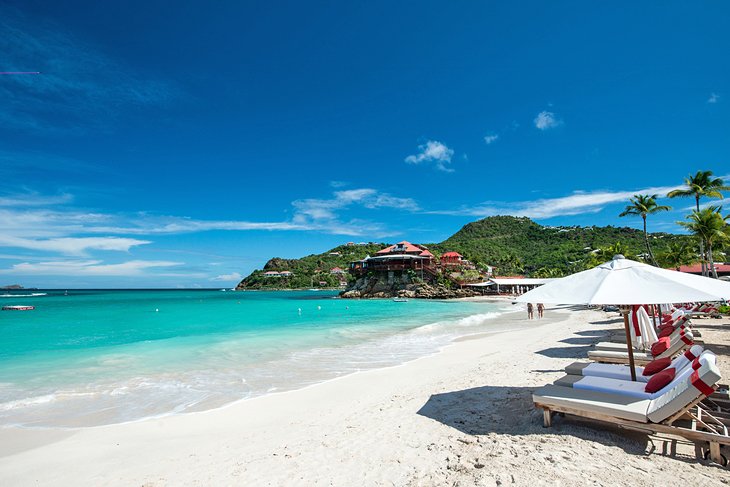 Beautiful crescent-shaped St. Jean's Bay Beach (pictured here) is a great place to go snorkeling in a reef that you can swim to from the shore. A few different water sports centers on the beach rent gear. The beach is also popular with day-tripping visitors from St. Maarten. Head here in the late afternoon for more privacy and to catch the sunset.
3. Saline Beach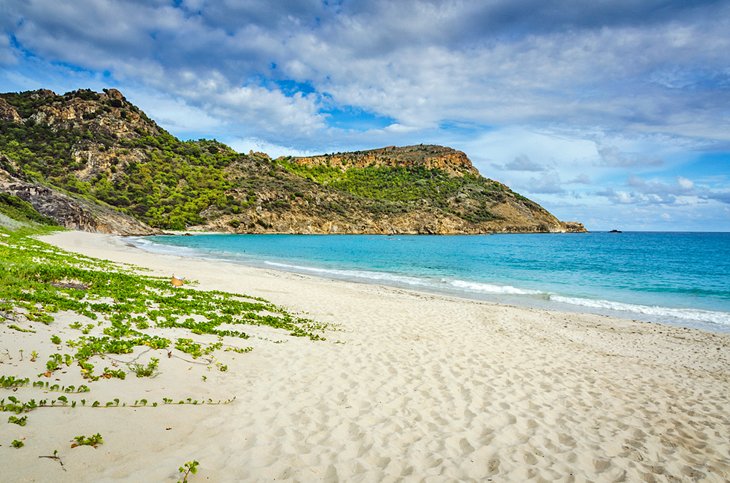 On St. Barths' southern coast, Saline Beach is absolutely gorgeous - protected by sand dunes, the white-sand beach is fronted by marbled turquoise and emerald-hued water. Saline Beach is pretty, in fact, it is considered one of the Caribbean's best beaches. If you get hungry, there are two restaurants near the parking lot.
4. St. Jean Village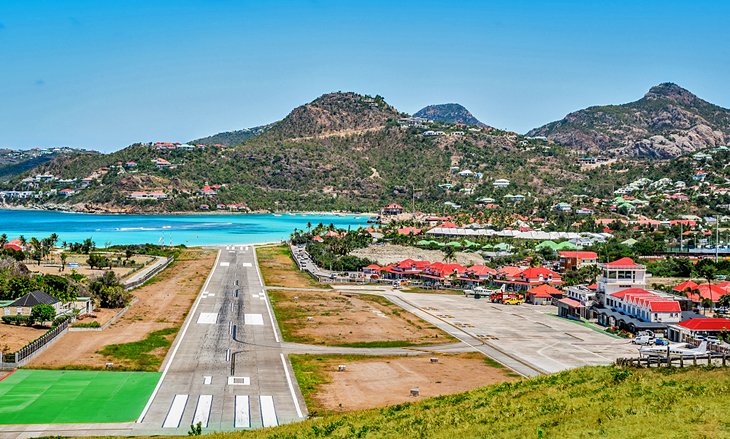 The tiny village of St. Jean is the second most popular tourist area on St. Barths. It is also home to the only airport on the island, and as you can see from the runway in this image, it's only big enough to accommodate small aircraft. St. Jean itself is also filled with restaurants and lots of glamorous shops, including high-end boutiques.
5. Shell Beach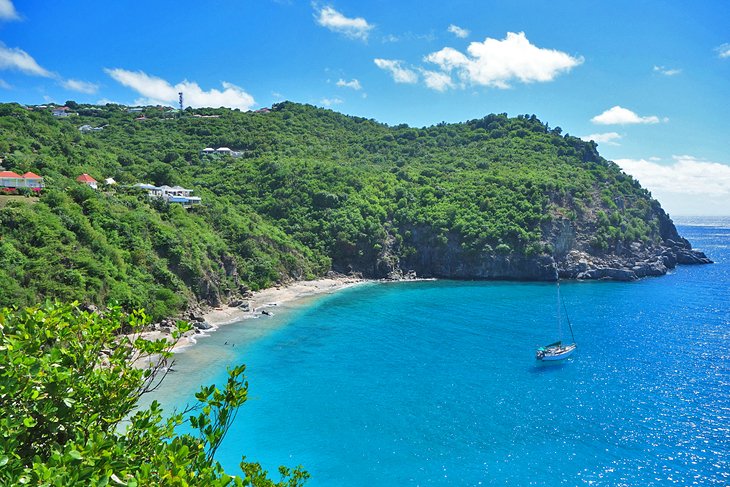 Millions of sea shells wash up on shore at St. Barth's unique Shell Beach, which is within walking distance of Gustavia. Besides collecting shells, this beach is known for its calm waters that you can swim in. There are also opportunities for cliff diving, and lots of restaurants in the vicinity.
6. Gouverneur Beach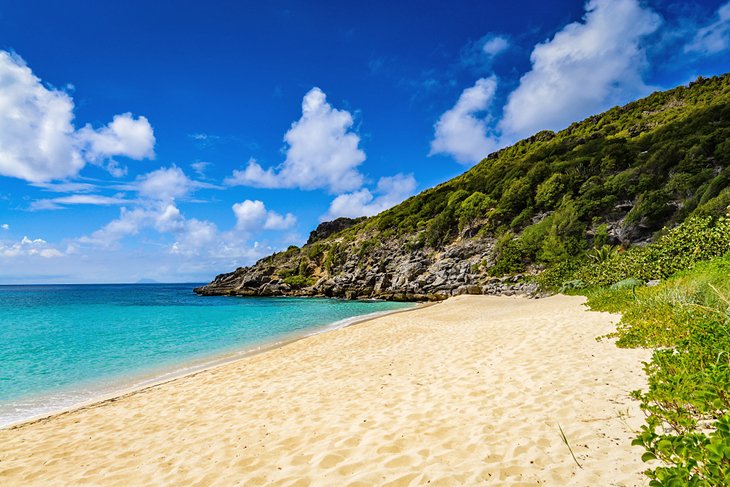 Remote Gouverneur Beach on St. Barths' south shore is another favorite beach on this gorgeous island, with white sand backed by lush hills. The water here is usually calm and perfect for swimming. If you need shade, you'll need to bring your own umbrella, as there are no facilities to rent them here.
7. Flamands Beach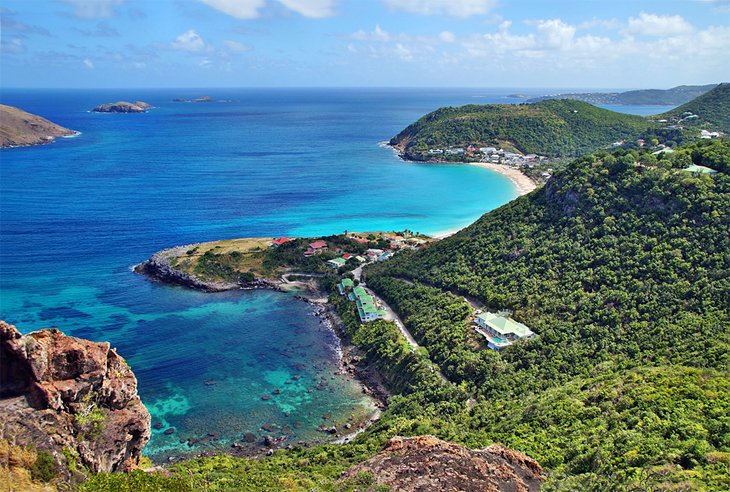 The widest beach on St. Barths', Flamands Beach is a pretty spot to snap some pictures. The swimming here is also good, although when the wind blows right, the waves can get big enough to surf. It's also popular with local fishermen.
8. Nature Reserve of Saint-Barthelemy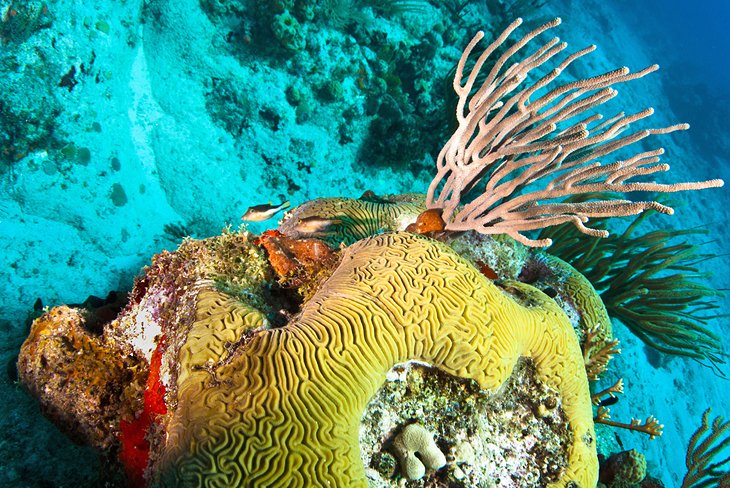 Many of the top dive and snorkel sites around St. Barths are protected by the Nature Reserve of Saint-Barthélemy marine reserve. The reserve is divided into five separate zones, and its boundaries are marked by white buoys. Take a camera underwater to photograph colorful coral and fish, as well as possibly spotting reef sharks, sea turtles, and spotted eagle rays.
9. St. Barths' Marina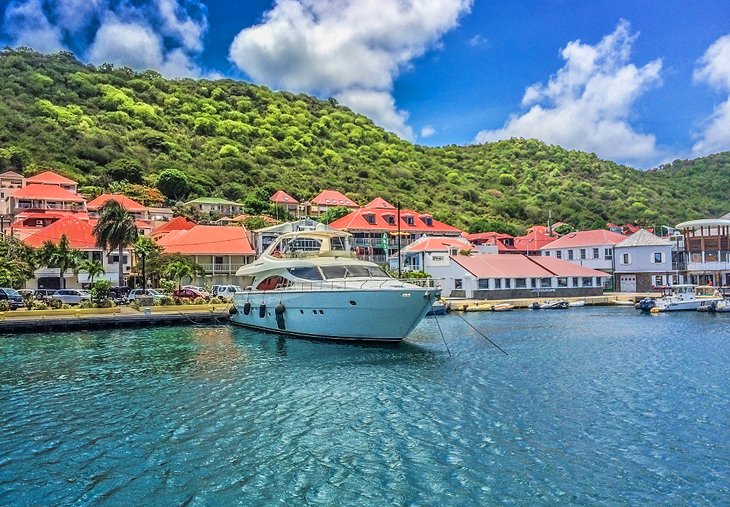 You'll find yachts of all sizes at St. Barths' Marina. The island is a favorite destination for the yachting crowd, and there are a number of superyachts frequently moored here. It is also possible to charter a yacht of your own to explore St. Barths and other nearby islands like St. Martin.
10. Colombier Bay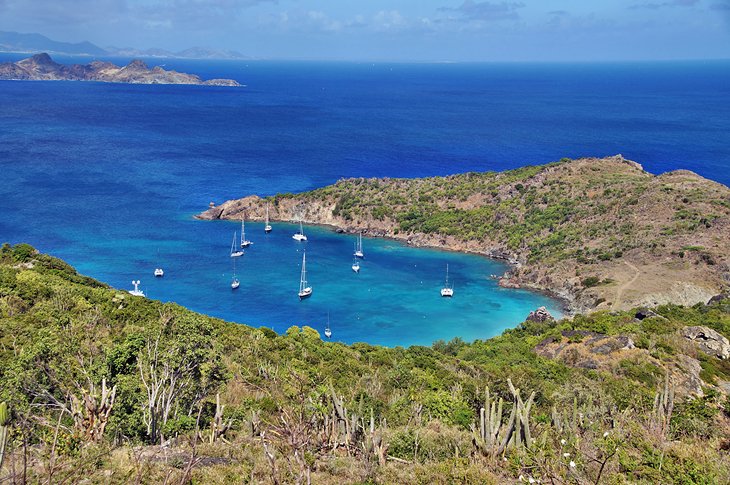 Beautiful Colombier Bay, is at the tip of the island. Here, you will also find the remote Colombier Beach, which can only be accessed by boat or by hiking down a goat path for 30 minutes. There are no facilities, so you'll want to pack a picnic lunch and beverages.
11. Fort Gustave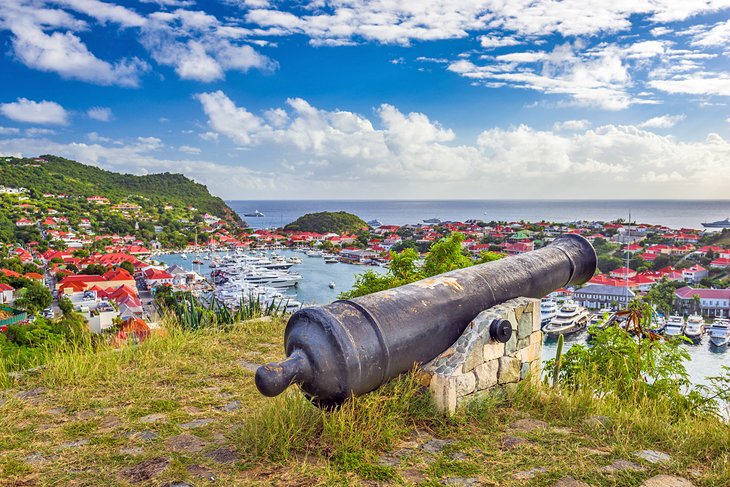 There are stunning harbor views from the hilltop ruins of the 18th-century Fort Gustave, which includes cannons (pictured above), the remains of a sentry box, and stone ramparts. There is also a large red-and-white lighthouse (out of the picture frame) up here.
12. Lorient Beach

This panoramic image shows the north end of Lorient Beach. While most of the beach is calm and ideal for swimming, the north end is known for its consistent waves for surfing. The beach fronts the sleepy little village of Lorient, which is where the French first settled on St. Bart's. There is a 19th-century Catholic Church and a few shops.
13. Saint Barthelemy Anglican Church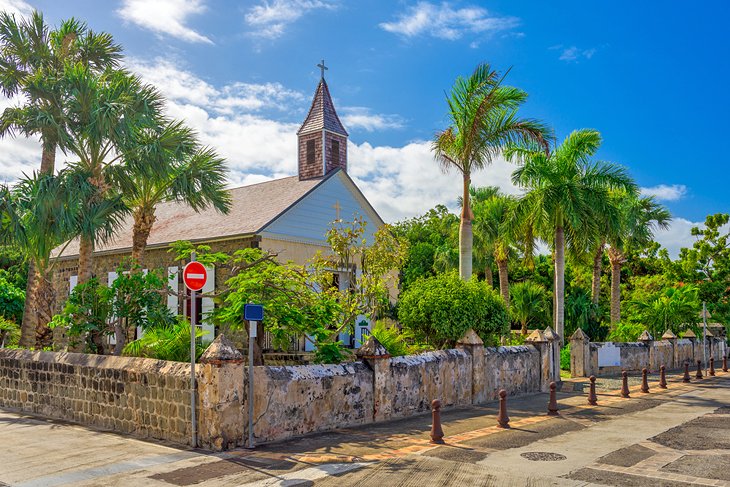 St. Bartholomew's Anglican Episcopal Church, pictured here, dates back to 1855. The local stone and French brick and limestone church features an open-sided design. Inside, the pine pews are original.
14. Grand Cul de Sac Beach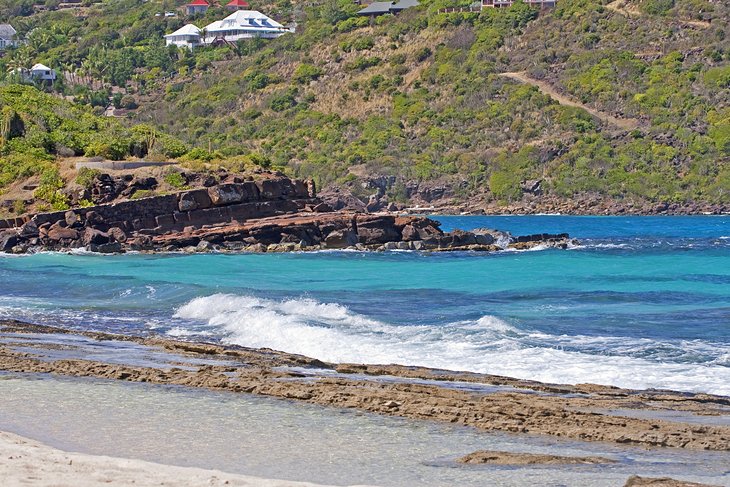 Grand Cul de Sac Beach, pictured above, is popular with kitesurfers, who come for the clear, calm, and shallow waters. There is a kitesurfing school here should you need a lesson. You can also go windsurfing and SUP boarding in this lagoon. Afterwards, grab lunch at one of the restaurants on the edge of the white-sand beach.