US Virgin Islands in Pictures: 25 Beautiful Places to Photograph
Welcome to Paradise, also known as the United States Virgin Islands (USVI). Consisting of three main islands (St. Croix, St. John, and St. Thomas), these colorful beauties are packed with impressive architecture, bustling harbors, a sordid past (think piracy and slavery), and a turquoise sea so captivating you won't be able to resist taking photos.
Technically part of the Virgin Islands archipelago, the USVI are a U.S. territory located at the east end of the Greater Antilles. Lying only 40 miles east of Puerto Rico, this natural wonderland is a popular playground for stressed tourists looking to relax and soak up the tranquility, warmth, and beauty of the Caribbean.
These 20 stunning places are a few of the most spectacular, photo-worthy places to visit.
1. Trunk Bay Beach, St. John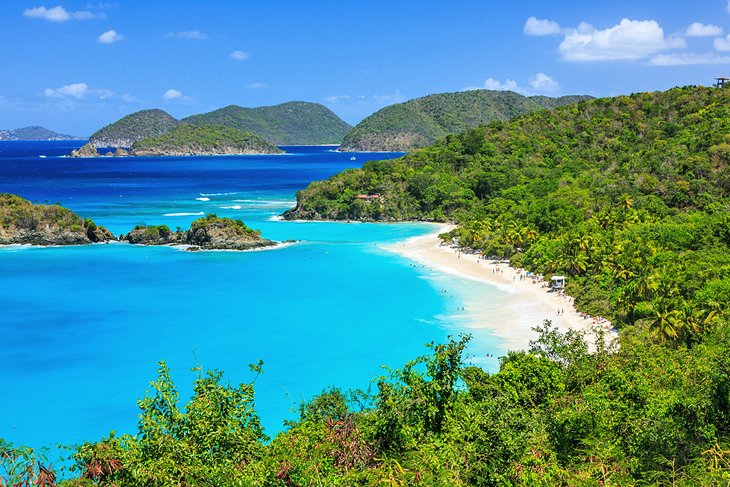 Trunk Bay was donated to the National Park Service by Laurence S. Rockefeller about 50 years ago. Not a bad gift! This blissful spot soothes the soul with its translucent azure water and sugar-white sandy beach backed by lush green trees. Offshore are pristine coral reefs teeming with colorful marine life.
Accommodation: Top-Rated Resorts in the U.S. Virgin Islands
2. Virgin Islands National Park, St. John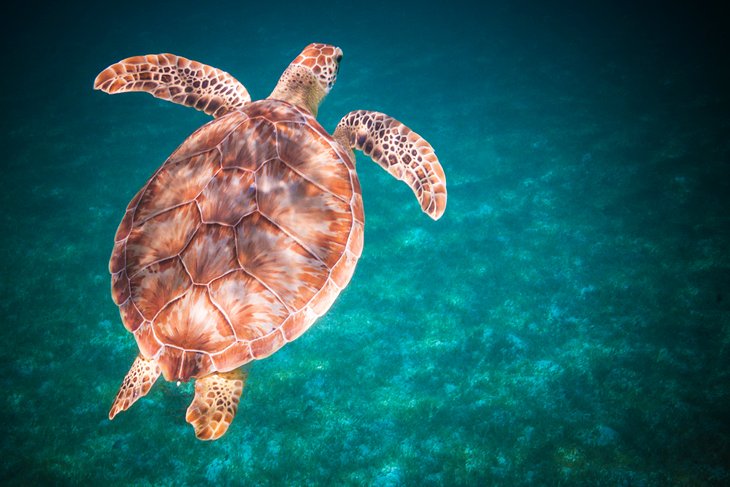 Whether you're hoping to hike, swim, snorkel, sail, or laze about on the beach, you'll find access to it all at the Virgin Islands National Park. Photograph ancient petroglyphs once carved by Taino Indians, use an underwater camera to capture the vibrant marine life around a coral reef, or snap a few shots of ruined sugar plantations. There's plenty for your camera (and you) to love in this tropical nirvana.
3. Reef Bay Trail, St. John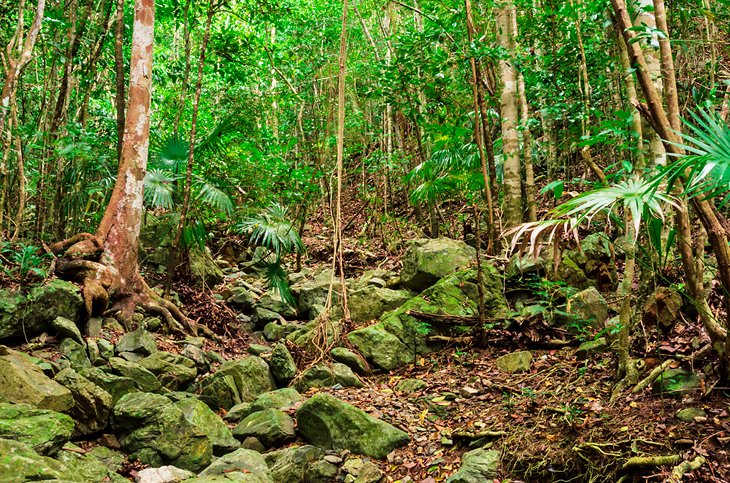 In the jungle, the mighty jungle, your shutter will go into overdrive. Moss-laden rocks, long hanging vines, and a verdant tropical wonderland await hikers on their way to delightful Reef Bay. The three-mile hike takes visitors past a 40-foot waterfall, freshwater pools, and the ruins of sugar mills. Watch out for deer, crabs, and bats.
4. Frederiksted, St. Croix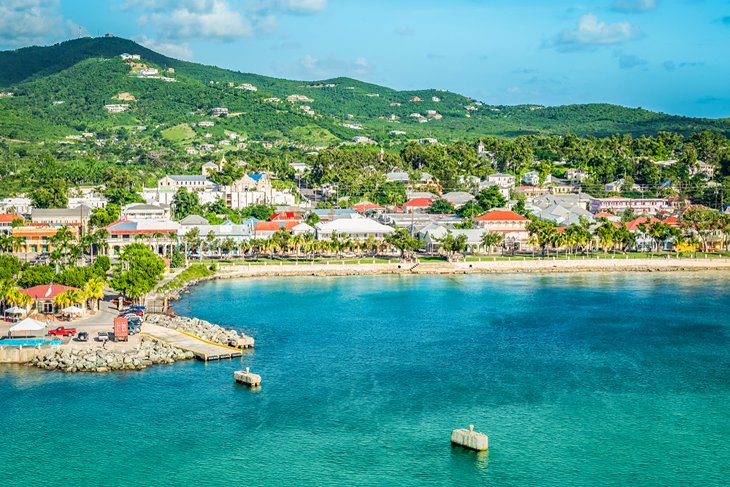 The second largest town on St. Croix, Frederiksted is an eye-pleasing coastal village on the west end of the island. Originally protected by Fort Frederik, this historic town boasts pastel "gingerbread" architecture dating back to Victorian times. The original buildings dated back to the 18th century but were burned down by female laborers during a revolt in 1878. They were later rebuilt, hence the Victorian feel.
5. Charlotte Amalie, St. Thomas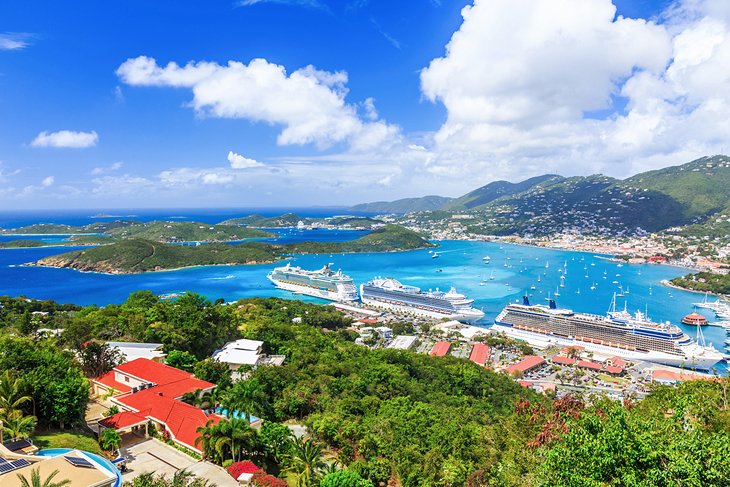 Welcome to Charlotte Amalie, the largest city in the U.S. Virgin Islands. If you're hoping to shop, eat well, and embark on an exciting day trip (we're talking snorkeling excursions, underwater safaris, and ecotours), you've come to the right place. Locals refer to this bustling area as "Downtown" or "Town."
6. Honeymoon Beach, St. John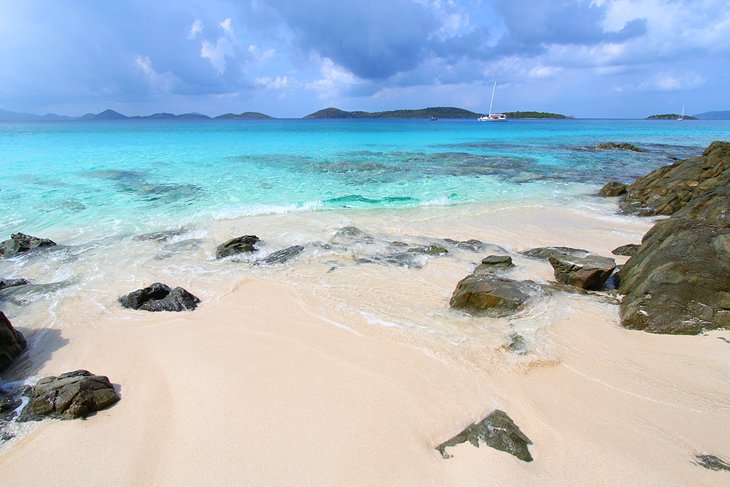 What a lovely backdrop for romantic photos! Whether you're on your actual honeymoon or enjoying an adult-only afternoon by the sea, Honeymoon Beach is pristine, exclusive, and fabulous, not to mention romantic. It's one of seven beaches that make up the upscale Caneel Bay Resort, so you'll have to check in with their staff first and pay a small fee.
7. St. Thomas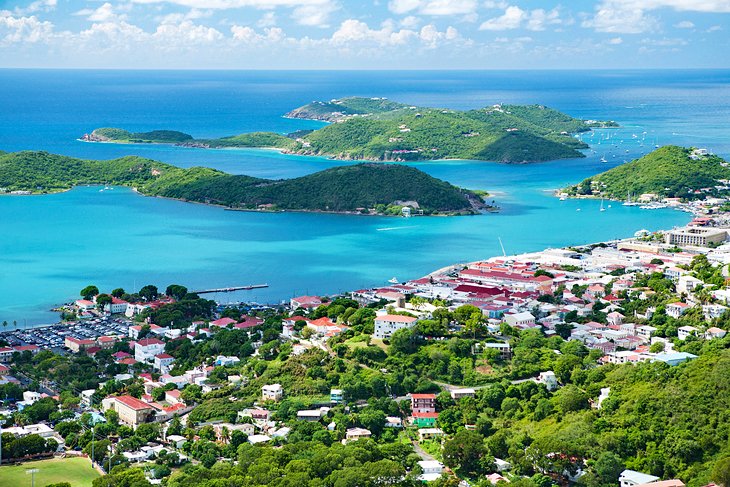 Perhaps the most popular of the U.S. Virgin Islands, St. Thomas is a tropical paradise. It offers the sparkling waters, bountiful coral reefs, and pristine beaches of other neighboring islands, making it a perfect place for impressive vacation snapshots. It's a popular cruise ship destination, so be prepared to fight a few crowds, especially when out shopping.
8. Cinnamon Bay, St. John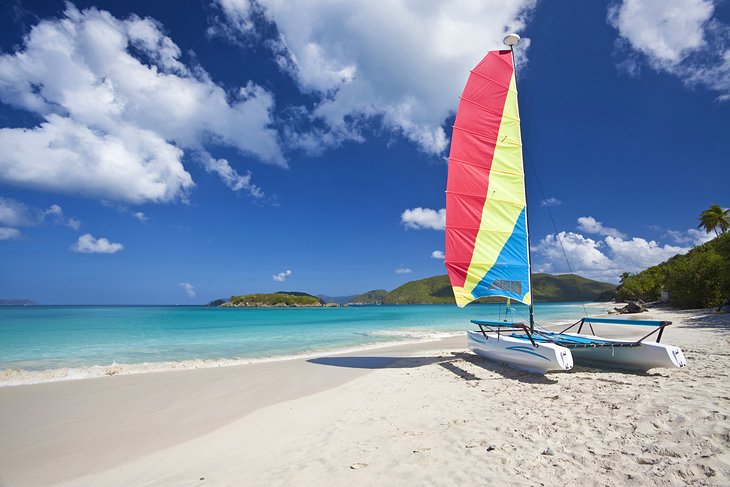 Located in the heart of the Virgin Islands National Park, Cinnamon Bay is the longest beach on St. John. It's also the most beautiful. Imagine digging your feet into the softest white sand before diving into warm, turquoise waves. That pretty much sums up paradise in our minds, and you'll find it all right here.
9. Annaberg Sugar Plantation, St. John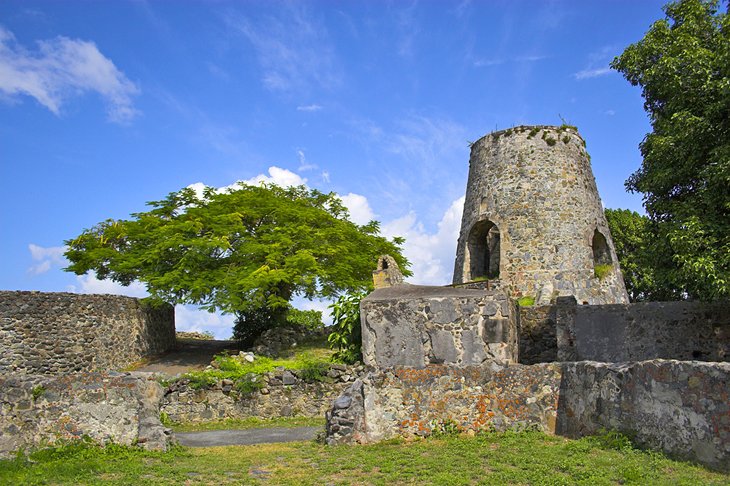 Deep within the Virgin Islands National Park, you'll find the ruins of Annaberg Sugar Plantation. It comes complete with signs detailing the sugar production process, history of the area, and plantation life. You'll also find a unique windmill built in the early 19th century.
10. Cruz Bay, St. John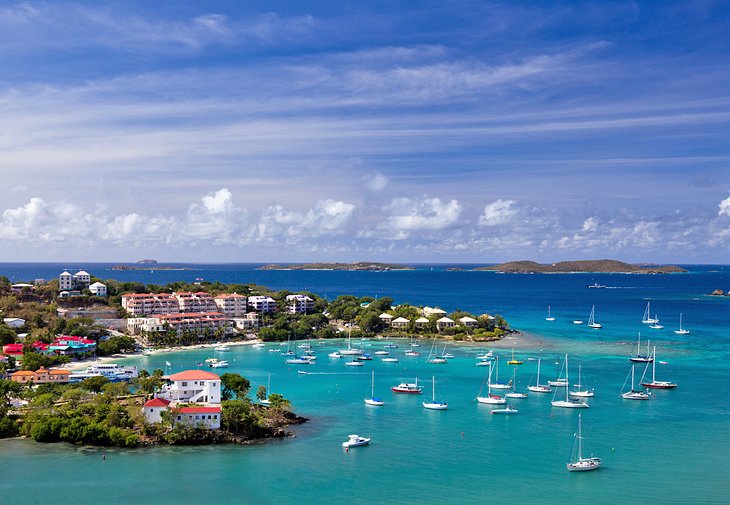 Vibrant Cruz Bay is the entertainment capital of St. John. This busy port is where you'll find the island's most happening restaurants, as well as an impressive shopping scene. This is also the meeting point for island tours, as well as water sports and snorkeling and diving adventures.
11. Christiansted, St. Croix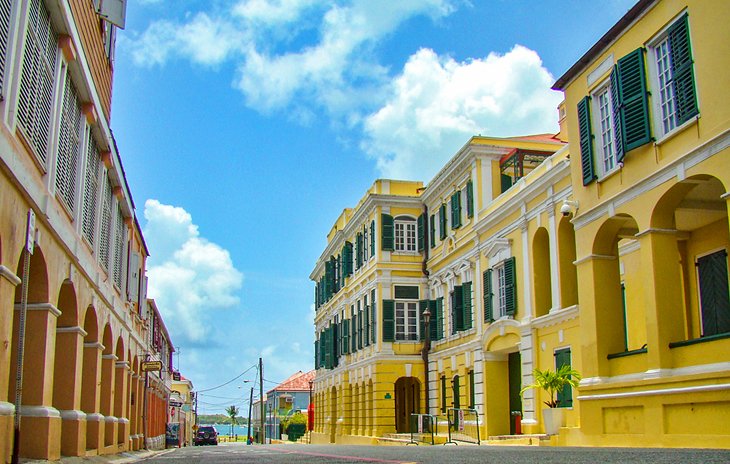 The largest town on St. Croix, Christiansted offers an intimate glimpse of the magnificent culture found in the U.S. Virgin Islands. Yes, you'll find beautiful beaches (like Protestant Cay) but you'll also have a chance to peruse historic churches and admire the distinctive architecture of this charming seaside escape.
12. Fort Christiansvaern, St. Croix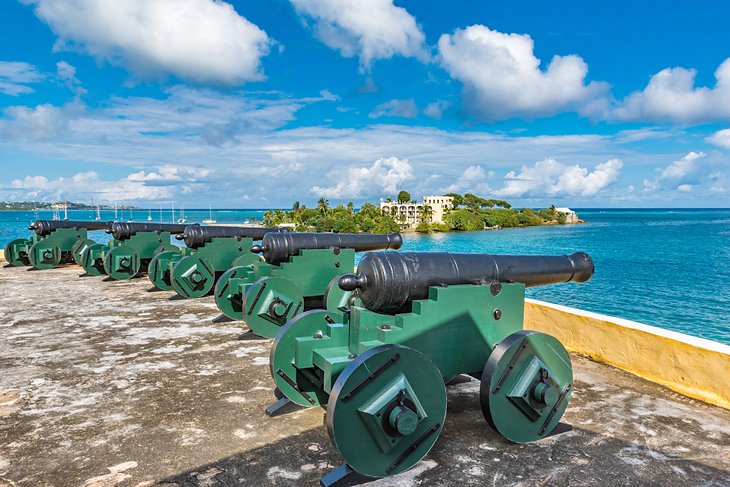 Built in the late 18th century (1749), star-shaped Fort Christiansvaern was created to protect Christiansted from pirates intent on pillaging, as well as from hurricanes and revolting slaves and other citizens. Today, the Danish-built fort is a national historic site overlooking the tranquil waters of St. Croix.
13. Magens Bay, St. Thomas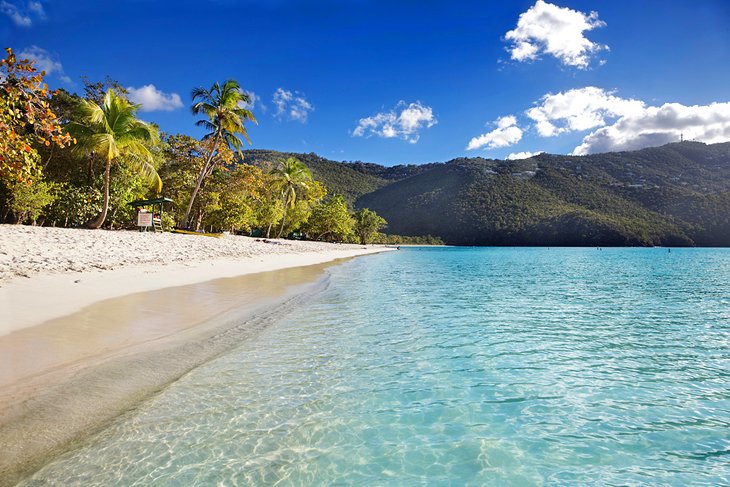 Be still our overworked hearts. With its drooping coconut palms, luxurious sand, and crystal-clear azure water, majestic Magens Bay is here to soothe what ails us. It has been dubbed one of the Caribbean's most beautiful beaches, and a mere minute spent on this tranquil strand will cause your shoulders to relax.
14. Buck Island Reef National Monument, St. Croix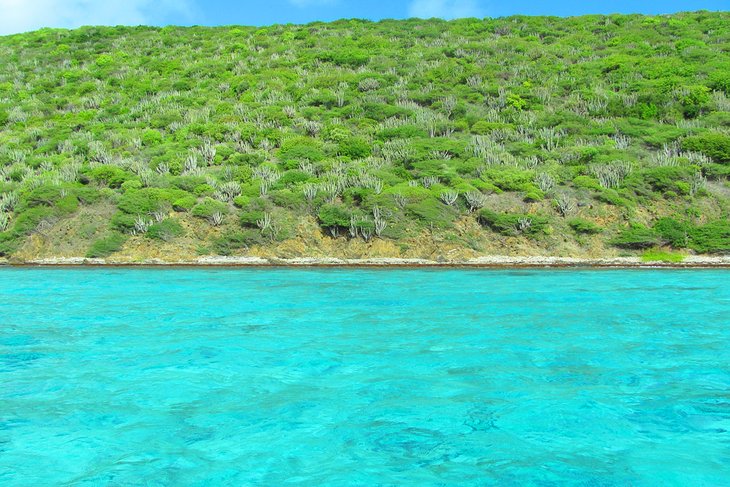 You'll need to board a boat if you're hoping to visit Buck Island Reef National Monument. A short, 1.5-mile trip from St. Croix's mainland, this protected wonderland boasts trails through tropical and sand forests, pristine beaches, and a remarkable coral reef that's more than worthy of a morning or afternoon dive.
15. 99 Steps, St. Thomas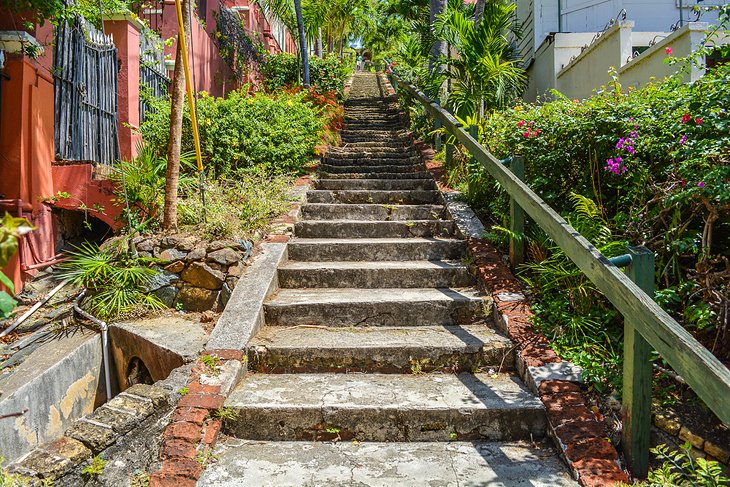 Talk about the perfect photo op. There are so many ways to photograph the charming stone 99 Steps in St. Thomas. Position each kid sitting on a separate step, lean on the wooden railing for a selfie, or use your macro lens to capture the intricate stonework up close. It's essentially a step-street, and guess how many steps you'll have to climb to reach the top.
Originally transported from Denmark to help islanders conquer Charlotte Amalie's hilly terrain, this has become one of the most iconic landmarks on St. Thomas.
16. Government House, St. Thomas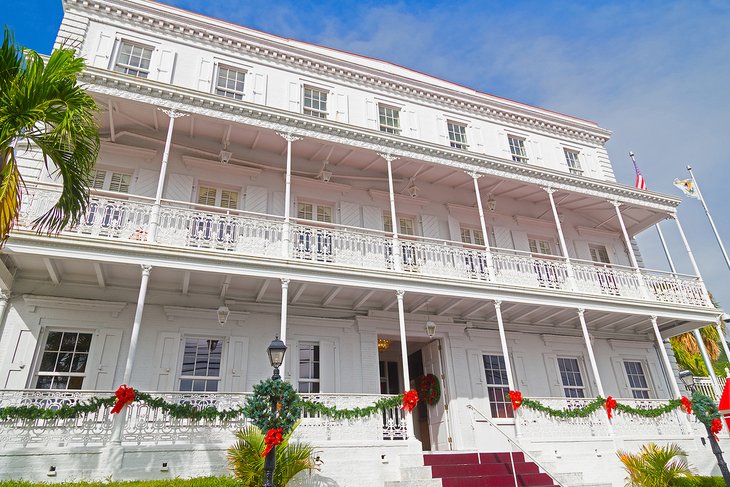 Not all government buildings are this pretty, which is why you need to appreciate the picturesque design of this beauty. Built in the mid-1860s, this striking structure sits at the center of political life in St. Thomas. Zoom in on the detailed ironwork displayed on the building's balconies.
17. Coral Bay, St. John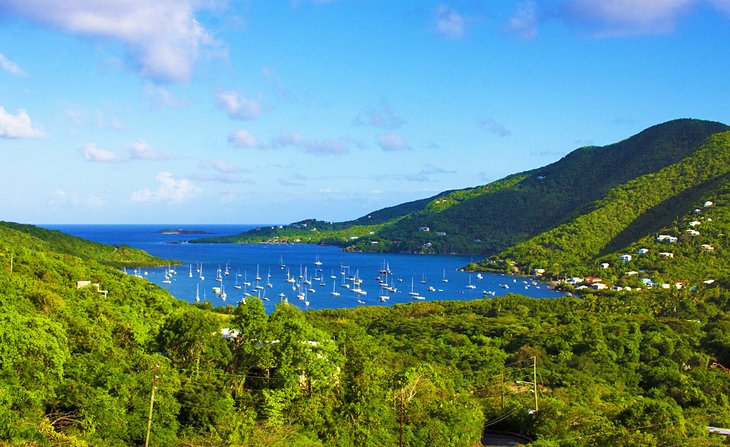 Beautiful, serene Coral Bay graces the southeast side of St. John. It's a popular resort area, and you'll find plenty of accommodations to choose from in this charming locale. It's a much quieter option than busy Cruz Bay, but you'll still find a good selection of shops and restaurants. Rogue donkeys, roosters, and goats make for interesting photo bombers.
18. Coki Beach, St. Thomas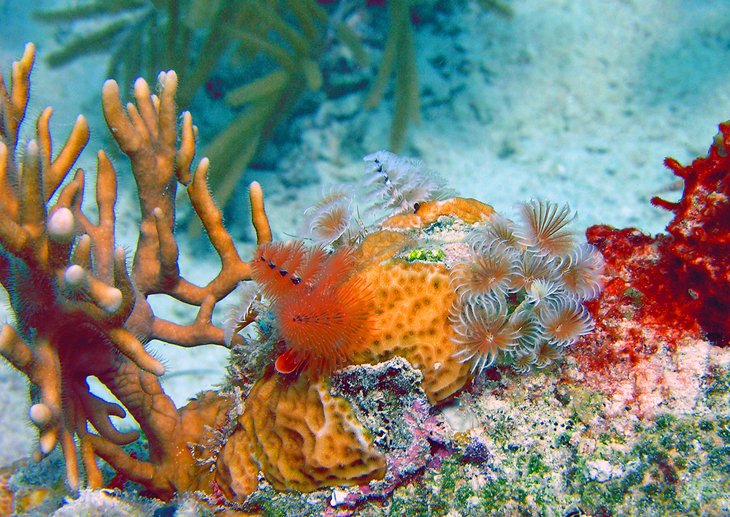 Snorkelers unite! Coki Beach is one of the best underwater playgrounds in the area. The fact that it's located so close to Coral World Ocean Park helps it earn respect with snorkelers and divers worldwide. The beach itself is about as pretty as they come, but if you're looking to take home some award-winning snapshots, charge your waterproof camera and don a snorkel and mask!
19. Maho Beach, St. John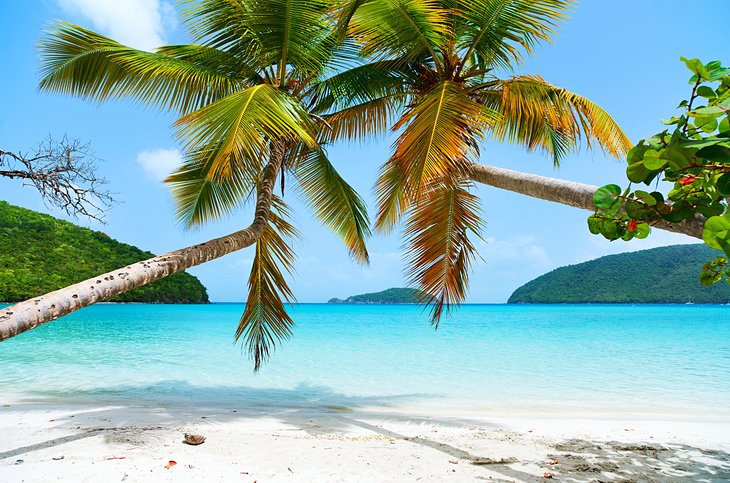 Did someone say beach vacay? Count us in, especially if it includes a trip to phenomenal Maho Beach on St. John. Resting a 20-minute drive east of Cruz Bay, this tranquil beauty features super soft sand; shallow, kid-friendly water; and amazing marine life. It was named after the maho tree, which is easy to spot due to its large, heart-shaped leaves. We'd be heart-shaped, too, if we could call this paradise home.
20. Hawksnest Beach, St. John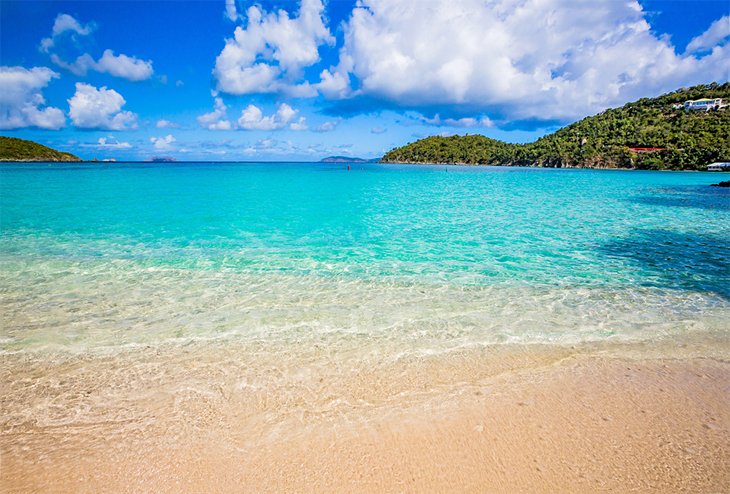 It may not be as popular as St. John's Trunk, Cinnamon, or Maho beaches, but Hawksnest Beach is a hidden gem more than worthy of a visit. Graciously running into the turquoise haven that is Hawksnest Bay, this stunning sandy strand is a perfect place to unwind.
21. Secret Harbour, St. Thomas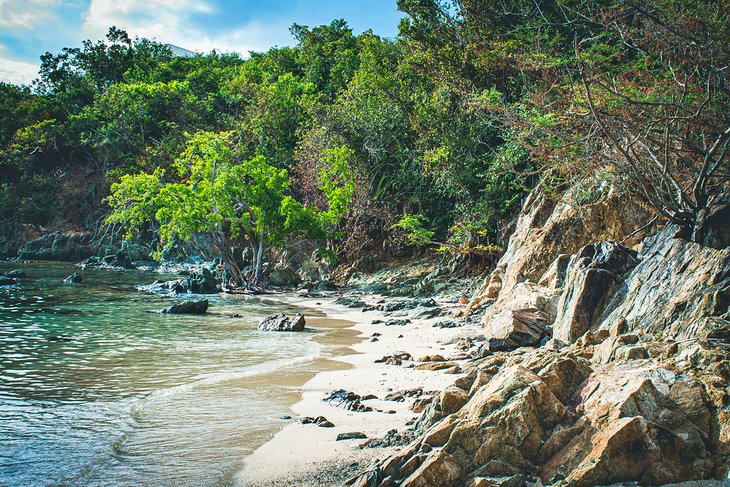 Secret Harbour is an ideal spot to snorkel, especially if seeing squid, turtles, and barracuda tops your bucket list. Despite its name, this beautiful spot is far from a well-kept secret, which means parking can be a struggle. The beach is soft, small, and luxurious, and there's a tasty restaurant right on the sand, which makes it easy to stay longer.
22. Drake's Seat, St. Thomas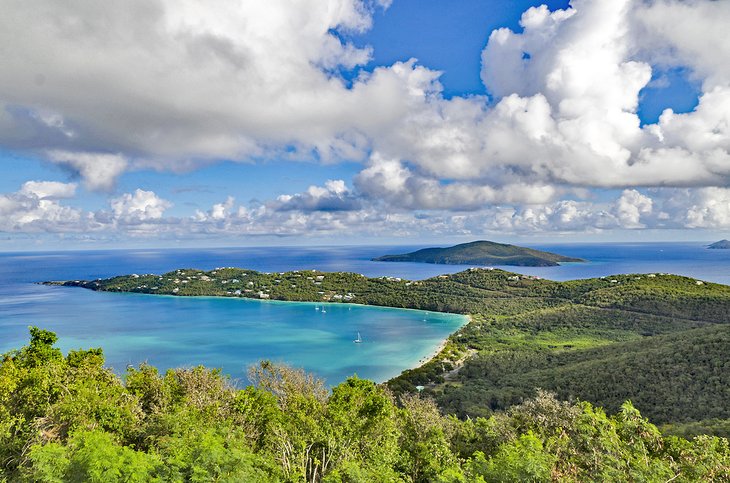 Be sure to pack a camera if you explore Drake's Seat on St. Thomas. Famed for its use as a lookout by Sir Francis Drake, this popular "bench" boasts stunning panoramic views. From here, you can spy the British Virgin Islands and the majestic Magens Bay below. Not a hiker? No worries, this site is easily reached by car, as it sits just off the road.
23. Brewers Bay, St. Thomas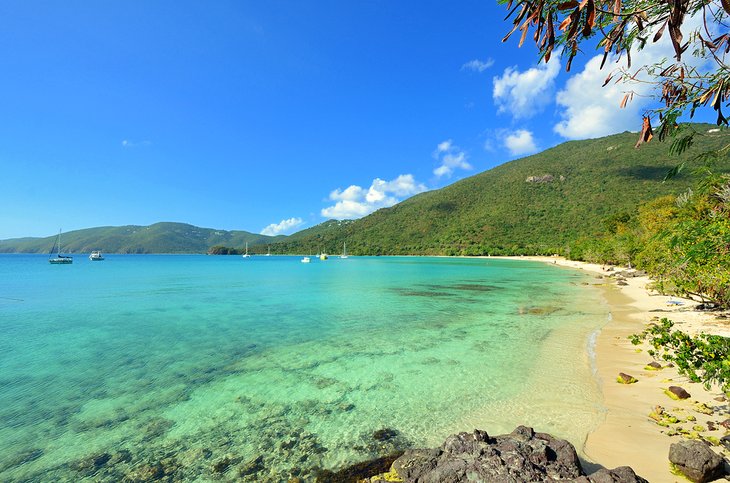 If you're traveling with kids, and they love planes, a visit to the beautiful Brewers Bay Beach is a must. It's located close to the airport on St. Thomas. There are plenty of opportunities for them to spy planes while they bask in the sunshine. You'll want to pack snorkels and masks for your trip to this pretty spot. Turtles and stingray are often spied near the seagrass to the left of the bay.
24. Blackbeard's Castle, St. Thomas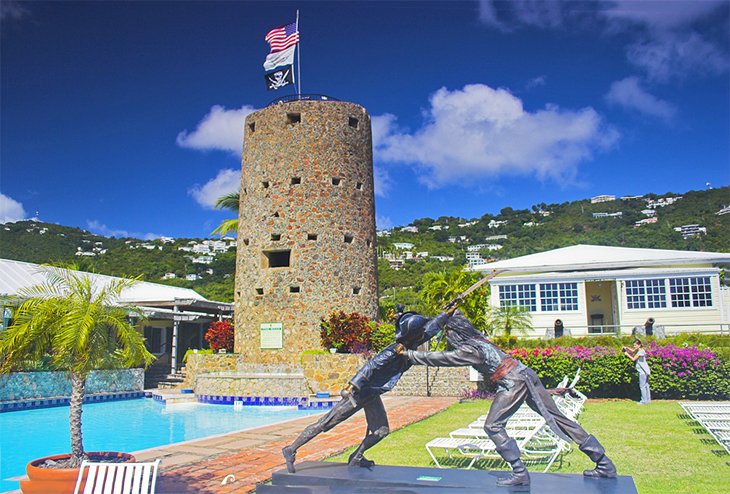 You haven't really experienced a Caribbean vacation without coming face to peg leg (or in this case castle) with a pirate. If that pirate is the legendary Blackbeard, you'll score extra bragging rights when retelling your experiences back home. Set atop a hill in Charlotte Amalie, this national historic landmark commemorates the notorious pirate's one-time home.
25. Francis Bay, St. John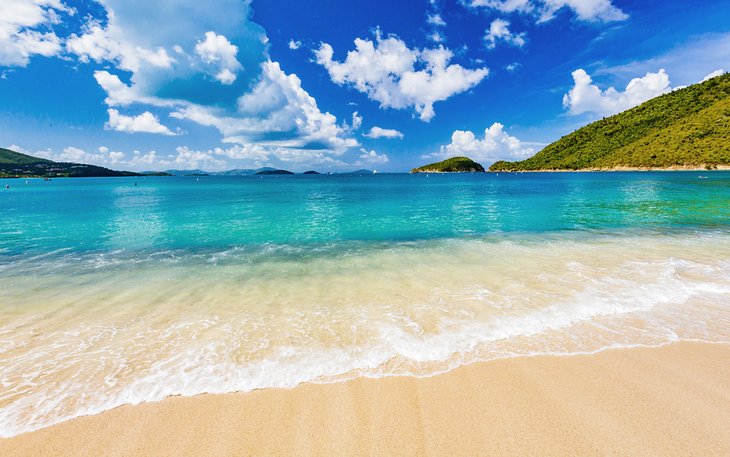 St. John's Francis Bay is a delightful place to visit even when storm clouds roll in. Less popular than other nearby beaches, this pretty marvel is large, quiet, and offers plenty of opportunities to cool off in the shade. The warm, turquoise water, golden sand, and lush trees make this oasis one to remember.