18 Best Beaches in the Caribbean
We may earn a commission from affiliate links ()
Translucent turquoise waters, radiant sands, and rustling palms – these star in the fantasies of beach connoisseurs around the world, and the Caribbean is the place to find them.
Islands like the Bahamas, Turks and Caicos, Antigua, Anguilla, and Aruba are famous for their alluring stretches of coast, but other islands host their own versions of the perfect beach, and many of these dreamy slices of sand and sea also offer easy access to some of the best Caribbean beach resorts.
From seductive crescents of dazzling white sand and blue sea backed by lush jungles to sublime slices of reef-fringed shore, you'll find the perfect stretch of sand to live out your tropical dream with our list of the top beaches in the Caribbean.
1. Grace Bay, Turks and Caicos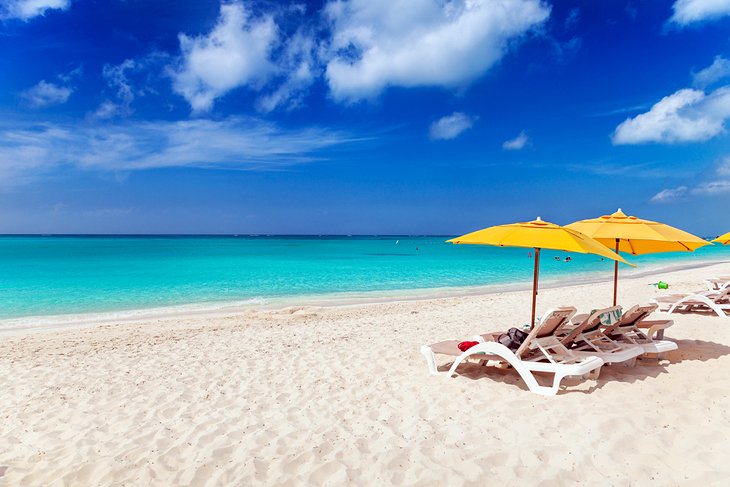 Gorgeous Grace Bay, on the island of Providenciales, is one of the star attractions in the Turks and Caicos Islands. This idyllic stretch of sand and sea seems almost too beautiful to be real. Gleaming white sand, as soft as flour, merges with clear waters in eye-popping shades of blue for eight breathtaking kilometers, and a coral reef glimmers just offshore.
You can swim in the crystalline shallows or kick out to the reef to see stingrays, turtles, and tropical fish darting among the coral in the Princess Alexandra Marine Park. With beauty above and below water, no wonder this sublime stretch ranks as one of the best beaches in the world.
2. Seven Mile Beach, Grand Cayman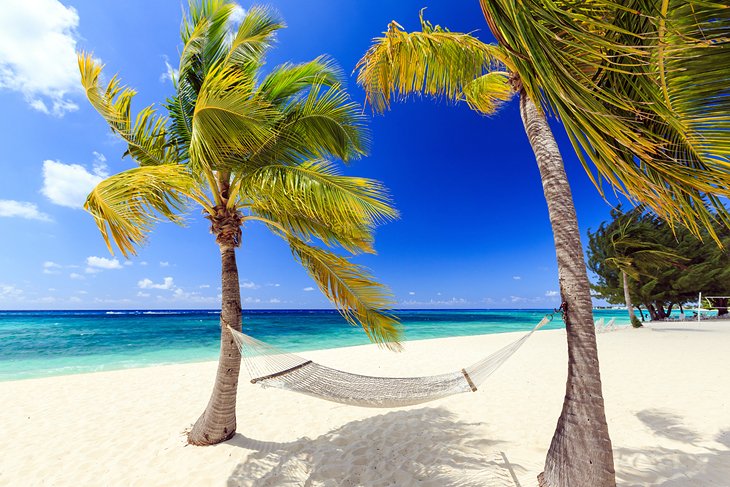 Turquoise waters and bone-white sand fringed with casuarinas and coconut palms are the top features of this famous beach in the Cayman Islands. It actually measures closer to six miles, but you'll still find plenty of space to stake a spot on its soft sands.
Head north to escape the cruise ship crowds, and you can plonk down under the palm fronds and listen to the soothing slosh of gentle waves brushing the shore. Seven Mile Beach is also one of the best swimmable beaches in the Caribbean, with clear waters and soft, squeaky sand.
Lining the shore are some of the Cayman Islands' best hotels and resorts, and some of these larger resorts rent beach chairs. After a blissful day watching the beach scene, you can refuel at one of the nearby restaurants.
3. Pink Sands Beach, Harbour Island, Bahamas
As the name suggests, the silky sands along this pretty stretch of coast on Harbour Island in the Bahamas blush a soft, pale pink. This is all thanks to the rosy hues of some of the finely crushed shells from which it's formed. It's one of the most beautiful pink sand beaches in the world.
Spend your time swimming in the striking aqua sea; kayaking out to the reef; or sunbathing on the warm sands, soaking up all the beauty.
Several upscale resorts line the shores here and offer beach chairs for their guests, so you can bask in comfort along this heavenly stretch.
4. Varadero Beach, Cuba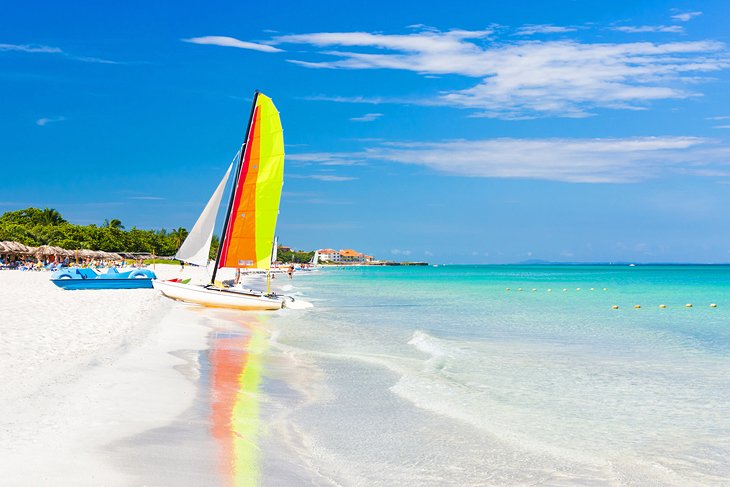 Cuba's most famous beach, Varadero is 20 kilometers of pure eye-candy for beach connoisseurs. Palapas dot the powder-soft sands, the water shimmers in electric shades of blue, and palm trees arch gracefully along its edge.
You'll find plenty of accommodation options along this stretch of the Peninsula de Hicacos in Cuba – some of Cuba's best resorts, many of them all-inclusive, entice package tourists from around the world, but there's plenty of room for everyone.
Snorkeling, SCUBA diving, swimming, sailing, and kayaking are the most popular water sports.
5. Trunk Bay, St. John's, US Virgin Islands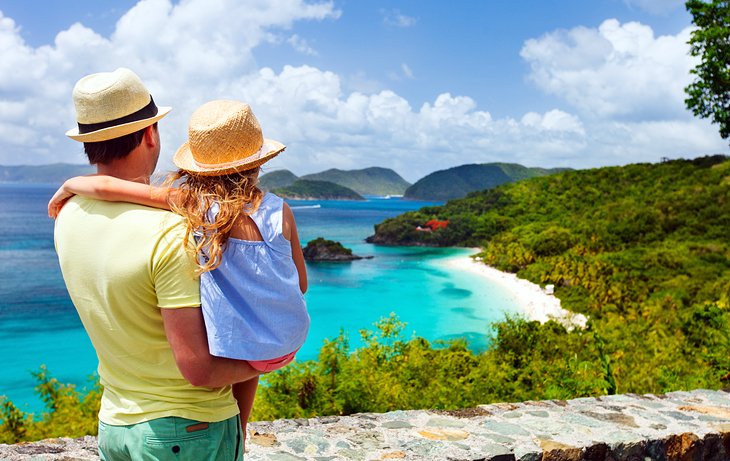 Lush forest tumbles to a perfect crescent of startlingly blue sea, at this Caribbean favorite. It's tucked within the Virgin Islands National Park, one of the jewels of the US Virgin Islands.
Offshore, emerald islets dot the bay, and the Trunk Bay Underwater Snorkeling Trail offers excellent snorkeling in the clear, warm waters, with up to 30 different species of fish. Underwater signposts label interesting features of the coral reef.
6. Shoal Bay, Anguilla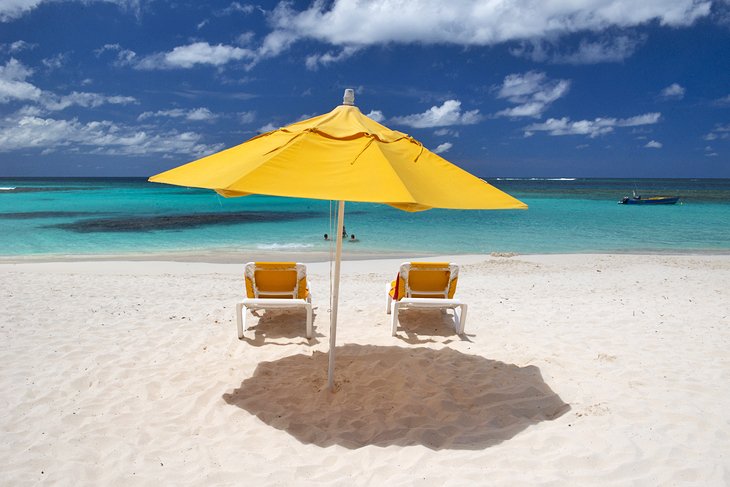 At Shoal Bay, you can live out your own tropical island fantasy. Beaches are among the top attractions in Anguilla, and this is one of its best.
Curving seductively for more than three kilometers along Anguilla's north coast, this wide stretch of bright white sand and jade water features fish-rich coral gardens that are fantastic for snorkeling.
Though this is also one of Anguilla's most popular beaches, it never seems crowded. Restaurants and some of Anguilla's top resorts fringe the shores, and you can rent umbrellas and sun loungers for the day, or sprawl under the rustle of a coconut palm.
7. Flamenco Beach, Culebra, Puerto Rico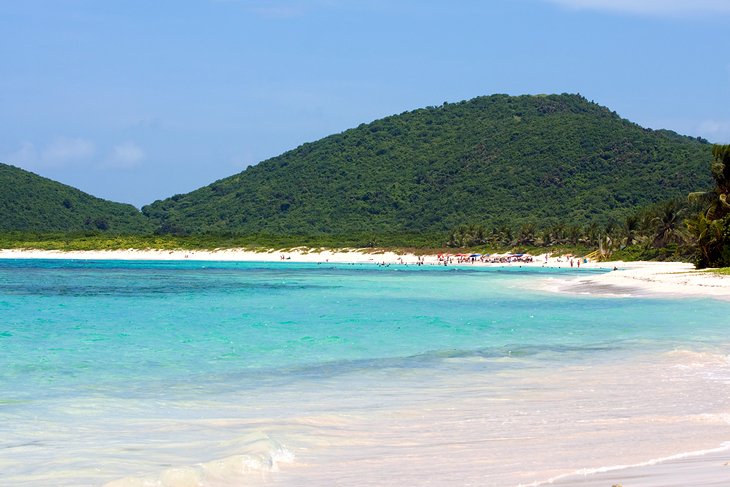 One of the highlights of Puerto Rico, this picture-perfect crescent of sugar-white sand and turquoise and teal water lives up to all the popular tropical beach fantasies.
Palms line the soft sands, tropical fish flit in the shallows, and the clear waters are typically placid, making this a great spot for swimming and snorkeling. Snacks and refreshments are available from kiosks along the beach, and you can rent beach chairs and umbrellas.
8. Magens Bay, St. Thomas, US Virgin Islands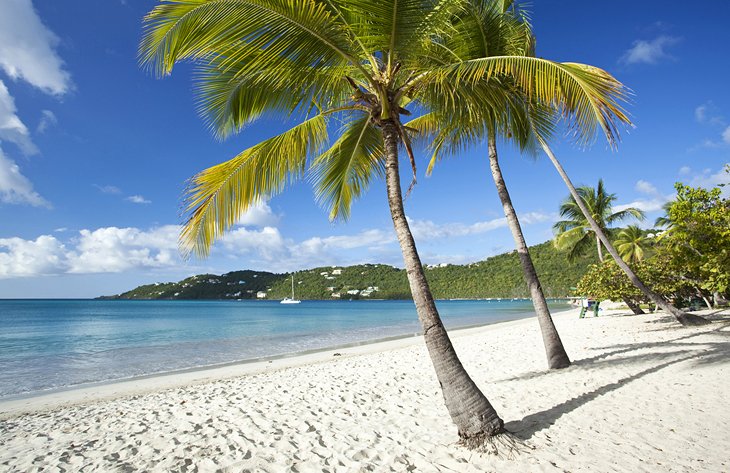 Cradled by green hills, this pretty U-shaped bay steals the show on the island of St. Thomas in the US Virgin Islands. Its pure white sand and aqua waters are a striking contrast with the lush greenery spilling down from the hills.
Snorkeling is excellent in the clear shallows, and you can also kayak on the typically calm waters. Equipment such as boogie boards, paddleboards, and beach chairs are available for rent.
9. Negril Beach, Jamaica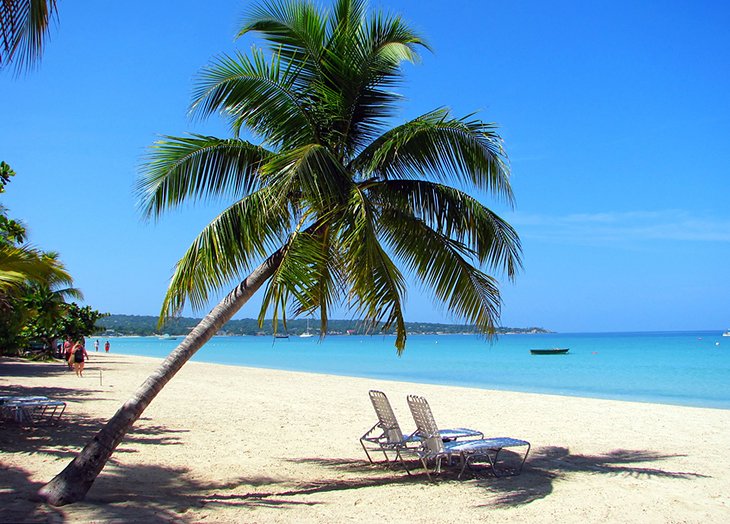 Negril Beach in Jamaica, also known as Seven Mile Beach, stretches from Bloody Bay in the north to Long Bay and the Negril Cliffs in the south. This famous stretch of coast is one of the top beaches in Jamaica.
Clear turquoise water washes on creamy white sands, and coconut palms and sea grapes fringe the beach, providing welcome refuge from the tropical sun.
Popular pastimes include swimming, sunbathing, snorkeling, and beachcombing. After a relaxing day in the sun, you can refuel at one of the resort restaurants peeking out from the coconut palms along the beach.
10. Saline Beach, St. Barts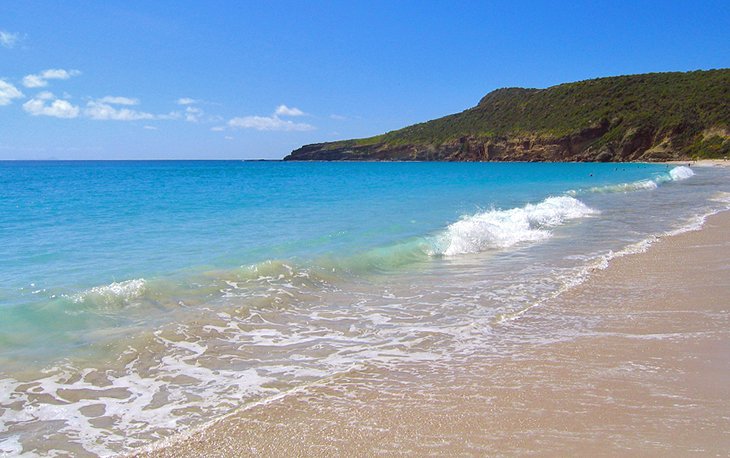 Are you looking for romance? St. Barts is one of the best Caribbean islands for couples, and Anse de Grande Saline is one of its prettiest and most private beaches.
Fringing the island's southern shore, this peaceful crescent-shaped cove lies a little off the beaten track, but that only adds to its appeal. From the parking area, you hike over a hill and through sand dunes towards the blonde-sand beach, which is washed by a translucent turquoise sea.
The typically calm waters and sandy bottom make it a lovely spot for a swim, although the surf can be rough on a windy day.
11. Eagle Beach, Aruba
Rimmed by sculptural fofoti trees, as well as a sprinkling of coconut palms and sea grapes, Eagle Beach is one of Aruba's best stretches of coast. The white sands and clear aqua seas tick all the best-beach boxes, and thatched palapas offer welcome patches of shade.
Along this inviting slice of coast, you'll find some of Aruba's top beach resorts. Turtles also nest here in season, but be sure to keep clear of their marked nests.
12. Bávaro Beach, Punta Cana, Dominican Republic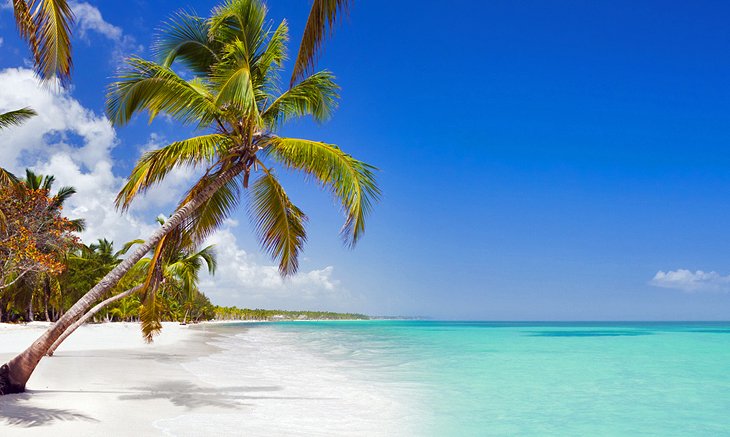 Snow-white sands, fringed with palms, and clear aquamarine waters are the top features of this popular beach in the resort town of Punta Cana. Stretching for an incredible 48 kilometers, it's one of the best beaches in the Caribbean for a stroll – the silky soft sands will cushion your feet.
No wonder a string of mega resorts jostle along the shore – sunseekers flock here from around the world to bask on these glittering sands. Besides swimming and sunbathing, you'll find plenty of other activities to keep you busy, from snorkeling and kayaking to catamaran trips and parasailing.
13. Grand Anse, Grenada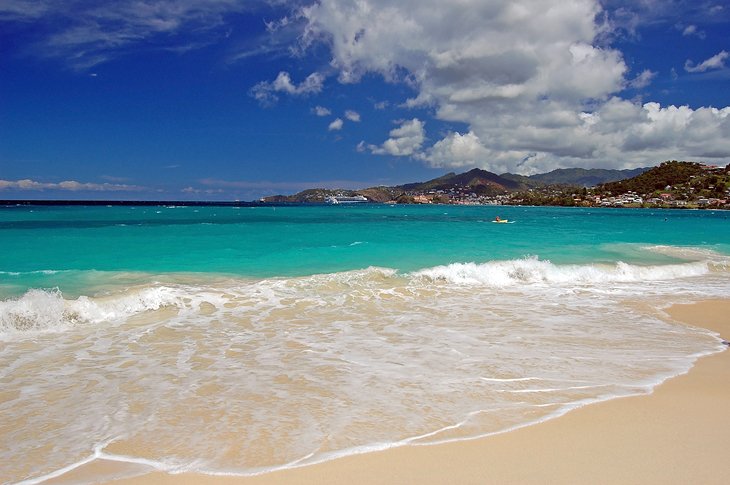 Grand Anse, rimmed by coconut palms, almond trees, and sea grape trees, is the most beautiful beach on this gorgeous island, and one of Grenada's top attractions. This three-kilometer slice of soft white sand is washed by clear and typically calm waters in hues of aqua, turquoise, and deep cobalt blue.
You can swim in the crystal-clear waters, and look for sea stars, crabs, and tiny fish in the shallows. Feeling a little more energetic? Water sports equipment rentals are available along the beach, including kayaks and catamarans. This is also a popular cruise ship stop.
Some of Grenada's most popular resorts and restaurants fringe the shore, including Spice Island Beach Resort, one of the Caribbean's best all-inclusive resorts.
14. Half Moon Bay, Antigua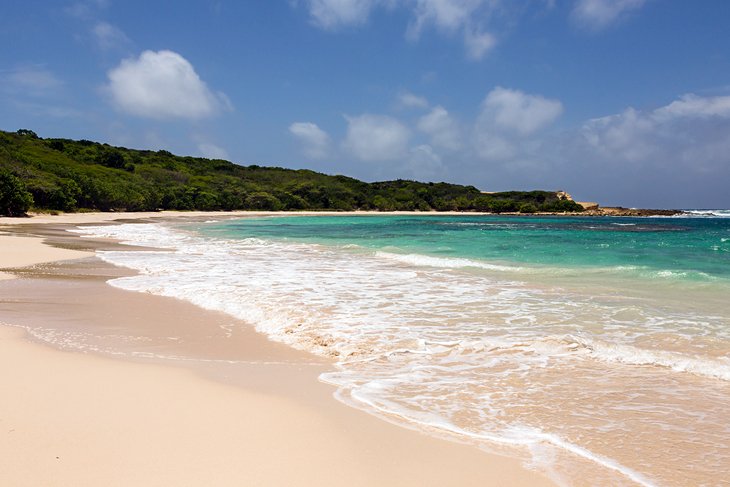 Antigua is one of the best Caribbean islands for beaches. With 360 idyllic stretches of sand and sea, competition can be tough, but when the conditions are ideal, Half Moon Bay is one of the island's best.
This beautiful bay at the southeastern end of Antigua is backed by lush greenery, which gives a wild and natural feel and provides plenty of shade.
15. Crane Beach, Barbados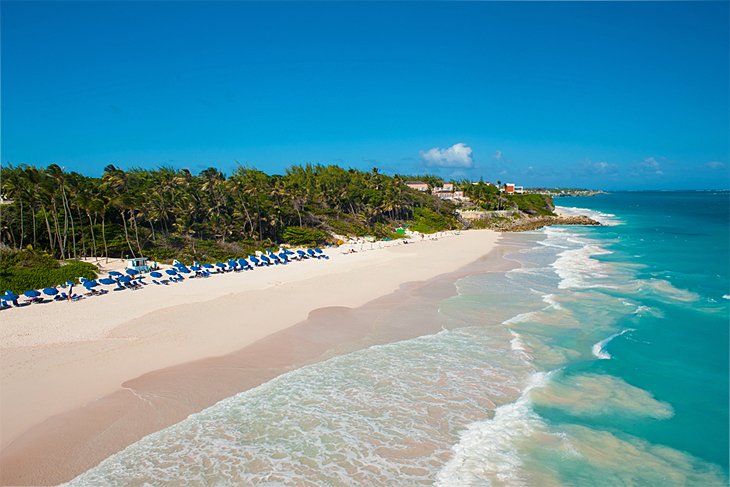 Pale-pink coral sand, bright blue water, and steep cliffs characterize this famous beach in Barbados. Cargo from ships was once unloaded here and lifted by a cliff-top crane, earning this picturesque slice of coast its name. Today, it's popular with sun-loving tourists and cruise ship visitors.
If you're looking for the best beaches in Barbados with waves, this beach is a good choice. Powerful surf makes it an ideal spot for body surfing and boogie boarding. Swimmers should take care due to the strong undercurrents.
16. The Baths, British Virgin Islands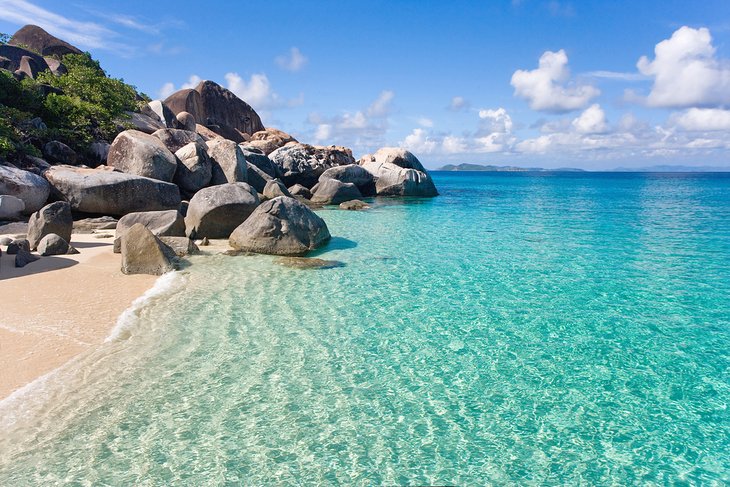 For sheer natural beauty, it's hard to beat The Baths. Declared a national park in 1990, this pristine pocket of powdery sand and clear azure sea is one of the most photographed attractions in the British Virgin Islands.
Smooth gray boulders dot the shoreline and glisten in the crystalline shallows, creating a sculptural maze for snorkelers. You can glide between the rocks in the water or don your water shoes and climb through the grottoes and crevices. Don't miss the Cathedral Room, a narrow cave with a shallow pool.
Just want to bask on the shore and soak up all the beauty? You can do this at picturesque Devil's Bay. If you're looking for something more active, head out on the hiking trails to explore the cactus-peppered coastline.
17. Sugar Beach, St. Lucia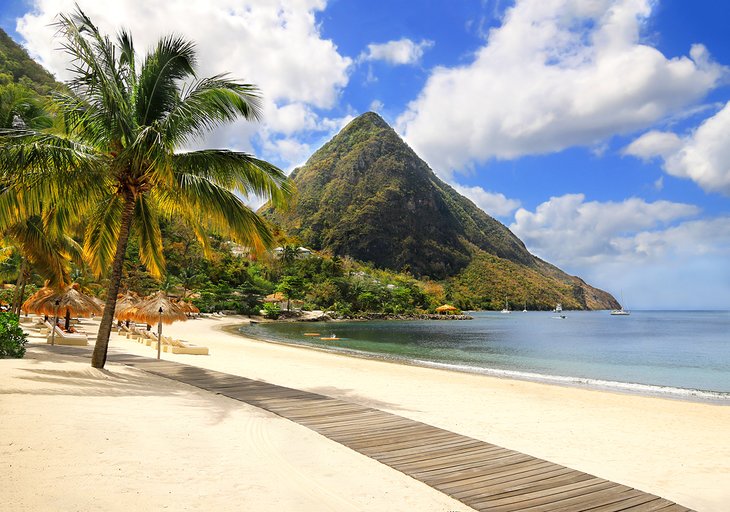 Formerly known as Jalousie Beach, this gorgeous stretch of sand is located in Soufrière, right in between the Pitons, the island's most recognizable landmark and one of the most beautiful places to photograph in St. Lucia.
The beach is on the property of the Sugar Beach Viceroy Resort, but is open to the public for a parking fee. There is also an adults-only section of the beach for couples who prefer a slightly more peaceful beach day.
Sugar Beach is not only popular for its top-side views – it is home to some of the best snorkeling in the Caribbean. It's also a great place for experienced divers, with the steep sides of the Pitons extending 1,800 feet below the water.
18. Maho Beach, Sint Maarten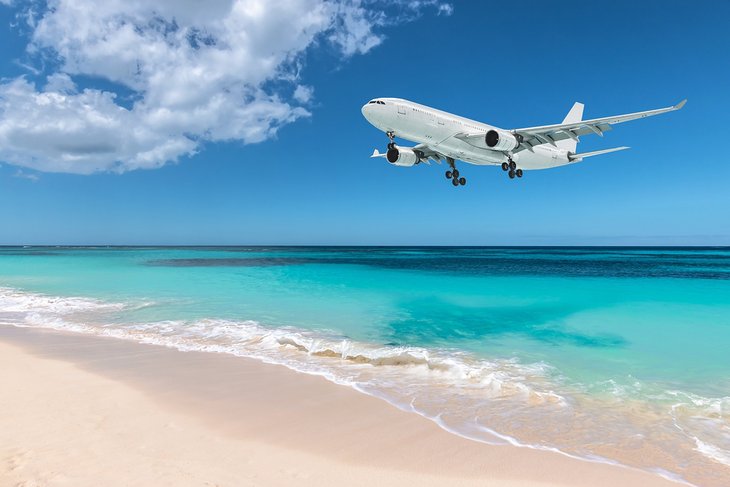 Tourist photos from Maho Beach in St. Maarten are instantly recognizable by the beach's most famous feature: airplanes. Situated at the end of the Princess Juliana International Airport's runway, beachgoers visit Maho to experience the sight, sound, and sensation of passenger jets right overhead as they clear the runway on takeoff, or swoop in for a landing.