17 Top-Rated Attractions in the Turks and Caicos Islands
Author Karen Hastings island-hopped around the Turks & Caicos for months reviewing luxury resorts.
The Turks and Caicos Islands are a popular tourist destination lying off the southeastern tip of The Bahamas. Exquisite white-sand beaches fringe this necklace of about 40 islands, where water sports, nature trails, coral reefs, underground caves, and luxury resorts are the main attractions.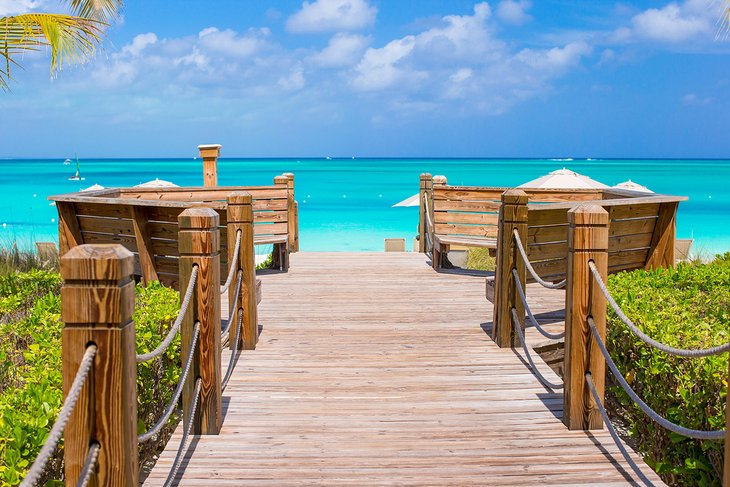 The Turks and Caicos Islands are a British Overseas Territory, and only eight of the islands are inhabited. Cruise ships glide into the main port on Grand Turk, home to the quiet capital of Cockburn Town.
Providenciales, known as "Provo," is the most developed island, and its spectacular Grace Bay is home to one of the planet's most ravishing beaches. Middle Caicos, the largest of the Turks and Caicos Islands, has the most dramatic coastline, with limestone cliffs plunging to turquoise bays.
Discover the best places to visit with our list of the top things to do in the Turks and Caicos Islands.
1. Soak up the Beauty of Grace Bay, Providenciales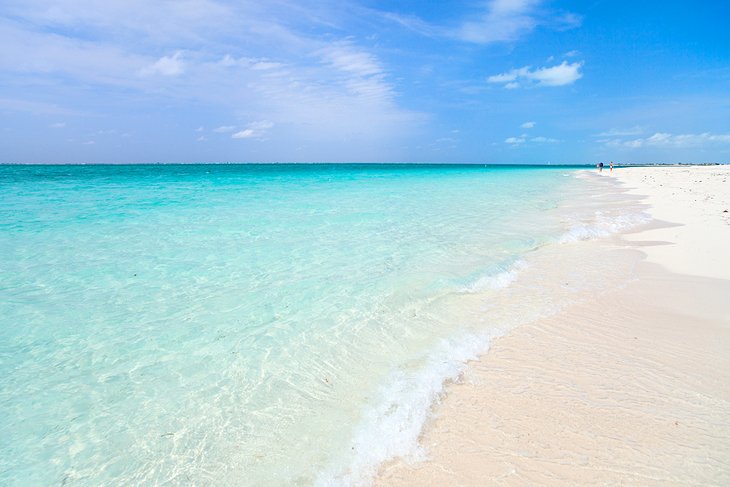 Stretching for more than eight kilometers, Grace Bay is one of the best beaches in the Caribbean. Powdery sand meets crystal-clear water in striking shades of blue along this exquisite slice of coast, and coral reefs shimmer just offshore. Sunbathing, swimming, and snorkeling along this beach are among the top things to do in Providenciales.
Grace Bay Beach is part of the Princess Alexandra Marine Park, and snorkelers can view the rich marine life at The Bight Reef and Smith's Reef in the underwater park. Best of all, you can easily access them both from shore.
The bay is also the playground of "JoJo" the wild bottlenose dolphin, who has been known to interact with surprised swimmers — the Turks and Caicos Islands Government declared this friendly mammal a national treasure.
2. Fill up at the Thursday Fish Fry, Providenciales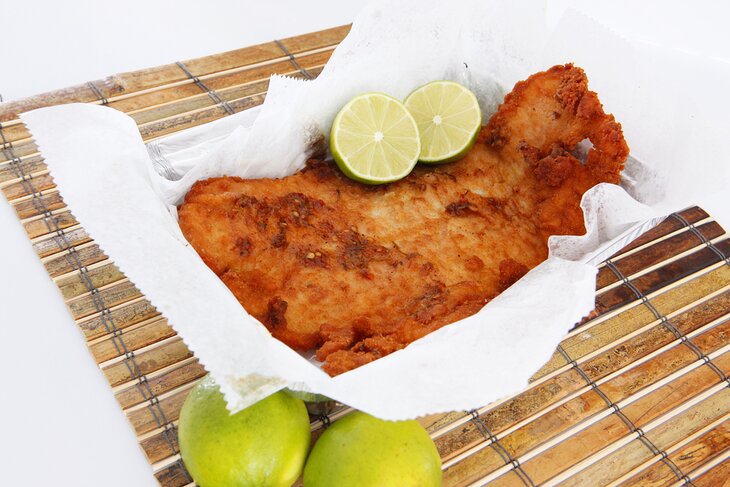 Attending the Thursday Fish Fry is a fun thing to do in Turks and Caicos. An Island tradition, this weekly event is chock-full of delicious food served by multiple local vendors. In addition to the tasty fare, visitors revel in the live music and fun shows on offer each week.
From dancing to storytelling to drumming and Junkanoo music, there's no lack of entertainment for families to enjoy at this exciting venue.
Hoping to partake in a little shopping? You're in luck. Everything from touristy kitsch to jewelry to handmade crafts is on sale at various booths.
Couples will enjoy dancing to the Caribbean tunes, while kids will love the sweet treats and fun vibe of this beloved event. It is an ideal event for tourists and locals of all ages.
The Fish Fry happens from 5:30 to 9:30pm on Thursdays, obviously. It's set up at Stubbs Diamond Plaza, which is in Grace Bay. You'll likely smell and hear the event before you see it, and you'll want to arrive hungry!
3. Taylor Bay Beach, Providenciales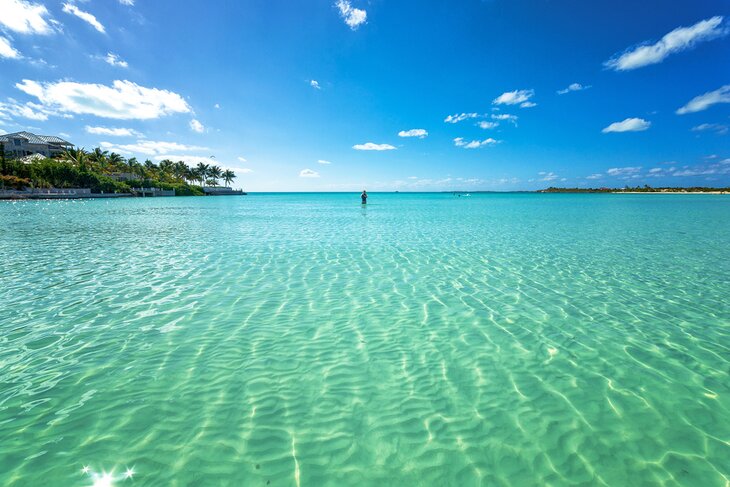 Taylor Bay Beach has been repeatedly voted one of the best beaches in Turks and Caicos for good reason. First, it's gorgeous. Silky-soft sand, turquoise water, and waving palms add to the tranquil allure at this scenic cove on the south coast of Providenciales.
Second, Taylor Bay Beach is a fabulous beach for families. The water here is shallow and warm, making it ideal for splashing about and swimming all day. Visit at low tide if you're hoping to walk out even farther from shore.
Couples love it here, too. There are fewer crowds than those found at other beaches, which means loved-up duos can easily enjoy a quiet and romantic day by the sea.
Insider's tip: Use bug spray if you're visiting early in the morning or during sunset; the biting midges can be annoying at these times of the day.
4. Dive and Snorkel the Reefs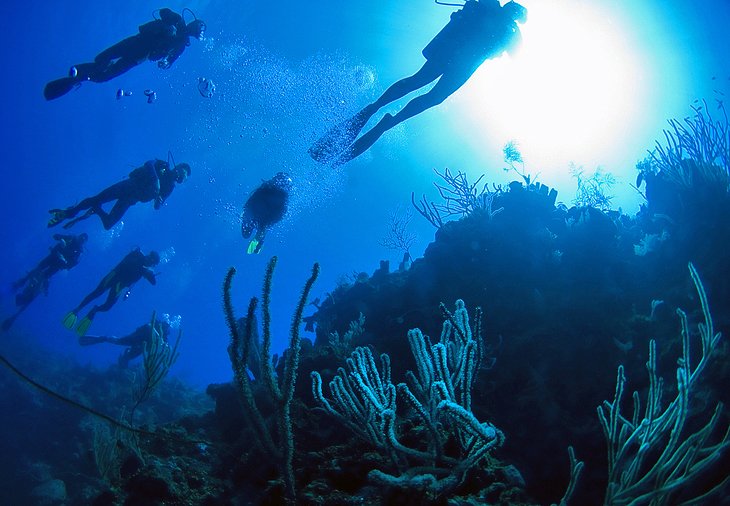 Diving and snorkeling in the crystal-clear waters are the most popular things to do in Turks and Caicos. Surrounded by one of the most extensive coral reef systems in the world, the islands sit on a vast underwater plateau with dramatic drop-offs not far from shore. This makes it an excellent destination for wall dives - especially in Grand Turk.
Many of the top snorkel and dive sites are accessible from shore, and shipwrecks old and new are sprinkled throughout these waters.
Another interesting feature of the islands is the 35-kilometer-wide Columbus Passage east of Grand Turk, which separates the Turks from the Caicos islands and is a popular migration route for marine animals. Depending on the time of year, divers can see whales, dolphins, turtles, and rays here.
Add to all this excellent visibility, unspoiled reefs, abundant marine life, and quality dive services, and it's no wonder this is one of the best diving destinations in the Caribbean.
Most of the diving and snorkeling tours operate out of Providenciales, Grand Turk, and Salt Cay.
5. Bight Reef, Providenciales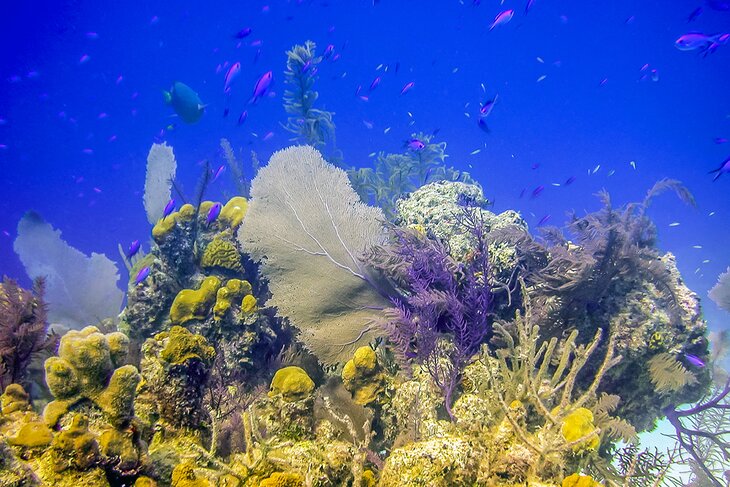 Snorkelers and divers drool over excursions to the remarkable Bight Reef in Providenciales. Also known as Coral Gardens, this entertaining spot is one of the best places to snorkel in Turks and Caicos.
Here, tourists can enjoy getting face to fin with some of the area's most exciting and colorful marine life. Green and hawksbill turtles, stingrays, parrotfish, triggerfish, Nassau groupers, and moray eels are only a few of the incredible creatures you can see in this diver's nirvana.
Getting here is easy, and there's no need for a boat. The reef lies just off the beach in the Princess Alexandra National Park.
Be sure to stay within the marked swimming area, and keep an eye out for boats that whizz by taking other visitors for tube rides. As is the case with any reef, do not touch, stand on, or take anything.
6. Explore Chalk Sound National Park, Providenciales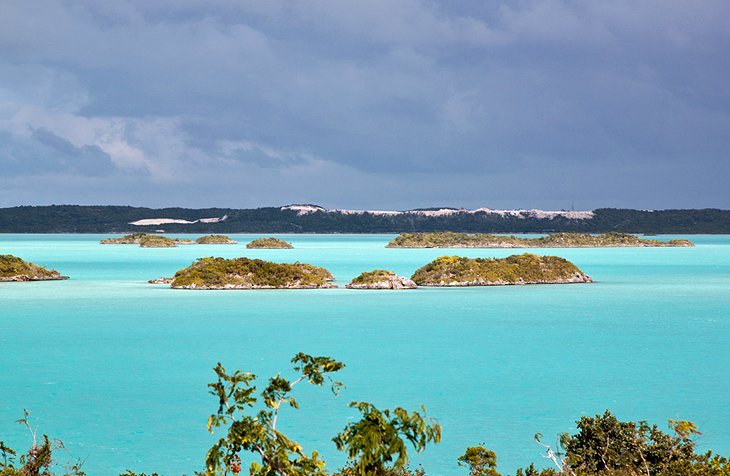 An eye-popping shade of turquoise, Chalk Sound is a beautiful lagoon with limestone deposits separated from the ocean by a thin stretch of sand.
About a 20- to 30-minute drive away from Grace Bay, the area is a beautiful place to visit and capture photographs of the striking scenery. Sprinkled throughout the sparkling waters are tiny green-topped rock islands, which are home to many iguanas.
You can rent kayaks or stand up paddleboards to explore the clear waters or hop aboard a pontoon cruise.
Address: Chalk Sound Road, Chalk Sound, Providenciales
7. Swim at Sapodilla Bay, Providenciales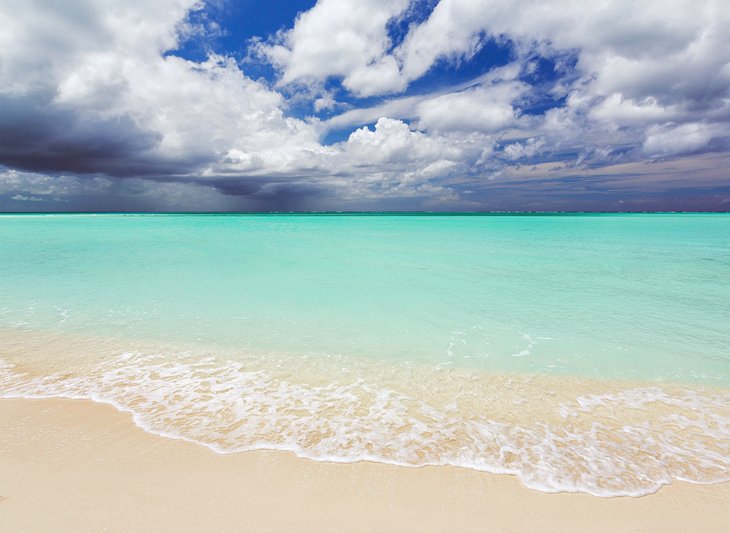 Sapodilla Bay, on the ocean side of Chalk Sound, is a peaceful strip of secluded beach offering good protection for yachts. The shallow, calm water also makes this a great spot to swim with small children, and the luminous turquoise waters are eye-candy for sunbathers.
On the hilltop overlooking the bay, shipwrecked sailors engraved messages on stones, and some locals claim they are codes to hidden treasure. The view from the top also makes a great photo op.
Beautiful Taylor Bay Beach is also nearby, but the public access path is tricky to find — check with locals for directions.
Address: End of South Dock Road, North of South Dock Chalk Sound, Providenciales
8. Visit Grand Turk Lighthouse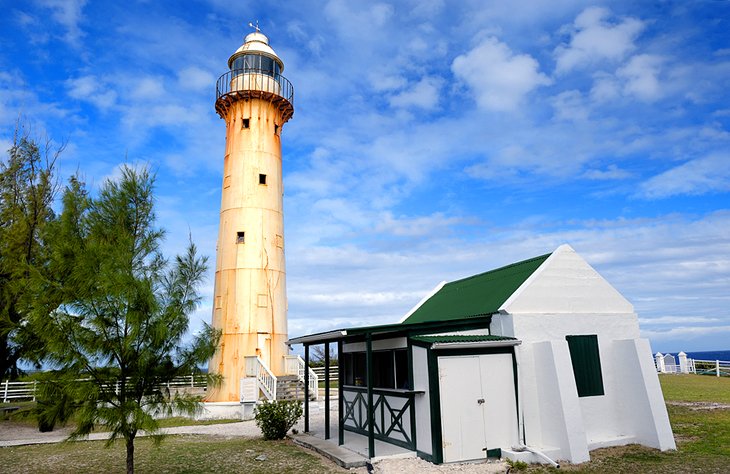 Protecting the northern tip of the island, Grand Turk Lighthouse is an important landmark with an interesting history. The lighthouse dates to the mid 19th century and was transported piece by piece to the island from Britain. It was rebuilt at this location and stands alongside the lighthouse keeper's house, both of which are protected as historic sites by the National Trust.
Many visitors like to pat the friendly donkeys here.
From the lighthouse, you can wander a panoramic cliff-top trail to a secluded beach and enjoy beautiful ocean views along the way. Look for whales during February and March.
Address: Lighthouse Road, North Ridge, Grand Turk
9. Mudjin Harbour, Middle Caicos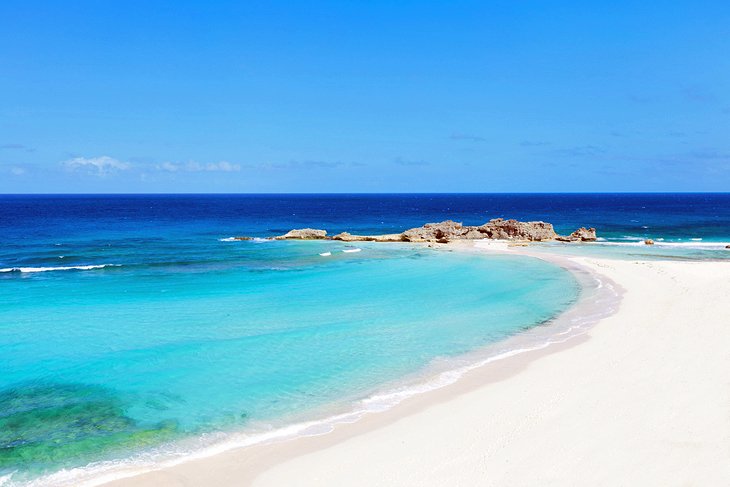 A five-kilometer slice of coastline along the north of Middle Caicos, Mudjin Harbour is one of the most photographed sites on the Turks and Caicos Islands. Breathtaking limestone cliffs overhang the half-moon lagoon and its arc of white-sand beach.
Dragon Cay lies just offshore, and you can access the tiny island via a sandbar at low tide. Under calm conditions, snorkeling is also great here. Beach lovers can access Mudjin Harbour by car or by hiking Crossing Place Trail.
10. See Iguanas at Little Water Cay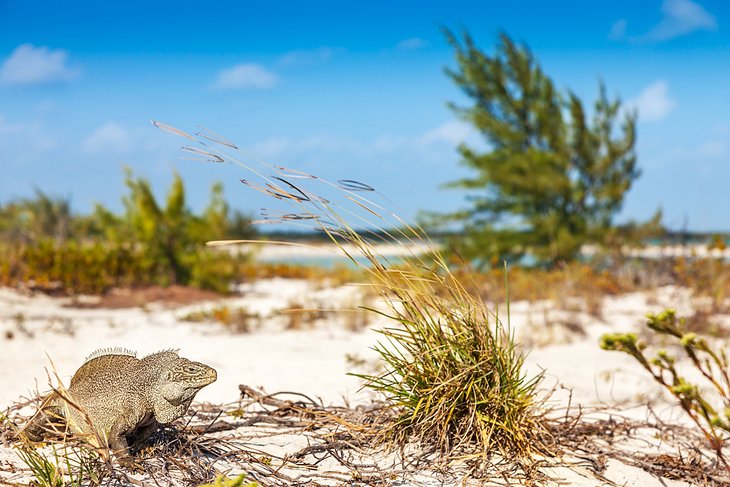 Want to see some Turks and Caicos wildlife? About 456 meters across the sea from Providenciales, Little Water Cay (locally known as "Iguana Island") is home to rare and endangered rock iguanas. Hop aboard a sightseeing cruise to see these friendly creatures up close.
The iguanas once roamed throughout the Turks and Caicos Islands, but domestic dogs and cats all but wiped them out — except on Little Water Cay, where they are protected. The National Trust has developed two boardwalk trails that loop around the island's north and south side, so you can view the iguanas without disturbing their natural habitat.
After you've had your wildlife fix, you can take a dip in the turquoise water or relax on the beautiful white-sand beaches. It's also possible to kayak to the island, however you need to be careful of the strong currents in the channel.
11. Stay on Pine Cay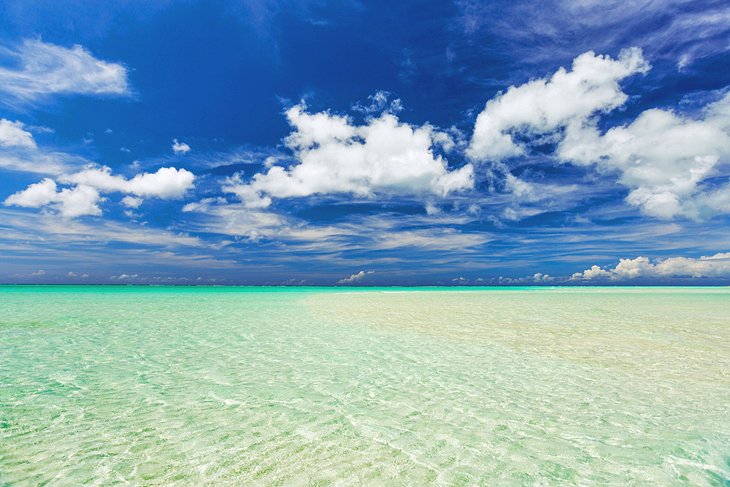 This gorgeous 800-acre private island, a 15-minute boat ride from Providenciales, was once a hideout for pirates and is now a hideout for affluent nature lovers who want to escape the stress of their busy lives. The island has no phones, TVs, or cars in order to preserve its peaceful ambience.
One of the island's best natural features is its magnificent four-kilometer-long stretch of beach that rivals Grace Bay in beauty and is one of the best beaches in Turks and Caicos.
The only way to stay here is as a guest of Pine Cay, an exclusive, environmentally sensitive resort. However, with 24-hour advance notice (and subject to availability), you can purchase a day pass and visit the island for lunch. This also entitles you to use some of the resort's facilities and enjoy the stunningly beautiful beach, excellent snorkeling, and nature trails.
If you look at a Turks and Caicos map, you'll see an island embracing the north coast of Pine Cay: Fort George Cay. Also a national park, this picturesque island is a popular destination for boat excursions. Beautiful beaches and the ruins of a British fort and a pre-Columbian settlement are its top attractions.
12. Turks and Caicos National Museum, Grand Turk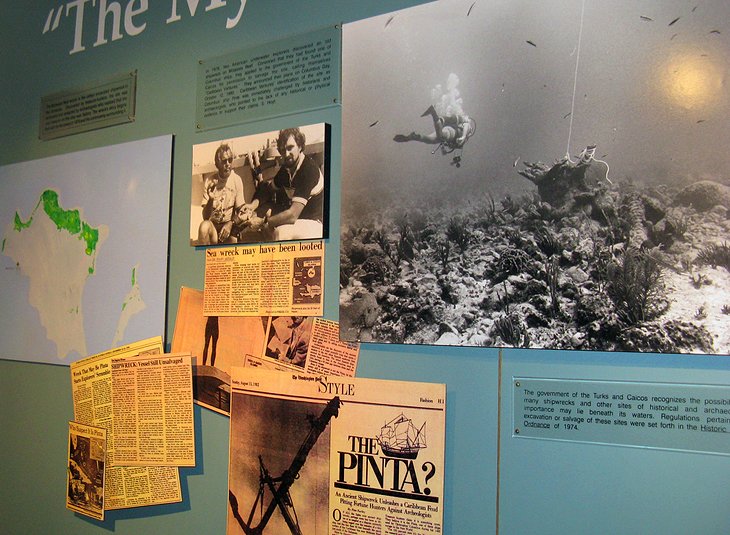 Housed in one of the oldest stone buildings on the islands, the Turks and Caicos National Museum is a great way to learn about the country's history. Exhibits cover topics like slavery, the Lucayans, the salt industry, and the natural environment. You can also view remnants of the Molasses Reef wreck, the oldest in the Western Hemisphere.
One of the most interesting exhibits is the collection of messages in bottles that have washed ashore from all over the world. You can also tour a thatch-roofed house, which provides a glimpse into how people on the islands once lived.
Next door, the botanical garden features examples of native and imported plants.
Address: Front Street, Guinep House, Grand Turk
13. Salt Cay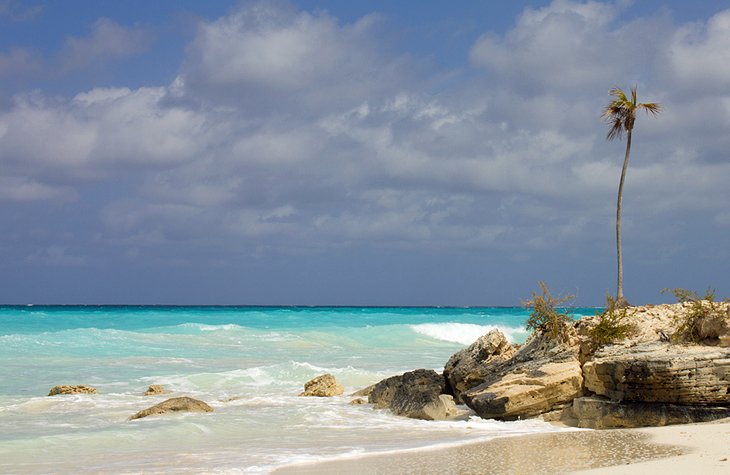 Nominated as a UNESCO World Heritage Site, Salt Cay is a time capsule from the days "when Salt was king." This historic island was once the world's largest producer of salt, the mainstay of the Turks and Caicos economy from the late 1600s until the early 1960s.
Today donkeys, wild cattle, chickens, and iguanas far outnumber the human inhabitants. Seclusion seekers come here to relax on the white-sand beaches, dive or snorkel the coral reefs, learn about the island's fascinating history, and spot humpback whales on their annual migrations from late January through early April.
What little development exists on Salt Cay is found in Balfour Town. The key tourist attraction here is The White House, a stately salt-merchant's manor, built in 1835 with ballast stone and furnished with antiques.
14. Swim with Stingrays at Gibbs Cay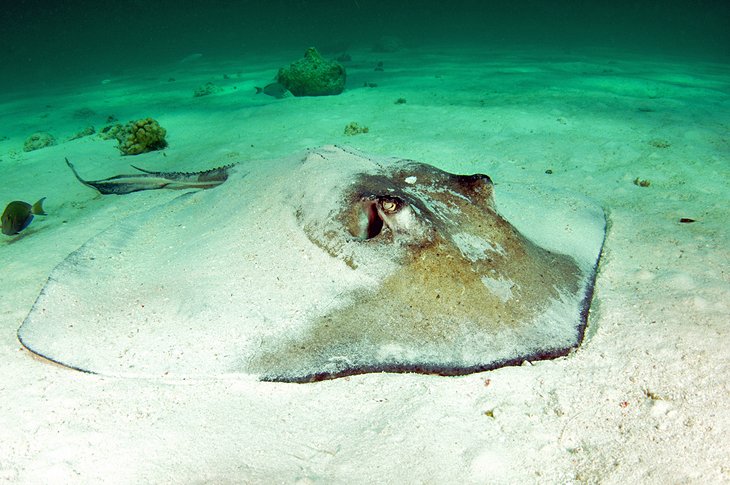 Ever wondered what a stingray feels like? In the clear waters off uninhabited Gibbs Cay, you can stroke one of the satiny sea creatures as they swim up to you like puppy dogs.
Gibbs Cay lies a short boat trip from the eastern coast of Grand Turk. As well as feeding and swimming with the stingrays, you can snorkel along the coral reefs surrounding the beach. Gibbs Cay is also home to a large population of seabirds.
Many cruise ship passengers visit for the day on boat tours and enjoy a picnic lunch.
15. Tour Cheshire Hall Plantation, Providenciales
Preserved by the National Trust, Cheshire Hall Plantation, on the island of Providenciales, is one of the best places to get a sense of the island's history.
Knowledgeable guides lead tours around the 200-year-old ruins of this cotton plantation, sharing stories about the challenges faced by the owners, Thomas Stubbs and his brother Wade, as they battled soil depletion, drought, and hurricanes. A few cotton plants still survive among the ruins.
Expect to spend an hour touring the ruined buildings at this popular point of interest. Tourists can see the former great house, kitchen, and slave quarters, as well as the bases of old cotton presses.
Insider's Tip: Wear lots of sunscreen, as there's little shade in this open spot.
16. Conch Bar Caves National Park, Middle Caicos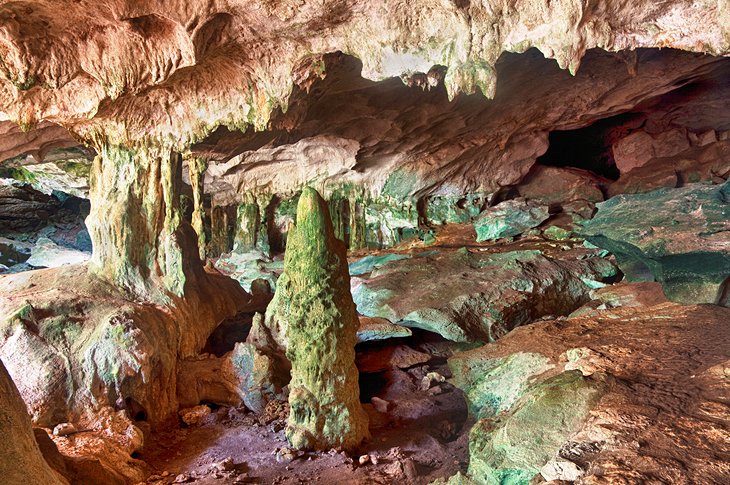 Conch Bar Caves National Park protects 24 kilometers of underground caverns. This karst limestone cave system is one of the largest cave systems in the Caribbean region.
Some of the caves have lagoons, as well as stalactites and stalagmites, and most have large colonies of bats. The caves also have a rich history - Lucayan Indians used them for sacred ceremonies and left petroglyphs on the walls.
Guided tours provide a background on the history of the caves and highlight some of the natural features and bat colonies.
17. Crossing Place Trail Hike, Middle Caicos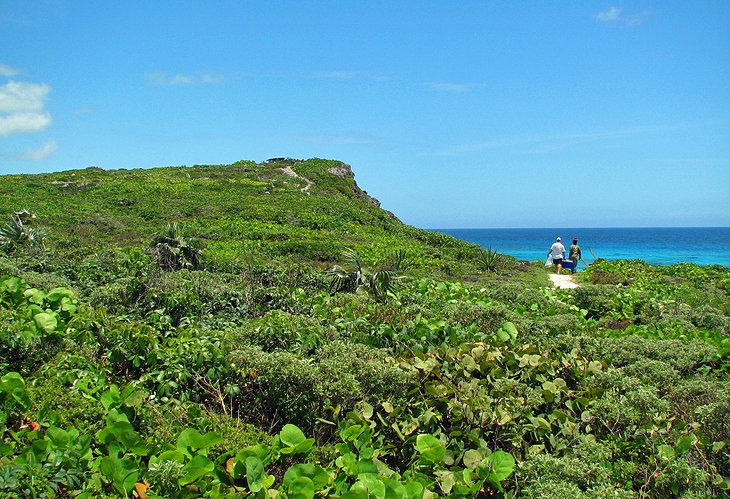 A National Trust Heritage site, Crossing Place Trail is a coastal path established in the 18th century by plantation settlers and slaves. Today, the path's eight kilometers of hiking and biking trails follow the old path, from the village of Lorimers to the place where islanders crossed the sandbars to trade with the inhabitants of North Caicos long ago.
The trail leads along coastal headlands, past beaches, cave formations, and inland bush, with gorgeous views of the coastline along Mudjin Harbour and Norbellis Coves.
Be sure to bring plenty of water and sun protection, as the trail is fairly exposed, and it's also a good idea to wear sturdy shoes and long pants — the trail is rocky and overgrown in some areas.
Guided hikes are a good way to learn more about the history and ecology of the trail. While walking the trail is a fun thing to do with families, it will be hard to push a stroller through many of the areas along this route.
More Related Articles on PlanetWare.com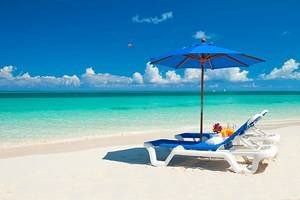 Turks and Caicos Hotels and Resorts: Are you traveling with kids? You'll find an impressive selection of Turks and Caicos family resorts, many presiding over Grace Bay and other dazzling beaches.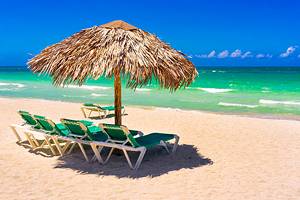 Nearby Caribbean Islands: Northwest of Turks and Caicos, the Bahamas are a string of 700 islands and more than 2,000 small cays that are also home to some of the best beaches in the Caribbean. To the west is Cuba and the popular resort destination of Varadero, with more beautiful beaches.