15 Top-Rated Attractions & Things to Do in Puerto Plata
Authors Michael and Lana Law spend several months each year near Puerto Plata, in the town of Cabarete. They love the beaches, dining, and vibrant culture of the Dominican Republic.
Puerto Plata is a welcoming city with beautiful architecture, historical sites, museums, quirky streets designed with tourists in mind, and plenty of things to do for adventurous travelers.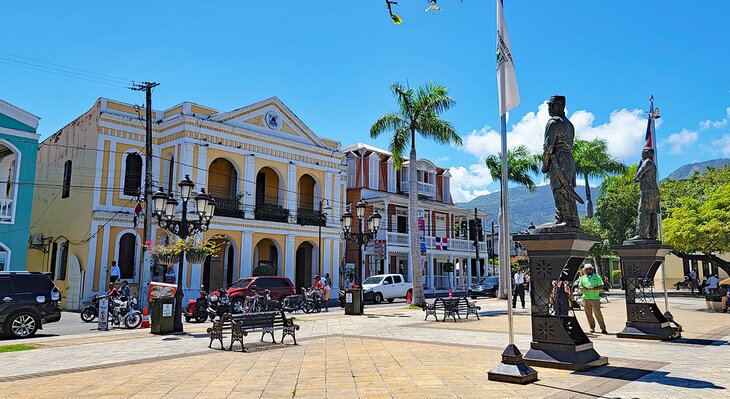 Set on the oceanfront, Puerto Plata has stunning sections of beach right in the heart of the city. Just outside the city are long sections of golden-sand beaches with low-rise resorts catering to those looking for easy vacation escapes.
Puerto Plata sits on the northern shores of the Dominican Republic's Amber Coast, and vacationers from around the globe flock here to enjoy the all-inclusive beach resorts that line the sand. As a holiday destination, Puerto Plata operates at a much slower and calmer pace than the Dominican Republic's other major resort area, Punta Cana.
Although the beaches are the main attraction, it's worth dragging yourself away from the sun and sand for a day of sightseeing. First and foremost, head into Puerto Plata's colorful city center. Stroll along Pink Street and Umbrella Street, wander around Fort San Felipe for fantastic views, and then relax on a patio at a street-side restaurant.
Learn more about the best places to visit with our list of the top tourist attractions and things to do in Puerto Plata.
See also: Where to Stay in Puerto Plata
1. Playa Dorada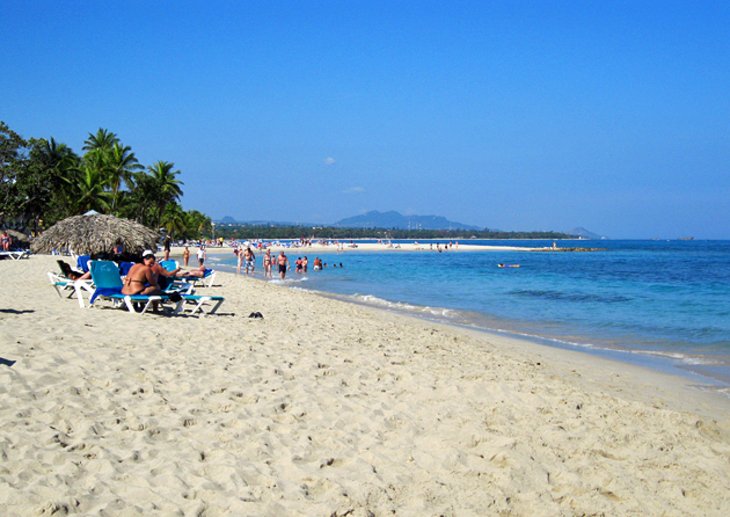 Playa Dorada, Puerto Plata's primary hub of tourist activity, is the stretch of golden-sand beach where you will find most of the area's all-inclusive resorts and all the bustle that accompanies them. Lounge chairs and cabanas full of sunbathers line the ocean here, on one of the best beaches in the Dominican Republic.
The warm waters are ideal for swimming, as well as water sports, and there are several rental shops where you can rent equipment. Those not staying at the resorts, can find more beaches closer to the center of town located along the three-kilometer Malecón, a lovely scenic oceanside road. The Malecón starts at Long Beach and proceeds northwest past Costa Rica Beach and then Acapulco Beach, and has several sections of walkable boardwalk.
2. 27 Waterfalls (Damajagua Waterfalls)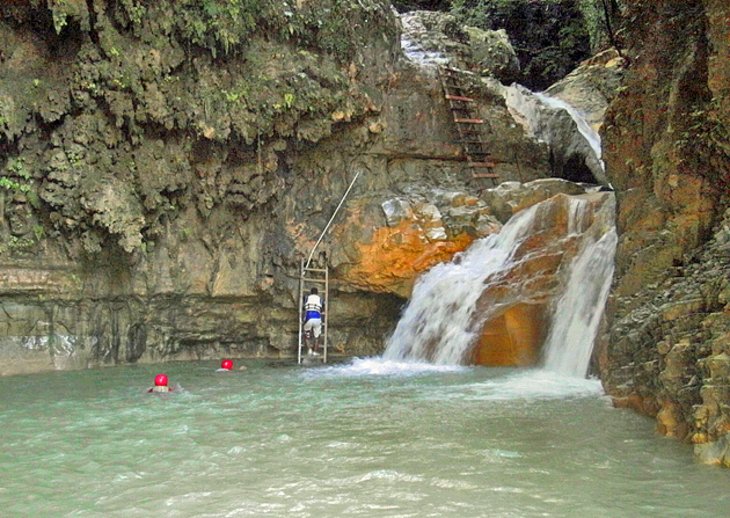 Other than the beach, Damajagua Waterfalls are the top natural attraction in the Puerto Plata area, and visiting them can be an adventure for nature lovers. Equipped with helmets and lifejackets, you walk up to the top of a series of waterfalls and make your way downstream by jumping, swimming, and sliding, often via stone waterslides that were carved by the rushing water.
Among the most exciting are the 20-foot drop at la Tinajita and the twisty Corkscrew falls, neither of which are for the faint of heart. Other highlights include the pool at Jaiba, named for the freshwater crabs that live in the rocks here and a bizarre pool with two layers of water - cold on the top and warm on the bottom. The site also has a visitor center and restaurant.
A great way to experience this popular natural attraction is on an organized tour of the 27 waterfalls of Damajagua from Puerto Plata, which includes round-trip transportation, lunch, safety equipment, and a knowledgeable guide. Tourists have the option to stop and relax around halfway up, or to keep hiking to the top waterfall for a full thrill ride down nature's water park.
3. Parque Central (Central Park)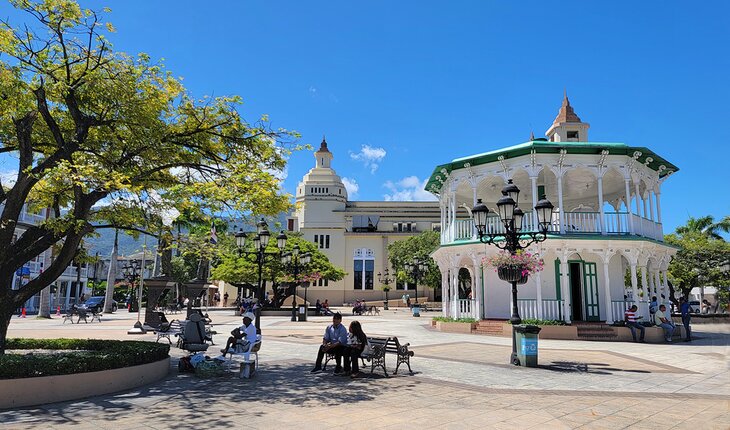 Parque Central, in the heart of downtown Puerto Plata, is a good starting pointing for touring the city. From here, it's an easy (and short) walk to many of the key sights in the city, including Umbrella Street, Paseo de Doña Blanca (Pink Street), and the Amber Museum.
A couple of large trees provide much-needed shade and are a good place to sip on a cool drink and escape the sun.
Located nearby is the Casa Museo General Gregorio Luperón, dedicated to the life and times of the nation's 20th president. Exhibits include photos and possessions, as well as authentic representations of late 19th-century life.
Address: Parque Central, Calle Separación, Puerto Plata
4. Pink Street (Paseo de Dona Blanca)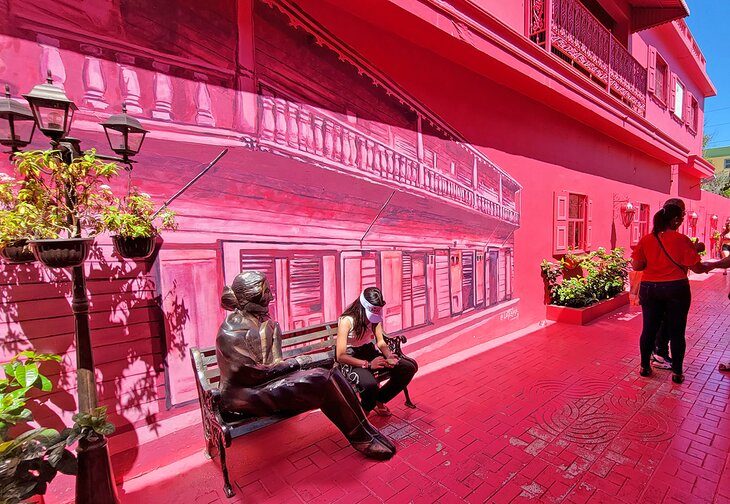 Paseo de Dona Blanca is more commonly known by tourists as Pink Street. It's literally a pink street. The walkway, the buildings, the plant boxes, the window frames — it's all pink. And when you walk through here, you too will look pink as the light reflects the color from every angle.
It's a bizarre sort of place that makes for some of the most unusual photos you'll take on your entire trip to Puerto Plata. The street is not long, so it only takes a few minutes to walk from end to end, but you'll likely find you spend more time here than you anticipated, angling for that perfect pink photo.
A couple of decent restaurants are located just off Paseo de Dona Blanca, and their patios make for ideal perches to watch the nonstop parade of people walking by.
5. Umbrella Street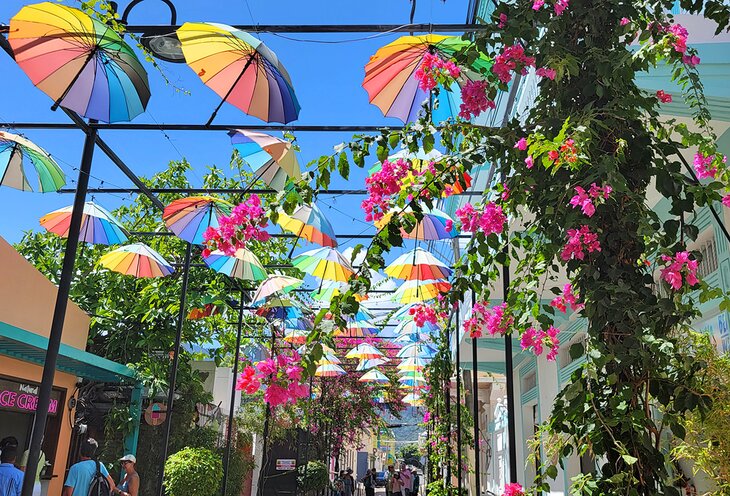 The Umbrella Street phenomenon has reached Puerto Plata now. From its humble beginnings in the Portuguese town of Agueda in 2012, these streets have become a trend around the world, and Puerto Plata is no exception.
Umbrella Street is technically San Felipe Street, but even the tourist maps indicate it as Umbrella Street. This pedestrian-only street is a delightful spot and definitely a must-see.
As the name indicates, colorful umbrellas are strung from the rooftops and provide a beautiful contrast to the usually cobalt blue skies above. Along the way are all kinds of small retail stores, ice-cream sellers, and souvenir shops.
6. Fort San Felipe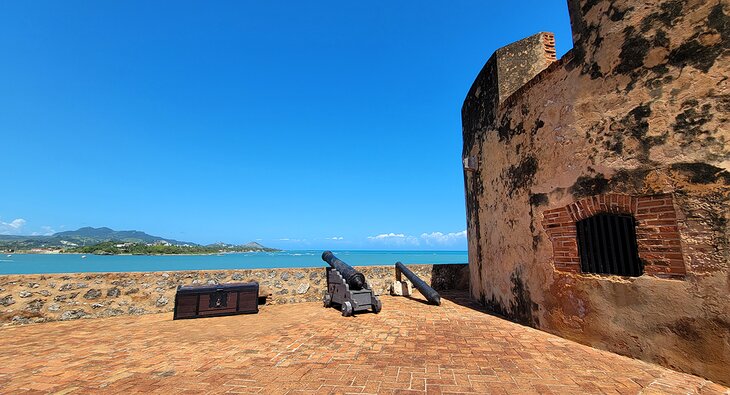 Fort San Felipe (Fuerte San Felipe) is Puerto Plata's only remaining colonial structure and one of the first European forts constructed in the Americas. It offers a fabulous view over Puerto Plata, the mountains in behind, and the cruise ships if they are docked on the day you visit.
The Fort was built between 1564 and 1577 to defend against colonists from other European countries, as well as pirates looking for silver and gold.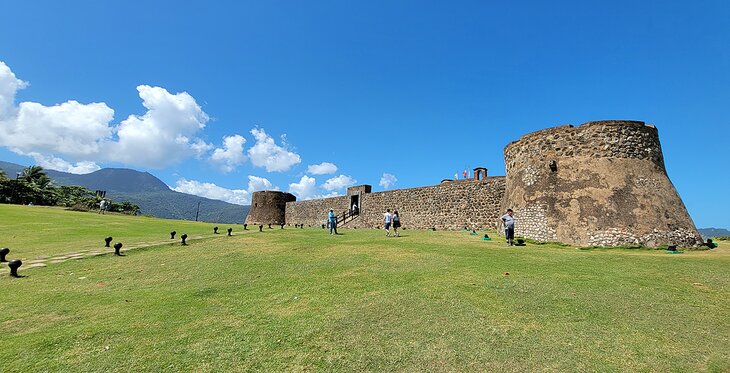 Its primary use throughout the centuries has been as a prison, most notoriously as a prison for political dissidents during Trujillo's dictatorship. Inside its eight-foot-thick walls, you'll find some interesting wartime historical artifacts as well as a small museum.
Inside the walls, the fort is ringed by a moat and outlined in lights at night. The park below the fort is an ideal spot to view the sunset; there are excellent views from the fort as well.
7. Malecon Puerto Plata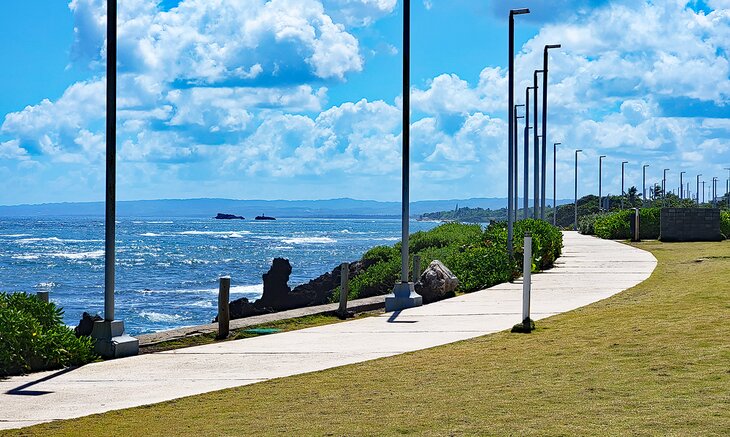 Puerto Plata has done a fine job of preserving its wonderful waterfront areas, and no place is this more evident than The Malecon. This three-kilometer paved pathway winds its way along the rugged coastline offering unparalleled views out over the Atlantic Ocean.
The pathway starts at the San Felipe Fortress and runs under tall palm trees before ending at Long Beach. Along the way, you'll pass various public art installations (see if you can spot Neptune on his rock), dramatic vista points, and many seaside restaurants.
You'll share The Malecon with a diverse set of locals out walking, jogging, pushing strollers, or just sitting on benches catching up on the local gossip.
8. Mount Isabel de Torres Cable Car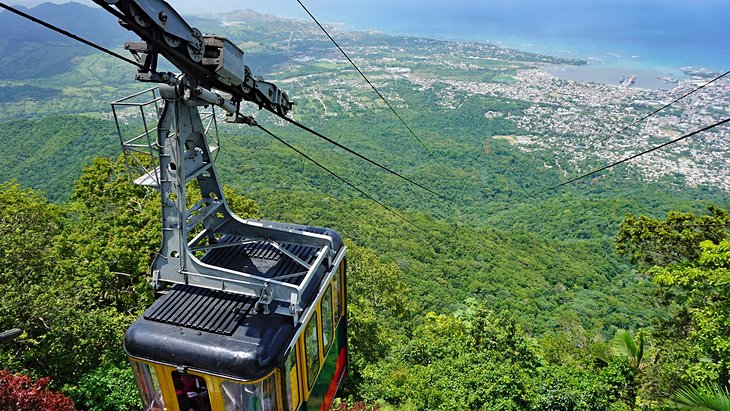 Looming over Puerto Plata, the 2,600-foot Mount Isabel de Torres (also known as Pico Isabella de Torres) provides stunning panoramic views of the city, beach, and Atlantic Ocean. Most tourists opt to ride up the mountain via cable car (the only one in the Caribbean), enjoying the additional views and airborne photo-ops, but you can also hike to the top.
The summit is home to a statue of Christ the Redeemer, which watches over the city below, reminiscent of the iconic attraction in Río de Janeiro. At his feet, vendors gather to form a busy shopping plaza, where you can find refreshments and souvenirs like amber jewelry and handmade crafts, and there is a restaurant as well.
A short walk brings you to the botanical gardens, where local flowers and greenery will provide respite from the bustle.
It's best to ride the cable car in the morning, when the skies are generally clearest. As the heat of the day builds, clouds frequently form in the afternoon, obscuring the view.
Address: Manolo Tavarez, Puerto Plata
9. Amber Museum of Puerto Plata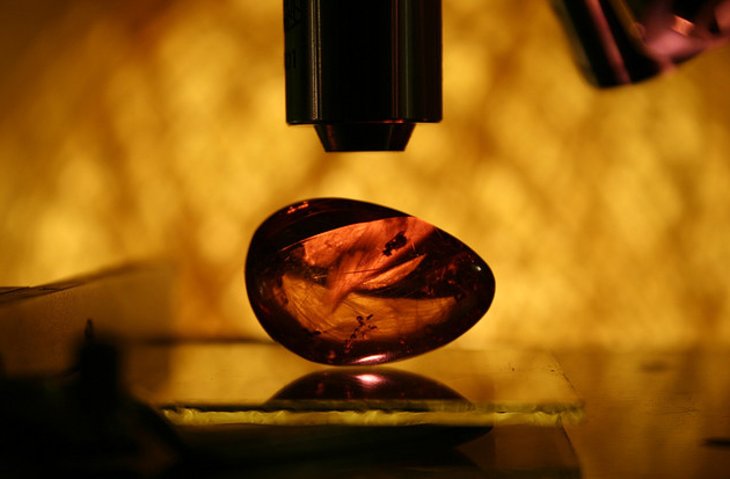 The amber mined in and around Puerto Plata is known for being some of the oldest and clearest, and many of the most remarkable specimens can be found at the Amber Museum of Puerto Plata. Amber, although not an actual stone, is the Dominican Republic's designated national gemstone.
In addition to its popularity in jewelry, many are interested in amber for what it holds inside. Many of the specimens in the museum contain plants, insects, and other small creatures that were captured by the sticky sap and frozen in time, fossilized. The most impressive of the museum's pieces contains a huge lizard — nearly 16 inches long — encased and perfectly preserved.
You can find a wide variety of amber jewelry and specimens at the museum's gift shop, as well as information on tours of local mines.
Address: 61 Duarte Street, Playa Dorada
10. Castillo Mundo King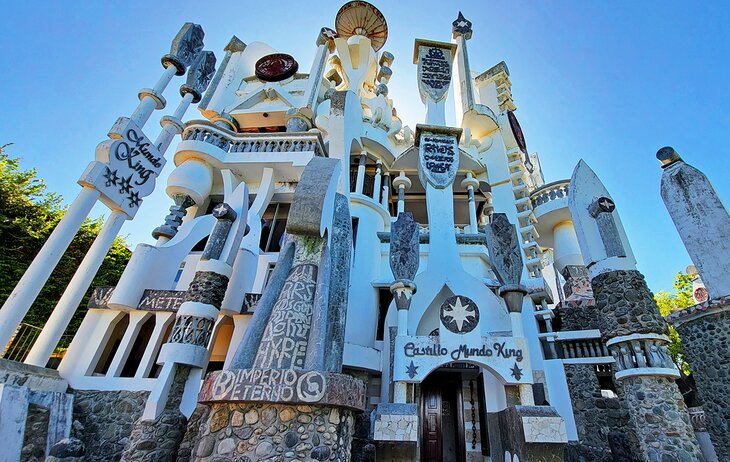 For an experience so wacky and so off the wall you'll never be able to explain to anyone who hasn't visited, stop by the Castillo Mundo King in Sosúa. Stepping into this bizarre home is like stepping into the mind of a creative madman.
Off-the-wall architecture, spaceships, halls that lead nowhere, a dungeon, incredible Haitian art that includes voodoo-style sculptures and colorful paintings on almost every wall, and seemingly endless staircases are enough to keep you slightly confused, bewildered, and entertained. The five-story "home" was the passion of one man, Rolf Schultz, who started it in 1990 and was still working on it when he died in 2018.
Be sure to walk right up to the very top. The views in all directions, also a space ship landing pad apparently, are incredible.
Today it's open to the public in a casual sort of way, just walk right in, and eventually someone will ask you for around 500 DOP (cash only).
Location: Camino del Llibre, Sosúa
11. Zipline Adventure and Eco-Tour to Monkeyland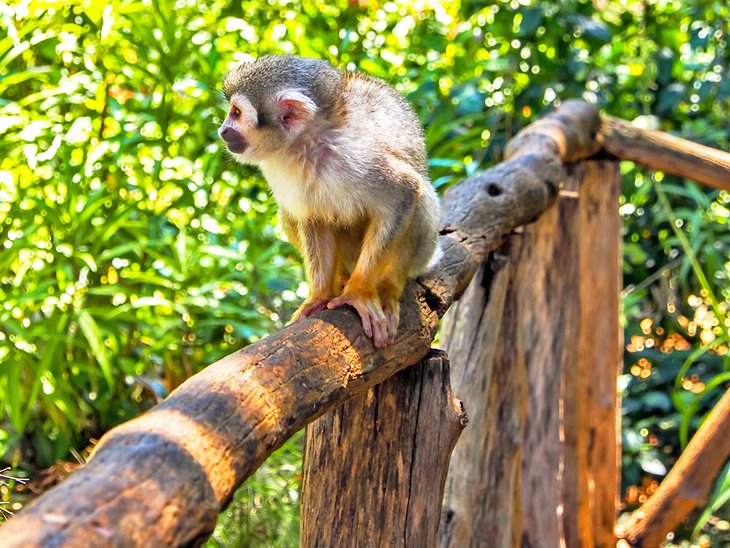 Ziplining through "Monkey Jungle" is an exciting activity for thrill-seekers and nature lovers. Named for the forest's lively population of squirrel monkeys, this section of jungle sits at the edge of El Choco National Park near Cabarete, and you can visit it on a guided zipline adventure from Puerto Plata.
This five- to six-hour tour includes transportation to the park, where you will find two suspension bridges and seven ziplines, providing an exciting perspective of the tropical forest below.
In addition to the adventure through the treetops, tourists will explore Monkey Jungle with a professional naturalist while interacting and feeding the friendly primates and learning about the ecosystem and local plants and animals.
12. Ocean World Adventure Park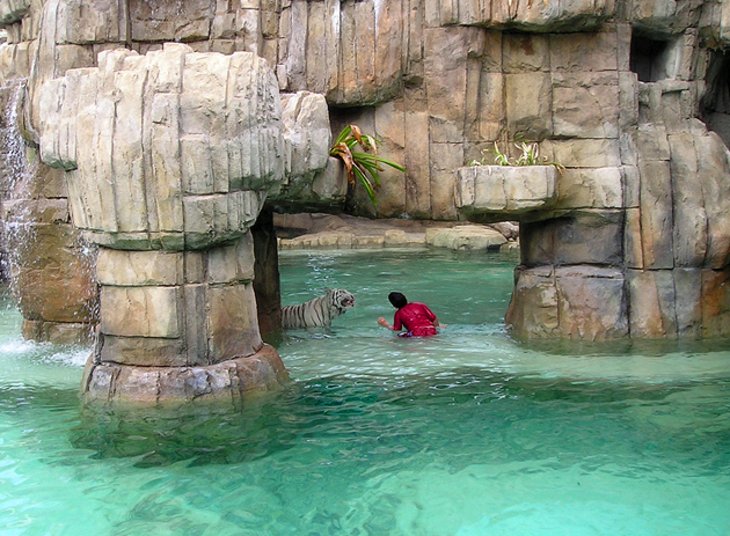 Ocean World Adventure Park, three miles from Puerto Plata, is a popular attraction for families and couples because of its interactive marine life experiences.
Admission includes use of the water park attractions including pools and waterslides; access to the Tropical Reef Aquarium, where you can snorkel; and educational animal shows, which include dolphins, sea lions, sharks, and tropical birds.
You also have the opportunity to purchase special access programs, which include sea lion encounters, petting stingrays, swimming with the sharks, and numerous ways to interact with the dolphins, from petting and feeding to swimming and even spending a full day with the trainers helping to care for the animals.
Address: Calle Principal #3, Confresi, Puerto Plata
13. Day Trip to Cabarete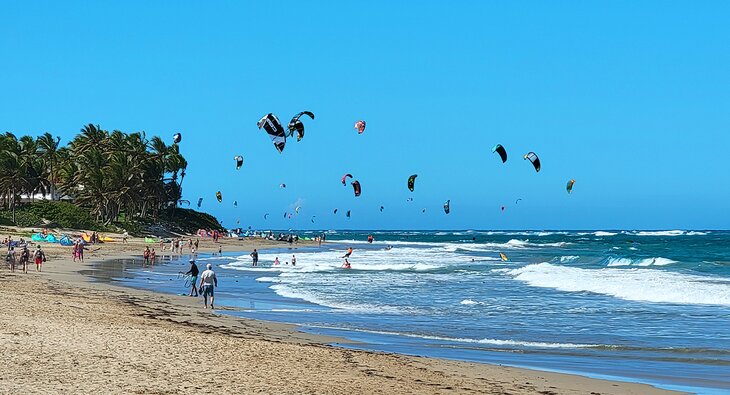 Rimmed by seemingly endless stretches of soft-sand beaches, Cabarete is a hotspot for the young, hip, and physically fit, as well as adventurous retirees. Restaurants line the top of the main Cabarete Beach, where you can dine on the sand or simply kick back and relax. In behind, along the main road are shops and other retail.
With warm waters and consistent winds, the area here is considered one of the best in the world for kiteboarding. Cabarete's famous Kite Beach is a good location for beginners wanting to learn the sport and experts looking for some fun. The area is also popular with surfers who head out to nearby Playa Encuentro. You can surf in the morning and kite in the afternoon.
Drive time from Puerto Plata to Cabarete is less than an hour.
14. Off-Road Tours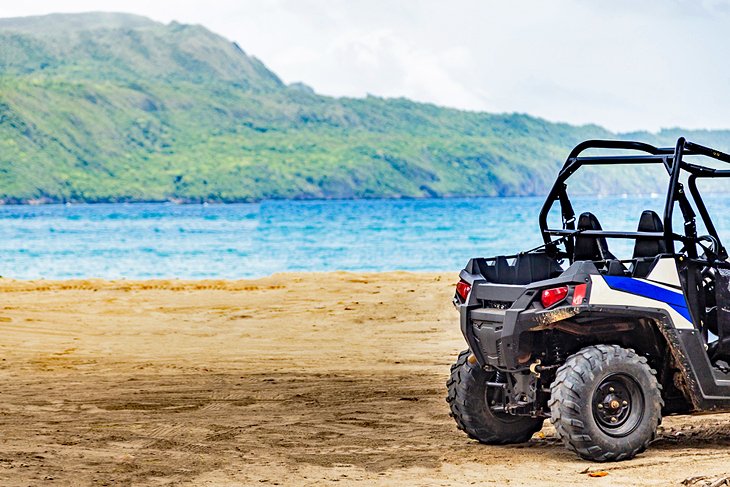 Miles of coastline trails make the region surrounding Puerto Plata an excellent place to go off-roading while enjoying the beautiful views. A great day activity, the Amber Cove & Taino Bay Shore Excursion: 2 person Buggy Tour from Puerto Plata. gives tourists the chance to drive their own ATV while being led by a local guide through the rural trails.
This is a popular thing to do for couples, with plenty of stops along the way for photo-ops, as well as breaks to take a dip in the ocean at Playa Bergatin.
15. Day Trip to Sosúa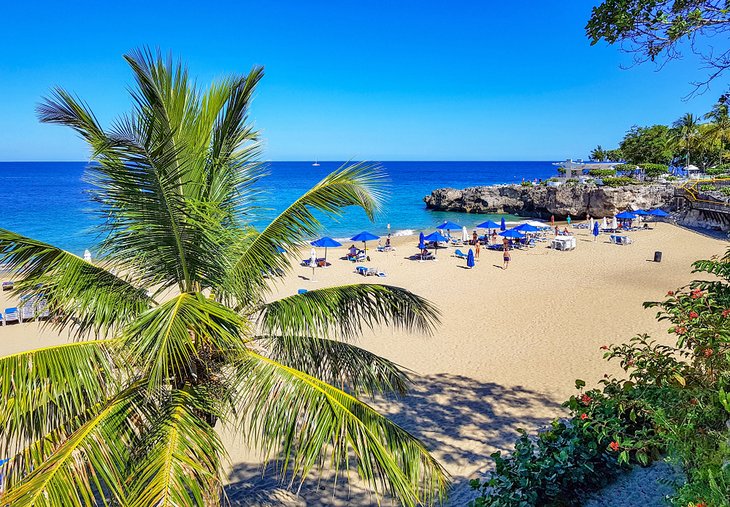 Sosúa, approximately 15 miles east of Puerto Plata, is known for its beautiful stretch of sheltered beach and calm water. The area is home to many guesthouses, villas, hotels, and cafés.
The crescent-shaped Sosúa Beach is lined with shady trees, and buzzes with vendors, and this is one of the region's best places for SCUBA diving and snorkeling. If you are visiting in the winter, you may also be able to spot migrating whales in the bay.
While visiting Sosúa, be sure to stop in to Casa De Arte in the center of town, where you will find exhibits of work by local artists including paintings, drawings, jewelry, and sculpture. The Casa de Arte also functions as a school that teaches local teens and children a variety of visual and performing arts, and it also hosts cultural events.
Map of Attractions & Things to Do in Puerto Plata
Puerto Plata, Dominican Republic - Climate Chart
Average minimum and maximum temperatures for Puerto Plata, Dominican Republic in °C
J
F
M
A
M
J
J
A
S
O
N
D

28

17

29

17

30

17

30

18

31

19

33

20

33

20

33

20

34

20

33

20

30

19

28

18

PlanetWare.com
Average monthly precipitation totals for Puerto Plata, Dominican Republic in mm.

170

150

127

173

147

84

74

76

89

142

226

231
Average minimum and maximum temperatures for Puerto Plata, Dominican Republic in °F
J
F
M
A
M
J
J
A
S
O
N
D

83

62

84

62

85

62

86

64

88

66

91

68

91

68

92

68

92

68

90

67

86

66

82

63

PlanetWare.com
Average monthly precipitation totals for Puerto Plata, Dominican Republic in inches.

6.7

5.9

5.0

6.8

5.8

3.3

2.9

3.0

3.5

5.6

8.9

9.1
More Related Articles on PlanetWare.com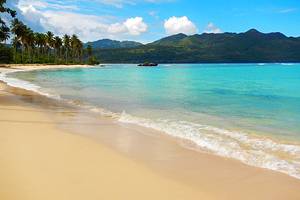 One Island, Many Options: Tourists visiting the Dominican Republic often choose to vacation here due to the island's reputation for having outstanding beaches. See our article on the Best Beaches in the Dominican Republic to learn about hot spots around the island. Kiteboarders of all abilities will enjoy a visit to Cabarete's Kite Beach, where you can take lessons and discover a new way to add excitement to your travels.
This country is also home to a surprising variety of natural wonders, a vibrant culture, and a rich history. Learn about other destinations and things to do with our article on Top Attractions & Places to Visit in the Dominican Republic. And don't forget about the capital city, where you can spend time wandering through Santo Domingo's Zona Colonial.