Turks and Caicos in Pictures: 16 Beautiful Places to Photograph
If your dream vacation is a tropical paradise with bathwater-warm, crystal-clear turquoise sea backed by a palm-lined stretch of pure white-sand beach, then Turks and Caicos is your perfect destination. You won't find any high-rise hotels or resorts here, just beautiful scenery to capture in pictures. Plus it's easy to access from much of the US and Canada.
This beautiful group of 40-plus islands just southeast of The Bahamas are full of possibilities for beautiful images. They are famous not only for stunning beaches like Grace Bay Beach, considered one of the best beaches in the Caribbean, but also for the life found just offshore.
Snorkeling and diving is one of the top things to do in the Turks & Caicos, and the coral reef system surrounding the islands is one of the world's largest.
Find inspiration for your own pictures with our list of the most beautiful places to photograph in the Turks & Caicos.
1. Grace Bay Beach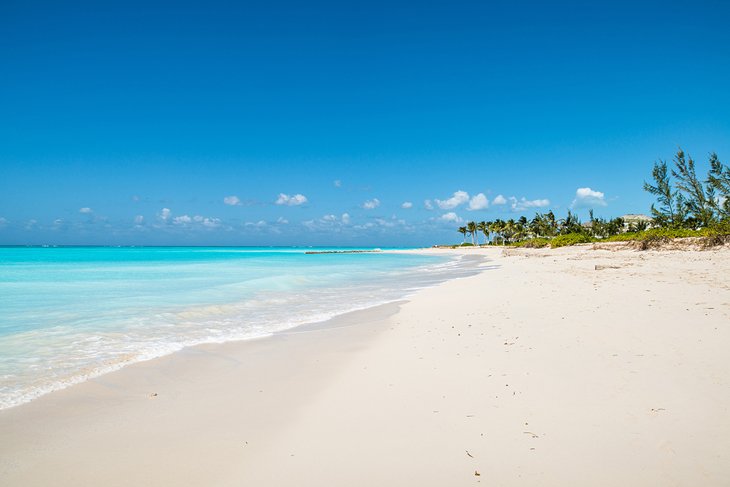 One of the world's best beaches, Grace Bay Beach on the main island of Providenciales is a three-mile-long dream of vivid turquoise water and white sands.
Fronted by some of Turks and Caicos's best resorts, the beach is only this deserted very early in the morning. Otherwise you'll find yourself sharing it with plenty of people. Nothing can diminish the beauty, however.
Accommodation: Top-Rated Family Resorts in Turks & Caicos
2. Bight Reef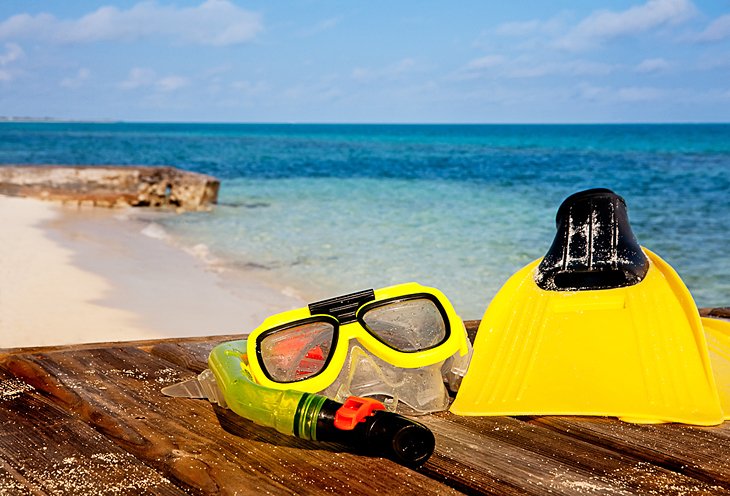 Bight Reef is located within swimming distance of Grace Bay Beach on Provo and is a beautiful spot to visit with a mask and snorkel. Once you reach the reef, you can follow a roped-off underwater snorkeling trail through the coral. Expect to see large schools of tropical fish, as well as colorful coral and other sea creatures.
3. Smith Reef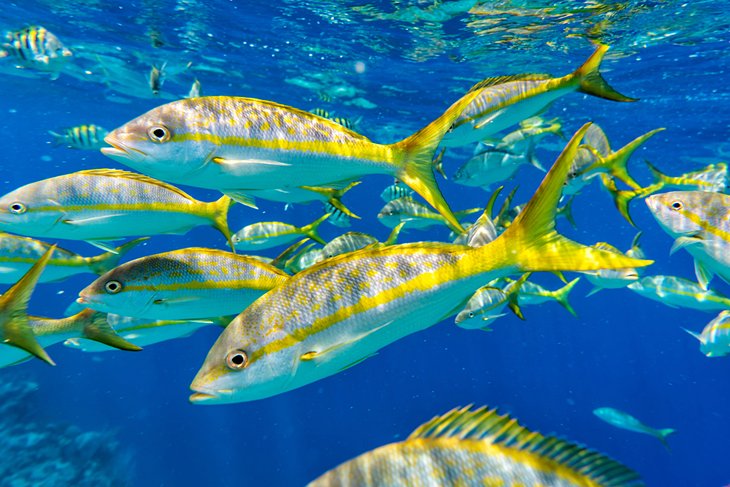 Smith Reef is also just offshore from Grace Bay Beach and is another wonderful underwater destination to visit. Here, you'll see more bright coral and fish, and if you are lucky, you may even see a few small sharks or a sea turtle swimming by.
4. Wild Grand Turk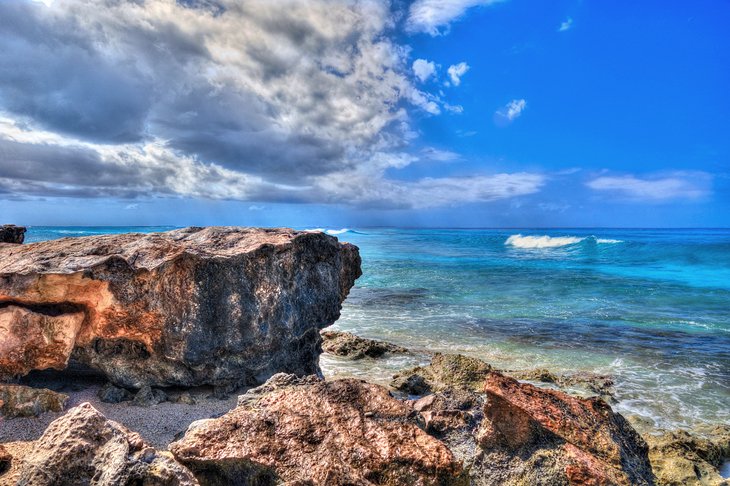 The colors are vivid on Grand Turk Island. In the picture above, a storm rolls in, riling up the turquoise sea around these rocks near South Beach. This is the island with the Turks and Caicos capital, Cockburn Town, where all the action is centered.
The island is also home to wild horses and donkeys, and its shores are dotted with leftovers from Grand Turk's sea salt mining heyday.
5. Half Moon Bay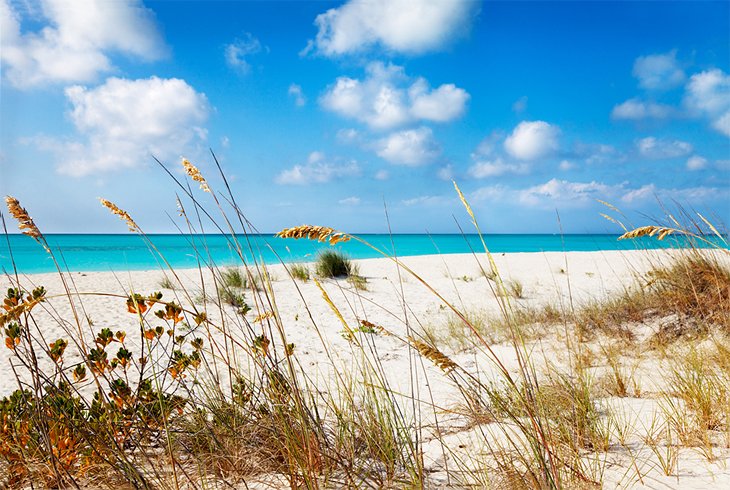 Beautiful Half Moon Bay (in the p above) near Big Water Cay is part of a protected barrier reef known as the Caicos Banks and is a beautiful spot to relax. It is also a favorite place for kitesurfing thanks to its shallow depth and consistent trade winds.
6. Grace Bay Beach at Sunset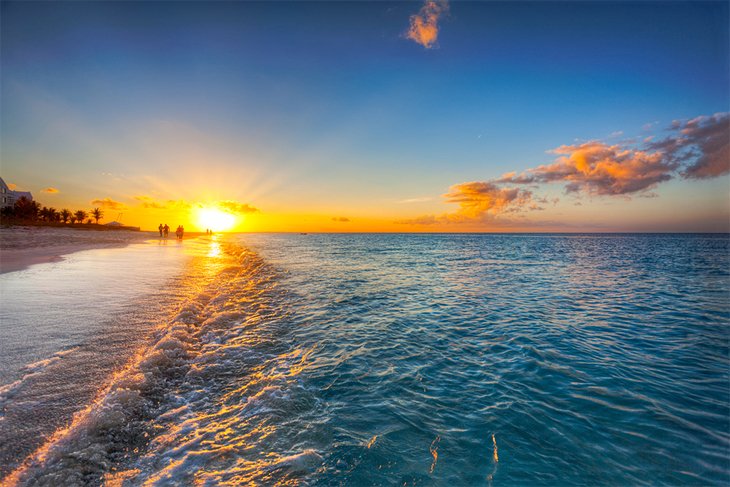 The sunsets from Grace Bay Beach, like the one pictured above, are gorgeous affairs thanks to the position of the beach on the island offering unique views (and illusions) of the sun appearing to set in the exact spot where the ocean meets the sand. Grace Bay Beach is also beautiful to walk at dusk when the heat has dissipated a little bit.
Accommodation: Best All-Inclusive Resorts in Turks and Caicos
7. Caicos Banks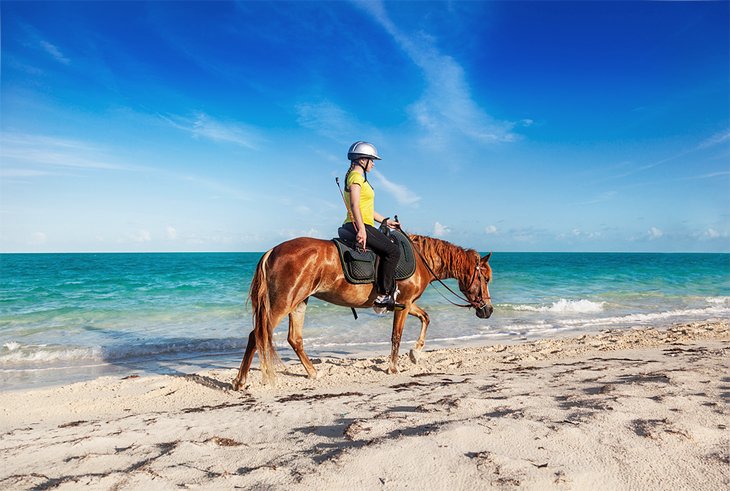 The wide expanse of shallow, clear turquoise water that appears like glass, known as the Caicos Banks, is a beautiful spot to just sit in the sea and reflect on life. It is also a popular spot for horseback riding in the sea. Provo Ponies offers trips that let you take your horse swimming in this beautiful location.
8. Horseshoe Reef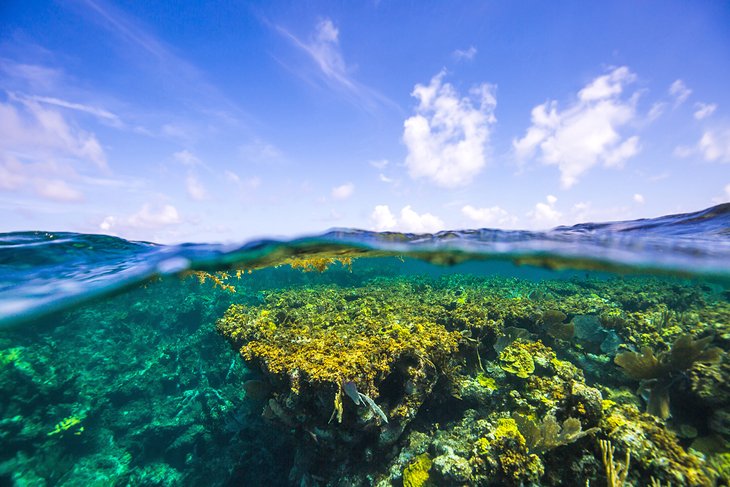 The water in Turks and Caicos is known for its clarity, and the reefs, like Horseshoe Reef, pictured here off Gibbs Cay, offer excellent diving and snorkeling opportunities. Marine life is thriving here, and if you're lucky, you may get to swim alongside a green sea turtle.
9. Remote Middle Caicos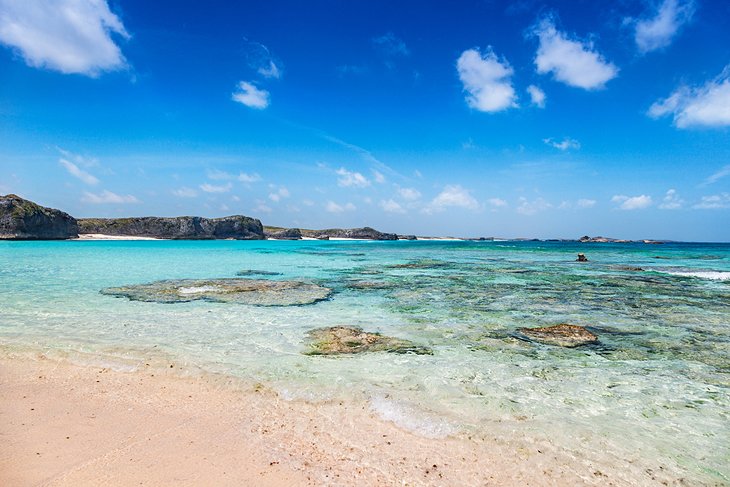 To really play Robinson Crusoe in paradise, charter a boat for a day and go exploring. This gorgeous and remote beach is found at Mudjin Harbor on Middle Caicos. To access the beach, you'll need to head to the small car park at the Dragon Cay Resort. From here, a concrete path leads down to the beach. While here be sure to explore the large open-faced cave above the beach.
10. Long Bay Beach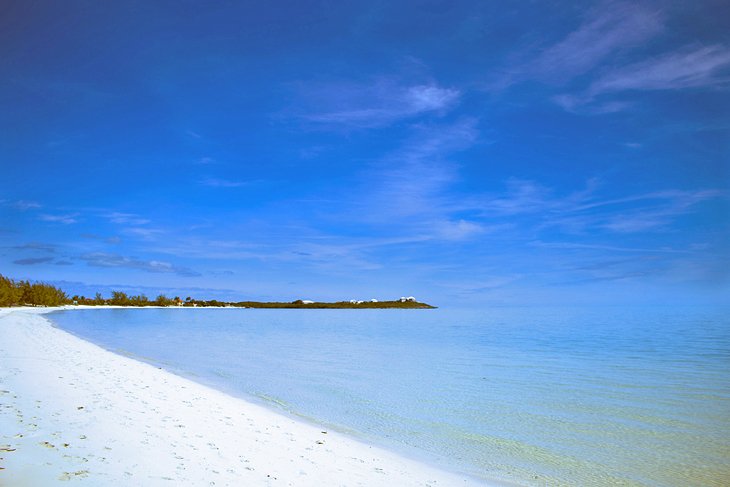 On the main island of Provo, Long Bay Beach is another long gorgeous stretch of white sand backed by clear turquoise sea. Turks and Caicos is famous for its sand, which is known to be super light and soft. This is because the sand is made from crushed shell and coral that is broken down by ocean waves and time. The shell and coral factor is also why you get the super white color of the beaches with touches of pink.
11. Sapodilla Bay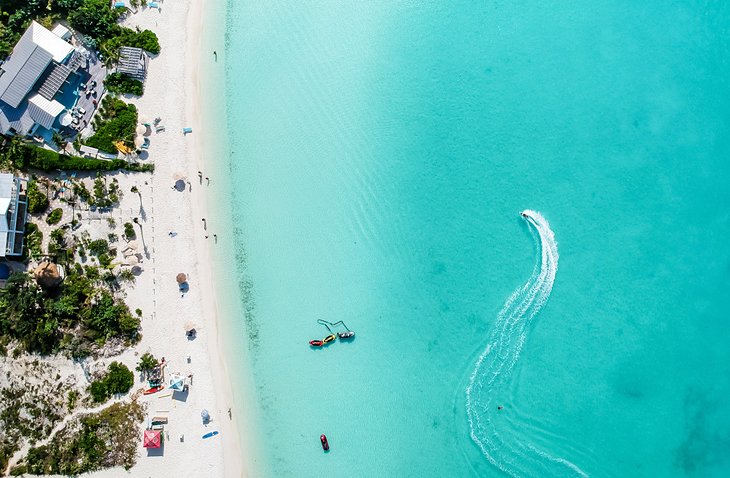 Another gorgeous beach on Providenciales is Sapodilla Bay. This drone image perfectly depicts the color of the clear, shallow, and bathwater-warm water. This is a great sheltered beach for kids-there is no current and the depth is minimal.
12. Chalk Sound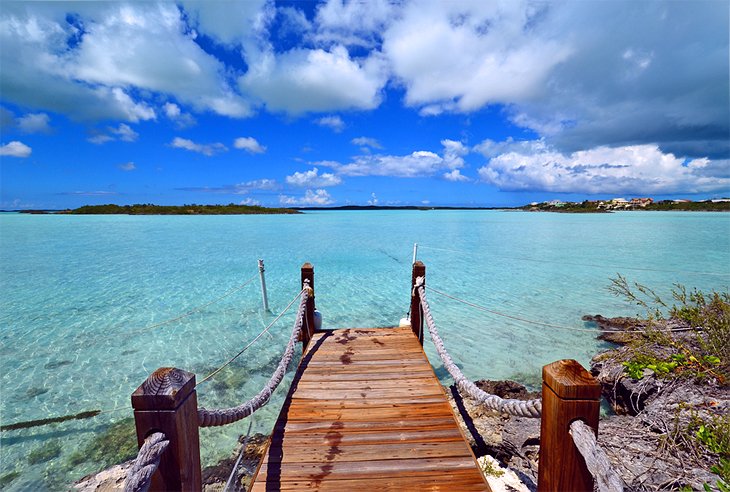 Chalk Sound Pier pictured here is yet another drop dead gorgeous spot on Provo. Head to the pier for a romantic proposal or just a great Instagram image. The Chalk Sound lagoon is a gorgeous turquoise bathtub, protected by Chalk Sound National Park. This is a great area to go stand up paddleboarding.
13. Cottage Pond, North Caicos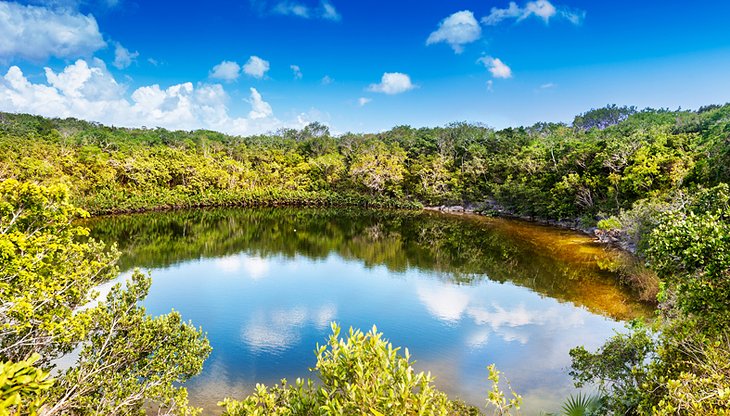 Cottage Pond (pictured above) is a 225-foot-deep sinkhole on North Caicos. This still remote island is known for its natural beauty, secluded beaches, and, most exotic of all, pink flamingos, which can be seen in large flocks here, including at Flamingo Pond.
14. Green Sea Turtle at Coral Gardens Reef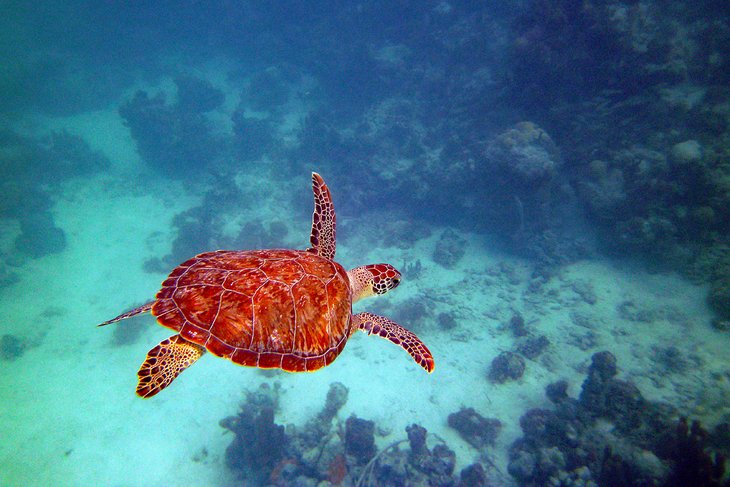 Green sea turtles like this one can be seen year-round in Turks and Caicos. One of the easiest places to spot them is near Coral Gardens Reef just off Grace Bay Beach. It is possible to spot these majestic creatures at shallow depths while snorkeling. The absolute best time to see them is during summer, when the water is at its warmest.
To photograph underwater consider investing in a GoPro camera that can snap both photos and video and is waterproof.
15. Conch Shell on Grace Bay Beach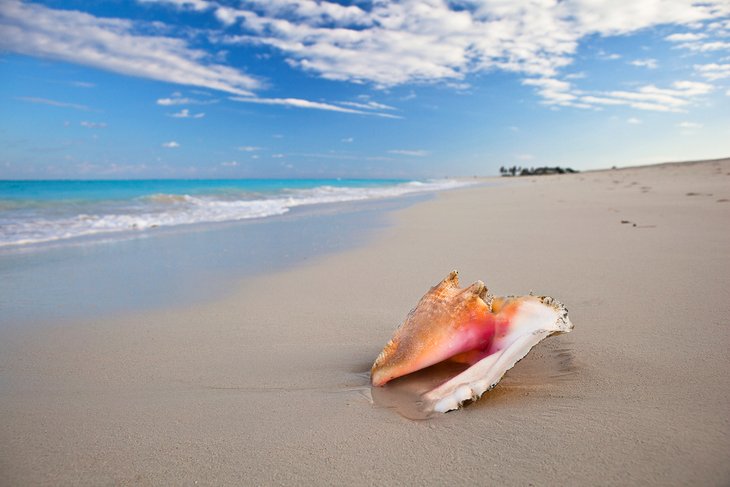 Conch shells, like the queen conch in the image above, make for great pictures. You'll find them on many beaches around the islands. Try positioning the shell in the bottom corner of your photo and then shooting from its level, so you get the white sand, turquoise sea, and sky behind it. You can also do this at sunset for a different color pattern.
16. La Famille Express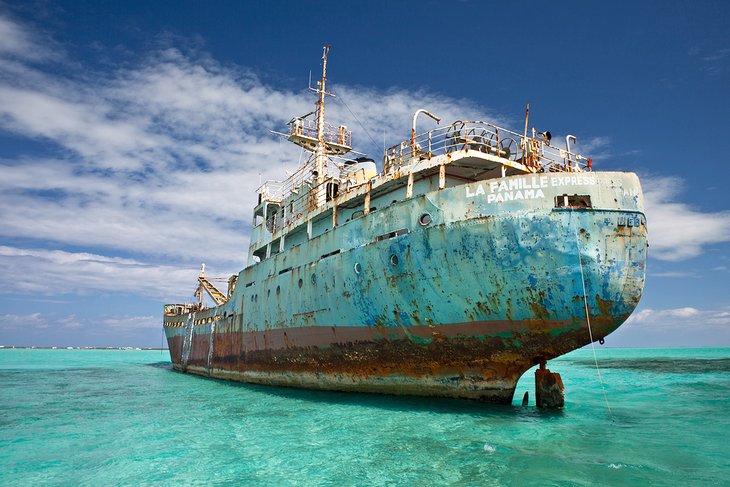 The La Famille Express is the most famous shipwreck in Turks and Caicos. It is located about two miles off Long Bay Beach on Provo's southeast coast. The ship began life as an oil rig from the former USSR. Now it serves as a photo shoot spot that can be accessed by boat or Jet Ski.