14 Top-Rated Tourist Attractions in Ocho Rios
Once a snoozy fishing village, Ocho Rios now hums with tourists and cruise ship passengers who come here to enjoy the many tropical adventures nestled around the lush countryside.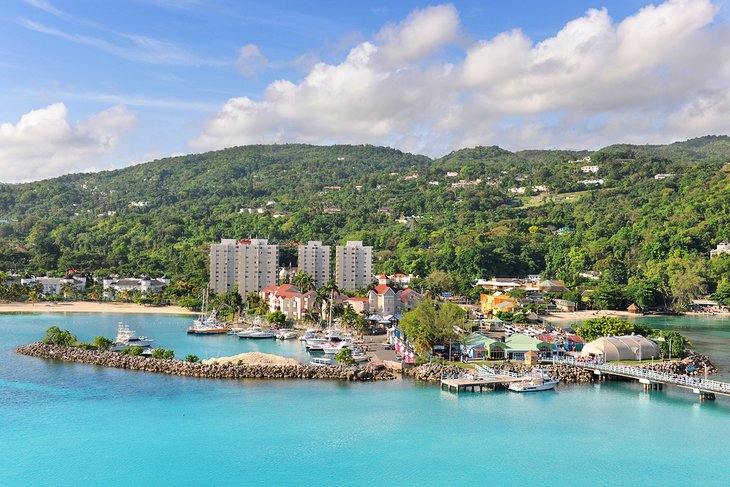 "Ochi," as it's called, is quieter than Montego Bay, though not as relaxed as Negril, and unlike other resort towns in Jamaica, the beaches here are not the main tourist attractions. Instead, Ocho Rios is known for its lovely waterfalls, luxuriant gardens, lazy rivers, and luxury all-inclusive resorts.
The most popular things to do in Ocho Rios center around these surrounding natural attractions and include bobsled rides through the rainforest, river tubing, caving, dolphin encounters, and ziplining.
The area has also long been a playground for musicians and the literati. Ian Fleming, author of the James Bond series, made his home near here at Oracabessa, and you can tour the hilltop retreat of Noel Coward, the famous playwright and composer.
Not far from Ocho Rios, the village of Nine Mile is the birthplace and final resting place of reggae legend Bob Marley, and many music fans love to make a pilgrimage here on a day trip.
Looking for more tips on the best places to visit? Read our list of the top attractions and things to do in Ocho Rios, Jamaica.
1. Dunn's River Falls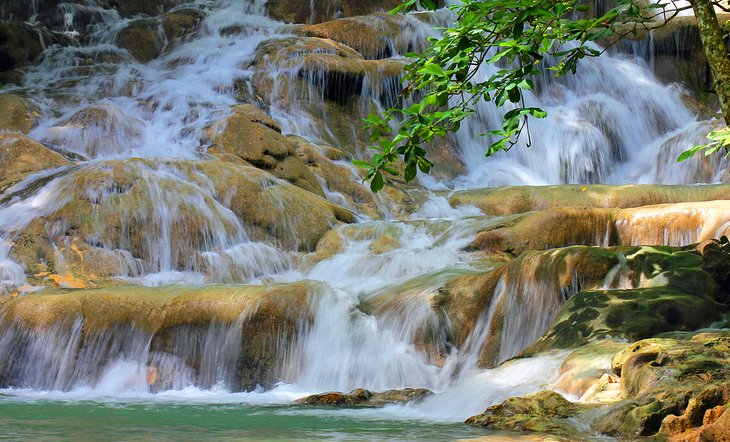 One of Jamaica's most photographed attractions, Dunn's River Falls encompass 180 meters of terraced cascades. With the help of a guide, you can climb the limestone tiers to the top of the falls, slide down the smooth sections of rock, and swim in the cool lagoons at the base.
Cruise ship crowds flock here when the ships are in port, so it's best to time your visit around them. Bring a camera and wear water shoes and appropriate clothing, as chances are, you'll come back soaked.
You can visit Ocho Rios' two biggest attractions on one trip by signing up for Blue Hole and Dunn River tour. This is a four or five trip that will pick you up at your hotel and allow you plenty of time in each spot.
Address: Hwy A3, Ocho Rios
2. The Cool Blue Hole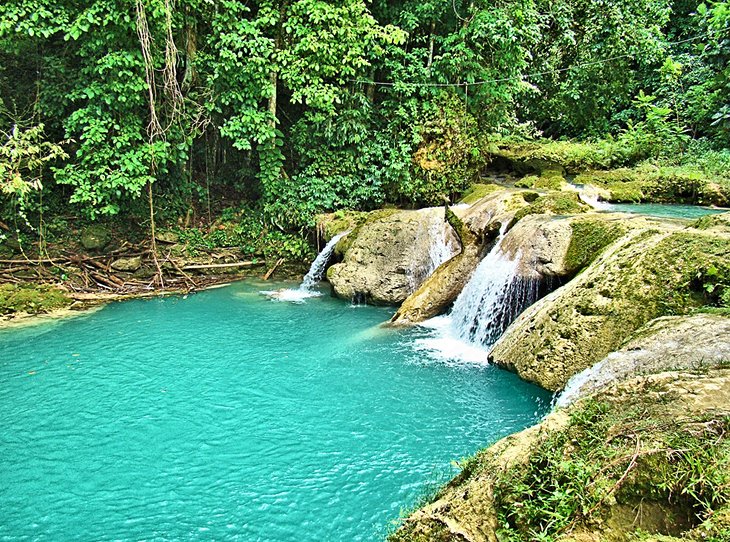 Typically less crowded than Dunn's River Falls, the alluring Cool Blue Hole (also known as the Irie Blue Hole) is a series of jungle pools fed by waterfalls in the lush mountains, about a 25-minute drive from Ocho Rios. Also called Island Gully Falls or the Secret Falls, this used to be off the main tourist track, but in recent years, it's become more popular.
Several levels offer different vantage points, but the higher you climb, the less people you'll probably encounter. One of the most popular things to do here is clamber over the slick rocks above the pool, where you can play Tarzan on the rope swings and jump off into the turquoise water.
Guides are recommended for safety — they'll show you the best places to swim and cross the river, but if you don't want to swim in the pools, you can visit the area on your own. It's also a good idea to wear water shoes, as the rocks can be slippery.
3. Rainforest Adventures Mystic Mountain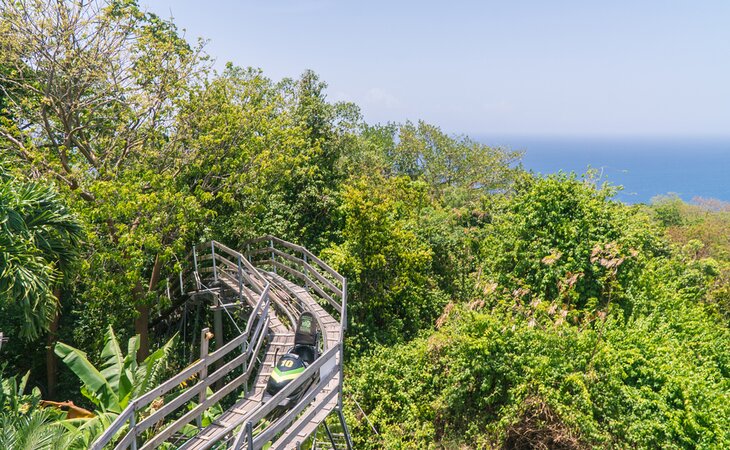 If you're looking for a tropical adrenaline rush, Rainforest Adventures Mystic Mountain should be on your must-do list. This popular tourist attraction offers several different types of adventures.
Start by ascending the mountain on the Sky Explorer, a chairlift perched high over the rain forest. At the top, you can enjoy breathtaking views of the cruise ship port and coastline below. From here, you can zoom down the mountain on the Bobsled, a single-person roller coaster ride, or fly through the rain forest canopy on the ziplines.
This exciting attraction is one of the most popular places to visit for families. Guided rainforest walks, a rope course, climbing wall, Ragamuffin thrill ride, and an infinity pool with a waterslide round out all the fun here for tourists of all ages. You can even ride electric ATVs.
Not sure which activity to choose? You can combine several of the attractions in a variety of packages depending on your interests.
Many visitors also combine a visit here with a trip to nearby Dunn's River Falls.
4. Dolphin Cove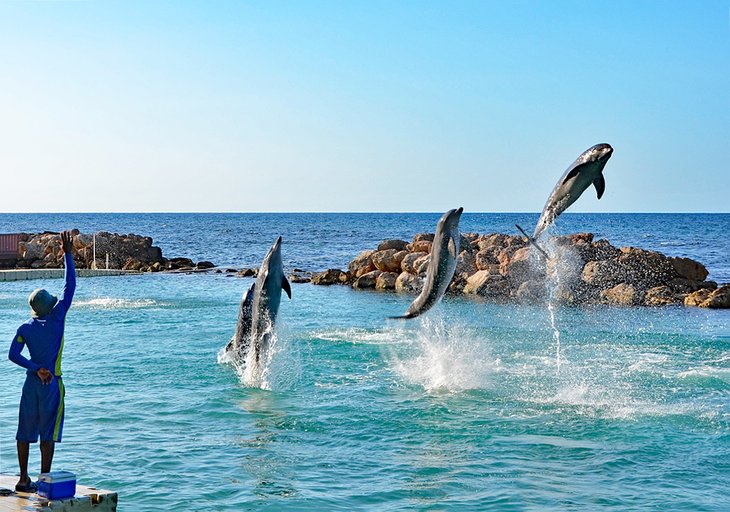 Across the road from Dunn's River Falls in Ocho Rios, popular Dolphin Cove is a marine park offering up-close critter encounters. The five-acre property encompasses a natural cove, where you can snorkel with stingrays or paddle around on a glass-bottom kayak, surrounded by rain forest.
The dolphin encounters are the highlight here, especially for families traveling with young children. Each visitor scores plenty of time with these gentle creatures, including the chance to hold and feed the dolphins, as well as swim with them and enjoy a dolphin "kiss."
You can also ride a camel; watch a shark show; and see iguanas, snakes, and tropical birds on the Jungle Trail walk. Photos of your experiences are available for an extra fee.
5. River Tubing on the White River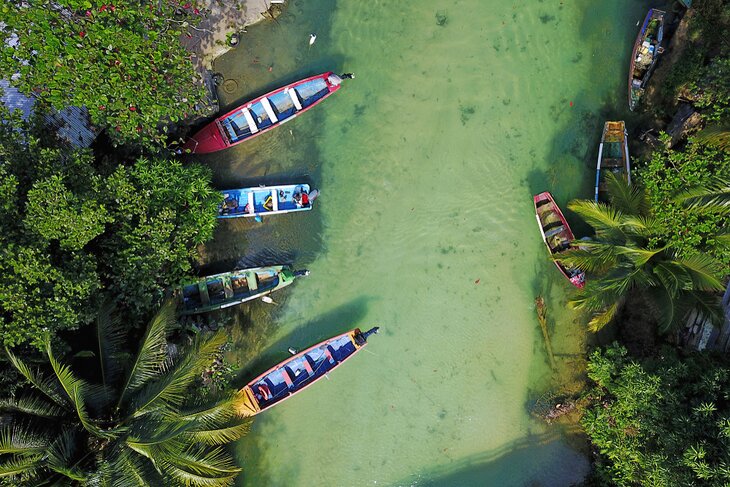 At the White River, about 30 minutes' drive from Ocho Rios, nature lovers can relax on inner tubes and drift along the river over gentle rapids. This is a soothing trip that the whole family can enjoy, and it's a great way to unwind and enjoy the tropical scenery. Singing guides add to the fun, and birders will enjoy looking for new species in the lush foliage fringing the river.
If you're here on a honeymoon, or just enjoying a romantic couple's vacation, this is the place to be. The Ocho Rios White River Valley Tubing Safari is a fun and amorous way to get a taste of floating down the river. This 90-minute adventure includes round-trip transportation from your hotel, experienced guides, a safety briefing, and refreshments.
6. Ocho Rios Bay Beach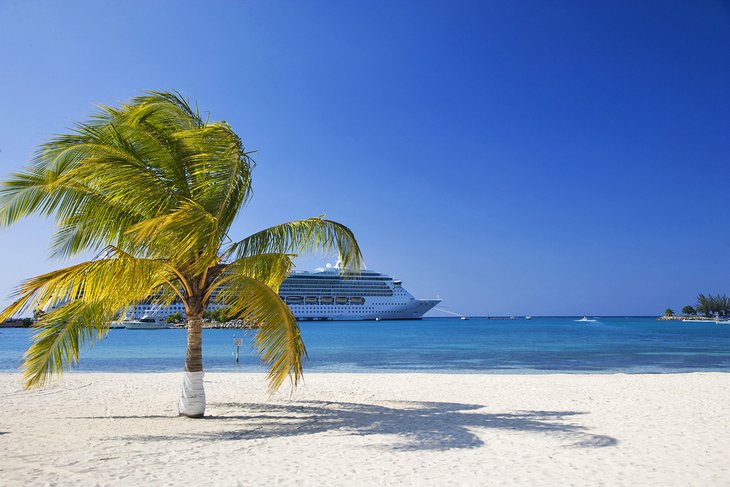 Craving some sun, sand, and sea? Stake a spot on the well-groomed sands of Ocho Rios Bay Beach. Packed with activities and amenities, this buzzing stretch of coast might not be the peaceful, picture-perfect beach of your dreams, but it's a great place to sign up for some water sports action or kick back on a sun lounger and do some people-watching.
If you're looking for things to do in Ocho Rios port, this popular stretch of coast is only a two-minute walk away. You can see the cruise ships looming offshore.
Wondering about places to eat in Ocho Rios? You'll find plenty of restaurants lining this stretch, and if you're up for something more active, you can book banana boat rides, tubing, parasailing, and snorkeling equipment at huts along the beach.
7. Konoko Falls & Park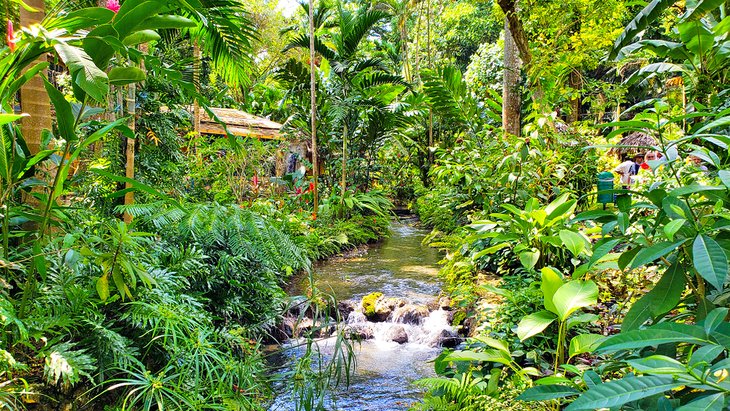 Konoko Falls & Park offers a peaceful slice of nature and plenty of family-friendly attractions.
Enjoy a guided stroll through the lush botanical gardens, bursting with tropical blooms and dotted with koi ponds and cool streams. The tours include a stop in the small museum, where you can soak up some Jamaican history and learn all about the area's original inhabitants, the Taino Indians.
Kids and adults alike will love the mini-zoo, with many species of endemic and exotic birds. But the highlight here is climbing the rocky ledges of the waterfall for a fun photo opp. Don't forget to bring your water shoes and camera!
8. Green Grotto Caves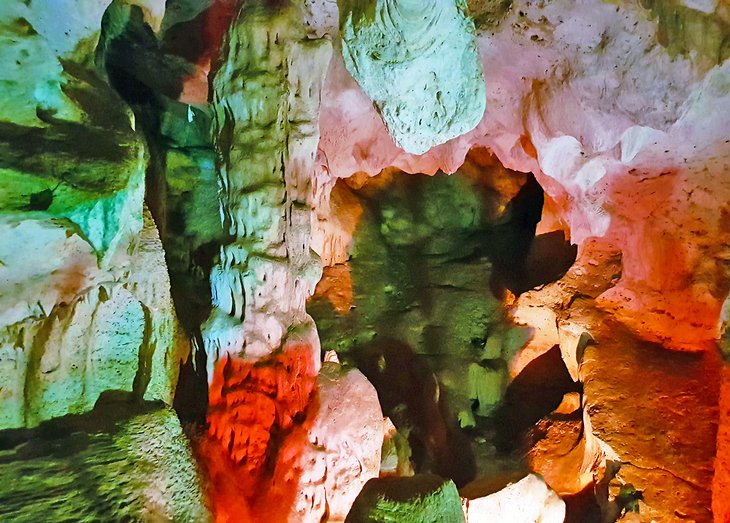 About 30 minutes' drive from Ocho Rios in Runaway Bay, the Green Grotto Caves are Jamaica's best-known limestone caves. They were once used by the Arawak Indians and were also the reputed hideaway of escaped slaves and Spanish settlers fleeing from the British.
In more recent times, they were also used as a filming location for a James Bond movie. Today, they are home to bats and snakes.
Guided tours share the history of the caves and show you the beautiful stalactites and stalagmites, as well as an underground lake. The slippery paths and many stairs might be a challenge for those with physical disabilities.
9. Fern Gully Scenic Drive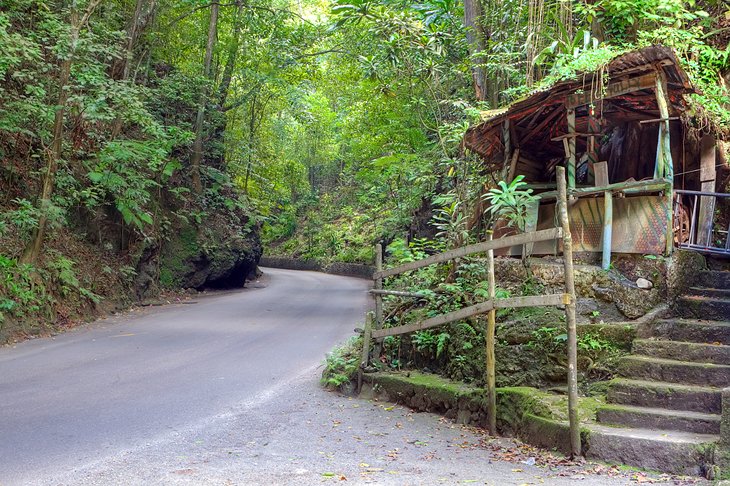 Running south from Ocho Rios, Fern Gully is a five-kilometer winding road built on an old riverbed. Giant tree ferns form a canopy overhead, creating a tunnel-like effect for those who cruise along the road.
It's a beautiful drive, and the thick foliage of the unspoiled tropical forest blocks the sun at several points along the route. Along the way, you can stop at roadside stalls to buy wooden carvings and other souvenirs.
10. The Craft Market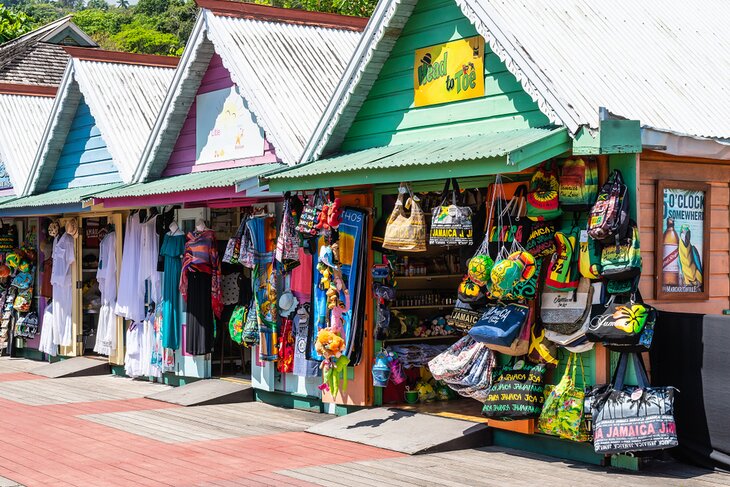 Shopping at the Ocho Rios Craft Market is one of the best things to do if you're looking to practice a little retail therapy while on vacation. The popular market is set on Main Street, right by the area's restaurants and resorts.
Served by multiple vendors who set up shop under colorful tents, the craft market is packed with everything from hand-stitched straw purses to Jamaica T-shirts to carvings, folk jewelry, and souvenirs galore. You can even buy a painting or two to adorn your walls back home. Rest assured; you won't leave empty handed.
To make the most of your visit, bring cash, and be ready to haggle for the best price.
Address: Main Street, Ocho Rios, Jamaica
11. Turtle River Falls and Gardens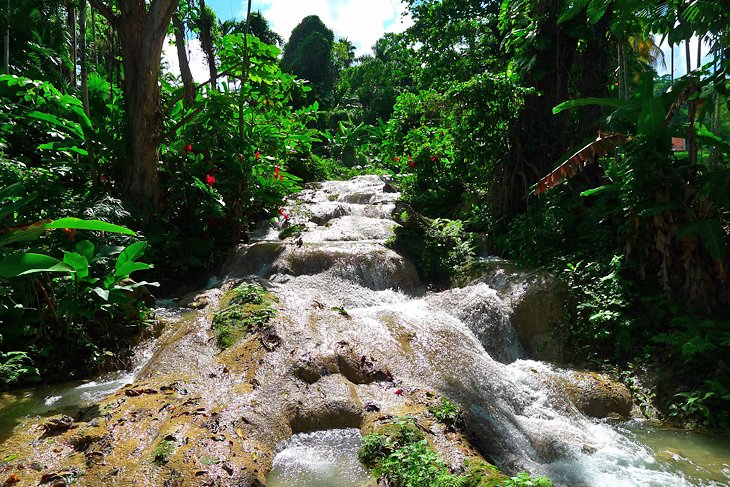 Turtle River Falls and Gardens offers a relaxing escape to nature. The property encompasses 15 acres of mountainside gardens, 14 waterfalls, small pools, hammocks, and a koi pond.
Strolling through the beautiful tropical gardens with a soothing soundtrack of rushing water is one of the most romantic things to do in Ocho Rios.
A highlight is the aviary full of exotic birds, including many species of colorful parrots, such as scarlet macaws. You can wander in and hand-feed them as they descend on your outstretched arms. This is a great photo opportunity.
The guided tours are highly recommended, and you should bring a swimsuit if you plan to take a dip.
Address: Eden Bower Road, Ocho Rios, St. Ann
12. Shaw Park Gardens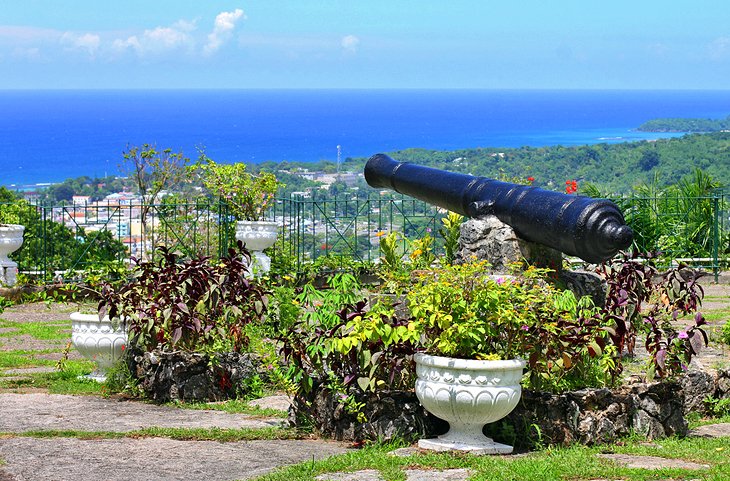 High in the hills overlooking Ocho Rios and the Caribbean, Shaw Park Gardens is a sanctuary for nature lovers. Within the 25-acre grounds, you can stroll through lush botanical gardens punctuated by tropical blooms and lily-topped ponds.
Many species of birds flit through the trees, including Jamaica's national bird, the doctor bird, also called the swallow-tailed hummingbird. A waterfall cascades through the gardens, and friendly guides share their knowledge of all the botanical beauties.
Address: Shaw Park Road, Ocho Rios
13. Nine Mile Tour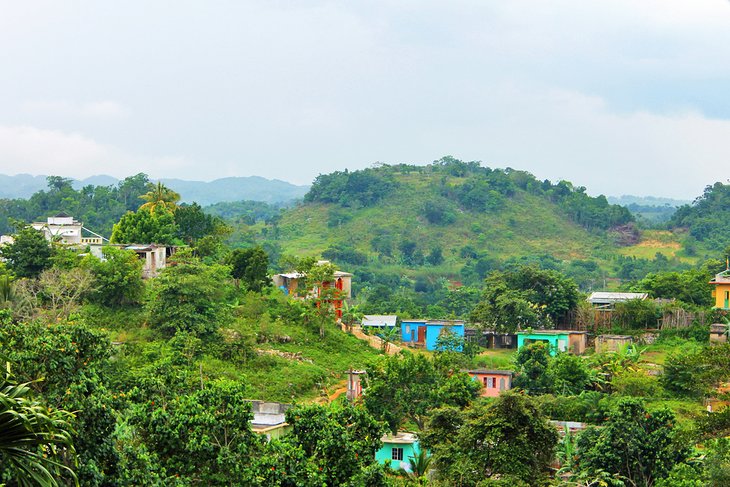 Calling all reggae fans! If you love Bob Marley, the small village of Nine Mile in Saint Ann Parish, about an hour's drive from Ocho Rios, has become a place of pilgrimage for his fans. This is the birthplace and final resting place of the reggae legend.
Guided tours are the best way to visit the key sites. The Bob Marley Nine Mile Tour from Ocho Rios takes you through a small museum and the mausoleum where Marley is buried, and you'll also visit his childhood home. During the tour, you'll learn about the Rastafarian religion and hear interesting stories of Marley's extraordinary life. Hotel pickup and drop-off is included.
14. Firefly, the Former Estate of Sir Noel Coward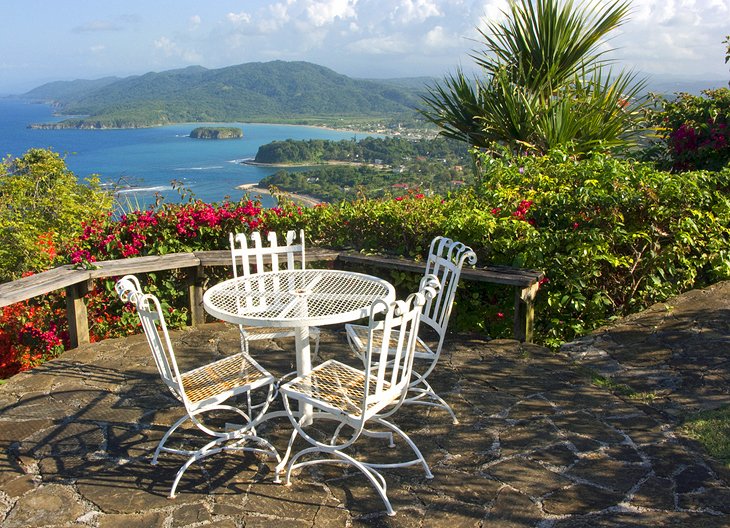 On the site of a former lookout for the pirate Henry Morgan, Firefly is the hilltop home and final resting place of playwright, Sir Noel Coward.
The simple one-bedroom home was built high on a hill above Coward's original home, Blue Harbour, and his photos, paintings, and pianos are still in place.
You can see the home on a guided tour and learn about Coward's life, as well as some of Henry Morgan's infamous history. But the highlight here is the spectacular view of the Jamaican coast from one of the best vantage points on the entire island.
Some of the artifacts held inside Coward's home have been aged and damaged by the elements. The home is currently under review by the Jamaican Government, Noel Coward Estate, and the Blackwell family to determine the fate of these artifacts, and the preservation and future operations of the home.
Location: Grant's Town, St. Mary
Map of Tourist Attractions in Ocho Rios
More Related Articles on PlanetWare.com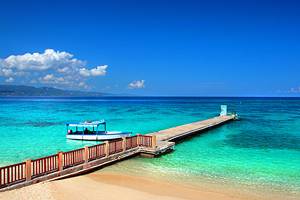 Exploring Jamaica: Are you looking for other Jamaica adventures? See our pages on all the top things to do in Montego Bay, another lively Jamaican cruise port. If you're looking for a more relaxed vibe, you'll want to learn about the highlights of Negril. Its long palm-lined stretch of sand and sea is one of the best beaches in the Caribbean.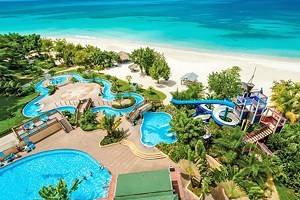 Where to Stay in Jamaica: Wondering about the best place to stay for all your sightseeing in Jamaica? You'll find everything here from boutique hotels to large resorts, including some of the top luxury all-inclusive resorts in the Caribbean. Find the perfect fit for your vacation with our articles on the best all-inclusive resorts in Negril and Ocho Rios.