20 Best Beaches in the World
We may earn a commission from affiliate links ()
Made up of about 71 percent water, 96.5 percent of which is held in its oceans, our planet is home to thousands upon thousands of drop dead gorgeous beaches. So choosing the very best piece of sandy real estate in the world is slightly subjective.
For this article we went with beaches in beautiful locations that are relatively accessible to travelers-there is an amazing beach in Kauai for instance that involves swimming in a rough current to reach, so we left that one off this list but included one you can drive to, with amazing sunset views.
We also chose a mix of urban and island beach destinations. And we tried to spread the love for our top beaches across the continents. From South Africa to Bora Bora, Thailand to Turks and Caicos, discover the most beautiful stretches of soft sand and blue waters with our list of the best beaches in the world.
1. Matira Beach, Bora Bora, French Polynesia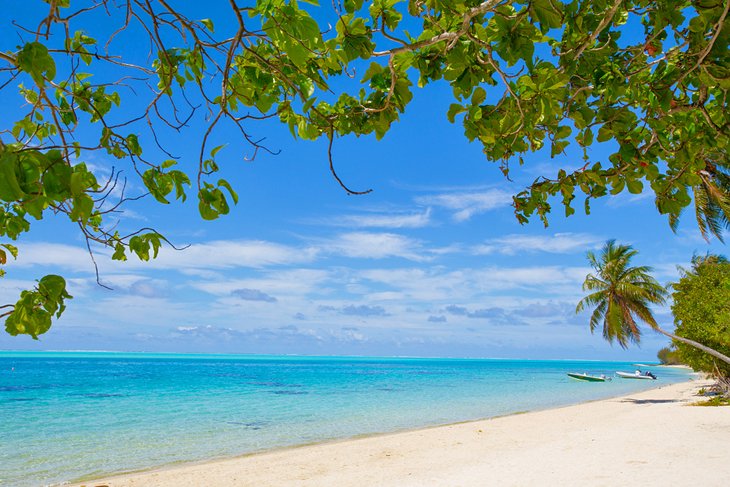 The French Polynesian isle of Bora Bora, floating in an archipelago in the South Pacific, is as close to tropical paradise perfection as you can get. Surrounded by a crystal-clear and super calm lagoon that boasts one of the world's most brilliant turquoise and marbled azure water, the island is home to white-sand beaches and a lush interior of pointy volcanic peaks.
The best public beach on Bora Bora is Matira Beach. Here, the sand is white and powdery soft, and while it is popular with locals on weekends, unless a cruise ship is docked, it never gets too packed. The sunsets over the brilliant turquoise lagoon are legendary and should not be skipped.
There are numerous other beaches on Bora Bora and also the small islets (known as motus) surrounding it. On these, you'll find some of the island's most posh resorts, many of which feature the overwater bungalows that French Polynesia is best known for – they were actually invented on the neighboring island of Ra'iatea.
2. Grace Bay Beach, Turks and Caicos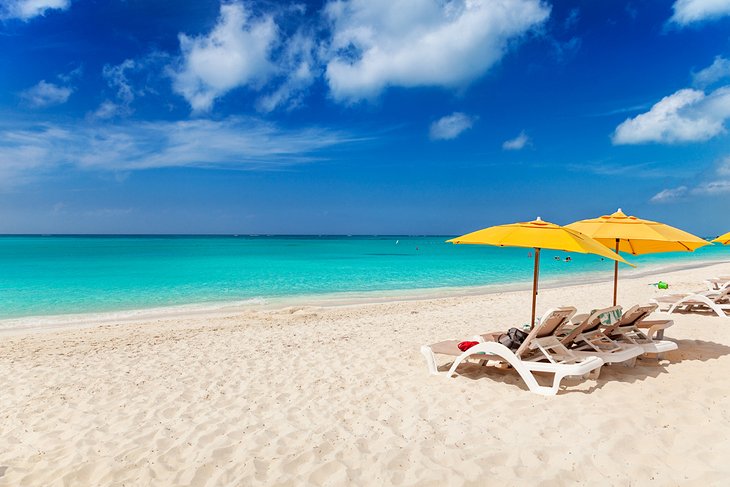 Located just southeast of The Bahamas, Turks and Caicos are a group of some 40 islands that remain a British Overseas Territory. World renowned Grace Bay Beach, on its main island of Providenciales, is one of the world's most exquisite stretches of white sand. Running for eight kilometers in a half crescent shape, it is backed by crystal-clear turquoise water, where one of the world's largest coral reef systems still thrives just offshore.
Grace Bay Beach is part of the Princess Alexandra Marine Park, and there are two excellent snorkeling spots that can be accessed from the beach. The Bight Reef and Smith's Reef are both filled with living coral and tropical fish, and you can follow a marked snorkeling trail around them.
Also keep an eye out for JoJo. A wild bottlenose dolphin, he calls this area his playground, and has been known to interact with humans swimming in the sea. He's been declared a national treasure on the island, and the last time we visited, we saw him with a lady dolphin friend.
3. Reethi Rah, Maldives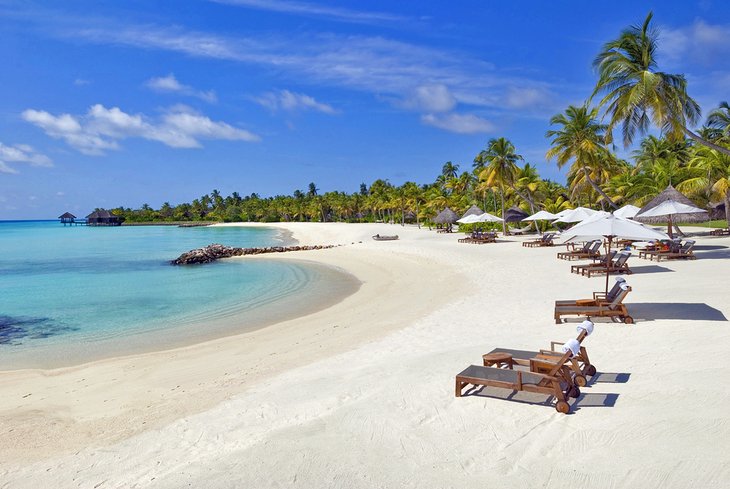 A nation comprised of 1,200 islands in the Indian Ocean, the Maldives are home to some of the most stunning beaches on the planet. Most of these islands, including Reethi Rah, are home to only one or two resorts and as such, you'll have a whole lot of pristine white sand meets turquoise lagoon shoreline to just a select few people.
Although there are not really any bad beaches in the Maldives – this is one of the world's most romantic destinations, a favorite with honeymooners from around the planet; the beaches on Reethi Rah are especially spectacular.
Accessible only to guests of the One&Only Reethi Rah resort, the private island has 12 different beaches for you to explore. It's on its own time zone, an hour ahead of the capital of Malé, and the sunsets here stretch on forever. The luxury resort caters to families as well as couples alike and has classic overwater bungalows.
4. Camps Bay Beach, Cape Town, South Africa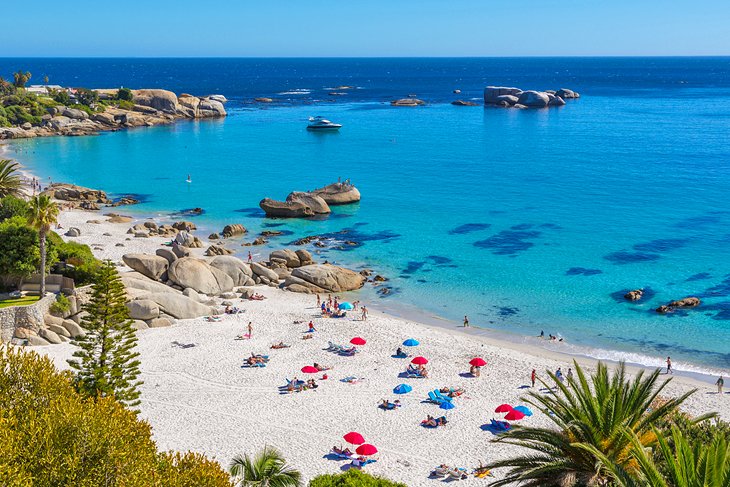 Just a 10-minute drive from downtown Cape Town in South Africa, Camps Bay Beach is simply stunning when it comes to scenery. The water here is of the turquoise and emerald streaked variety, backed by darker blues and dependent on the seasons, but it is deceptively cold. Still, in summertime, the public beach draws hordes of swimsuit clad sun worshippers, and many locals brave the waves long enough to at least cool off-the current here comes straight from Antarctica.
That said, Camps Bay makes our list because the beach itself is beautiful, with scenery not like anywhere else on Earth. On one side, you see the sand and waves; on the other, the Twelve Apostles rock formations tower over the coastline.
5. Railay Beach, Thailand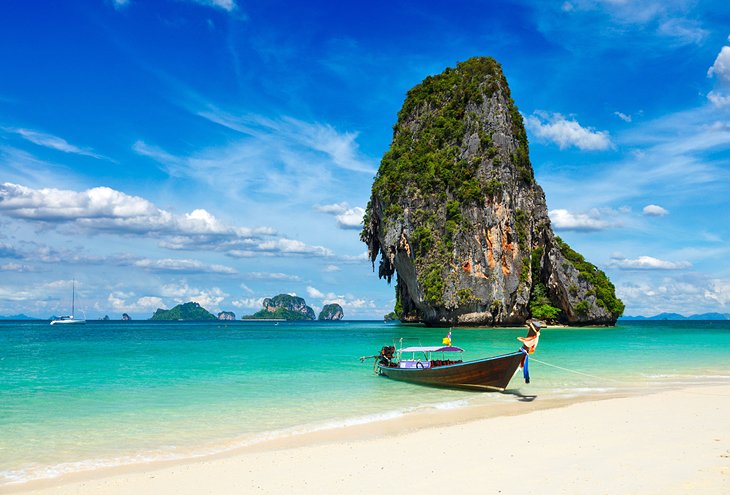 One of Thailand's most beautiful beaches, gorgeous Railay Beach sits isolated on a small peninsula that can only be reached by longtail boat-a journey that is well worth taking. Upon arrival, you'll find shimmering, powdery, soft white sand, and a picture-perfect turquoise lagoon, all surrounded by giant limestone monoliths (both in and out of the water), dense jungle, and cliffs and caves.
6. Whitehaven Beach, Queensland, Australia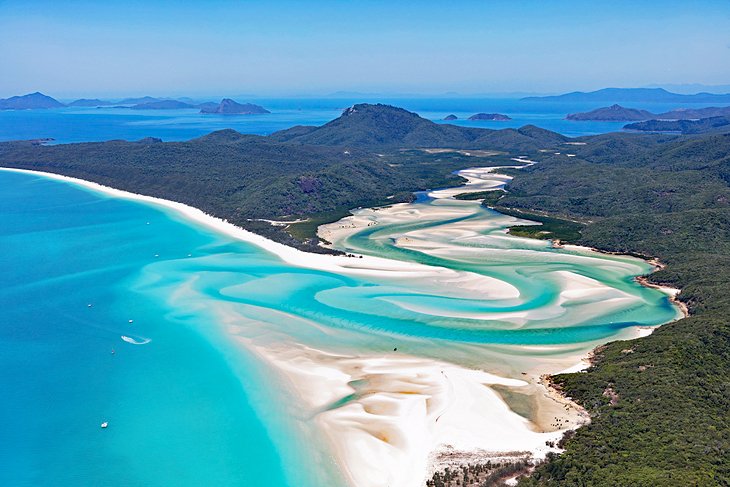 Consistently rated one of the best beaches in Australia and the world, Whitehaven Beach is a beauty on an island off the Queensland coast at the edge of the Great Barrier Reef in Australia. Accessible only by boat, seaplane, or helicopter, it serves up seven-kilometers of glittering white silica sand backed by turquoise water.
The beach is on Whitsunday Island, which is the largest of the 74 islands that make up the group by the same name. Head to Hill Inlet, at the northern end of Whitehaven Beach when the tides are changing for an Instagram-worthy photoshoot. When the water shifts its depth, the colors of blue change and swirl around the sand. It is a stunning sight. Tongue Point is another excellent lookout area.
Most people access Whitehaven on a day trip from Airlie Beach on the mainland. The island can be reached via ferry, yacht, or powerboat and is included on a lot of day trip group itineraries from Airlie Beach that may include snorkeling in the Great Barrier Reef.
7. Miami Beach, Florida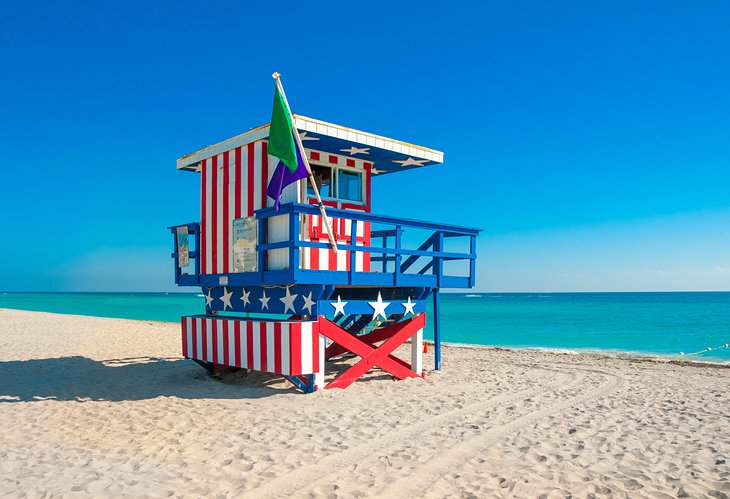 Miami Beach is the name for the 2.5-mile beach and city located on the barrier island between Miami and Biscayne Bay, and one of the most beautiful beaches in America.
At its southern end is South Beach, which is one of the most beautiful beaches in the mainland U.S., with powdery white sand, clear turquoise water, and an ultra hot social scene.
On the beach itself, you can spend a day just sunbathing and swimming, or partake in any manner of water sports, from jet skiing to wakeboarding.
8. Shipwreck Beach, Zakynthos, Greece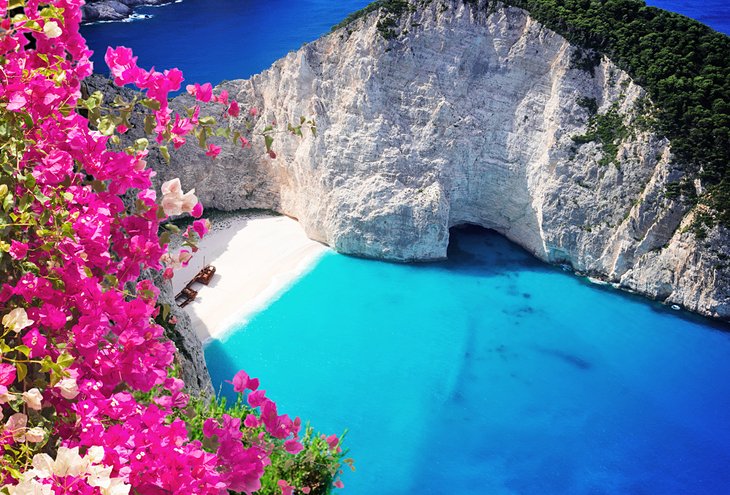 Only accessible from the sea, Shipwreck Beach on the island of Zakynthos is one of the most gorgeous beaches in all of Greece. Set in a crescent-shaped cove, surrounded by towering cliffs that extend outward into the sparkling azure sea where you'll find sea caves, the beach is comprised from fine white pebbles and is truly a stunning work of nature.
Named for the wreck of a ship smuggling contraband cigarettes that washed ashore here in 1980, Shipwreck Beach is in Smuggler's Cove on the island's west coat. You'll need to catch a taxi-boat from the harbor at Agios Nikolaos on Zakynthos' northeast coast to access it. Or you can join organized day trips like the Zakynthos Shipwreck Beach Excursion.
9. Pink Sands Beach, Harbour Island, The Bahamas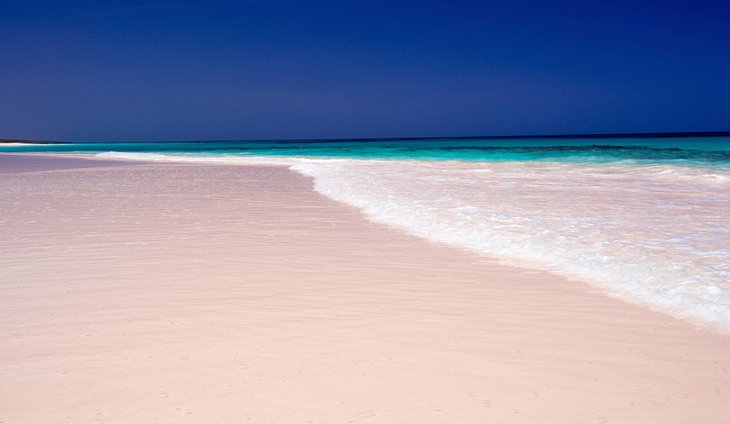 Unlike any other beach in the Caribbean, Pink Sands Beach on Harbour Island in the Bahamas is actually made up of pale pink sand that looks particularly surreal at sunrise and sunset-you can really say #NoFilter when posting on Instagram. This is one of the top pink sand beaches in the world.
10. Puerto Vallarta, Mexico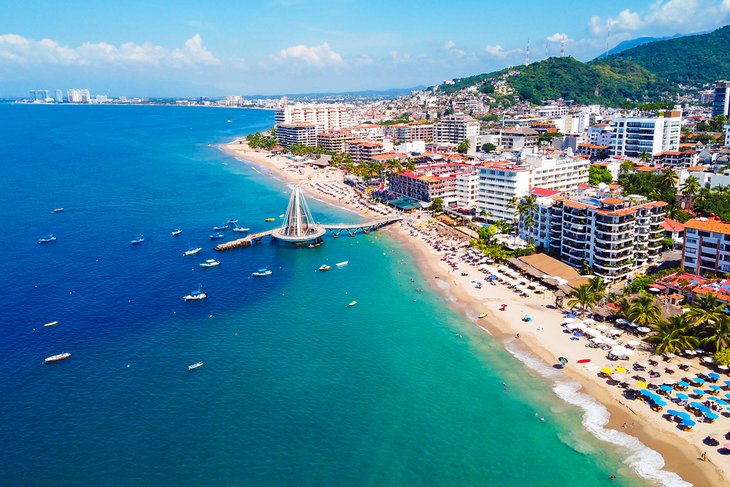 One of Mexico's most popular beach tourist destinations, Puerto Vallarta on the country's Pacific Coastline is home to a number of majestic beaches along its Bay of Banderas. While the Hotel Zone and the Centro districts are home to attractive gold-sand beaches where the water is deep blue and the sunsets stretch on forever, the very best beaches are located at the historic Zona Romantica and then south from it on Highway 200.
Playa Los Muertos is one of the most popular beaches and has a super lively vibe. There are dozens of lounges and restaurants on the sand for dining, listening to music, and making new friends.
11. La Jolla, San Diego, CA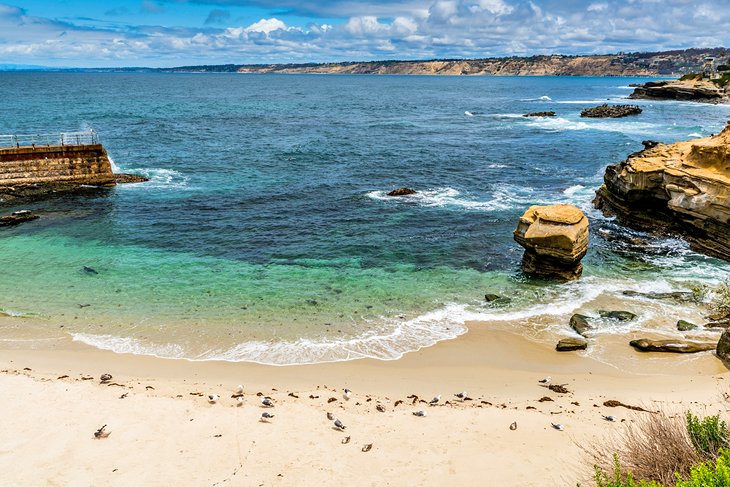 The community of La Jolla, just north of San Diego proper, has some beautiful beaches. La Jolla Cove is a picture-perfect gold-sand beach sandwiched between sandstone cliffs and fronted by a deep blue bay.
The bay here is part of the La Jolla Underwater Park Ecological Reserve, which prohibits fishing. As a result, the underwater marine life is prolific. The water is also very clear, with visibility at times greater than 30 feet. These factors combine to make this a great spot to try snorkeling or diving.
12. Polihale Beach, Kauai, Hawaii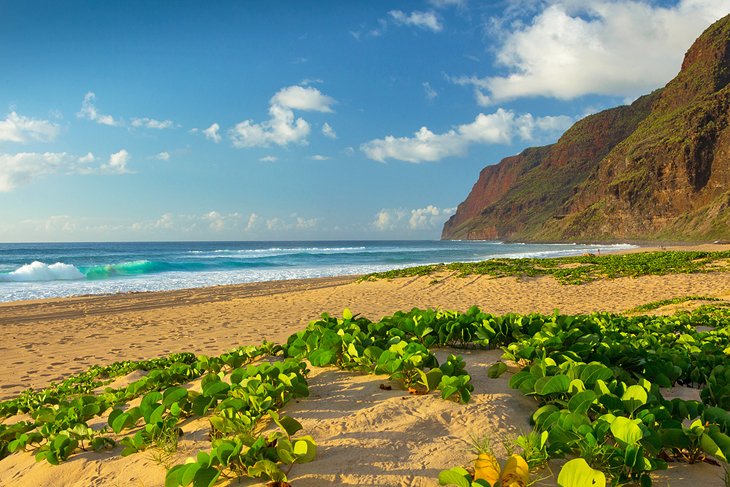 At the end of Highway 50, on the far western end of the rugged Na Pali Coast in Kauai, Polihale Beach is the perfect place to head for a romantic picnic at sunset. Running for 17 miles, the wide white-sand beach, protected by Polihale State Park, is the longest in Hawaii.
13. Petite Anse, Mahe, Seychelles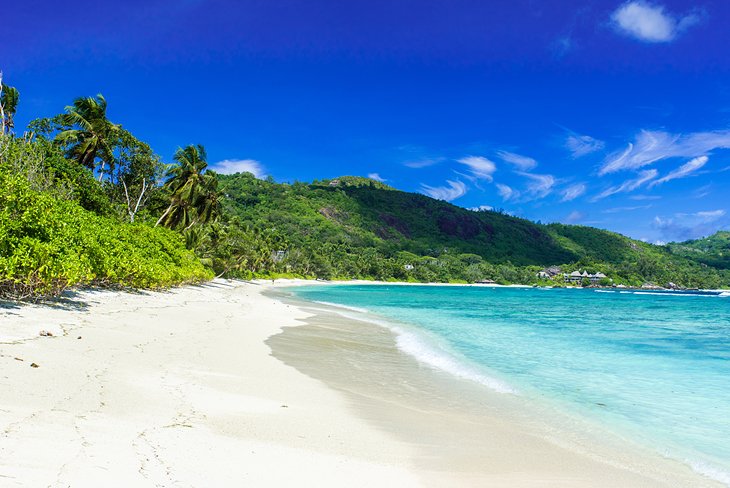 14. Da Nang Beach, Vietnam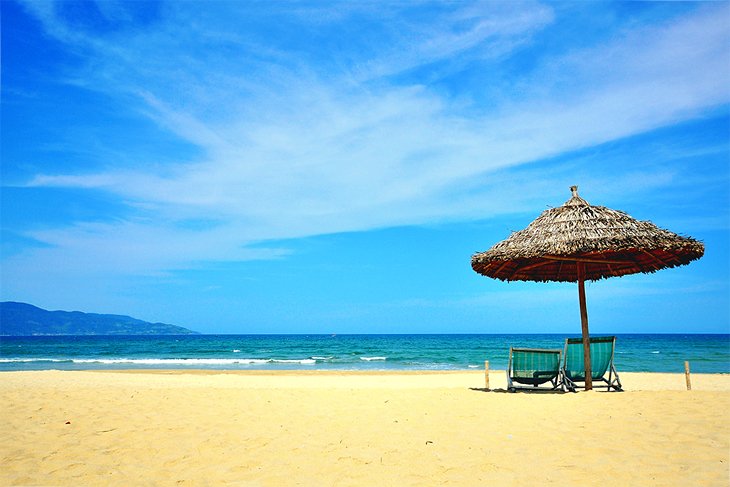 15. Haad Rin Beach, Koh Phangan, Thailand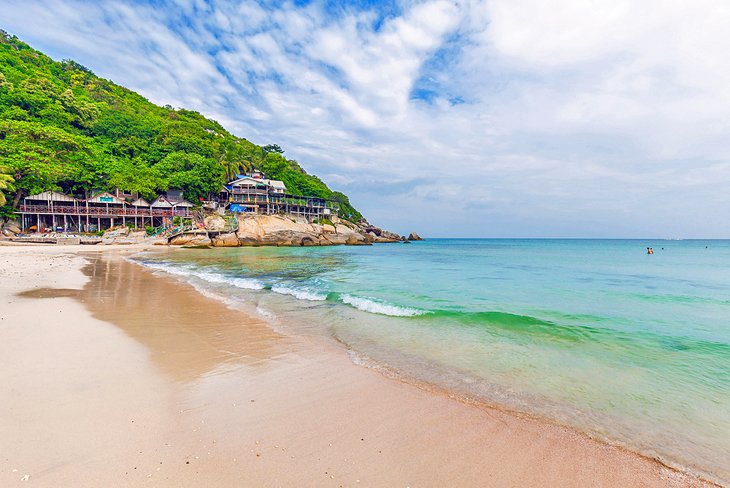 On the island of Koh Phangan in the Gulf of Thailand, Haad Rin Beach is the most famous of the nearly three dozen beaches scattered around this lush isle. Koh Phangan and neighboring Koh Tao and Koh Samui Islands are three of Thailand's most popular island-hopping destinations.
16. Amed, Bali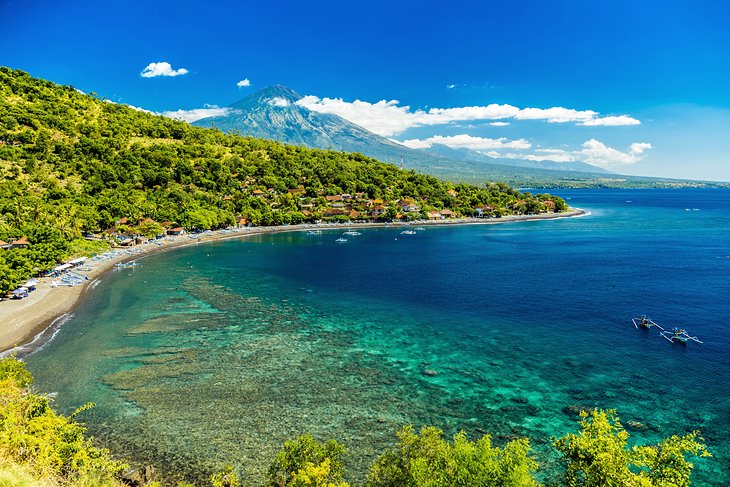 17. Tulum, Mexico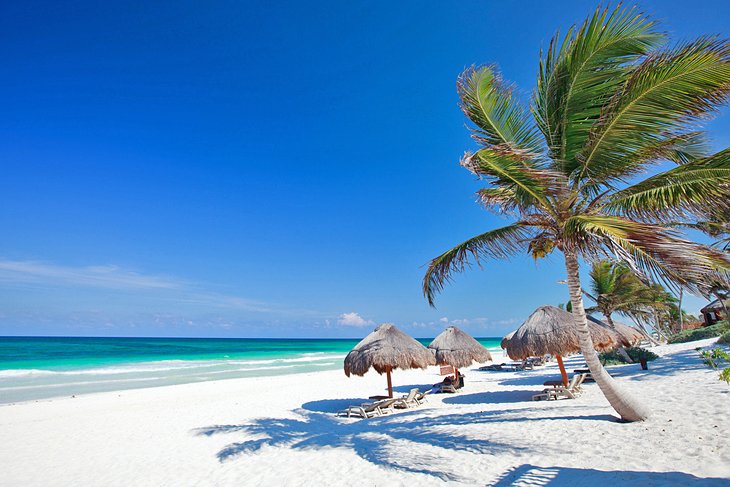 On the Riviera Maya, about a two-hour drive from the chaos that is Cancun, Tulum boasts a beautiful white-sand beach; clear turquoise water; and a backdrop of ancient Mayan ruins, which is what sets it apart from other beaches in Mexico.
18. Nungwi Beach, Zanzibar Island, Tanzania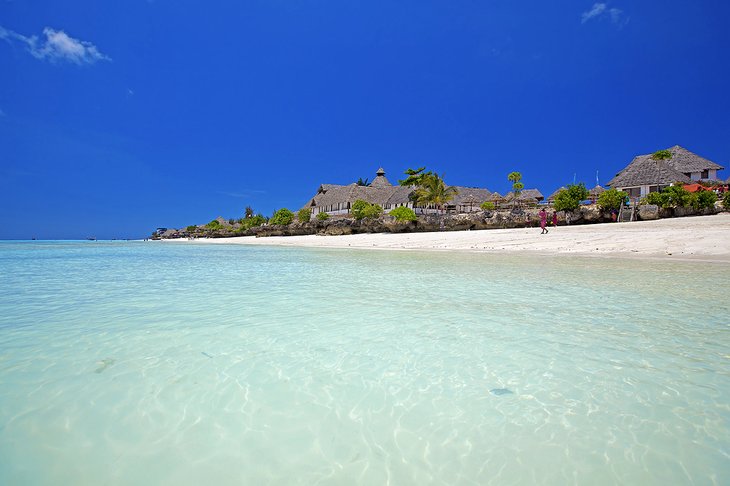 Tanzania's Zanzibar Island is one of the most intriguing beach destinations in Africa. Nungwi Beach, on the island's northern tip, fronts a fishing village with a serious buzz these days. The beach here is comprised of pale coral sand, and the turquoise and aquamarine water beyond it is as beautiful as it gets. The sea here is warm and perfect for swimming.
19. Copacabana Beach, Rio de Janeiro, Brazil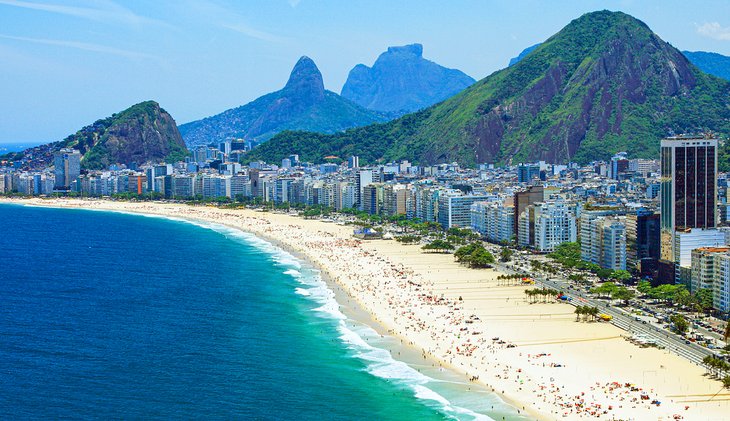 One of the world's most famed beaches is surely Copacabana Beach in Rio de Janeiro, Brazil. Stretching for three miles, the gold-sand beach is fronted by the ocean on one side and a modern skyline and craggy peaks on the other.
20. Saud Beach, Luzon Island, Philippines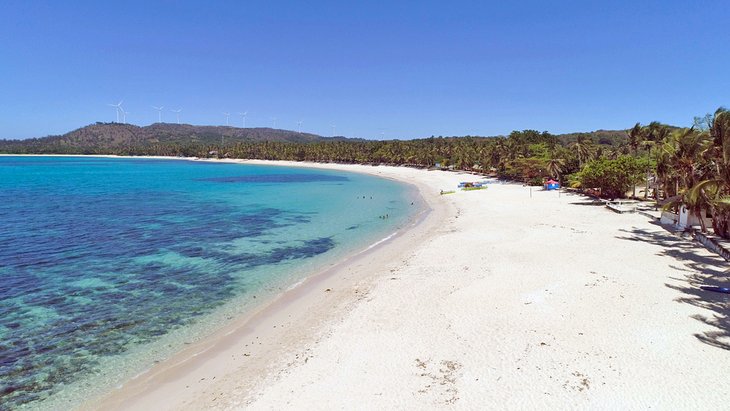 The islands of the Philippines in Southeast Asia are also home to some of the world's most spectacular beaches. Head to Luzon Island and Saud Beach for translucent water and pristine white sand with swaying palms. The beach here slopes gently into the sea, creating easy entry into the water, which is warm as a bath and perfect for swimming and lazy float sessions.
More Related Articles on PlanetWare.com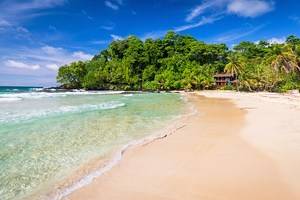 More Beautiful Beaches to Explore in the World: In the Caribbean and Central America, you can find everything from hidden beaches far from the tourist crowds, to miles of beaches with resorts and tourist amenities. For ideas, see our guides to the best beaches in Panama, Dominican Republic, and Ecuador. Asia is another part of the world beach lovers need to consider. Begin with our list of the best beaches in Asia to start planning your trips.