Cuba in Pictures: 22 Beautiful Places to Photograph
While sometimes shabby on the outside, Cuba's inner beauty is unmistakable. In the throes of a very slow and much-needed face-lift, this nation's cities are steeped in history. Each metropolis transports visitors back in time, to an era when pirates roamed (and pilfered) the sandy Caribbean coastline and colonialists toiled to leave their architectural mark.
Cuba's main cities (i.e. Havana, Trinidad, and Remedios) inspire photographers with an impressive lineup of gelato-colored buildings. Their cobbled streets are filled with classic vintage cars, 18th-century cathedrals, and grand central squares begging to be immortalized digitally.
It's Cuba's vast natural beauty, featuring vibrant coral reefs, pristine beaches, crystalline turquoise waters, lush valleys, and majestic mountains, however, that leave visitors truly craving a return visit.
The beautiful places on this list are guaranteed to give your camera (and soul) a good workout.
1. Old Havana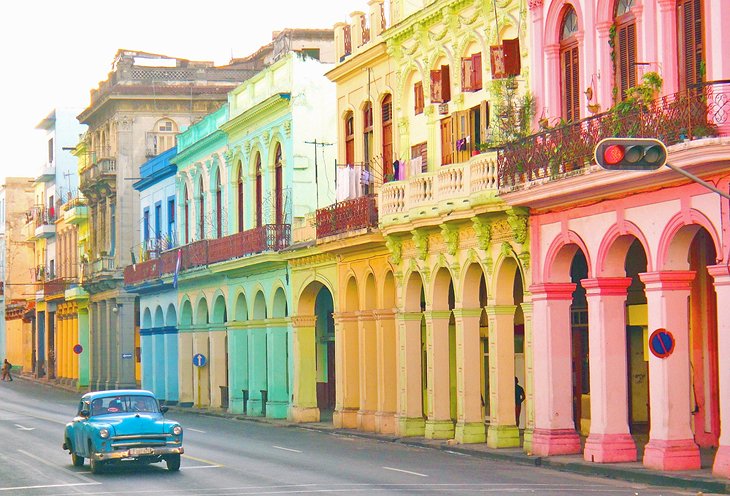 A UNESCO World Heritage Site, Old Havana (a.k.a. Habana Vieja) represents the historic heart of Cuba's capital city. This is where you'll find the beautiful Plaza de Armas, Havana's oldest square. It features a statue of Carlos Manuel de Céspedes, as well as the Palacio de Los Condes de Santovenia.
2. El Malecon, Havana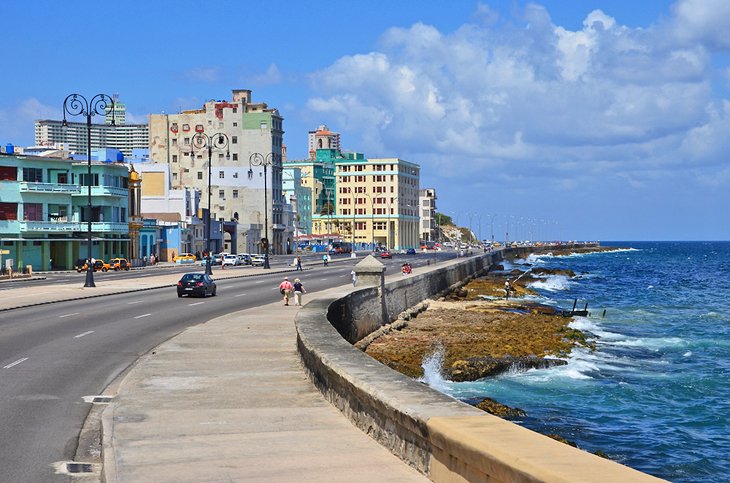 A revamped walkway originally built in the early 1900s, El Malecon was the brainchild of US authorities who had control of the area at that time. The broad path and roadway stretch eight kilometers along Havana's northern coast. A picturesque spot, it's become a popular backdrop for photographs taken by both locals and tourists, especially at sunset.
3. Trinidad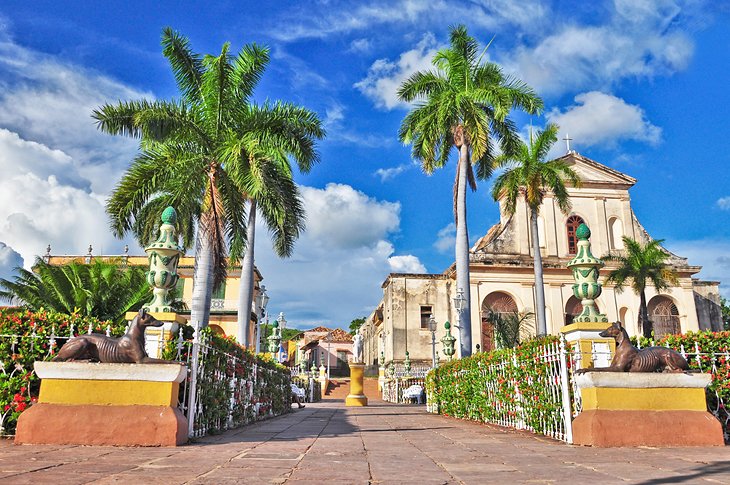 Time seems to have stopped in the 1850s at this UNESCO World Heritage Site. That's why it's still so adorably charming. This perfectly preserved city displays colonial Cuba at its best, showcasing unique Spanish-inspired architectural features, cobblestone streets, horse-drawn carriages, and live music. When you're not dancing in the streets while sipping sugar cane juice, you'll be snapping shots in alleyways that lie off the beaten path.
4. Viñales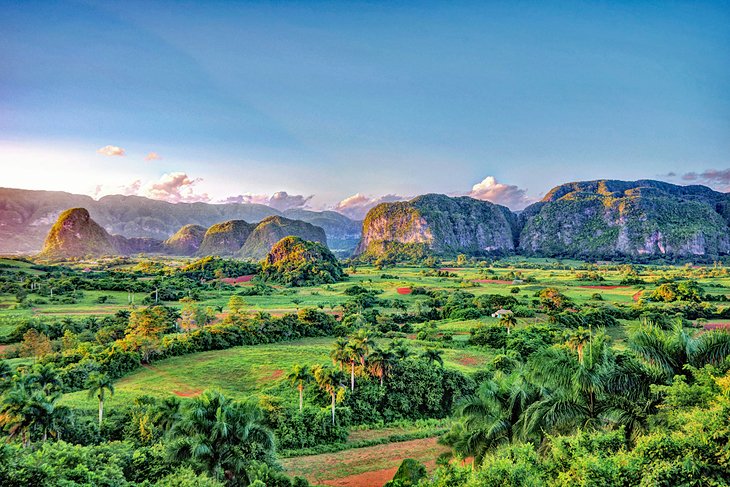 Be still your heart. Viñales has beauty so wonderous it will literally capture your ticker and your breath. The town itself is sweet and tiny, but the landscape is the real reason you'll want to make the trek. The laid-back countryside is peppered with guajiros (farmers) driving oxen-pulled ploughs as they farm tobacco. Behind them rise impressive limestone mountains reaching towards a never-ending sky.
5. Plaza Vieja, Havana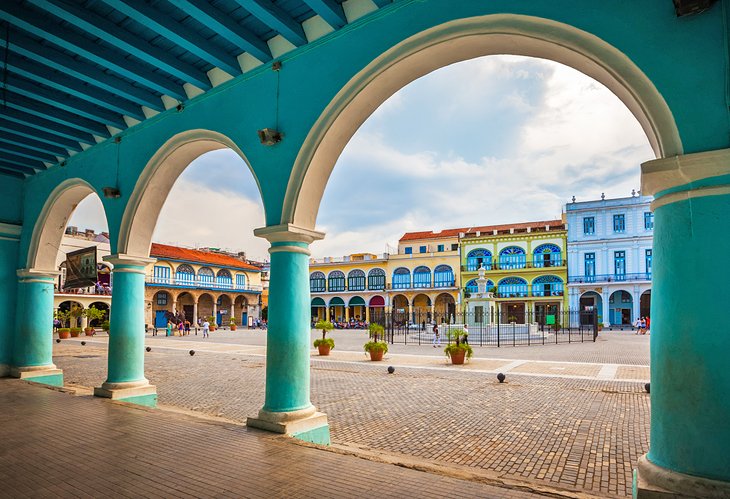 Havana is nothing if not eclectic. Offering a unique mix of old meets new, the 16th-century Plaza Vieja embodies a sense of whimsy that meshes perfectly with its architectural prowess. Surrounding the plaza's open square stand graceful colonial homes nestled wall to wall with remarkable Art Deco buildings. The contrast works marvelously, begging cameras to memorialize the beautiful juxtaposition in this Old Havana (a.k.a. Habana Vieja) gem.
6. Varadero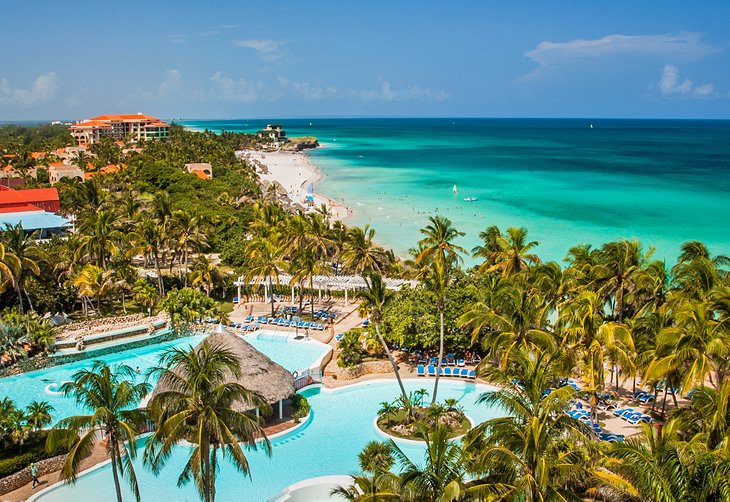 There are few more beautiful places to kick back in Cuba. A relaxing stomping ground for the likes of Al Capone, Varadero caters to those with a penchant for luxury and beautiful beaches.
Set on the Hicacos Peninsula, Varadero is a tourist hot spot. It's also been declared the largest resort in the Caribbean, boasting over 60 hotels and enough stores, restaurants, and activities to keep even the most energetic traveler busy.
Accommodation: Top-Rated Beach Resorts in Cuba
7. Camaguey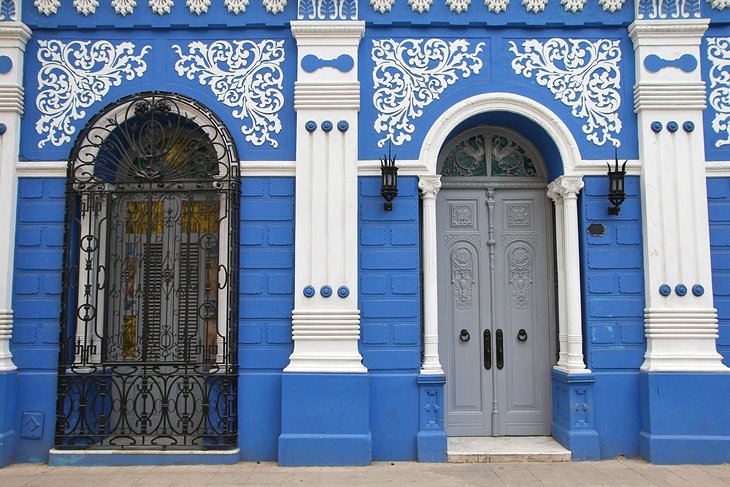 Talk about a cultural masterpiece. Camaguey, Cuba's third-largest city, meshes elements of Spanish, African, French, and Haitian cultures into one perfectly melded community. After Havana, this bustling city is the most fun and vibrant metropolis on the island. It's easy to get lost among Camaguey's winding streets and hidden plazas, each offering visitors a pleasing palette of pastel-colored buildings, medieval churches, and funky restaurants worth photographing.
8. Playa Megano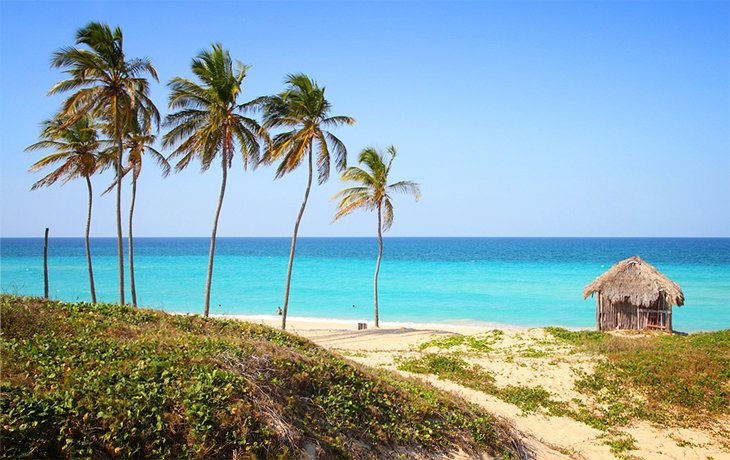 You had us at beach (a.k.a. playa). Playa Megano is one of Cuba's most beautiful beaches, plopped on the small off-shoot isle of Cayo Enseachos. You'll find sugar-white sand, sparkling turquoise water, and tropical palm trees waiting to offer respite from the hot sun. Both this beach and its neighbor, Playa Ensenachos, offer shallow waters that extend for hundreds of feet, making them the perfect spot to visit when traveling with kids.
9. Guardalavaca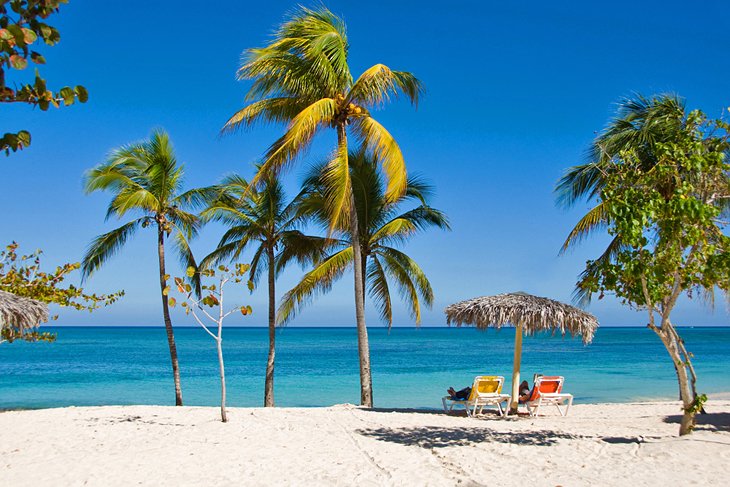 It's hard to take a bad photo in Guardalavaca. This seaside paradise is backed by lush hills and boasts everything you'd dream of from a beach vacation: tall, waving palm trees; crystal-clear azure water; vibrant coral reefs; and super soft white sand. Located along Cuba's northern coast, the beauty found in this idyllic locale has been so well appreciated it's now home to several large beach resorts.
10. Alejandro de Humboldt National Park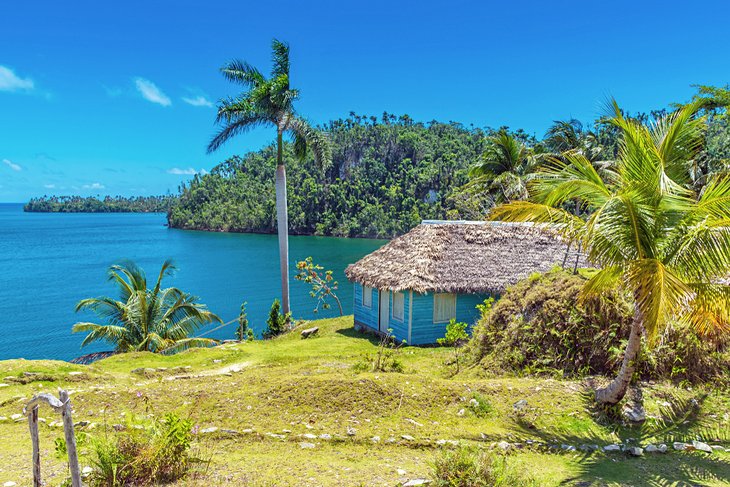 Alejandro de Humboldt National Park is home to one of the West Indies' most well-preserved and vast mountain ecosystems. A designated Natural World Heritage Site, this phenomenal wonderland features a wide variety of geological elements, as well as impressive flora and fauna. It's easy to spend an entire day exploring its extensive offerings. Be sure your camera is charged!
11. Cayo Coco Island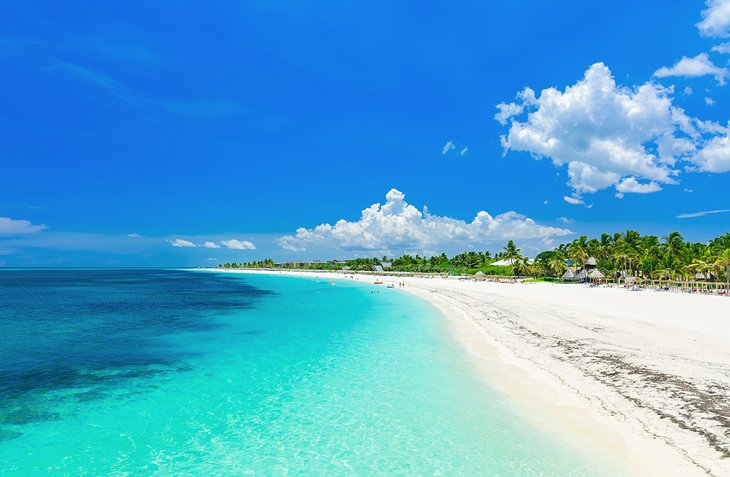 Looking for a gorgeous beach with soft, fine sand and a sea bursting with vivid shades of azure? You'll find it on Cayo Coco Island. Located just north of the main island of Cuba, this smaller isle is home to some of the nation's most beautiful strands. This is a haven for vacationers, packed with beachfront resorts.
Accommodation: Top-Rated Family Resorts in Cuba
12. Castillo de Los Tres Santos Reyes Magnos del Morro, Havana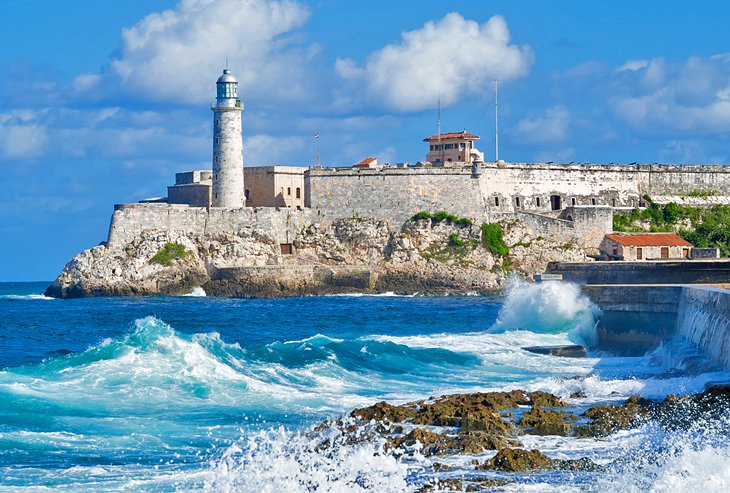 Built in the late 16th and early 17th centuries, this Italian-designed fort is best viewed (and photographed) from the El Malecon promenade. Featuring a prominent lighthouse, the fort was designed to protect Havana's harbor from pirates and other invaders intent on committing a massive heist. It's from here that you'll enjoy unparalleled views of both the sea and Havana.
13. El Capitolio Nacional, Havana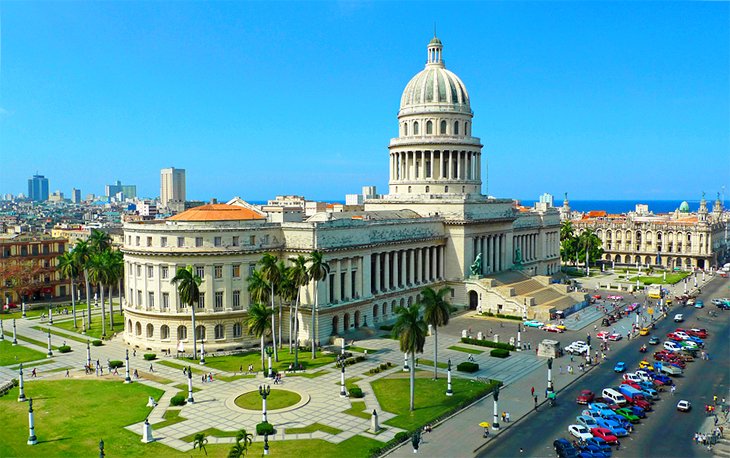 The National Capitol Building, El Capitolio Nacional is one of the most visited sites in Havana. It took over three years for 5,000 workers to complete the majestic structure, which was modeled on the Panthéon in Paris.
Upon closer examination, El Capitolio also resembles the parliament buildings in Washington, D.C. It is located in Centro Habana and houses the Cuban Academy of Sciences and the Science and Technology National Library.
14. Galician Palace, Havana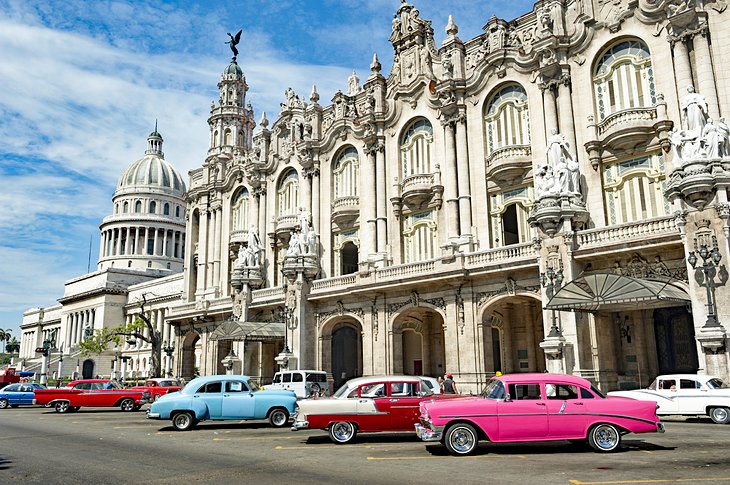 The striking Galician Palace is unmissable, standing in all its historic glory on Prado Street. Opened in 1915, this remarkable theater stands as an iconic reminder of the role Galician immigrants played in the country's history. In fact, they paid for this remarkable building, which stands across from the city's Central Park and plays host to the Cuban National Ballet.
15. Santiago de Cuba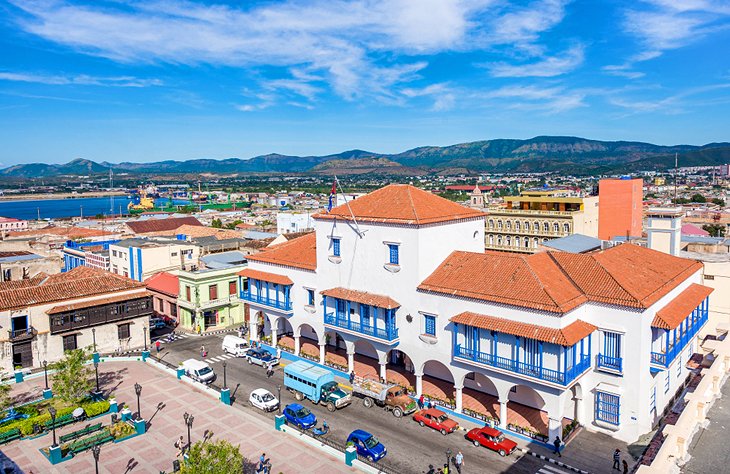 Those hoping to find diverse architecture, rich history, exciting nightlife, and plenty of people-watching opportunities will be more than happy in Santiago de Cuba. Cuba's second largest city, this is where you'll find thrilling impromptu musical performances (i.e. at the Casa de Las Tradiciones), as well as delicious restaurants and eclectic shops.
16. Museo de la Revolución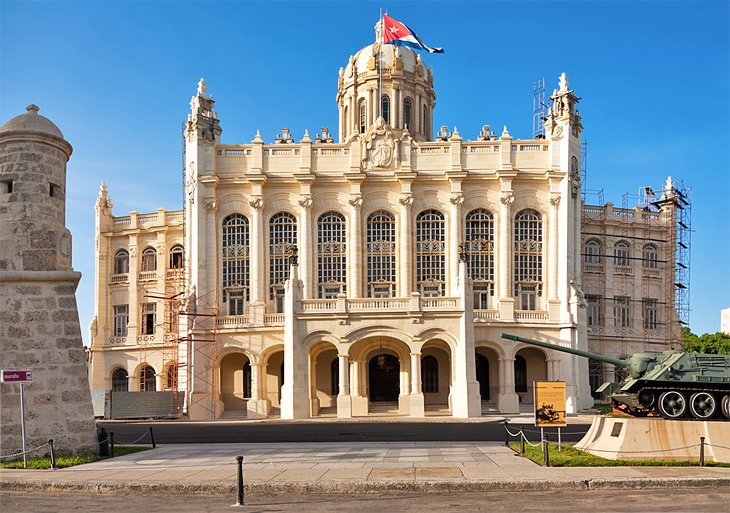 Another Old Havana superstar, this glamorous building was once the Presidential Palace. Presidents including Mario Garcíia Menocal and Fulgencio Batista called this lavish structure home. Batista was the last to live behind the ornate façade.
After his reign, the building was turned into the Museum of the Revolution (Museo de la Revolución). The inside was decorated by some of New York's top designers from swanky Tiffany's.
17. Castillo de San Pedro de la Roca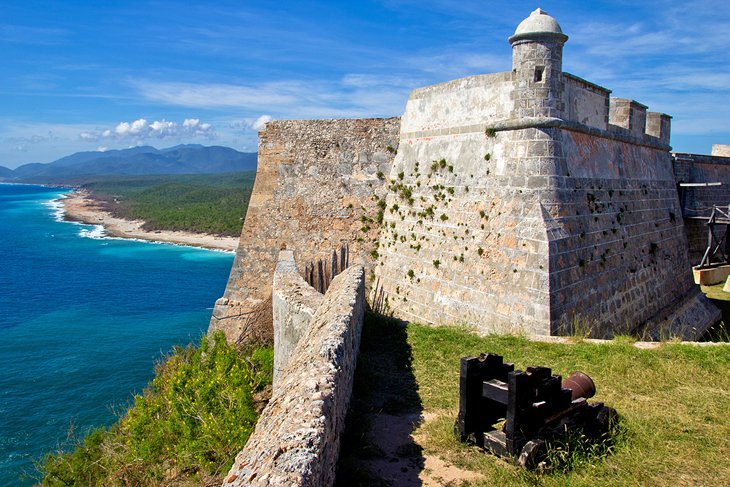 This large fortress was built upon a rocky headland named El Morro. Consisting of a series of bastions, forts, and batteries, the goal of this well-designed stronghold was to protect Santiago's port. Today, it stands as an incredibly preserved example of the Spanish-American school of military architecture.
18. Cementerio de Cristóbal Colón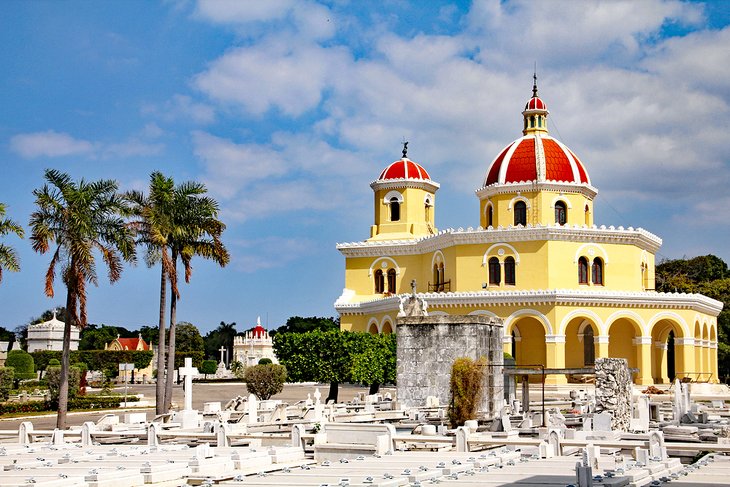 Known as Colon Cemetery in English, Cementerio de Cristóbal Colón is a must-see for any visitors to Havana. This expansive Necropolis features architectural and design marvels, as well as historic statues carved from marble. Those buried near the main walkways held a higher social rank than those buried farther inland.
19. Plaza de la Catedral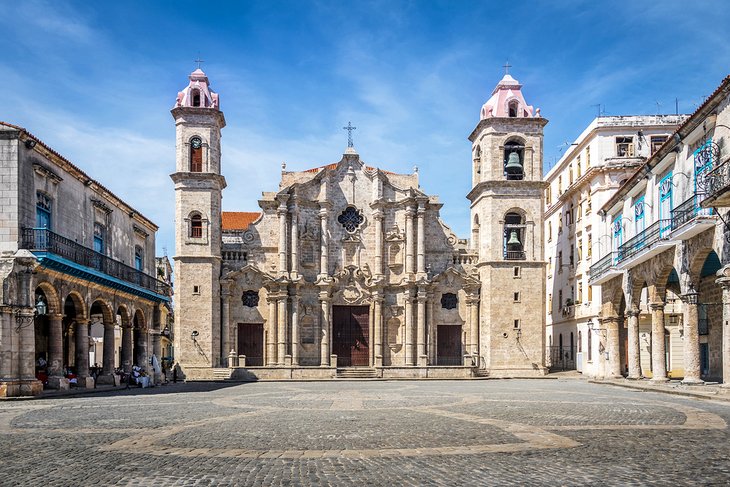 Plaza de la Catedral is one of Havana's most bustling squares. Flanked by the impressive Catedral de La Habana and the 18th-century Casa de Lombillo, art lovers can spend hours perusing the works available in the multiple galleries that call this area home. The creations on display in the 18th-century Casa de los Condes de Peñalver are unmissable.
20. Bacardi Building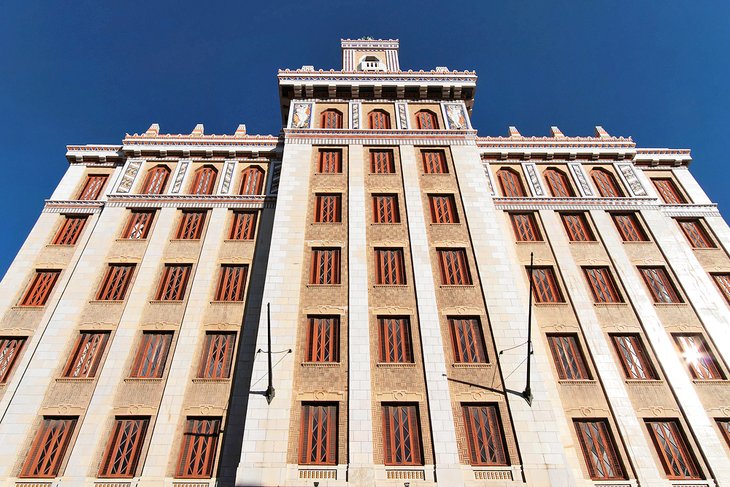 It's easy to see why the Bacardi building is one of the most famous structures in Havana. The city's first Art Deco building, this 1930 gem can be found on the Avenida de las Misiones. Once viewed up close, the design's intricacies really pop. This was once the city's largest skyscraper. Today, it is dwarfed in size, but not grandeur, by larger, more modern developments.
21. Plaza Mayor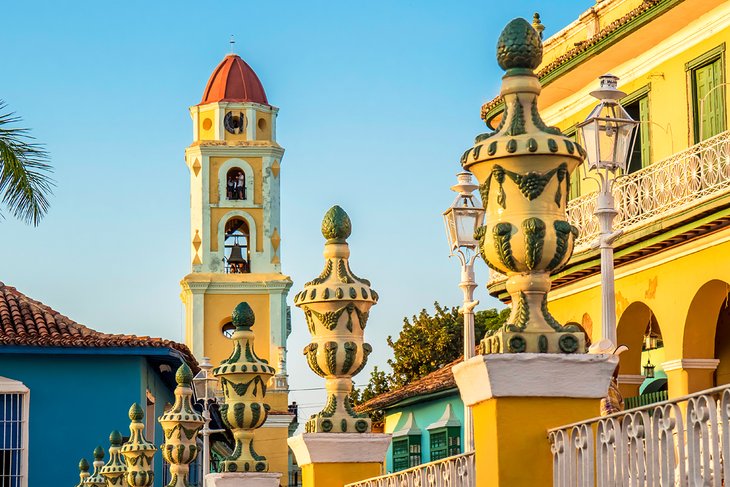 You might want to wear sunglasses when visiting Plaza Mayor in Trinidad, a vibrant square in the city's core. You'll find yourself surrounded by a kaleidoscope of greens, yellows, and blues so bright, you can't help but smile. The eclectic buildings here date to the 18th and 19th centuries, but the square harkens back to the early 16th century.
22. Remedios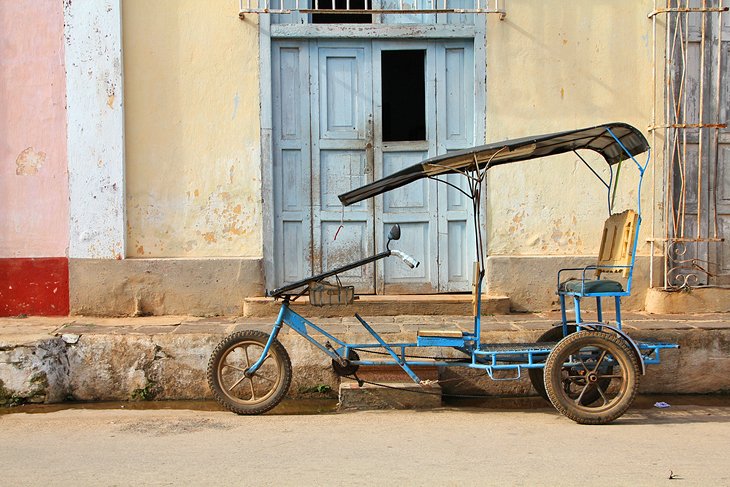 Who needs a car when you can tour fabulous Remedios by a bicycle rickshaw? This centrally located town isn't as popular as its larger counterparts (i.e. Havana and Trinidad). What it lacks in size, however, it makes up for in a rich history dating back to the early 1500s. Much of it has been restored to its former glory, including the central plaza and multiple stores and eateries.