14 Top-Rated Beaches in Jamaica
Author Anietra Hamper has traveled in Jamaica, exploring the fishing and outdoor opportunities that include visiting some of the country's most spectacular beaches.
Jamaica is the Caribbean island nation defined by reggae music, jerk chicken, unmistakable Blue Mountain coffee, and of course, jewel-toned beaches. With more than 900 kilometers of coastline, Jamaican beaches range from long sandy stretches, like popular Negril Beach, one of the Caribbean's best beaches, to the more secluded and tucked away coves surrounded by cliffs, and oftentimes, cliff divers.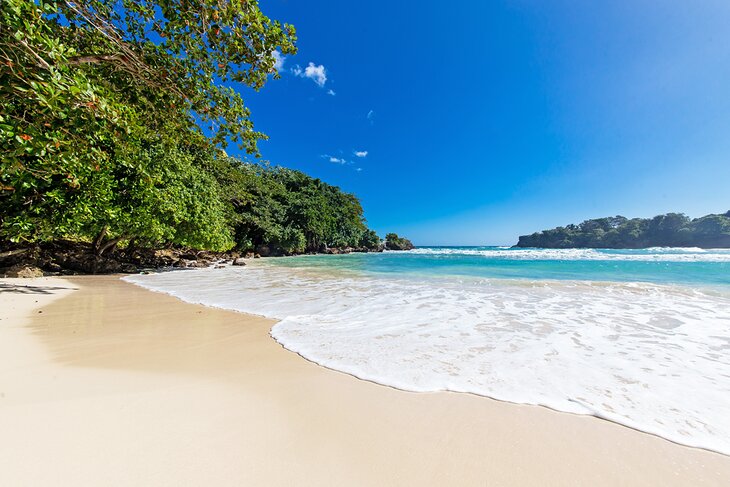 Set sail on a sunset cruise, try your skill at windsurfing, head out for a snorkeling adventure, or just do nothing at all on the soft, white sands. No matter what kind of beach experience you enjoy, there is a reason Jamaica is known for its stunning sun-and-sand experiences. Honeymooners, vacationers, solo travelers, and adventurers enjoy Jamaican beaches as much for the African culture as for the tropical breezes.
While vacationers from solo travelers to honeymooners search for the best time to visit Jamaica to go to its many beaches, there are many family-friendly beaches available as well. The stunning beaches are among the top tourist attractions in Jamaica and for good reason. Find the best stretch of sand for you with our list of the top beaches in Jamaica.
1. Negril Beach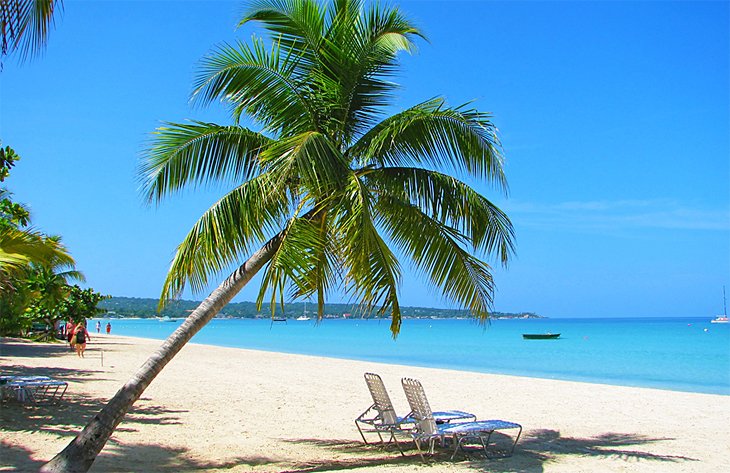 One of the most popular beaches in Jamaica is Negril Beach, also called Seven Mile Beach. The famously long, white-sand beach is on the west coast, stretching approximately five miles despite its "seven-mile" nickname. Due to the popularity of Negril Beach, it is often crowded with sunbathers, swimmers, and water sports enthusiasts.
It is easy to find kayak and sailboat rentals to head out onto the water for the day. Many resorts in Negril, like Catcha Falling Star, are all-inclusive, with high-end amenities and luxury accommodations with plunge pools and suites.
Your Jamaican beach experience is not complete without enjoying an oceanfront lunch of jerk chicken on your lounge chair from a local vendor. Also, be sure to check out the rest of the attractions and things to do in Negril.
Location: Negril, Jamaica
Accommodation: Best All-Inclusive Resorts in Negril
2. Doctor's Cave Beach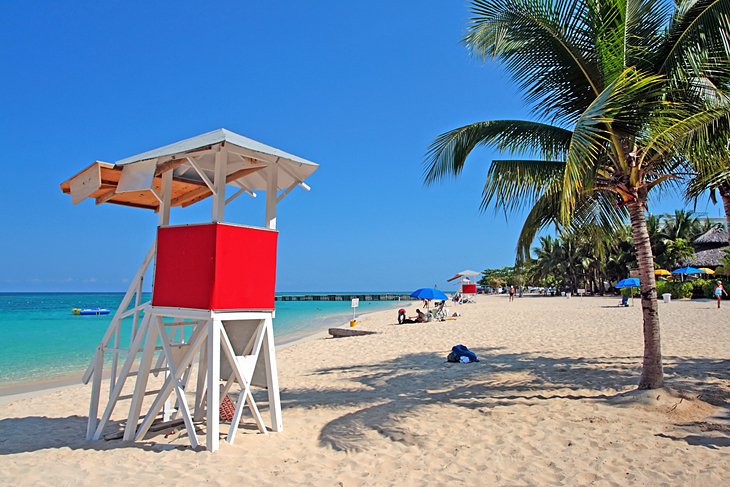 If golden sand is your style, Doctor's Cave Beach in Montego Bay is a must-visit. This tranquil beach has an almost perfect year-round climate of 80 degrees. There is a ban on radios and vendors at Doctor's Cave beach, so the atmosphere is quiet, with only the sound of crashing waves instead of reggae music. It is this purist beach vibe that vacationers enjoy.
The beach is clean, and facilities are modern, with changing areas and equipment available for rent, like lounge chairs and umbrellas. The beach is popular for water sports but most activities, like kayaking and snorkeling, are booked as tours.
While the beach is quiet enough for a nap in a chair, it is a great beach for enjoying a glass-bottom boat ride to explore the rich marine life and coral in the area. Montego Bay has plenty of resorts with sea-view villas, like those at the Round Hill Hotel & Villas that put the ocean right outside your window.
Location: Montego Bay, Jamaica
Accommodations: Best Resorts in Montego Bay
3. Frenchman's Cove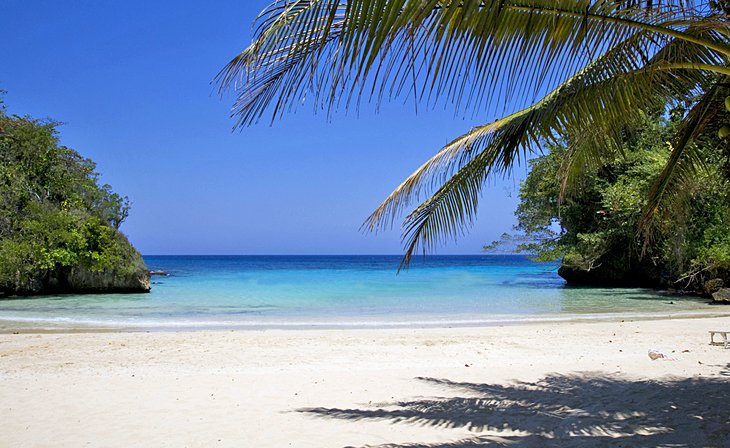 There is a reason that Frenchman's Cove in Jamaica has made appearances in movies like Club Paradise and other films because it is a tropical paradise. The lagoon-style beach is located in Port Antonio and used to be a secluded beach retreat for the Hollywood elite.
What makes Frenchman's Cove so appealing is the quiet stream that converges into the turquoise ocean. The pristine sandy beach feels exotic next to the calm, bath-water-temperature lagoon. It is a quieter beach scene than other locations in Jamaica, which is exactly why it is popular with those who know about it.
The eclectic Geejam resort has suites and villas surrounded by palms and plenty of windows to bring the beach to you, even while you are in your room.
Location: Port Antonio, Jamaica
Read More: Must-See Bond Filming Locations in Jamaica
4. Bloody Bay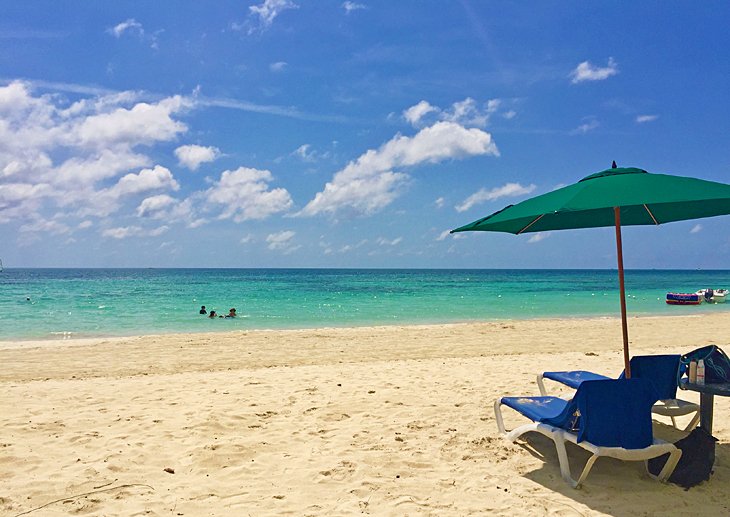 While the name of Bloody Bay is not so appealing, the destination itself is a nice retreat from the more populated Jamaican beaches. Bloody Bay is segmented into private sections of beachfront resorts, like Sunset at the Palms, where guests can go from their luxury treehouse accommodations directly to a quiet and protected beach.
Rentals for kayaks and water sports gear are conveniently located close to the water. The soft, white sand on the beach leads to shallow swimming areas where you can float on a raft or just walk on the sandy bottom in the water. Several sunset cruises and snorkeling excursions leave from Bloody Bay, so you do not have to travel far to plan a full agenda of activities.
Location: Negril, Jamaica
5. Ocho Rios Bay Beach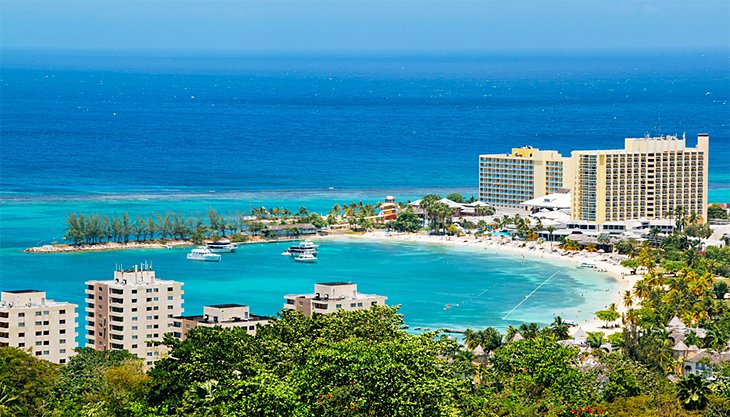 Since Ocho Rios is a cruise port, you can often find tourists flocking to Ocho Rios Bay Beach to dip their toes into the calm Jamaican water. The clear, blue water and shallow areas for swimming make it a nice beach to visit. It is small, but a few eateries and shops are nearby.
There are lots of excursions available, like kayaking to view marine life and snorkeling that can be booked from the beach vendors affiliated with resorts like the Moon Palace Jamaica. The beach is clean, with very little sea debris washing ashore. There are plenty of shells to find, especially in the mornings.
Location: Ocho Rios, Jamaica
Accommodation: Best All-Inclusive Resorts in Ocho Rios
6. Hellshire Beach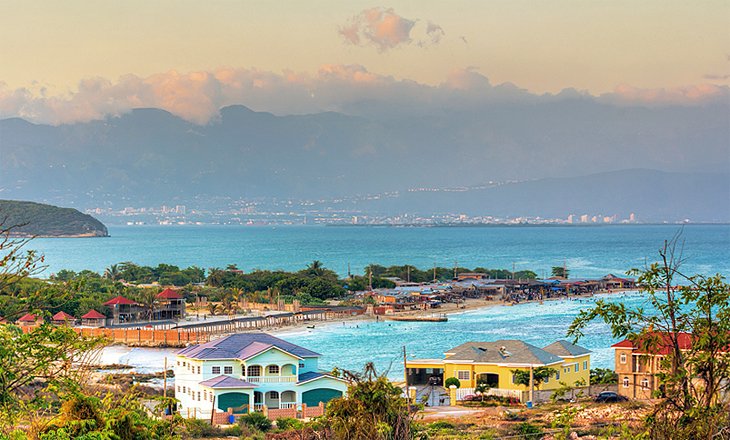 The popular Hellshire Beach near the capital of Kingston is a favorite among locals and vacationers. The beach has black sand in areas and is outlined by the Blue Mountains in the distance and crystal-clear, blue Jamaican water.
It is an active beach scene that is popular for its festivals, as well as open-air concerts. Hellshire Beach is where you will want to look for vendors selling fried fish, as it is some of the best you will find in the country. There's an added charm to enjoying this local dish in its rustic and "nothing-fancy" form by the beach.
Most of the better hotels, like the Courtleigh Hotel and Suites and The Spanish Court Hotel, are about 16 kilometers away from the beach, but transportation is easy in the capital. Ask your resort to pack you a beach lunch to take with you and dine by the ocean during your day on the sand.
Location: Hellshire, Jamaica
7. Treasure Beach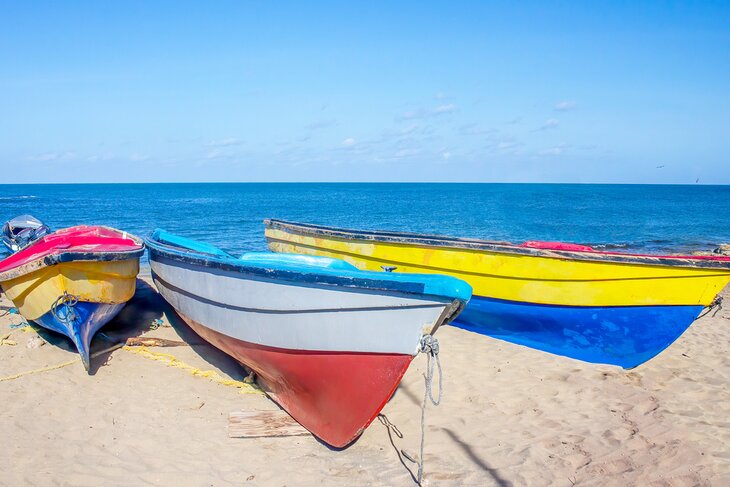 The southern shore gem of Treasure Beach is preferred by people who are looking to get away from the crowds. The nine-kilometer stretch of beach is a quiet retreat that has both a sandy shoreline and sections of rocky terrain. The sand is a mix of light and dark, adding depth to the scenic views.
The beach has a series of coves that are perfect to explore and watch the fishermen in their boats in the distance. Treasure Beach is laid-back, with small local vendors in stands selling jerk chicken and other local food. Many of the lodging options near the beach, like Jakes Hotel, Villas & Spa and Katamah Beachfront Guesthouse, are vibrant and eclectic, adding to the tropical mood of your trip.
Location: Treasure Beach, Jamaica
8. Winnifred Beach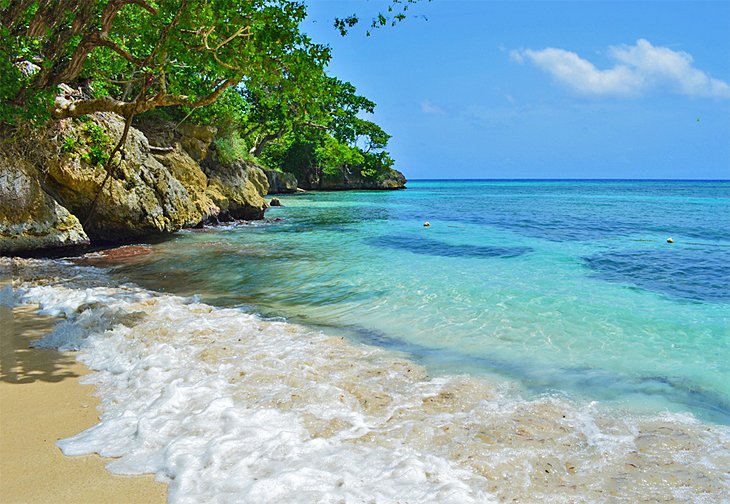 The calm water at Winnifred Beach and easily accessible coral reefs for snorkeling are just two of the reasons visitors love it. Located near Port Antonio, it is one of the most popular beaches in the country.
The sand is surrounded by trees, so there is plenty of shade, and you will find unique excursions available, like horseback riding tours along the coast. Since this is a public beach, you will share it with many locals, especially on the weekends. There are hotels, like the Tropical Lagoon Resort, located within walking distance of the beach.
Location: Fairy Hill, Jamaica
9. Fort Clarence Beach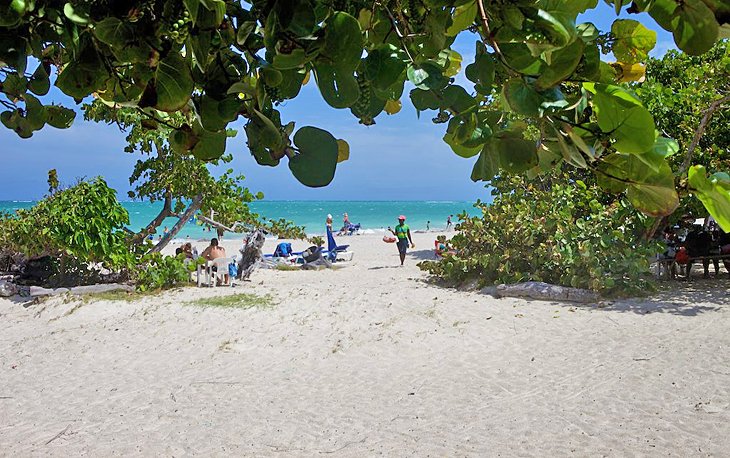 Fort Clarence Beach is near the capital of Kingston, but unlike other beaches nearby, it draws fewer crowds. It is a nice beach for families given the calm swimming water and fewer tourists. The white sand and blue water makes this a perfect relaxation beach, with great spots for a picnic.
Lounge chairs are available, and there is plenty of room for beach volleyball and building sandcastles. There are many hotels in Kingston, but if you are looking for suites, the Terra Nova All Suite Hotel and The Jamaica Pegasus Hotel are comfortable options that offer nice retreats after a long day in the sun.
Location: Hellshire, Portmore, Jamaica
Accommodation: Top-Rated Family Resorts in Jamaica
10. Boston Bay Beach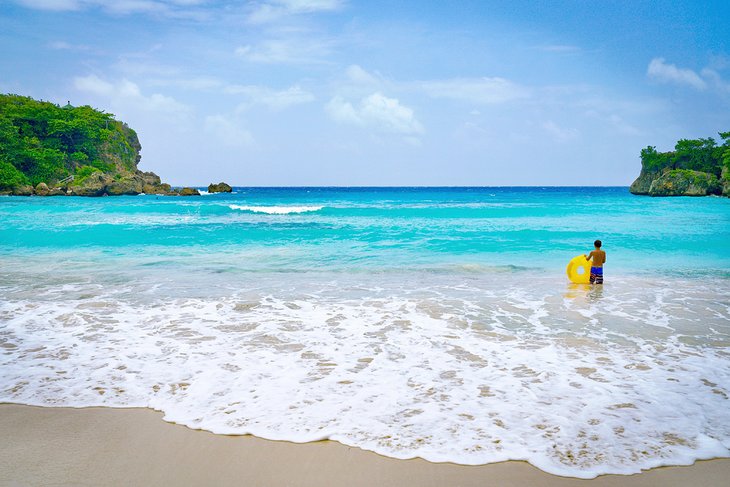 The eastern shore of Jamaica can see large waves, which is one of the reasons that surfers and those looking for a great view head to Boston Bay Beach. It is located near Port Antonio and is credited for being the origin of the famous Jamaican jerk food. In addition to incredible blue water and perfect surf, you will find some of the best local food stands for lunch.
The beach is popular for surfing and windsurfing, and if you have ever wanted to try either, you can book lessons. Besides the stunning beach, there are stunning resorts, like The Trident Hotel and Hotel Mocking Bird Hill, that will cater to your every need.
Location: Boston Bay, Jamaica
11. Dunn's River Falls Beach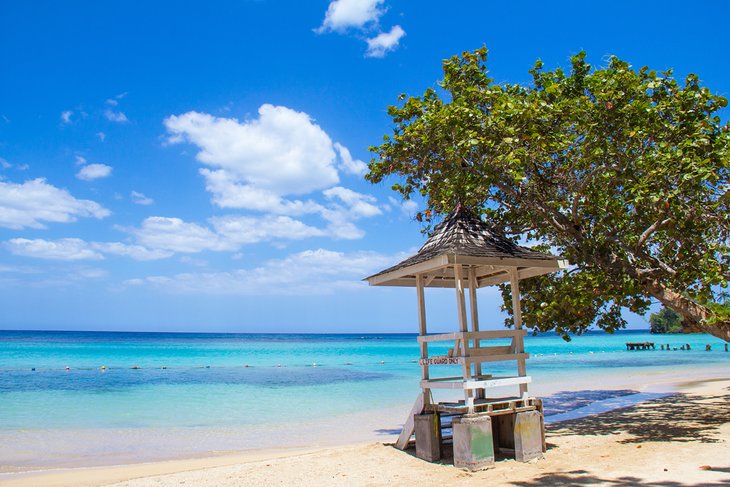 One of the most stunning and exotic beach scenes in Jamaica is the treasure of Dunn's River Falls Beach. As its name suggests, there are spectacular falls to explore in addition to the beach area. Dunn River Falls Beach is near all the attractions of Ocho Rios and features a 180-meter-high cascade of waterfalls.
People enjoy walking through the different levels of the falls, but the beach area is ideal for spending the day and snorkeling. The scenery is unlike anything else you will experience in Jamaica. The resorts in the area, like Jewel Dunn's River Beach Resort & Spa, cater to the spectacle of the falls and can assist with tours. For an added excursion, you can book a day trip on a boat around the area or a tour of the falls.
Location: Steer Town, Jamaica
Read More: Best Waterfalls in Jamaica
12. Burwood Beach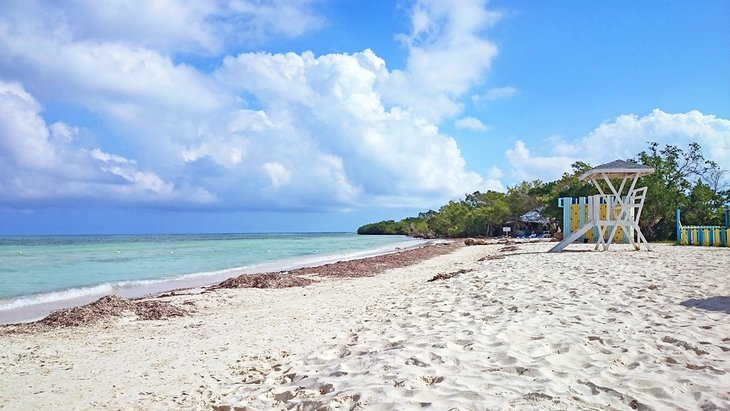 Burwood Beach, near Falmouth, is a nice option if you are looking for a more active beach vacation vibe. This is a family-friendly beach and has a long stretch of sand that is great for strolls along the water.
The area will have more visitors than some of the other beaches because it is also an easy beach to access for cruise ship passengers who dock in Montego Bay for the day. The upside to the more touristy beach scene is that it has plenty of amenities, including gazebos and a recreation area for kids.
The water at Burwood Beach is calm for swimming, and the mood is relaxed. Stay for the day and have lunch from a local vendor who can make a dish from fresh seafood.
There is a small fee to visit the beach, so take money with you. There are several all-inclusive resorts in Falmouth, including Royalton Blue Waters and Excellence Oyster Bay that are just a short distance from Burwood Beach.
Location: Corral Spring, Jamaica
Accommodation: Best All-inclusive Resorts in Jamaica
13. Puerto Seco Beach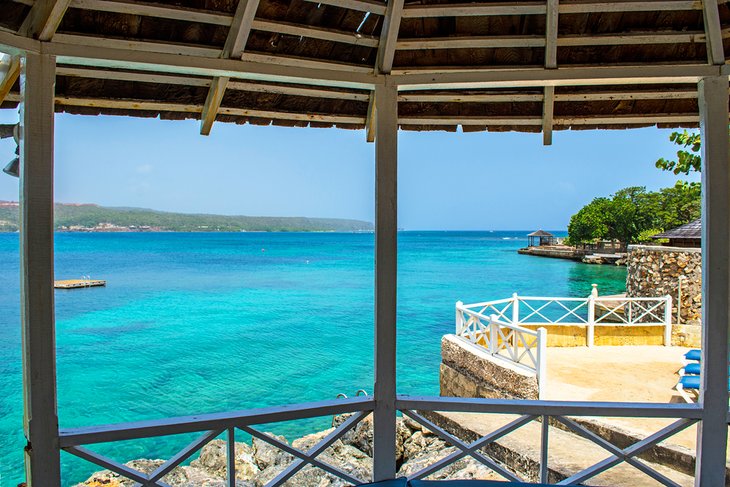 Puerto Seco Beach is in the heart of Discovery Bay, located about a half-hour outside Ocho Rios. It is a scenic public beach with lots of amenities and activities. If your ideal day at the beach includes water sports like parasailing, kayaking, or taking a trip on a glass-bottom boat then you will find plenty of things to do here.
The water is ideal for swimming, and there is usually plenty of people-watching and entertainment happening if you just want to relax by the water and soak in the scene. It is a family-friendly beach, with a park and waterpark, which is a nice option for children.
There are amenities like restaurants and changing facilities nearby, so it is a convenient day out. If you want to learn to scuba dive on your vacation, there is a PADI 5-star facility at this beach. As you might suspect with a beach that caters to tourists, there are plenty of lodging options including all-inclusive resorts like the Bahia Principe Grand Jamaica located just a few miles away.
Location: Discovery Bay, Jamaica
14. Runaway Bay Beach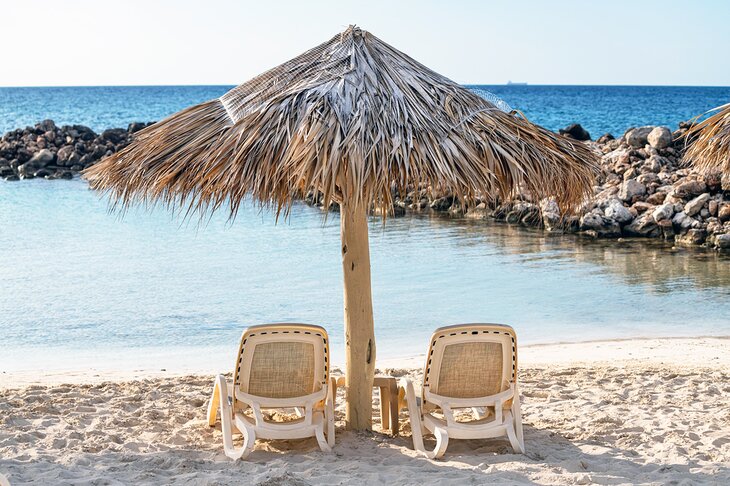 A spectacular beach on Jamaica's northern coast is Runaway Bay, where exploring underwater is as popular as basking in the sun next to the water. This beach is located about 10 miles from Ocho Rios in a small coastal area. Park yourself on the sand for time on a quieter beach, away from the busy port town beaches.
Grab the snorkel mask or diving gear and explore the underwater wonders off the northern coast with stunning coral reefs located near Runaway Bay. This is a prime location for observing a variety of marine life, from stingrays to barracudas, not far from the shore. There are nearby dive shops where you can rent equipment or book tours.
If you base in Runaway Bay at one of the luxury all-inclusive resorts like Jewel Paradise Cove Beach Resort & Spa, you have easy beach access and are close to many of the top attractions and excursions available along the northern coast, like the Green Grotto Caves.
Location: Runaway Bay, Jamaica