10 Top-Rated Tourist Attractions in Negril
Author Karen Hastings traveled around Jamaica with her husband and children. She loves the beautiful beaches, friendly people, and lush countryside.
Searching for a relaxing beach vacation? Look no further than Negril. Home to one of the Caribbean's most beautiful beaches, this laid-back town is a haven for sun worshippers, cliff jumpers, and waterfall aficionados. With a slew of natural attractions and fun things to do both inland and on the coast, it's no wonder so many tourists visit this tropical beauty.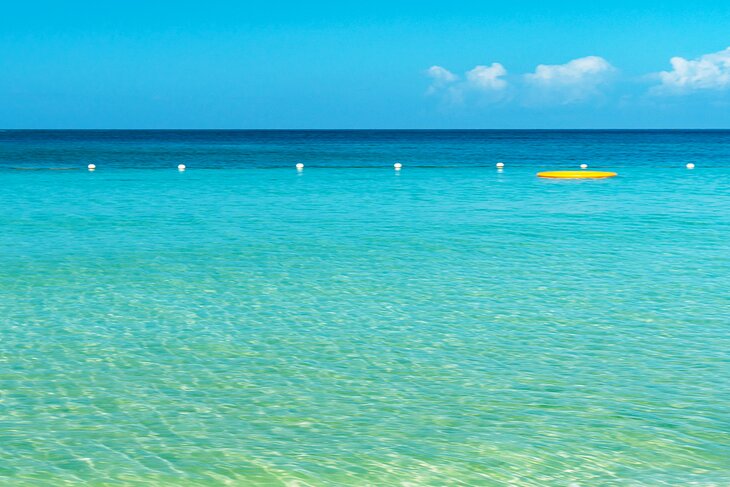 Yes, Montego Bay boasts buzzy attractions, and Ocho Rios pulls in loads of tourists, but Negril vacationers aren't after a noisy beach holiday. They want to play in the soft sand of Negril Beach, snorkel around coral reefs, soak in therapeutic mineral springs, and zipline through the jungle canopy.
Visiting at sunset? Head to the famous Negril Cliffs to watch divers plunge from the limestone peaks as the fiery sun slides into the sea.
Find the best places to visit with our list of the top attractions in Negril.
1. Negril Beach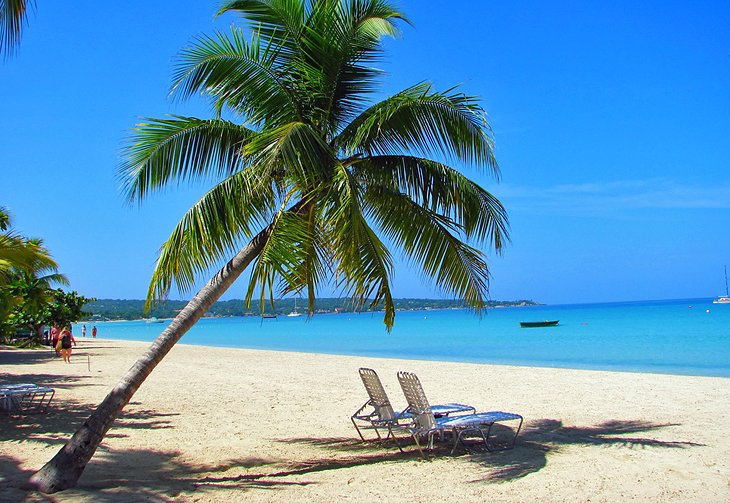 Stretching from Bloody Bay in the north to Long Bay and the Negril Cliffs in the south, Negril Beach is one of Jamaica's finest stretches of shoreline. Also known as Seven Mile Beach, though it's really only four miles long, this ravishing stretch of soft sand and turquoise sea is great for strolling, swimming, and sunbathing.
You'll find plenty of water sports on offer, as well as some persistent hawkers wandering the shore selling souvenirs. Several areas of the beach are also designated as clothing optional.
Restaurants and plush beach resorts overlook the shore, including the popular Sandals Negril, Royalton Negril, and Beaches Negril Resort & Spa, but most lie tucked back behind sea grapes and coconut palms. Many of these are top all-inclusive resorts that help take the stress out of budgeting for a more relaxing stay.
Are you looking for some quiet couple time? Strolling at sunset along this sublime stretch of sand and sea is one of the most romantic things to do in Negril.
If you want to go snorkeling in Negril, you can take a boat tour to the coral reefs surrounding Booby Cay, just north of Negril Beach, or snorkel off the Negril Cliffs in the south.
Accommodation: Where to Stay in Negril
2. The Negril Cliffs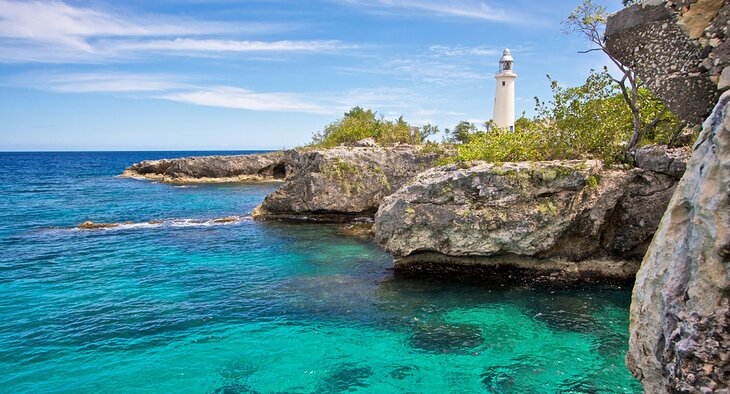 Rising above the sea, south of Negril Beach, the picturesque Negril Cliffs were used as a backdrop for the James Bond film Thunderball.
At their highest point, these limestone outcrops rise up to 12 meters high, and they're a popular spot for both locals and tourists to dive into the calm sea below. If you're looking for an adrenaline rush, this is one of the most exciting free things to do in Negril.
Prefer a more relaxing experience? Head to the famous Rick's Café. Perched high above the ocean, it's a favorite venue to unwind at sunset and watch all the cliff-diving action.
Some of Negril's most luxurious resorts preside over gorgeous ocean views atop the cliffs here, including The Caves, one of the best luxury all-inclusive resorts in the Caribbean.
A short walk from Rick's Café is Negril Lighthouse. Built in 1894, it towers 30 meters above sea level and is the highest structure in Negril. Sadly, it's no longer open to visitors, but you can still view it from the outside.
3. Mayfield Falls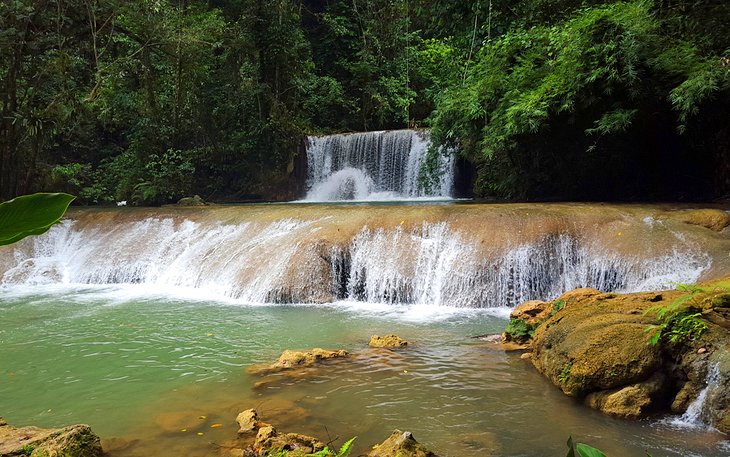 About an hour's drive from Negril, past papaya trees and plantations, Mayfield Falls are smaller and less commercialized than Dunn's River Falls — and blissfully less crowded.
These spring-fed cascades tumble into more than 20 pools, providing tranquil spots to soak under the invigorating rush of water. If you're a couple, this is one of the most romantic places in Negril, Jamaica. The road through the jungle to reach the falls is rough and rugged, but that's part of the adventure.
You can catch a cab to the trailhead and hire a guide once you arrive, who will lead you on the hour or so hike to the falls and point out interesting birds, butterflies, and plants. Another option is to join a Mayfield Falls Nature Walk from Negril.
It's a good idea to wear water shoes and only bring items you are willing to get wet, as you have to wade through the river for about an hour to reach the falls. Before you plunge into the cool water, you can stash your belongings in lockers that are available for rent.
4. Bloody Bay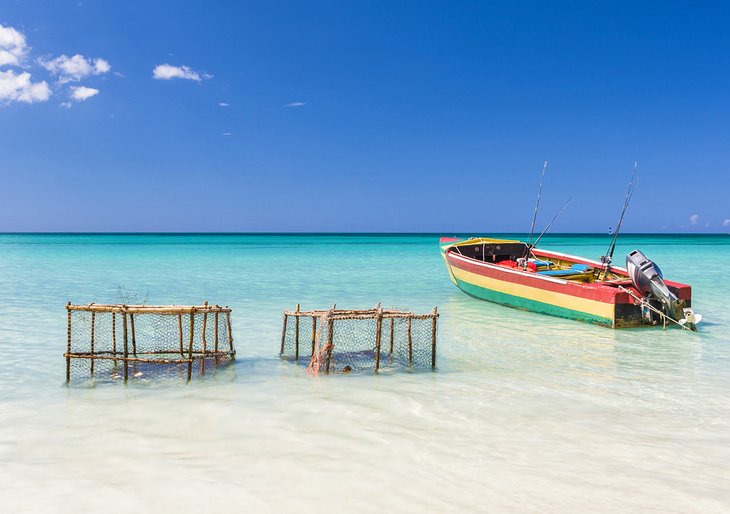 Just north of Seven Mile Beach, Bloody Bay tends to be a little quieter than its famous neighbor. Palms and sea grape trees provide shelter from the sun, and the water is typically calm and clear.
If you're feeling peckish, rustic beach shacks sell BBQ seafood. You might find a few souvenirs to buy as well. But if you're more interested in just relaxing, sun loungers are available along the shore.
Plenty of restaurants and hotels back the beach, including the large resort Hotel Riu Negril, but this stretch is usually less crowded than Seven Mile Beach, which makes for a more peaceful experience. Lifeguards are on duty from 8am to 5pm.
5. Barney's Flower & Hummingbird Garden Jamaica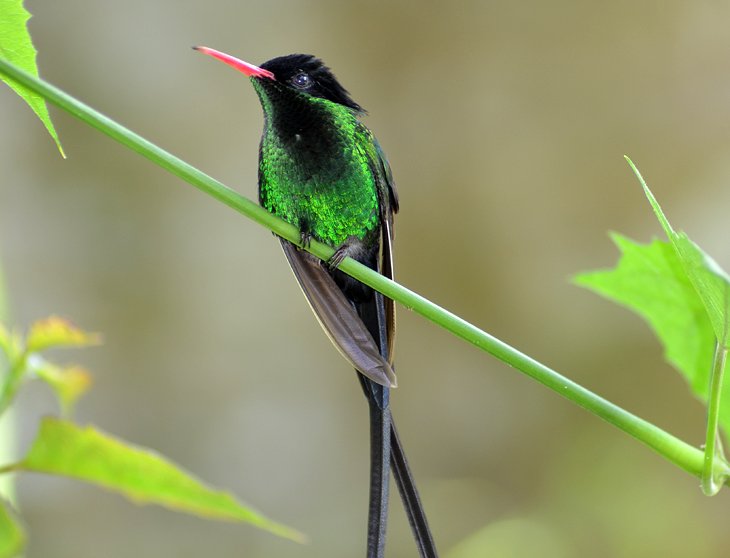 Tucked in tropical foliage, a five-minute drive from Rick's Cafe, Barney's Flower & Hummingbird Garden is a tiny treasure box of birdlife.
Here, hummingbirds hover over hibiscus, bougainvillea, ginger, and other tropical plants in this small quarter-acre garden. When you arrive, you are offered a bottle of sugar water to feed these winged beauties, so you can enjoy up-close encounters and fantastic photo opportunities.
Other small animals such as butterflies, bees, and lizards also visit the garden. If you're lucky, you might even spot the doctor bird, Jamaica's national bird, also called the swallow-tailed hummingbird.
Note: While this popular point of interest is open daily from 8:30 am to 5:30 pm, keep in mind that the weather and other conditions influence hummingbird activity.
Address: Hylton Avenue, Negril
6. Zipline Canopy Tours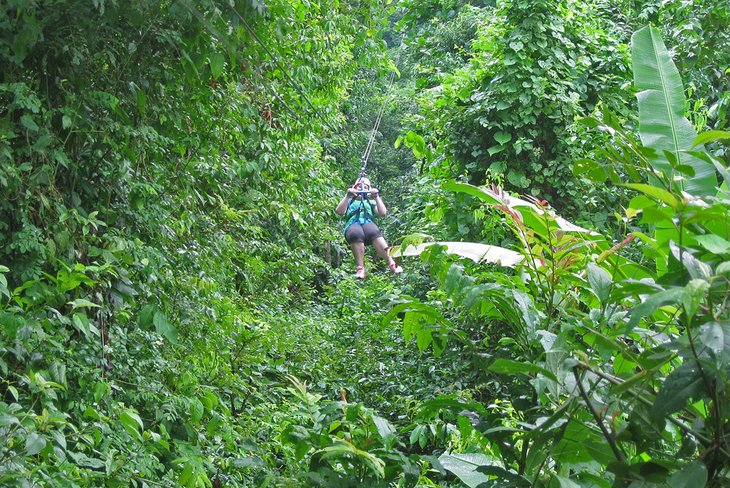 If you want a taste of the jungle, and you can tear yourself away from Negril's beautiful beach, a canopy ziplining tour is a great option. Not far from Negril, you can soar through the treetops on a series of ziplines, linked by platforms perched high up in the trees.
The Negril Superdeal: Zipline, Cultural Ride, and ATV Off-Road Adventure Tour combines a whole lot of adventure into about six hours. Hotel drop-off and pickup is included as is lunch and experienced guides. Along the way, you can learn about Jamaica's ecosystems and enjoy bird's-eye views of the lush landscape below.
7. Blue Hole Mineral Spring
About 25 minutes southeast of Negril, Blue Hole Mineral Spring lies in a limestone cavern, where you can soak in the cool, clear waters and test the claim of its therapeutic qualities. The white clay-like mud surrounding the spring is said to be soothing for the skin.
If you're agile, you can jump off a cliff into the chilly waters or climb down the long ladder, and those who are physically challenged can soak in the spring-fed swimming pool.
After your dip in the spring, you can enjoy a relaxing massage with the soothing white mud.
Location: Brighton District, Westmoreland Parish
8. Kool Runnings Adventure Park
Family-friendly Kool Runnings Adventure Park is a great place to spend a few hours - especially if you have kids.
You can zoom down Jamaican-themed waterslides, cruise in the go-karts, and bounce on the bungee trampoline. Looking for something a little more relaxing? Drift around on the lazy river ride. Small children will love Captain Mikie's Coconut Island, with smaller slides and interactive water features.
A new Adventure Zone appeals to older kids, with paintball, outdoor laser tag, and even rafting and kayaking on the canal here.
After a day of water-themed fun, you can grab a bite to eat at one of the on-site restaurants.
Address: Norman Manley Boulevard, Negril
9. Half Moon Beach
Quieter than Seven Mile Beach, the private Half Moon Beach is a peaceful slice of hammock-slung coast, where you can bask on the sand and feast on fresh-grilled seafood at the open-air restaurant.
A daily fee covers use of the beach and its facilities, and a short boat tour whisks you off to a tiny island, Calico Jack Pirate's Island, for snorkeling and refreshments.
Half Moon Beach hosts live music on certain days, and if you want to extend your stay, you can book one of the colorful wooden cabins.
Location: Green Island, Hanover
10. Booby Cay Island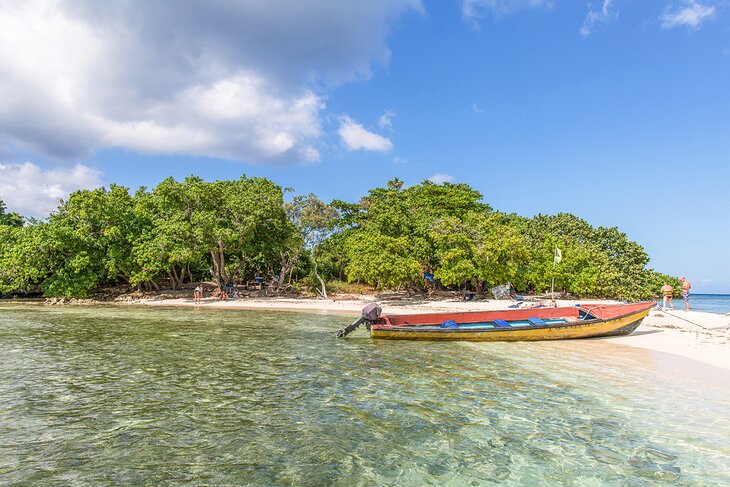 Named after the marine birds of the same name, Booby Cay is a small island located close to Negril. It's an ideal place for a day trip. Visiting here is also a popular thing to do for families and couples looking to snorkel or scuba dive around the island's lively coral reefs.
Some tours combine a glass bottom boat ride with a snorkeling experience that leaves from certain beachfront hotels in Negril and Seven Mile Beach. These include an hour of snorkeling with gear provided and a visit to the white sandy beach of Booby Cay.
Lunch is prepared by one of the local chefs who sell fresh seafood and other treats on the island.
Tip: Wear water shoes, as the shore is a bit rocky.
More Related Articles on PlanetWare.com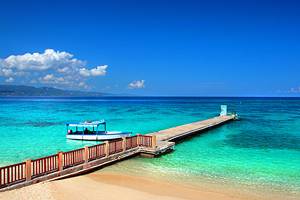 Exploring Jamaica: If you are interested in exploring other areas of the island, have a read through our list of the best places to visit in Jamaica. Another consideration in planning is the weather and time of year. For information, see our guide to the best time to visit Jamaica.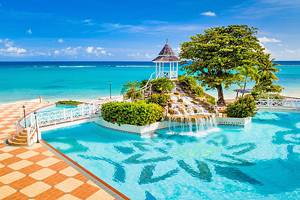 Where to Stay in Jamaica: Wondering about the best base for all your tropical adventures? Jamaica offers a wide range of accommodations, including some of the top luxury all-inclusive resorts in the Caribbean. Find the perfect resort with our lists of the best all-inclusive resorts in Negril and Ocho Rios.