16 Top-Rated Tourist Attractions in the Cayman Islands
Author Karen Hastings lived and worked in the Cayman Islands and enjoyed scuba diving along the coral reefs and basking on the beautiful beaches.
A British Overseas Territory in the Western Caribbean, the Cayman Islands offer beautiful beaches and some of the best diving in the world. Crystal-clear waters in striking shades of blue slosh upon the shores of this trio of tropical isles. Coral reefs ring all three islands, shipwrecks are scattered off their shores, and steep underwater walls teem with marine life.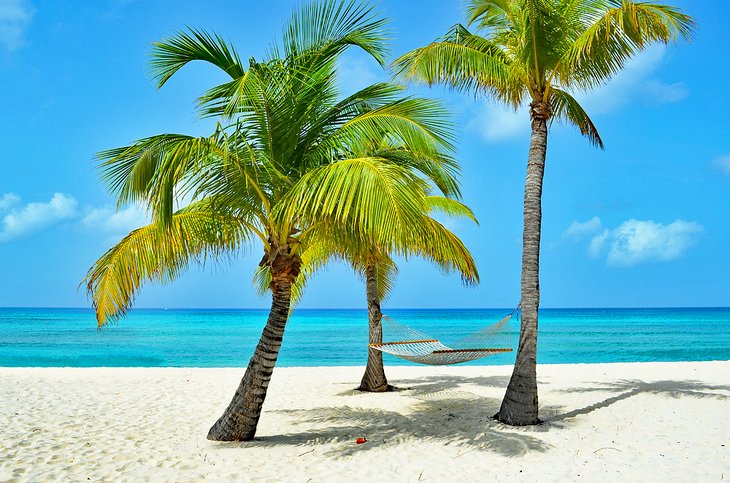 Grand Cayman is the largest of the islands. Stunning Seven Mile Beach here is one of the best beaches in the Caribbean, with a range of water sports and beachfront resorts. Popular things to do include swimming with stingrays, diving, snorkeling, hiking, and duty-free shopping in the colorful capital of George Town. Grand Cayman is also where you'll find the most happening Cayman Islands nightlife.
Cayman Brac lures nature lovers with its craggy coastline, deep caves, and slower pace.
Little Cayman is positively sleepy, but it offers some of the best dive sites in the world, as well as excellent fishing. If you're looking for a romantic couples' holiday, this is the place to visit.
For more details on the best places to visit, read our list of the top attractions and things to do in the Cayman Islands.
1. Stingray City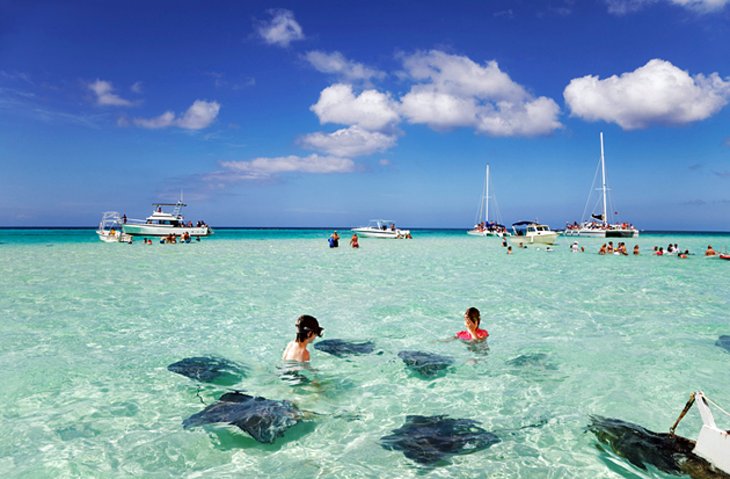 Anyone with a fear of stingrays will be cured after this trip. Stingray City is one of the most famous shallow water snorkel and dive sites in the Caribbean and one of Grand Cayman's top tourist attractions.
Custom-built boats zip out to a shallow sandbar surrounded by crystal-clear water where you can feed, kiss, and cuddle these satiny creatures. Bring the kids along for some unforgettable fun. If they're a little frightened to touch the stingrays, you can all kneel on the sandy bottom and just watch in awe as these gentle creatures glide all around you.
Snorkeling, diving, and swimming are all popular ways to enjoy this attraction. Better still sign up for the three-hour Stingray City Experience, and you'll zip out to the sandbar on a cabin cruiser and stop at two snorkeling spots on the way home.
2. Seven Mile Beach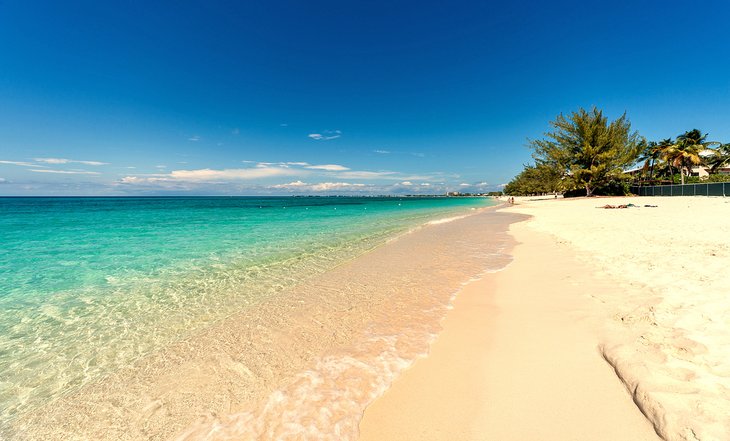 Seven Mile Beach frequently graces lists of the best beaches in the Caribbean, and for good reason. Fringed with casuarinas and coconut palms, this ravishing sweep of flour-soft sand and turquoise sea is the kind of place you dream about.
Despite its name, it's actually only about 5.5 miles, but even with cruise ship passengers flocking to its shores, this broad stretch of beach provides a peaceful patch of sand. It's also usually free of roaming vendors.
Some of the top Cayman Islands resorts fringe the shores, and you'll find plenty of places steps from the sand to buy snacks and refreshments.
The entire beach is public and impeccably maintained. It flanks the island's main road north from George Town, making it hard to keep your eyes on the road when you're driving along this stretch.
Thanks to this alluring stretch of sand and sea, the Cayman Islands is one of the best places to visit in the Caribbean for a relaxing beach vacation.
3. Cayman Turtle Centre: Island Wildlife Encounter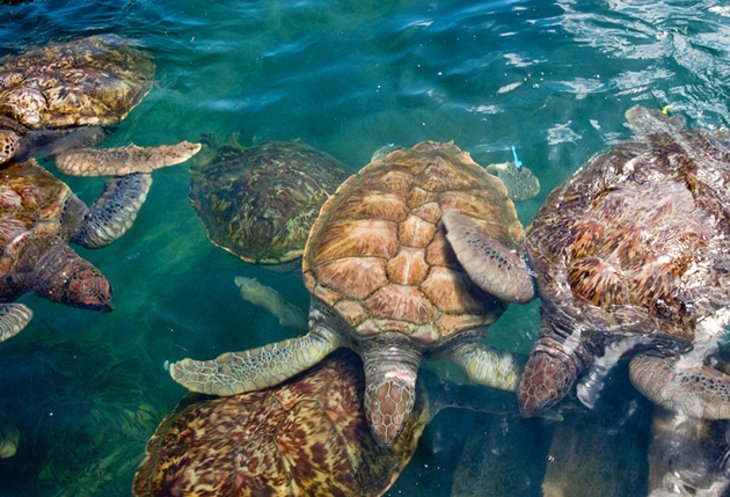 Ever wanted to snorkel with turtles? At Cayman Turtle Centre, you can do this and so much more.
This research and breeding farm houses green sea turtles. The center raises turtles to counteract poaching in local waters and is also a conservation facility, releasing turtles into the wild. But that's not all. You'll find a diverse array of attractions here, with something for every member of the family.
Touch tanks and wading pools provide plenty of opportunities for animal lovers to see these gentle creatures up close. You can even hold baby turtles and snorkel with them and other sea creatures in Turtle Lagoon. But beware of Smiley's Saltwater Lagoon, which is home to a nine-foot saltwater crocodile, the first found in the islands since the mid-1950s.
Other fun attractions include an aviary full of tropical birds, and Breaker's Lagoon, the largest pool in the Caymans, complete with waterfalls and an underwater viewing window that peers into the predator tank. You can even stroll along a replica of a typical Cayman street lined with gingerbread houses.
Visiting Cayman Turtle Center is one of the most popular things to do for families in Grand Cayman. Little ones will also love the Butterfly Garden, and if you feel like you need a little more space, you can head out on the nature trail and look for more wildlife.
Address: 825 NW Point Road, West Bay, Grand Cayman
4. Cayman Crystal Caves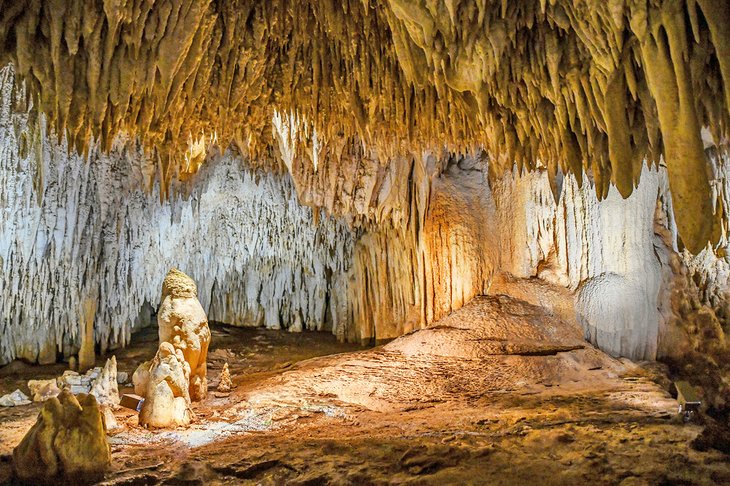 Tourists to Grand Cayman can now see a different side of the island by descending deep beneath the earth at Cayman Crystal Caves.
In 2016, Christian Sorensen began offering guided tours of caves on his lushly forested property on the north side of Grand Cayman, and they have quickly become a popular tourist attraction.
Formed over millennia, the caves are covered in contorted stalactites and stalagmites. Colonies of bats huddle in crevices, and a crystal-clear lake holds rainwater filtered through the rocks.
The 90-minute guided tours share fascinating information about the plants and animals of the area as well as the geology of the caves.
5. Diving in the Cayman Islands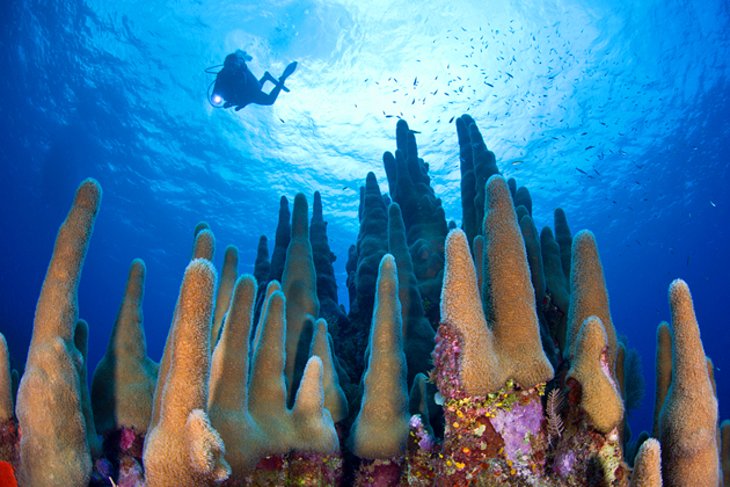 Surrounded by reefs, the Cayman Islands are one of the best diving destinations in the Caribbean. Best of all, many of the top sites lie only minutes from shore. Diving highlights include diverse coral formations, caverns, grottos, tunnels, wrecks, and steep walls, and the visibility is typically excellent
Off Grand Cayman, Stingray City is one of the most famous shallow dives in the world.
If wreck diving is more your thing, the Kittiwake Shipwreck & Artificial Reef, off the northern tip of Seven Mile Beach, is worthy of a visit.
Devil's Grotto offers crevices and swim-throughs, as well as tarpon at certain times of year, while divers at the North Wall might glimpse stingrays, eagle rays, and turtles (Babylon is a favorite site here).
Prefer to snorkel? You can see some of the island's spectacular underwater life right from the beach at Smith Cove, and turtles swim the clear waters off Spotts Beach.
Off Little Cayman, Bloody Bay Marine Park is an underwater wonderland, with Jackson's Bight and the famous Bloody Bay Wall, which plunges to depths of more than 1,800 meters.
Cayman Brac also boasts numerous excellent dive sites. The sunken Russian frigate, MV Captain Keith Tibbetts, off the island is one of the most famous wrecks in the world.
6. Queen Elizabeth II Botanic Park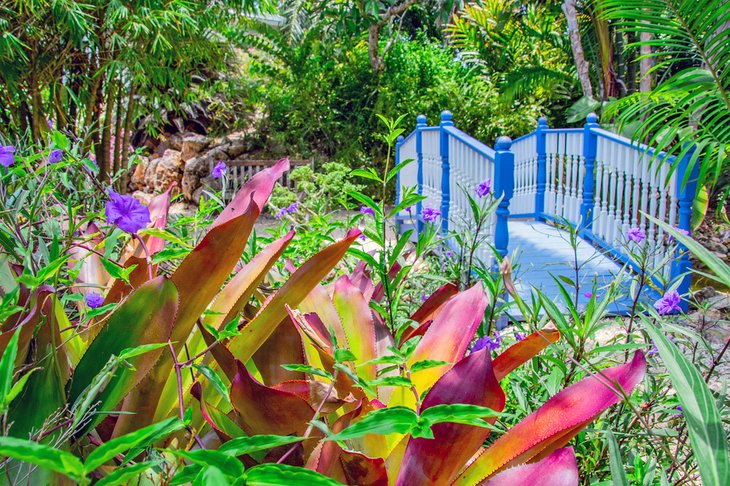 The Grand Cayman Queen Elizabeth II Botanic Park preserves the island's flora and fauna, and if you're lucky, you might even spot the endangered blue iguana.
You can stroll the garden's peaceful paths past lily-topped ponds, palm gardens, woodland habitats, orchids, and colorful flowers. Plants and trees are labeled, and benches beckon from shady nooks.
Other animals living in the park include snakes, birds, lizards, turtles, and agoutis. History buffs and green thumbs alike will enjoy the Heritage Garden, with medicinal plants and a restored Caymanian cottage.
The best way to spot a blue iguana is to book a guided tour.
Nature lovers will also enjoy hiking the Mastic Trail, about a five-minute drive from here.
Address: Frank Sound Road, North Side, Grand Cayman
7. Dolphin Discovery Grand Cayman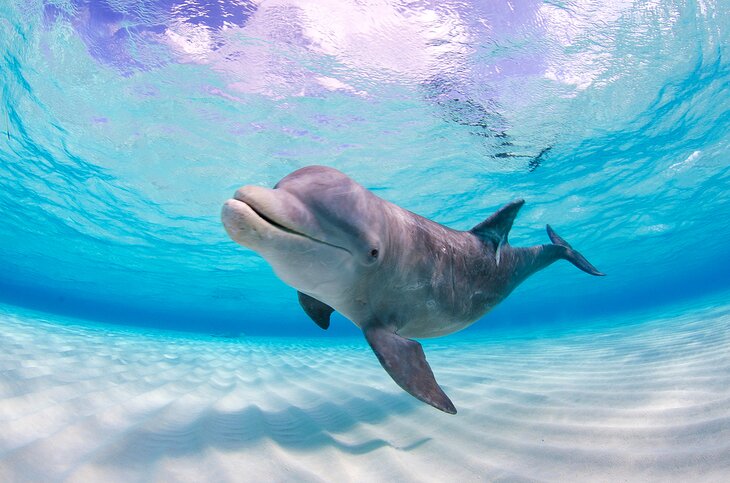 If you've wanted to swim with a dolphin since you were a kid, this is your chance to check the activity off your bucket list. Dolphin Discovery Grand Cayman offers visitors a chance to get up close and personal with the friendly sea creatures in Cove Cayman.
An ideal activity for families, this fun experience allows tourists of all ages a safe and exciting way to get nose to fin with their favorite water mammals.
Whether you're hoping to kiss a dolphin on the nose, swim with one while perched on a boogie board, or be pulled around the pool by two of these amazing creatures, you're in for an experience of a lifetime.
Address: Northwest Road West Bay, Grand Cayman
8. Mastic Reserve and Trail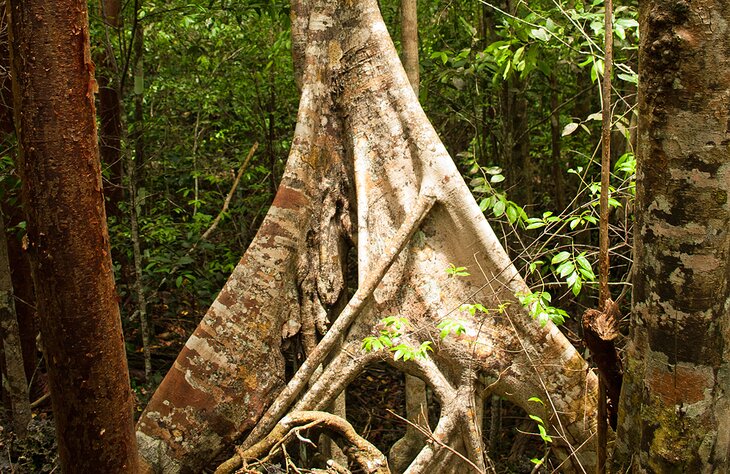 Need a break from the beach? The Mastic Reserve on Grand Cayman offers a different perspective of the island's natural attractions. It's designed to protect an area of dry subtropical forest, which is typical to the Caribbean but disappearing through deforestation, and you'll find a fascinating array of critters living here.
The best way to explore the reserve is along the Mastic Trail. This 3.7-kilometer-long trail takes you across jagged iron shore and through dry forest, silver thatch palms, and black mangrove wetland.
Originally built more than 100 years ago, the trail was no longer used and became overgrown when the island's roads were developed. With much help and repair the trail was reopened in the mid 1990s.
Today, nature lovers can stroll along the well-marked trail and spot wild orchids; birds; and small animals such as lizards, frogs, and hermit crabs. This is a romantic place to visit for couples, and you'll want to schedule at least a couple of hours here.
Guided tours are a great way to learn about the reserve's flora and fauna and are highly recommended. (Wear sturdy shoes and bring mosquito repellent and plenty of water.) You can arrange tours through the National Trust for the Cayman Islands Visitor Centre.
Address: Frank Sound Road, Grand Cayman
9. Kittiwake Shipwreck and Artificial Reef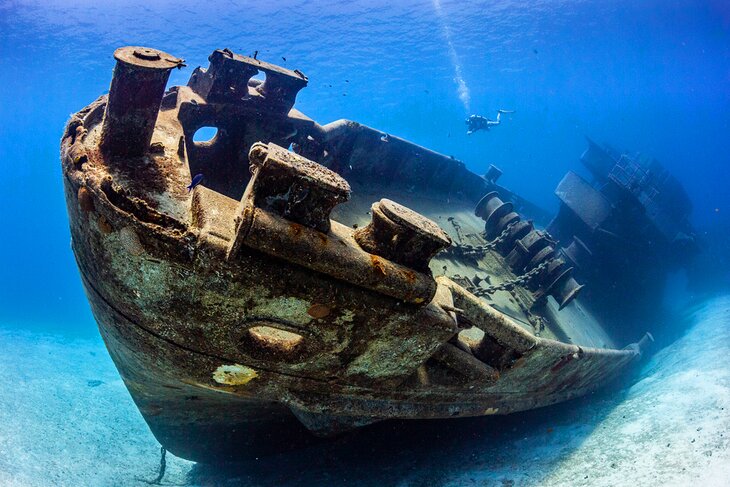 The USS Kittiwake sunk off the northern tip of Grand Cayman's Seven Mile Beach in 2011. Most famous for recovering the Challenger Space Shuttle, this Ex-US Navy ship is now a popular dive site for scuba and snorkeling enthusiasts.
At less than 60 feet deep, this interesting wreck is easy to discover for water explorers of all levels, and it's a great place for beginner divers to get their faces wet. Visitors to the site are rewarded with multiple ship decks that have been transformed into a vibrant reef over the past years. The clear water and shallow locale make it an exciting point of interest.
Frequent sightings of stingrays and eagle rays have been reported here, making this one of the best places to visit for snorkeling and diving in the area.
To get here, book a tour with a local dive company. We'd suggest organizing this early (as in before your trip) to ensure a spot for you and your family.
10. George Town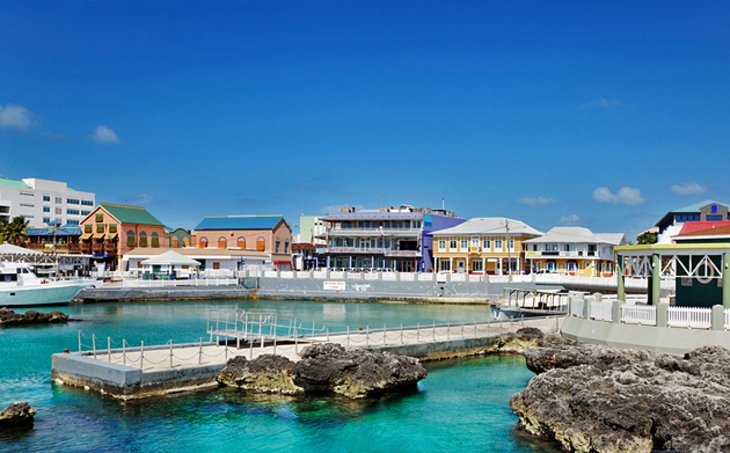 George Town, the Cayman's attractive capital, comes alive when cruise ships arrive. Shopping is one of the most popular things to do here, and many of the duty-free shops and art galleries are housed in colorful gingerbread buildings along the harbor front.
This cute tourist town also offers a clutch of other worthwhile tourist attractions. Cayman Islands National Museum displays historical and ecological exhibits.
For art lovers, the National Gallery of the Cayman Islands is a must-see. This bright, modern venue exhibits an exceptional collection of local art, as well as themed temporary exhibitions featuring Caymanian and international artists. You can also admire the beautiful sculpture gardens and relax at the Art Café. This is one of the top free things to do in the Cayman Islands, and it's a great place to visit on a rainy day.
11. Camana Bay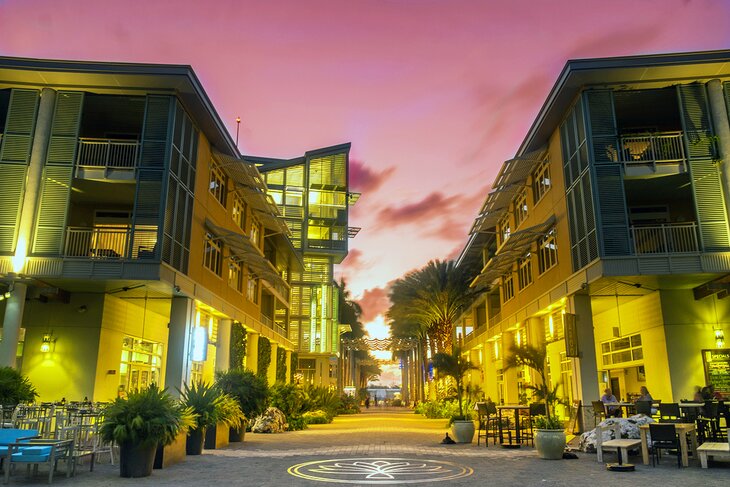 Need a shopping fix? Camana Bay offers more than 40 shops and services, with more than 75 brands to satisfy your urge to splurge.
This palm-studded, pedestrian-friendly outdoor mall sits on the waterfront a few minutes north of George Town, and you'll find more than just shops here. Specialty restaurants, a six-screen cinema, interactive fountains, and an Observation Tower round out all the attractions.
Climb the Observation Tower for 360-degree views across Seven Mile Beach, George Town, and the North Sound. The Town Square also hosts community events, as well as a popular farmers' market.
Are you looking for things to do in the Cayman Islands at night? Many of the more than 15 cafés and restaurants here are open until 10pm.
Address: Market Street, Grand Cayman
12. The Bluffs and Caves of Cayman Brac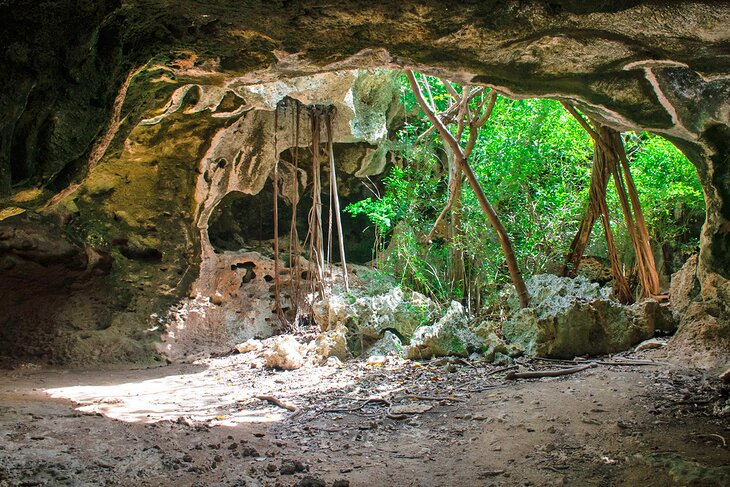 A 30-minute flight from Grand Cayman, Cayman Brac is the second biggest of the three Cayman Islands. It's known for its dramatic coastal scenery, deep caves, and breathtaking bluff-top hikes.
The island is named for the 45-meter-high limestone bluff or "Brac" on its eastern tip, the highest point in the Caymans. Along the Brac, you can climb the steep walkway to a lighthouse with beautiful ocean views and look for nesting seabirds along the way.
Cayman Brac is also famous for its caves. Peter's Cave, Bat's Cave, Great Cave, Skull Cave, and Rebecca's Cave are among the easiest to access and the most popular. You can explore the caves on your own to see bat colonies, as well as stalactites and stalagmites.
Other things to do on Cayman Brac include hiking the scenic trail through the National Trust Parrot Reserve and diving the island's wrecks and coral reefs — the MV Captain Keith Tibbetts, a sunken Russian frigate, is one of the top dive sites in the Cayman Islands.
13. Pedro St. James National Historic Site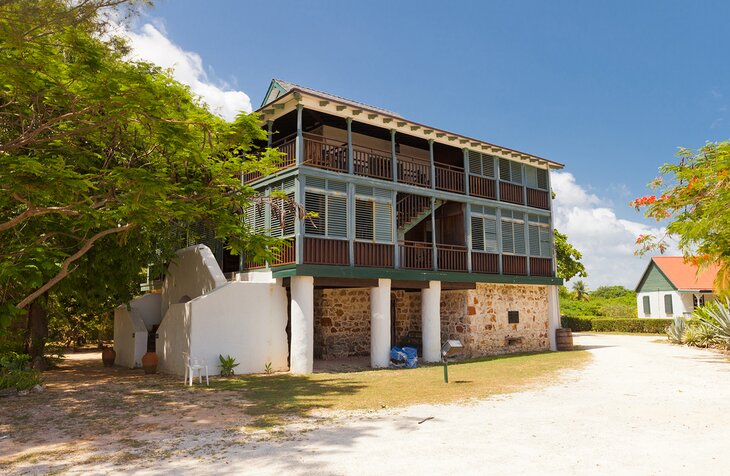 Ready for some Cayman Islands' history? About a 20-minute drive east of George Town, the Pedro St. James National Historic Site is home to a restored 18th-century plantation house known as Pedro's Castle.
One of the oldest buildings on the island, this elaborate three-story stone structure is known as the "Birthplace of Democracy in the Cayman Islands." It was here in 1831 that the decision was made to form the nation's first elected parliament. Today, you can tour the restored house and learn about its history during a 3D multimedia presentation in the theater.
Also on the grounds, the Hurricane Ivan Memorial tells the tragic story of the 2004 natural disaster. After touring the house, you can explore the surrounding woodland and admire the bluff top views.
Address: Pedro Castle Road, Savannah, Grand Cayman
14. Bloody Bay Marine Reserve, Little Cayman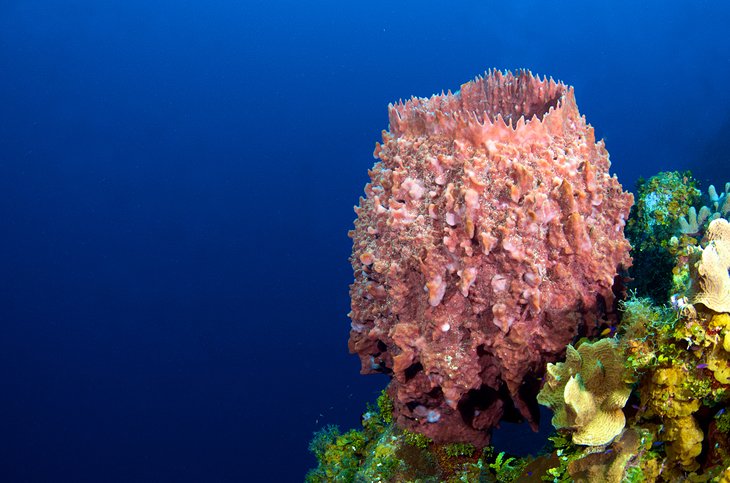 The smallest and sleepiest of the three Cayman Islands, Little Cayman is known for its superb fishing and diving. Bloody Bay Marine Reserve lies just offshore here, with wreck sites and the famous Bloody Bay Wall.
Divers and anglers flock to the Southern Cross Club, a venerable resort with a top-notch dive operation and expert fishing guides, who take you to prowl the flats for bonefish or cast a line in the island's Tarpon Lake.
Little Cayman is also home to the Booby Pond Nature Reserve, a large breeding colony of red-footed boobies and frigate birds, and if you really want to feel like a castaway, you can paddle over to Owen Island, a deserted sliver of sand 180 meters from shore.
15. East End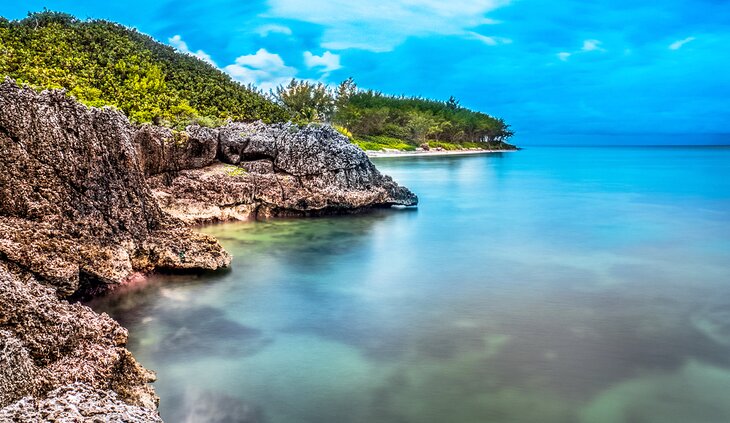 Far from the cruise ship crowds of George Town, the East End offers a slower-paced alternative to the popular attractions on the island's west coast.
This side of the island also offers superb snorkeling, authentic island food, blowholes, secluded beaches, and excellent dive sites. It's also much quieter here, which makes it a popular spot for couples in search of romance.
Only 15 minutes from the East End on the island's northern tip lies Rum Point, a peaceful pine-fringed cove slung with hammocks and volleyball nets. Lounging on the shores here with a cool refreshment and that special someone is one of the most romantic things to do in Grand Cayman.
16. Hell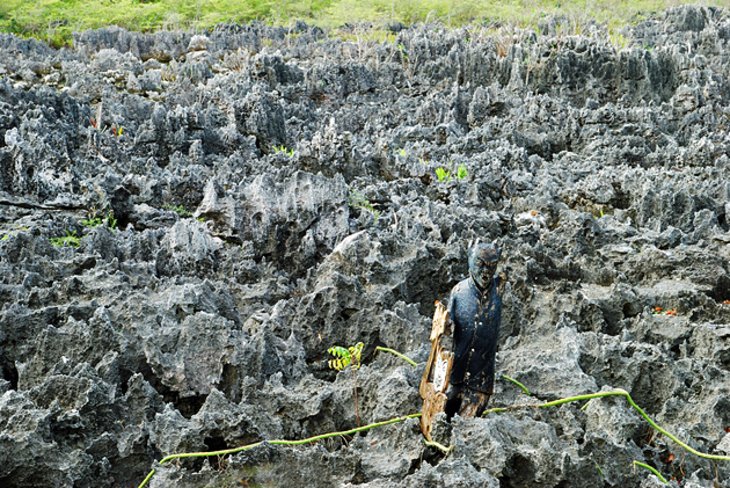 Wondering about the most unique things to do in Grand Cayman? How about a visit to Hell.
Sinister black rock formations on the north coast of Grand Cayman inspired the town's name, and it's an almost obligatory stop on the tourist sightseeing trail.
Most visitors stop by the town's tiny post office to send a "Greetings from Hell" postcard to their friends, and you can also officially mark your visit to hell with a stamp in your passport. At the tiny gift shop, a resident "devil" dispenses witticisms, along with souvenirs.
Want to take some photos of the hellish landscape? You can wander along the sturdy boardwalk for easier access to the jagged limestone rocks, which have been ravaged by the elements over millions of years.
Address: West Bay, Grand Cayman
The Cayman Islands - Climate Chart
Average minimum and maximum temperatures for George Town, Cayman Islands in °C
J
F
M
A
M
J
J
A
S
O
N
D

27

23

27

23

28

24

29

24

30

26

31

26

31

27

31

27

31

26

30

26

29

25

28

24

PlanetWare.com
Average minimum and maximum temperatures for George Town, Cayman Islands in °F
J
F
M
A
M
J
J
A
S
O
N
D

81

73

81

73

83

75

84

76

86

78

87

79

88

80

88

80

87

79

86

78

84

77

83

75

PlanetWare.com
More Related Articles on PlanetWare.com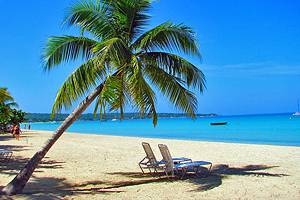 Exploring Jamaica: A short flight from the Cayman Islands, Jamaica has a colorful African vibe and gorgeous scenery, from lush mountains and waterfalls to palm-lined beaches. For information on the top attractions, best areas to stay, and tropical adventures on the island check out our pages on Montego Bay, Ocho Rios, and Negril.