Kite Beach, Cabarete: Kiteboarding Lessons, Schools & Tips
The Dominican Republic is a hotspot for kiteboarding, and Cabarete, one of the top destinations in the world for kiteboarding, is the epicenter. Kite Beach, where most of the action takes places, sees consistent afternoon winds, has an offshore reef to protect from the waves, and sports an abundance of good kiting schools. Add to that a trendy town with beachside restaurants and hotels that buzz with kiters, surfers, windsurfers, backpackers, and curious tourists, and this makes a perfect destination for a kiting trip or to learn kiteboarding.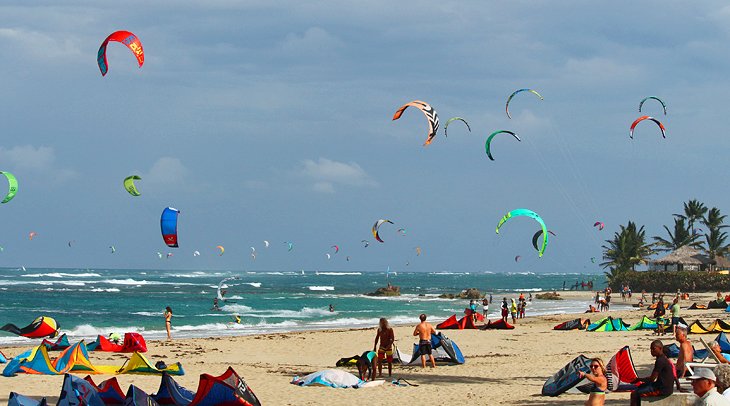 Have you ever wondered if you could learn an extreme sport? In Cabarete, first-time kiteboarders are learning the sport in as little as nine hours, with lessons. Kiteboarding (or kitesurfing), isn't easy by any stretch, but with enough perseverance, some skill, the right conditions, and perhaps a little luck, you could literally be getting up on your own, flying your kite, and zipping across the waves after just a few afternoons of instruction.
Lessons are offered by numerous schools along Kite Beach. If you're interested in just sampling the sport, with an introduction to the basics and learning to control the kite, you can sign up for intro lessons at any one of the kite schools lining the beach.
Below is a list of the basics of what's involved in lessons, where to get lessons, where to base yourself, and other tips.
Learning to Kiteboard: What to Expect from Lessons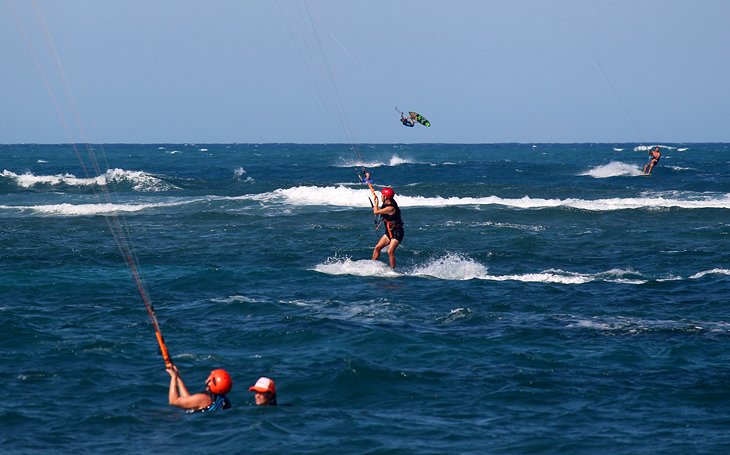 First timers can pick up the basics of kiteboarding in nine to twelve hours of lessons. This is not the case for everyone, but if you have done any sailing or have some snowboarding experience, you'll be at a definite advantage. Regardless, lessons are broken down into digestible steps and move at a pace that's suited to your progress.
Be forewarned, Cabarete is a tough place to learn how to kiteboard. You'll be dealing with deep water, waves, and lots of kite traffic on the water. However, as your instructor will tell you, if you can learn successfully here, you'll be able to kite anywhere!
1. Mastering the Kite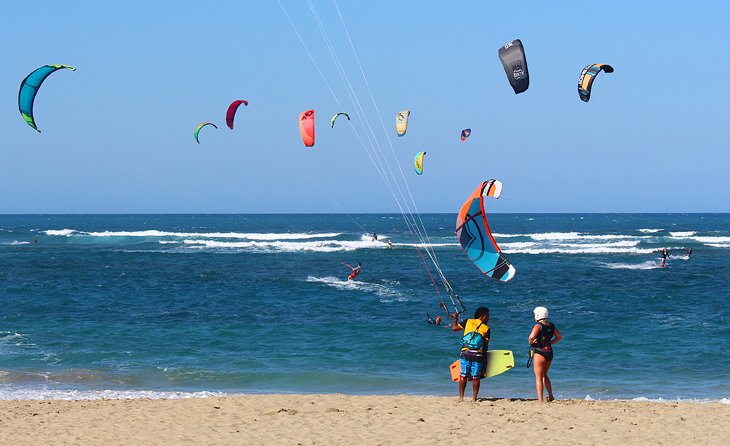 While different schools may have different techniques, there is usually a general progression that involves the following process. The first step is to master the kite. You're given a small training kite that does not attach to your body and some basic instructions on how to use the handle, followed by time to practice.
Afterwards, you advance to a larger four-string kite that attaches to your body, and learn how to use this piece of equipment. An instructor is, or should be, with you at all times, to stabilize you and keep you on the ground. Depending on your level of experience, this step can take an entire afternoon.
2. Dragging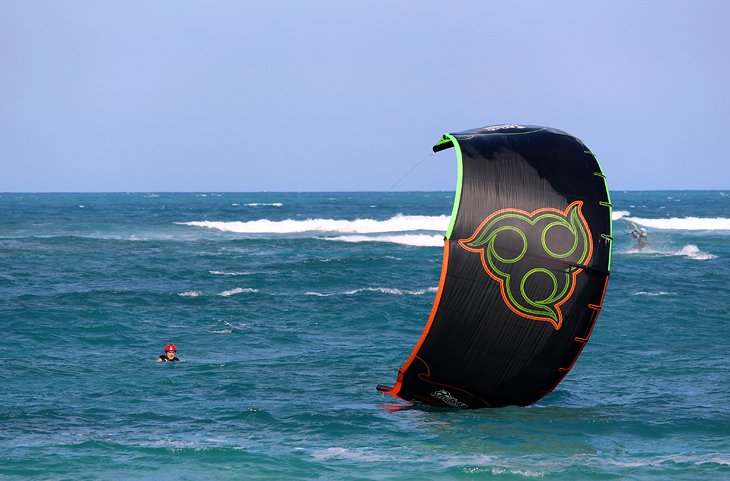 The next phase of learning is in the water. With the kite attached, you will learn how to drag yourself through the water in different directions using your kite. Again, this can take quite some time to master. You need to be able to move yourself through the water with the kite before you advance to using a board.
3. Working with the Board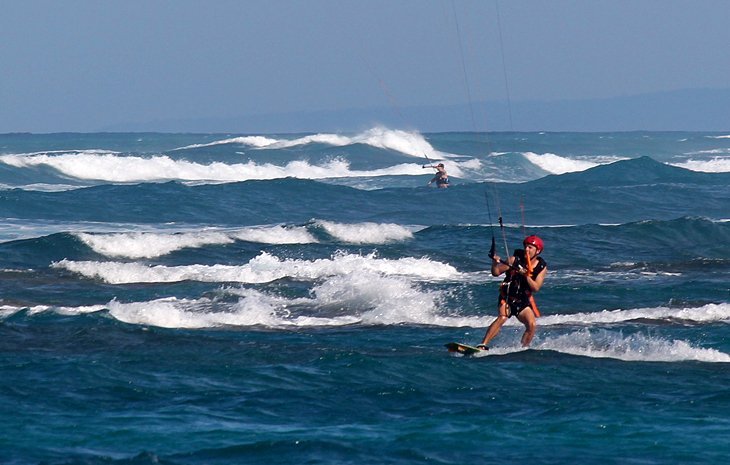 The final step involves adding the board. This is where things can get a lot more complicated. Even if you have quickly progressed through the first two phases, you need to be patient when it comes to putting it altogether with the board and the kite.
The first few tries may not be as successful as you'd hoped. This is the toughest part of the entire learning process. You'll be washed down the shoreline and have to walk back with your kite many, many times. However, once you can get up, stay up, and learn to get up again if you go down, you're well on your way. Just remember to put your weight on your back leg and look where you are going. Once you are up and racing across the water, you will be hooked on the sport!
4. Supervision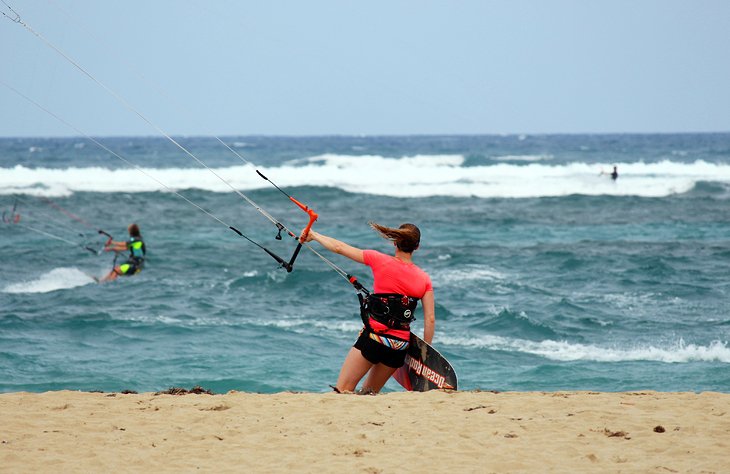 Once your lessons are complete, and you are able to kiteboard on your own, a certain amount of supervision may still be included with your package. This allows you a chance to practice and gain confidence, with someone nearby to help out if you run into trouble.
Time on the water is the key to becoming a successful kiteboarder. No matter how tired or sore you may be, just get back out there and keep trying. Eventually the light will go on, and you'll be good to go.
This is a very simplistic overview of the lessons, and you'll also learn to rig, launch, and land the kite, basic terms, and safety practices. If you already have some experience kiteboarding, you can still take advanced lessons and hone your skills.
If you are a novice kiteboarder but not interested in full instruction, you can also hire someone at a very low cost to monitor you while you're out on the water. These people can be hired through the schools, and they will assist in launching your kite and help out if you run into trouble. Hiring these folks, who are usually junior instructors, is a great way to build your confidence and to give the junior instructors valuable teaching time.
Kiteboarding Schools in Cabarete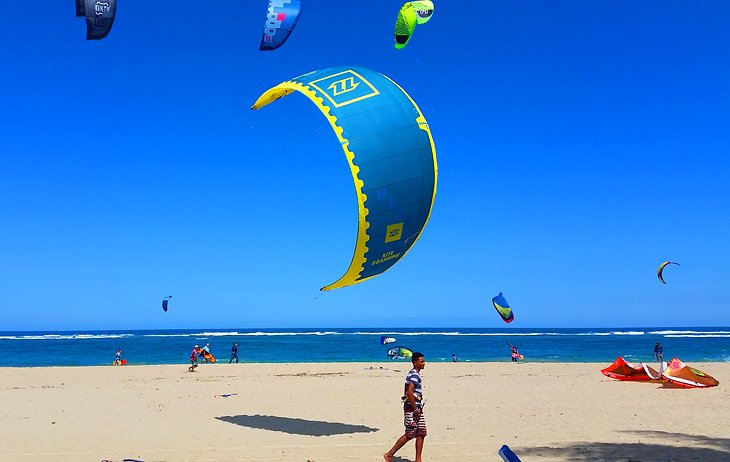 Most schools offer private or semi-private lessons, either by the hour or for a set number of hours at a better price. Rates are generally quite reasonable, especially considering the equipment is included in the price. Equipment rental, without lessons, can be pricey.
Freelance kiteboarding instructors may offer you lessons on the beach, but if they are not associated with a school, or if they offer a suspiciously low price for lessons, it probably means they are not an IKO (International Kiteboarding Organization) certified instructor and not the best option. Below are some of the best options for kiteboarding lessons in Cabarete.
1. Kite Club Cabarete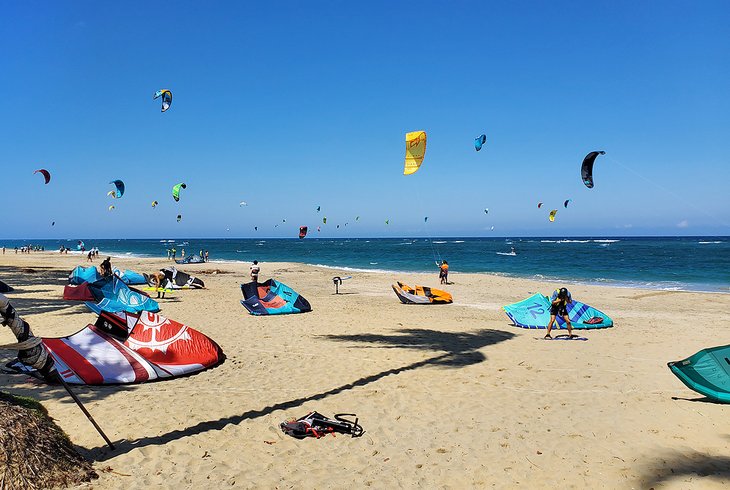 A long established kite school, Kite Club Cabarete is a professionally run school with expansive grounds, a café, and lockers. The beachfront deck is one of the best places along the beach to sit back and hang while you wait for the wind to build throughout the day.
Lessons here are slightly higher priced than some other schools, but the extra investment is worth it. Just ask at the front desk to see what packages suit you the best. Taking lessons here allows you the shortest walk to the teaching area on the beach, which is pretty much right out in front.
Lockers are available to rent, making it ideal if you are staying off Kite Beach, as it saves you lugging your gear back and forth to your hotel.
2. Optimal Kite School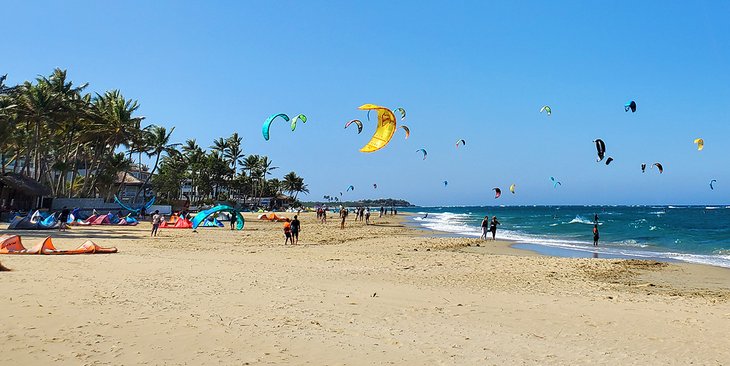 Optimal Kite School, located at the Kite Beach Hotel, in the center of the action on Kite Beach, is one of the best. This school is relatively new to Cabarete, and the owner, Keven Corniel, is usually around to explain the learning process.
Introductory lesson options include private or semi-private lessons, with hourly rates or multi-hour rates. If you are committed to getting up on the board and learning the sport, sign up for a nine-hour package and do your lessons over three afternoons. If you decide after a few hours this isn't for you, the price simply reverts to the hourly rate, so you are not on the hook for the entire nine hours.
Combo deals with the hotel in behind are also available and represent good value in an excellent location.
3. Kite Point Kiteboarding School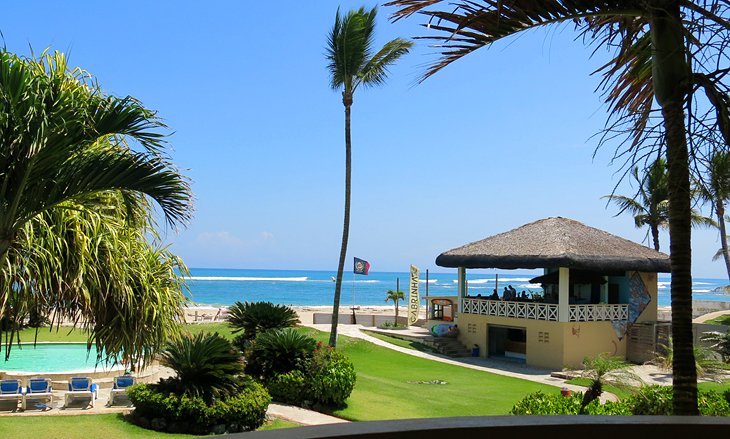 Another popular kiting school is Kite Point Kiteboarding School, in front of the Agualina Kite Resort, right on Kite Beach. If you are coming to Cabarete to spend a few days taking lessons, the combination of this beachfront hotel and the convenience of the on-site kiting school is hard to beat. The hotel has small pool, rooms with kitchens, and all the rooms have windows and balconies facing the ocean.
4. Laurel Eastman Kiteboarding School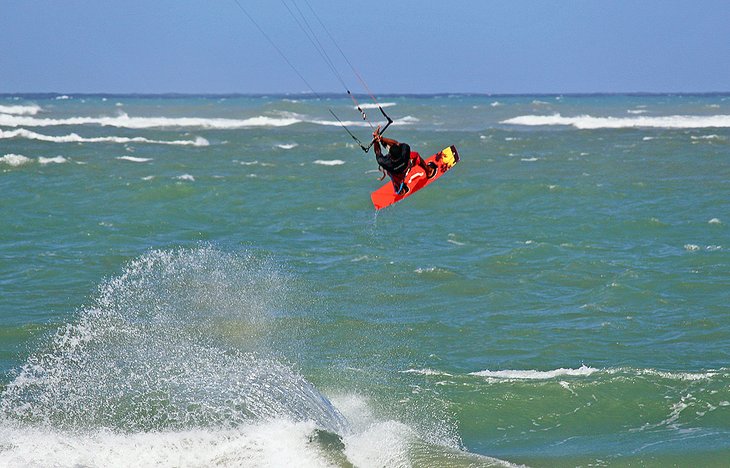 Another big name in Cabarete is the Laurel Eastman Kiteboarding School, located on Cabarete Beach, just around the corner from Kite Beach. This is a convenient location if you are staying at the Millennium Resort & Spa or the nearby all-inclusive Viva Wyndham Tangerine. Laurel is an experienced kiteboarder with a good reputation.
This location can see larger waves, which sometimes makes conditions more challenging for learners, but its proximity to downtown Cabarete is perfect if you are traveling with non-kiters who are not interested in staying on Kite Beach. Laurel also has a storefront with some fun and interesting items for sale.