Puerto Rico in Pictures: 17 Beautiful Places to Photograph
From the colorful Spanish colonial buildings and iconic forts of Old San Juan to the palm-fringed beaches and dense jungle interior, Puerto Rico and its smaller islands provide a stunning visual spectacle. This U.S. territory and third largest Caribbean island pulses with a vibrant Spanish Caribbean culture and enjoys a tropical climate.
At every corner, there's a scene worth capturing, from the lively streets of Old San Juan to the natural wonders at Bioluminescent Bay and El Yunque National Forest. Whether you are looking to photograph historical buildings, gorgeous beaches, or magical forests, Puerto Rico has it all. After being ravaged by the 2017 hurricane, the island is recovering and is welcoming travelers to experiences its sights, sounds, and culture.
Here are some of the most beautiful places to photograph on your next vacation to Puerto Rico.
1. San Juan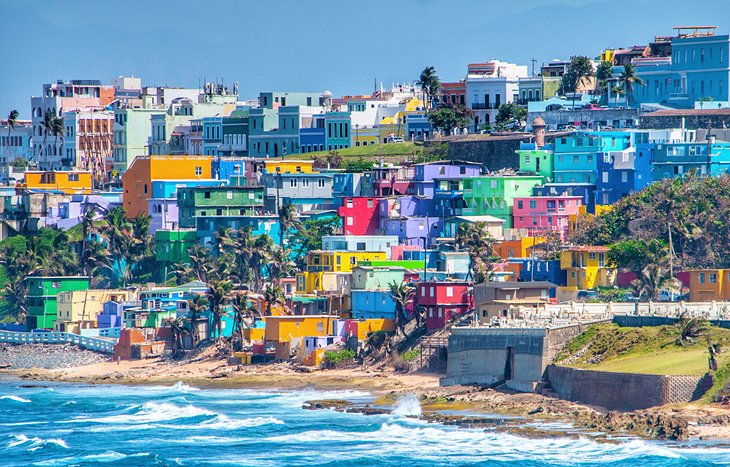 The island's capital of San Juan also happens to be its largest city and the main hub of activity with many top-notch resorts lining the shores and plenty of restaurants and entertainment. Sitting on the island's Atlantic coast, this exuberant city is known for Old San Juan, spectacular beaches, and a friendly vibe. Colorful houses line the hillsides overlooking beaches, and you can spend your days walking the streets and capturing beachside scenes on your camera.
Accommodation: Best Beach Resorts in Puerto Rico
2. Old San Juan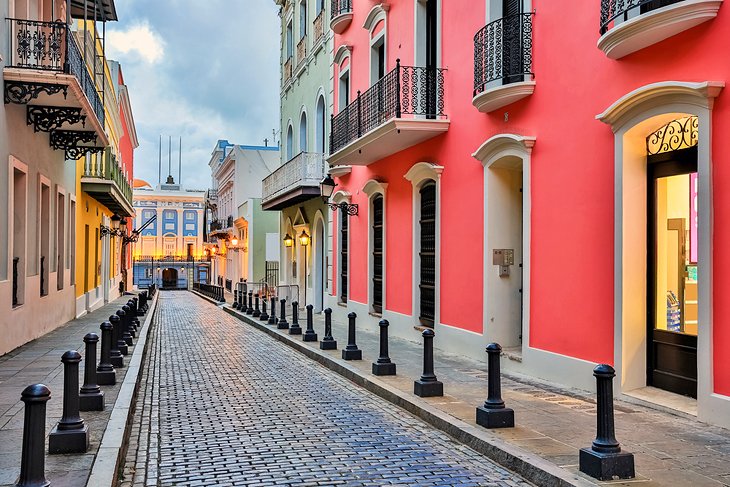 The old part of San Juan takes you back in time with its restored 16th- and 17th-century Spanish colonial buildings and cobblestone streets. Bright-colored houses, restaurants, and stores line the streets in the UNESCO World Heritage site of Old San Juan. You can spend an entire day strolling the streets and enjoying the best mofongo dish at a restaurant with outdoor seating.
Accommodation: Top-Rated Family Resorts in Puerto Rico
3. Paseo de la Princesa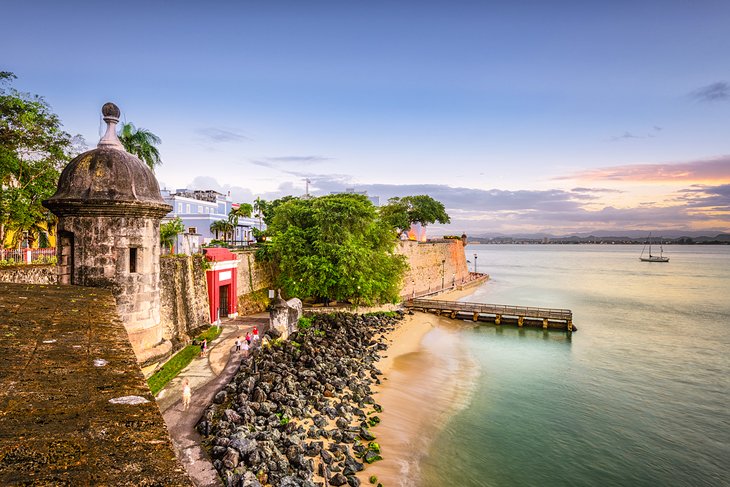 Winding along the Caribbean coast, the scenic Paseo de la Princesa path, features the impressive Raices Fountain and offers sweeping views of San Juan Bay. Along this pedestrian thoroughfare, you'll find shops, restaurants, artists selling their work, and vendors selling shaved ice and street food. Though the views are worth the trek, keep a look out for adorable feral cats that hang out in the area.
4. Fort San Felipe Del Morro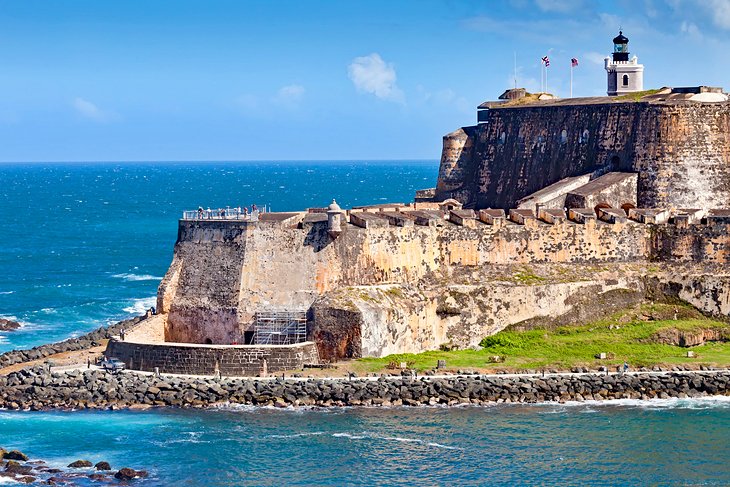 Also known as El Morro Fort, Fort San Felipe Del Morro, is among the main attractions in San Juan. Sitting on the edge of a peninsula overlooking the sea, the 16th-century fort is one of the largest Spanish forts in the Caribbean. It's a short walking distance from the city center.
5. Puerto Rico Capitol Building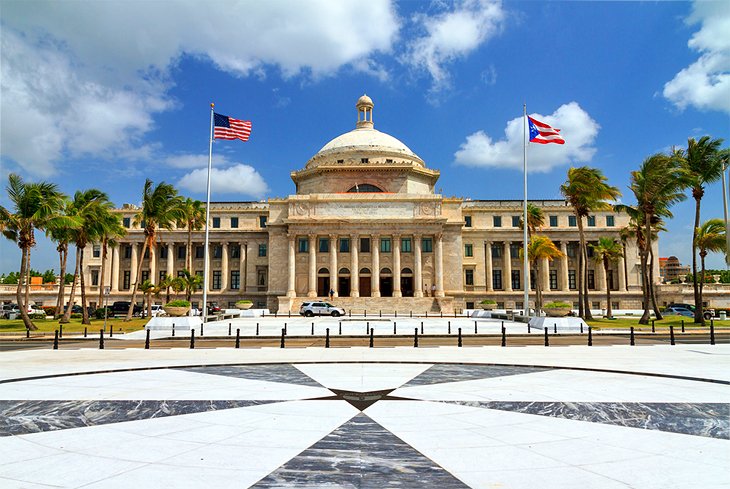 Located in the Puerta de Tierra sector of San Juan just outside Old San Juan and overlooking the Atlantic Ocean, the Puerto Rico Capitol Building is an impressive Neoclassical Revival Style structure listed in the United States National Register of Historic Places. Take a guided tour inside to admire its friezes and mosaics.
6. El Yunque National Forest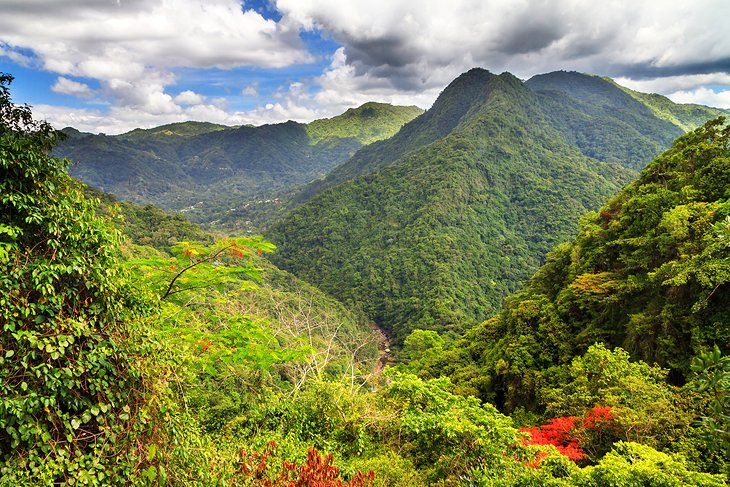 Marked trails lead you to the Instagram-worthy vistas of waterfalls and lush landscapes in El Yunque National Forest in inland Puerto Rico, a short drive from San Juan. El Yunque is the only tropical rainforest in the National U.S. Forest System and boasts many species of flora and fauna. Popular hikes lead you to the stunning La Mina waterfalls, up to Mount Britton Observation Tower, and onwards to the Elfin (dwarf) forest.
7. Vieques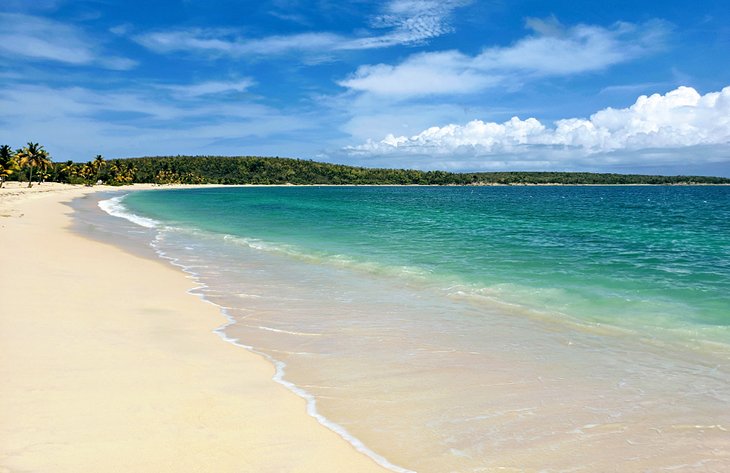 Located eight miles from mainland Puerto Rico, the small island of Vieques now thrives on tourism. Mosquito Bay (also known as Bioluminescent Bay) is its main draw, along with amazing beaches like the Black Sand Beach and the Sun Bay Beach.
8. Cueva Ventana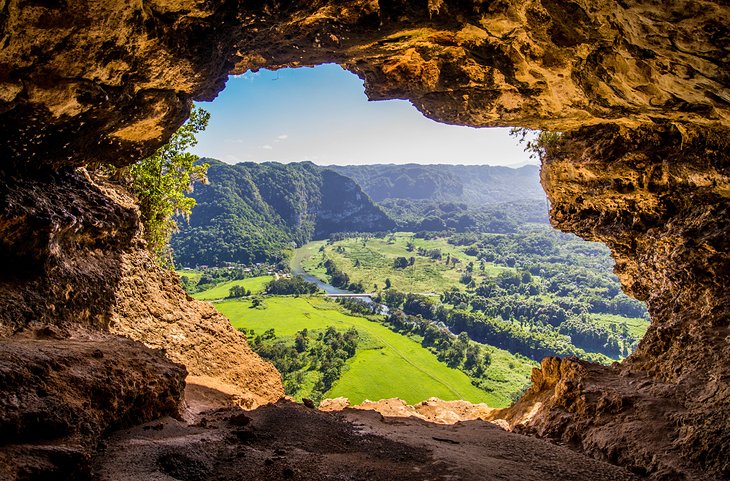 Located in Arecibo an hour drive from San Juan, Cueva Ventana is one of the most picturesque attractions in Puerto Rico. Cueva Ventana, translating to Window Cave, can be reached by a guided climb up through a dense jungle. Once here, the view will speak for itself, where a window-shaped entrance overlooks farmland and vibrant surroundings.
9. Flamenco Beach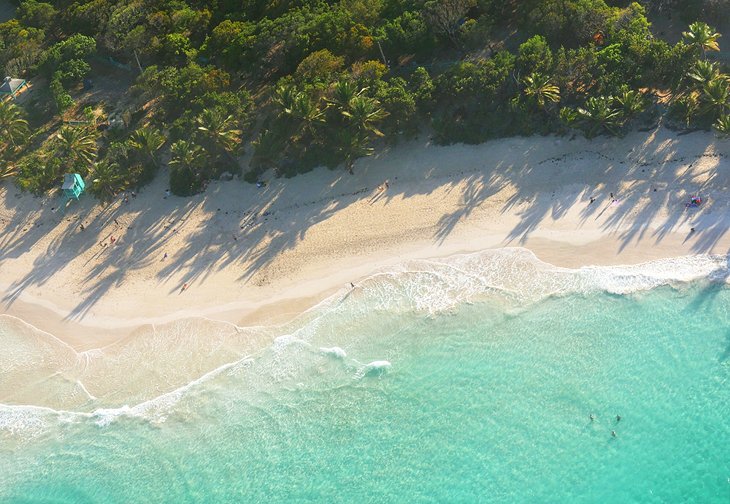 Flamenco Beach is among the prettiest beaches in Puerto Rico. Located in Isla de Culebra, reachable via air or ferry, this white-sand wonder with calm waters and palm trees is an inviting spot for a quintessential beach photo shoot.
10. Luquillo Beach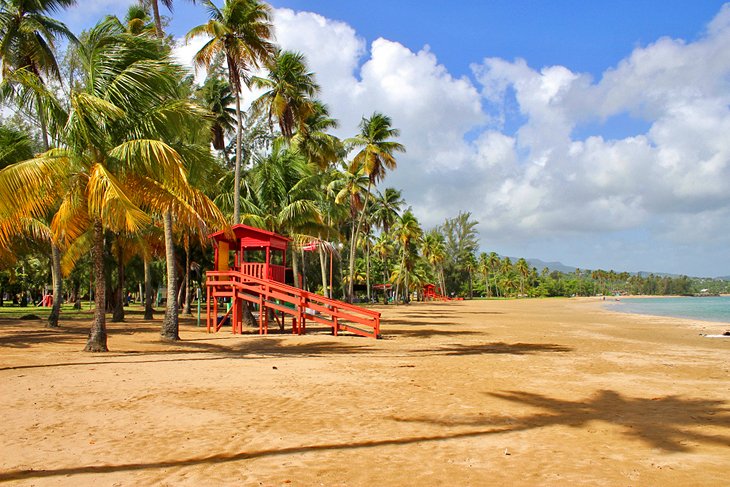 You don't have to seek out smaller islands of Puerto Rico for a tranquil beach. A short drive from the bustling city of San Juan, you'll find yourself at Luquillo Beach, a golden stretch of palm-lined beach with lifeguard stations. The beach can be combined with a trip to El Yunque National Forest.
11. Aguadilla Ruins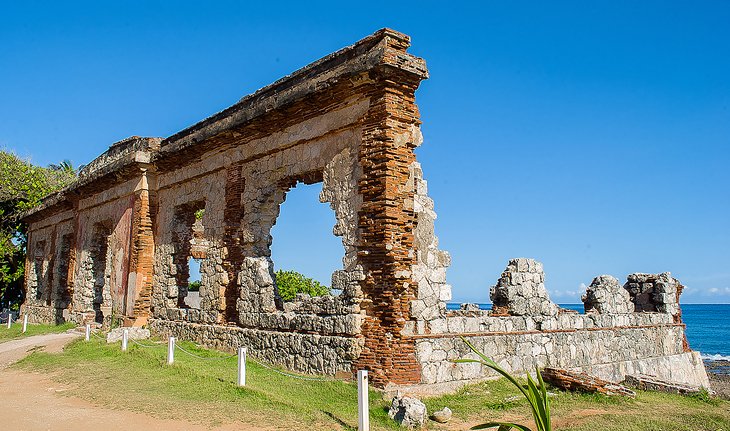 Las Ruinas (The Ruins) in Aguadilla, belong to the first lighthouse built in the area in 1889. The ruins and the surrounding deep blue sea provide dramatic backdrops for pictures.
12. Cabo Rojo Lighthouse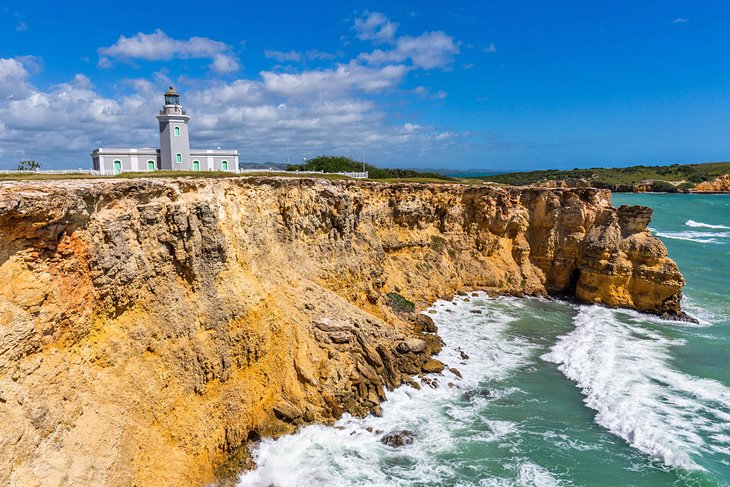 For incredible images, plan a day trip to the Cabo Rojo Lighthouse, perched atop a 200-foot, steep limestone cliff on the southwestern corner of the island. Built in 1882, the lighthouse still guides vessels passing through the Mona Passage from the Caribbean Sea to the Atlantic Ocean.
13. Rio Camuy Cave Park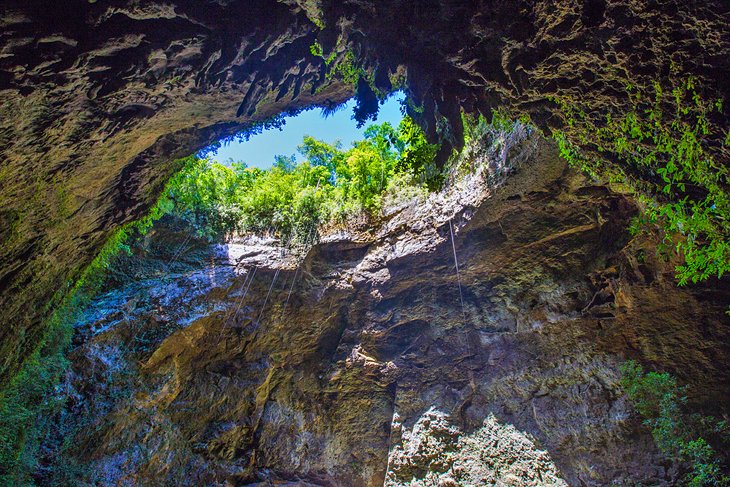 Rio Camuy Cave Park encompasses 268 acres of a cave network once used by the indigenous population of the area. Considered the third largest cave system in the world, the Rio Camuy Cave Park can be experienced on guided tours that bring you to the Cueva Clara Empalme (200-foot-deep cave), where you can photograph the stalagmites and stalactites and the rivers at the base.
14. Gozalandia Waterfall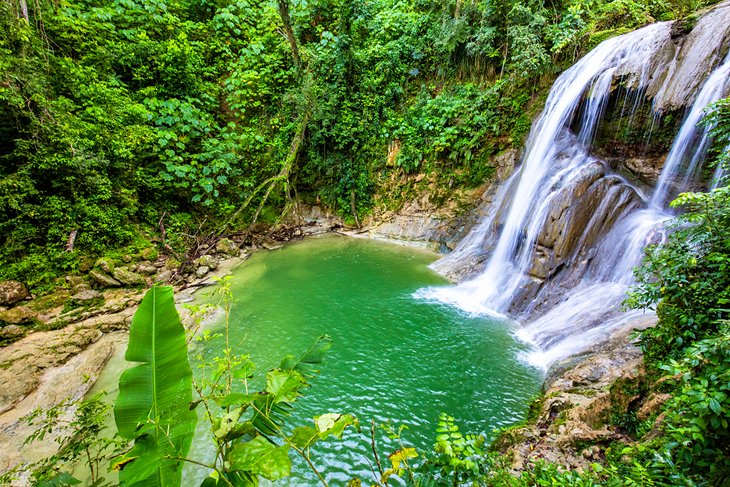 The Gozalandia Waterfall in San Sebastian is an inviting natural wonder with its emerald pool and cascading waters. Capture moments on camera of you jumping from boulders into the refreshing pool, and silhouettes with the waterfall in the background. Adventure seekers can explore the small underwater cave nearby.
15. Fort San Geronimo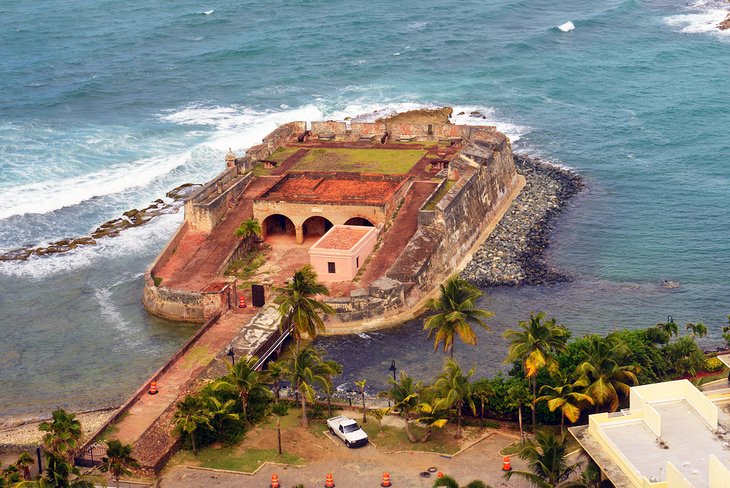 This fort, known as Fortín de San Gerónimo de Boquerón in Spanish, was built in the 18th century to defend the city of San Juan. Historically, it's an interesting place to visit, as it was attacked by the famous British naval hero Sir Francis Drake in 1595. Visually, the crumbling walls and ramparts make it very interesting to photograph.
It's a great place for photos of both the fort itself but also for the amazing view of the Miramar skyline visible across the water. The fort sticks out into the Condado Lagoon on its own peninsula, so you can get some panoramic views of the buildings and the water.
16. Arecibo Lighthouse and Historic Park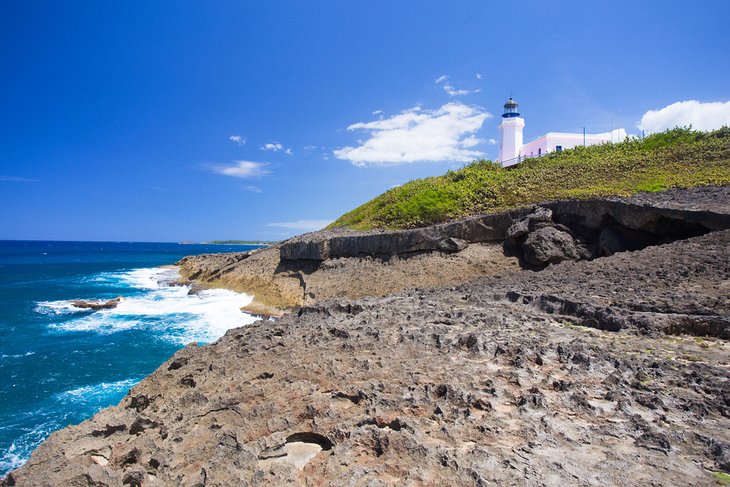 More than just a lighthouse, the Arecibo Lighthouse and Historic Park is a cultural theme park with displays, demonstrations, and exhibitions that tell the story of the island's history. The lighthouse itself isn't very tall, but it has some great views, as it sits at the top of a small mountain. It's a great vantage point for photographers, as you have 360-degree views around you. There's also a small zoo, an aquarium, and even a water park as part of the complex.
17. Parque de Bombas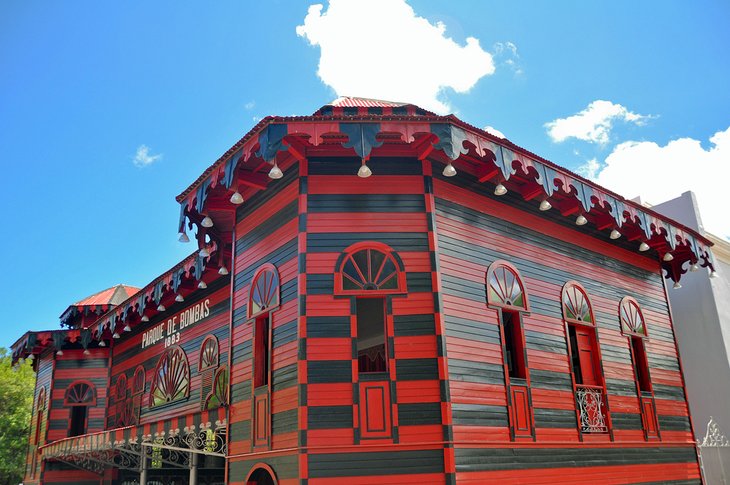 This former Victorian-era firehouse in Ponce is now the island's firefighting museum. The building itself makes a great subject for photos, as it's an eye-catching red and black color with a strong Moorish influence. Inside, there are all kinds of fire engines and fire equipment to photograph.